New York Mets:

Doug Eddings
May, 31, 2014
May 31
8:41
PM ET
PHILADELPHIA --
Jacob deGrom
again was deprived of his first major league win in agonizing fashion. At least this time the
New York Mets
salvaged a victory.
With
Jenrry Mejia
unavailable after working the previous two days,
Jeurys Familia
tried to protect a one-run lead in the ninth inning. Instead, the
Philadelphia Phillies
evened the score.
Ex-Met
Marlon Byrd
had a leadoff double and
Domonic Brown
followed with a game-tying single against Familia.
The Mets finally notched a 5-4 win in the 14th at Citizens Bank Park after
David Wright
delivered an RBI single against
Antonio Bastardo
. It was the Mets' first hit since the ninth inning. Bastardo had entered only because
Jeff Manship
, after four no-hit innings, had suffered a left quad strain as a batter unsuccessfully trying to beat out a two-out grounder with the winning run at third base to end the 13th.
It was the second straight start that deGrom departed with a lead only to be deprived of his first win. After tossing 6 2/3 scoreless innings against the
Pittsburgh Pirates
on Memorial Day at Citi Field,
Jose Valverde
eventually blew the lead by surrendering four runs. Valverde was released after that game. DeGrom remains 0-2.
With his fourth straight quality start to begin his major league career, deGrom now has a 2.42 ERA. The only other pitcher in franchise history to be winless through four career appearances while producing a quality start in each outing is Ron Darling in 1983.
The Mets, meanwhile, have now played seven games of at least four hours this season, matching the
Los Angeles Dodgers
for the most in the majors.
These two teams have now played consecutive 14-inning games. The only other instance in which the Mets played consecutive 14-plus-inning games in one season was Sept. 7-8, 1979, against the Pirates (14 and 15 innings). The Mets played consecutive five-hour games for the first time in franchise history. Saturday's lasted five hours and 32 minutes.
DeGrom had taken a one-hit shutout into the seventh. He retired the first 11 batters he faced, until
Chase Utley
's two-out single in the fourth. The 25-year-old right-hander ultimately struck out a career-high 11, the most by a Mets pitcher this season.
Chris Szagola/Associated PressJacob deGrom again was deprived of his first major league win Saturday.
His sterling outing unraveled in the seventh, however. Staked to a 4-0 lead, deGrom allowed a leadoff single to
Jimmy Rollins
and then walked Utley.
Ryan Howard
followed with an opposite-field, three-run homer. DeGrom remained in to strike out Byrd, then departed with his pitch count at 101 and the Mets holding a 4-3 lead.
His line: 6 1/3 IP, 3 H, 3 R, 3 ER, 2 BB, 11 K, 1 HR.
About the only issue for deGrom before the seventh inning? A mound visit from trainer Ray Ramirez after the rookie delivered a first-pitch ball to
Reid Brignac
with two outs in the fifth. DeGrom threw one warm-up pitch for the staff, manager Terry Collins and Ramirez retreated to the dugout, and deGrom's dominance continued until the seventh.
Ruben stud:
Ruben Tejada
snapped the longest active homerless drought in MLB with a fourth-inning solo shot against
Kyle Kendrick
that gave the Mets a 3-0 lead. He finished 3-for-4 with a home run, two RBIs and two walks to lift his batting average 17 points, to .227.
It was Tejada's first homer since Aug. 1, 2012, against San Francisco's
Matt Cain
. Tejada had gone 552 at-bats without a homer.
The longest active homerless streak in MLB now belongs to
Milwaukee Brewers
right-hander
Kyle Lohse
(434 at-bats).
Chicago Cubs
catcher
John Baker
(430 at-bats) is the new leader among position players, according to the Elias Sports Bureau. Philadelphia's
Ben Revere
had paved the way for Tejada to briefly sit atop the active leaderboard. Revere's first career homer came in his 1,466th career at-bat, on Tuesday.
Debutant:
Buddy Carlyle
tossed three scoreless innings in his Mets debut, from the 11th through the 13th. The 36-year-old call-up from Las Vegas last had appeared in the majors on June 25, 2011, with the Yankees. He earned his first major league win since Sept. 24, 2008, with the Braves.
Carlos Torres
notched the save with a scoreless 14th despite allowing the first two batters to reach.
Bobby O:
Bobby Abreu
, starting for the second straight day, finished 2-for-4 with a double and RBI. He is 10-for-21 with five walks in his past six starts.
The Mets took a 2-0 lead in the first inning on two-out run-scoring hits by Abreu and
Lucas Duda
.
Last call:
Daisuke Matsuzaka
, slated to enter the rotation Wednesday at Wrigley Field with
Rafael Montero
's demotion, made a final relief appearance. Matsuzaka overcame an error from
Daniel Murphy
by striking out Brignac to record the final out of the seventh inning. Matsuzaka then surrendered a one-out triple to Revere in the eighth. Revere ultimately was stranded at third base.
Scott Rice
entered with two outs and walked Utley on four pitches, but then struck out Howard to preserve the 4-3 lead.
In a pinch:
Juan Lagares
pinch hit for bunting purposes and delivered a sacrifice in the 14th. He had been scratched from the starting lineup with a right rib cage spasm.
Bad form?
The Mets were incredulous that second-base ump Doug Eddings ruled Brown safe on a two-out steal attempt in the fifth inning. So Collins challenged the ruling on the field. Once the Mets saw the replay on the scoreboard and concluded they were in the right, they left the field, even though the crew had yet to formally reverse the safe call.
The Phillies, under similar circumstances in the top of the ninth, stayed on the field until umps confirmed the ruling of a third out even though scoreboard replays already suggested they would prevail.
What's next:
Jonathon Niese
(3-3, 2.74 ERA) opposes left-hander
Cole Hamels
(1-3, 4.43) on Sunday at 1:35 p.m. Hamels is 7-14 with a 4.51 ERA in 28 career starts against the Mets.
April, 22, 2012
4/22/12
7:30
AM ET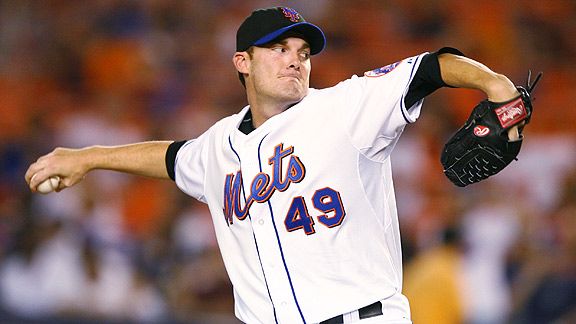 Al Bello/Getty Images
Philip Humber was the third overall pick in the 2004 draft, by the Mets. Here he pitches against the Nationals during the Mets' collapse in September 2007.
Bidding for his first complete game since last July 27, and the first by a Met against San Francisco since
Kenny Rogers
in 1999,
Mike Pelfrey
instead was pulled with his pitch count at 102 after eight innings. Then,
all heck broke loose in the ninth inning
as the Mets ultimately managed to claim a 5-4 victory against the Giants.
Closer
Frank Francisco
surrendered a leadoff single to
Buster Posey
, then a one-out walk to
Nate Schierholtz
and RBI single to
Emmanuel Burriss
that pulled the Giants within 4-2. Francisco then was given a quick hook by
Terry Collins
.
The Mets eventually were about to post the win, when
Jon Rauch
coaxed a fly ball to shallow center field from
Brandon Belt
. However,
Ruben Tejada
backtracked slowly and
Kirk Nieuwenhuis
, who should have taken charge from the get-go, overran the ball. It dropped beyond the center fielder for a game-tying two-run double -- reminiscent of the June 12, 2009 loss at Yankee Stadium in which
Luis Castillo
flubbed a would-be game-ending popup and
Francisco Rodriguez
suffered a hard-luck first blown save as a Met after 16 straight conversions.
Meanwhile, the Mets won it in the bottom half of the ninth after a pair of miscues by the Giants. With runners at first and second and one out,
Justin Turner
appeared poised to hit into an inning-ending double play to shortstop. However,
Aubrey Huff
-- just placed at second base for the first time in his 13-year career -- did not cover second base. The shortstop Burriss ultimately did not throw to first base in time to record even one out. (Huff was playing second base because
Ryan Theriot
had the flu and was unavailable, and the righty-hitting
Brett Pill
had been replaced as a pinch-hitter by the lefty-hitting Belt when Rauch replaced
Tim Byrdak
in the top half of the inning. Huff's first step instinctively was to first base on Turner's grounder.)
Still, San Francisco appeared poised to escape when Nieuwenhuis also seemed to hit into an inning-ending double play. But
Scott Hairston
clipped Posey's right leg on the force out at the plate. Posey's throw to first base to try to complete the double play was wide and sailed into the outfield, allowing Tejada to trot home from second base with the winning run.
Sunday's news reports:
•
David Wright's
streak of reaching base twice in each of his first 10 games of the season via hit, walk or hit by pitch -- the longest streak in the majors since 1999 -- ended Saturday with an 0-for-4 performance. Wright also had hit safely in each of his first 10 games. His average slipped to .439, which ranks second to the Dodgers'
Matt Kemp
(.474) in the major leagues.
• Read game recaps in the
Post
,
Star-Ledger
,
Times
,
Record
,
Daily News
and
Newsday
.
• Francisco, who has now surrendered runs in each of his past four appearances, remains stuck on the three saves he recorded during the season-opening series against Atlanta. Given he got the quick hook Saturday,
will he remain the closer
? After all, Rauch is near-perfect this season, with 8 1/3 scoreless innings, during which he has allowed only one walk and three hits, including what was scored a double on Nieuwenhuis' botched play. "I'm going to talk to Frankie tomorrow," Collins said after Saturday's win in a less-than-definitive response. "I don't like to do too much after the game is over. He's not happy with what happened, but I need him." Rauch had 11 saves last season with the Blue Jays, while Francisco had 17 as his teammate in Toronto. Read more in
Newsday
the
Post
,
Star-Ledger
,
Record
and
Daily News
.
• Posey, who required season-ending ankle surgery after a takeout play at the plate last year courtesy of the Marlins'
Scott Cousins
, found no issue with Hairston's slide. The catcher merely tried to briefly protest to plate umpire
Doug Eddings
that Hairston may have been out of the baseline when he made contact with Posey's right leg. Hairston wasn't, and even Posey admitted he was just arguing for the sake of doing so. "I just … I don't know," Posey told
Andrew Baggarly
at
CSNBayArea.com
. "There was so much going on. You're just trying to plead your case for what it's worth."
On Hairston's motivation, Posey added: "I think it's just going in hard."
Posey insisted to Baggarly that his complaint to Eddings was not because of heightened sensitivity after last year's May 25 play that ended his season. "No, it has to do with this game," Posey said. "We're trying to stay in the game. I would have reacted the same way regardless."
• Pelfrey now has a 2.29 ERA through three starts. He did not question his removal at 102 pitches, but noted pulling a pitcher on a high note -- Collins' stated motivation -- is for young pitchers, of which he may no longer qualify. Read more in the
Post
and
Newsday
.
•
Tim Lincecum
enters Sunday's start against
Dillon Gee
having struggled in his first three starts of the season. Lincecum, who has a 10.54 ERA, has seen a significant decrease in his fastball velocity this season. According to ESPN Stats & Information, Lincecum is averaging 90.2 mph this season, down a full 2 mph from last year's average. His maximum registered velocity so far in 2012 is 93.1 mph, versus 96.6 a season ago.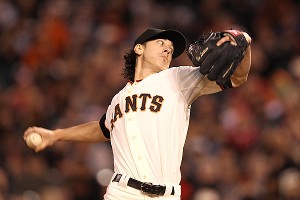 Ezra Shaw/Getty Images
Tim Lincecum has a 10.54 ERA through three starts this season.

In fact, of the six lowest average fastball readings for a start in Lincecum's career, three have occurred since last Sept. 25. The percentage of strikes he gets with his fastball has decreased every season since 2009 too -- from 64 percent that year to 58 percent this season.
According to ESPN researchers, Lincecum's Fielding Independent Pitching -- which neutralizes teammates' effect by considering strikeouts, walks, hit by pitches and home runs -- annually has slipped. He ranked first and then second in the NL in his two Cy Young seasons, 2008 and '09, at 2.59 and 2.34. In 2010, his FIP drifted upward to 3.15 (15th). In 2011, it was 3.17 (18th). So far this season, it's 3.36 (38th).
Lincecum downplayed the 2012 start to
Zach Berman
in the Times
, comparing it to August 2010, when he was 0-5 with a 7.82 ERA and then rebounded in September en route to a Giants championship. "You never try to panic over one game in the scheme of things, or even three games," Lincecum told Berman. "Hopefully, it's comparable to that and it's something I can learn to get out of quicker and not have it turn into what I did that month. It's just part of learning my body."
•
Philip Humber
became the
latest ex-Met to toss a no-hitter
. Actually, Humber tossed the 21st perfect game in major league history Saturday, at Seattle.
Humber originally was drafted by the Mets in the first round (third overall) out of Rice University in 2004. With
Justin Verlander
taken second overall by the Detroit Tigers in that draft, Mets officials desperately wanted to draft
Stephen Drew
, but the highest levels of the organization were worried about the cost, and the Mets instead selected Humber, whom they viewed as a signable and "safe pick." He received $3 million. Drew eventually went 15th overall to the Arizona Diamondbacks and signed for $4 million.
The following spring training, Mets officials were in awe when Humber snapped off a full-count curveball that froze
Miguel Cairo
for a strikeout in an intrasquad game on the eve of the Grapefruit League season.
Gary Carter
, who was slated to manage the Mets' Gulf Coast League team that upcoming season, walked by Humber's locker after the intrasquad game and proclaimed, "Fast track!"
April, 22, 2011
4/22/11
12:37
AM ET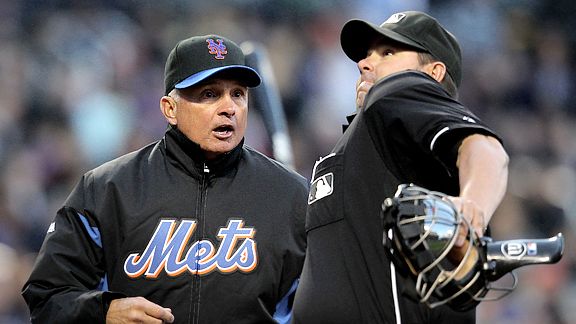 Nick Laham/Getty Images
Terry Collins gets ejected in the first inning by plate umpire Doug Eddings.
Terry Collins
portrayed his first-inning argument with plate umpire
Doug Eddings
that led to his first ejection as Mets manager as strictly about getting the call right and not designed to get ejected and get his team jumpstarted.
Eddings ruled catcher
Mike Nickeas
had not held onto a tipped third strike, which gave
Angel Sanchez
more life in his at-bat.
"I didn't think about that at the time," Collins insisted after the Mets' 9-1 win, referring to trying to fire up his team and the fans. "I just wanted the call correct."
David Wright
didn't sound so sure.
"I kind of had the feeling over the last couple of games that it wasn't going to take much," Wright said. "But that's just what Terry brings to the table. He's been great at having his finger on the pulse -- what's been going on in the clubhouse, kind of the mood of the team. So I think that he wants us to bring that energy. He wants to lead us with that energy. A lot of it had to do with trying to get the fans into it, trying to get us into it and kind of bringing that energy."
Nickeas said he did not need a replay to know he held onto the ball.
"I was very surprised, and obviously a little surprised [Eddings] wouldn't go get some help," Nickeas said. "And I think that's what frustrated TC. But things like that sometimes spark a little energy and a little emotion into the game."