New York Mets:

Doug Melvin
January, 6, 2014
1/06/14
11:56
AM ET
Milwaukee Brewers
GM Doug Melvin acknowledged he is continuing to discuss
Ike Davis
Melvin
with the Mets. But Melvin bluntly stated there has not been agreement with Sandy Alderson on the price for the first baseman.
"First base, I've had ongoing discussions with Sandy Alderson, but we haven't gotten to anything where we're comfortable with the deal from our side, and he's not been comfortable with the deal from his side," Melvin told MLB.com.
Asked if the Mets were being too demanding, Melvin added: "I don't ever get into that. Everybody makes the deal that they feel is the best deal for them. I don't ever consider whether asking prices are too high on [trades] or not, because you don't know until after the deal and you've seen players perform. I think we've pretty well stood by -- the one thing we've done -- is we do not want to give up pitching."
ESPNNewYork.com
reported Sunday
that the Mets now believe Davis at least will be in camp with the ballclub in Port St. Lucie, Fla.
December, 18, 2013
12/18/13
8:22
AM ET
Milwaukee Brewers
GM Doug Melvin still needs a first baseman, but he maintained he will not be overly aggressive in giving away talent to acquire
Ike Davis
.
"It's pretty quiet," Melvin
told the Milwaukee Journal Sentinel
. "We know all the names. It's a small group. Nothing changes from one day to the next. Ike Davis is the one player people talk about. Other than that, there's not much available. ...
"Teams aren't focused on moving guys right now. It's unfortunate, but that's the way things are. We all have our own searches going on to try to have a complete team. Ours is at first base. We keep plugging away at it, but we might have to mix and match with some of our own players. ...
"It's interesting how many first basemen started at other positions. We've talked about a lot of guys in the American League, but because of the DH a lot of them haven't played that much at first base. We'll keep looking, but I'm not anticipating anything right now."
December, 12, 2013
12/12/13
10:33
AM ET
LAKE BUENA VISTA, Fla. -- Mets executives departed the winter meetings midday Thursday, having enjoyed what could be labeled a productive week.
The Mets announced on Tuesday their four-year, $60 million deal with
Curtis Granderson
, which completes the overhaul of the outfield when coupled with
Chris Young
's previous signing. And they helped offset the sting of losing
Matt Harvey
for 2014 by agreeing to a two-year, $20 million contract with
Bartolo Colon
pending a physical.
A team official said the Colon pursuit increased during the winter meetings, and was not something the club had zeroed in on to accomplish when it arrived.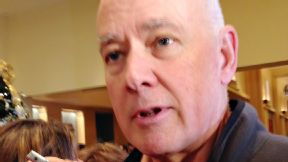 Adam RubinSandy Alderson dissects winter meetings.
"We have three established starters," Alderson said. "It's not quite enough. We have lots of young talent. But we don't want to rely on it entirely. And it also provides us the kind of depth that we're going to need through the course of the season. So adding experienced pitching, whether at the top end of a rotation or elsewhere, was an important factor for us."
Those manuevers lifted the payroll to roughly $87 million, when $4 million is factored in to account for players being on the DL and the Mets paying more than 25 active players at any given time.
The heavy lifting that remains centers on trading first baseman
Ike Davis
, signing a fifth starter, getting some veteran late-inning bullpen help and at least investigating an upgrade from
Ruben Tejada
at shortstop.
Milwaukee Brewers
GM Doug Melvin and Sandy Alderson were spotted chatting again Thursday morning, presumably about Davis, as the meetings were breaking up.
Alderson severely downplayed the chances of the Mets signing free-agent
Stephen Drew
. While the Mets are prepared to use Tejada, Alderson said upgrades via trade would still be investigated. The Mets also will listen on trade offers for
Daniel Murphy
, but it is appearing more likely he remains with the Mets.
"I think it's more likely if we come up with a 'high-end' shortstop or someone we like, it's more likely to come in a trade," Alderson said.
As for the progress on the shortstop front, Alderson added: "I wouldn't say we have traction. We have more knowledge today than we did before."
Davis was not traded during the winter meetings, but his days as a Met certainly appear numbered, with the
Tampa Bay Rays
and Brewers the two most likely destinations. Tampa Bay and Milwaukee both like free-agent
James Loney
, who is seeking a three-year deal, according to a source. Neither club is expected to bid beyond two years. And once Loney settles on a landing spot, Davis could end up with the club that does not prevail, although Texas'
Mitch Moreland
also is available. The
Pittsburgh Pirates
also are believed to be courting Loney.
An official from one team in pursuit of Davis said the Mets are not being unreasonable with trade demands. A trade could happen soon.
"The situation for players ebbs and flows," Alderson said. "In that regard, right now, it seems to be flowing. But, again, things are highly unpredictable."
If Murphy stays and the Mets do not upgrade at shortstop, one interesting lineup question will be: Do the Mets have to get
Eric Young Jr.
into the lineup and leadoff spot? That was a topic of conversation among club officials later in the winter meetings. There have been some rumblings
Juan Lagares
could end up on the bench or in Triple-A, despite his Gold Glove-caliber defense. The bottom line: The Mets have such little margin for error that it would be hard to carry an unproductive bat. And they really do not have a clear-cut alternative to Young as leadoff hitter, although they were chatting about alternatives that would allow Lagares to remain in the lineup.
As for what the lineup might look like without Lagares, it sounds like this is plausible based on Terry Collins' statements:
E. Young, lf
Murphy, 2b
David Wright
, 3b
Granderson, rf
Lucas Duda
, 1b
C. Young, cf
Travis d'Arnaud
, c
Tejada, ss
If Murphy gets traded, Young could slide over to second base, reopening center field for Lagares. Collins said he is undecided about his Nos. 5 and 6 hitters being Duda-Young or Young-Duda.
The rotation right now:
Jonathon Niese
, Colon,
Zack Wheeler
and
Dillon Gee
. The Mets likely will add an external fifth-starter candidate, probably on a major-league deal with a low base salary -- think a
Daisuke Matsuzaka
or
Aaron Harang
type. If it is an internal candidate, it could be
Jenrry Mejia
,
Jacob deGrom
or Rafael Montero. Either way, that would allow Noah Syndergaard to open the season at Triple-A Las Vegas and debut in June or July, as Harvey and Wheeler did the past two seasons.
In concluding business Thursday, the Mets selected right-hander Seth Rosin in the major-league phase of the Rule 5 draft. But that was done with the intention of trading him for cash to the Dodgers. He will not be in camp with the Mets.
"Who's on a $5 bill? That would be the player to be named later," Alderson quipped.
The club lost left-handers Jim Fuller and Carlos Vazquez and right-hander Martires Arias in the minor-league phase of the draft. The Mets added Jonathan Velasquez, a Double-A right-hander from the
Minnesota Twins
organization, in the minor-league phase.
"We're very happy," Alderson said. "And, I think, we're positioned to do perhaps some other things later on. But we're happy with the four days. ... I think what we're going to do is go home, reassess what's available to us. And as we get into the last part of December and even into January, I'm sure we'll do some things. They may not be spectacular -- but, we hope, additive to what we've already done."
November, 18, 2013
11/18/13
8:46
AM ET
Milwaukee Brewers
GM Doug Melvin acknowledged a trade is possible with the Mets, since
Melvin
his club needs a first baseman and the Mets are looking to peddle
Ike Davis
or
Lucas Duda
.
"They've indicated that they have extra first basemen, and we have a need," Melvin told MLB.com. "Again, it's all about keeping your options open. ... Nothing imminent, and I don't anticipate anything imminent. But first base is one of our needs, they have excess first basemen, so you can tie two and two together -- and come up with three."
The Mets appear to prefer trading Davis. Still, a team insider consistently has said the Mets will see what the club is offered for Davis and Duda and make a determination based on which yields more in return relative to how the player is viewed internally.
A team insider confirmed the Astros, Orioles, Rays and Rockies also have had at least preliminary dialogue with the Mets about first base.
May, 13, 2012
5/13/12
9:30
PM ET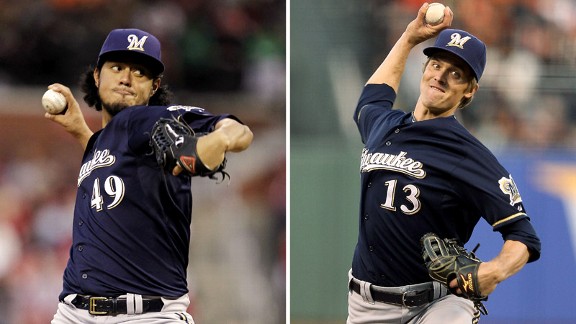 Associated Press/Getty Images
The Mets face Yovani Gallardo and Zack Greinke during a two-game miniseries at Citi Field.
METS (19-15, third place/NL East) vs. MILWAUKEE BREWERS (15-19, fourth place/NL Central)
Monday:
RHP Miguel Batista (0-1, 5.89) vs. RHP Yovani Gallardo (2-3, 5.35), 7:10 p.m. ET
Tuesday:
RHP Dillon Gee (2-2, 4.78) vs. RHP Zack Greinke (3-1, 3.35), 7:10 p.m. ET
Brewers short hops
• 2011 MVP
Ryan Braun
has nine homers since April 21, the most in the National League since that date. St. Louis'
Carlos Beltran
, who again went deep Sunday, is second during that span with eight long balls. Braun successfully contested a 50-game suspension for a positive drug test by challenging the chain of custody of his sample. He has received mixed fan reaction on the road this season -- vociferous booing, for instance, in Atlanta and a rather tame response in San Francisco.
•
Rickie Weeks
suffered a painfully bruised left hand/wrist injury when he was hit by a 96 mph fastball from Cubs reliever
Lendy Castillo
in the 13
th
inning Friday -- the second time he was plunked in that game. X-rays were negative, but the Brewers are waiting for swelling to subside to retest him for a possible hairline fracture. Weeks is not on the DL, but may miss both games of the Mets series.
Edwin Maysonet
started at second base Saturday in Weeks' place and belted a grand slam after an intentional walk to
Travis Ishikawa
.
Brooks Conrad
manned second base Sunday with Maysonet at shortstop so that
Cesar Izturis
could have a day off, but the Mets may see Maysonet both games at second base.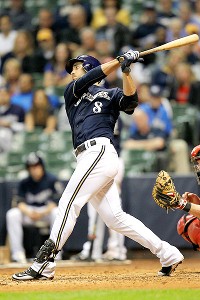 Mike McGinnis/Getty Images
Ryan Braun has received a mixed reaction from fans on the road since successfully combatting a suspension.

• The Brewers actually are without three-quarters of their original infield. The other two absentees are not returning this season.
Mat Gamel
, the successor to
Prince Fielder
at first base, was lost for the season with a torn ACL. Shortstop
Alex Gonzalez
also is out for the season after suffering the identical injury. Ishikawa and
Taylor Green
, with limited Conrad, now are sharing first base. Milwaukee recently spoke with unsigned
Derrek Lee
, but could not reach terms on a contract. The defensively oriented Izturis has taken over at shortstop.
• Closer
John Axford's
streak of consecutive saves ended Friday at 49 with a blown save against the Cubs. Axford was not around after that game to discuss his outing. His wife
Nicole
unexpectedly had gone into labor, and he left this playful note for reporters: "I put my wife into contractions with my performance tonight! The streak is over so now you can talk about it. The luck I've had in the past didn't show up tonight! All I can do is start another streak and keep my head up! Cliché ... cliché ... cliché ... another cliché. Gotta go! Love, Ax."
•
Francisco Rodriguez
is 0-3 with a 5.28 ERA through 17 appearances, but his numbers actually have been skewed by three bad outings; otherwise, he largely has produced in an eighth-inning role, albeit with his familiar tendency to allow baserunners. K-Rod produced his first save as a Brewer on April 10 at Wrigley Field. He had been offered arbitration last offseason with Milwaukee trying to get draft-pick compensation for him signing elsewhere. But with the closer market congested, Rodriguez accepted the arbitration offer and returned for this season for a guaranteed $8 million.
• The Brewers signed
Aramis Ramirez
to a three-year, $36 deal as a free agent to succeed Fielder in the cleanup spot, but the ex-Cub is hitting only .230 with two homers and 19 RBIs through 126 at-bats.
• Milwaukee brass has tabled extension talks with
Zack Greinke
, who is due to be a free agent after the season. The shelving of talks came shortly after
Matt Cain
signed a five-year, $112 million extension to remain with the San Francisco Giants. Greinke, who formerly acted as his own representative, has hired agent
Casey Close
to handle the negotiations.
• GM
Doug Melvin
and manager
Ron Roenicke
received contract extensions last week. Melvin, who also gained the title president of baseball operations, was extended through 2015. Roenicke's deal now goes through '14, with a team option for the following season.
• Ex-Met
Carlos Gomez
has landed on the disabled list with a hamstring strain. He is due to begin a rehab assignment Wednesday with Class A Wisconsin. Lefty hitters
Norichika Aoki
and
Nyjer Morgan
have shared center-field duties -- with Aoki starting against southpaws and the struggling Morgan (.200, no RBIs) against righties. Aoki joined the Brewers from the Tokyo Yakult Swallows, where he was a .329 career hitter and won Central League batting titles in 2005, '07 and '10.
•
Yovani Gallardo's
season totals look a whole lot better if you subtract a pair of starts against the Cardinals. He is 0-2 with a 22.24 ERA (14 ER in 5.2 IP) against St. Louis this season. Against others, he is 2-1 with a 2.45 ERA.
• Catcher
Jonathan Lucroy
was batting .333 as a catcher (29-for-87) before going hitless Sunday in four at-bats. That average matched
Carlos Ruiz's
for tops in the NL at that position. Overally, Lucroy now is hitting .326.
• Milwaukee has bunted in a run an MLB-leading five times this season.
Matchups
Batista vs. Brewers (career: 1-0, 2.72 ERA)

Jonathan Lucroy .500, 1 RBI, 2 PA
Rickie Weeks .333, 1 BB, 1 K, 8 PA
Travis Ishikawa .333, 1 RBI, 1 BB, 1 K, 4 PA
Cesar Izturis .222, 1 HR, 2 RBI, 1 BB, 1 K, 28 PA
Aramis Ramirez .143, 2 BB, 16 PA
Ryan Braun .000, 2 K, 4 PA
Brooks Conrad .000, 1 PA
Gee vs. Brewers (career: 0-1, 3.00 ERA)

Corey Hart .333, 3 PA
Rickie Weeks .250, 2 K, 4 PA
Jonathan Lucroy .000, 1 RBI, 3 PA
Ryan Braun .000, 1 BB, 3 PA
Aramis Ramirez .000, 1 K, 3 PA
Nyjer Morgan .000, 3 PA
Gallardo vs. Mets (career: 2-2, 3.47 ERA)
Lucas Duda .500, 2 HR, 3 RBI, 2 K, 6 PA
Mike Nickeas .500, 1 K, 2 PA
Scott Hairston .333, 2 RBI, 1 K, 6 PA
Ronny Cedeno .300, 2 HR, 4 RBI, 1 BB, 3 K, 11 PA
David Wright .214, 1 HR, 2 RBI, 2 BB, 7 K, 16 PA
Daniel Murphy .167, 1 RBI, 3 K, 6 PA
Justin Turner .167, 2 K, 6 PA
Andres Torres .000, 1 BB, 1 K, 8 PA
Ike Davis .000, 2 BB, 2 K, 6 PA
Greinke vs. Mets (career: 0-1, 6.43 ERA)
Ronny Cedeno .300, 1 RBI, 2 K, 10 PA
Scott Hairston .000, 1 K, 3 PA
Rob Johnson .000, 2 PA
Last series results
Milwaukee won, 3-0, at Citi Field, Aug. 19-21, 2011 (AP game recaps)
Brewers 6, Mets 1:
The Mets became the first team in major league history to lose the opening game in their first 10 homestands of a season, STATS LLC said. Prince Fielder hit a pair of RBI singles and later confronted Mets reliever Tim Byrdak in a late dustup that caused the benches and bullpens to empty. Shaun Marcum pitched the Brewers to their 20th win in 23 games. They closed out this testy victory at 12:51 a.m. Fielder already was 2-for-2 with two walks when he came up in the eighth. Byrdak's first pitch was a fastball at Fielder's chest that backed him away from the plate. Fielder grounded out on the next pitch, then took a sudden right turn after hitting first base, curling back to intercept Byrdak on the way to the dugout. Terry Collins, Josh Thole and plate umpire Angel Campos intervened to prevent any escalation. Order was quickly restored. Brewers reliever Frankie De La Cruz plunked Mike Baxter in the ninth, without incident. Ryan Braun wasn't around at the end. He looked at strike three in the third inning, loitered in the batter's box and was eventually ejected by Campos. Marcum (11-3) improved to 4-0 in nine starts since losing at Yankee Stadium on June 29. He allowed one run in seven innings.
Brewers 11, Mets 9:
Prince Fielder hit a long home run early and a key single in the ninth inning, spoiling the Mets' chances of a win against former closer Francisco Rodriguez. Casey McGehee followed Fielder's tying hit with a two-run single off Manny Acosta, capping a four-run rally. The Brewers blew a late 7-1 lead, but came back after Angel Pagan hit a two-run homer off Rodriguez (5-2) in the eighth. Mets reliever Jason Isringhausen (3-3) couldn't get an out in the ninth and left after a bases-loaded walk. Fielder, Ryan Braun and Yuniesky Betancourt all homered for the Brewers, who have won eight of their last nine games. John Axford pitched the ninth for his 37th save.
Brewers 6, Mets 2:
Prince Fielder drove in the go-ahead run on a botched potential double-play grounder in the eighth and Yovani Gallardo shut down the Mets for seven innings, leading Milwaukee to its first series sweep in New York. Casey McGehee homered off R.A. Dickey in the fourth and Ryan Braun had three hits, an RBI and scored twice after stealing bases for the Brewers. Gallardo (14-8) gave up six hits in the finale to match a career high for wins.
November, 14, 2011
11/14/11
7:17
PM ET
Milwaukee Brewers GM Doug Melvin acknowledged having one conversation with the agent for Jose Reyes.

"One phone call," Melvin said. "No numbers."

It's likely that the Brewers will be more interested if they conclude free-agent first baseman Prince Fielder is departing.

Ryan Braun lobbied Reyes to join Milwaukee as far back as the All-Star Game.

Might there be more dialogue between Reyes' reps and Milwaukee?

"Haven't decided yet," Melvin said.