New York Mets:

Doug Mirabelli
May, 13, 2011
5/13/11
7:43
PM ET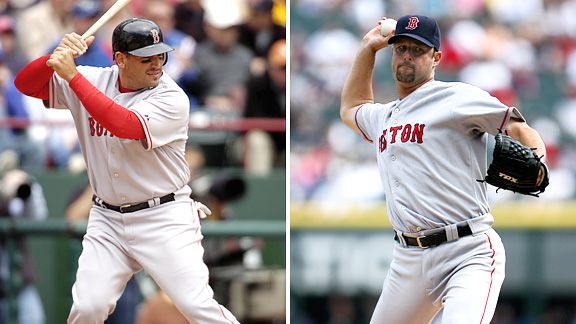 Getty Images
Doug Mirabelli (left) successfully caught knuckleballer Tim Wakefield (right) with the Red Sox, so R.A. Dickey put Mirabelli in touch with Josh Thole.
Doug Mirabelli
was paired with
Tim Wakefield
for 1,012 innings, more than double the duty of any other catcher in the knuckleballer's 19 major league seasons.
And
R.A. Dickey
honed his knuckleball with advice from Wakefield.
So Dickey decided to ask Wakefield if Mirabelli, who last appeared in the majors in 2007 with the Boston Red Sox, would be willing to speak with
Josh Thole
and offer pointers. Mirabelli was more than willing to assist, and recently spoke with Thole by phone.
"I called him and just chatted on the phone about different things," Thole said. "I told him what I feel back there and then what I can do to correct it -- make my hands softer. After I called him, I caught R.A.'s bullpen. He sent me a text, 'Hey, how did the bullpen go?' I have plans to stay in touch with him and let him know if things are good, bad.
"R.A. had brought it to my attention and said, 'Hey, if you want to call Doug, Doug would be more than happy to talk to you.'"
Dickey returns to the mound Saturday against the Astros, although
Ronny Paulino
is catching that game.
Terry Collins
indicated that's because Houston will start a left-handed pitcher,
J.A. Happ
.
May, 7, 2011
5/07/11
9:51
AM ET
Andre Ethier
extended his hitting streak to 30 games, and can match the Dodgers franchise record on Saturday. But the Mets got the victory, topping Los Angeles in the series opener, 6-3,
behind a three-run homer
from
Jason Pridie
and
Ike Davis'
solo shot.
On walking Davis ahead of Pridie's game-tilting long ball, Dodgers manager
Don Mattingly
told reporters: "Your last thought is a three-run homer there, especially in this ballpark. There were some balls that were crushed that didn't go out tonight."
Saturday's news reports:
•
Steve Cohen
, who is named in reports as the frontrunner to buy a minority share of the Mets, likely
would be scrutinized by Major League Baseball
, the Times reports. Writes
Richard Sandomir
:
Cohen, who used to shun the spotlight, is a hedge fund manager whose profits have been consistently lucrative and whose trading records are now being examined as part of a discovery request by federal prosecutors in an insider-trading investigation. ... Cohen's background, which includes a nasty divorce from his first wife, and financial wherewithal have been vetted by baseball. But if he advances to a deal with the Mets, he will face a final level of approval, from Commissioner Bud Selig. Selig alone rules on the sale of minority interests in teams. ...
Selig's recent experience with another hedge fund manager, Andrew Herenstein, led to a change in policy. Herenstein became involved in the tangled and troubled finances of the Texas Rangers a year ago when he acquired more than $100 million in team debt. That led baseball, concerned about the lack of transparency that prevails in the hedge fund world, to require hedge funds to seek approval before doing things like buy debt.
• Read game stories in the
Star-Ledger
,
Times
,
Record
,
Daily News
,
Post
and
Newsday
.
•
Angel Pagan
reinjured his troublesome left oblique
and will not return to the Mets on Saturday as planned, or in the near future. Read more in
Newsday
, the
Record
and
Star-Ledger
.
•
Dillon Gee
may --
may
--
get Sunday's start
.
• Record columnist
Bob Klapisch
says Mattingly, who worked under
Joe Torre
, is
handling the Dodgers' ownership saga well
. Writes Klapisch:
Mattingly is embarrassed -- what Dodger employee wouldn't be? -- but here's where the years of mentoring from Joe Torre come in handy. Mattingly is acting as the buffer between McCourt and his players, reminding them that the franchise's Enron-like crisis has nothing to do with the wins and losses, even if the Dodgers are struggling to reach .500. "Don't let this become an excuse," is the line Mattingly has repeated to his players, a message delivered without a gimmick or agenda.
Daily News columnist
Filip Bondy
also
opines about Mattingly
. Writes Bondy:
Mattingly has been receiving his paychecks. "Direct deposit," he said.
•
Brian Costa
of The Wall Street Journal speaks with
Doug Mirabelli
, the former personal catcher of
Tim Wakefield
, to
discuss catching the knuckleball
in the wake of
Josh Thole's
recent issues. Mirabelli even told Costa to pass along the message that
Ronny Paulino
should feel free to call him if he needs any tips. Writes Costa:
Doug Mirabelli ... twice led the majors in passed balls. And he is regarded as the best knuckleball-specialist catcher of all-time. When he was first traded to Boston in 2001, Mirabelli said he was so nervous about catching Wakefield, he would lose sleep the nights before games. But he became adept at catching him in two ways. The first had to do with technique. Rather than holding his glove out like a target, Mirabelli would start with it between his knees, keeping his hand loose. He would also tilt his body toward first base, making it easier for him to reach over to his right with his glove, which he wore on his left hand. The second part was mental. "You just have to be able to free your mind," Mirabelli said by phone from Traverse City, Mich., where he works as a real estate agent. "Once I was able to let go of the fact that passed balls were going to be part of my game and I wasn't going to be able to catch all of them, it allowed me to relax a little bit, which in turn lessened my amount of passed balls."
•
Lenny Dykstra
has been indicted on charges that
could keep him in prison for as long as 60 years
if fully convicted. Read more in the
Daily News
.
BIRTHDAYS:
A pair of cup-of-coffee Mets celebrate birthdays. Catcher
Brook Fordyce
(three games in 1995) turns 41. Reliever
Manny Hernandez
(one perfect inning in 1989) turns 50. ...
Dick Williams
, the Hall of Fame manager of the 1973 Athletics, who beat the Mets in the World Series, turns 82.
-Mark Simon