June, 24, 2011
6/24/11
10:00
AM ET
By
Mark Simon
| ESPNNewYork.com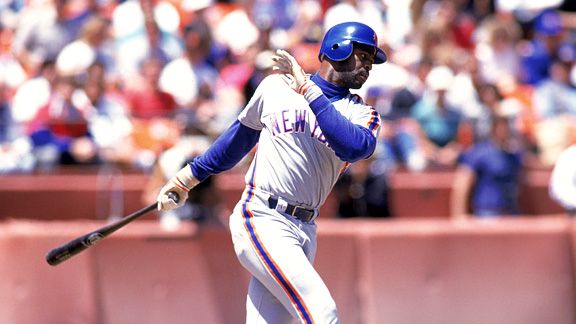 Otto Greule Jr./Getty ImagesDaryl Boston was a unique Met until Justin Turner matched his rarity.
Mark Simon reminisces about Mets history each week in his "Remember When We Met" posts.
The walk-off hit-by-pitch was a one-of-a-kind event in Mets history until Wednesday, when
Justin Turner
joined
Daryl Boston
as the only players in Mets history to end a game by being plunked. Boston's came on April 23, 1992 against lefty reliever
Juan Agosto
and the St. Louis Cardinals.
Our colleagues at
Plunkeveryone.com
(yes, this site really exists), have done their share of work on the subject, noting such things as Turner's being the second interleague "plunk-off" in major league history. The rarity of the game-ending plunk is not necessarily as great as you'd think-- it has happened 45 times in Major League Baseball since the Mets' first season in 1962.
The Elias Sports Bureau tells us that since 1962, there had been 102,874 regular season games played through Wednesday. Picking a game that ended on a walk-off hit-by-pitch is a 2,286-to-1 shot.
With the Mets' tally now standing at two, we thought it would be timely to look at other obscurities that have happened exactly once in Mets history. With the help of Baseball-Reference.com, here are our favorite three.
The 3-triple game
In the Mets' 50-season history, only once has a player hit three triples in a game, and it wasn't the most logical choice --
Jose Reyes
. It was actually second baseman
Doug Flynn
, whose trifecta of three-baggers came on Aug. 5, 1980 against the Expos in Montreal. Amazingly, the Mets lost that game, 11-5, with Flynn telling reporters afterwards that his best-hit ball was a game-ending lineout to shortstop.
But how rare is it?
Eleven players, including Flynn, have had a three-triple game since the Mets began play in 1962, most recently Twins outfielder
Denard Span
last season. Picking a random game and drawing a three-triple game is a 9,352-to-1 proposition.
The five-inning save
Among pitching accomplishments, our original intent was to look for pitchers with high strikeout totals, but remember, the Mets have had a pair of pitchers strike out at least 19 batters in a game --
David Cone
and
Tom Seaver
.
That's a common occurrence compared to the five-inning save, which seems almost unfathomable in this era of reliever specialization. Several Mets have earned lengthy relief wins, but durable
Doug Sisk
registered the only five-inning close-out in Mets history, against the Cardinals on June 23, 1983. It was a day on which Sisk's sinker (one of the best a Mets pitcher has ever had) was at its best. His last nine outs were groundouts.
But how rare is it?
There have been 11 five-inning saves since the save rule became official in 1969. And there were four other games that would have featured five-inning saves, had the rule existed from 1962 to 1968. So picking one of those 15 games from our pool of over 102,000 is a 6,858-to-1 chance.
Ex-Met
Blas Minor
recorded the last one by a National League pitcher, against the Mets while with the Pittsburgh Pirates on June 19, 1993. The last one by any pitcher came on Sept. 3, 2002 by Texas Rangers reliever
Joaquin Benoit
against the Baltimore Orioles.
The walk-off steal of home
Mets center fielder
Tommie Agee
is best known for his tremendous catches in Game 3 of the 1969 World Series -- plays that made him a fan favorite and eventually a Mets Hall of Fame inductee. But Agee did something else that made him unique in Mets history.
On July 24, 1970 the Mets and Dodgers were tied, 1-1 in the 10th inning, when Agee reached on an error, stole second, and went to third on a wild pitch. A pair of walks would load the bases for
Cleon Jones
. Agee, known for his bold baseball nature, decided to do something both daring and unprecedented, at least in Mets history. He sprinted for the plate. He beat the pitch from pitcher
Jim Brewer
and the tag from catcher
Tom Haller
to score the winning run.
"It was close, but he made it," Mets radio announcer
Bob Murphy
told his listeners that night. "There was no doubt about it."
It was a one-of-a-kind play from a one-of-a-kind player.
But how rare is it?
There have been seven regular season walk-off steals of home since 1962 (we aren't counting a play from the 1997 postseason, in which
Marquis Grissom
was credited with a game-ending steal on a botched squeeze attempt), so the chances of landing one of those games via random selection are 14,696-to-1.
The last game-ending steal of home in a regular season game was by
Glenn Brummer
, a backup catcher for the Cardinals, against the San Francisco Giants on Aug. 22, 1982. Maybe we'll see one of those next.
March, 21, 2011
3/21/11
7:00
AM ET
Terry Collins
,
Sandy Alderson
and -- at some point during the powwow
Oliver Perez
-- meet on Monday morning to discuss what's next for the on-the-ropes southpaw, while
Luis Castillo
lands in Philadelphia on a minor league deal and the Atlanta Braves come to Port St. Lucie to face
Mike Pelfrey
.
On to Monday's news reports:
• The Mets filed their official court response to trustee
Irving Picard's
$1 billion-plus lawsuit. Read the ESPNNewYork.com summary of the defense
here
. You can download the actual document filed
here
.
• Newsday notes that part of the Mets owners' legal argument is that they were customers rather than sophisticated investors and therefore
don't have to return the money
. It quotes their lawyers' press release as saying: "A customer has no way of knowing what his broker is actually doing." Picard co-counsel
David Sheehan
told the newspaper the Wilpons are incorrect in their interpretation of the law.
• The Daily News
chronicles the Wilpons' vindication efforts
by noting Picard's complaint ignores a deposition given by the manager of
Fred Wilpon
and
Saul Katz's
own hedge fund that he trusted
Bernard Madoff
and regarded him as a marvel.
Of course, I don't think it was in Picard's best interest to note in the lawsuit that a Wilpon associate was supporting Mets owners' assertions in his deposition. That's probably the defense's job. Picard stuck to pointing out the disputed e-mail
Peter Stamos
allegedly sent after Madoff was caught in which he appears to suggest Wilpon and Katz ignored warnings. Stamos in his deposition explains that away as saying he wanted the Wilpon family to put no more than 10 percent of their assets in any one place to avoid risk, and now they were screwed because they did not hede his advice and instead put all of their eggs in one basket.
• Read more coverage in the
Times
. The newspaper notes the Wilpons suggest they could not have been warned by Ivy Asset Management, as is alleged by Picard, that something might be improper with Madoff because that company itself is "being sued by its investors and the New York Attorney General for concealing its Madoff 'concerns.'"
It also quotes Katz from his deposition asserting the lawsuit's portrayal of him as a sophisticated investor -- even if he had direct access to Madoff -- is false. "I don't do well in the markets, the stock market," Katz says in a deposition. "I'm not good at it. It's not my business."
• Meanwhile, Newsday's
Steven Marcus
reports the Mets'
books are now open
to the potential minority investors who have cleared Major League Baseball's screening process. The hope is to have a minority partner in place by June, although the unresolved Picard lawsuit could complicate that. Writes Marcus:
Those on the list were subject to a financial and personal background investigation by MLB with candidates paying a nonrefundable fee of $25,000 for the right to examine the team's finances. After reviewing the records, investors still interested will meet with principal owners Fred Wilpon and Saul Katz to formulate specific offers.
• After the bus left for Sunday's game in Jupiter, the Star-Ledger's
Andy McCullough
remained behind to observe
Carlos Beltran's
progress with his ailing knees
. Beltran ran four times about 100 feet in the outfield. Beltran had received a cortisone shot in his left knee Friday, while his right knee is more severely arthritic but not as big an issue in the past week. "I don't feel anything," Beltran tells McCullough after the workout. "So I'm moving pretty good. I feel confident." Still, McCullough writes:
Beltran knows neither when he can return to spring training games nor how many he needs to properly prepare for the season. He frets about neither. "The main thing right here is my [left] knee," he said. "If my knee feels good, and if I don't feel pain, I'm going to work hard to get to what I need to be in the games." Progress comes in increments. He took batting practice from the left side on Friday. He ran Sunday. Monday he plans to participate in outfield fielding practice. He also hopes to track pitches on the minor-league side of the complex to hone his batting eye.
• Newsday's
David Lennon
quotes Beltran
saying: "I feel strong. I've feel like I've been doing the work that I need, so once I start playing every day, it's going to turn out good for me."
Read more about Beltran in the
Record
.
The tricky thing for the Mets will be whether to actually put Beltran in a Grapefruit League game assuming he's ready to play before the team breaks camp in nine days, or whether they limit him to minor league games. You can backdate a 15-day DL stint 10 days into spring training -- meaning Beltran technically might only have to miss the season-opening series in Florida. (That's because the regular season opens on a Thursday with the Mets not playing, and the Mets have an off-day after the first series.) But, you can only backdate into spring training until the last date a player appeared in a Grapefruit League game.
• The Times spoke with Perez on Sunday as he
awaited his fate
. "I know I'm not the same guy I was before I signed," Perez tells the paper, referring to his three-year, $36 million deal that has only the 2011 season remaining. "That's why I came here. I wanted to get better." Authors
Mark Viera
and
David Waldstein
write:
Perez said it was difficult to hear negative feedback. He said he had visited a sports psychologist -- provided by his agent, Scott Boras -- to try to help his mind-set and performance. "I want to get better; I want to do my best," Perez said. "It's not easy that people boo you. You want to get better. Every time I go out, I try to get better. It's what it is in life. Everybody wants to be great every time, but that's impossible." He added: "I know the New York people want to win a championship. I've got the same pain for them."
• With it potentially Perez's final day in a Mets uniform, the Post's
Mike Puma
notes Collins' response to whether he would
like to carry two lefties
in the bullpen -- essentially a second with
Tim Byrdak
, who is widely expected to make the team. Collins' reply to reporters after Sunday's game: "I want to keep guys who get people out. If you have left-handers who don't get outs, they can't help you. If you have right-handers who have good stuff, and they get outs, I don't care who is [batting] -- they get people out."
The Mets' bullpen is expected to include
Francisco Rodriguez
,
Bobby Parnell
, Byrdak,
D.J. Carrasco
and
Taylor Buchholz
. Pitching coach
Dan Warthen
strongly indicated this weekend that
Jason Isringhausen
also is on firm footing if he stays healthy the final week and a half. Scouts believe Rule 5 pick
Pedro Beato
would merit the final slot at that point over out-of-options pitchers
Manny Acosta
and
Pat Misch
as well as
Blaine Boyer
and
Mike O'Connor
, who are on minor league deals.
• Isringhausen
felt a pop
in his elbow last week. He tells the Daily News'
Andy Martino
: "We think it's just scar tissue. I saw the doctor, and he said that everything is fine."
•
Steve Henson
of Yahoo chronicles ex-Met
David Newhan'
s
comeback attempt
with the Padres from a surfing accident that "snapped the C2 vertebrae in his neck" and left him in a wheelchair.
• Here's the
Philly point of view
on Castillo landing there on a minor league deal. Writes
David Murphy
in the Philadelphia Daily News:
Castillo has just 28 home runs in 15 major league seasons and carries a paltry .351 slugging percentage for his career. In 2009, he tallied just 16 extra-base hits in 580 plate appearances, the lowest total for a player with as many PAs since 1978. Still, he represents a low-risk addition to a pool of infielders that includes Wilson Valdez, Josh Barfield, Michael Martinez and Pete Orr. "His game in the last couple years, it's dwindled some," Phillies manager Charlie Manuel said on Friday. "I don't know how much is there, but he used to be a hell of a player. I know at one time he was real good. If possible, yeah, he might be someone we'd take a look at."
•
Jeff Pearlman
in the Wall Street Journal catches up with
Doug Sisk
, who Mets fans
once loved to hate
too. Sisk in the piece talks about watching a Seattle Mariners game on TV as a fan later in life and starting to boo at the TV. He then realized he had gone full circle from object of ire to fan dispensing it. Writes Pearlman:
During the team's 1986 world championship season, Mets officials thought it would be fun to use Shea Stadium's JumboTron scoreboard to play a fictionalized computer game between the '69 Mets and the current team. As the battle went back and forth, a sellout crowd cheered. When Keith Hernandez homered, fans stood. When Nolan Ryan came on in relief, they clapped. When the game ended with a triumph for the '86 club, the stadium went wild. Then, WP: Doug Sisk flashed across the screen. Boooooooooooooooooo!
BIRTHDAYS:
Tim Leary
was born on this date in 1958. ...
Shawon Dunston
was born in 1963 in Brooklyn. Primarily a Cub, he attended Thomas Jefferson High School.