May, 25, 2011
5/25/11
9:36
AM ET
Unless
Fred Wilpon
did give additional interviews that have yet to surface, it seems the Mets' less-than-effective PR campaign has ended and it's back to baseball. Of course, since climbing to .500 on Friday with a win in the Subway Series opener, the Mets have now lost three straight, including 11-1 at Wrigley Field on Tuesday night. It was the most lopsided loss to the Cubs since
Tom Glavine
and
Art Howe's
debuts with the organization at frigid Shea Stadium on March 31, 2003. That game was 15-2.
Wednesday's news reports:
• Wilpon apologized by speakerphone to
Carlos Beltran
and
Jose Reyes
in the visiting manager's office at Wrigley Field. The owner decided coming to the Windy City would create too much of a circus (although having dinner with the team here on the off-day might have been a nice gesture -- or at least a gathering at the hotel, away from the media.) Read coverage of Tuesday's twists and turns in the saga in the
Star-Ledger
,
Daily News
,
Journal
,
Times
and
Newsday
.
• Beltran told the Post's
Mike Puma
he was
particularly disappointed
by Wilpon's comments about
David Wright
. "To me, David is a superstar. I feel badly for him." Reyes, on the phone conversation with Wilpon, told Puma: "[Wilpon] asked us how we were feeling about the whole situation, if the comments were bothering us. We understand there is a lot of frustration in the organization. We just need to move on. He can say whatever he wants to -- he's the boss and we are the employees here. All we can do is continue to play."
•
Steve Popper
in the Record notes how much Beltran has been through with the Mets, from the public squabble over whether he had permission to have knee surgery in January 2009, to last year's outing as having not attended a voluntary team trip to Walter Reed Army Medical Center in D.C. (Beltran had said he was conducting business for the high school he was starting, but no explanation should have been necessary.)
Writes Popper
:
Asked if he felt appreciated for his efforts, [Beltran] said, "You know what? For my teammates, I have to say yes. For other people, I don't know. But I care about what my teammates think about me." A question was posed to Beltran: If he knew then what he knows now, would he have taken the seven-year, $119 million deal to come to New York? "I don't have any regrets," he said. "I feel like it's been years through a lot of ups and downs. But at the same time, it has been years where we have done good, we have done bad, and all that can add is experience to my life."
• Post columnist
Mike Vaccaro
wonders if Wilpon
really is the good man
he often is portrayed to be. Writes Vaccaro:
Anyone who ever read or saw "Bright Lights, Big City" knows the New Yorker's fact-checkers are relentless and precise; before this piece went to press -- by which point his team had rebounded to respectability -- these quotes were read back to him. And Fred Wilpon, good man, channeled Jason Robards as Ben Bradlee: "Run that, baby." Would a good man treat his own fans as human spittoons? That's even more egregious in a lot of ways than knee-capping his millionaire employees, two of whom were classy yesterday in the visiting clubhouse at Wrigley Field, one of whom, Reyes, shrugged his shoulders, smiled, and said, "He's the boss. He can say whatever he wants to say." No. When Wilpon described the Mets as, um, "sh***y," what he did was admit what we've long suspected: that he plays his own fans for suckers, chumps, rubes, that he believes they drive to work on the same turnip truck he so vehemently wants us to believe he rides in on.
• Newsday columnist
Ken Davidoff
portrays
Sandy Alderson's
postgame comments as an
island of competence in a tumultuous Mets world
. Writes Davidoff:
Alderson was prepared to deal with Fred Wilpon's apology to Jose Reyes and Carlos Beltran regarding Wilpon's comments to The New Yorker. He wasn't as prepared to deal with Wilpon's comments to Sports Illustrated, which regarded the Mets' bleak financial outlook. So you could see Alderson's polite exasperation -- not at the media's question, but rather at the entirety of the situation, IMO -- as he tried to put the matter to rest for the night. "Look, I haven't read Sports Illustrated, I haven't read Mechanics Illustrated (which doesn't exist), or Men's Health," Alderson said. "I don't know what stories are out there, so until I've read those stories, I can't comment." The subtext of Alderson's comments was clear, at least to me: "Can you believe how dumb these people are? I can't."
• Of course, the bigger news for the organization is Wilpon suggesting the
payroll could dip under $100 million
next year. Alderson said that
would be news to him
.
•
Richard Sandomir
of the Times
reviews some of the financial numbers
.
•
Jason Bay
was pulled from Tuesday's game in the seventh inning with a tight right calf, but minimized the issue. Bay said he alerted staff before the game of the issue, and was perfectly content playing with it. But when the game got lopsided,
Terry Collins
pulled him.
Also on the injury front: Alderson indicated nothing notable came from Wright's visit to a back specialist in Los Angeles other than to script a rehab plan.
Angel Pagan
should play on Thursday for Triple-A Buffalo, then be activated from the disabled list the following day. And
Johan Santana
threw 25 pitches off the top of a mound on Monday. Collins said
Ike Davis
(ankle) is doing baseball activities, but not cutting. Alderson said: "Ike felt good [Monday], not so good [Tuesday]." Read more in the
Star-Ledger
,
Newsday
,
Times
and
Record
.
• Read game stories from the 11-1 loss in
Newsday
, the
Post
,
Daily News
,
Times
and
Record
(via AP).
•
Lenny Dykstra
sneaked on the set of Celebrity Apprentice, worried
Dr. Drew
was hypnotizing
Dwight Gooden
,
according to the Daily News
.
•
Brian Costa
of The Wall Street Journal looks at the
lives of the yet-to-establish-themselves players
on the major league roster who live in hotels rather than sign leases, such as
Dillon Gee
. Writes Costa:
Many of Gee's belongings, including his car, remain in Buffalo, home of the Mets' Triple-A team. The car he drives now belongs to pitcher D.J. Carrasco, who began the season in the majors but was demoted to Buffalo in April. The contrast between players like Gee and the Mets' marquee players is striking. During a road trip earlier this month, Carlos Beltran walked into the clubhouse carrying a shopping bag from Louis Vuitton. Gee went to a mall in Denver because he was out of clean underwear. "A lot of times during the season, you find yourself wearing the same thing," said reliever Pat Misch, who began the season in Buffalo.
BIRTHDAYS:
Chris Young
(32), who is now recovering from shoulder surgery, and
Scott Hairston
(31) each celebrate birthdays. ... '62 Met
Jim Marshall
was born in 1931. Marshall may have been too good for that 40-120 team. In 32 at-bats before being traded to the Pirates in May, he hit .344 with three homers. The Mets were 2-15 when he played, though. Marshall's .344 batting average is third-highest in Mets history for anyone who had at least 30 at-bats with the team, behind
Bob Johnson
(.348, 1967) and
Shawon Dunston
(.344, 1999).
-Mark Simon
March, 12, 2011
3/12/11
6:28
AM ET
Ronny Paulino
will be at Mets camp Saturday. Promise. Many of his new teammates will be boarding a bus for ESPN Wide World of Sports and a matchup with the Atlanta Braves.
On to Saturday's news reports:
•
Brian Costa
of The Wall Street Journal gets
Chris Young
to
recount the line drive
off the bat of
Albert Pujols
that shattered the right-hander's face on May 21, 2008 and altered his career. Young believes the inactivity forced by the shattered facial bones resulted in the first shoulder woes surfacing upon his return. "I didn't know where the ball had gone," Young tells Costa about the line drive. "I just looked down and my pants and jersey were covered in blood. I didn't even feel the pain at that point. I was just sitting on the mound mad, like, 'Uh, come on, I don't want this to happen.'" Writes Costa:
The scar begins on Chris Young's forehead, just above his eyebrows. It meanders down between his eyes, stopping at the bridge of his nose, which is slightly dented. It is only about an inch and a half long, too small to detect on television. The redness that made it noticeable initially has long since faded. But the mark that remains tells the story of how Young got here.
• The Times'
David Waldstein
, meanwhile, talks with Young about the
need for NCAA reform
. The 6-foot-10 former two-sport star at Princeton is serving on an athletics advisory committee for the school. Young's wife
Elizabeth
, a former Princeton soccer player, also is on the advisory board. He believes coaches' salaries should be tied to graduation rates. "What's the point of having a team full of guys who are great athletes and they can win a national championship and none of them graduate?" Young tells Waldstein. "There are some programs like that, where the coaches don't care whether their players graduate or not. The business side has become so dominant that the education has been overlooked. There is so much money involved, and that becomes the bigger issue than kids going to school and getting an education."
It's a separate issue, but Young isn't thrilled with at least one Ivy League policy either. He completed his degree even after signing with the Pirates in 2000. But Young, who obviously had to give up college baseball at that point, also was barred from competing in college basketball once he signed the baseball contract because the Ivy League rule was more stiff than the general NCAA rule. (Maybe he can rail against Ivy League teams not being allowed to participate in NCAA football playoffs, too.)
Young, by the way, will be
staring at ESPN3 this afternoon
at 4, as his alma mater faces Harvard in a basketball play-in game at neutral-site Yale for the Ivy League's NCAA Tournament berth. He had hoped to watch it on television with some Mets executives -- Harvard products
Paul DePodesta
and
Adam Fisher
and former Princeton teammate
Jon Miller
-- but alas, it's only on the computer.
•
Kevin Kernan
of the Post catches up with
Dwight Gooden
, who is headed to
Dr. Drew's
"Celebrity Rehab" show
. "I'm looking to change my life, to get things right," Gooden tells Kernan before boarding a flight for California. "I want to attack my problems and figure out why I go back to alcohol and drugs. I'm really looking forward to doing this. I'm ready. I've got to get it done. It's totally up to me to get it done. ... I've been through different rehabs before but this is a celebrity rehab situation. So people who maybe have dealt with some of the same issues I have had to deal with -- how to deal with different pressures, how to deal with different family situations -- will be there with me to help."
• Newsday's
Jim Baumbach
has more on the Wilpons' continued interest in
owning a Major League Soccer team
. MLS commissioner
Don Garber
tells Baumbach: "We've been in discussions on and off for the better part of a couple of years, including over the past couple of months. The discussions haven't been in great detail but I continue to reach out to them to wish them well and hope they can get through their challenges and at some point continue their discussions with us about Major League Soccer."
•
Jason Isringhausen
tells Newsday's
Anthony Rieber
how he
arrived at the decision
to come back from his third Tommy John surgery. "I was home playing softball with all the guys from my daughter's church school," Isringhausen says. "Playing the outfield ... I was throwing the ball and I said, 'I feel pretty good.' Come Jan. 1, I said, 'I'm going to get on the mound and see what happens.' I went about that process and felt pretty good, so I called my agent and said, 'Why don't we see if we can find somewhere I can throw?' And here we are."
• With
Francisco Rodriguez
being used in the ninth inning of a 10-0 Grapefruit League game Friday, Post columnist
Joel Sherman
wonders whether the
Mets will, in fact, manipulate
Rodriguez's usage this year. It could be more subtle than, say, using
Bobby Parnell
in a save situation. Often times, managers use their closers for mop-up duty if they have gone several days without pitching, just to keep them sharp. Would
Terry Collins
and
Dan Warthen
avoid that if they knew using him in those situations could allow K-Rod to cross the 55-games-finished threshold that triggers a $17.5 million option for 2012? If Rodriguez does not finish 55 games, he essentially makes $15 million this year -- $11.5 million salary and a $3.5 million buyout -- and is a free agent next winter. Another scenario is, if the Mets are out of the race, giving Parnell some late-season save chances with the justification that they need to prep a young pitcher for that role too. Writes Sherman:
The union would argue there is a covenant of good faith, that all usage decisions must be made independent of contractual provisions. And the union will watch diligently all year to see if grounds for a grievance emerge. Grievances over option-year usage patterns are not unique. Yet only one has gone to an arbitrator. Dennis Lamp had a $600,000 1987 option with Toronto that triggered if he reached a point total based on appearances during the 1985-86 seasons. In 1986, Toronto essentially benched Lamp -- he went 25 days between appearances, for example, in September. He finished just shy of the point total to vest the option. Nevertheless, arbitrator George Nicolau ruled in favor of the Blue Jays, deeming that Toronto manager Jimy Williams stopped using Lamp based on ability (5.05 ERA in 1986) not contractual considerations.
• The Post's
Dan Martin
talks with
Fernando Martinez
after the 22-year-old outfield prospect, along with
Ruben Tejada
and nine other players, were
the first cuts from major league camp
. "I've been here a long time, but now I feel comfortable and I know what I'm doing," Martinez, who has averaged 77 games a professional regular season because of assorted injuries, tells Martin. "I'm finally healthy and things are coming together for me. I think today is going to be a good day." ... Read more in the
Daily News
.
• The Record's
Art Stapleton
reviews
Ryota Igarashi's
day
trying to get information
about his extended family after the 8.9 magnitude earthquake hit his native country. His family is safe, Igarashi later said via interpreter
Mike Peters
.
• The Record also
heads to the minor league side
of the Mets' complex to catch up with right-hander
Jack Egbert
from Rutherford, N.J., and Rutgers University. Egbert, who originally came to the organization as a Sept. 25, 2009 waiver claim from the Chicago White Sox, underwent Tommy John surgery last April. He re-signed with the Mets organization a week ago. "All the bus rides, having to be at the facility early for workouts, guys can get a little tired of that, complaining a little bit," Egbert says. "All of a sudden, when that's gone and maybe for good, that's a pretty scary thought. After something like this, you stop thinking about where you are going to pitch and start worrying about when."
BIRTHDAYS:
Darryl Strawberry
turns 49. ...
Carlos Muniz
, who appeared in a combined 20 games in relief for the Mets in 2007 and '08, turns 30. ... Outfielder
Shawn Gilbert
was born in 1965 in Camden, N.J.
March, 2, 2011
3/02/11
5:24
PM ET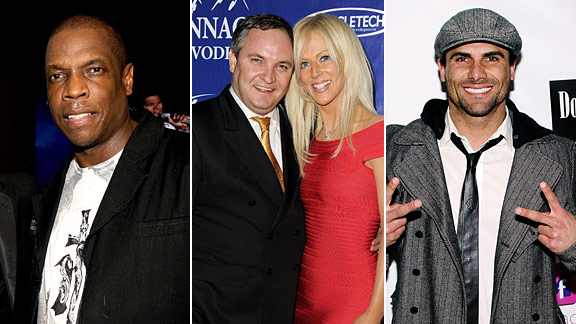 Larry Busacca/WireImage; Jordan Strauss/Getty Images; Maury Phillips/WireImage
Dwight Gooden, the White House state dinner crashers and Hobie from Baywatch all are reportedly appearing on the next season of Celebrity Rehab.
Oft-troubled former Mets star
Dwight Gooden
will appear on the next season of "Celebrity Rehab," TMZ reported. Other celebrities reportedly appearing alongside Dr. K: White House party crashers
Michaele
and
Tareq Salahi
as well as
Lindsay Lohan's
father
Michael
and
Jeremy Jackson
, who played Hobie on Baywatch.
The show's host is
Dr. Drew
.