New York Mets:

Eddie Vedder
April, 11, 2013
Apr 11
3:40
PM ET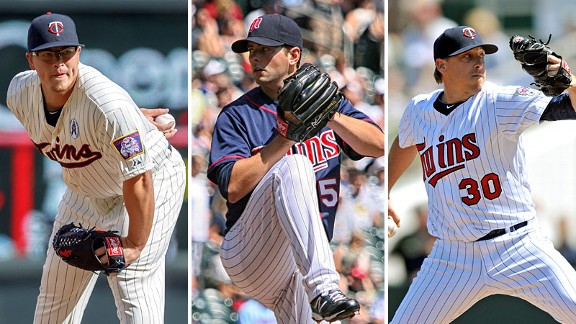 Icon SMI
The Mets face (l to r) Vance Worley, Scott Diamond and Kevin Correia this weekend -- weather permitting.
METS (5-4, third place/NL East) at MINNESOTA TWINS (4-5, fourth place/AL Central)
Friday:
LHP
Jonathon Niese
(1-0, 2.13) vs. RHP
Vance Worley
(0-1, 5.73), 8:10 p.m. ET
Saturday:
RHP
Matt Harvey
(2-0, 0.64) vs. LHP
Scott Diamond
(0-0, -.--), 4:10 p.m. ET
Sunday:
RHP
Dillon Gee
(0-2, 7.71) vs. RHP
Kevin Correia
(0-1, 3.14), 2:10 p.m. ET
Twins short hops
• Left-hander
Scott Diamond
, a SUNY Binghamton product, is due to be activated from the disabled list for Saturday's start. He underwent Dec. 18 surgery to remove a bone chip from his left elbow. In a rehab appearance Sunday with Class A Fort Myers, Diamond allowed four runs on six hits in an 82-pitch effort spanning five innings. Among American League rookies in 2012, Diamond ranked fourth in wins (12), second in ERA (3.54) and sixth in innings pitched (173).
• Right-hander
Vance Worley
was acquired from the
Philadelphia Phillies
with right-hander Trevor May for
Ben Revere
on Dec. 6, 2012. He is 3-3 with a 5.17 ERA (38.1 IP, 22 ER) in seven previous starts against the Mets.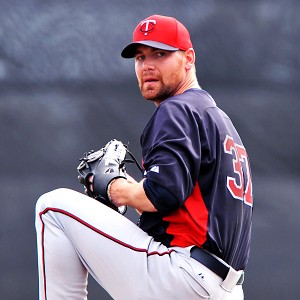 Al Messerschmidt/Getty Images
Mike Pelfrey is not scheduled to face his former team this weekend.

• Center fielder
Aaron Hicks
' role as leadoff hitter may be in jeopardy. The rookie is off to a 2-for-35 start to his major league career, with 16 strikeouts. He also drew criticism from manager Ron Gardenhire on Wednesday for not running out a ball that ended up being dropped by Kansas City center fielder
Lorenzo Cain
. Hicks, 23, was the 14
th
overall pick in the 2008 draft out of high school in Long Beach, Calif. The Mets took college players
Ike Davis
18
th
overall and Reese Havens 22
nd
overall in that first round.
• The customary Twins lineup is:
Hicks, cf
Joe Mauer
, c
Josh Willingham
, lf
Justin Morneau
, 1b
Ryan Doumit
, dh
Trevor Plouffe
, 3b
Chris Parmelee
, rf
Brian Dozier
, 2b
Pedro Florimon
, ss
•
Mike Pelfrey
, who was non-tendered by the Mets in December, signed for a base salary of $4 million with the Twins. He is next due to start Monday, after the Mets leave town. Pelfrey underwent Tommy John surgery last May 1. He was roughed up in Kansas City in his second Twins outing, lasting only two innings. Pelfrey did not allow an earned run in 5 1/3 innings against the
Detroit Tigers
in his Twins debut five days earlier.
• Twins setup man
Jared Burton
got to jam on his guitar at the team's hotel Monday with Eddie Vedder. The Pearl Jam singer is friendly with Twins broadcaster
Ron Coomer
and watched the NCAA men's basketball championship game with the team.
• Outfielder
Darin Mastroianni
has been dealing with a bone bruise on his left ankle, which he suffered in a March 25 Grapefruit League game.
• Roof-less Target Field, which opened in 2010, has never had a snow cancellation. The field is heated, aiding snow melting. According to the Minneapolis Star Tribune, four games were snowed out while the Twins played for 21 years at outdoor Metropolitan Stadium, before relocating to the Metrodome for the 1982 season.
• Gardenhire and pitching coach Rick Anderson have Mets ties. Gardenhire spent his entire five-year major league career with the Mets, hitting .232 in 710 at-bats from 1981 to '85. Anderson debuted with the Mets in 1986 before being traded the following March to the Royals with Ed Hearn for
David Cone
.
• The Mets' lone previous visit to Minnesota came in 2004. The Twins swept the series at the Metrodome.
Johan Santana
limited the Mets to one run in seven innings in the middle game of that series, topping
Steve Trachsel
. The 15-inning series finale ended with an RBI single by Mike Ryan against
Ricky Bottalico
.
February, 26, 2012
2/26/12
7:03
AM ET
Mets position players undergo physicals Sunday, with the first full-squad workout scheduled for Monday.
Ruben Tejada
, who was due to land in Miami yesterday afternoon, has a meeting scheduled with
Terry Collins
for 8 a.m. today. Collins was disappointed his new first-string shortstop
did not arrive to camp early
.
Sunday's news reports:
• The Mets will
wear a "KID 8" patch on their uniforms
as a tribute to
Gary Carter
.
Fred Wilpon
presented the patch to Carter's widow
Sandy
after Friday's memorial service. Read more in the
Daily News
and
Newsday
.
•
Andy McCullough
in the Star-Ledger
does a Q&A with
Jason Bay
, and gets to the bottom of why he routinely exchanges text messages with
Eddie Vedder
. "I was a huge Pearl Jam fan … Eddie's a huge baseball fan," Bay told McCullough. "Huge Cubs fan. There's a lot of guys who have met him.
Sean Casey
, who's a diehard Pearl Jam fan, he's hung out with Eddie numerous times. When I got traded to Boston, we played a game and that night Eddie was playing somewhere in Boston on his solo tour. And he signed this poster, 'Hey, Jason, welcome to the Red Sox.' And then Casey gave me his number. So we text back and forth. ... I've never met him. I've never actually technically met him. And that's the funny part. Casey was like, 'Hey, here's his number, he said text him.' So he was like 'Hey, sounds good, man. If I'm ever up in Seattle recording …' He's never up there. He's got a lot going on. I'm probably the last person [on his mind]. 'Oh, I've got to call Jason Bay!'"
•
Mike Pelfrey
knows he needs to perform in 2012 or it may be his final season in Flushing. Pelfrey actually is under the Mets' control through the '13 season. But he settled for $5.6875 million this year and is arbitration-eligible again next winter, so he likely would be entitled to another raise. The Mets won't agree to that unless Pelfrey succeeds this season. "I want to play this game for as long as I can, and I can't do that with having the kind of year I had last year," Pelfrey told
David Lennon
in Newsday
. "Going into the offseason, it kind of hits you like, 'Man, what happened?' So you go through it, you learn from it and you try to get better. I'm more determined not to let that happen again. Obviously, I need to have a good year or ... I might not be back." Pelfrey also tells Lennon he is far more serious now, not joking or accepting being the brunt of jokes from teammates about his palm-licking or balks. Pelfrey said he has now reincorporated a circle change, which he threw at Wichita State, instead of a split-finger fastball.
David Wright
tells
Mike Kerwick
in the Record
about Pelfrey: "He was coming off a good year, and then all of a sudden just because he's named the Opening Day starter … a lot of times he got matched up with [
Roy
]
Halladay
and
Josh Johnson
. There was numerous times where he pitched well and should have gotten a win. There were a couple times where we blew leads for him late. There were a couple times where he just had some bad luck because he's going up against other team's No. 1." Wright, Kerwick also notes, edged Pelfrey for the final playoff spot in the Mets' fantasy football league on the final day of their league's regular season. Pelfrey just needed to win his game to beat Wright, but lost his game by a half-point.
• 2010 first-round pick
Matt Harvey
drew positive reviews from the major leaguers
who hit against him, including
Ike Davis
and
Josh Thole
, during a live batting practice session Saturday. Despite his goal to make the Opening Day roster, Harvey most likely is ticketed to open 2012 at Double-A Binghamton. Read more in the
Star-Ledger
and
Newsday
.
Andy Martino
in the Daily News
looks at Harvey and highly regarded pitching prospect
Jeurys Familia
, who pitched together last season in the minors. Writes Martino:
Neither is quite ready for the Mets. Harvey struggled upon rising to Double-A last year, and while he later stabilized, his secondary pitches need refining. Familia's ultimate role is unclear, although when he and Harvey talk, they imagine him as a dominant reliever."We always laugh about it," says Harvey. "He says, 'I'll close your games!' "
• Former Mets reliever
Taylor Buchholz
, who is skipping this season, continues to be open about his battle with depression and anxiety. Buchholz is serving as the pitching coach at his former high school in Springfield, Pa. He told
Wayne Coffey
in the Daily News
about not being at spring training for the first time in more than a decade: "It definitely feels weird. There's a strange void, and a little jealousy. ... I'm in a good place. I'm excited about getting my feet wet with coaching."
•
Mike Puma
in the Post
looks at the Mets' outfield defense, with
Andres Torres
in center field now joining Bay in left field and
Lucas Duda
in right field. "We know that Andres Torres is an outstanding defender," Collins said. "[San Francisco Giants manager]
Bruce Bochy
told me, 'If this guy stays healthy, he is an outstanding center fielder.'" Puma notes the Mets have no interest in using Duda in left field and switching Bay to right field. The elimination of the "Mo's Zone" nook in right field at Citi Field should make it easier for Duda anyway, lessening the difference in ground to cover between the corner outfield spots.
• Collins does a Q&A with
Steve Serby
in the Post
. The skipper says
R.A. Dickey
would be his Opening Day starter if, for some reason,
Johan Santana
was unable. As for his expectations for Santana, Collins said: "What our expectations are and what our hopes are, are two different things. What our expectations are, is we don't have any. If he's healthy, he'll be successful. We have hopes we can run him out there 28 times, and if it's more than that, we're gonna be really good. If it's a little less than that, we're still gonna be better. Is he gonna throw 95? Probably not. He has great command and still has that presence."
• Post columnist
Mike Vaccaro
compares Collins
to New York Giants head coach
Tom Coughlin
. Writes Vaccaro:
In a very real way, Collins is like that other sporting skipper in town with the initials T.C. In Tom Coughlin's early days with the Giants, much was made of "Coughlin Time," which meant if you were on time you were really five minutes late. "Collins Time" is less formal and it doesn't really have a name. Players just understand that whatever the official reporting date is, you can alter that as early as you like. And every other important Met did that.
• McCullough
in the Star-Ledger
writes about
Adam Loewen's
conversion from pitcher to outfielder. Loewen and
Mike Baxter
currently are competing for a lefty-hitting outfield spot, although the Mets just as likely could bring in someone from outside the organization late in camp. Writes McCullough:
The Rick Ankiel you've never heard about treats his tale with a blend of humility and simplicity. Nearly a decade ago, the Baltimore Orioles selected Loewen with the fourth pick in the MLB Draft. Half a decade ago, after breaking into the majors, the bones in Loewen's left elbow separated and refused to reunite. He opted for another line of work -- converting into a position player after six years as a pitcher and a career mark of 8-8 with a 5.38 ERA.
•
Andrew Keh
in the Times
profiles center-field prospect
Kirk Nieuwenhuis
, who is returning after missing the latter part of last season at Triple-A Buffalo following shoulder surgery. "There's no doubt this is an important spring for him because of the situation we're looking at, with us in desperate need of guys who can play outfield," Collins told Keh. "We're going to give him a lot of playing time. He's going to get plenty of chances to prove himself."
TRIVIA:
Which player in Mets big league camp has a father who coaches a college baseball team?
(Saturday's answer:
Valentino Pascucci
had the most RBIs by a Buffalo Bison in 2011, with 91.)