New York Mets:

Edwin Jackson
May, 17, 2013
5/17/13
5:19
PM ET
WHAT IT MEANS:
Starter
Matt Harvey
drove in his own damn run.
With the Mets torn between desperately needing a run and also not wanting to pull their ace for a weak and undependable bullpen, manager Terry Collins allowed Harvey to hit with two outs,
Rick Ankiel
at second base and the score tied in the seventh inning.
Who needed a pinch hitter?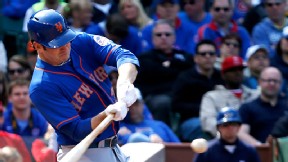 Charles Rex Arbogast/Associated Press
Matt Harvey's bat won the game with a two-out RBI single in the seventh.

Harvey -- with his pitch count at 92 and having retired the last 11 batters he had faced -- gave himself a one-run lead by hitting the ball through the left side of the infield for an RBI single that chased opposing starter
Edwin Jackson
. That proved the decisive blow as the Mets held on for a 3-2 victory over the
Chicago Cubs
on Friday afternoon at Wrigley Field. The Mets have won two in a row after losing six straight.
Right fielder
Marlon Byrd
threw out a runner at the plate in the eighth.
David Wright
and
Daniel Murphy
earlier produced solo homers.
Harvey improved to 5-0, snapping a streak of four straight no-decisions during which he posted a 1.98 ERA while the Mets scored only six runs with him on the mound.
Harvey's final line: 7.1 IP, 5 H, 2 R, 2 ER, 0 BB, 6 K. He threw 106 pitches (78 strikes).
He had retired 14 straight batters, and 20 of 21, until allowing a leadoff single to
Darwin Barney
in the eighth. Pinch-hitter
Julio Borbon
then bunted Barney to second. Collins pulled Harvey and inserted heavily used left-handed reliever
Scott Rice
to face the lefty-hitting
David DeJesus
.
DeJesus singled to right field, but ex-Cub Byrd -- who had entered the previous half-inning for
Jordany Valdespin
-- fired a strike to the plate to throw out Barney as he attempted to score from second.
Harvey has now allowed three runs or fewer in 16 straight starts, the fifth-longest streak by a starter in franchise history. The only longer: Dwight Gooden (24 straight, 1985),
Johan Santana
(21, 2008-09), Tom Seaver (19, 1971-72) and Gooden (17, 1985-86).
Harvey had showed his mortality in the first inning when the Cubs jumped on his fastball. He allowed a one-out single to
Starlin Castro
, then a double by
Anthony Rizzo
that put both Cubs in scoring position.
The fielding let Harvey down after that. Shortstop
Ruben Tejada
ranged to his left to field a grounder from
Alfonso Soriano
behind the bag, but bounced the throw to first baseman
Ike Davis
. Davis was unable to scoop it and the ball got by him. Both runners scored as the Cubs briefly grabbed a 2-1 lead.
The official scorer officially ruled it an infield single (very generous) and an E-6 allowing Rizzo to score from second. Both runs were earned because the scorer determined that Rizzo, who otherwise would have been on third base, would have scored on
Nate Schierholtz
's subsequently shallow lineout to the strong-armed Ankiel in center field.
Gooden tweeted: "Love the way @MattHarvey33 bounced back after the 1st. Sign of a great pitcher in the making"
HIT, MAN:
Davis snapped an 0-for-24 skid with a two-out single in the sixth against Jackson. Davis had struck out looking and grounded into a momentum-killing 4-6-3 double play earlier in the game. Davis' skid was the longest by a Met this season.
Josh Thole
had an 0-for-30 streak in 2012.
WHAT'S NEXT:
Mets right-hander
Jeremy Hefner
(0-4, 4.61 ERA) opposes righty
Scott Feldman
(3-3, 2.53) at 1:05 p.m. ET Saturday.
August, 18, 2012
8/18/12
9:42
PM ET
WHAT IT MEANS:
Jon Niese
tossed 7 1/3 scoreless innings and
Ike Davis
delivered a tiebreaking two-run homer in the seventh against
Edwin Jackson
as the Mets beat the Nationals,
2-0
, Saturday night in D.C.
Frank Francisco
, twice pulled from games in the past week in the ninth inning, notched his 20
th
save -- aided by a solid catch from
Mike Baxter
at the wall in the right-field corner to retire
Ryan Zimmerman
for the first out.
Jackson had allowed only one hit -- Baxter's one-out triple in the first -- before walking
David Wright
to open the seventh. He then served up the two-run, opposite-field homer to Davis with the next pitch. The Nats starter struck out 11, matching teammate
Stephen Strasburg's
July 25 total for the most by a major league pitcher against the Mets this season. The Mets K'd 15 times in the game, matching their season high.
Terry Collins
removed Niese with the southpaw's pitch count at 109 -- 13 shy of matching his career high -- after a leadoff flyout by
Bryce Harper
in the bottom of the eighth.
Niese has now tossed a career-high 13 1/3 consecutive scoreless innings.
Jon Rauch
recorded the final two outs of the eighth. He has now allowed only one earned run in 15 innings spanning 21 appearances since June 28. Still, Niese's removal arguably appeared quick since he is due to pitch with an extra day of rest Friday against the Astros at Citi Field.
WHAT'S NEXT:
The Mets begin implementing their six-man rotation, with
Jeremy Hefner
(2-4, 4.76 ERA) starting Sunday's 1:35 p.m. series finale opposite Nats left-hander
Gio Gonzalez
(15-6, 3.29). Hefner's wife
Sarah
then is expected to have labor induced and give birth before his next start.
June, 6, 2012
6/06/12
9:53
PM ET
Recap
|
Box score
|
Photos
WHAT IT MEANS:
Three times on Tuesday the Mets were within a half-inning of closing out a victory and claiming first place in the National League East. Now, the Amazin's are in fourth place in the division and will be left trying to salvage the matinee series finale Thursday.
Daniel Murphy
committed a pair of errors and the Mets lost their third straight game, 5-3 to Washington on Wednesday at Nationals Park.
The Mets are in the midst of their longest skid since losing four straight April 30-May 4, which included getting swept in Houston.
The Mets mustered only three hits against Nationals starter
Edwin Jackson
and relievers
Sean Burnett
and
Tyler Clippard
.
MURPHY'S FLAW:
A night after shortstops
Omar Quintanilla
and
Jordany Valdepsin
combined to commit three errors, the miscues shifted to second base.
Murphy kicked
Bryce Harper's
first-inning grounder into the outfield and also committed an error on
Adam LaRoche's
third-inning grounder. Murphy also flubbed the baseball in Harper's second at-bat, but recovered just soon enough to retire the 19-year-old phenom at first base.
SPOT LITE: Jeremy Hefner
surrendered a three-run, first-inning homer to LaRoche in the spot start that provided
Johan Santana
extra rest after the southpaw's 134-pitch no-hitter Friday.
Preceding the long ball, Murphy had committed the error to allow Harper to reach, then Hefner walked
Ryan Zimmerman
to bring LaRoche to the plate.
Hefner's final line: 6 IP, 7 H, 4 R, 3 ER, 1 BB, 3 K. He departed with the Mets trailing, 4-2.
This likely was Hefner's final start with the Mets for the near term. In fact, Hefner may lose his roster spot when
Chris Young
returns from paternity leave, if not sooner. That way, Hefner can remain stretched out by working in Triple-A Buffalo's rotation and be ready to step in and provide length again at the major league level if required.
IT'S A START: Ike Davis
walked twice and doubled in his first three plate appearances. It marked only the second time this season Davis (1-for-2) had reached base three times via hit, walk and/or hit by pitch. The other instance: a three-hit game April 29 at Colorado.
After Davis' seventh-inning double against Jackson, he reached third on
Josh Thole's
groundout, then scored to pull the Mets within 4-3 on Quintanilla's groundout.
Tim Byrdak
surrendered a sacrifice fly a half-inning later as Washington restored a two-run cushion.
WHAT'S NEXT: R.A. Dickey
(8-1, 2.38 ERA), working on standard rest, opposes
Chien-Ming Wang
(1-1, 6.43) in the 1:10 p.m. series finale Thursday.
April, 12, 2012
4/12/12
8:34
AM ET
Stephen Strasburg
allowed two hits in six scoreless innings to outduel
Johan Santana
and the
Washington Nationals beat the Mets, 4-0
, in Wednesday afternoon's rubber game. After opening the season with four straight wins, the Mets headed into Thursday's off-day losers of two straight and tied with the Nats atop the division standings.
After mustering a season-low three hits and issuing 10 walks in the series finale against Washington, the Mets attempt to regroup in Philadelphia on Friday night, when
R.A. Dickey
opposes
Cliff Lee
.
Jon Niese
then faces
Vance Worley
on Saturday, followed by
Mike Pelfrey
and
Cole Hamels
on Sunday.
By the way, on the Citi Field revised dimension tracker, the Mets now have taken advantage of the new specs for two additional homers, whereas opponents have yet to capitalize.
Lucas Duda
went deep in the fourth inning Saturday against Atlanta's
Jair Jurrjens
, while
Kirk Nieuwenhuis
took advantage in the fourth inning two days later against Washington's
Edwin Jackson
.
I'll be chatting Mets at SportsNation at 11 a.m. today. Please join me
here
.
Thursday's news reports:
• Santana tossed 99 pitches, four over the soft cap
Terry Collins
had publicly identified, and the southpaw's highest pitch count in any organized game since Aug. 28, 2010. With a short bench minus active
David Wright
, Collins used Santana to bunt in the bottom of the fifth. Santana tossed 84 pitches in his first 2012 start. Collins said the Mets actually hoped to keep Santana to 105 pitches Wednesday, not 95. He was removed Wednesday after a six-pitch leadoff walk in the sixth to
Jayson Werth
. The lone run to score against Santana came on a second-inning wild pitch. He became the sixth pitcher in franchise history to limit an opponent to no more than one run in each his first two starts to a season and yet not be credited with at least one win. The others:
Pat Mahomes
(2000),
Pete Harnisch
(1995),
Rick Anderson
(1986),
Ron Darling
(1985) and
Don Cardwell
(1969). Read game recaps in the
Star-Ledger
,
Times
,
Record
,
Journal
,
Daily News
,
Post
and
Newsday
.
• Collins expressed confidence
Wright
will return to the lineup Friday
, four days after suffering a fracture to his right pinkie diving back into first base on a pickoff throw from the Nats' Jackson. (Of course, the manager initially also wishfully believed Wright's abdominal tear would be a day-to-day thing.) Wright, who received a customized splint Wednesday, is due to see a hand specialist at the Hospital for Special Surgery today. "I'm not a doctor," Collins told reporters. "I don't mean to step on the doctor's toes. I will never do that. But when they give us a final diagnosis of the whole thing, my gut tells me that you'll see him Friday."
After Wright's Thursday visit to the specialist, there may be more clarity about whether a disabled list trip is required. If Wright lands on the DL, Collins expects to shift
Daniel Murphy
to third base. Wright has only been on the DL twice in his career -- after a 2009 beaning by San Francisco's
Matt Cain
that resulted in a concussion, and last season after discovering he was playing with a stress fracture in his lower back. Read more in
Newsday
and the
Star-Ledger
.
• Columnist
Bob Klapisch
in the Record
offered this review of Santana-Strasburg and the Mets' three-hit attack:
That's the surcharge they're paying for David Wright's injury: Without him, the lineup looks lost, rudderless. Ike Davis is a walking ghost with one hit in his first 20 at-bats, and Lucas Duda (.136) and Jason Bay (.158) aren't much better. In all, the Mets struck out 15 times, and not just because of Strasburg. Washington's relief corps registered six of the last nine outs with punch-outs. The effect was impossible to ignore -- it was as if the four-game winning streak never happened. Collins watched in disgust as the Mets issued 10 walks, seven by his relievers in the last four innings. And he couldn't help but criticize the Mets' passivity at the plate, noting in particular how many pitches they took "right down the middle." This underscores just how narrow the Mets' axis of success really is. They can't generate enough offense without Wright, and they'll soon need Santana to go deeper than five or six innings per start.
• Columnist
David Lennon
in Newsday
echoed the concern about a Wright-less lineup. Wrote Lennon:
This lineup, as currently constructed, can't sustain Wright's prolonged absence. The only righthanded threat, and we're using that term loosely here, is Bay and he's 3-for-19 with eight strikeouts after whiffing twice more Wednesday. Ike Davis snapped an 0-for-18 opening skid with his sixth-inning single to avoid tying Todd Pratt for the dubious record of hitless streak for a Mets position player to start a season. It was one of only three hits by the Mets as they slipped to .167 (9-for-54) with runners in scoring position. Wright, remember, was batting .583 (7-for-12) with a .647 on-base percentage, a home run and four RBIs before he injured his finger diving back to first base. The Mets can't come close to replacing that. Not now, anyway.
• Wrote columnist
Bill Madden
in the Daily News
:
You could just feel the pall once again settling in over Citi Field as all the dire prognostications for this Mets team seemed back on track. Ordinarily, a 4-2 home stand in which Johan Santana turned in two strong, almost vintage, though abbreviated outings would be cause for optimism -- if only all the things Terry Collins privately worried about hadn't reared their ugly heads so quickly.
• Columnist
Joel Sherman
at his Post blog
advocates MLB creating a seven-game DL because of situations like Wright's knuckle injury. Writes Sherman:
Would some teams abuse the seven-day DL as a way, for example, to remove a starter who wasn't going to play seven days anyway and get an additional player on for a week? Probably. But you can minimize the abuses by a) Making it a seven-game, not seven-day DL so that off-days and/or rainouts cannot be used to manipulate. b) Create an injury clearing house at MLB whereby any seven-game DL stint has to be signed off on by a doctor not affiliated with the team. c) Not allow the use of the seven-game DL after the All-Star game, so teams are not abusing the privilege during a pennant stretch. Remember that rosters can expand to 40 men after Sept. 1 anyway.
•
Ike Davis'
sixth-inning single Wednesday snapped an 0-for-18 start. It was the longest season-opening skid by a Mets position player since
Todd Pratt
opened the 2001 season hitless in 19 at-bats, according to the Elias Sports Bureau.
Jason Bay
, meanwhile, went 0-for-3 with two strikeouts as his average dipped to .158. Collins was ejected by plate umpire
Larry Vanover
for arguing a called third strike against Bay. "I actually feel pretty good," Bay told reporters afterward. "I've faced some good pitching the last couple days and it's really a matter of just building on it. I feel like I'm having good at-bats as far as seeing the ball and doing certain things. There were times the last few years you're kind of guessing and not even close. But I don't feel like I'm there at all." Read more in
Newsday
and the
Daily News
.
• Duda had an entertaining Q&A with
Steve Serby
in the Post
. The exchange includes:
Q: Bo Jackson was your boyhood idol?
A: Bo Knows Everything. Bo Knows tennis, Bo Knows cycling, Bo Knows bowling ... I had that picture of him where he had like the football pads and he had like a baseball bat in his hand and ... cycling shorts on. I just think he was a freak athlete. It's awesome to see anybody climb up a wall and run two steps on the side of the wall and catch a ball.
•
Sean Ratliff
, who underwent four eye surgeries and missed all of last season after being struck late in 2011 spring training with a foul ball, played his first regular-season game on Wednesday night since Sept. 6, 2010. Ratliff started in left field for Class A St. Lucie. Meanwhile, in Triple-A Buffalo's home opener,
Zach Lutz
launched two homers in a win against the Scranton/Wilkes-Barre Yankees. Read the full minor league recap
here
.
• On the 50th anniversary of the first game in Mets history,
Roger Craig
threw out the ceremonial first pitch at Citi Field before Wednesday's game. Craig started Game 1 for the 40-120 Amazin's, on April 11, 1962 -- an 11-4 loss at St. Louis. Read more in the
Record
,
Post
and
Newsday
.
• Strasburg was allowed to reach the 100-pitch plateau for the first time. Read more in the
Times
.
• 1986 Met
Ray Knight
said in a radio interview he has felt shunned by the organization,
according to the Daily News
. "I've never been able to get anybody from the Mets to really call me," Knight said, the newspaper reported. "I get invited to the big events, but the Mets have just never treated the players the way the other clubs do. Detroit, Houston, Cincinnati, I always get notes, cards, stuff from them. I never get anything from the Mets. I don't know what I did to the front office. I always tried to be a professional and comport myself with class. But I've never had anybody act as if it mattered."
•
Mike Harrington
profiles
Jordany Valdespin
in the Buffalo News
. Valdespin started a fifth straight game in center field Wednesday.
TRIVIA:
Strasburg beat the Mets on Wednesday in his second career start against them. Which current MLB pitcher had the most starts against the Mets before finally being credited with a win?
Wednesday's answer: The other six active MLBers who have 500 career RBIs and primarily play third base, along with Washington's
Ryan Zimmerman
and Wright:
Alex Rodriguez
,
Chipper Jones
,
Scott Rolen
,
Aramis Ramirez
,
Adrian Beltre
and
Eric Chavez
.
April, 10, 2012
4/10/12
8:45
AM ET
The Mets' magic number to clinch the NL East is now 157.
Daniel Murphy
plated
Mike Baxter
from third base with a line single in the bottom of the ninth as the
Mets beat the Washington Nationals, 4-3
, Monday night at Citi Field to improve to 4-0. Afterward, Murphy received a shaving cream pie to the face from
Justin Turner
, which stung. Whipped cream is preferred, but could not immediately be located.
The Mets
started eight homegrown players
-- the most in a non-September/October game since April 19, 1990.
With a win Tuesday as
Dillon Gee
opposes
Ross Detwiler
, the Mets would match the franchise's best start to a season, established in 1985.
Tuesday's news reports:
• Read game recaps in the
Times
,
Star-Ledger
,
Daily News
,
Post
,
Record
and
Newsday
.
•
Kirk Nieuwenhuis
belted a two-run homer to right field off
Edwin Jackson
that tied the score at 3 in the fourth. It was Nieuwenhuis' first career major league homer and RBIs. "I know that was a double last year," Nieuwenhuis said, referring to Citi Field's revised dimensions. "I wasn't sure when I hit it."
Nieuwenhuis has had a whirlwind week. He was held back in Port St. Lucie, Fla., while his teammates departed for Triple-A Buffalo nine days ago, then was finally cleared to depart to join the Bisons when it looked like
Andres Torres
would be ready for the season. But before Buffalo's season started Thursday night, Torres already had re-injured his left calf in the Mets' season-opening matinee. Nieuwenhuis played that night for Buffalo, going 0-for-2 with two walks, then received word of the promotion from
Wally Backman
. He now is manning center field against right-handed pitching for the Mets.
Torres will miss more than the minimum two weeks on the DL, according to Collins, so Nieuwenhuis is sticking around a while. Watch video of the rookie reacting postgame
here
. Read more in the
Post
,
Daily News
and
Newsday
.
•
Ike Davis
will
visit team doctors Tuesday
to determine the state of his suspected case of valley fever, which was flagged during a spring-training physical. Davis said he does not have any obvious symptoms, but will be able to better gauge the severity after blood tests and a look at his lungs.
Terry Collins
plans to
rest the 0-for-15 Davis periodically
to avoid overtaxing him and inflaming the illness. Davis will not start tonight's game against the left-handed Detwiler. Read more in the
Post
,
Star-Ledger
and
Newsday
.
•
Jared Diamond
in the Journal
notes that hitting coach
Dave Hudgens
is emphasizing taking pitches and driving up opposing starters' pitch counts -- unless there is something early in the count to pounce on. "Hit early in the count only to your strengths,"
Scott Hairston
told Diamond about what Hudgens teaches. "If the first pitch you see is on the outside corner, and your strength is inside, you don't want to go after that pitch." Writes Diamond:
So far, the message stuck. In their first three games of the season, the Mets saw 4.02 pitches per plate appearance, good enough for third in all of baseball. Last year, they ranked 20th in this category at 3.79. Perhaps not coincidentally, the Mets won all three games. "It's a team-wide philosophy," Murphy said. "Get something you can handle, get something you can split a gap with." Murphy appeared to embrace the strategy. He saw 4.57 pitches per plate appearance during the Mets' sweep of Atlanta, after averaging 3.73 pitches per plate appearances a year ago. Murphy began the year 5 for 13 with three doubles.
• Columnist
Jeff Bradley
in the Star-Ledger
focuses on
Ruben Tejada
. The shortstop laid down a two-strike sacrifice bunt that ended up getting thrown away and moved Baxter from first to third in the ninth, setting up Murphy's game-winning hit. Writes Bradley:
The entire sequence of Tejada's ninth-inning at-bat is an example of the trust Collins has placed in the kid who's been asked to replace Jose Reyes at short. After Mike Baxter drew a leadoff walk, Tejada was given the task of advancing him to second with a bunt. But when Nats third baseman Ryan Zimmerman came charging hard on the first pitch two pitches, a ball and a called strike, Tejada did what he was taught. "He slashed at the ball," said Collins, "to make sure the defense wasn't going to crash in on him." When Tejada fouled that pitch back, Collins put the bunt back on. "I knew he'd get it down," said Collins. "I know what Ruben can do, how he can handle the bat."
Collins also heaped praise on Tejada to columnist
John Harper
in the Daily News
. The manager had expressed disappointment during spring training that Tejada did not spend the offseason working out in Port St. Lucie, but there wasn't anger with the shortstop choosing to remain home in Panama. "He just knows how to play the game,'' Collins told Harper. "I love the way he plays. When I got on him back in spring training, I wasn't really [ticked] at him, I just wanted him to understand how important he was to this team, how important it was that we were all going to do this together this season. I wanted him there early to work with Murph, and I was disappointed when he wasn't there. But I didn't have any doubt that he would step in and play well for us because nothing bothers him. He just plays the game.''
• Columnist
David Lennon
in Newsday
offers this analysis of Pelfrey's performance, which included three runs allowed on 10 hits in 5 2/3 innings:
By choosing to tender Pelfrey a contract this winter -- a no-brainer move, really -- the Mets set the going rate on durability at $5.7 million. At the minimum, they hope that gets them in the neighborhood of 30 starts and 200 innings. Wins and ERA don't really enter the discussion. The Mets talk of Pelfrey as if he is the Clydesdale of the rotation: A big, sturdy plow horse of a pitcher that munches innings and handles the heavy lifting over the course of a long, hot season. Often, it's not pretty. That was the case again Monday night as Pelfrey got smacked around early, endured a 10-hit, three-run barrage by the Nationals and still got two outs deep into the sixth inning. By the time manager Terry Collins fetched him, Pelfrey had thrown 104 pitches.
•
Darrell Ceciliani
had a walk-off homer for St. Lucie, while
Luis Nieves
drove in the lone run, in the 12th, in a 1-0 win for Savannah. Read the full minor league recap
here
.
•
N.R. Kleinfeld
in the Times
gets fan reaction to the 4-0 start. "It's heaven," workman's compensation lawyer
Neil Abramson
told the newspaper. "I just hope it lasts longer than the eight days of Passover."
TRIVIA:
Murphy now has two career walk-off RBIs. Who was the opposing pitcher in the first instance -- on Aug. 16, 2009 against the San Francisco Giants?
Monday's answer: Before the Mets swept a three-game series from Atlanta to open this season, the last time they had swept a series from a division opponent of tw0 or more games came in 1987. That year, the Mets opened the season by winning a two-game series from the NL East's Pittsburgh Pirates.
April, 10, 2012
4/10/12
12:23
AM ET
Kirk Nieuwenhuis reacts after his first major league homer, a two-run shot in the fourth inning against Washington's Edwin Jackson that tied the score at 3. Nieuwenhuis noted the shot would not have been a homer under the old Citi Field dimensions. The Mets recovered the ball for Nieuwenhuis, who planned to present it to his father Bob, who attended the game.
April, 9, 2012
4/09/12
10:29
PM ET
Recap
|
Box score
|
Photos
WHAT HAPPENED:
Using a lineup with eight homegrown players pre-September roster expansion for the first time since April 19, 1990, the Mets beat the Washington Nationals, 4-3, Monday night at Citi Field in walk-off fashion.
Mike Baxter
opened the ninth by walking against
Henry Rodriguez
. Baxter then went to third when Rodriguez threw away
Ruben Tejada's
sacrifice bunt.
Daniel Murphy
plated Baxter with a line single to right field.
At 4-0, the Mets are off to their best start since also winning four straight to open 2007.
Murphy produced his second career walkoff RBI -- the other coming on Aug. 16, 2009 against the San Francisco Giants.
KIRK CHAMPION:
Kirk Nieuwenhuis
produced his first major league homer and RBIs with a two-run shot off
Edwin Jackson
in the fourth inning, which evened the score at 3.
Nieuwenhuis became the 12
th
Met to homer at least once in his first three major league games. The others:
Mike Jacobs
(2005),
Kazuo Matsui
(2004),
Lenny Dykstra
(1985),
Mike Fitzgerald
(1983),
Lee Mazzilli
(1976),
Benny Ayala
(1974),
Ron Hodges
(1973),
Dave Schneck
(1972),
Ken Singleton
(1970),
Duffy Dyer
(1969) and
Ron Swoboda
(1965).
Nieuwenhuis' shot hit the Modell's sign in the old nook in right field, which would have bounced back into play a season ago. The Mets have now out-homered opponents 2-0 in balls that would have remained in play under the old Citi Field dimensions. The other long ball that would not have been a homer the previous three seasons:
Lucas Duda's
fourth-inning shot Saturday against Atlanta's
Jair Jurrjens
.
OPEN MIKE: Mike Pelfrey
surrendered three runs and 10 hits while striking out a career-high-tying eight and walking one in 5 2/3 innings. He threw 104 pitches (63 strikes) in his first 2012 start.
Pelfrey left two Nats on base with two out in the sixth, and
Miguel Batista
stranded them by striking out
Ian Desmond
.
Batista issued a pair of walks to open the following inning, but
Ramon Ramirez
eventually bailed him out by getting
Jayson Werth
to hit into an inning-ending double play.
Jon Rauch
contributed two scoreless relief innings.
The Mets had not trailed all season until
Adam LaRoche's
RBI single in the first inning -- the third straight hit against Pelfrey. But the right-hander rallied that inning by fanning Werth with a 95 mph fastball, then coaxing a groundout from
Mark DeRosa
.
LAST STRAW: David Wright
pulled within four RBIs of matching
Darryl Strawberry's
franchise-record 733 with a run-scoring single in the third inning that pulled the Mets within 3-1.
0 NO: Ike Davis
remained hitless. Davis, who is scheduled to sit Tuesday, went 0-for-4 and is now hitless in 15 at-bats this season. With Tejada on third base and two out in the seventh and the score tied at 3,
Tom Gorzelanny
intentionally walked Wright to get to Davis, who grounded out.
WHAT'S NEXT: Terry Collins
goes to the righty half of his center-field platoon as
Scott Hairston
starts at 7:10 p.m. Tuesday. Hairston pinch hit for Nieuwenhuis in the eighth inning Monday and struck out to strand the potential go-ahead run at second base.
Dillon Gee
makes his season debut opposite Nats left-hander
Ross Detwiler
.
April, 9, 2012
4/09/12
7:16
AM ET
In his first game since signing a contract that guarantees him $25.5 million over five seasons,
Jon Niese
took a no-hit bid into the seventh inning Sunday, when he walked leadoff batter
Dan Uggla
, then surrendered a single to
Freddie Freeman
. So make it 7,191 games in franchise history without a no-hitter. The Mets nonetheless held on for a
7-5 victory to sweep the Atlanta Braves
and open the season 3-0.
The Mets, who have yet to trail this season, are off to their best start since winning four straight to begin 2007. They are alone in first place for the first time since May 1, 2010.
And they perfect after three games, along with the Yankees opening 0-3, for only the third time since the Mets were born 50 years ago -- the other instances in 1973 and 1985.
Now,
Mike Pelfrey
tries to help run the Mets' record to 4-0 Monday night. After a woeful start to spring training, he limited the Houston Astros and Yankees in his final two Grapefruit League starts to a combined two earned runs and five hits while striking out eight and walking none in 10 1/3 innings. Washington visits for the first night game at Citi Field this season.
Edwin Jackson
makes his debut for the Nationals, who arrive having taken two of three from the Chicago Cubs at Wrigley Field.
Meanwhile, if you're counting, the Mets had one extra homer in the series as a result of the revised Citi Field dimensions, by
Lucas Duda
off
Jair Jurrjens
in the fourth inning Saturday. Opponents had none.
Monday's news reports:
• Because Niese's pitch count was at 99 on the pitch Freeman singled to break up the no-hit bid in the seventh,
Terry Collins
indicated the southpaw would
not have been allowed to complete the outin
g had the no-hitter remained intact. The manager said he and pitching coach
Dan Warthen
had agreed to cap the outing at 115 pitches. Still, Niese countered: "I would've ran back out there. It would've been hard to take me out, that's for sure." Added catcher
Mike Nickeas
: "I would've lobbied for him to stay in." Read more in the
Record
,
Post
,
Star-Ledger
,
Times
,
Daily News
and
Newsday
.
• Columnist
Steve Serby
in the Post
gets Niese to recall a no-hitter -- actually, better, a perfect game -- he tossed as an amateur. Writes Serby:
Niese had thrown a five-inning perfect game as a Defiance (Ohio) High School senior against Wauseon. "We were up 10-0, so if you're up 10 runs after five, that's a run rule," he said. Niese chuckled at the caricature of himself in a bunny outfit holding a large carrot inside his locker accompanied by Happy Niese-ter at the top. "Whoever did it, that's pretty clever," Niese said. Someone wanted to know when he started thinking about the no-hitter, and he joked: "Um, I guess the first inning."
• Not only do fans get a treat Wednesday with
Johan Santana
opposing
Stephen Strasburg
, the Mets are
offering tickets for $2.50
in the Promenade Outfield and Left Field Landing sections. The Mets also had offered complimentary tickets to Sunday's game as they try to get fans in the seats. The tickets must be purchased in advance and are not available at game time at the box office.
• Shortstop
Ruben Tejada
, who had moved to the leadoff spot in
Andres Torres'
absence with a left-calf strain, notched a career-high four hits Sunday. Collins floated the idea pregame of potentially placing
Kirk Nieuwenhuis
in the leadoff spot
, but that is unlikely to materialize as long as Tejada is getting on base. Collins recently had mentioned the strong possibility of
Duda batting fifth and
Jason Bay
sixth after the first series, when the Mets no longer had to contend with the likes of southpaws
Jonny Venters
and
Eric O'Flaherty
in the opposing bullpen, so stay tuned. Meanwhile, the manager had floated
Daniel Murphy
during the offseason as an alternative to Torres as leadoff hitter, but Collins is now content leaving him in the No. 2 hole. Read more on lineup machinations in the
Star-Ledger
.
• Tejada had been 0-for-6 in the first two games of the series, before the four-hit outburst. Collins, you may recall, had expressed disappointment that Tejada arrived on time to spring training. The manager wanted Tejada to spend most of the offseason at the team's complex in Port St. Lucie, Fla. -- bulking up in November with minor league strength and conditioning coordinator
Jason Craig
, then working with his new double-play partner Murphy starting in January, after a holiday break in his native Panama. Read more in
Newsday
and the
Daily News
.
•
Frank Francisco
, who only eight days ago was getting a cortisone shot for inflammation in his left knee, recorded saves in each game of the Braves series. He became the first Mets pitcher to notch saves in his first three games with the team. The bullpen, incidentally, only surrendered one run in 10 innings in the series -- on a solo homer by
Brian McCann
against
Manny Acosta
in the eighth inning Sunday. "I don't worry about what bothers me at the end of the game," Francisco told reporters afterward regarding his knee. "I only worry about the game." Read more in
Newsday
, the
Daily News
and
Post
.
•
Valentino Pascucci's
eighth-inning homer gave Buffalo the lead and
Jeremy Hefner
was a winner in his debut with the organization as the Triple-A Bisons beat Rochester on Sunday to improve to 3-1. Middle infielder
Jordany Valdespin
started in center field for the second straight game, coinciding with Nieuwenhuis' promotion to the majors. Read the full minor league recap
here
.
• Pelfrey acknowledged to ESPNNewYork.com early last season that he is
injected with Toradol before starts
.
R.A. Dickey
acknowledged in his memoir he also received injections of the drug before every second-half start last season, after tearing a band of issue beneath his foot at Wrigley Field. Santana received the injection as well after his body was achy following a start in Jupiter against the St. Louis Cardinals late in spring training.
David Lennon
, Newsday's new baseball columnist, writes
in the newspaper
about that subject:
Toradol is an NSAID, or nonsteroidal anti-inflammatory drug; it's in the same class as over-the-counter medication like Advil, Aleve and Motrin. The difference is that Toradol is far more potent -- it must be prescribed by a physician -- and it is injected, usually into the buttocks. ... "I'm a big fan," Pelfrey said. "I think it should be mandatory. I really think it's that good." Toradol is different from cortisone-type treatments, which are injected directly into the problem area and do not have a systemic effect on the entire body. David Wright received a cortisone shot during spring training to help heal his abdominal strain. ... But that focus on one particular area does not produce the same overall feeling of invulnerability that Pelfrey described after getting his shots of Toradol, which he regularly did an hour before his starts if something was bothering him. "You don't feel anything," Pelfrey said. "If someone punched me in the stomach, I wouldn't feel it."
Philip Wenger
, an assistant professor of pharmacy practice at St. Louis College of Pharmacy, told ESPNNewYork.com last April that it is not recommended to use Toradol for more than five days, and certainly not on a regular basis. The generic name for the drug is Ketorolac, with Toradol a brand name.
"It's often used for pain and inflammation, and especially pain from inflammation. But this one specifically has a warning on it that it shouldn't be used for more than five days just because of the potential adverse reactions from it," Wenger said. "The longer you use it, the higher the risk of problems happening. The serious problems can be serious stomach problems, serious kidney problems and the potential for bleeding and heart problems."
• Cleanup hitter
Ike Davis
is 0-for-11 with five strikeouts. Read more in the
Star-Ledger
and
Record
.
• Columnist
Filip Bondy
in the Daily News
notes the onus is now on Pelfrey to keep the solid starting pitching rolling. Writes Bondy:
These are three tough acts to follow for Mike Pelfrey, who is on deck for the Mets. "Good pitching can be contagious," Pelfrey said. "I just told Dillon [Gee], 'We've got our work cut out for us.' You don't want to be that guy who stops the streak, you want to keep it going. It's good to keep that inner-competition on the team." Next comes Monday night's game against the Nationals, which does not involve Stephen Strasburg or Santana and might have been the most depressing event at Citi Field since Ollie Perez last stepped to the mound. Except that the Mets are at 3-0 and have done exactly what they needed, kept hope alive. They've swept the Braves, the first ever three-game sweep of a division rival to start any season. As far as the city rivalry goes, this is the first time since 1985 the Mets have started 3-0 while the Yanks are 0-3.
TRIVIA:
The Mets had never opened a season with a three-game sweep of a division opponent, but they had swept a two-game series from a division foe five times to open a season. Which team was the most recent victim?
Sunday's answer: With a sacrifice fly Sunday,
David Wright
is now five RBIs from matching
Darryl Strawberry's
733 for the franchise career record. No. 3 on the list:
Mike Piazza
, with 655 RBIs.
July, 31, 2010
7/31/10
9:10
PM ET
By
Ian Begley
| ESPNNewYork.com
Diamondbacks catcher Miguel Montero had a question for the guy a few lockers away in the visitor's clubhouse at Citi Field on Saturday.

"Hey, what's your first name?" he said to the recently acquired Daniel Hudson. "Are you pitching tomorrow?"

A minute later, Joe Saunders, who himself was traded from the Angels to the D-Backs last Sunday, strolled into the near-empty clubhouse wonering aloud, "Where is everybody? Did the whole team get traded?"

He was only half-kidding.

The Diamondbacks made sigificant changes to their roster in the last six days, trading startingf pitchers Dan Haren and Edwin Jackson, reliever Chad Qualls and catcher Chris Snyder in four separate deals.

"It's just part of our job," Montero said. "We're here and we don't know where we're going to be the next day. We kind of understand it.

"I think we got a lot of good young players (in the deals)."

Kelly Johnson, whose name had surfaced in trade rumors, wasn't dealt before Saturday's non-waiver trade deadline, but received some good-natured ribbing from teammate Justin Upton.

"All we have to figure out is what kind of dryer we want for you," Upton joked. "LG or Whirlpool."
NBA
NHL
COLLEGE BASKETBALL
MLB
MLS