New York Mets:

Emmanuel Burriss
July, 30, 2012
7/30/12
10:00
AM ET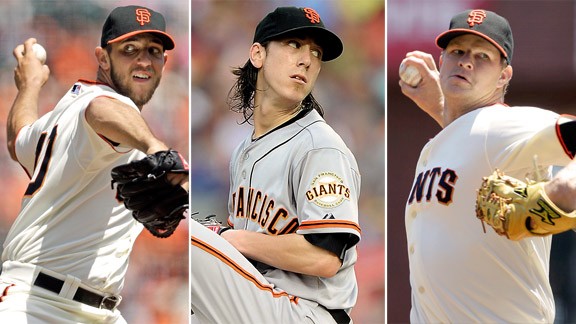 Associated Press/Getty Images
The Mets face (l to r) Madison Bumgarner, Tim Lincecum and Matt Cain during the opening three games of a series in San Francisco.
METS (49-53, third place/NL East) vs. SAN FRANCISCO GIANTS (55-46, first place/NL West)
Monday:
RHP
Jeremy Hefner
(1-4, 5.40) vs. LHP
Madison Bumgarner
(11-6, 3.10), 10:15 p.m. ET
Tuesday:
RHP
Matt Harvey
(1-0, 0.00) vs. RHP
Tim Lincecum
(4-11, 5.88), 10:15 p.m. ET
Wednesday:
LHP
Jon Niese
(7-5, 3.86) vs. RHP
Matt Cain
(10-3, 2.80), 10:15 p.m. ET
Thursday:
RHP
Chris Young
(2-5, 4.58) vs. LHP
Barry Zito
(8-7, 3.89), 3:45 p.m. ET
Giants short hops
• Infielder
Marco Scutaro
made his Giants debut Saturday, starting at third base. Scutaro was acquired from the Rockies for 23-year-old infielder
Charlie Culberson
. Scutaro, 36, hit .271 (102-for-377) with four homers and 30 RBIs in 95 games with Colorado. He last had manned third base in 2008 with Toronto. Scutaro had roughly $2 million remaining on his contract, which the Rockies are subsidizing. He took No. 19, pushing pitching coach
Dave Righetti
to No. 33.
Middle infielder
Emmanuel Burriss
was designated for assignment to clear the roster spot. He was hitting .214 with no homers in 131 at-bats.
Scutaro is being used at third base because NL All-Star starter
Pablo Sandoval
(.299, 8 HR, 33 RBIs) landed on the disabled list with a strained left hamstring. Sandoval suffered the injury while doing a split manning first base on a double play. It was Sandoval's third game appearing at first base this season.
• San Francisco TV station KPIX reports the Giants are poised to acquire
Hunter Pence
from the Phillies, but the San Francisco Chronicle did not corroborate the report.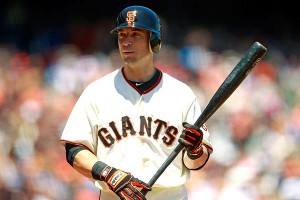 Cary Edmondson/US Presswire
Marco Scutaro made his Giants debut Saturday after being acquired from Colorado.

•
Aubrey Huff
(.150 in 60 at-bats) played Saturday for the first time since July 28. He missed 35 games with a sprained right knee, which he suffered jumping over the dugout railing to celebrate
Matt Cain's
perfect game. Huff will serve as a reserve first baseman/pinch hitter.
• Ex-Met
Angel Pagan
, who was shipped to San Francisco for
Andres Torres
and
Ramon Ramirez
, is hitting .218 (17-for-78) in July. Pagan was caught Sunday for only the fourth time in 21 steal attempts this season. He has started 92 of San Francisco's 101 games in center field.
• First baseman
Brandon Belt
went 1-for-3 Sunday, but is hitting .140 (8-for-57) with four RBIs in 21 games (13 starts) since July 3.
• After limiting Houston and Philadelphia to a combined two runs and 10 hits in 15 innings while striking out 17 and walking three in consecutive starts,
Tim Lincecum
was roughed up by San Diego last week. Lincecum allowed five runs in 4 2/3 innings, including homers by
Chase Headley
and
Jesus Guzman
.
• Cain's .214 opponent batting average ranked fourth in the National League entering Sunday, trailing only Washington's
Gio Gonzalez
(.197), San Diego's
Edinson Volquez
(.209) and Chicago's
Ryan Dempster
(.210).
• All-Star
Melky Cabrera's
.353 average ranks second in the NL, trailing only Pittsburgh's
Andrew McCutchen
(.368).
• The Dodgers completed a weekend sweep of the Giants with a 4-0 win Sunday to pull even in the NL West standings. The teams finish the season with a three-game series at Dodger Stadium from Oct. 1-3.
• A handful of Mets players noticed while watching on TV on Saturday that catcher
Buster Posey
is gun shy on plays at the plate after suffering last year's season-ending leg fracture. Posey stands in fair territory fielding outfield throws and tries to reach back toward the plate for the tag. The positioning added to the scoring damage against
Barry Zito
over the weekend.
•
Hector Sanchez
(left knee sprain) is likely to return from the DL on Thursday and catch Zito.
• Against Cincinnati on June 28,
Madison Bumgarner
became the fourth Giants pitcher age 22 or younger in the live-ball era to throw a shutout while allowing one hit or fewer, according to ESPN Stats & Information. The others:
Mike McCormick
in 1959,
Juan Marichal
in 1960 and Cain in 2006.
• With closer
Brian Wilson
out for season following elbow surgery,
Santiago Casilla
has 24 saves, which ranks third in the NL. However, Casilla has blown six chances, tied for the league high. That includes five blown saves in his past nine attempts.
• Left-handed reliever
Jeremy Affeldt
had an 8 1/3-inning scoreless streak and lefty batters were hitting only .136 against him this season before L.A. touched him for two runs Sunday.
•
Brad Penny
, who began the season with the Fukuoka Softbank Hawks in Japan, signed a minor league deal with San Francisco on May 18 and was promoted June 29. Working in relief, Penny has allowed nine runs (eight earned) on 15 hits and two walks in his past six appearances, spanning eight innings.
• Ex-Met
Joaquin Arias
, who had arrived in New York in a trade with Texas for
Jeff Francoeur
, is 3-for-his-last-45 with runners in scoring position.
• The Giants' AT&T Park will host the semifinals and finals of the World Baseball Classic during spring training.
Last series results
San Francisco won, 3-1, at Citi Field, April 20-23 (AP game recaps)
Giants 4, Mets 3 (10 innings):
Clay Hensley came in and escaped a two-on, none-out jam in the 10th to preserve the win. Hector Sanchez tagged out Kirk Nieuwenhuis to prevent the Mets from winning in the ninth, then singled home the go-ahead run off Frank Francisco in the 10th. San Francisco took a 3-0 lead in the third when Angel Pagan homered in his return to New York, Buster Posey hit an RBI double and Jon Niese threw a run-scoring wild pitch. New York's first two hits off Zito were homers, by Jason Bay in the fourth and Nieuwenhuis in the fifth. Bay reached on an infield hit to deep shortstop off Santiago Casilla leading off the ninth. Javier Lopez entered and retired pinch hitter Lucas Duda, then threw a wild pitch. Nieuwenhuis walked and Josh Thole singled to drive in the tying run.
More
Mets 5, Giants 4:
A high popup that started twisting in the wind turned the ninth inning into an adventure at Citi Field. In one of the craziest endings imaginable, Ruben Tejada scored the winning run on a throwing error by catcher Buster Posey and the Mets won after blowing a three-run lead moments earlier. Mike Pelfrey tossed eight terrific innings, outpitching Ryan Vogelsong and helping the Mets build a 4-1 cushion. Emmanuel Burriss hit an RBI single in the ninth, but New York appeared poised to lock up a fairly simple victory when Jon Rauch entered with two outs and got pinch hitter Brandon Belt to hit a high fly to shallow center. Tejada had trouble with it immediately, though, fighting to get under the ball behind shortstop as it swirled around in the wind. Rookie center fielder Kirk Nieuwenhuis came rushing in and overran the ball, which dropped behind him for a two-run double.
More
Giants 6, Mets 1
Giants 7, Mets 2:
Madison Bumgarner pitched seven neat innings, Pablo Sandoval homered to match a team mark set by Willie Mays and the Giants notched a doubleheader sweep. The Giants took the opener as Tim Lincecum posted his first win of the season. Sandoval hit a three-run homer in the first inning to back Bumgarner. He has a 16-game hitting streak, tying the San Francisco record at the start of a season set by Mays in 1960, STATS LLC said. Hector Sanchez later hit his first big league homer, a two-run shot. Bumgarner (3-1) allowed one run and three hits. He won his third straight start, a streak that began shortly before the 22-year-old lefty signed a $35.56 million, six-year contract. Both games were similar: Sandoval put San Francisco ahead for good in the first inning, the Giants supported their starter with two homers, and they got plenty of pitching. Nate Schierholtz and Buster Posey homered in the opener. Schierholtz had six hits during the day, including two triples. Battered in his first three starts, Lincecum (1-2) allowed one run in five innings and struck out eight. He also walked five and gave up four hits in lowering his ERA from 10.54 to 8.20.
More
April, 23, 2012
4/23/12
7:23
PM ET
WHAT IT MEANS: Miguel Batista could not duplicate the two-hit shutout he tossed in his last start, in Game No. 162 of last season against the Cincinnati Reds. Making a spot start after Sunday's rainout prompted a doubleheader, Batista served up homers to Buster Posey and Nate Schierholtz while surrendering six runs (three earned) in 3 2/3 innings. The Mets lost Game 1 to Tim Lincecum and the San Francisco Giants, 6-1, Monday afternoon.

Schierholtz's three-run shot in the third inning came after a two-out error by Ike Davis prolonged the inning. Batista then walked Posey to put two Giants on base for Schierholtz.

Davis also twice left the bases loaded.

DEBUTANT: After Manny Acosta bailed Batista out of further trouble by recording the final out of the fourth with runners on the corners, 26-year-old Jeremy Hefner entered for his major league debut with the Mets trailing 6-1.

Hefner eventually tossed three scoreless innings, allowing three hits and a walk.

FREAK OCCURRENCE: Lincecum had struggled in his first three starts of the season, going 0-2 with a 10.54 ERA. He hardly was efficient, requiring 108 pitches to get through five innings. And he needed a highlight-reel play to avoid a far different line -- but he got it from second baseman Emmanuel Burris.

With the bases loaded and one out in the fifth, Davis hit a grounder up the middle that seemed destined for center field. Burriss instead ranged to his right to snag the grounder. He flipped the baseball with his glove to Brandon Crawford covering second base. Crawford barehanded it and then threw onto first base for a picturesque double play.

As a result, Lincecum's final line: 5 IP, 4 H, 1 R, 1 ER, 5 BB, 8 K.

UNLIKE IKE: Davis stranded eight runners while going 0-for-4 with two strikeouts. His average dipped to .138 (8-for-58) with a team-high 19 Ks.

After the fifth-inning hard-luck double play, Davis again stranded the bases loaded in the seventh with a routine groundout to second base while facing left-hander Jeremy Affeldt. That inning, the Mets had two runners in scoring position with none out, but ex-Met Guillermo Mota retired Daniel Murphy on a shallow flyout and David Wright on a strikeout as the runners held. Affeldt then entered and loaded the bases with a walk to bring up Davis.

NEW DIMENSIONS: Schierholtz's homer was the fifth, and latest, long ball that would not have left the yard under the former dimensions at Citi Field. The Mets have a 3-2 advantage in the new-dimension homers:

April 7, Lucas Duda, fourth inning off Jair Jurrjens
April 9, Kirk Nieuwenhuis, fourth inning off Edwin Jackson
April 20, Angel Pagan, third inning off Jon Niese
April 20, Nieuwenhuis, fifth inning off Barry Zito
April 23, Schierholtz, third inning off Batista

WHAT'S NEXT: The regularly scheduled game, in about a half-hour. Dillon Gee opposes left-hander Madison Bumgarner.
April, 22, 2012
4/22/12
7:30
AM ET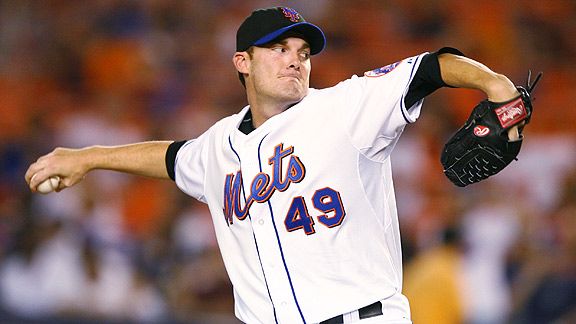 Al Bello/Getty Images
Philip Humber was the third overall pick in the 2004 draft, by the Mets. Here he pitches against the Nationals during the Mets' collapse in September 2007.
Bidding for his first complete game since last July 27, and the first by a Met against San Francisco since
Kenny Rogers
in 1999,
Mike Pelfrey
instead was pulled with his pitch count at 102 after eight innings. Then,
all heck broke loose in the ninth inning
as the Mets ultimately managed to claim a 5-4 victory against the Giants.
Closer
Frank Francisco
surrendered a leadoff single to
Buster Posey
, then a one-out walk to
Nate Schierholtz
and RBI single to
Emmanuel Burriss
that pulled the Giants within 4-2. Francisco then was given a quick hook by
Terry Collins
.
The Mets eventually were about to post the win, when
Jon Rauch
coaxed a fly ball to shallow center field from
Brandon Belt
. However,
Ruben Tejada
backtracked slowly and
Kirk Nieuwenhuis
, who should have taken charge from the get-go, overran the ball. It dropped beyond the center fielder for a game-tying two-run double -- reminiscent of the June 12, 2009 loss at Yankee Stadium in which
Luis Castillo
flubbed a would-be game-ending popup and
Francisco Rodriguez
suffered a hard-luck first blown save as a Met after 16 straight conversions.
Meanwhile, the Mets won it in the bottom half of the ninth after a pair of miscues by the Giants. With runners at first and second and one out,
Justin Turner
appeared poised to hit into an inning-ending double play to shortstop. However,
Aubrey Huff
-- just placed at second base for the first time in his 13-year career -- did not cover second base. The shortstop Burriss ultimately did not throw to first base in time to record even one out. (Huff was playing second base because
Ryan Theriot
had the flu and was unavailable, and the righty-hitting
Brett Pill
had been replaced as a pinch-hitter by the lefty-hitting Belt when Rauch replaced
Tim Byrdak
in the top half of the inning. Huff's first step instinctively was to first base on Turner's grounder.)
Still, San Francisco appeared poised to escape when Nieuwenhuis also seemed to hit into an inning-ending double play. But
Scott Hairston
clipped Posey's right leg on the force out at the plate. Posey's throw to first base to try to complete the double play was wide and sailed into the outfield, allowing Tejada to trot home from second base with the winning run.
Sunday's news reports:
•
David Wright's
streak of reaching base twice in each of his first 10 games of the season via hit, walk or hit by pitch -- the longest streak in the majors since 1999 -- ended Saturday with an 0-for-4 performance. Wright also had hit safely in each of his first 10 games. His average slipped to .439, which ranks second to the Dodgers'
Matt Kemp
(.474) in the major leagues.
• Read game recaps in the
Post
,
Star-Ledger
,
Times
,
Record
,
Daily News
and
Newsday
.
• Francisco, who has now surrendered runs in each of his past four appearances, remains stuck on the three saves he recorded during the season-opening series against Atlanta. Given he got the quick hook Saturday,
will he remain the closer
? After all, Rauch is near-perfect this season, with 8 1/3 scoreless innings, during which he has allowed only one walk and three hits, including what was scored a double on Nieuwenhuis' botched play. "I'm going to talk to Frankie tomorrow," Collins said after Saturday's win in a less-than-definitive response. "I don't like to do too much after the game is over. He's not happy with what happened, but I need him." Rauch had 11 saves last season with the Blue Jays, while Francisco had 17 as his teammate in Toronto. Read more in
Newsday
the
Post
,
Star-Ledger
,
Record
and
Daily News
.
• Posey, who required season-ending ankle surgery after a takeout play at the plate last year courtesy of the Marlins'
Scott Cousins
, found no issue with Hairston's slide. The catcher merely tried to briefly protest to plate umpire
Doug Eddings
that Hairston may have been out of the baseline when he made contact with Posey's right leg. Hairston wasn't, and even Posey admitted he was just arguing for the sake of doing so. "I just … I don't know," Posey told
Andrew Baggarly
at
CSNBayArea.com
. "There was so much going on. You're just trying to plead your case for what it's worth."
On Hairston's motivation, Posey added: "I think it's just going in hard."
Posey insisted to Baggarly that his complaint to Eddings was not because of heightened sensitivity after last year's May 25 play that ended his season. "No, it has to do with this game," Posey said. "We're trying to stay in the game. I would have reacted the same way regardless."
• Pelfrey now has a 2.29 ERA through three starts. He did not question his removal at 102 pitches, but noted pulling a pitcher on a high note -- Collins' stated motivation -- is for young pitchers, of which he may no longer qualify. Read more in the
Post
and
Newsday
.
•
Tim Lincecum
enters Sunday's start against
Dillon Gee
having struggled in his first three starts of the season. Lincecum, who has a 10.54 ERA, has seen a significant decrease in his fastball velocity this season. According to ESPN Stats & Information, Lincecum is averaging 90.2 mph this season, down a full 2 mph from last year's average. His maximum registered velocity so far in 2012 is 93.1 mph, versus 96.6 a season ago.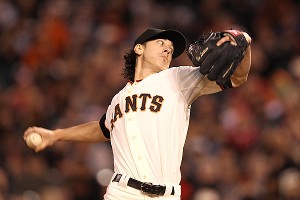 Ezra Shaw/Getty Images
Tim Lincecum has a 10.54 ERA through three starts this season.

In fact, of the six lowest average fastball readings for a start in Lincecum's career, three have occurred since last Sept. 25. The percentage of strikes he gets with his fastball has decreased every season since 2009 too -- from 64 percent that year to 58 percent this season.
According to ESPN researchers, Lincecum's Fielding Independent Pitching -- which neutralizes teammates' effect by considering strikeouts, walks, hit by pitches and home runs -- annually has slipped. He ranked first and then second in the NL in his two Cy Young seasons, 2008 and '09, at 2.59 and 2.34. In 2010, his FIP drifted upward to 3.15 (15th). In 2011, it was 3.17 (18th). So far this season, it's 3.36 (38th).
Lincecum downplayed the 2012 start to
Zach Berman
in the Times
, comparing it to August 2010, when he was 0-5 with a 7.82 ERA and then rebounded in September en route to a Giants championship. "You never try to panic over one game in the scheme of things, or even three games," Lincecum told Berman. "Hopefully, it's comparable to that and it's something I can learn to get out of quicker and not have it turn into what I did that month. It's just part of learning my body."
•
Philip Humber
became the
latest ex-Met to toss a no-hitter
. Actually, Humber tossed the 21st perfect game in major league history Saturday, at Seattle.
Humber originally was drafted by the Mets in the first round (third overall) out of Rice University in 2004. With
Justin Verlander
taken second overall by the Detroit Tigers in that draft, Mets officials desperately wanted to draft
Stephen Drew
, but the highest levels of the organization were worried about the cost, and the Mets instead selected Humber, whom they viewed as a signable and "safe pick." He received $3 million. Drew eventually went 15th overall to the Arizona Diamondbacks and signed for $4 million.
The following spring training, Mets officials were in awe when Humber snapped off a full-count curveball that froze
Miguel Cairo
for a strikeout in an intrasquad game on the eve of the Grapefruit League season.
Gary Carter
, who was slated to manage the Mets' Gulf Coast League team that upcoming season, walked by Humber's locker after the intrasquad game and proclaimed, "Fast track!"
April, 19, 2012
4/19/12
8:18
AM ET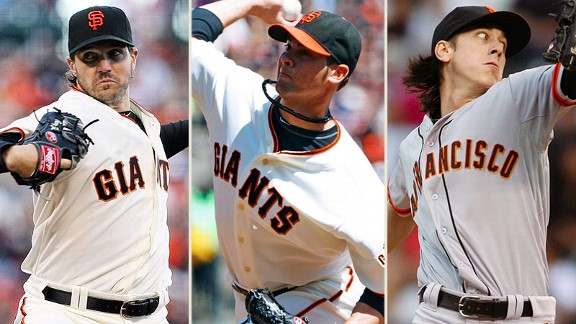 US Presswire
The Mets face (l to r) Barry Zito, Ryan Vogelsong and Tim Lincecum in the opening three games of the series.
METS (7-5, second place/NL East) vs. SAN FRANCISCO GIANTS (6-6, third place/NL West)
Friday:
LHP Jon Niese (2-0, 2.13) vs. LHP Barry Zito (1-0, 1.13), 7:10 p.m. ET
Saturday:
RHP Mike Pelfrey (0-0, 3.09) vs. RHP Ryan Vogelsong (0-1, 2.84), 1:10 p.m. ET
Sunday:
RHP Dillon Gee (1-1, 2.92) vs. RHP Tim Lincecum (0-2, 10.54), 1:10 p.m. ET
Monday:
LHP Johan Santana (0-2, 3.97) vs. LHP Madison Bumgarner (2-1, 3.63), 7:10 p.m. ET
Giants short hops
• After a 3-for-27 start to his Giants career, center fielder
Angel Pagan
had three multi-hit games -- and three triples -- in a four-game span through Tuesday. He looked particularly good facing Phillies ace
Roy Halladay
. Pagan, known for his lapses in the field and on the bases, has been mostly sound in that respect -- albeit with one costly miscue. Playing center field behind
Tim Lincecum
on Monday in the first inning with one out and none on, Pagan did not take charge on a fly ball by Philadelphia's
Placido Polanco
to right-center. He and right fielder
Melky Cabrera
both pulled off and the ball fell for a double that started a four-run rally. Pagan has batted leadoff in all but one of his starts this season. He was traded to San Francisco at the winter meetings in December for
Andres Torres
and
Ramon Ramirez
.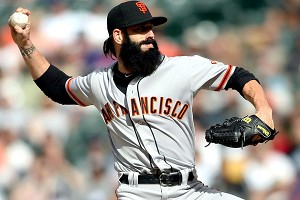 Chris Humphreys/US Presswire
Brian Wilson is expected to undergo Tommy John surgery and miss the remainder of the season.

• Closer
Brian Wilson's
season appears to have ended after an April 12 appearance in Denver because of a right elbow injury that is expected to require Tommy John surgery. Wilson has a second-degree sprain of the UCL, which has not completely torn off the bone. Still, he was expected to opt for the procedure. Wilson has sought opinions from Dr.
Lewis Yocum
in Los Angeles and then Dr.
James Andrews
in Birmingham, Ala., on Wednesday.
Santiago Casilla
handled the first closing opportunity and should get the bulk of the chances in Wilson's absence. Last season, when Wilson did not pitch over the final six weeks except for two appearances, the Giants were 9-for-9 in save conversions. Casilla recorded six. Ramirez, now with the Mets, handled the other three.
•
Barry Zito
tossed a four-hit shutout at Colorado in his first start of the season, then limited the Pittsburgh Pirates to three runs (two earned) in seven innings in his second start. Zito changed radically changed his delivery over winter while working with former major league pitcher
Tom House
. The mechanical changes involve more drive with Zito's legs as well as increased follow through.
Zito and
Matt Cain
, incidentally, attended a Sunday concert by Bay Area-spawned Train and were invited on stage, where they participated in performing "Save Me, San Francisco" and "Don't Stop Believin'."
• The Giants followed the major league trend of locking up young left-handed starting pitching, announcing this week the signing of
Madison Bumgarner
to a five-year extension, though 2017, with options for the following two seasons. Potentially worth as much as $70.5 million, it is the biggest contract ever given to a player with only one-plus years of major league service time. Bumgarner, 22, would not have been eligible for free agency until after the '16 season.
The Texas Rangers similarly locked up left-hander
Derek Holland
and the Mets signed
Jon Niese
-- both for five guaranteed years -- during spring training.
Two starts ago, Bumgarner took a no-hit bid into the sixth inning against the Rockies. The southpaw matched up against
Jamie Moyer
that start -- marking the third-largest age disparity between starting pitchers in MLB history, according to the Elias Sports Bureau.
Bumgarner's deal came two weeks after the signing of Cain by the Giants to an additional five years at $112.5 million on top of the right-hander's existing deal. After the two signings, the Giants made courtesy calls to representatives for Lincecum and catcher
Buster Posey
to say they are interested in extension discussions as well … after the season.
• Cain and Philadelphia's
Cliff Lee
had a scoreless duel into extra innings Wednesday. Lee logged 10 scoreless innings; Cain logged nine. San Francisco won, 1-0, in 11 innings on
Melky Cabrera's
RBI single against
Antonio Bastardo
.
• Posey, whose 2011 season ended with broken left leg suffered in a May 25 plate collision with the Marlins'
Scott Cousins
, now is playing through shingles on his left arm.
• Lincecum is not eligible for free agency until after the 2013 season. The team wanted a longer deal with him, but he only agreed to a two-year, $40.5 million contract. Lincecum has allowed more first-inning runs this season (nine) than he did during all of his 2011 starts (eight). He has allowed at least five earned runs in each of his three starts this season. Since his first start, Lincecum has reincorporated a slider that he had hoped to shelve because it taxes his arm. Lincecum's fastball velocity averaged only 90 mph in his third start, Monday opposite Halladay. His second outing, when he lasted only 2 1/3 innings at Colorado, was the shortest start of his career.