PORT ST. LUCIE, Fla.
FIRST PITCH: The Mets are nearly outta here.
After today's 12:10 p.m. game against the St. Louis Cardinals at Tradition Field, the Mets will say goodbye to Port St. Lucie.
They have one more Florida stop before heading north -- a Saturday matinee against the Baltimore Orioles across the state in Sarasota.
Matt Harvey and Jake Westbrook face off this afternoon.
The Mets sit at 14-14-3 in Grapefruit League play with two games remaining.
Friday's news reports:
• Johan Santana 's career is in jeopardy after multiple renowned doctors concur he likely has re-torn the anterior capsule in his pitching shoulder. Santana took 19 months to return to the majors after his original surgery. No major league pitcher has undergone that procedure twice.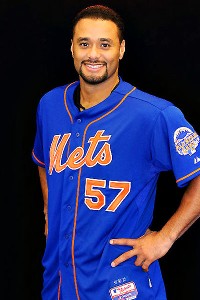 Courtesy of New York Mets
Johan Santana's Mets career may be over.
The Mets will owe Santana $31 million this season with his 2014 buyout, since the contract is not insured.
Combined with the $21 million owed to Jason Bay (albeit $15 million deferred for one to two years), the Mets will have $52 million in payroll for which they get zero return in 2013. In fact, the active payroll may be no more than $40 million to $45 million -- a small-market sum.
Sandy Alderson indicated the Mets "probably" will not seek outside pitching help despite acknowledging the safety net is "not terribly deep."
The highlights of Santana's Mets career obviously include his historic June 1, 2012 no-hitter as well as his shutout against the Marlins in Game No. 161 in 2008, which came on short rest, off a career-high pitch count while pitching with a torn meniscus. That kept the Mets in postseason contention until the season's final day.
Alderson said he did not know when the probable re-tear occurred, so he could not assign as the culprit Santana unexpectedly jumping onto a mound during spring training to counter claims he had arrived out of shape.
Here are columnist takes on Santana from Ian O'Connor at ESPNNewYork.com, Bob Klapisch in the Record, Mike Vaccaro in the Post, David Lennon in Newsday and Mike Lupica in the Daily News.
Read more in the Star-Ledger, Daily News, Post, Times, Journal, Newsday and Record.
• Zack Wheeler and fellow prospect Aderlin Rodriguez had some drama in minor league camp. Read more in the Daily News.
• Jim Baumbach in Newsday notes the Mets' Opening Day sellout streak may be kaput. The Mets officially have sold out 14 straight home openers.
• Daniel Murphy reentered Grapefruit League play, signaling he will be ready for Opening Day. Murphy had an aggressive, and arguably ill-advised, dive into second base. Read more in the Star-Ledger, Newsday and Record.
• David Wright played third base in a minor league game Thursday and hopes to play in a Grapefruit League game today or Saturday. Read more in the Daily News, Star-Ledger and Record.
• Prospect Domingo Tapia surrendered second-inning homers to Adam LaRoche and Danny Espinosa and the Mets lost to the Nationals, 5-1, Thursday.
• SNY confirmed Sacred Heart athletic director Bobby Valentine will serve as a pregame/postgame host on the network for 12-15 games this season.
"I like being busy," Valentine told John Jeansonne in Newsday. "Get up early, go to bed late. That's what it's all about. This seemed like a nice way to watch a ballgame.
"I was competing in international dance competition the same week as playing in Babe Ruth League regional championships as a kid. I was in the school class plays the same week as the high school championship football game. It's all I know; let's put it that way."
Read more in the Times and Star-Ledger.
• The Mets keep insisting they need to continue to get Kirk Nieuwenhuis at-bats, which continues to suggest he will come north with the club as a center fielder. Read more in Newsday.
• "Shameless" star Emmy Rossum will sing the national anthem on Opening Day at Citi Field.
• Jared Diamond in the Journal writes a season preview entitled, "The Crawl Through the Desert Continues." The package includes a position-by-position breakdown. "You never want to concede that anything is more important than the win total," Alderson told Brian Costa, also in the Journal. "But to the extent that players we view as cornerstone players over the next three to five years continue to improve, that's very important to us."
• From the bloggers … Faith and Fear in Flushing never saw shoulders quite as broad as Santana's. … Regarding Santana, Terry Collins' words, "You don't want to ruin the organization," stick out in the ears of Mets Police.
BIRTHDAYS: Billy Beane, a former Mets first-round pick, turns 51. … Former outfielder Alex Ochoa turns 41.
TWEET OF THE DAY:
A lot of emotions with the @johansantana news, none good. Being with him when he got the news was surreal. Still can't believe it.

— Chris Leible (@ChrisLeible) March 29, 2013
YOU'RE UP: No-hitter or Game No. 161 in 2008. Which is Johan's more significant game?