New York Mets:

Evan Roberts
May, 28, 2012
5/28/12
7:16
AM ET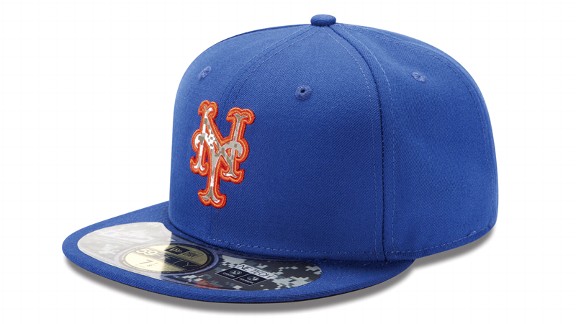 Courtesy of New Era
The Mets, along with the rest of baseball, will wear special caps on Memorial Day. This time, the team colors will remain and camouflage will fill the logo.
R.A. Dickey
,
Tim Byrdak
and
Frank Francisco
combined on the shutout as the Mets upped their scoreless streak to 26 innings and moved six games over .500 for the first time since July 18, 2010 with a
2-0 win Sunday against San Diego
. The Padres, who were shut out by
Johan Santana
the previous day, did not score after
Jesus Guzman's
first-inning sacrifice fly against
Dillon Gee
on Friday.
The scoreless streak is the longest by a Mets staff since going 35 innings from May 25-28, 2010 -- which came primarily during three straight shutouts of the Phillies. The franchise record, if you want to get greedy, is 42 straight scoreless innings from Sept. 23-28, 1969.
After consecutively facing the Pirates and Padres, the Mets now see a
major upgrade in competition
. The next eight series all come against teams with winning records: Philadelphia (25-24), St. Louis (26-22), at Washington (29-18), at the Yankees (26-21), at Tampa Bay (29-19), Cincinnati (27-20), Baltimore (29-19) and the Yankees again, at Citi Field. Then, finally, comes a reprieve at Wrigley Field against the Cubs, who currently own a 15-32 record, tied with Minnesota for worst in the majors.
Cole Hamels
(7-1, 2.17 ERA), who is tied with Dickey, St. Louis'
Lance Lynn
and Los Angeles'
Chris Capuano
for the National League lead in victories, opposes
Jon Niese
(3-2, 4.29) in Monday's 1:10 p.m. series opener against Philadelphia.
The Mets, along with the rest of Major League Baseball, will wear special Memorial Day caps today. In a departure from the previous four seasons, though, the caps will remain in Mets colors. Instead, the logo will be filled with camouflage.
Monday's news reports:
• The Mets' revival of Banner Day, which had been shelved after 1996, appeared a success.
Olivia Nuzzo
and
Stephanie Giangrande
, cousins from Brooklyn, were declared winners by a celebrity panel of
Dwight Gooden
,
Rusty Staub
,
Howie Rose
and
Evan Roberts
. They won a trip to next year's spring training for capturing
Mike Piazza's
homer in the first game in New York after 9/11. More than 300 banners were entered. Gooden then threw out the ceremonial first pitch and shook hands with Dickey before departing the field. View a photo gallery in the
Times
. Read more in
Newsday
and the
Daily News
.
• Dickey
fanned 10 Padres on Sunday
, becoming the first Met with consecutive double-digit strikeout games since
Pedro Martinez
from May 9-14, 2006. Umpire
Tim Tschida
, who has called major league games since 1986, including 13 of retired knuckleballer
Tim Wakefield's
appearances, told
Terry Collins
he had never seen a baseball move like Dickey's did Sunday, according to the manager. Byrdak, now on pace for 95 appearances, had another major contribution -- stranding a pair of runners inherited from Dickey in the eighth by retiring lefty hitters
Alexi Amarista
and
Will Venable
. Francisco had a 1-2-3 ninth and has now retired 12 straight batters. Lefty batters are now hitting .103 (3-for-29) against Byrdak this season. The players sang "Happy Birthday" to Collins in the clubhouse postgame. He turned 63 Sunday. Read game recaps in the
Times
,
Record
,
Star-Ledger
,
Newsday
,
Post
and
Daily News
.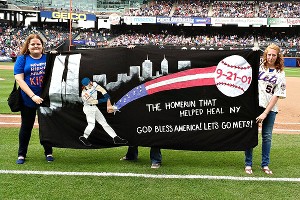 Courtesy of New York Mets
Cousins Olivia Nuzzo and Stephanie Giangrande show off the winning entry in the revival of Banner Day.

•
David Wright
was hitless for a third straight game as his average, which had climbed to .415 in Pittsburgh last week, slipped to .382. Columnist
Bill Madden
in the Daily News
, by the way, thinks it's going to take 10 years to get Wright signed -- although
Ryan Zimmerman's
six-year, $100 million extension on top of the $26 million that remained for two seasons when the Nats third baseman agreed to the new deal seems like the actual baseline. Madden also asserts Wright will need to be convinced the Mets are building a sustained winner. Writes Madden:
That's what's going to take -- a 10-year, Derek Jeter/Joey Votto-like contract. And, if Wright does decide go into free agency after the 2013 season, the Mets can probably kiss him goodbye. That's why this season is so imperative for them.
Wright, in case you missed it, is bending on his one-time claim to hold off on marriage and children until after his playing career. Wright told
Steve Serby
in the Post
in a Sunday Q&A: "You see the guys bring their kids into the clubhouse and kinda hang out with them in the clubhouse and stuff, and that's really cool. So, hopefully that's in the cards for me."
As for Wright's 0-for-10 "slump," read more in the
Post
,
Record
and
Daily News
.
•
Bob Ojeda
writes about the pain he went through as a major league pitcher
in the Times
. In a lengthy piece, Ojeda writes this about this medical intervention leading up to his start in Game 6 of the 1986 NLCS:
The team doctor was in Washington. I was in New York. The game was in Houston. So the team trainer called and told me to meet him at Shea Stadium. I went into the trainer's room, and he gave me two needles and two vials: one with a numbing agent and the other with cortisone. I stuffed them in my leather jacket, grabbed a cab over to La Guardia Airport and hopped the shuttle down to Washington. I met the doctor at the hotel, where he was attending a conference. He probed my elbow because, for the best result, he needed to hit the spot where it hurt most. ...
On Oct. 15, I went to the bullpen and started to throw. It was not going well. It felt like I had two sandbags stuffed in my elbow. I was in trouble, I remember thinking, but I figured I had to try. I gave up three runs in the first inning. Davey Johnson, the manager, stayed with me. A big deal. For him. For me. For my elbow, from which the sand had started, grain by grain, to run out. I went five innings. We won in 16. My left arm and I were going to the World Series.
•
Chris Young
will
move to Triple-A Buffalo
for his fourth minor league appearance since May 16, 2011 surgery to repair a torn anterior capsule in his right shoulder. Young is due to pitch on an extra day of rest Thursday, following starts by
Matt Harvey
on Tuesday and
Jenrry Mejia
on Wednesday and preceding a start by
Jeurys Familia
on Friday. Young's start will come in a 10:35 a.m. game against Columbus (Indians) and will be televised by MLB Network.
In three starts with Class A St. Lucie, Young went 1-0 with a 3.18 ERA. He allowed 17 hits and two walks while striking out seven in 17 innings. He did require nine days before his final Florida State League start, because of "dead arm" as well as the birth of a child, but apparently feels well enough to move to the higher level. Young has an opt-out in his contract on Friday. He has another opt-out on July 1 if he is not in the majors by then and wishes to declare free agency.
Chris Schwinden
,
Miguel Batista
and
Jeremy Hefner
have combined to go 1-2 with a 6.23 ERA in six starts in the rotation slot initially owned by
Mike Pelfrey
.
• Columnist
John Harper
in the Daily News
writes about the upcoming schedule:
Beating up on inferior opponents is a vital first step for any team that wants to be a contender. The Mets just won five of seven against the Pirates and the Padres to raise their record to 27-21, the first time they've been six games over .500 since July of 2010. But now we're about to find out if they can take the next crucial step in the evolution, as the schedule dares the Mets to prove they're for real over the next few weeks.
Columnist
Kevin Kernan
in the Post
also addresses the games ahead.
•
Ruben Tejada's
return from a right quadriceps strain is not going as smoothly as desired. Tejada experienced tenderness trying to run the bases in Port St. Lucie, Fla. Instead of a rehab game today, Tejada may be limited to grounders. Tejada's replacement at shortstop,
Ronny Cedeno
, sat Sunday with the same left calf issue -- officially labeled a cramp -- that forced him to depart Saturday's game.
Justin Turner
started at shortstop in the series finale against the Padres.
Josh Thole
(concussion) should play for the first time in an extended spring training game Monday. Batista (oblique/lower-back strain) is due for a rehab start Tuesday.
Pedro Beato
, on a rehab assignment after opening the season on the DL with a shoulder issue, made his first appearance for Triple-A Buffalo on Sunday after moving from St. Lucie. He retired two batters and issued a walk. Read more injury coverage in the
Star-Ledger
and
Daily News
.
Incidentally, when Thole returns, the Mets likely will have a
Mike Nickeas
or
Rob Johnson
issue to sort out in terms of whom to demote. Johnson does have a minor league option remaining though, so he -- like Nickeas -- does not need to be exposed to waivers if the Mets decide to go that route and retain Nickeas at the major league level as Thole's complement.
May, 13, 2012
5/13/12
8:09
AM ET
David Wright
lifted his average to .402 with a 4-for-6 performance that included a homer and three RBIs. And the Mets rebounded from a series-opening late-inning meltdown to
beat Miami, 9-3, on Saturday
at Marlins Park.
Sunday's news reports:
•
R.A. Dickey
was
drilled on the inside of the right wrist
on a pitch from
Ricky Nolasco
while the knuckleballer batted in the fifth inning. Dickey said he did not believe X-rays would be necessary, but he noted he was curious how the wrist would feel this morning. Read more in
Newsday
, the
Star-Ledger
,
Daily News
,
Post
and
Record
.
• Read game recaps, including coverage of Wright's big game, in the
Record
,
Post
,
Daily News
,
Newsday
,
Star-Ledger
and
Times
.
• My take on Wright: It's becoming increasing clear he will remain a Met long term:
After this season, once Chipper Jones has retired, you will be able to count on Antonio Alfonseca's right hand the number of active players who have appeared in more major league games than David Wright and done so in only one uniform. Derek Jeter. Todd Helton. Ichiro Suzuki. Michael Young. Jimmy Rollins. Brian Roberts. And it is difficult to envision Wright, who has logged 1,136 games as a New York Met, moving elsewhere and getting sidetracked from ascending that list.
Read the full column
here
.
•
Jose Reyes
went 4-for-5 -- all singles -- in the loss. He is now hitting .256. "I got four hits today, but I'm still not quite where I want to be," Reyes said, according to
Mark Herrmann
in Newsday
. "But it's getting close."
•
Mike Kerwick
in the Record
offers a reminder that the next wave of pitching --
Matt Harvey
,
Jeurys Familia
and
Zack Wheeler
-- will be given time to develop in the minors and not rushed soon to the big leagues. Writes Kerwick:
What the Mets pluck from this season is a bonus, a tribute to Mets manager Terry Collins' ability to coax the most out of three dominant starters (Johan Santana, R.A. Dickey, Jon Niese) and the top of his lineup (Is David Wright having a nice season or what?). Next season that changes. Expectations inflate. If at least one of those kids is not on the opening day roster, something will have gone wrong. For now: Patience, young Skywalker. The kids will get here, maybe even by season's end. Until then, put up with these short-term rental agreements. More-promising tenants will be here before you know it.
•
Charley Thurber
,
Albert Cordero
and
Travis Taijeron
all homered in Savannah's 8-4 win at Hickory. Read Sunday's full minor league recap
here
.
•
Anthony McCarron
in the Daily News
profiles
Octavio Dotel
, who has played for 13 teams, including the Mets, his original organization. Dotel's April 7 appearance for the Detroit Tigers allowed him to pass
Matt Stairs
,
Mike Morgan
and
Ron Villone
for the major league record for most uniforms donned, according to the Daily News. Writes McCarron:
He chuckles when someone suggests he pursue an endorsement deal with Samsonite, the luggage company. "It's easy for me," Dotel says of the record, which he embraces and even admits he looked forward to holding. "Some guys, it might be difficult, but for me, going from one city to another city, one stadium to another stadium, one team to another team, it's normal."
•
Dwight Gooden
,
Rusty Staub
,
Howie Rose
and
Evan Roberts
will serve as judges, along with one later addition, for the May 27 revival of Banner Day,
according to the Daily News
.
•
Daniel Murphy
discusses his relationship with God, his engagement and dealing with the pressures of baseball with
Andy McCullough
in the Star-Ledger
.
TRIVIA:
Who produced the first Mets hit at Marlins Park?
Saturday's answer:
Mike Marshall
has the single-season major league record for relief appearances. Marshall appeared in 106 games with the Los Angeles Dodgers in 1974.