New York Mets:

Felix Millan
July, 28, 2014
Jul 28
5:24
AM ET
Associated PressBartolo Colon makes his final start before the non-waiver trade deadline on Monday.
NEW YORK
FIRST PITCH:
Bartolo Colon
makes his final start before Thursday's 4 p.m. non-waiver trade deadline when the Mets return home to face the
Philadelphia Phillies
on Monday.
Colon (9-8, 4.03 ERA) enters the start off an outing in Seattle in which he retired the game's first 20 batters.
Robinson Cano
broke up the perfect-game bid in the seventh with a line single.
Colon opposes right-hander
A.J. Burnett
(6-9, 3.86) in the 7:10 p.m. series opener.
The Mets took four of five games in Philly when the teams last met, May 29-June 2.
Of course, the Mets won eight of 10 games on their last homestand and now have a 25-23 record at Citi Field this season. The Mets have not finished a season with a winning home record since 2010.
Colon, incidentally, likely will be eligible to be traded in August, too -- either by clearing waivers or via the Mets dealing with a team that puts in a claim. That is because he is owed $11 million in 2015, during a season in which he will turn 42 years old.
Monday's news reports:
• After giving an interview to Willie Weinbaum
at ESPN.com
in which he advocated
Roger Clemens
,
Barry Bonds
and
Mark McGwire
getting voted into the Hall of Fame with asterisks, Tony La Russa went further during an interview published
in the Daily News
.
Mike Groll/Associated PressTony La Russa said he brought concerns about steroid use to Sandy Alderson during their days with the A's, but was rebuffed.
La Russa said he voiced concern to
Oakland Athletics
GM Sandy Alderson and the team's ownership during that era about potential player steroid use, but nothing was done.
"I knew our programs in Oakland were 100 percent clean," La Russa told the Daily News. "But we had our suspicions -- guys hitting stronger but not working out. I went to Sandy and ownership about this. And they told me flat off, 'Right of privacy. It's a collective bargaining issue.'"
Alderson told the newspaper: "I'm not going to comment on that until at least Monday" -- presumably so any comments would not detract from induction weekend.
•
Jacob deGrom
tossed 6 1/3 scoreless innings in his latest dominating performance and
Lucas Duda
slugged his fourth homer in six games as the Mets beat the Brewers, 2-0, Sunday at Miller Park to earn a split of the four-game series.
The Mets went 5-5 on their second-half-opening trip to San Diego, Seattle and Milwaukee. With 57 games remaining, the Mets trail the first-place
Washington Nationals
by 8½ games and are seven games out in the wild card.
Mike McGinnis/Getty ImagesJacob deGrom has a 0.66 ERA over his past four starts.
DeGrom has now limited opponents to two runs in 27 1/3 innings over his past four starts -- all wins -- to even his record at 5-5. He has not allowed a homer in his last 59 innings. That is four outs shy of matching the franchise's rookie record, set by Mark Bomback in 1980.
Duda had four of the Mets' five homers on the entire 10-game trip, with
Curtis Granderson
producing the other. Duda entered Sunday with an NL-leading 24.3 percent of his at-bats this season ending with a ball deemed "hard hit," according to ESPN Stats & Information.
Jenrry Mejia
wriggled free despite allowing two baserunners in the ninth. He has now recorded a save in each of his last seven appearances. That's the longest string of appearances with a save by a Mets reliever since
Billy Wagner
had a save in nine straight appearances in 2007.
The Mets posted a 5-5 trip despite failing to exceed three runs in any of the final nine games. If the Mets fail to reach four runs on Monday against the Phillies, it will become the longest streak of games producing three or fewer runs since 1981 (11 straight).
In the second half, the Mets are hitting .186 (60-for-322) and averaging 2.2 runs per game. Only the
Cincinnati Reds
are worse in those categories in the National League.
Read game recaps in the
Post
,
Daily News
,
Newsday
,
Star-Ledger
,
Record
,
Journal
,
Times
and at
MLB.com
.
• Read more on Duda in the
Post
and
Newsday
.
•
Tom Glavine
made multiple references to the Mets during his 17-minute induction speech in Cooperstown on Sunday.
Gregory J. Fisher/USA TODAY SportsTom Glavine generously mentioned the Mets during Sunday's Hall of Fame induction speech.
"To all the folks associated with the Mets organization, thank you for treating me and my family the way you did," Glavine said. "Thank you Fred and Jeff Wilpon for the opportunity to play in New York and for providing the resources so I could experience a postseason there. To the fans of New York, thank you so much for your support and for ultimately treating me and my family with so much respect."
Glavine singled out former Mets pitching coach Rick Peterson and trainer Mike Herbst for gratitude.
"Rick, you helped me to reinvent myself, make the changes I needed to make for the latter part of my career -- which, trust me, when you were doing something for 16, 17 years, it's not an easy thing to change," Glavine said. "But you talked me into it, you convinced me of it, and you gave me confidence to do it."
Joe Torre also paid homage to the Mets early in his induction speech.
Torre lauded Hall of Famer Tom Seaver, who was in attendance in Cooperstown, then said during in speech: "I was with the Mets a couple of years before I became manager. And then once I became manager on May 31, 1977, my first bit of duty was to trade Tom Seaver two weeks later, which wasn't a whole lot of fun. And the last time he pitched for me -- I don't know if you remember, Tommy -- he pitched in Houston. And when I went out to take him out of the game, he patted me on the rear end.
"I did have one accomplishment with the Mets as a player. And, again, you can't go through life alone. Certainly in baseball, you need all the help you can get. Well, on July 21, I hit into four double plays in one game. And I just want to make sure I share the credit, because I could not have done it unless Felix Millan had hit four singles right in front of me.
"In 1977 I became manager. I want to thank the
New York Mets
, at the age of 36, for trusting me with their ballclub -- M. Donald Grant, chairman of the board. It was a great opportunity for me. You talk about learning. As I said, we had to make some trades a couple of weeks after I took the job. And there was a lot of learning -- young players -- but [it was] a great experience. A great experience."
Read more on Mets references in Glavine's speech in
Newsday
.
• Matt Reynolds launched a go-ahead three-run homer in the seventh as Las Vegas beat Salt Lake, 6-5. Noah Syndergaard allowed two runs (one earned) in five innings.
Jeremy Hefner
allowed three runs in three innings in his fourth minor-league start since returning from Tommy John surgery as Daytona beat St. Lucie, 4-3, in Game 1 en route to a doubleheader sweep. St. Lucie has lost eight straight. Michael Bernal went 4-for-4 with four RBIs off the bench as Brooklyn beat Lowell, 9-3. Read the full minor-league recap
here
.
•
Troy Tulowitzki
may love New York, but it looks like the Bronx would be his strong preference. Tulowitzki, on the DL with the
Colorado Rockies
and in the Northeast to visit a doctor in Philly, swung by Yankee Stadium on Sunday to watch
Derek Jeter
play.
"It's a short drive from Philly," Tulowitzki
told The Denver Post
. "I'm with my family. I wanted to see Jeter play one more time."
• Terry Collins dismissed any apparent friction with
Jonathon Niese
, who was displeased with getting pulled after five innings Saturday.
"I love Jon and support everything he says," Collins said. "I know he doesn't want to come out. … Sandy Koufax told me many years ago, 'Pitchers and managers never get along.'"
• Why did
Juan Lagares
slide headfirst into first base Sunday, against what his manager would prefer? "I was just trying to do something to get a hit because I don't remember the last time I did," Lagares told Mike Vorkunov
in the Star-Ledger
.
•
From the bloggers ...
Faith and Fear
isn't so nervous during ninth innings these days.
BIRTHDAYS:
No one to appear in a game for the Mets was born on this date, but Soulja Boy and Manu Ginobili celebrate birthdays on July 28.
TWEET OF THE DAY:
#Mets are 50-55 with 57 games remaining. They must go 31-26 to finish .500. Not easy, but doable. That is my goal for them to build on in 15

— Russ O'Brien (@russelltob) July 28, 2014
YOU'RE UP: Did Tony La Russa throw Sandy Alderson under the bus?
June, 1, 2011
6/01/11
11:51
AM ET
By
Mark Simon
| ESPNNewYork.com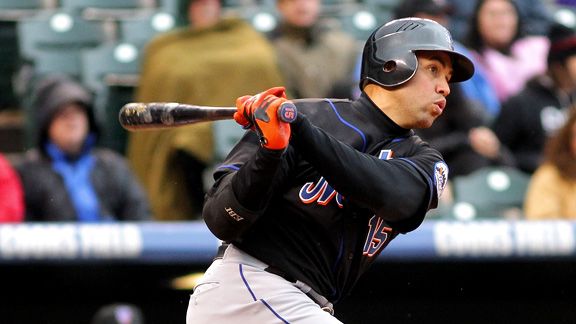 Doug Pensinger/Getty ImagesThe Mets need more games from Beltran like his three-homer game a couple of weeks ago.
In the first two months of the season, shortstop
Jose Reyes
has established himself as potentially the most coveted position player should the Mets look to make deals at the July 31 trade deadline.
It would help the Mets greatly if
Carlos Beltran
could establish himself as the second-most coveted player.
Unless the Mets embark on a major winning run over the next two months, it's almost a certainty that they'll be selling by the end of July. Beltran seems like a certainty.
What should we be watching for Beltran in June? Here are five things to consider.
How does he hit left-handed pitching?
In 2008 and 2009, Beltran hit .326 with 15 home runs in 264 at-bats against left-handed pitching.
So far in 2011, he's 12-for-49 with five home runs, and while the hit total isn't bothersome (one or two more hits, and he's hitting .around .300), his strikeout rate is. Beltran had a three-year run from 2006 to 2008 in which he struck out as often as he walked against southpaws.
In 2011, he has struck out 12 times in those 49 at-bats. He's walked just three times.
How does he hit on the road?
Take out the three-homer game at Coors Field on May 12 and Beltran has done very little away from Citi Field in the first two months of this season. Beltran enters June hitting .225 in road games (20-for-89) with as many strikeouts as hits, and no home runs other than the Coors Field shots.
The Mets will play 16 road games in June -- a 10-game road trip that features three in Milwaukee, four in Pittsburgh and three in Atlanta, then later in the month three in Texas and three in Detroit as part of interleague play.
How does he do against the mistake pitch?
In looking more closely at pitch location data on Beltran, we noticed an extremely unusual issue that he's had against right-handed pitching.
Our data allows us to classify pitches by area (based on Pitch F/X), and usually a hitter's best performance comes against pitches located middle-middle (
Keith Hernandez
would probably call it a "mistake pitch").
Beltran is just 2-for-17 when he puts a mistake pitch from a right-hander in play. Two of the three line drives he's hit have been caught. All seven of his fly balls against those pitches have been turned into outs. Of his seven groundballs, only one has produced a hit.
Other hitters with comparable numbers from the left side against right-handers include
David DeJesus
,
Emilio Bonifacio
and
Mark Kotsay
. Those are hitters that Beltran was far better than when he was going good.
The typical hitter against these pitches gets a hit about one of every three times he puts the ball in play. As recently as 2009, Beltran's BABIP against mistake offerings from righties was .458. Either Beltran has run into some bad luck that has cost him three to four hits, or there's an issue
Dave Hudgens
needs to address.
How does he run?
It's pretty significant that Beltran has not even attempted a stolen base this season. Unfortunately, he is not performing at a level close to the sort of baserunner he used to be either.
Consider this, courtesy of
Baseball-Reference.com's baserunning stats
section:
From 2005 to 2009, Beltran scored from second base on nearly two-thirds of the time when a single was hit (61-of-94). In 2011, he's scored just three times from second base on nine singles, or one-third of the time.
Is this something that can improve in a month's time? We don't profess to be experts in knee surgery recovery, but it seems unlikely.
How does he defend?
The advanced defensive metrics rated the in-his-prime Beltran as one of the best defensive center fielders in baseball, as far as turning batted balls into outs, with his speciality being the ability to glide back with ease and haul in long flies hit to some of the deepest parts of the ballpark.
The Beltran of April and May 2011 has lost a step, but he has been better than you might think. Of the 35 right fielders who have played the most innings in the major leagues, Beltran ranks ninth-best in that statistic (known as advanced plus-minus). The key will be whether he can maintain that over the next-third of the season.
Five stats that sum up May for the Mets
1
: The Elias Sports Bureau reports that
Jose Reyes
had 40 hits in May, matching
Lee Mazzilli's
club record, set in 1978. Reyes finished with 15 multi-hit games, one shy of
Felix Millan's
record for the most in any calendar month (16 in July 1973, and July 1975).
2
: Elias also checks in via
Justin Turner
, who had both a seven-game RBI streak and a six-game RBI streak, netting an RBI in 13 of 15 games.
Only two other rookies in major-league history had an RBI in at least 13 games over a 15-game span, and both did it more than 80 years ago:
Pinky Whitney
of the 1928 Phillies and
Buster Chatham
of the 1930 Braves (13 of 15). The shame of it for Turner is that some of those RBIs were wasted. The Mets went 7-8 in those 15 games.
3
:
Jason Bay
had seven RBIs in 86 May at-bats, during which he hit either fourth, fifth or sixth in every game. By comparison across town,
Andruw Jones
had eight RBIs in 37 May at-bats. His teammate,
Francisco Cervelli
, had eight RBIs in 26 May at-bats.
4
: The Mets closed May by not hitting a home run in their last 10 games at Citi Field, tied for the fourth-longest homerless streak in home games in club history, and the longest since a 10-gamer in 1979. The "record" of 14 games, set in 1967, is within their sites on this home stand.
5
: In their first 49 games, the Mets lost a game in which they had an eighth-inning lead once. In their last five games of May, they lost games in which they had an eighth-inning lead three times. Remember the bullpen's streak of 23 1/3 scoreless innings in a nine-game stretch from May 4-13? It's been wiped out by their recent efforts -- 27 runs allowed in a 20 2/3-inning span to close the month.
May, 1, 2011
5/01/11
9:15
AM ET
Seven-game losing streak. Six-game winning streak. Now, a three-game losing streak heading into a
Cliff Lee
versus
Chris Young
finale in Philly. The Mets finished the month with an 11-16 record (.407), their worst mark in March/April since 2004 (9-14, .391).
David Wright
hit a career-low .240 for March/April.
Ronny Paulino
is scheduled to get his first Mets start, with the Mets facing the southpaw Lee. And
Carlos Beltran
indicated he plans to forget about getting a rest and play in a 16th straight game.
Sunday's news reports:
• Newsday's
Steven Marcus
writes the winning minority bidder should have the
inside track to full ownership
, even if
Fred Wilpon
isn't intent on selling the majority share now. Marcus quotes a Wall Street person familiar with the bidding saying: "If you believe the Wilpons, they are not intending to sell. They said this is a minority transaction and there is no path to control. The rumors in the marketplace are that the guys [bidders] who are doing this are the guys who are betting they will have a second bite at the apple for future ownership. It seems like a lot of money to put up for that second bite. I would think the [winning bidder] would insist, 'If you ever go to sell it,' they get the first shot at buying it. That isn't a given, it's something that's negotiated."
•
Richard Sandomir
of the Times examines why Wilpon is
being treated differently
than Dodgers owner
Frank McCourt
. Writes Sandomir:
Selig's approaches to the Mets and the Dodgers reflect the breadth of his powers -- he can do what he deems necessary to enforce baseball's "best interests" as he sees them -- and his ties to the owners. He and Wilpon have been friends for 30 years. McCourt arrived in baseball in 2004 but has never pierced the inner sanctum around Selig. McCourt said last week that Selig was ignoring him. Selig appears to regard Wilpon as a trustworthy, solid citizen, but McCourt as a problem child in need of adult supervision.
• The man who built Vitaminwater before selling it off to Coca-Cola is not a candidate for a minority share of ownership, but reiterates he
would entertain buying the entire team
some day if available. St. John's alum
Mike Repole
tells the Post: "If the Wilpons ever decided they wanted or they had to sell the Mets 100 percent, I would be interested in becoming a managing partner and possibly making a run to buy them. But as a minority owner, whether you buy one or 49 percent, there really isn't a difference. For $200 million, it might be cheaper just to buy season tickets."
•
Jon Niese
took a scoreless effort into the seventh, but in the end could not keep up with
Roy Halladay
, as the Mets lost, 2-1.
Ike Davis
lost a career-high 11-game hitting streak. Read game stories in the
Post
,
Newsday
,
Times
,
Star-Ledger
,
Daily News
and
Record
.
•
Dan Martin
of the Post gets
postgame reaction from Halladay
. Writes Martin:
Despite not feeling sharp in the bullpen before the game, he threw 18 strikes before missing the strike zone. He didn't walk a batter until the ninth inning. Of his 107 pitches, 80 of them were strikes. Halladay improved to 4-1 with a 2.14 ERA, one start after he threw a whopping 130 pitches in 8 2/3 innings in a win over the Padres. At this point, however, it seems almost pointless to discuss how many pitches he throws, because it seems to have no impact on his performance. "I never heard of a pitch count until I got into minor league baseball," Halladay said. "I never heard about how many pitches Nolan [Ryan] had in the seventh inning."
Record columnist
Bob Klapisch
also
pays homage to Halladay
, writing:
This wasn't a day for scouting reports or computerized video or any other technology, not when Roy Halladay had already thrown his first 18 pitches for strikes. Fastballs, cutters, change-ups, sliders -- the menu was full, guaranteed to traumatize anyone unlucky enough to be standing 60 feet, six inches away from baseball's Terminator. Halladay was so relentless, so unwavering, the Mets' only hope was distinctively old school: crossing of the fingers and a fast, furious prayer that Jon Niese could somehow survive against a machine.
• Newsday columnist
Ken Davidoff
says the Mets
don't have the horses to compete
in the NL East. The good news, he notes, is that a solid front office is in place. Of course, he adds, "Moneyball with Money," as
Paul DePodesta
labeled it upon being hired, may just be Moneyball given the current ownership situation. Writes Davidoff:
There will be some nights when the Mets beat themselves and many more in which they simply can't keep up. Without a bona fide top-flight starting pitcher to keep pace with any of Philadelphia 's first four (Halladay, Lee, Roy Oswalt and Cole Hamels), and with an offense that looks decent but not elite, the Mets aren't equipped to stay with the National League 's elite team, particularly at the Phillies' ballpark. The good news is that, given time and resources, general manager Sandy Alderson and his lieutenants can put the Mets back among the league's best. ... The bad news is that, given the tenuous status of the Wilpons' and Saul Katz's finances, there's no guarantee Alderson will receive the time or the resources to finish the job.
• Beltran tells Newsday's
David Lennon
about
playing every day without a breather
to limit the wear and tear on his knees: "I told
Terry
[
Collins
] that if I feel good, why should I take a break? As long as I continue to feel like this, I will be out there." As for not playing center field in
Angel Pagan's
absence, Beltran added about Collins keeping him in right field: "Then that's the way it is."
The Record's
Steve Popper
said placing Beltran in right field turned out to be
the correct move
.
• Niese came to the majors with a solid 12-to-6 curveball. The development of a cutter to neutralize right-handed batters established him as a major leaguer. Now, Niese is
using the cutter less frequently
, and instead is showing a diving two-seam fastball,
Andy McCullough
of the Star-Ledger explains. Writes McCullough:
Niese's regular four-seam fastball -- still his most-utilized pitch -- has a natural cutting movement, pitching coach Dan Warthen explained recently. That means his fastball, cutter and curveball break the same direction. Last season, Warthen challenged Niese to develop a change and a sinker that would move the opposite direction. In 2010, Niese (1-4, 4.71 ERA) threw his cutter 26.6 percent of the time and his two-seamer 11.3 percent, according to Pitch f/x data. That gap has narrowed this year. Heading into [Saturday's] game, he threw the cutter 16.3 percent and the two-seamer 14.2 percent. Niese threw 96 pitches [Saturday] . Thirty were two-seamers, 24 were four-seamers and just 13 were cutters. He still relies on his curveball, which he threw for strikes most of the day.
•
David Waldstein
of the Times looks at
R.A. Dickey's
interesting quirk of naming his bats. Writes Waldstein:
In the Mets' bat rack at Citi Field, almost every bat includes a sticker with the player's number on the knob. Not Dickey's. His bats have no stickers. He writes his number, 43, in black ink in the middle, with a name curled around it. One bat is called Orcrist the Goblin Cleaver and the other is Hrunting. Dickey, an avid reader, said that Orcrist came from "The Hobbit." Hrunting -- the H is silent, Dickey said -- came from the epic poem "Beowulf"; it is the sword Beowulf uses to slay Grendel's mother.
•
Anthony McCarron
of the Daily News
catches up with
Felix Millan
, who played for the 1973 NL champs.
BIRTHDAYS:
Two players with intriguing Mets trivial connections were born today. Catcher
Joe Hietpas
, the Mets' equivalent of
Moonlight Graham
(one game, no at-bats), turns 32. Former Mets pitcher
Ray Searage
, who was a perfect 1-0 for the 1981 Mets AND hit 1.000 that season (1-for-1), turns 56. ... Less fondly remembered, pitcher
Armando Reynoso
, who got clobbered in the final game of the 1998 season, knocking the Mets out of the pennant race, turns 46.
-Mark Simon
August, 10, 2010
8/10/10
9:00
AM ET
The Mets seem committed to giving 20-year-old Ruben Tejada a look as the everyday second baseman. It's an interesting position, considering that Tejada's minor league experience at second base totals 40 games, but Mets management clearly liked what it saw enough to push him through the farm system at a quick rate.

Second Base
New York Mets
2010 Season Stats

| | | | | | |
| --- | --- | --- | --- | --- | --- |
| GM | HR | RBI | R | OBP | AVG |
| 37 | 0 | 6 | 17 | .278 | .196 |
The Mets have had light-hitting middle infielders play significant roles previously. They won a World Series in 1969 with light-hitting Al Weis as part of a second base platoon, and won another in 1986 with .218-hitting Rafael Santana at shortstop.
But in this era, it's hard for a player with limited punch to flourish, even if he as an excellent glove. That got us to wondering if Tejada has what it takes.
During his time on
Baseball Tonight
, current Orioles manager
Buck Showalter
used to talk a lot about the skills he'd look for in young major-league ready players.
The other day, I asked him for a quick refresher list of those he'd mentioned on the air, related to second basemen, during his time here He passed along a list of evaluative questions we'd previously discussed before he left ESPN.
It struck us as a worthwhile exercise to look at where Tejada stands, and we'll do that using those questions as a guide.
Does he have a "good clock" as a defender?
What Showalter meant by this was asking whether that player could handle the increased speed of the major league game, of having to make plays and decisions instantly, without fail.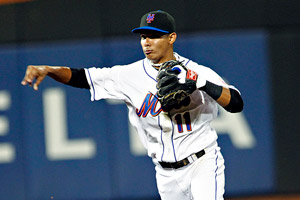 Paul Bereswill/AP
Ruben Tejada's defense has looked major-league ready, but can his bat catch up with his glove?
All indications seem so for Tejada, with one in particular standing out.
Tejada has excelled in turning the double play (you have to have a "good clock" to turn a DP, right?). According to Bill James Online, Tejada has had the chance to turn 20 ground-ball double plays at second base (either as initiator, or pivot-man) and the Mets have successfully turned 13 of them. That's a 65 percent success rate.
How good is that?
For the limited sampling that it is, it's excellent (for comparative purposes,
Luis Castillo
and
Alex Cora
turn them at a 45 percent rate), albeit probably unsustainable.
Monday, we looked through the numbers for the top 10 rated second basemen in the
2009 Fielding Bible Awards
(put out by Baseball Info Solutions) and that group collectively turned double plays at a 55 percent clip, with
Ian Kinsler's
60.5 percent rate grading best.
There's significant value in this attribute. The charts that rate "Win Probability" by situation show that a double play in a tie game in the fourth inning or later spikes the average team's chance to win by at least 10 percent. A double play turned by the home team in the ninth inning of a tie game is a huge play – a jump of nearly 20 percent.
Remember the multiple times you probably got frustrated in the last few weeks by Castillo failing to start/finish a potential double play? Those moments should be reduced now. And that may mean a few more victories in 2010 and beyond, if Tejada can maintain his everyday status.
How is his range in the air?
This one is meant to evaluate performance on pop flies, in terms of how much ground he can cover in fair and foul territory. This is also important in helping a manager determining the proper depth at which to position his outfielders.
We saw Tejada's nifty running catch of that flare popup in the middle of the diamond in the ninth inning of the Mets win over the Phillies on Saturday. I'm not sure either Castillo or Cora make that play and there are some numbers to back that up.
Our friends at Baseball Info Solutions track the ability of a fielder to get to balls hit in the air (popups, line drives, etc.)
In these 21 games, Tejada rates a +1 in their plus-minus system on balls hit in the air.
What this means is that Tejada has gotten to one more popup/line drive than the average second baseman, hit the same balls, would have caught.
For what it's worth, Castillo is a -2 and Cora was a -4 on defending balls hit in the air. The standard-setter would be
Orlando Hudson's
+9 last season, though even just reaching
Robinson Cano's
current +5 would be a strong positive in Tejada's favor.
Will his defense allow a manager to keep playing him, when he goes through the struggles that will happen on offense early on?
Let's use this question to look at Tejada's struggles, since we've already gone through his defensive successes.
Tejada's first foray into everyday major league play started alright. He was hitting .279 with four extra-base hits and a .667 OPS through June 30. But since July 1, he's 4-for-47 with no extra base hits, and 0-for-his-last-16 overall.
Pitchers have avoided making mistakes, because Tejada showed what he could do with those in his first few weeks in the major leagues.
In June, Tejada had three hits on what amounted to "mistake fastballs" (middle of plate, belt high, which he saw about once every 17 fastballs thrown).
But in July/August, he's seen 120 fastballs, but only two have been of the "mistake" variety (one for every 60 thrown) and he didn't get a hit on either of them.
What's happened during the last month is that those "mistake fastballs" are now directed up-and-in, or middle-away, two areas in which Tejada hasn't been able to get hits. Those would seem to be the first two places to target when looking at his potential growth as a player.
Can he play the game offensively that his skills dictate he should?
In evaluating the idea of Tejada opening the season at shortstop when Jose Reyes was hurt, Baseball Prospectus' managing partner and minor league analyst Kevin Goldstein wrote:
"He has a near-zero chance of ever being a star, but at the same time, he's one of the most fundamentally sound 20-year-olds you'll ever see. He works the count, makes consistent contact (59 strikeouts in 553 plate appearances last year), and while his range at the position is merely average, he makes the plays on the balls he gets to. Strikeouts and out-of-control fielding are the things that usually spell doom for a rookie, but Tejada has both of those bases covered."
There are a lot of things that Tejada does very well that would make you think he's going to eventually be more productive than he's been.
Mets officials point to his K/BB rate as a 17-year-old in rookie ball (35 strikeouts, 38 walks in 299 plate apprarances) as one indicator.
He's also shown good basestealing instincts at the minor league level (19-for-21 in 2009 with Double-A Binghamton) and penchants for both bunting and getting hit by pitches.
Those latter two skill sets have surfaced at the major league level . The former two have not … but it's still
very
early in Tejada's career.
Very few players have good plate discipline at an early age. Since 1990, 13 of the 19 players who were 20 or younger and got half-a-year's worth of plate appearances (200) struck out at least twice as often as they walked.
That said, we liked what we saw Tejada's turn against Phillies closer
Brad Lidge
in the ninth inning on Sunday.
After failing to get the bunt down twice in the ninth inning against Lidge, Tejada was able to put a tough pitch in play with two strikes, advancing a baserunner into scoring position in the process, rather than striking out.
Tejada is 6-out-of-6 in getting a runner in from third base with less than two outs and 6-out-of-7 in advancing a runner from second base if he's at the plate with nobody out.
When he does get the bunt, he's 4-of-4 in being successful. And while some may critique the ESPN/Elias Sports Bureau stat "Productive Out Percentage," (now tracked here at
Baseball-Reference.com
) those who grasp it and like it can point out that Tejada's 72 percent success rate is REALLY good (the major league average is 32 percent).
----
It may be asking a lot for Tejada to be like
Edgardo Alfonzo
(the best offensive second baseman the Mets have ever had) offensively, but even just getting to the level of
Felix Millan
or
Doug Flynn
(a couple of Gold Glove-caliber notable names from the past) would do wonders for his value.
For now, we'll just watch along with the Mets as this 20-year-old prodigy tries to figure things out. Hopefully by October, our answers to the "Showalter Test" will be a little more well-defined.
Mark Simon is a researcher for Baseball Tonight. Follow him on Twitter at @msimonespn. In-depth is a regular feature on ESPNNY that runs Tuesday's throughout the season.