July, 16, 2013
7/16/13
1:02
AM ET
NEW YORK
FIRST PITCH:
Matt Harvey
Day! In the All-Star Game at Citi Field!
After
officially being named the All-Star starter
on Monday afternoon by NL manager Bruce Bochy, Harvey is expected to handle the first two innings opposite
Detroit Tigers
right-hander
Max Scherzer
.
David Wright
will bat cleanup for the NL squad.
The All-Stars will parade across 42nd St. at 1 p.m.
Tuesday's news reports: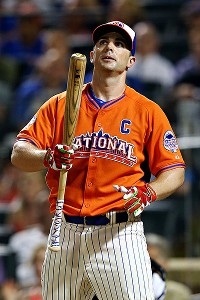 Elsa/Getty ImagesDavid Wright stalled in the first round of the Home Run Derby.
• Wright produced only five homers and had a first-round exit in Monday's Home Run Derby, but the NL captain beamed about the Citi Field atmosphere,
likening it to the playoffs in 2006 at Shea Stadium
.
Pedro Alvarez
, who also was eliminated in the first round, said he
felt badly about the treatment
Wright received in Pittsburgh last weekend.
Domonic Brown
, snubbed,
offered no complaint about being omitted
from the event. Read more about the Derby in
Newsday
.
• Earlier Monday, Wright
downplayed playing on an injured foot
as the first half closed.
• Jeff Wilpon, while appearing on WFAN, pledged the Mets would spend money next offseason.
"We haven't set a payroll for next year, but I can tell you we're ready to invest with those big contracts coming off the books," Wilpon said,
according to Newsday
. "We have the money to invest. We're going to invest it prudently. Sandy [Alderson] is going to set a path. There's no predetermined, set way we're going to spend the money, but we do have the money to spend."
• Speaking
with the Times
during a charity event with MLB, Fred Wilpon addressed a handful of topics:
On Terry Collins: "We all love Terry, who has done a very good job with what we have."
On Alderson: "We haven't turned him down on anything."
On whether the payroll will return to $140 million, like it had been in the past: "I asked Sandy about that. He said he couldn't invest that much money."
•
Los Angeles Dodgers
ace
Clayton Kershaw
did not appear thrilled
Bruce Bochy said Harvey would have been his choice to start no matter where the game was held. At one point Kershaw told reporters about the starting snub: "It hurts."
• In a very funny skit on "Late Night with Jimmy Fallon," Harvey -- without disclosing his identity -- asked New Yorkers what they thought of him. Watch
here
.
• Collins acknowledged Harvey will
have second-half starts skipped
.
• Writes columnist Bob Klapsich
in the Record
on Harvey:
For one, maybe two innings tonight, Harvey has a chance to pull Mets fans into the organization's time tunnel -- back to 1984 when Doc Gooden introduced himself to the world with a blow-away fifth inning in that year's All-Star Game.
Gooden struck out Lance Parrish, Chet Lemon and Alvin Davis with a fastball that might as well have been shot out of a rifle -- that's how overmatched the American League's sluggers were. Gooden, only 19, was the advertisement of the gathering storm in Flushing, which is why the parallel to Harvey is so striking, even though he's five years older.
Harvey is the Mets' vehicle for legitimacy, smart and articulate and much hungrier for attention than David Wright. It's no sin for the Mets to milk this opportunity for good PR, even if it looks like they sacrificed a chance to take a series from the red-hot Bucs this weekend. Truth is, the choice isn't quite so stark.
Writes columnist David Lennon
in Newsday
:
Harvey may have blindsided the Mets with the nude layout, and surprised even more people by telling another publication of his post-baseball aspirations to be a movie star -- a full 29 starts into his major-league career.
But there's no need to hang up his spikes first. Look at R.A. Dickey. The knuckleballer released a book, starred in a documentary and won a Cy Young Award in the same season. Don't think Harvey wasn't paying attention.
When asked Monday about his inspiration, guess who Harvey brought up? Dickey, a multi-media darling who prepped for his career year by climbing Mount Kilimanjaro.
"I came up and obviously wanted to do everything I could to fill in for R.A. Dickey," Harvey said. "We knew him not being with us, it was going to take a lot and someone needed to step in. It was a role I wanted to take."
Writes columnist John Harper
in the Daily News
:
As for Boras, he joked on Monday that Harvey sure is in good company posing naked along with Gary Player, among others, noting that the 77-year-old golfer is renowned for being one of the most disciplined athletes in the world.
Still, a person close to the situation said Boras wasn't thrilled with Harvey's appearance in the magazine. On Monday he said he doesn't make such decisions for his athletes, and chose his words carefully on the subject.
"Each individual athlete has to determine what they want to do when they're approached about that," he said. "All I care about is, you can do what you want off the field but it cannot affect your commitment, your focus, your ability to be ready for the next game."
Read more on Harvey's start tonight in the
Post
,
Times
,
USA Today
,
Star-Ledger
,
Daily News
,
Journal
and
Newsday
.
• The Mets actually owe
Bobby Bonilla
more than the originally reported $1.19 million
a year. Read more in the
Post
.
• An ill-timed subway line fire left the No. 7 train without service as the Home Run Derby was letting out. Read more in
Newsday
.
• Collins spoke openly about
Jordany Valdespin
acting immaturely in the clubhouse Saturday in Pittsburgh. The manager said Valdespin's biggest mistake may have been having the
histrionics with Sandy Alderson as a witness
. Valdespin wanted to land on the DL rather than be dispatched to Las Vegas. Read more in the
Star-Ledger
,
Journal
and
Newsday
.
• Wright says
Carlos Beltran
was
underappreciated as a Met
. Read more on Beltran in the
Star-Ledger
.
•
Milwaukee Brewers
center fielder
Carlos Gomez
, a first-time All-Star, said Mookie Wilson was a
major influence as he was a young player
in the Mets system.
• Logan Verrett tossed eight innings and rehabbing
Justin Turner
went 2-for-3 with an RBI as Binghamton beat Richmond, 7-3. Chris Flexen tossed a shutout as Kingsport swept Burlington. Matt Oberste's RBI double in the 12th lifted Brooklyn past Connecticut, 5-4. Read the full minor league recap
here
.
• Turner
told the Binghamton Press & Sun-Bulletin
about the left intercostal strain that landed him on the DL: "I haven't had any setbacks so far. The process, obviously, took a long time. I was down there for a month. It went a lot slower than I was hoping. You get that cortisone shot and I was hoping to respond to it pretty quickly. It's one of those things that it takes time. It's a real small muscle."
• Forbes ranks the Mets as the
45th-most valuable sports franchise in the world
. Read more in
Newsday
.
• The Mets' income at Citi Field continues to nosedive,
Newsday reports
.
• Charles V. Bagli writes
in the Times
that Citi Field's neighbors plan a protest today over getting evicted for the development of a mall and other projects to complement the stadium.
• Read a feature on Wright at
CBSSports.com
.
•
From the bloggers …
Mets Police
caught up with some of the visiting mascots at Citi Field.
BIRTHDAYS:
Catcher Norm Sherry was born on this date in 1931.
TWEET OF THE DAY:
Amazing sunset over CitiField for #HRDerby pic.twitter.com/zekYEUgSRC

— Josh Rawitch (@joshrawitch) July 16, 2013
YOU'RE UP: Does Clayton Kershaw have a legitimate beef not starting the All-Star Game?
March, 28, 2013
3/28/13
6:49
AM ET
PORT ST. LUCIE, Fla.
FIRST PITCH:
Prospect Domingo Tapia starts for the Mets as they make a trip to Viera to face left-hander
Gio Gonzalez
and the
Washington Nationals
today at 1:05 p.m.
Tapia, a 21-year-old right-hander, went 6-5 with a 3.98 ERA in 20 appearances (19 starts) with Class A Savannah last season.
Thursday's news reports: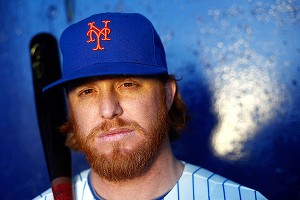 Chris Trotman/Getty Images
Justin Turner suffered a left calf strain Wednesday.

•
Justin Turner
suffered a strained left calf
and now may end up on the disabled list to open the season. The Mets
had been debating
carrying
Kirk Nieuwenhuis
over
Omar Quintanilla
on the Opening Day roster. Now, both may fit if Turner opens the season inactive. Read more in
Newsday
and the
Times
.
• The Mets plan to have
Shaun Marcum
(neck) start Tuesday in a minor league or simulated game, then presumably have him activated from the DL to
start the sixth game of the regular season
, April 7 against the
Miami Marlins
. That would alleviate the need to carry
Aaron Laffey
and open a 40-man roster spot -- and presumably allow the Mets to squeeze relievers
Greg Burke
and
Jeurys Familia
on the Opening Day roster. Read more in the
Post
,
Newsday
and
Record
.
•
Daniel Murphy
should
play in his first Grapefruit League game today
, signaling he will be ready to break camp with the club. David Wright, similarly optimistic, will stick to a minor league game. Read more in the
Record
,
Daily News
,
Star-Ledger
and
MLB.com
.
• See ESPNNewYork.com's updated roster projection
here
.
•
Jeremy Hefner
survived Tuesday's sharp comebacker
that struck him in the right elbow and is slated for Game 4 of the regular season. Read more in the
Times
.
•
Jonathon Niese
tossed 4 1/3 scoreless innings in a 74-pitch effort in his final work before facing the
San Diego Padres
on Opening Day.
Marlon Byrd
homered and had a two-run double and the
Mets beat the Astros, 6-2
, Wednesday. Read more in
Newsday
and
MLB.com
.
• Niese opposes
Edinson Volquez
on Monday at Citi Field.
Matt Harvey
and
Dillon Gee
also face the San Diego Padres. Check the projected pitching matchups for the first two series
here
. Read more in the
Daily News
and
Star-Ledger
.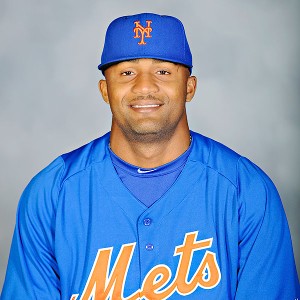 Courtesy of New York Mets
Reliever Elvin Ramirez has been traded to the Angels.

• The Mets traded
Elvin Ramirez
to the Angels for cash
to clear a 40-man roster spot. Read more in the
Star-Ledger
and
Newsday
.
• Forbes
values the Mets at $811 million
. The Mets annually dispute the assessment. Read more in the
Post
and
Newsday
.
•
Bobby Parnell
struck out the side in closing out Wednesday's Grapefruit win. "I felt pretty strongly about him last year, going into the season, but still worried about him being the guy we wanted late in the game," pitching coach Dan Warthen told Mike Puma
in the Post
. "But I think that maturity showed up toward the end of last year and hopefully it will carry on for the rest of his career."
•
Pedro Feliciano
, who accepted a minor league assignment, said he
will pitch with Class A St. Lucie
, not Triple-A Las Vegas. Read more in the
Star-Ledger
.
• Sports Illustrated has a lengthy piece this week remembering former Mets top prospect Brian Cole, who died in an automobile accident departing spring training in 2001. The
Herald-Tribune
has a summary.
• Columnist Kevin Kernan
in the Post
describes the Mets as undermanned but keeping the faith. Writes Kernan:
These Mets, of course, had better be ready because there is no help coming over the hill. The Yankees run into major injuries and the next thing you know, they're dropping $14 million on trying to salvage Vernon Wells' career. The move may not work, but the Yankees are throwing stuff against the wall to see what sticks.
That is not happening here. This is it as far as talent coming through the Mets' clubhouse door. And make no mistake: It is going to be a supreme challenge.
"It's going to be a long year for the Mets,'' a scout who has followed the team all spring told The Post last night. "I like Matt Harvey and I like Jon Niese, but the other guys in the rotation are all the same kind of guys. They don't have enough offense and they will have trouble catching the ball.''
• Jared Diamond
in the Journal
is unimpressed with the Mets' options for a second lefty in the bullpen to complement
Josh Edgin
.
•
From the bloggers
… John Delcos at
Mets Report
writes the club should back off readying Wright for Opening Day. …
At Mets Police
, in 2002 Mets fans were greeted by long post-9/11 security lines and
Mo Vaughn
.
BIRTHDAYS:
Brad Emaus
, the Opening Day second baseman two seasons ago, turns 27. … Generation K member
Paul Wilson
turns 40.
TWEET OF THE DAY:
I know it's only the Astros, but Parnell ... 3K again. #Mets

— Jan Blurr (@janblurr) March 28, 2013
YOU'RE UP: Do you think Shaun Marcum will be ready to start Game 6 of the season?
March, 21, 2012
3/21/12
10:49
PM ET
In
annual rankings
that annually are disputed by team officials, Forbes placed the Mets' value at $719 million -- a 4 percent dip from the previous year, which the magazine attributes to $41 million in operating losses.
Forbes ranked the Mets sixth among Major League Baseball teams in worth. Only one other team -- the Tampa Bay Rays -- lost value, according to the magazine.
The rankings (in millions):
1. New York Yankees $1,850
2. Los Angeles Dodgers $1,400
3. Boston Red Sox $1,000
4. Chicago Cubs $879
5. Philadelphia Phillies $723
6. New York Mets $719
7. Texas Rangers $674
8. Los Angeles Angels of Anaheim $656
9. San Francisco Giants $643
10. Chicago White Sox $600
11. St. Louis Cardinals $591
12. Seattle Mariners $585
13. Houston Astros $549
14. Minnesota Twins $510
15. Atlanta Braves $508
16. Washington Nationals $480
17. Detroit Tigers $478
18. Colorado Rockies $464
19. Baltimore Orioles $460
20. San Diego Padres $458
21. Miami Marlins $450
22. Milwaukee Brewers $448
23. Arizona Diamondbacks $447
24. Cincinnati Reds $424
25. Toronto Blue Jays $413
26. Cleveland Indians $410
27. Kansas City Royals $354
28. Pittsburgh Pirates $336
29. Tampa Bay Rays $323
30. Oakland Athletics $321
March, 23, 2011
3/23/11
9:27
PM ET
Forbes, which annually has its valuations disputed by the Mets, valued the team at $747 million. That's down from $858 million a year ago.
The magazine reports the Mets are one of only three MLB teams to see its value decline. The others: the Padres and Indians. The average franchise is worth $523 million.
It cites a 13-percent drop in revenue fueled by a 25-percent drop in gate receipts for the Mets' operating losses.
Writes Forbes:
The situation with the Mets looks particularly bleak. The emergency $25 million loan from baseball has bought the Mets' owners time to attempt to raise money by selling an ownership stake in the team. The purpose of the equity financing is to help fund expected operating losses in 2011 and potentially 2012, and pay down the league's loan and other debt. Crushing payments are looming as early as April on the Mets' $145 million payroll for the upcoming season and other obligations. The Mets originally wanted to sell only 25% of the team. With $450 million of debt, it seems the Mets would be lucky to get even a modest $75 million for that stake, especially considering the discount often applied in sales of minority holdings. [Fred] Wilpon and [Saul] Katz have publicly conceded they may need to sell more than a quarter of the Mets, but they insist on maintaining a controlling share. Bankers are drawing up some creative solutions. Still, the math does not look good.
Read the article
here
.
February, 2, 2011
2/02/11
11:54
PM ET
Like a homeowner with a mortage exceeding the value of the home and land it sits on, Forbes says the Mets are under water -- that the baseball assets are actually
worth negative-$225 million
.
I'm sure the smart people at Forbes know what they're talking about, but I'm a little skeptical that's very precise.
Here's a short excerpt with the crux of the magazine's argument:
The Mets and their lease to Citi Field are worth about $845 million. But there is $375 million of debt attached to the Mets franchise and $695 million tied to the ballpark, leaving these assets with an aggregate negative book value of $225 million.
I've already thrown out the qualms I have
on Twitter
, and need to call an old Wharton professor to get insight, but here is my rational for doubting even a highly leveraged Mets team can have a negative worth:
If the author concludes the value of the Mets and its lease for Citi Field is $845 million, how is that possibly valid if $500 million is pledged by Citi Bank over 20 years for naming rights to the stadium? (Yes, you'd have to depreciate the $500 million because it is revenue over 20 years, not instant dough, and because there is no 100 percent guarantee the agreement will be full executed, but it's still got to be worth a few hundred million on a receivables line, no?)
And if the author is instead taking that $500 million pledge into account to offset the stadium debt number, how can it possibly be that the Mets have $695 million in debt tied to a stadium that cost $850 million or so?
I understand the number the author uses is $40 million in annual debt service for stadium bonds, but shouldn't it be offset by an annual $25 million pledge from Citi Bank if that number was not factored into the revenue end of the equation for the team?
Longtime baseball writer
Barry Bloom
also passes along: "He's also not including the fact that $40 million a year stadium note is deducted from revenue sharing. That's why teams fund their ballparks."
As I mentioned on Twitter, it's been 16 years since I was in a business class. And there are people far more knowledgeable than me. It just intuitively doesn't sound quite right.