New York Mets:

Francisco Cordero
August, 24, 2012
8/24/12
10:29
AM ET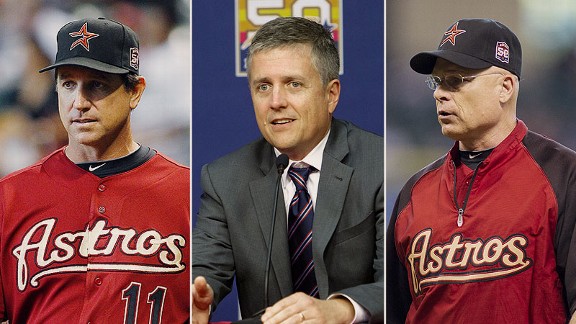 Getty Images
Tony DeFrancesco (left) was named interim manager by first-year GM Jeff Luhnow (center), replacing fired Brad Mills (right).
METS (57-68, fourth place/NL East) vs. HOUSTON ASTROS (39-86, sixth place/NL West)
Friday:
LHP
Jon Niese
(10-6, 3.82) vs. RHP
Jordan Lyles
(2-10, 5.70), 7:10 p.m. ET
Saturday:
RHP
R.A. Dickey
(15-4, 2.82) vs. TBA, 1:10 p.m. ET
Sunday:
RHP
Jeremy Hefner
(2-5, 5.11) vs. RHP
Lucas Harrell
(10-9, 4.04), 1:10 p.m. ET
Astros short hops
•
Tony DeFrancesco
became interim manager Sunday, replacing fired
Brad Mills
. DeFrancesco had been managing Triple-A Oklahoma City. First-year GM
Jeff Luhnow
also replaced hitting coach
Mike Barnett
with
Ty Van Burkleo
and first base coach
Bobby Meacham
with
Dan Radison
.
• This series marks the last meeting before the Astros move to the American League West in 2013. Houston is 307-256 against the Mets all time in the regular season.
The Mets beat the Astros, 4-2, in the 1986 NLCS -- taking the clinching Game 6 in 16 innings. The Mets trailed, 3-0, entering the ninth, with the prospect of facing ace Mike Scott in Game 7 looming. But the Amazin's scored three runs in the ninth on RBIs from
Mookie Wilson
,
Keith Hernandez
and
Ray Knight
. After trading runs in the 14
th
, the Mets produced three runs in the 16
th
and held on, 7-6, when
Jesse Orosco
struck out
Kevin Bass
.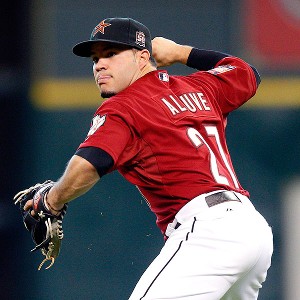 Bob Levey/Getty Images
All-Star second baseman Jose Altuve remains on an otherwise dismantled Astros roster.

• The Mets and Astros own the two worst second-half records in the National League. Houston is 6-33 since the All-Star break. The Mets are 11-28. Next: The Cubs are 14-24, followed by the Marlins at 16-25 and the Rockies and Brewers, each at 17-21.
• The Astros' pre-trading deadline dismantling included:
July 4: Sent first baseman
Carlos Lee
to Miami for third baseman
Matt Dominguez
and left-hander
Rob Rasmussen
.
July 20: Traded right-handers
Brandon Lyon
and
David Carpenter
and left-hander
J.A. Happ
to Toronto for right-hander
Francisco Cordero
, outfielder
Ben Francisco
, right-hander
Joe Musgrove
, right-hander
Asher Wojciechowski
, left-hander
David Rollins
, catcher
Carlos Perez
and a player to be named.
July 21: Traded
Brett Myers
to the
Chicago White Sox
for right-hander
Matt Heidenreich
and left-hander
Blair Walters
.
July 24: Traded left-hander
Wandy Rodriguez
to Pittsburgh for left-hander
Rudy Owens
, outfielder
Robbie Grossman
and left-hander
Colton Cain
.
July 27: Claimed right-hander
Chuckie Fick
off waivers from St. Louis.
July 28: Claimed outfielder/first baseman
Steve Pearce
off waivers from Baltimore.
July 29: Sent third baseman
Chris Johnson
to Arizona for infielder
Bobby Borchering
and outfielder
Marc Krauss
.
• All-Star
Jose Altuve
leads NL second baseman in average at .304, two points ahead of Arizona's
Aaron Hill
.
• Outfielder
Fernando Martinez
, who was claimed off waivers from the Mets on Jan. 11, was promoted from Triple-A on Aug. 10. During a June stint with the major league club, he landed on the disabled list for 18 days with a concussion. Martinez is 7-for-44 with the Astros this season, but he produced a .314 average with 13 homers and 62 RBIs in 341 at-bats for Oklahoma City.
•
Jordan Lyles
is the youngest active starting pitcher in the majors. He was born Oct. 19, 1990. Toronto's
Henderson Alvarez
(April 18, 1990) ranks second. Miami's
Nate Eovaldi
(Feb.13, 1990) is third. The Astros have the youngest active roster overall, at an average age of 26.4. Kansas City (26.5) and Colorado (26.8) are next.
•
Lucas Harrell
(10-9) has logged more innings than any NL rookie and ranks second in wins to Arizona's
Wade Miley
(14-8).
• With 50-year-old
Roger Clemens
pitching for the independent Sugar Land Skeeters on Saturday, there is speculation he could appear with the Astros before the end of the season.
• Reliever
Rhiner Cruz
(1-1, 6.90 ERA), a Rule 5 selection from the Mets, appears poised to last the season with the Astros and become Houston's property.
Last series results
Houston won, 3-0, at Minute Maid Park, April 30-May 2 (AP game recaps)
Astros 4, Mets 3:
Jordan Schafer had two hits and scored twice, including the go-ahead run on a single by Jed Lowie in the eighth inning.
More
Astros 6, Mets 3:
Chris Snyder hit a three-run home run and Jed Lowrie had a two-run shot. Lowrie's homer, off Jon Niese, which hit the inside of the foul pole in left field in the first inning, got things going for the Astros.
More
Astros 8, Mets 1:
Chris Johnson homered in consecutive at-bats among his four hits and drove in a career-high six runs to back up another solid outing by Wandy Rodriguez. Johnson's first homer of the season, off Chris Schwinden (0-1), was a three-run shot to the Crawford Boxes in left field that put Houston up 3-0 in the second inning.
More
May, 18, 2012
5/18/12
10:00
AM ET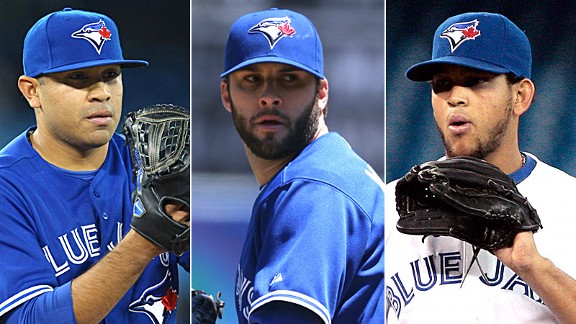 US Presswire/Getty Images
The Mets face (l to r) Ricky Romero, Brandon Morrow and Henderson Alvarez this weekend in interleague play.
METS (21-17, third place/NL East) vs. TORONTO BLUE JAYS (21-18, third place/AL East)
Friday:
LHP Jon Niese (2-1, 3.40) vs. LHP Ricky Romero (4-1, 3.88), 7:07 p.m. ET
Saturday:
RHP Miguel Batista (1-1, 4.26) vs. RHP Brandon Morrow (4-2, 2.22), 1:07 p.m. ET
Sunday:
RHP Dillon Gee (2-3, 5.65) vs. RHP Henderson Alvarez (3-3, 2.62), 1:07 p.m. ET
Blue Jays short hops
• Third baseman
Brett Lawrie
withdrew his appeal and began serving a four-game suspension Thursday stemming from throwing a helmet near
Bill Miller
, which bounced and then hit the plate umpire. With Lawrie out for the weekend series against the Mets, Toronto promoted
Yan Gomes
, who went 2-for-3 in his major league debut Thursday against the Yankees while starting at third base. The 24-year-old Gomes, the first Brazilian-born player to appear in the majors, was hitting .359 with five homers and 22 RBIs at Triple-A Las Vegas. He played high school baseball in Miami, then at the University of Tennessee and Barry University. In the minors, Gomes played 149 games at catcher, 29 at first base and 10 at third base.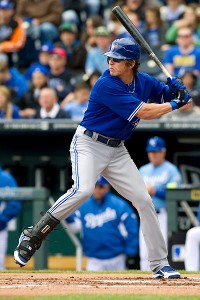 John Williamson/MLB Photos via Getty ImagesFormer Cardinal Colby Rasmus is in an 0-for-18 rut.
The Blue Jays demoted
Adam Lind
to clear the roster spot for Gomes, despite Lind being in the third season of a four-year, $18 million contract. Lind hit .305 with 35 homers and 114 RBIs with Toronto in 2009, but had only a .186 average and three homers in 118 at-bats this season.
• Right fielder
Jose Bautista
-- who led the majors in homers each of the past two seasons, with 54 and then 43 -- launched his 10
th
homer of 2012 on Thursday, against the Yankees'
Phil Hughes
. Bautista, despite an uncharacteristic .207 average, has five homers in his past seven games. Bautista was part of the three-team trade in July 2004 between the Mets, Pirates and Royals that landed
Kris Benson
in New York.
• DH/first baseman
Edwin Encarnacion
worked with
Luis Mercedes
in the Dominican Republic during the offseason to retool his swing, including keeping both hands on the bat, rather than removing the top hand on the follow-through. Mercedes previously had worked with the Yankees'
Robinson Cano
. The result: Encarnacion leads the Jays in homers with 13. He also ranks second in the AL in RBIs with 34, trailing only Texas'
Josh Hamilton
.
• Shortstop
Yunel Escobar
, who had been hitless in eight at-bats, returned to the lineup Thursday after sitting a day and produced singles in his first two at-bats. Eleven-time Gold Glove winner
Omar Vizquel
, 45, started at shortstop for the second time this season on Wednesday. Escobar was acquired from the Atlanta Braves on July 14, 2010, with
Jo-Jo Reyes
for
Alex Gonzalez
,
Tyler Pastornicky
and
Tim Collins
.
•
Ricky Romero
and
Justin Turner
were college teammates for three seasons and roommates at Cal State Fullerton.
• Center fielder
Colby Rasmus
is mired in an 0-for-18 skid that has dropped his average to .203. He was acquired from the St. Louis Cardinals at last season's trading deadline with
Trever Miller
,
Brian Tallet
and
P.J. Walters
for
Octavio Dotel
,
Edwin Jackson
,
Corey Patterson
and
Marc Rzepczynski
.
• Right-hander
Henderson Alvarez
, who made his major league debut last August, has produced a quality start in seven of eight outings this season. He tossed his first career shutout May 4 against the Angels in Anaheim.
• Toronto signed previously unemployed
Vladimir Guerrero
to a minor league deal. He arrived at the Jays' complex in Dunedin, Fla., Tuesday.
• Right-hander
Brandon Morrow
has walked a combined eight batters in his past two outings, albeit while striking out 17 in 11 innings during that span. Morrow's fastball has averaged 92.8 mph this season, down from 93.9 mph a season ago and a career-high 95.5 mph in 2008 with the Seattle Mariners while primarily working in relief.
• Closer
Sergio Santos
, who had 30 saves with the Chicago White Sox last season, is on the disabled list with shoulder inflammation.
Casey Janssen
is 3-for-3 in save chances this month since assuming the role.
Francisco Cordero
struggled in the role for the Blue Jays, who lead the AL in blown saves, so the team turned to Janssen. The Mets'
Frank Francisco
and
Jon Rauch
comprised the back end of Toronto's bullpen last season.
• The Blue Jays are among the most radical defensive shifters in the majors under second-year manager
John Farrell
. Toronto leads the American League in errors, too.
• Second baseman
Kelly Johnson
was acquired from the Arizona Diamondbacks last Aug. 23 for
John McDonald
and
Aaron Hill
.
• Catcher
J.P. Arencibia
homered in consecutive games against the Yankees to increase his season total to five.
• Ex-Mets left-hander
Darren Oliver
has limited opponents to a .182 average. He has struck out 11 and walked one in 13 innings spanning 15 relief appearances.
Matchups
Niese vs. Jays (career: never faced)

Kelly Johnson .400, 1 BB, 3 K, 11 PA
Ben Francisco .250, 4 BB, 3 K, 17 PA
Yunel Escobar .000, 4 BB, 6 PA
Jeff Mathis .000, 1 K, 2 PA
Batista vs. Jays (career: 3-2, 1.70 ERA)

Adam Lind .667, 1 RBI, 6 PA
Rajai Davis .500, 1 BB, 3 PA
Omar Vizquel .417, 1 RBI, 6 BB, 2 K, 30 PA
Ben Francisco .250, 1 HR, 2 RBI, 3 K, 8 PA
Jose Bautista .222, 1 BB, 3 K, 10 PA
Jeff Mathis .200, 1 RBI, 1 K, 8 PA
Edwin Encarnacion .000, 2 K, 4 PA
Kelly Johnson .000, 1 BB, 2 PA
Yunel Escobar .000, 1 K, 1 PA
Gee vs. Jays (career: never faced)

Kelly Johnson .000, 1 K, 3 PA
Ben Francisco .000, 1 PA
Romero vs. Mets (career: never faced)
Rob Johnson 1.000, 1 RBI, 3 BB, 6 PA
Justin Turner 1.000, 2 RBI, 1 PA
Scott Hairston .333, 6 PA
Ronny Cedeno .000, 1 K, 3 PA
Morrow vs. Mets (career: 0-0, 0.00 ERA)
Ronny Cedeno .667, 1 RBI, 3 PA
Andres Torres .333, 3 PA
Scott Hairston .000, 3 PA
Alvarez vs. Mets (career: never faced)
Last series results
Mets won, 2-1, at Rogers Centre, June 23-25, 2006 (AP game recaps)
Mets 6, Jays 1:
Tom Glavine became baseball's first 11-game winner, David Wright hit a three-run homer and New York set a club record with its ninth straight road victory. Lastings Milledge also homered for the Mets, and Glavine (11-2) pitched seven strong innings to win his ninth consecutive decision. But it might have been a costly victory because setup man Duaner Sanchez, a key member of New York's stellar bullpen, left after only two pitches with a pinched nerve in his neck. Carlos Delgado went 0-for-3 with a walk in his first game against his former team. Delgado, Toronto's career leader in home runs and RBIs, left as a free agent two years ago after the club didn't offer him a multiyear contract. Xavier Nady hit an RBI triple with two outs in the first. Wright gave New York 4-0 lead in the third with his 18th homer, a shot to left off starter Casey Janssen (5-6).
Jays 7, Mets 4:
Vernon Wells homered twice and the Blue Jays ended the Mets' franchise-record nine-game road winning streak. Wells hit a three-run homer in the second off Orlando Hernandez (4-7) and a solo shot off Heath Bell in the seventh for his fifth multi-homer game of the season. Toronto's center fielder went 2-for-4, raising his average to .321. Staked to a 6-0 lead in the second, Toronto ace Roy Halladay (9-2) allowed four runs and 10 hits, while striking out four and walking none in 7 1/3 innings. The Mets loaded the bases in the eighth, but reliever Justin Speier got Jose Valentin to pop out and Xavier Nady to strike out swinging to end the threat. B.J. Ryan pitched the ninth for his 21st save in 22 chances. Jose Reyes tripled and went 4-for-5 for the Mets. He has a 12-game hitting streak and is 28-for-52 (.538). Hernandez (4-7) was forced to leave his start early in the second inning after the Mets were charged with two trips to the mound. Pitching coach Rick Peterson went out to the mound in the inning and manager Willie Randolph made a trip after Hernandez almost ignited a bench-clearing brawl by throwing a pitch high and tight to Troy Glaus after Wells hit his three-run homer a pitch before.
Mets 7, Jays 4:
Jose Reyes had four hits again, including a leadoff homer, and Carlos Beltran hit a three-run shot off Josh Towers (1-9). The streaking Reyes went 4-for-5 for the second consecutive game and the third time in five days. He extended his hitting streak to 13 games and is on a 32-for-57 (.561) tear that's raised his batting average from .246 to .302. It was his fifth game this season with at least four hits, tying Seattle's Ichiro Suzuki for tops in the major leagues. Reyes also got his big league-leading 34th stolen base and scored twice. Steve Trachsel (6-4) won his fourth straight start, allowing four runs and six hits in five innings. He struck out two and walked three. Billy Wagner pitched a scoreless ninth for his 15th save in 19 chances.
November, 1, 2011
11/01/11
10:07
PM ET
By
ESPN Stats & Information
ESPN Stats & Information did an in-depth look at the free-agent closer market. Here's a look at their research ...

The most abundant position in this year's free-agent class is relief pitcher. There are nine high-level closers/ex-closers on the market.

Teams that could be looking for a closer include those that are losing them and a few whose bullpens struggled in 2011. They include/could include the Blue Jays, Cubs, Marlins, Mets, Orioles, Padres, Phillies and Red Sox.

Notable Free Agents:

Player, 2011 saves-save chances, ERA, WHIP, K per 9

Ryan Madson, 32-34, 2.37, 1.15, 9.2
Heath Bell, 43-48, 2.44, 1.15, 7.3
Francisco Cordero, 37-43, 2.45, 1.02, 5.4
Francisco Rodriguez, 23-29, 2.64, 1.30, 9.9
Jonathan Papelbon, 31-34, 2.94, 0.93, 12.2
Jonathan Broxton, 7-8, 5.68, 1.90, 7.1
Matt Capps, 15-24, 4.25, 1.20, 4.7
Brad Lidge, 1-1, 1.40, 1.50, 10.7
Joe Nathan, 14-17, 4.84, 1.16, 8.7

NEXT LEVEL: Win Probability Added measures a pitcher's contributions on a play-by-play basis, assigning value to each plate appearance based on how much it contributed to the team's chance of winning or losing (based on historical data). Value is measured in "wins added."

Highest Win Probability Added Among Free Agent Relievers (2011 Season)

Papelbon 3.53
Madson 2.33
Rodriguez 2.13

Largest Free Agent Contract- Total Value (Relief Pitcher)

B.J. Ryan, 2005-06, Blue Jays, five years, $47.0 million
Cordero, 2007-08, Reds, four years, $46.0 million
Mariano Rivera, 2007-08 Yankees, three- years, $45.0 million
Billy Wagner, 2005-06 Mets, four years, $43.0 million

Largest Free Agent Contract- Average Annual Value (Relief Pitchers)

Rivera, 2007-08 Yankees, $15.0 million/year
Rivera, 2010-11 Yankees, $15.0 million/year
Rodriguez, 2008-09 Mets, $12.3 million/year
Rafael Soriano, 2010-11 Yankees, $11.7 million/year

Heath Bell

** Bell has the most saves of any pitcher in the last three seasons with 132, ahead of Brian Wilson (122), Rivera (121), Cordero (116) and Papelbon (106).

Francisco Cordero

** Cordero's 194 saves are the most of anyone in the last five seasons, ahead of Jose Valverde (191) and Rivera (190). One area of intrigue for Cordero is that he's managed to keep his job despite his strikeouts-per-nine-innings dropping from 10.0 in the first year of his deal (2008) to 5.4 in the last year (2011).

Brad Lidge

** Since going a perfect 41-for-41 in save chances in 2008, Lidge has experienced both mound struggles and injuries.

Brad Lidge- Last 4 Seasons

Category, 2008, 2009-11
ERA, 1.95, 4.73
K per 9, 11.9, 9.9
BB per 9, 4.5, 5.2
HR per 9, 0.3, 1.2

Ryan Madson

** In his first season as a full-time closer, Madson had the second-best save percentage in the NL (32-34, 94.1 percent), just behind John Axford (46-48, 95.8).

Joe Nathan

** Joe Nathan was one of the game's premier closers until getting hurt in spring training in 2010.

Joe Nathan -- 2004-2009

Save Pct, 90.8, rank: 2nd (246-271)
ERA, 1.87, 2nd
WHIP, 0.93, 1st
K per 9, 11.1, 5th
>> Minimum 200 IP

Jonathan Papelbon

** Papelbon has ranked in the top eight in the AL in saves in each of the last six seasons. His 8.7 K-to-BB rate was third-best in baseball behind Koji Uehara (9.44) and Rafael Betancourt (9.13).

Francisco Rodriguez

** Since breaking the single-season saves record in 2008, Rodriguez hasn't had more than 35 saves in a season. However, in the three-year stretch since, his peripheral numbers are similar to 2008.

Francisco Rodriguez- 2009-2011

Category, 2008, 2009-11
K per 9, 10.1, 10.0
BB per 9, 4.5, 3.9
HR per 9, 0.5, 0.6
WHIP, 1.29, 1.26
ERA, 2.24, 2.88
September, 27, 2011
9/27/11
8:42
AM ET
Josh Stinson
surrendered a three-run homer in the seventh to deprive
Chris Schwinden
of his first major league win as the Mets
lost to the Cincinnati Reds
, 6-5, on Monday night at Citi Field. Only two games remain in the season. The loss clinched fourth place for the Mets in the division.
Tuesday's news reports:
•
Sandy Alderson
sits down with Newsday's
Ken Davidoff
for a Q&A
.
Regarding
Jose Reyes
, Alderson tells Davidoff: "It's a critical decision, no question about that. It's the fundamental decision that we have to make this offseason. It will shape every other decision we make. There are many risks involved, from signing a player to a contract of that magnitude to the players we may be precluded from signing because of such a commitment. But everyone recognizes the connection Jose has with Mets fans. That's not something we take lightly. ... It does seem to be more interesting than most free agencies. On the other hand, almost by definition, someone who's a highly desirable free agent has made some connection with his fan base. But Jose has connected more than most, I'd say."
Alderson went on to assert that the medical treatment from team doctors is fine.
"From working with the doctors, I don't think that's an issue," the GM said. "From our standpoint, some of these injuries have been unique. Whatever medical care was given, I don't think we have a systemic issue here. You look at
David Wright
, we thought he was coming back (from a back injury) in 30 days and it took him over 60 days. He didn't heal like we hoped.
Ike Davis
suffered a freak injury to a part of the body (left ankle) that's very complex and difficult to predict in its severity. In all of these instances, there were more than our own doctors involved. We've done everything we could from a variety of sources. Through July 31, we had fewer total days on the disabled list than last year, and that's with
Johan Santana
there for the whole season. The short answer is I'm not dissatisfied."
Alderson also insisted that whatever the payroll, it is the result of lower revenues rather than anything
Bernard Madoff
related.
• After a 3-for-4 night with a sacrifice fly and two RBIs,
Jose Reyes
upped his average to .334. He leads Milwaukee's
Ryan Braun
by .00003
for the NL batting lead
. Braun came off the bench to deliver a double for Milwaukee. Meanwhile,
Matt Kemp's
Triple Crown hopes appear to have faded. Kemp went 1-for-4, albeit with three RBIs, in a 4-2 win at Arizona and is hitting .324. Reyes, by the way, told the Daily News that he may see a doctor Tuesday for eye redness he's had for the past two weeks, but that it is not irritating or affecting his vision. Read more on Reyes' Monday night performance in
Newsday
and the
Post
.
•
Brian Costa
of The Wall Street Journal
catches up with the Mets' former GM
,
Omar Minaya
, about the similarities between the 2007 Mets collapse and the 2011 Red Sox swoon. Minaya tells Costa: "It's kind of one of those things that you see the light at the end of the tunnel, but your feet are not moving to get to the light. Your mind sees the light, but for some reason your body is not walking toward that light."
•
Ozzie Guillen
looks like he will be
joining the division as manager of the Florida Marlins
. The Chicago White Sox should get players as compensation for the change of address.
• The Mets nixed allowing the Yankees to
place their Triple-A team in Newark, N.J.
, for one season while stadium renovations are performed in Scranton/Wilkes-Barre, the actual home of the International League team, the Newark Star-Ledger reported. Star-Ledger columnist emeritus
Jerry Izenberg
chastises the Mets
. Writes Izenberg:
One of the concerns that influenced the Mets was their belief that a minor league team in Newark might have weaned potential Mets fans away from the affluent New Jersey suburbs. Actually if such a presence was allowed, the idea of seeing future Yankees in New Jersey would probably have hurt the Yanks a little bit at their game -- surely not the Mets. Last night, a Mets spokesman confirmed that the team blocked the move, and would only say the decision was within the team's rights. The prospect of that wonderful season is now stone cold dead. Perhaps the Mets have a point. At 23 games out of first place, they are farther back than all but three other National League teams. A minor league team in Newark could be a problem to the current "minor league" team at Citi Field.
• Wright was
drilled with a ninth-inning pitch
from Reds closer
Francisco Cordero
. Wright was unconcerned about the stress fracture he suffered in his lower back being antagonized, but described himself as sore.
• 2011 first-round pick
Brandon Nimmo
took batting practice with the Mets
on Monday at Citi Field before returning to Fort Myers, Fla., to resume playing in the instructional league. Read more in the
Star-Ledger
,
Record
,
Post
,
Newsday
and
Daily News
.
• The Daily News reports if the Mets do re-sign
Willie Harris
or
Scott Hairston
for the bench, it will come late in the offseason. "This is my first choice," Harris
told the newspaper
. "I feel like I will have opportunities other places, but here, I already know what type of role I would have. I would know that coming in, so they have first choice."
• On Monday, former clubhouse manager
Charlie Samuels'
next courting hearing was
scheduled for Oct. 18
. The sides may be working on a plea bargain, ESPNNewYork.com correspondent
Ian Begley
reports.
BIRTHDAYS:
Jason Phillips
, who became a bullpen catcher for the Seattle Mariners after his playing career ended, turns 35.