PORT ST. LUCIE, Fla.
FIRST PITCH: It will not be a sleepy Sunday morning at the Mets' spring-training complex.
After all, it's Day 2 of official workouts.
Players head outdoors at roughly 10 a.m.
Sunday's news reports:
• Matt Harvey was excited after going through his first official workout with fellow pitchers Saturday. He is due to throw a bullpen session on Sunday, then repeat that two days later. That should be the final step before he faces batters for the first time since undergoing Tommy John surgery. That session may come as soon as Thursday.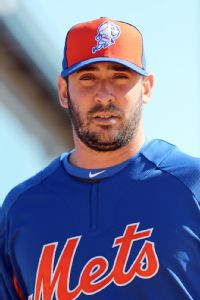 Adam Rubin
Matt Harvey
Harvey will pitch during the opening five games of the regular season, Terry Collins said, although that does not necessarily preclude Harvey also starting the home opener. Also, the Mets prefer capping Harvey's early starts at 85 pitches or so as opposed to skipping starts, according to the manager.
What can the Mets expect from Harvey this season? A leading medical expert regarding Tommy John surgery says there is a six-month period once game action resumes in which the pitcher typically needs to work up to his past performance. The good news: The Mets may pattern Harvey's return from the procedure after Adam Wainwright's. And Wainwright threw 198 T innings during the regular season and another 15 in the playoffs in his first season back.
Meanwhile, Harvey dismissed any tension existing with the Mets during his rehab. He essentially called the flaps over his exposure -- including doing a radio interview during a game -- a media creation. Still, columnist Ken Davidoff in the Post didn't like the attention-seeking while idle. Writes Davidoff:
This naturally evokes the legendary line that Ed Wade, then the Phillies' general manager, used to describe his noisy ace Curt Schilling: "Every fifth day, Curt's our horse. The other four days, he's our horse's ass."
Harvey hasn't approached Schilling's toxicity level. Then again, he hasn't approached Schilling's accomplishments, either. It feels like we all -- the media, Mets fans, Mets employees and Harvey himself -- need to remind ourselves Harvey has pitched in 36 major league games, totaling 237 ²/ƒ innings, numbers Nolan Ryan frequently exceeded in one season. He has yet to complete a major league campaign, starting line to finish line.
Read more on Harvey in the Times, Post, Record, Journal, Newsday and at MLB.com.
• Collins said the Mets are a playoff-caliber team in 2015. Read more at MLB.com and NJ.com and in the Daily News and Record.
• Despite winter pronouncements of it being Bobby Parnell's job to lose, Jenrry Mejia will have a chance to remain the closer once Parnell is activated from the DL. Read more in Newsday and at NJ.com.
• It is "up in the air" who will be the leadoff man between Juan Lagares and Curtis Granderson. Also, Collins sees merit in batting Daniel Murphy down in the order -- say No. 6 -- over in the two-hole. Read more in the Post and at NJ.com.
• Steve Serby in the Post has a Q&A with Lagares. The Gold Glove winner believes he is capable of stealing 25 to 30 bases. His favorite outfielders to watch are close friend Carlos Gomez as well as Andrew McCutchen. His favorite movie is "Fast and Furious."
• Versatile Eric Campbell is working out with catchers and will be available for emergency duty behind the plate this season.
• Travis d'Arnaud discussed the impact of a bone spur in his right elbow on his 2014 throwing.
• An ill Zack Wheeler missed Saturday's first official workout.
• Columnist Bill Madden in the Daily News notes that it took Frank Cashen until Year 5 of his tenure as GM before the Mets became a winning team. Sandy Alderson is now entering his fifth season.
• No surprise, but Collins confirmed that Dillon Gee would be the probable odd-man out of the rotation if there are no injuries or trades. Read more at NJ.com.
• Reigning NL Rookie of the Year Jacob deGrom said he delayed his honeymoon in Hawaii at the Mets' request to be available for the award announcement. Read more on deGrom in Newsday, NJ.com, the Daily News and at MLB.com.
• David Wright will address the media on Sunday, but Collins already has insisted the captain's balky left shoulder is healthy.
• Rule 5 pick Sean Gilmartin has an uphill battle to stick as a Met. The only player to last a season and officially become Mets property via that draft in the past 20 years is Pedro Beato.
• Often critical of Ruben Tejada, Collins paid the early reporting infielder a compliment Saturday.
• Frank Viola offered a comparison between lefty relief prospect Jack Leathersich and '80s-era Met Sid Fernandez.
• Apparently, Steve Gelbs has never been officially named as Kevin Burkhardt's replacement for SNY's Mets telecast. Neil Best in Newsday reports the announcement is coming Monday.
• From the bloggers … John Delcos at Mets Report wonders if the Mets' confidence in the playoffs is optimism or wishful thinking.
BIRTHDAYS: J.J. Putz turns 38. ... Minor-league right-hander Tim Peterson is 24.
TWEET OF THE DAY:
How is this not leading the site? RT @AdamRubinESPN Collins pays Ruben Tejada a compliment http://t.co/Ft45T2ou3m #NYM #Mets

— Matthew Pouliot (@matthewpouliot) February 22, 2015
YOU'RE UP: What should the Mets' batting order be this season?