New York Mets:

Garin Cecchini
July, 2, 2014
Jul 2
10:32
AM ET
ATLANTA -- 2012 first-round pick
Gavin Cecchini
had his attention divided on June 1, as Savannah hosted Rome in a South Atlantic League game.
Once
Dustin Pedroia
was ejected from a Red Sox game against the Rays at Fenway Park, Cecchini's 23-year-old brother
Garin
entered at third base in his major league debut.
"We had a game at the same time, and it was a day game," Cecchini said. "I had the clubbie going in and out, checking the stats and seeing if my brother got in. And once we found out he got in, I told him, 'Hey, let me know how he's doing, the play-by-play of what's going on.' Pedroia actually got thrown out of the game, and that's why Garin got to get in. Everything happens for a reason. It was awesome.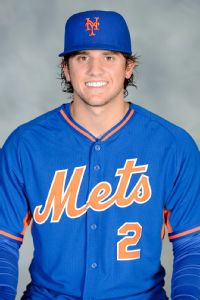 Courtesy of New York MetsGavin Cecchini
"It helps me realize just keep working hard and you'll be there soon. I can't wait to get up there and help the Mets win championships."
The 20-year-old Cecchini -- who was selected out of high school in Lake Charles, La., with the 12th overall pick two years ago -- hit .259 with three homers, 25 RBIs and seven steals in 228 at-bats for Savannah during the first half. He represented the Gnats in the South Atlantic League All-Star Game, then received word he was promoted to St. Lucie as he prepared to meet up with his low-A team for the season's second half.
"After the All-Star Game, me and my mom drove to Greenville," Cecchini said. "We were out to eat and coming back to the hotel and my manager called me and told us. So we literally had to drive five and a half hours back to Savannah, get in my apartment, pack my car up and stuff, and I was up until like 5 a.m. packing. And I wake up at like 6, had to go to the field, pack all that up and then drive five and a half hours over here [to Port St. Lucie]. And I was playing shortstop and hitting leadoff on an hour and a half of sleep."
Cecchini's baseball skills come as much from his mother
Raissa
as his father
Glenn
.
Raissa helped out head coach Glenn at Barbe High School during the brothers' prep playing days. He continues to coach there (and now with a Team USA squad as well), but she has mostly stepped away so that she can have more time to watch her sons' pro careers.
Garin currently is playing for Triple-A Pawtucket. He appeared in just the one game during two call-ups to the Red Sox.
"My mom actually throws the same amount of BP as my dad does in the offseason to both me and my brother," Cecchini said. "They've both been a huge part of my brother's and my success throughout the years. They've taught us everything. They're the reasons we're the players we are today."
Cecchini indicated one emphasis this season has been becoming more disciplined at the plate.
"This year I'm really trying, for the Mets' hitting philosophy, to be selective," Cecchini said. "I know right when I got drafted, and in high school all throughout my career, you could get away with swinging at pitches a little off the plate or on the corners and stuff. But now I'm really just trying to focus on getting my pitch. And if I don't get my pitch and they're not going to throw it to me, I'll just take my walk. That's one thing I'm really trying to work on, and I've been doing a way better job. And I'll keep working hard and keep getting better and better every single day at it."
Organization leaders
Average:
John Mora, GCL Mets, .423; Emmanuel Zabala, GCL Mets, .375; Matt Reynolds, Vegas, .362; Jairo Perez, St. Lucie, .358; T.J. Rivera, Binghamton, .338; Alfredo Reyes, GCL Mets, .324; Dilson Herrera, Binghamton, .312; Jeff McNeil, St. Lucie, .312; Kevin Plawecki, Vegas; .310; Jhoan Urena, Brooklyn, .308.
Homers:
Andrew Brown, Vegas, 14; Brian Burgamy, Binghamton, 13; Dustin Lawley, Binghamton, 13; Allan Dykstra, Vegas, 12.
RBIs:
Allan Dykstra, Vegas, 56; L.J. Mazzilli, St. Lucie, 52; T.J. Rivera, Binghamton, 49; Aderlin Rodriguez, St. Lucie, 48; Matt Clark, Binghamton, 46.
Steals:
Patrick Biondi, Savannah, 17; Jeff McNeil, St. Lucie, 15; Dilson Herrera, Binghamton, 15; L.J. Mazzilli, St. Lucie, 12; Stefan Sabol, Savannah, 11.
ERA:
Marcos Molina, Brooklyn, 0.47; Logan Taylor, GCL Mets, 0.82; Martires Arias, Kingsport, 0.84; Octavio Acosta, Brooklyn, 1.08; Kevin McGowan, St. Lucie, 2.20; Corey Oswalt, Brooklyn, 2.30; Steven Matz, Binghamton, 2.44; John Gant, Savannah, 2.57; Robert Gsellman, Savannah, 2.80; Darin Gorski, Vegas, 2.91.
Wins:
Gabriel Ynoa, Binghamton, 8; John Gant, Savannah, 7; Matt Koch, St. Lucie, 7; Greg Peavey, Vegas, 7.
Saves:
Chasen Bradford, Vegas, 12; Robert Coles, St. Lucie, 12; Randy Fontanez, Binghamton, 10; Vic Black, Vegas, 7.
Strikeouts:
Darin Gorski, Vegas, 87; Dario Alvarez, Savannah, 78; Matt Bowman, Binghamton, 77; Steven Matz, Binghamton, 75; Noah Syndergaard, Vegas, 74.
Short hops
• Right-hander
Gabriel Ynoa
will make his Double-A debut Thursday after receiving a promotion from St. Lucie. Ynoa, 21, had been 6-0 with 50 strikeouts and four walks in 57 1/3 innings since May 5 in the Florida State League.
•
Brandon Brosher
, who got off to a torrid start at the plate with Kingsport while being converted to catcher, suffered a broken right fibula. A 36th-round pick in 2013 out of high school in Florida, Brosher was hitting .387 with four homers and eight RBIs in seven games with the K-Mets.
• Left-hander
Joel Huertas
, the Mets' 16th-round pick out of high school in Puerto Rico, tweeted that he signed. That brings the total to at least 22 of 39 picks signed.
• The Mets have two candidates for batter of the month in the organization in June: Binghamton outfielder/third baseman
Dustin Lawley
hit .280 with seven homers and 18 RBIs for the month, then went deep twice more on July 1. St. Lucie outfielder
Eudy Pina
hit .375 with five homers and 21 RBIs in June, then drove in two more runs Tuesday.
• The B-Mets are 9-0 in the last nine appearances (eight starts) by right-hander
Tyler Pill
, after going 0-5 in his first five starts. Pill has a 2.73 ERA in his last 11 appearances. The brother of former San Francisco Giants infielder
Brett Pill
, Tyler can swing the bat, too. He has a four-game hitting streak. He is hitting .538 (7-for-13) with a double, homer and four RBIs this season. He had a pinch-hit single Saturday. Brett is tearing up the Korean Baseball Organization. He is hitting .320 with 13 homers and 40 RBIs in 178 at-bats with the Kia Tigers.
•
Matt Oberste
has driven in 10 runs over his past three games with Savannah while serving as designated hitting. Oberste, 22, is a seventh-round pick in 2013 out of the University of Oklahoma.
•
Jhoan Urena
has an 11-game hitting streak with Brooklyn. He became the second teenager in Cyclones history to have a double-digit-game hitting streak, joining
Alhaji Turay
(12 straight in 2002).
• Cyclones right-hander
Marcos Molina
has allowed one earned run in his first three starts, spanning 19 innings. He has limited opponents to seven hits and ranks third in the New York-Penn League with 20 strikeouts. Molina struck out the first seven batters he faced in Friday's start against Staten Island.
• Infielder
Robbie Shields
quietly retired earlier this season. He was a third-round pick in 2009 out of Florida Southern College. He had a career .243 average in six minor-league seasons.
• Catcher
Kevin Plawecki
is 1-for-15, albeit with a homer, since getting promoted to Las Vegas.
June, 1, 2014
Jun 1
5:34
AM ET
PHILADELPHIA
FIRST PITCH:
Jonathon Niese
(3-3, 2.74 ERA) opposes
Philadelphia Phillies
left-hander
Cole Hamels
(1-3, 4.43) in Sunday's 1:35 p.m. game at Citizens Bank Park.
If the Mets could keep the game under four hours, it would be appreciated.
"There's some tired bodies out there," Terry Collins said after the Mets played their second straight 14-inning game Saturday.
Sunday's news reports:
•
David Wright
had a tiebreaking RBI single in the top of the 14th against
Antonio Bastardo
and the
Mets beat the Phillies, 5-4
, Saturday. The Mets played consecutive five-hour games for the first time in franchise history. Despite allowing a three-run homer in the seventh to
Ryan Howard
,
Jacob deGrom
left in position for his first major league victory. Instead, he remained
winless in four solid starts
.
Jeurys Familia
suffered a blown save in the ninth.
Buddy Carlyle
tossed three scoreless relief innings
in his first major league action since 2011 and earned his first win in six years.
Rich Schultz/Getty ImagesDavid Wright (who had the go-ahead RBI) and Carlos Torres (who had the save) celebrate Saturday's 14-inning win.
"Ideally, for the long run, you never want to play 14-inning games, much less back to back," Wright told reporters postgame. "But if you're out there, you want to win. It was also nice to pick one up for the bullpen, because they had been so good."
Read game recaps in the
Philadelphia Inquirer
,
Post
,
Daily News
,
Newsday
,
Times
,
Star-Ledger
,
Record
and at
MLB.com
.
• Rookie
Rafael Montero
was
demoted before Saturday's game
to clear the roster spot for Carlyle.
Daisuke Matsuzaka
will enter the rotation Wednesday at Wrigley Field against the
Chicago Cubs
in Montero's spot. Matsuzaka could be in the rotation for a while, since
Dillon Gee
(lat muscle strain) has not picked up a baseball since having to halt a session last Sunday after two tosses because of discomfort. Read more in the
Post
,
Daily News
,
Star-Ledger
,
Newsday
and at
MLB.com
.
•
Juan Lagares
was scratched from Saturday's start with a rib-cage issue but
insisted the injury is "nothing bad."
• After the Mets played consecutive 14-inning games and taxed the bullpen, left-hander
Dana Eveland
has been
promoted from Las Vegas
for Sunday's matinee. The Mets did not announce a corresponding move Saturday. Barring an unexpected DL stint for Lagares, though, Carlyle logically could be out because he likely would be unavailable as he recovers from Saturday's appearance.
• Sandy Alderson said it's time for the
Mets "to turn the corner."
• Columnist Joel Sherman
in the Post
asserts that touting a slow-and-steady building of the farm system is a good diversionary tactic from woes at the big-league level and does not ensure future prosperity. Writes Sherman:
If you say, well maybe the Mets will be the Rays, know that the Rays have had three original signings since 2007 do much in the majors -- David Price (who was a first overall pick in 2007), Matt Moore (who is out after Tommy John surgery) and Derek Dietrich (who was traded for Yunel Escobar). Tampa Bay has found its success being ingenious in other ways.
If you are thinking the Moneyball A's are the touchstone because of Alderson's roots, then know that Oakland had four players it originally brought to its organization on the Opening Day roster, though one was Sonny Gray, who Alderson passed up in his first draft (2011) to take [Brandon] Nimmo. Again, Oakland has upheld success not with a lengthy buildup of personnel, but with crafty maneuvering of personnel.
So while the Mets continue in the slow-and-steady portion of the program, you might wonder if it is a fable that will work.
• Marc Carig
in Newsday
takes a detailed look at the Mets' hitting philosophy, which will not change even with the firing of Dave Hudgens. Writes Carig:
The confusion begins with the ultimate goal. It is not to take pitches. It is not to run up pitch counts. It is not even necessarily to draw more walks. While these are beneficial byproducts, the real goal is to hit the ball with authority.
This can happen with the first pitch of an at-bat. Or the 10th. Proponents insist it doesn't matter, so long as hitters swing only at pitches they can crush. Within the system, taking a good pitch to hit and chasing a bad pitch out of the strike zone are equal sins.
Paul DePodesta, a longtime Alderson lieutenant, called the philosophy "focused aggression."
• The Mets received a
scolding from the umpiring crew
for leaving the field before an official call reversal for the final out of an inning Saturday.
• Umps have been
incorrectly warning the Mets
that Familia is balking, Collins said.
• Jairo Perez's tiebreaking three-run homer lifted St. Lucie to a 4-3 win against Daytona. Champ Stuart went 2-for-4 with a homer and three RBIs as Savannah beat Rome, 6-2. Read the full minor-league recap
here
.
• Frank Viola, who underwent open-heart surgery in April,
tells the Post
he's eager to get to work as pitching coach for Las Vegas beginning Friday.
"Right now I'm in Port St. Lucie. I'm going through a regular spring-training arm-strengthening program," Viola said. "I figure I should be back throwing BP in two weeks. … Being away I realized how much I missed it. I have to continue to take better care of myself, but I'm really glad to be back."
• Mike Puma
in the Post
recaps the Mets' 11-18 May.
• Jeff Roberts
in the Record
looks at the rash of Tommy John surgeries in baseball.
• Garin Cecchini, the brother of Mets 2012 first-round pick Gavin Cecchini, reportedly has been promoted to the majors by the
Boston Red Sox
.
•
From the bloggers ...
Faith and Fear
realizes that perhaps you can have too much baseball.
BIRTHDAYS:
Rick Baldwin, who made 105 relief appearances for the Mets in the mid-'70s, was born on this date in 1953.
TWEETS OF THE DAY:
Any other Metsochists out there stll watching the game? #Mets

— Jennifer Schiff (@JenniferLSchiff) May 31, 2014
YOU'RE UP: How should the Mets clear the roster spot for Dana Eveland's addition?
July, 13, 2013
7/13/13
1:22
AM ET
TUCSON 6, LAS VEGAS 0
TUCSON 5, LAS VEGAS 4 (8 innings):
In Game 1,
D.J. Mitchell
surrendered three runs in 3 1/3 innings and took the loss.
John Church
, in his second Triple-A appearance, allowed two runs inherited from Mitchell to score.
Jack Leathersich
walked four in 1 1/3 innings and was charged with three unearned runs after he departed with the bases loaded in the seventh. In Game 2, the 51s forced extra innings on
Francisco Pena's
RBI single in the bottom of the seventh. But
Robert Carson
suffered the loss the following inning when
Ben Francisco
had a leadoff single, stole second, advanced to third on a throwing error by catcher
Juan Centeno
and subsequently scored on a groundout during which Las Vegas (48-46) did not turn a double play.
Box 1
,
Box 2
PORTLAND 8, BINGHAMTON 5 (15 innings): Chasen Bradford
was charged with the loss after allowing three unearned runs in the 15th, in his third inning of relief. With two out and two on in a 5-all tie,
Garin Cecchini
reached base on a throwing error by third baseman
Josh Rodriguez
as the go-ahead run scored. The inning prolonged, Bradford's wild pitch allowed a second run to score. Utility player
Joe Bonfe
made his pro pitching debut at that point and allowed an RBI single before producing an inning-ending strikeout. Binghamton had forced extra innings by scoring two runs in the bottom of the ninth, on an RBI single by
Cesar Puello
and
Allan Dykstra's
sacrifice fly.
Alonzo Harris
, activated from the DL before the game,went 2-for-6 with a walk in his first game since suffering a concussion on June 21. Right-hander
Cory Mazzoni
landed on the DL with a right hamstring strain. Bonfe became the first position player since
Jose Coronado
on June 30, 2011 to pitch for the B-Mets.
Box
ST. LUCIE 3, DUNEDIN 0: Alex Panteliodis
tossed 7 1/3 scoreless innings and combined with
Randy Fontanez
and
Tim Byrdak
on a six-hit shutout. Byrdak earned his third Florida State League save. After rehabbing
Kyle Drabek
departed after two scoreless innings, St. Lucie (48-40) got on the scoreboard in the third on
T.J. Rivera's
RBI single. The lead grew to 2-0 in the sixth when
Kevin Plawecki
was hit by a pitch, advanced to second on
Cam Maron's
walk and ultimately scored on an error. Plawecki had an RBI single an inning later. Byrdak erased a leadoff walk with a double play in the ninth.
Box
GREENVILLE at SAVANNAH (ppd.):
The game will be made up as part of a noon doubleheader Sunday.
KINGSPORT at DANVILLE (ppd.)
AUBURN 4, BROOKLYN 3:
Wilmer Difo's
sacrifice fly in the bottom of the ninth against
Ricky Knapp
scored
Cody Dent
to give the Doubledays the win. The Cyclones (10-15) went 2-for-14 with runners in scoring position. With Knapp in his second inning of relief, Dent started the rally with a double. When
Austin Chubb
tried to advance him to third with a bunt, catcher
Tomas Nido
misplayed the ball, allowing Chubb to reach and placing runners on the corners. With nobody out, the Cyclones intentionally walked
Isaac Ballou
to load the bases. Brooklyn then moved
Patrick Biondi
in as a fifth infielder, but Difo lifted a sacrifice fly to left field. Right-hander
Johnny Maggliozzi
tossed a scoreless inning of relief in his professional debut. The 17th-round selection from the University of Florida did not allow a hit. He struck out one.
Box
GCL NATIONALS 7, GCL METS 0:
After
Frank Francisco
surrendered an unearned run in the first, the Nats added five fifth-inning runs charged to
Marcos Molina
. First-round pick
Dominic Smith
left the game after striking out in the first inning due to dehydration. Double-A outfielder
Cory Vaughn
played a second straight day with the GCL club as he returns from an elbow injury.
Box
Compiled with team reports
June, 23, 2013
6/23/13
8:17
AM ET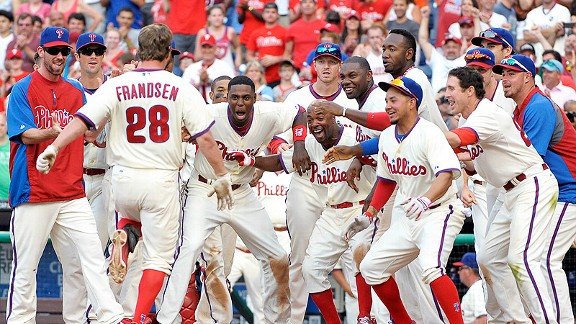 Eric Hartline/USA TODAY SportsKevin Frandsen is greeted by teammates after his walk-off homer Saturday.
PHILADELPHIA
FIRST PITCH:
Five days after his dominance in Atlanta in an uplifting doubleheader display with
Zack Wheeler
, it once again is
Matt Harvey
Day.
Harvey (6-1, 2.16 ERA) opposes
Philadelphia Phillies
left-hander
John Lannan
(0-1, 5.49) in the 1:35 p.m. series finale today at Citizens Bank Park.
Josh Satin
is due to get the start at first base, according to Terry Collins.
Writes Kristie Ackert
in the Daily News
on Harvey:
Collins and pitching coach Dan Warthen talked to Harvey this past week about being more open with them about how he is feeling during starts.
Harvey admitted after the Atlanta game -- in which he racked up 13 strikeouts -- that he was gassed when he went back out for the eighth and that he did not tell Collins or Warthen. That much was obvious when he started out the inning by walking Gerald Laird and then giving up back-to-back singles to Dan Uggla and Andrelton Simmons. At that point, Collins had no choice but to go get his ace.
Sunday's news reports: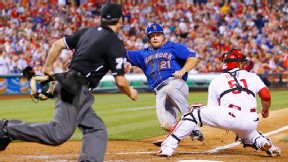 Rich Schultz/Getty ImagesLucas Duda is on the DL after complaining of left side discomfort after Friday's game, which included this play at the plate.
• An MRI on Saturday in New York revealed
Lucas Duda
had an intercostal muscle strain on his left side. The Mets
placed Duda on the disabled list
and promoted corner infielder
Zach Lutz
from Triple-A Las Vegas. A team official told ESPNNewYork.com
Ike Davis
was
not an immediate consideration
for a promotion in Duda's absence because more time working on his refinements is required.
Read more in the
Post
,
Daily News
,
Star-Ledger
,
Record
,
Newsday
and
MLB.com
.
• The Mets rallied from a six-run deficit to tie the score in the ninth when
David Wright
scored from first base on
Daniel Murphy
's single against
Jonathan Papelbon
. But
Carlos Torres
surrendered a walk-off homer
to
Kevin Frandsen
to open the bottom half and the
Phillies beat the Mets, 8-7
.
Dillon Gee
surrendered a pair of homers
to
Ryan Howard
, who now has six long balls in 15 career at-bats against Gee.
Read game recaps in the
Post
,
Daily News
,
Times
,
Star-Ledger
,
Record
,
Newsday
and
MLB.com
.
Read columnist Kevin Kernan's take
in the Post
.
• Do Wheeler and Harvey need to be best buds? Not exactly Columnist David Lennon
in Newsday
asks
Tom Glavine
and Ron Darling, and writes:
Ron Darling, now an SNY analyst, was on two of the better starting rotations in baseball history with the Mets. In 1986, Darling went 15-6 with a 2.81 ERA on a group that included Dwight Gooden (17-6, 2.84), Bobby Ojeda (18-5, 2.57) and Sid Fernandez (16-6, 3.52). Two years later, the Mets featured Darling (17-9, 3.25), Gooden (18-9, 3.19), Fernandez (12-10, 3.03), Ojeda (10-13, 2.88) and David Cone (20-3, 2.22).
Were they all best buddies? No. But did they recognize the importance of competitive bonding as a rotation? Absolutely.
"If you have that fraternity, if you get that feeling that you're all brothers in this thing, it's as good as it gets as far as being in a team sport," Darling said. "Hitters look at pitchers like a necessary evil. You're like a separate element on the team, so it makes you become close.
"There's nothing worse than being on a team -- a bad team -- and you've got some guys in the rotation that they're all for them. And on the day you're pitching, they don't [care]. We'd be on the bench cheering a guy on when it was his day, and making sure that, hey, I'm here for you."
• Columnist Bill Madden
in the Daily News
suggests that while the Mets have pitching prospects, the hitting prospects do not exist in the minors. Writes Madden:
A veteran National League scout, who has spent much of the last two months evaluating other teams' minor-league talent, told me last week: "The Mets are loaded with pitching prospects but have zero bona fide position prospects, and while the Yankees have a couple of position prospects, especially catchers, down low, I didn't see any potential impact players in their system either. They're both in big trouble as far as filling their needs from within."
• Binghamton rallied from a four-run ninth-inning deficit to beat Erie, 6-5 in 10 innings, on
Josh Rodriguez
's walk-off double. Steven Matz tossed six scoreless innings in a no-decision for Savannah. First-round pick Dominic Smith went 2-for-4 with an RBI in his pro debut in the Gulf Coast League. Read the full minor league recap
here
.
• Highly regarded right-handed prospect Noah Syndergaard, who was acquired with Travis d'Arnaud in the
R.A. Dickey
trade in December, has been
promoted to Double-A Binghamton
.
•
Tim Byrdak
, recovering from shoulder surgery, made his
first Gulf Coast League appearance
. Including back-field games, Byrdak has now pitched on consecutive days twice.
• Dan Duggan
in Newsday
speaks with 2012 first-round pick Gavin Cecchini about his relationship with his brother Garin, a Red Sox prospect.
• Mike Kerwick
in the Record
tackles Mets fandom.
•
From the bloggers …
John Delcos at
Mets Report
suggests the Mets should not be seduced by Davis' early Pacific Coast League stats.
BIRTHDAYS:
Juan Castillo, whose only two major league games came as a starting pitcher with the Mets in 1994, turns 43.
TWEET OF THE DAY:
Im veryproud of my boy @Noahsyndergaard for getting moved up! But dude get your stuff outta of our apartment! @bowmandernchief @cbBaseball29

— Michael Fulmer (@MFulmer12) June 23, 2013
YOU'RE UP: Should the Mets have promoted Ike Davis with Lucas Duda landing on the DL? Or is more minor league time the wise decision?
June, 19, 2013
6/19/13
10:35
AM ET
2012 first-round pick
Gavin Cecchini
had a taste of Brooklyn at the end of last season, participating in the final week of the regular season and then experiencing the playoffs with the Cyclones.
"Obviously my favorite part is when we clinched," said the 19-year-old shortstop from Lake Charles, La. "Some of us are over 21, but we were popping apple cider in the clubhouse and stuff like that."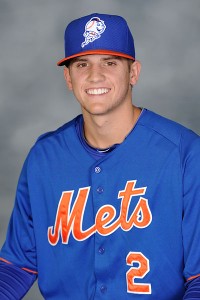 Courtesy of New York MetsGavin Cecchini
After spending March, April, May and early June in Port St. Lucie, Cecchini is now back with the Cyclones, this time as the starting shortstop. He made his season debut Monday on Opening Day at Staten Island, albeit committing a costly error.
"You ask anybody who has played in extended [spring training]. It's a little tough," Cecchini said about the wait to start his season. "But I try to look at it as it's the game I love to play, and I'm out here playing baseball. And that's really all that matters -- no matter if I'm playing in front of five people, which is what it was in extended, or 10,000 or 8,000 over here in Brooklyn."
How is Cecchini a better player than one year ago, when he was drafted 12th overall and signed for $2.3 million?
"I think I'm way more consistent than last year with hitting, fielding, baserunning," he said. "It's really the small things, man. Talent can only take you so far. The rest of it is all mental. The people who can get over failure the quickest are the ones that are going to be the best. There's no doubt that I know how to handle the failure and move on."
Cecchini's path is easier because his brother blazed it before him. Third baseman
Garin Cecchini
, a fourth-round pick of the Red Sox in 2010, is hitting .350 with five homers and 33 RBIs for high-A Salem. The brothers played two years of high school ball together. They train together in the offseason in Louisiana, too, along with Yankees minor league shortstop
Carmen Angelini
, Padres high-A shortstop
Jace Peterson
and outfielder/third baseman
Josh Prince
, who made his major league debut with the Brewers this season.
"Obviously he went through the whole summer circuit and the draft before me," Gavin said about Garin. "I had an edge, and I have an edge, on a lot of the players because I have a brother who has been there through that and who teaches me how to handle things and go through things. I learn from the mistakes he made and I take the good things he does.
"He's an awesome baseball player. He's doing unbelievable this year. He's hitting like .360. Something like that. Hopefully he gets a call-up to Double-A at the All-Star break. He made the All-Star team. He's awesome. He's not only a great player, but an awesome person, too."
Organization leaders
Average:
James Roche, Brooklyn, .667; LJ Mazzilli, Brooklyn, .500; Jorge Rivero, Brooklyn, .500; Jayce Boyd, Savannah, .361; Nelfi Zapata, Brooklyn, .333; Cesar Puello, Binghamton, .330; Allan Dykstra, Binghamton, .318; Kevin Plawecki, Savannah, .314; Josh Rodriguez, Binghamton, .314; Travis Taijeron, Binghamton, .312.
Homers:
Cesar Puello, Binghamton, 13; Dustin Lawley, St. Lucie, 13; Travis Taijeron, Binghamton, 13; Kirk Nieuwenhuis, Vegas, 10; Allan Dykstra, Binghamton, 10.
RBI:
Wilmer Flores, Vegas, 54; Dustin Lawley, St. Lucie, 48; Jayce Boyd, Savannah, 46; Cesar Puello, Binghamton, 46; Kevin Plawecki, Savannah, 43.
Steals:
Cesar Puello, Binghamton, 17; Darrell Ceciliani, Binghamton, 15; Alonzo Harris, Binghamton, 13.
ERA:
Shane Bay, Brooklyn, 0.00; Akeel Morris, Brooklyn, 0.00; Rainy Lara, St. Lucie, 1.54; Rafael Montero, Vegas, 2.40; Matt Bowman, St. Lucie, 2.41; Gabriel Ynoa, Savannah, 2.77; Noah Syndergaard, St. Lucie, 3.11; Robert Gsellman, Brooklyn, 3.14; Luis Cessa, Savannah, 3.24; Angel Cuan, St. Lucie, 3.74.
Wins:
Matt Bowman, St. Lucie, 8; Logan Verrett, Binghamton, 8; Gabriel Ynoa, Savannah, 8; Rafael Montero, Vegas, 7.
Saves:
Jeff Walters, Binghamton, 16; Bret Mitchell, Savannah, 10; T.J. Chism, St. Lucie, 7; Beck Wheeler, Savannah, 6; Hamilton Bennett, St. Lucie, 4.
Strikeouts:
Rafael Montero, Vegas, 84; Matt Bowman, St. Lucie, 73; Zack Wheeler, Vegas, 73; Carlos Torres, Vegas, 67; Logan Verrett, Binghamton, 66.
Short hops
•
Noah Syndergaard
allowed one hit in a scoreless inning and earned the win and starting left fielder
Dustin Lawley
went 3-for-4 and scored twice to lead the South past the North, 8-1, in Saturday's Florida State League All-Star Game.
T.J. Rivera
played a full game at second base and went 0-for-5.
Syndergaard -- the highly regarded right-hander acquired in the
R.A. Dickey
trade -- now should head to Double-A Binghamton for the second half, part of a trickle-up of top prospects.
Also expected to be on the move: catcher
Kevin Plawecki
(.314, 6 HR, 43 RBIs), first baseman
Jayce Boyd
(.361, 5 HR, 46 RBIs) and outfielder
Brandon Nimmo
(.302, 1 HR, 21 RBIs) from first-half division champ Savannah to St. Lucie.
Boyd went 1-for-3, Plawecki went 0-for-2 and Nimmo went 0-for-1 in Tuesday night's 2-1 South Atlantic League All-Star Game loss to the North at Lakewood, N.J. Savannah teammates
Beck Wheeler
and
Bret Mitchell
combined to toss a scoreless relief inning.
• With Las Vegas short starting pitchers with
Zack Wheeler
and
Carlos Torres
promoted and
Collin McHugh
designated for assignment and then traded to the Rockies for
Eric Young Jr.
,
Jacob deGrom
was promoted from Binghamton to the 51s' rotation. Whether deGrom remains or returns to the B-Mets will be discussed after evaluating last night's start (5.2 IP, 8 H, 1 R, 1 ER, 2 BB, 3 K). DeGrom, a ninth-round pick in 2010 from Stetson, in part was chosen because he was on the proper rest.
• Right-hander
Dylan Owen
underwent surgery for a torn meniscus in his right knee.
•
Allan Dykstra
, acquired from the Padres at the end of spring training in 2011 in a change-of-scenery trade for fellow first-round-pick
Eddie Kunz
, is on a tear with Binghamton. Dykstra, a first baseman, is hitting .412 with four homers and 11 RBIs in 11 games in June. He also has walked 11 times, giving him a .553 on-base percentage this month. For the season, Dykstra is hitting .318 with 10 homers and 42 RBIs in 176 at-bats.
• From the small-world department: Brooklyn catcher
Colton Plaia
, a 15th-round pick from Loyola Marymount, played high school ball in California for coach
Brett Kay
. Kay was the primary catcher for the inaugural edition of the Cyclones in 2001. Kay shared in a New York-Penn League championship that season.
• Shortstop
Amed Rosario
, who last summer was handed the largest international signing bonus in franchise history ($1.75 million), is expected to open in the Appalachian League with Kingsport when play begins Thursday. That's a rare feat at 17 years old.
Wilmer Flores
also played for the K-Mets at that age, back in 2008.
• The Mets' revived Gulf Coast League team opens play Friday. Players assigned to that squad should include first-round pick
Dominic Smith
as well as 18-year-old outfielder
Wuilmer Becerra
, who arrived with
Travis d'Arnaud
and Syndergaard for Dickey last December. Smith tweeted Tuesday: "I will start my professional career tomorrow! I'm very excited to get out there and practice with my team for the first time!"
• Lefty reliever
Jim Fuller
has a 0.84 ERA in 16 appearances with St. Lucie. In 32 innings, he has allowed 15 hits and 16 walks while striking out 31. Lefties are hitting .116 against him.
• Center-field prospect
Matt den Dekker
made his season debut in the minors on Monday with St. Lucie after recovering from a fractured right wrist suffered in a Grapefruit League game on March 24.
• Left-hander
Darin Gorski
(shoulder) returned from the DL last Wednesday to toss four innings for Binghamton. He last had appeared April 26 with Vegas.
•
Cesar Puello
is day-to-day with a finger injury, which he suffered sliding into second base last week at Trenton.
• B-Mets outfielder
Cory Vaughn
will not require surgery on his ailing right elbow. He instead is rehabbing in Port St. Lucie.
June, 20, 2012
6/20/12
12:00
PM ET
Organization leaders

Average: Eris Peguero, Kingsport, .500; Alexander Sanchez, Brooklyn, .444; Phillip Evans, Brooklyn, .429; Jeffrey Diehl, Kingsport, .333; T.J. Rivera, Savannah, .333; Joe Tuschak, Kingsport, .333; Matt den Dekker, Buffalo, .332; Eric Campbell, Binghamton, .313; Josh Rodriguez, Buffalo, .300; Cam Maron, Savannah, .296.

Homers: Valentino Pascucci, Buffalo, 13; Cory Vaughn, St. Lucie, 12; Travis Taijeron, Savannah, 12; Aderlin Rodriguez, Savannah, 11.

RBI: Valentino Pascucci, Buffalo, 44; Travis Taijeron, Savannah, 44; Wilmer Flores, St. Lucie, 41; Aderlin Rodriguez, Savannah, 41; T.J. Rivera, Savannah, 37.

Steals: Alonzo Harris Jr., St. Lucie, 12; Wilfredo Tovar, St. Lucie, 12; Pedro Zapata, Binghamton, 12.

ERA: Matt Budgell, Kingsport, 0.00; Dawrin Frias, Brooklyn, 0.00; John Mincone, Brooklyn, 0.00; Gabriel Ynoa, Brooklyn, 0.00; Luis Mateo, Brooklyn, 1.59; Zack Wheeler, Binghamton, 1.96; Shane Bay, Kingsport, 2.45; Rafael Montero, Savannah, 2.52; Angel Cuan, St. Lucie, 2.55; Collin McHugh, Buffalo, 2.71.

Wins: Matt Harvey, Buffalo, 6; Zack Wheeler, Binghamton, 6; Gonzalez Germen, Binghamton, 6; Hamilton Bennett, St. Lucie, 6; Yohan Almonte, St. Lucie, 6; Rafael Montero, Savannah, 6.

Saves: Fernando Cabrera, Buffalo, 15; Adrian Rosario, Binghamton, 13; T.J. Chism, Savannah, 12; Adam Kolarek, St. Lucie, 10.

Strikeouts: Matt Harvey, Buffalo, 81; Collin McHugh, Buffalo, 70; Zack Wheeler, Binghamton, 70; Garrett Olson, Buffalo, 65; Gonzalez Germen, Binghamton, 62.

Short hops

• Right-hander Collin McHugh, compared by scouts to Dillon Gee, had a misleading line in his Triple-A debut Monday. After two walks and a wild pitch in the first inning led to a Norfolk run on a sacrifice fly by veteran Miguel Tejada, McHugh put up zeroes until the sixth inning. That's when McHugh -- an 18th-round pick in 2008 out of Berry College in Georgia -- allowed a pair of singles and a walk to open the frame and departed with Buffalo leading, 3-1. Left-hander Josh Edgin entered and allow all three inherited runners to score, so McHugh was charged with four runs on five hits and four walks in five-plus innings in his International League debut.

McHugh, who turned 25 on Tuesday, is only the second former Berry College pitcher to reach Triple-A. The other: right-hander Chuck Smith, who actually did so in 2006 with Norfolk, when the Tides were affiliated with the Mets organization.

• Reliever Jeff Stevens, a former Cub, was demoted to Binghamton to clear a Triple-A roster spot for McHugh.

• St. Lucie third baseman Wilmer Flores earned MVP honors at Saturday's Florida State League All-Star Game. Flores went 3-for-4 with three RBIs and a walk in a 6-3 South victory. The Mets had eight players appear in the game, including late addition Richard Lucas (0-for-3) to man first base. The others: outfielder Cory Vaughn (1-for-2), catcher Blake Forsythe (1-for-2), shortstop Wilfredo Tovar (0-for-2), left-hander Chase Huchingson (0 ER, 1 IP) , right-hander Cory Mazzoni (1 ER, 1 IP) and left-hander Adam Kolarek (0 ER, 1 IP).

• Mazzoni, the organization's second-round pick in 2011 from NC State, is expected to be promoted to Double-A Binghamton today. He will be part of a six-man B-Mets rotation. Mazzoni went 5-1 with a 3.25 ERA in 12 starts with St. Lucie, allowing 64 hits and 16 walks while striking out 48 in 63 2/3 innings.

• Kingsport, including first-round pick Gavin Cecchini, a high school shortstop from Louisiana, opened its season Tuesday night. The full roster:

Pitchers: Martires Arias, Alberto Baldonado, Shane Bay, Matt Budgell, Christian Chivilli, Miller Diaz, Zachary Dotson, Ramon Estevez, John Gant, Robert Gsellman, Steven Matz, Christian Montgomery, Akeel Morris, Flabio Ortega, Andres Perez, Luis Rengel, Persio Reyes, Carlos Valdez, Edioglis Villasmil.

Catchers: Tyler Carpenter, Jeyckol Deleon, Alex Machillanda, Tomas Nido.

Infielders: Cecchini, Anthony Chavez, Jeffrey Diehl, Branden Kaupe, Pedro Perez, Yeixon Ruiz, Kevin Wiejgerste.

Outfielders: Michael Bernal, Maikis De La Cruz, Bradley Marquez, Eris Peguero, Joe Tuschak.

Cecchini went 0-for-3 with two walks, a caught stealing, run scored and throwing error in his pro debut.

• Purdue catcher Kevin Plawecki, a supplemental first-round pick (35th overall), went 0-for-4, was hit by a pitch and had a passed ball Tuesday for Brooklyn in his pro debut.

• Prep right-hander Andrew Massie, the organization's 24th-round pick, signed a contract Saturday to join the Mets, the Dyersburg (S.C.) State Gazette reported. Fourteenth-round pick Chris Flexen, a high school right-hander from California, reportedly is close to signing as well.

• Buffalo outfielder Matt Tuiasosopo snapped an 0-for-30 skid Saturday.

• Jenrry Mejia made his third relief appearance since converting from starting Tuesday. He tossed two scoreless innings. Mejia rebounded from a woeful appearance Sunday, in which four of five batters reached -- via two hits, plus a walk and a hit batter. He has yet to enter mid-inning or inherit runners during a two-week program to ready him for major league consideration.

• With Tuesday's loss, St. Lucie owns a 48-19 record with one game remaining in its first half. The club narrowly will fall shy of becoming the third team in Florida State League history to win 50 games in a half. The lone teams to accomplish the feat: