New York Mets:

Gary Ackerman
October, 29, 2011
10/29/11
9:39
AM ET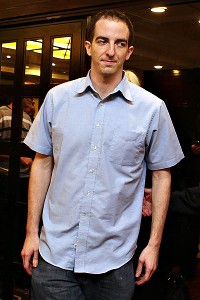 Gali Tibbon/AFP/Getty Images
Freed law student Ilan Grapel was told the Mets won the World Series.

Rep.
Gary Ackerman
(D-Queens) played a joke on
Ilan Grapel
shortly after the Queens law student was freed from an Egyptian jail, where he spent nearly five months,
the Post reports
. Ackerman told Grapel that the Mets had won the World Series.
Here's the exchange, as reported by the newspaper:
Grapel, expected to fly home to Queens today from Israel, was celebrating his release at a press conference in Tel Aviv, flanked by his mother Irene and Rep. Gary Ackerman (D-Queens), when he was pranked. He said it would be hard to express his deep appreciation to everyone who helped free him. "There's so many people to thank," he said, "and after being cut off for the past five months ..."

Ackerman quickly interjected, "We told him the Mets won the World Series." Grapel, a sports fan, shot Ackerman a big smile -- only to quickly feel the letdown most Mets fans are all too familiar with when he quickly figured out that the team had tanked -- again.
June, 12, 2011
6/12/11
9:35
AM ET
Daniel Murphy's
misplay on a two-out grounder by
Andrew McCutchen
in the third
allowed the eventual decisive runs to score
in Pittsburgh's 3-2 win against the Mets on Saturday night at PNC Park.
Jason Bay
returned to the lineup and snapped his drought at 0-for-24 with a bloop single to center in front of McCutchen in his second at-bat. The Mets missed a chance to move .500.
Sunday's news reports:
• Post columnist
Joel Sherman
said the Mets, who often drift aimlessly without a plan, hired the right person to dispassionately make decisions in
Sandy Alderson
. But in the case of whether to re-sign
Jose Reyes
, Sherman asserts
Alderson ought to let his emotions become involved
in the decision-making. Writes Sherman:
This is a disenfranchised fan base. Do the Mets really want to risk further alienation? Do they want to keep hemorrhaging attendance? The Mets would pay a price to avoid the worst, and the price also happens to be a star shortstop in his prime. Is there risk in going big dollars and long term with Reyes? You bet. As one AL assistant GM said, "Can we wait until he makes it through six months healthy -- instead of two -- before determining his value?"
Sherman, by the way, hears the same thing I do: Reyes is likely not to be dealt at the trading deadline (unless the Mets are overwhelmed). The Mets can get two draft picks if they lose Reyes as a free agent next winter. Draft-pick compensation is expected to change in the new collective bargaining agreement, but the current rules are expected to govern one last offseason.
• Under the open-to-interpretation headline, "HERE WE GO," on the front page of its web site, the Daily News notes that the
Fred Wilpon's
attorneys on July 1 will ask a judge to move
Irving Picard's
$1 billion-plus bankruptcy lawsuit
out of U.S. Bankruptcy Court and into U.S. District Court
. Other newspapers' reports, quoting experts, have offered little hope of the move to get the hearing out of Picard's turf being successful. "I think it is a tough motion because the trustee is doing garden variety bankruptcy work," bankruptcy attorney
Howard Kleinhendler
told Newsday in a report published May 27. The Daily News then brings up Rep.
Gary Ackerman's
sponsorship of a bill to prevent trustees from trying to recover funds from "net gainers" in Ponzi schemes unless it is demonstrated they were participants in the scam. Of course, that begs the questions: Where do the net losers then recover their money from -- the government? Or are they out of luck?
•
David Waldstein
in the Times discusses the method of
Carlos Beltran
selecting his bats
, which he learned from former Mariners great
Edgar Martinez
. Essentially, Write taps his bat and listens. Writes Waldstein:
Hitting a baseball is first and foremost about seeing a pitch, but for Beltran, it's about hearing a pitch, too: the sound a bat makes when struck with his hand. When Beltran hears the right pitch vibrate from a 32-ounce piece of lumber, it produces a tone that for him is as sweet as music. Ever since he was taught by one of the great hitters in the game to appreciate the melody that each bat inherently produces, Beltran has followed the practice religiously. The higher the pitch tone, the harder and more dense the wood, Beltran said. The harder the wood, the farther the ball is expected to travel.
•
R.A. Dickey
was unfairly charged with a pair of earned runs as the result of Murphy's misplay and ended up on the losing end despite pitching a comlete game (eight innings) and limiting the Pirates to three runs. "I don't know if I've ever been 3-7 at anything, so obviously it's painful," said Dickey, who actually was 3-8 at one point with the Seattle Mariners in 2008. Read game stories from Saturday's 3-2 loss in the
Star-Ledger
,
Newsday
,
Times
,
Post
,
Daily News
and
Record
.
•
Terry Collins
said he did not appreciate former hitting coach
Howard Johnson's
comments
regarding Bay sitting for two games
this week. Read more in the
Post
and
Newsday
.
• Bay
downplayed the psychological effect
of having snapped his hitless streak at 24 at-bats.
Jason Pridie
tells
Steve Popper
in the Record that
Bay has been valuable to him
. Writes Popper:
As Bay sat next to Pridie, who replaced him in the lineup, he talked. He offered tips, advice, whatever he could think of to help the 27-year-old rookie. "Honestly, since coming up, he's been the guy that I've turned to to ask questions," Pridie said. "He's always right there, saying, 'Good job' or 'Try this.' He's been more than I could have imagined from a guy like that. I've heard nothing but great things. You can hear this guy makes a lot of money, but you'd never know."
• With
Derek Jeter
on verge of 3,000 hits, the Times'
Tyler Kepner
recalls
Roberto Clemente
reaching that milestone, which actually
came against the Mets at old Three Rivers Stadium
in Pittsburgh. Writes Kepner:
The night before, Clemente had reached base against Tom Seaver with a chopper that bounced off an infielder's glove. The scoreboard flashed hit, but the official scorer ruled it an error, keeping Clemente on the verge of history. Yet the Pittsburgh fans were largely oblivious. The next day was an overcast Saturday, with televised college football perhaps a more appealing entertainment option. Just 13,117 fans went to the ballpark, and even the Mets' starter was unaware of what could happen. "I was a 22-year-old rookie that had absolutely no clue this baseball icon was sitting on 2,999 when I went out to pitch that game," Jon Matlack said. "None."
• After Saturday's game, the Mets optioned
Dale Thayer
to Triple-A Buffalo.
D.J. Carrasco
, in the first season of a two-year, $2.4 million deal, will
join the Mets for Sunday's game
.
BIRTHDAYS:
Former Met/current agent
Keith Miller
turns 48. Miller was a scrappy second baseman with a little speed, who hit .264 with 44 steals from 1987 to 1991. He was packaged in the deal that brought
Bret Saberhagen
from the Kansas Royals to the Mets. Miller, working with
Sam
and
Seth Levinson
, currently represents
David Wright
among other superstars, or stars, or whatever.
-Mark Simon
June, 1, 2011
6/01/11
9:39
AM ET
Despite a heel issue,
R.A. Dickey
took a scoreless effort into the eighth inning, when he surrendered three runs. The Mets ultimately lost to the Pittsburgh Pirates, 5-1, at Citi Field on Tuesday.
Wednesday's news reports:
• While it has been widely expected that
Jose Reyes
would be traded before the July 31 deadline, a source tells ESPNNewYork.com it's more likely Reyes stays for the season unless the Mets get bowled over with an offer. And if Reyes will sign for a reasonable amount next offseason, it might be
David Wright
who is traded instead. Read the full story
here
. Here's the thesis:
Jose Reyes and David Wright have only worn New York Mets uniforms in their major league careers. That is highly likely to change next season. Yet it is not a foregone conclusion that Reyes is the one who will be gone. General manager Sandy Alderson instead may choose to deal Wright next offseason, a source familiar with the organization's thinking told ESPNNewYork.com.
Andy Martino
in the Daily News said a source "called a report saying that the Mets might consider trading Wright in order to re-sign Reyes 'hogwash.'" Yet Daily News columnist
John Harper
writes
:
For starters, if the payroll is about to be reduced dramatically, as Wilpon intimated in last week's Sports Illustrated story, obviously it's crucial that Alderson make the right calls on trading key players and the prospects he gets in return. Perhaps more than ever that could mean deciding between Jose Reyes and David Wright, the Mets' homegrown stars. And while Reyes always seemed more likely to go, as he heads for free agency this winter, there is a sense among some baseball people that the shortstop may be changing [Sandy] Alderson's mind. Tuesday, for example, a major-league scout who once worked under Alderson predicted that the GM will find a way to keep Reyes, even if it means trading Wright instead. "If he has to get down to a [payroll] number," the scout said, "I think he'll trade the other two [Carlos Beltran and Francisco Rodriguez] at the deadline, then deal Wright in the offseason. The way Reyes is playing, he has too much value to trade at the deadline for what Sandy can get in return."
•
Gary Carter
will
undergo chemotherapy and radiation treatment
for cancerous brain tumors because surgery is not an option, his Duke University doctors announced Tuesday.
Richard Sandomir
writes
in the Times
:
[Dr. Henry S.] Friedman, who was not authorized by the family to discuss Carter's case, spoke by telephone about glioblastoma in general. "Glioblastoma is the most malignant of the primary tumors we see in adults," he said, "and anywhere from 12,000 to 18,000 cases are diagnosed each year, depending on who you read." He said the average survival rate for patients after surgery, radiation and chemotherapy is 14 ½ months. "It is a tumor that generally everyone, not us, believes is a terminal illness," he said. He added: "Bottom line, there are some programs like ours that are seeing long-term survival in an ever-increasing, albeit small, minority of patients."
Sandomir writes the type of tumor -- glioblastoma -- is the same cancer that afflicted
Bobby Murcer
,
Tug McGraw
,
Dick Howser
,
Dan Quinsenberry
and
Johnny Oates
.
Read more about Carter in
Newsday
, the
Post
,
Record
,
Daily News
and
Star-Ledger
.
• After an examination Tuesday in New York,
Ike Davis'
left ankle has been
placed in a boot for three weeks
. "There's been some question: Is it really a bone bruise? Is it a stress fracture?" GM
Sandy Alderson
told reporters. "It hasn't been re-characterized as anything other than a bone bruise. But a bone bruise bleeds into a stress fracture, basically the same approach to recovery. Unfortunately, this is going to be three weeks-plus, it appears, before he's back. It's always possible that he'll heal faster than that.''
Brian Costa
in the Wall Street Journal
writes about the Mets' injuries:
In terms of the sheer volume of injuries, the Mets may not be as snake-bitten as they think. Their players have spent a combined 268 days on the disabled list this season, according to Stats Inc. That merely ties them for 15th in the majors. But the stature of the players they are missing make the injuries devastating. Between Johan Santana, David Wright, Davis and Chris Young, the Mets have about $38 million in salary languishing on the D.L. With a 2011 salary of $432,000, Davis is easily the cheapest of the bunch. But his production has been difficult to replace. At the time of his injury, Davis led the team in home runs (7), RBI (25), on-base percentage (.383) and slugging percentage (.543).
Read more about Davis the
Record
,
Star-Ledger
,
Post
,
Times
,
Newsday
and
Daily News
.
• Read game stories from Pittsburgh's 5-1 victory on Tuesday in the
Post
,
Times
,
Star-Ledger
,
Record
and
Newsday
.
• Rep.
Gary Ackerman
proposes that anyone who profited from a Ponzi scheme, unless it's proven they were in on the scam,
should be able to keep the money
, the Daily News reports. That begs the question: Where does the money come from to compensate people who l
ost
in the Ponzi scheme?
•
Fred Wilpon
told
Mike Pelfrey
that he loved his jab last week that the principal owner
ought to sit in on the players' media-training session
next spring training, according to
David Waldstein
in the Times. "He said, 'I loved your comment,' " Pelfrey told Waldstein. "He told me, 'Next year in spring training I am going to sit down right next to you.' He was great about it."
BIRTHDAY:
Randy Hundley
was never a Met, but he was involved in a famous moment in Mets history, and fathered a Met (
Todd
). He turns 69, with that year (1969) being the year of the notable occurrence. On Sept. 9 that season, the Mets and Cubs played a pivotal game at Shea Stadium, with
Tommie Agee
scoring a key run with a hook slide around Hundley. The Cubs backstop leaped high in the air and argued with the umpire to no avail. The Mets hung on to win on their way to a championship.
-Mark Simon
February, 24, 2011
2/24/11
6:38
AM ET
Last day before games begin. Intrasquad Friday. Grapefruit League opener Saturday.
The day's news reports:
•
Ronny Paulino
isn't alone in having difficulty getting his visa secured.
Dave Seminara
of The New York Times reports
approximately 17 players
have been affected for assorted reasons. Writes Seminara: "According to
Dave Sohier
, the nonimmigrant visa chief at the United States Embassy in Santo Domingo in the Dominican Republic, delays most commonly affect young players who have had brushes with the law while in the United States. Many established Dominican stars, meanwhile, have attained resident status, or green cards, enabling them to live in the United States."
Ronald Belisario's
agent told The Times his client, who has pleaded guilty to reckless driving among other transgressions, could miss the entire season. ...
Sandy Alderson
has indicated Paulino's 50-game ban by Major League Baseball for getting flagged for a performance-enhancing substance, which has eight games remaining, is the primary reason for Paulino's visa issue. Alderson recently noted MLB does not typically try to intervene in those government affairs.
•
Sandy Alderson
tells
David Lennon
of Newsday that Rule 5 picks
Brad Eamus
and
Pedro Beato
have "excellent" chances
of making the Opening Day roster. "Often a Rule-5 guy is somebody who can do maybe one thing well enough to survive as an extra player for a whole year," Alderson tells Lennon. "Maybe he runs really well, or plays great defense. But in [Emaus'] case, he's competing for a starting position, and it's unlikely that he'll be here if he doesn't earn that starting position." ... Also read about Beato
in the Star-Ledger
, where
Andy McCullough
writes: "Beato cautioned that he won't hit his top velocity, 97 mph, until adrenaline floods his system during the season."
• The Post's
Mike Puma
takes
Terry Collins'
comment that second base has
become an offensive position
to
Luis Castillo
, since preferring a solid bat at that spot leans toward some combination of Emaus and
Daniel Murphy
. "It will be good, because we have a new manager and he says he's going to get me at-bats, and I believe him," Castillo tells Puma. "If I have a good spring training, I think I have a chance. I've been in the league a long time, and I know what I have to do and I know I can help the team win some games."
J.P. Ricciardi
was GM of the Blue Jays when Eamus was drafted by Toronto. And Ricciardi says of Eamus: "This guy can hit." ... The Daily News'
Andy Martino's
sources say Collins will fight for Murphy
on the roster in some capacity
, but there are concerns about his fielding that he has to overcome in Grapefruit League games. Bottom line: Since
Justin Turner
has options and can be sent to the minors without passing through waivers, the righty-hitting Emaus is well-positioned to make the team as the second baseman, with the lefty-hitting Murphy getting some playing time there too.
•
Brian Costa
of The Wall Street Journal chats with Murphy about his
move to second base
. Costa reviews Murphy's glove collection from the assorted positions Murph has played, writing: "The big one, 12 1/2 inches long, is for first base. There's a glove for second base, 11 1/2 inches long, and a glove for third, which is a quarter-inch smaller. He also has a glove for left field, though he left that one at his home in Jacksonville. 'I don't think I'm allowed back out there,' he said."
• Newsday columinst
Ken Davidoff
interviews
Carlos Beltran
and also comes away with the impression "it's apparent he's
willing to switch to right field
and let
Angel Pagan
play center field." Davidoff also discusses the thawing of Beltran's relationship with the Mets. As you may recall, he was called out for undergoing Jan. 13, 2010 knee surgery, which the organization alleged was without its consent. "We had our issues before, but that's in the past," Beltran said.
• Collins acknowledged he would have preferred
Jenrry Mejia
open the 2010 season at Triple-A Buffalo. Read more in
my column
as well as in
Newsday
and the
Star-Ledger
.
• Congressman
Steve Israel
(D-Dix Hills) attended the Mets' workout Wednesday as a guest of
Jeff Wilpon
. Newsday's
David Lennon
writes: "Israel, a huge Mets fans, talked about sitting near
President Obama
for the State of the Union address, but added, 'Standing between Carlos Beltran and
David Wright
was much cooler.'''
• MLB.com's
Anthony DiComo
profiles
Kai Gronauer
, the Mets'
German catching prospect
in camp.
• The chairman of Digital Domain, which has naming rights to the Mets' spring training stadium, has no interest in
buying a piece of the Mets
,
John Textor
told Newsday. Digital Domain is a movie special-effects company.
• The Times
reviews potential reasons
for trustee
Irving Picard
requesting, and being granted, until March 18 to amend his lawsuit against Mets owners. "This is not earth-shattering," a lawyer told the newspaper. "I would view this as ministerial and routine." But another lawyer opined: "I would think this is not just Picard dotting some i's and crossing some t's. It could be new information that has surfaced since December."
• The Daily News quotes U.S. Rep.
Gary Ackerman
(D-NY) as vowing to probe how the mother of the top Securities and Exchange Commission lawyer allegedly
made $1.5 million in fictitious profits
from a
Bernard Madoff
account when her estate was liquidated by the family in '05. "I was not involved with my parents' financial affairs and don't remember knowing about any investment with Madoff until after my mother's death in 2004 and the subsequent liquidation of her account,"
Daniel M. Becker
, who worked for the SEC from 2000-2002 and then from 2009 until earlier this month, told the newspaper in a statement. The Daily News then quotes Ackerman siding with the Wilpons: "How were they supposed to know if the chief investigative agency didn't? It enhances their legal position, I think dramatically, if somebody at the agency has investments. ... Certainly he's a more sophisticated player because he's the chief counsel at the agency that has oversight over the bad guys." ...
Commentary:
While no one reasonable is wishing ill will on the Wilpons, Ackerman essentially is advocating less money for people who lost principal if he wants Picard to limit the amount recovered from the Mets owners to straight fictitious profits, which is not dependent on the known or should have known principle. (And it was the mother who opened the account, no? The sons liquidated it.) ... Perhaps I should have asked Israel what he thought Wednesday when he visited Mets camp.
• Alderson tells Daily News columnist
Bill Madden
about
the Phillies' rotation
: "You still have to do it and it remains to be seen if [
Roy Halladay
,
Cliff Lee
,
Cole Hamels
and
Roy Oswalt
] all pitch together like [
John
]
Smoltz
, [
Greg
]
Maddux
and [
Tom Glavine
]."
BIRTHDAYS:
Hall of Famer
Eddie Murray
, who hit a combined .274 with 43 homers and 193 RBIs in 1992 and '93 as a Met, turns 55. ... Catcher
Gustavo Molina
, who appeared in two games in 2008, was born on this date in 1982 in La Guaira, Venezuela.
NBA
NHL
COLLEGE BASKETBALL
NFL