New York Mets:

Gary Brown
March, 18, 2015
Mar 18
7:45
PM ET
PORT ST. LUCIE, Fla. -- A healthy percentage of New York Mets fans may get frustrated by "Baseball Maverick: How Sandy Alderson Revolutionized Baseball and Revived the Mets" before opening the new book.
Revived the Mets?
After all, the organization has endured six straight losing seasons. Alderson has presided as general manager over the last four.
[+] Enlarge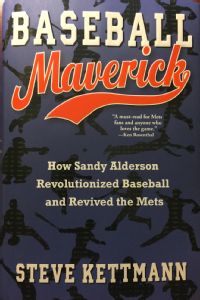 Courtesy Grove Atlantic
Alderson noted he is not the author. It was penned by friend Steve Kettmann, a former A's beat writer. Alderson did grant Kettmann more than 100 interviews spanning four years.
The book is still worth reading, despite its excessively positive tone.
It traces Alderson's entire life. He collected incoming cables from U.S. embassies while working in the CIA's basement after college. He studied Vietnamese for months while in the military and stationed in California, and successfully lobbied to be sent to the Vietnam War when his orders instead had him shipping out to a safe perch in Japan.
Passionate fans won't be surprised by much covering the Mets years. Yet there are enough details to satisfy:
• Amid reports manager Terry Collins' job was safe last August, Collins' chance of returning actually was 51 percent, according to Alderson, who told Kettmann at the time: "Frankly, for me, that percentage has been eroding."
Alderson was upset about a drop in walks.
"We can't just throw up our hands and say, 'We're not being selective at the plate anymore, so much for that,'" Alderson said.
A meeting with hitters saved Collins' job.
• Alderson vocally expresses frustration during games. Regarding reliever Gonzalez Germen, Alderson blurted: "How do you go on the DL with an abscess?"
• Kettmann writes that Alderson "accepted a nudge" from commissioner Bud Selig to take the Mets' job. "Fred Wilpon is an extremely close friend, and I told him, 'You'll never do better than Sandy Alderson,'" Selig said.
• Alderson was naive about the impact of Bernard Madoff's Ponzi scheme. "Madoff wasn't even a topic of conversation in my interview for the Mets job," Alderson said. "I didn't raise it. Maybe I should have. The bottom line is, I would have taken the job anyway. It just added to the challenge."
• Alderson approached Peter Greenberg, the agent for Jose Reyes, in June of Reyes' walk year, but the GM was rebuffed in extension talks. Alderson never made an official offer that winter, but informally indicated the Mets genuinely were prepared to bid $100 million.
"The sad thing is if we sign Jose, we're just maintaining the status quo. We're not improving the team," Alderson told Kettmann at the time.
• The Mets focused on the Brewers, Phillies, Red Sox, Rangers and Giants in trade talks involving Carlos Beltran in July 2011. Beltran initially only would consider Milwaukee and Philly.
Alderson labeled it a "baited hook" that Beltran flew with Giants personnel to the All-Star Game that year, because the publicity increased pressure on Giants GM Brian Sabean.
The Mets initially had insisted on Gary Brown, Brandon Belt or Zack Wheeler for Beltran. Belt was preferred.
During a lull in Mets-Giants talks, Alderson presumed Sabean was talking to another team. So Alderson pretended to be interested in Hunter Pence. He called Astros GM Ed Wade to see if Pence was available. Told Pence likely would go untraded, Alderson concluded Sabean lacked leverage.
Boston offered Chih-Hsien Chiang and Alex Wilson, plus one from a list of seven players, for Beltran.
Texas and the Mets agreed on Joe Wieland and Robbie Ross, but Alderson wanted a third player. Alderson asked for Mike Olt or Rougned Odor. Alderson indicated inclusion of either would seal the deal. The Rangers balked. Texas was surprised by Beltran's trade to San Francisco because the Rangers thought they had a deal with Alderson involving Wieland, Ross and a different third player.
• The Orioles "toyed" with the idea of giving up heralded Dylan Bundy for R.A. Dickey before the knuckleballer went to Toronto.
The Mets wanted Cody Buckel from Texas, which the Rangers wouldn't do, and which Alderson admits would have been a bust.
• Ruben Tejada is one of the few criticized. "Gradually you come to the conclusion that Tejada is just a placeholder," Alderson said. "He's not a long-term guy for us."
• Alderson wanted to sign Robinson Cano. Alderson told one of Cano's agents: "Anything over $200 million, we're not there." When the agent didn't then dismiss the Mets, "that led me to believe something less than $200 million was feasible," Alderson said.
• Alderson explained the "90 wins" hullabaloo from last spring training to Kettmann as sensationalism. Alderson had googled "winning culture" and read articles before spring training.
Alderson then said to staff: "We shouldn't just try to be better. Let's have the mind-set that we're going to go out and win 90 games. When we wake up and look in the mirror, let's make our goal to play like we're trying to win 90 games."
Regarding the tabloid reaction after the comment leaked, Alderson said: "It was misleading. ... It was really a challenge to change the mind-set."
August, 19, 2012
8/19/12
9:44
PM ET
PAWTUCKET 4, BUFFALO 1:
PawSox starter
Billy Buckner
allowed one run on three hits in six innings, with the lone damage coming on a solo homer by
Zach Lutz
. After
Will Inman
relieved Buckner and pitched a scoreless seventh,
Pedro Beato
handled the final two innings to pick up the save in his debut with the Red Sox organization after being traded for
Kelly Shoppach
. Beato tossed a 1-2-3 eighth, striking out Lutz and
Josh Satin
. In the ninth,
Matt den Dekker
led off with a single. After striking out
Lucas May
, Beato walked
Fred Lewis
, bringing the tying run to the plate, but Beato escaped unscathed. Bisons starter
Jeurys Familia
walked five in five innings while allowing three runs (two earned) and five hits. Relievers
Jeff Stevens
and
Justin Hampson
each pitched an inning of no-hit relief for the Herd before
Garrett Olson
surrendered a run in the eighth. Lutz (2-for-4) was the only Bison to record a multi-hit game.
Box
BINGHAMTON 5, RICHMOND 2:
Binghamton packed its scoring into the second and third innings, scoring five runs on five hits, including three doubles. The B-Mets struck for two runs in the second against starter
Mike Kickham
. After
Eric Campbell's
double put runners at second and third,
Juan Centeno
plated a run with a groundout.
Wilfredo Tovar
followed with a sac fly for a 2-0 lead. An inning later, Kickham hit
Juan Lagares
with a 2-2 pitch. Lagares scored from first when
Reese Havens
doubled in his second game after missing a week with back discomfort.
Allan Dykstra
drove in Havens with a single and Campbell capped the inning with an RBI double.
Gonzalez Germen
took the five-run lead into the seventh, stranding six runners along the way.
Luke Anders
then broke the shutout bid with an RBI double.
Gary Brown
added a sac fly. Germen ended his day by inducing a pair of fly outs, stranding a runner at third.
Brad Holt
tossed a perfect eighth.
Drew Carpenter
navigated past a walk and single in a scoreless ninth to earn his first save as a B-Met. It was Carpenter's second career save. The other came April 9, 2007 as a member of the Clearwater Threshers, Philadelphia's Class A Florida State League affiliate. Germen (7-10) allowed two runs on eight hits in seven innings. It was his first win since with the B-Mets since he beat Altoona on July 15.
Box
CHARLOTTE 5, ST. LUCIE 4: Jack Leathersich
inherited the bases loaded from
Jeff Walters
in the bottom of the ninth and surrendered a game-ending RBI single to
Kevin Kiermaier
. St. Lucie had evened the score at 4 in the eighth when
Danny Muno
singled with two outs and eventually scored on a passed ball. Starter
Chase Huchingson
allowed four runs on 12 hits and two walks in seven innings.
Richard Lucas
drove in two runs.
Box
HICKORY 5, SAVANNAH 3:
Michael Fulmer
allowed five runs (four earned) on nine hits and two walks while striking out eight in 5 2/3 innings.
Box
ELIZABETHTON 3, KINGSPORT 2:
Pitching a fourth inning of relief,
Matt Budgell
issued a leadoff walk in the bottom of the ninth and departed.
Edioglis Villasmil
entered and walked the first batter he faced. The winning run ultimately scored on a fielding error by shortstop
Anthony Chavez
.
Jorge Rivero's
two-run homer in the fourth for the K-Mets opened the scoring. Starter
Andrew Massie
allowed one run on four hits and two walks while striking out four in five innings.
Box
BROOKLYN 2, VERMONT 0:
Catcher
Kevin Plawecki
, the Mets' supplemental first-round pick from Purdue, had a pair of homers and caught the combined three-hit shutout.
Hansel Robles
earned his fourth win for the Cyclones, tossing six scoreless innings and giving up two hits with one walk and three strikeouts.
Craig Hansen
,
Beck Wheeler
and
Tyler Vanderheiden
combined for three scoreless relief innings. Vanderheiden allowed one hit and struck out two in the ninth to pick up his ninth save.
Jayce Boyd
went 2-for-4, while
Jeff Reynolds
,
Stefan Sabol
and
Edward Rohan
also each had a hit.
Box
Compiled from team reports
August, 18, 2012
8/18/12
12:11
AM ET
BUFFALO 4, LEHIGH VALLEY 2:
After Lehigh Valley starter
Scott Elarton
retired the first two Herd batters of the third, Buffalo overcame a 1-0 deficit with three runs.
Lucas Duda
opened Buffalo's scoring with a solo homer. After
Zach Lutz
walked, Buffalo produced three straight singles -- the final
Matt den Dekker's
two-RBI looper into shallow left-center. "He got off to a slow start here, but probably the last 10 days or two weeks, he's really starting to pick it up," manager
Wally Backman
said. "To see him getting better offensively -- not swinging as much or missing quite as much, cutting down on his strikeouts -- that's what we really want him to do." As for Duda, Backman said: "He's been working. He's spread his stance out a little bit. He's a little more aggressive at the plate right now. He's a big, strong kid that can hit the ball a long way, which we saw tonight. He's making some improvements, and we don't expect to have him here too long."
Jenrry Mejia
limited Lehigh Valley to one run on five hits and a walk in six innings. "We wanted to get him in the bullpen," Backman said. "That's what everyone figured he was going to do, going to the major league level, and he probably still might. But to control his outings, we put him back in the rotation a little bit. Since doing that, he's been pretty good." In the ninth, Bisons closer
Fernando Cabrera
worked himself into a jam -- allowing consecutive singles to start the inning. But Cabrera retired the next three Lehigh Valley hitters to close the game.
Box
RICHMOND 10, BINGHAMTON 3:
The Flying Squirrels scored eight runs over the final two innings against
Mark Cohoon
,
Ryan Fraser
and
Brandon Moore
. After four scoreless innings, Richmond grabbed the lead against Cohoon on a two-run triple by
Ryan Cavan
. The B-Mets responded with aggressive baserunning in their half of the fifth. With
Raul Reyes
at first,
Juan Centeno
zipped a groundball to third that bounced off
Daniel Mayora's
glove and rolled into left field. Reyes raced to third and scored when
Nick Minnicozzi's
throw from left bounced away from Mayora. Binghamton struck again in similar fashion in the sixth.
Dustin Martin
singled and pushed the envelope by racing to third on
Wilmer Flores'
single to right. Martin beat the throw and came home when Mayora tried to nab Flores at second but airmailed his attempt into right field. With two runners aboard later in the frame,
Sean Kazmar
gave Binghamton the lead with an RBI single. Flores easily scored from third, but
Allan Dykstra
was gunned down at the plate by
Gary Brown
.
Owning a one-run lead, Cohoon took the game into the eighth before surrendering a single and issuing his only walk. With the tying run on second, Fraser entered and loaded the bases by walking Mayora.
Juan Perez
made Fraser pay with a two-run double. Richmond stretched its lead to three on a two-run triple by
Wes Hodges
. The Flying Squirrels tagged Moore for four runs on five hits in the ninth, including three consecutive RBI doubles. Cohoon (7-9) allowed four runs on six hits over 7 1/3 innings. Half his runs scored under Fraser's watch. Fraser and Moore combined to allow six runs on seven hits over 1 2/3 innings.
Box
CHARLOTTE 6, ST. LUCIE 5: Jack Leathersich
was charged with four runs in the seventh while recording only one out as St. Lucie squandered a 5-2 lead.
Alonzo Harris Jr.
went 3-for-5 and scored three runs in the loss.
Cory Vaughn
and
Aderlin Rodriguez
had two RBIs apiece.
Box
HICKORY 6, SAVANNAH 0:
Jim Fuller
suffered the loss despite striking out 10 while allowing two runs on two hits and a walk in 5 2/3 innings. Savannah mustered only four hits, two by
Matt Reynolds
.
Box
ELIZABETHTON 5, KINGSPORT 1:
Chris Flexen
dropped to 0-3 after surrendering three runs (one earned) on three hits and two walks in five innings.
Box
BROOKLYN 12, TRI-CITY 4: Gabriel Ynoa
limited Tri-City to one run in five innings, while
Brandon Nimmo
put an exclamation point on the victory with a grand slam as part of a six-run ninth. Nimmo has two grand slams this season. He finished Friday night with six RBIs.
Craig Hansen
tossed a scoreless relief inning, allowing a hit and striking out two, in his second appearance since signing with the organization. The ValleyCats made a late push, cutting the score to 6-4 with a three-run eighth charged to
John Mincone
(1.48 ERA), who had not allowed a run since June 22.
Box
Compiled from team reports