New York Mets:

Gary Matthews Sr.
August, 25, 2011
8/25/11
7:05
AM ET
Nick Evans
had a three-run homer and four RBIs and
Bobby Parnell
notched his second major league save as the Mets beat the Phillies, 7-4, Wednesday afternoon to snap a five-game losing streak. The Mets are off Thursday before playing host to the Atlanta Braves this weekend at Citi Field.
Thursday's news reports:
•
Jose Reyes
begins a rehab assignment Thursday with Double-A Binghamton, weather-permitting. Reyes is scheduled to play three straight rehab games with the B-Mets, take Sunday off, then be activated from the disabled list Monday.
•
Ronny Paulino
will have a
potentially broken toe examined
in New York on Thursday. The best-case scenario is Paulino avoids the DL and serves as a pinch-hitter. He would need a pinch-runner, as
Chris Capuano
did for Paulino on Wednesday when the injured catcher walked in the seventh inning.
Jon Niese
landed on the DL on Wednesday with an intercostal muscle strain on his right side, but hopes to return by season's end -- no guarantee.
Mike Nickeas
replaced the southpaw on the roster
, since Paulino is unable to catch for the time being no matter what the DL fate.
Scott Hairston
(left oblique) is due to be placed on the DL before Friday's game. So if Paulino lands on the DL, that's three players in a three-day span lost.
• The Mets need as many as two starters from Triple-A Buffalo during next week's series against the Marlins, but rainouts are forecast, potentially alleviating the need to use two of three from
Miguel Batista
,
Pat Misch
and
Chris Schwinden
. Insiders predict the 40-year-old Batista, who was released by the St. Louis Cardinals earlier this season, may be with the Mets as soon as this Friday's series opener against the Braves and is the best option to start. (The Post says a Sunday rainout against the Braves could be made up during a series in Atlanta in September, with the Mets as home team one game, although the more likely scenario is a mutual Sept. 8 off-day.)
Batista, meanwhile, allowed four runs on nine hits, including a pair of homers, in 5 2/3 innings in his past start, but the newly promoted Nickeas said: "That line can be taken with a grain of salt a little bit because it was in Columbus. The couple of homers that they hit, it's a small park, and the wind was blowing out. I would say they actually didn't hit him that hard. They just hit homers there."
Nickeas went on to say Batista has "a lot" left at age 40.
"His velocity has been good," Nickeas said. "His command has improved steadily since he started."
• Read more on the assorted injuries in
Newsday
, the
Star-Ledger
and
Post
.
• Phillies broadcaster
Gary Matthews Sr.
called the Mets "crybabies"
as the result of
Mike Pelfrey
complaining to
Placido Polanco
in-game about trying to get hit. Matthews went on to say that's why the Mets lose. Pelfrey responded that he did not care, and that he was called worse by a Mets fan in the bullpen warming up before Wednesday's start.
The Daily News'
Andy Martino
tweets this exchange he had with Matthews in the press box/broadcast area after Matthews' on-air comments:
Just ran into Gary "Sarge" Matthews in hallway. He said: "Tell them the Sarge said it -- The Mets are crybabies. That's why they lose." Then he doubled back and make a crying motion with hands on face. Said: "Make sure you have tears, like this."
Read game coverage from Wednesday's win in the
Star-Ledger
,
Post
,
Record
,
Daily News
and
Newsday
.
• Parnell did have a save in 2009, but that was because he pitched the final three innings of a 9-0 win against the Cardinals. So polishing off Wednesday's win by protecting a three-run lead, albeit with two walks, felt
particularly satisfying -- and nervewracking -- for Parnell
.
• Evans had a big game and
may see some semi-regular playing time
, since
Lucas Duda
should be used more so in right field than first base during the season's final month.
• Every year fans get frenzied over a high-profile player getting placed on waivers and then pulled back in August.
Troy Renck
of the Denver Post writes via Twitter (@TroyRenck): "I have learned the Rockies put a claim in on
David Wright
. ... Not sure who was awarded claim. ... Mets not interested in moving him. But it does show, as I have written, Rox really like Wright. If he becomes available, they will make play for him this winter. Teams put players on waivers to see who claims them to set groundwork for future trades, etc. 99 percent of time amounts to nothing. But it can give a team a starting point in trade talks. ... AGAIN, Mets have made clear they are NOT moving Wright. If changes, Rox will act."
Bottom line: If you only placed on waivers players you intended to trade, you would be telegraphing who you intended to trade. The most logical players to trade --
Jason Isringhausen
,
Tim Byrdak
and Hairston -- all cannot be moved this month. All three were claimed and then pulled back by the Mets, a source told ESPNNewYork.com.
•
Terry Collins
is under control through 2013, including a team option, and there's really no issue about whether he's going to be around. But the Daily News writes:
His contract expires after next season, and a man can become a lame duck quickly in New York. If the Mets finish poorly, and begin 2012 with a cluster of losses, it could be Willie Watch, or Jerry Watch, all over again. Unless ... There remains a solid possibility that the Mets, even after they probably finish below last year's 79-83 record, will endorse Collins by exercising his 2013 contract option this fall or winter. A high-ranking Mets source said yesterday that there have been "no internal discussions" about picking up the Collins option, but predicted those discussions would happen in the next "three to four weeks," and did not rule out the possibility of guaranteeing that third year shortly after the season ends.
BIRTHDAYS:
Pedro Feliciano
, whose signing with the Yankees last offseason netted the Mets the 44th overall pick in the draft, which was used for Oklahoma prep right-hander
Michael Fulmer
, turns 35. ... Catcher
Choo Choo Coleman
was born on this date in 1937. ...
Gary Matthews Jr.
turns 37.
August, 24, 2011
8/24/11
6:18
PM ET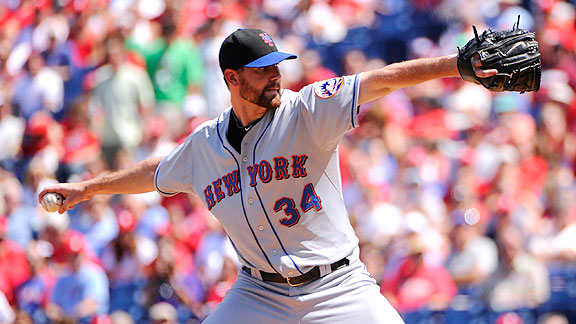 Howard Smith/US Presswire
Mike Pelfrey had a shaky three-run second, but managed to complete six innings as the Mets salvaged the series finale in Philadelphia.
Phillies broadcaster
Gary Matthews Sr.
, a former major leaguer and the father of ex-Met
Gary Jr.
, called the Mets "crybabies" on the Philadelphia telecast. It stemmed from
Mike Pelfrey
objecting to
Placido Polanco
seemingly leaning into a pitch with his arm protector trying to get hit in the sixth inning.
"I hung a slider. I thought he tried to lean into it," Pelfrey said. "And I told him, 'Don't lean into it.' He said that he didn't and that was it. Done."
The Mets shrugged off Matthews' analysis of the exchange. Heck, they've been called worse by
Fred Wilpon
this season.
"I don't care," Pelfrey said. "I don't even know who that is, so I don't care."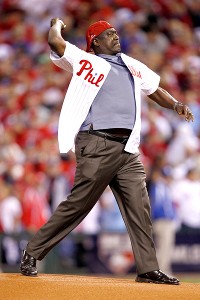 Jeff Zelevansky/Getty Images
Phillies broadcaster Gary Matthews Sr.

Said
Terry Collins
: "That's his opinion. He doesn't know. Ask him how he felt when he was in a five- or six-game losing streak. You're on edge a little bit."
Pelfrey lightheartedly noted he was chewed out worse by a
Mets
fan while warming up in the bullpen before Wednesday's 7-4 win against the Phillies. The spectator mocked Pelfrey's tendency to lick his hands.
"I immediately licked my hand just kind of joking around, and he just blew me up," Pelfrey said. "He didn't keep it clean. He cursed me out -- I've killed this team. Oh, he let me have it. And then somewhere along the line, he said, 'You might be a nice guy. Try volleyball or something.' He wore me out.
"And then I heard the security guards talking, and that was the end of it. It was a good four or five minutes straight of just yelling and screaming. It was kind of funny."
Collins complimented Pelfrey's ability to overcome an early high pitch count and three-run second inning to get the Mets through six innings. Pelfrey tossed a career-high 125 pitches and was charged with no additional runs aside from the three-run second.
"(When) he got in trouble, I saw some 95s and 94s (mph)," Collins said. "I saw a guy saying, 'I'm getting out of this. They need me today and I'm stepping up and I'm letting it fly."
Pelfrey is under the Mets' control for two more years, but he is making $3.925 million this season and is arbitration-eligible, meaning he would be due a raise. So he knows it's important to finish strong. After Wednesday's outing, he's now 7-10 with a 4.60 ERA.
"Beyond this year I'm not guaranteed anything," Pelfrey said. "So I think these next six or seven starts are big not only for me and for some of the goals that I set, but for the team and next year. I want to go out there and do well and then we'll see what happens."
August, 24, 2011
8/24/11
4:49
PM ET
Recap
|
Box score
|
Photos
WHAT IT MEANS: Nick Evans
matched a career high with three hits, including a three-run homer, and finished with four RBIs before being double-switched out of the game as the Mets salvaged the finale at Citizens Bank Park, 7-4, to snap a five-game losing streak.
Mike Pelfrey
labored, requiring a career-high 125 pitches to get through six innings, but notched his first win since July 27. Pelfrey entered with a 1-3 record and 9.38 ERA in seven career starts in Philadelphia.
Michael Martinez
opened the door for a four-run first inning by the Mets. Subbing for injured
Jimmy Rollins
, Martinez mishandled a surefire double-play grounder off the bat of
Ruben Tejada
.
Evans eventually capped the inning with a three-run homer. He had hits in five straight at-bats over two games -- and actually hit for the cycle over that two-day span with a triple in his final at-bat Tuesday night, then a homer, single and double in his first three at-bats Wednesday afternoon.
Evans also had three-hit games Sept. 26, 2010 against the Phillies and in major league debut on May 24, 2008 at Colorado, with three doubles off
Jeff Francis
.
First base has opened for Evans to play with
Lucas Duda
now getting more regular action in right field, Duda's presumed 2012 position. Evans' other major league homer this season came July 10 at San Francisco off
Jeremy Affeldt
.
WHAT ABOUT BOB? Bobby Parnell
notched his second career save, working a scoreless ninth despite walks to
Chase Utley
and
John Mayberry Jr.
Parnell's other major league save came Aug. 5, 2009 against St. Louis, when he worked the final three innings of a 9-0 rout. Parnell had only five minor league saves over six seasons -- all last year.
SPEED BUMP: Josh Thole
jawed with
Placido Polanco
during the bottom of the sixth. Pelfrey said postgame that he was upset Polanco seemed to be sticking his elbow guard over the plate trying to get hit.
Gary Matthews Sr.
, a Phillies broadcaster, proceeded to set Twitter afire by saying on air: "The Mets are crybabies. That's why they lose."
PITCH MAN:
The Phillies answered the Mets' four-run first with a three-run second that included a two-run single by
Shane Victorino
. Pelfrey, working at a deliberate pace, eventually stranded the bases loaded by coaxing a fly out to right field from
Hunter Pence
.
WRIGHT STUFF: David Wright's
opposite-field homer in the third inning gave the Mets a 5-3 lead. Wright added a sacrifice fly the following inning to up the lead to three runs. Since 2004, the season Wright made his major league debut, he has the second-most homers in the majors against the Phillies. Ex-teammate
Carlos Beltran
has 25, Wright 23,
Dan Uggla
21,
Chipper Jones
19,
Carlos Delgado
17, and
Adam Dunn
,
Miguel Cabrera
and
Jose Reyes
16 apiece.
TOE JAM: Ronny Paulino
, who may have a broken toe, pinch-hit in the seventh inning and walked. He required
Chris Capuano
to run for him. The Mets hope to use Paulino in that fashion and rely on newly promoted
Mike Nickeas
as the backup catcher rather than place Paulino on the disabled list. Paulino is due for more conclusive tests on the toe now that the Mets are returning to New York.
TO ERR:
The Mets committed three errors: Duda in right field mishandling a single, then at first base when he missed stepping on the base in the eighth, in a disputed call.
Angel Pagan
also missed a cutoff man for an error. On the eighth-inning call, after Duda had moved to first base, ump
Jim Reynolds
ruled Duda was not on the bag after accepting a throw from
Justin Turner
.
Terry Collins
argued to no avail. The Mets overcame it when Turner made a diving stop to his right on the ensuing batter Polanco's grounder and initiated a double play.
WHAT'S NEXT:
After a team off-day, the Mets open a series Friday at Citi Field against the Atlanta Braves.
Scott Hairston
(oblique) is expected to join
Jon Niese
on the DL before that game. Capuano (9-11, 4.71 ERA) opposes Atlanta right-hander
Tim Hudson
(13-7, 3.01).
April, 30, 2010
4/30/10
11:29
AM ET
Gary (Sarge) Matthews Sr. who broadcasts Phillies games with Tom McCarthy, offered these insights as the Mets face the Phillies this weekend. Sarge is the father of Mets outfielder Gary Matthews Jr.

What's the state of the Phillies after they struggled in Arizona and San Francisco?

"It's simple. I've been there, done that with teams. When you don't hit, when you don't pitch, when you don't field, you end up losing. But they have such huge character. I have the ultimate, ultimate respect for them because they just never give up, and they never put the blame on any individual. It doesn't matter -- from a pitcher giving up a home run or a fielder missing a ground ball, they win and lose as a team. For me, that's sort of what separates them from a lot of the other teams. I think the Yankees probably have that character, too. It's uncanny to be around these guys. It's a pleasure to be around them on a daily basis."

What are your observations of Roy Halladay?

"You've got to understand, I was with Roy Halladay in Toronto. At that time, I believe our starters were Roger Clemens, Pat Hentgen, along with Juan Guzman, Chris Carpenter and then Roy Halladay. Halladay was special. When he came up and pitched his first game (actually Halladay's second) against Detroit, I think he almost threw a no-hitter that game. (Bobby) Higginson ended up hitting a (pinch-hit) home run, I think, to break that up (with two out in the ninth). I knew even before he came here he's a special person to be around. He's one of those guys, as a coach or people affiliated with him, you don't ever want to miss a start. It's the same way I felt about Greg Maddux, the same way I felt about Roger Clemens, the same way I felt about -- and I played with -- Steve Carlton. Those kind of guys, you don't want to miss their starts."

What do you think about the Phillies locking up Ryan Howard with that five-year, $125 million extension?

"Honestly, the salaries, I look at more the character of the player. For me, it doesn't matter what the guy is being paid, whether it's the minimum or whether it's the most on the team. I want to see what the player is bringing to the table. Ryan Howard brings a lot to the table, and in this day and age is paid accordingly. I'm delighted. I'm very, very happy for him. Now he can just go out and continue to put up numbers that he normally does. For me, quite frankly, I think it's a good thing."

What do you think having your son in the division with you?

"I don't want to minimize it, but it's not like the Griffeys, where you're playing with your son. I've seen him play so many different times. The only thing that will be different is it's a rivalry -- the Phillies and the Mets. I don't think players coming in understand it. People like David Wright would understand it because he's been there so long. People like Keith Hernandez would understand it in the broadcasting business, and Ron Darling. When you first get there, you don't understand the rivalry the way that it is. I'm looking at it, really, as more from a dad's perspective -- getting together and having lunch or dinner, talking about his son."

Did you welcome the trade because the Mets play six series a season against the Phillies?

"I welcomed it simply because he wasn't getting much time there with the Angels. And I also realized coming to New York, (Willie) Mays had talked about how almost he had never lived until playing in New York, in that type of city, because it's very special. And New York, for me, they grab different athletes -- whether it's in hockey, football, et cetera -- it's a certain style that you've got to have to get the respect of the fans and people there in that city."
April, 29, 2010
4/29/10
2:50
PM ET
Forgive Gary (Little Sarge) Matthews Jr. if he is a little on edge this weekend. He's prone to get that way when he's in a ballpark with his father, Phillies Phillies broadcaster and 16-year major league veteran Gary (Sarge) Matthews Sr.

The duo rarely has crossed paths in-season, but now will do so regularly with Matthews Jr. arriving in the National League East. They last had an opportunity to be in the same ballpark when the Los Angeles Angels and Phillies met in interleague play June 20-22, 2008. Matthews Jr. went 1-for-6 with an RBI, two runs scored and a walk in that series, which the Angels swept.

"It's pretty special, when you think about it," Matthews Jr. said. "The truth is he's rarely seen me play live because he's still involved in the game and our schedules never coincide. So I always find myself battling nerves a little bit when I know my father is in the house. You'd think I'd be used to it. I think maybe this time it'll be different. I'm hoping it will be different. I usually fight nerves a little bit. I think it's probably natural. My father taught me this game. For me, my father is like the standard. I think anyone, no matter what you do, you want to do well when your father is there. You want to do something special."

The Mets outfielder said he will stay at the team hotel in order to focus.

"And my dad is great about that," he said. "He knows I've always been the kid who wanted to concentrate and be left alone before the games. That being said, we'll do dinner and we'll do lunch. My dad likes to keep me kind of loose, because I can be serious sometimes. My dad is definitely loose -- looser than me."

Sarge had a career .281 average while hitting 234 homers and producing 978 RBIs from 1972-87. Matthews Jr.'s favorite baseball experiences involving his father?

"Gosh, there are so many," he said. "One, for sure, is watching him play in the playoffs. I saw him play in the World Series (in 1983), but I had to watch it on TV because I was in school. And then my parents finally let me skip school because it was toward the end of my father's career -- it was '84 and I was getting older. They let me skip school to go to the playoffs in San Diego and watch him play in the postseason live. That is an experience I'll never forget. And the second one has to be playing in the All-Star Game in '06 and having my father at the game sitting in the stands with my son. I watched my father play in the All-Star Game in '79. So to have an experience where the roles are reversed -- my father is now watching me play in the All-Star Game -- is pretty special."

Matthews Jr., who was acquired from the Angels for reliever Brian Stokes, along with $21.5 million of the $23.5 million owed to the outfielder through 2011, enters the weekend hitting .167 and without an RBI in 30 at-bats. Manager Jerry Manuel alternated between Angel Pagan and him in center field early on, but Pagan has taken off and is getting the large percentage of the playing time. Matthews Jr. was upset last year seeing only 316 at-bats with the Angels, and conceivably it will be less playing time this season.

"I'm going to try to be patient and hope that it'll work out a little bit different -- give it some time and try to stay ready," Matthews Jr. said. "I worked hard this offseason. I thought I had a great spring. I wanted to prove that I'm able to play every day. Now I'm just waiting for the opportunity.

"For me, I've learned, you can't put pressure on yourself like, 'Oh, I'm starting today, so it's got to happen today.' That's not baseball and that's not realistic. When you're playing once a week, it's unrealistic to expect you're going to go out and hit three home runs and score three runs and drive in five runs. That's not how baseball works.

"Right now we're talking 25 games into a season, so it's hard to say what it's going to be. It really is. So we'll find out."