New York Mets:

Gil Hodges
December, 8, 2014
Dec 8
2:14
PM ET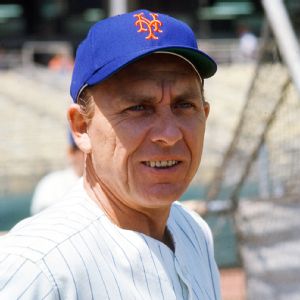 Focus on Sport/Getty ImagesThe veterans committee passed on electing Gil Hodges -- or anyone -- to the Hall of Fame.
SAN DIEGO -- The 16-member veterans committee has passed on electing Gil Hodges to the Hall of Fame. In fact, the committee elected no one from its 10-member "Golden Era" ballot, which spans 1947 through '72.
Twelve votes were needed for election.
The precise total for Hodges was not released, but he appeared on three or fewer ballots.
Dick Allen and Tony Oliva each received 11 votes -- one shy of election.
The other vote totals: Jim Kaat (10 votes, 62.5 percent); Maury Wills (nine votes, 56.3); Minnie Minoso (eight votes, 50 percent); Ken Boyer, Hodges, Bob Howsam, Billy Pierce and Luis Tiant (three or fewer).
The committee members were Hall of Famers Jim Bunning, Rod Carew, Pat Gillick, Ferguson Jenkins, Al Kaline, Joe Morgan, Ozzie Smith and Don Sutton; MLB executives Dave Dombrowski, Jim Frey, David Glass and Roland Hemond, and media members Steve Hirdt, Dick Kaegel, Phil Pepe and Tracy Ringolsby.
January, 8, 2013
1/08/13
5:58
PM ET
By
Mark Simon
| ESPNNewYork.com
Mike Piazza may not be inducted into Cooperstown on Wednesday, but one group of baseball media decided he was Hall-worthy.
A group known as the
Internet Baseball Writers of America
(IBWAA -- of which this writer is a member) conducted its own vote among its membership and Piazza was the only player to receive at least 75 percent of the vote.
Piazza got 79.1 percent of the vote from a 67-voter panel whose members include ESPN.com's Jim Caple and David Schoenfield, as well as national baseball writers Barry Bloom (MLB.com), Tim Brown (Yahoo!) and prominent authors Peter Golenbock and Paul Dickson.
Craig Biggio got the next-highest percentage of the vote (64.2 percent).
The IBWAA ballot also allowed voters to pick among "special consideration" candidates and via that, former Mets manager Gil Hodges received 40 percent of the vote.
In four years of balloting, the IBWAA has granted 75 percent of the vote to Bert Blyleven, Roberto Alomar, and Piazza.
The results for the National Baseball Hall of Fame voting will be announced Wednesday at 2 ET.
A
website that has tracked Hall of Fame writers' votes
throughout the process has had Piazza receiving between 55 and 60 percent among the votes it has collected.
June, 22, 2012
6/22/12
8:42
AM ET
After an off-day, the Mets open the Subway Series. Southpaws
Jon Niese
(4-3, 3.82 ERA) and
Andy Pettitte
(3-2, 2.77) match up in the opener.
Friday's news reports:
•
Frank Francisco
tells
Mike Puma
in the Post
about the Yankees: "I can't wait to strike out those chickens. I want to strike out the side against them. I've done it before." Francisco, pressed about the poultry reference, added: "I think I've said too much already."
• Read Subway Series previews in the
Record
,
Daily News
,
Post
and
Newsday
.
• During SNY's show determining the top Mets player in franchise history by position,
Tom Seaver
buzzed
Darryl Strawberry
with a zinger. Writes
Cody Derespina
in Newsday
:
But during a question and answer session with the Mets All-Time team, things got testy when SNY's Kevin Burkhardt posed an innocent enough question to Strawberry: "Who would have won a game between the '69 Mets and the '86 Mets, Seaver vs. [Dwight] Gooden?" During his answer, Strawberry took aim at Tom Seaver, the pitcher, saying he "would've loved to get a piece of that with my Louisville Slugger," drawing loud applause from the crowd in attendance. Seaver seemed to chuckle, but later appeared to take aim at Strawberry, the man. "You don't have any handcuffs on your hands, wrists there, do you?" Seaver said. The audience responded with hushed, nervous laughter as Seaver cracked up. For his part, Strawberry handled the incident quickly.
• Columnist
John Rowe
in the Record
, meanwhile, objects to the panel's selection of
Davey Johnson
over
Gil Hodges
as the all-time manager.
•
Ronny Cedeño
is
expected to rejoin the Mets
for Friday's Subway Series opener after a week-long rehab assignment with Triple-A Buffalo.
Ruben Tejada
(1-for-4, RBI) played a second straight game at shortstop with Buffalo on Thursday, and is expected to remain with the Bisons for a little longer. Read more in the
Record.
• Columnist
Bob Klapisch
in the Record
notes Citi Field likely will not be as homer-friendly to the Yankees as their Bronx bandbox. Writes Klapsich:
The Mets are wary of the Yankees, and rightly so -- they were swept in the Bronx two weeks ago, and suffered in silence as Johan Santana was crushed for four HRs. But the Mets have two factors working in their favor this time: First, their pitching has reached a surreal level of domination, having run through a stretch of 29 consecutive scoreless innings. And second, unlike the Stadium, hitting home runs in Citi Field is a different reality. It might even be enough to bust down the Yankees a rank, from machines to mere mortals.
• Columnist
John Harper
in the Daily News
has similar contrasting ballpark-dimension thoughts. Writes Harper:
Going deep may not be so easy this weekend, despite the new dimensions at Citi Field. Naturally, no one in the Mets organization is saying such a thing publicly. "It's the Yankees: They have enough power to make their ballpark look small and enough power to make our ballpark look small," David Wright said. "It's less about where they play the games than the lineup they run out. They can make a one-run lead a four-run lead real fast. It's hard to ask a pitching staff -- ours or anyone -- to hold a one-run lead for a whole game against them." Met radio voice Howie Rose, however, took some abuse from Yankee fans for showing his exasperation on the air at the time and dismissing at least a few of the eight home runs the Yankees hit in that series as cheapies. To which Rose responded: "If you don't like it, why are you listening to the Mets' broadcast? Go listen to your own broadcast."
• Right-hander
Zack Wheeler
and third baseman
Wilmer Flores
will
represent the Mets in the July 8 Futures Game
in Kansas City during the All-Star festivities. Read more in the
Star-Ledger
.
•
Andy McCullough
in the Star-Ledger
looks at
Daniel Murphy's
slump, which prompted
Terry Collins
to start
Jordany Valdespin
at second base in two of the three games in the sweep of the Baltimore Orioles. Writes McCullough:
For more than a month, that sensation has eluded Murphy. On May 16, he was hitting .336. Since then, he's hit .192, with little power behind it heading into the second leg of the Subway Series tonight. Murphy has the most plate appearances (281) of any player yet to hit a home run this season. His .655 on-base plus slugging percentage ranks ninth-worst among National League hitters qualified for the batting title heading into Thursday night's games. "Dan's mired in a slump," manager Terry Collins said last week. "And I never thought Dan Murphy ever got into a slump. He's such a good hitter."
•
Neil Best
in Newsday
explains the Mets' move this season to dynamic (floating) ticket pricing based on market conditions, which is designed to keep people buying tickets from the team when resellers such as StubHub have lower prices than the originally determined price on the ticket. Writes Best:
Even with their unexpected success, the Mets are averaging 27,515 in paid attendance, down from 28,390 last year at this point. And they are not above using gimmicks, such as a promotion for the Subway Series in which some prices were tied to the game-time temperature during this week's heat wave. But [executive VP Dave] Howard said the idea is working as intended, getting more people into the ballpark, generating revenue that otherwise might not have been realized and reflecting real-world forces. "The Mets fan will know,'' he said, "that they don't have to go to a secondary market source, because Mets.com is being priced based on the same factors.''
Read more on tickets
in the Times
.
• Prospect
Jeurys Familia
struggled and was knocked out in a five-run third inning by Norfolk in Triple-A action. Read Thursday's full minor league recap
here
.
•
R.A. Dickey
has not allowed an earned run in 42 2/3 innings, and can take the franchise record away from
Dwight Gooden
(49 innings) when the knuckleballer opposes
CC Sabathia
on Sunday.
Ebenezer Samuel
in the Daily News
gets Yankees reaction to their upcoming challenge. Team Dickey coverage
in the News
also includes the knuckleballer's Thursday book signing as well as
this article
on Dickey's one-time conflict with analyst
Bob Ojeda
.
•
David Waldstein
in the Times
notes the last pitcher to no-hit the Yankees in a complete-game effort was an original knuckleballer,
Hoyt Wilhelm
, on Sept. 20, 1958.
•
Raul Ibanez
, who played with Dickey in Seattle, tells
Kevin Kernan
in the Post
that Dickey really has taken the knuckleball to a different level in terms of controlling where the pitch is going. "Sometimes the catchers were moving in and then moving away and I said to my teammates, 'You know what? I think he's doing that on purpose,'" Ibanez said. "And they said, 'No, he's not, he can't control the knuckleball that way.' But I felt he was using it like a slider, like a changeup."
• Columnist
David Lennon
in Newsday
goes over some weekend storylines.
TRIVIA:
Who was the last Yankee other than
Derek Jeter
to start at shortstop in a regular-season game against the Mets?
Thursday's answer: Among current Yankees, Ibanez
has the most career homers at Citi Field -- five, as a member of the Phillies.
April, 15, 2012
4/15/12
8:28
AM ET
David Wright
went 3-for-5 with a homer in his return to the lineup with a fractured right pinkie,
Jon Niese
tossed 6 2/3 scoreless innings and the
Mets blanked the Phillies, 5-0
, Saturday at Citizens Bank Park. The Mets already have clinched the series win. They had been 1-7-1 in their past nine series at Philly.
Mike Pelfrey
opposes
Cole Hamels
this afternoon, with the Mets aiming for their first sweep in Philly since June 13-15, 2006.
Today is
Jackie Robinson
Day across MLB.
Sunday's news reports:
•
Terry Collins
said that on Friday he believed Wright
almost definitely would land on the disabled list
this weekend. The Mets even flew in
Josh Satin
to be prepared for that seeming eventuality. Yet Wright returned to the lineup and blasted his 16th homer at Citizens Bank Park, the most by any visitor at the stadium since it opened in 2004. Read more in
Newsday
.
• Read game recaps in the
Times
,
Star-Ledger
,
Newsday
,
Post
,
Daily News
and
Record
.
•
Steven Marcus
in Newsday
inquires about why the Mets have retired only one player's number -- 41, for
Tom Seaver
.
Casey Stengel's
37 and
Gil Hodges'
14 as well as the universally recognized Robinson's
42 also are retired. The Mets placed
Gary Carter's
No. 8 on the outfield wall for this season -- appearing as it does on the patch on the Mets' uniforms.
"I think the general point of view is we don't want to get to the point where it's somewhat gratuitous and you've got dozens and dozens of people whose numbers are retired,'' Mets executive VP
Dave Howard
told Marcus. "Historically, from a Mets perspective, this is a very high honor. Certainly from a player standpoint, it's only been Tom Seaver. He's in a class by himself.''
Added
Keith Hernandez
to Marcus: "Too many teams are retiring too many numbers. They lose their import. So I'm in the camp that it should be something that is special, it shouldn't be marginalized. Who wouldn't want to have their number retired? But it's not something that I think about.''
One obvious number to consider is
Mike Piazza's
No. 31. Newsday's
David Lennon
tweeted earlier this year that the Mets are expected to retire Piazza's number after he is inducted into Cooperstown.
• Columnist
John Harper
in the Daily News
discusses the ramifications of Wright's speedy return and Saturday's series-clinching win. Writes Harper:
Injuries are a delicate subject around the Mets, after all the problems they've had in recent years. In some cases they made matters worse by allowing the likes of Jose Reyes, Carlos Beltran and even Wright last season, with his broken back, to play hurt, so now they tend to proceed with extreme caution. That's why it was a bit surprising, even for Collins, to hear him say on Wednesday that he had a "gut feeling" Wright would play with his broken finger here on Friday.
Even if it wasn't the manager's intent, that put a certain pressure on his star player. If Wright couldn't play, he would look less than tough, at least in the eyes of many fans who took Collins' gut feeling to heart. Perhaps that's why Wright sounded a bit defensive when he couldn't play on Friday, repeatedly saying he couldn't "functionally" grip or swing a bat because of the swelling in his finger. But then it felt good enough on Saturday to try it, and in a way he made his manager look like a prophet with his big day that raised his batting average to .588.
• Columnist
Kevin Kernan
in the Post
writes that Wright's leadership is clear:
David Wright sent a message to his teammates yesterday: Play hard, play through pain, or go home.
•
Mike Kerwick
in the Record
says Citi Field spectators should not boo
Jason Bay
. Writes Kerwick:
Here's my advice to Mets fans: Shackle your venom. And give the guy some space. Was it just a coincidence that Bay hit no homers in six games at Citi Field, then blasted one during his first at-bat in a visiting park? Possibly. On Friday night, he said the first week of games was not enough to cause his shoulders to slump. But he has also admitted he hears the boos. Bay is a decent person. And most decent people sag when exposed to this degree of enmity. I can't help but think the booing, on some subconscious level, penetrates his psyche.
•
Bobby Parnell
recorded the ensuing four outs after Niese departed, including covering the eighth inning for a second straight day. Between the Grapefruit League and regular season, Parnell has not allowed a run in 17 1/3 innings. Read more in the
Record
.
• Niese has carried a s
coreless effort into the seventh inning
in both of his outings. Read more in
Newsday
and the
Post
.
• In the court filings made late Friday regarding the settlement of the lawsuit against
Fred Wilpon
and family over
Bernard Madoff
accounts, one reason trustee
Irving Picard
cited for settling was the Mets owners' tight finances made getting more money via further litigation dicey. Writes
Anthony M. Destefano
in Newsday
:
In federal court filings late Friday night, trustee Irving Picard said the "restrictive" cash flow, as well as the owners' obligations to banks that lent them money, contributed to doubts that further litigation against Fred Wilpon , Saul Katz and their partners in Sterling Equities would produce a bigger payout. "We have become satisfied that defendants' cash flow and lender covenants would not have enabled me to recover more for the [Madoff] customer fund in the foreseeable future by litigating to the point of judgment," Picard said in an affidavit. The settlement "is a practical and fair compromise" that avoided "a protracted and expensive trial and lengthy appeals," Picard explained in a statement.
Richard Sandomir
in the Times
also notes the trustee's language in expressing concern about collecting debt from the Wilpons.
•
Domingo Tapia
tossed seven scoreless innings as Savannah won via shutout for the second straight day. Read the full minor league recap
here
.
• On the club's 50th anniversary, there is an excerpt
in the Daily News
about the creation of the Mets from the book, "The Mets: A 50th Anniversary Celebration," written by
Andy Martino
and
Anthony McCarron
.
TRIVIA:
Johan Santana
and Niese started the Mets' two shutouts at Citizens Bank Park. Which Mets pitcher started the last shutout at Veterans Stadium, the home of the Phillies through 2003?
Saturday's answer:
Jason Bay's
homer Friday against
Cliff Lee
was the outfielder's 19th long ball as a Met.
April, 2, 2012
4/02/12
3:52
PM ET
Bobby Parnell
arrived at spring training with no lock on a bullpen spot, since he had a minor league option remaining. He finished his exhibition workload by tossing three scoreless innings at ESPN Wide World of Sports as the Mets beat the Braves, 8-2, Monday. And Parnell easily was the top reliever in camp.
Parnell, who is unlikely to appear in either of the Mets' final two exhibition games after tossing 39 pitches against Atlanta, finished Grapefruit League play having tossed 12 1/3 scoreless innings. He allowed only seven hits and two walks while striking out 10.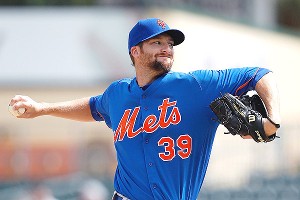 Sarah Glenn/Getty Images
Bobby Parnell tossed 12 1/3 scoreless Grapefruit League innings.

Ruben Tejada
had a three-run homer off
Brandon Beachy
and Mets minor leaguers scored four ninth-inning runs in the victory. Prospect
Wilfredo Tovar
went 3-for-4 with a double and scored three times while starting at second base.
Parnell started because the Mets did not want
Jon Niese
facing the same opponent he is lined up to face Sunday, in Game 3 of the regular season.
Mike Pelfrey
and Niese instead both will work Tuesday against the Yankees in Port St. Lucie.
Parnell has not started a regular-season game since late in the 2009 season, during an ill-fated eight-start audition for a rotation spot for the following season.
Terry Collins
and
Dan Warthen
wanted to get Parnell's pitch count up to about 40 on Monday so that he would be ready to pitch in multiple-inning spurts if required during the regular season. Parnell was so efficient with his pitches, he ended up logging three innings.
December, 5, 2011
12/05/11
11:16
AM ET
The Veterans Committee formally announced the selection of Ron Santo to the Hall of Fame. He appeared on 15 of 16 ballots, with 12 needed for selection.

Gil Hodges did not reach the threshold. Jim Kaat received 10 votes, Minny Minoso and Hodges nine apiece, and Tony Oliva eight.
July, 14, 2011
7/14/11
11:00
AM ET
By
Wally Ramsey, as told to Mark Simon
| ESPNNewYork.com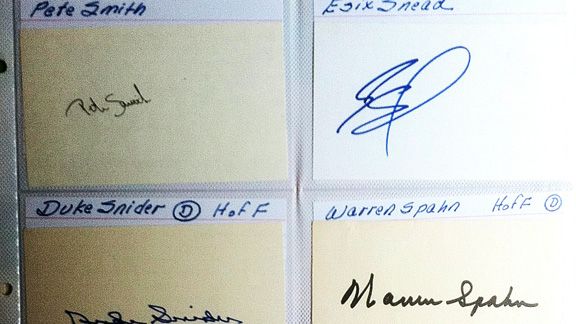 Wally Ramsey's memorable collection includes the most famous of Mets, like Duke Snider and Warren Spahn, and the one-minute Mets, like Esix Snead.
Each week, Mark Simon reminisces about Mets history. This week, he shares the space with Wally Ramsey, the father of a colleague, who has compiled and is now putting up for sale a collection that features the autograph of everyone who played for the Mets.
Here is Wally's story, as told to Mark:
In 1940, when I was 8, my father took me to my first major league game, to see the Dodgers at Ebbets Field in Brooklyn. I was hooked. To complete the day, my father took my "History of the Brooklyn Dodgers" book to the dugout, where a few of the players graciously signed it.
When I was a kid, I was blessed with unusually nice handwriting and I studied graphology. I became fascinated by the Declaration of Independence signers and their autographs.
Then I started to look at the autographs of Hall of Famers like
Babe Ruth
and
Charlie Gehringer
. They had beautiful signatures. They took a lot of time to make sure their signatures would be appreciated by fans.
As an adult, I married my college sweetheart and had the good fortune of being offered a position at the Greenwich (Conn.) Country Day School, where I began a 46-year teaching career and became friends with the head of the mathematics department whose father was
Fred Trask
, part-owner of the fledgling Mets of the early 1960s.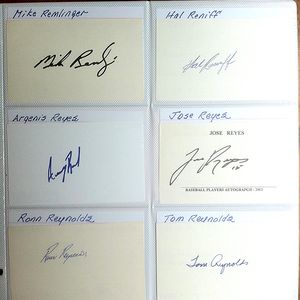 Argenis Reyes and Jose Reyes get equal billing in this amazin' autograph collection.
I became a big fan of the team. We used to go to spring training and I probably went to over 1,000 games with him. I was there in 1969 when they won the NL pennant and World Series.
I can't remember exactly when I decided to collect the autograph of everyone who had played for the New York Mets and to collect them on 3x5 index cards, but the year was probably 1966, the team's fifth year in existence.
I realized that the only way to have an attainable goal in autograph collecting was to have a limited focus with the distinct possibility of completion. I decided that every Met was within my grasp and the challenge was worth the goal.
Forty-five years later, I have a collection that features an autograph from everyone to play for the Mets. They include stories both happy and sad, every player from the Asian Rim, and all the Hall of Famers, most of whom -- like
Duke Snider
and
Warren Spahn
-- were merely passing through the Polo Grounds or Shea Stadium on their way to Cooperstown.
And I have guys from the 1962 team like
Harry Chiti
, who ended up being traded for a player to be named later. That player to be named later was ...
Harry Chiti
!
I got about half of the autographs in-person and half through purchases. We used to go to spring training every year and it was easy to get players to sign for you there. When I talk to players, I try not to talk about baseball with them. I think they hear enough about that from everybody else.
I store the autographs in sheets, in alphabetical order by last name. That's how Snider and Spahn are on the same page as a brief recent Met,
Esix Snead
, as you can see in the photo at the top of this blog.
My favorite autograph in the collection is the Mets' former manager,
Gil Hodges
. His penmanship was gorgeous and his autograph is a work of art. Another favorite is Hall of Famer
Tom Seaver
, who was my next-door neighbor and business associate.
In around 1970 or 1971, he moved to Greenwich and was looking for somewhere to work out in the offseason. I suggested the Greenwich Country Day School gym. I was athletic director, so I had the key to the gym.
Dave Kingman
was another player who lived in Greenwich for a little while. I've heard some people say bad things, but he was always very accommodating to me. That's also a favorite.
The last player in my search was
Dick Stuart
, who played first base for the Mets in 1966. What's amazing is that I knew him. He lived in Greenwich, used to come to the local pool and play catch with my son.
Dick hit the longest home run I ever saw, in our Sunday softball league. It landed on I-95. The next day, we instituted a rule in our softball league-- no former major leaguers could play.
I just got his autograph. The dealer charged me extra for it because there was another player's autograph on the same index card --
Willie Mays
. I didn't mind.
As for the toughest one to read: Snead's signature is scribbled, but I have worse than that. Remember the pitcher,
Bartolome Fortunato
? His autograph is chicken-scratch. The players with the long last names -- like
Jason Isringhausen
, you can read the "I" and that's it.
The players today do these card shows and they barely move the pen. They move the item under the pen because they have so many items to sign.
If the Mets get a new player to replace one of the ones they're trading, like
Francisco Rodriguez
, I can add them easily. I have my sources.
Speaking of which, I would be remiss not to mention those without whom my quest would never have succeeded:
Jack Smalling
of Iowa, the granddaddy of 3x5 collectors and the publisher of a baseball players address book which is the Bible of collectors; highly respected autograph dealer
Bill Corcoran
of Florida; and
Lanny Freeman
of California, who has been a great source of finding the obscure and remote players who many collectors have forsaken as unfindable. Lanny had the foresight to buy a card catalog cabinet to store his autographs.
I think what's impressive about my collection is its totality. I don't know if there is another one like it. To me, at least, this one is one of a kind.