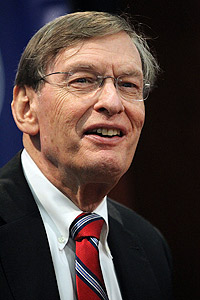 Ronald Martinez/Getty Images
Bud Selig
Commissioner Bud Selig strolled through the lobby of the Waldorf Astoria in Orlando on Wednesday morning and stopped to praise the Mets' hiring of Sandy Alderson.
"You're talking to a person who has known him for 30 years," Selig said. "I've given him a lot of interesting jobs in the last 13 years. He was a great general manager in Oakland, since I was in the same league with him. He not only didn't fail at anything, he's done it brilliantly. I mean, if you knew the mess he walked into in the Dominican Republic and what he's done. So he's an extraordinary executive. There is no doubt in my mind -- no doubt in my mind -- the Mets are in great hands."
Asked how much of a factor his advocacy of Alderson to principal owner Fred Wilpon played, Selig replied: "Well, I have a role in a lot of these things. It's a decision they made, and I'm just happy they made it."
Did the Mets need someone with Alderson's pedigree to right the franchise?
"Look, I'm not going to make that judgment," Selig said. "All I know is what I told them at the time -- if I was hiring a general manager, you couldn't have hired a better one."