New York Mets:

Guillermo Mota
March, 3, 2014
Mar 3
6:31
AM ET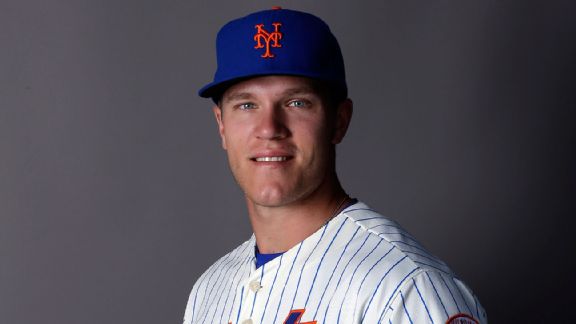 Jeff Roberson/Associated PressNoah Syndergaard makes his Grapefruit League debut Monday at ESPN's Wide World of Sports.
PORT ST. LUCIE, Fla.
FIRST PITCH:
It's Noah Syndergaard Day!
Syndergaard
makes his Grapefruit League debut
at 1:05 p.m. Monday against the
Atlanta Braves
at ESPN's Wide World of Sports (WOR 710 AM).
Jacob deGrom
,
Miguel Socolovich
,
Gonzalez Germen
,
Josh Edgin
and
Jeff Walters
also are scheduled to pitch for the Mets.
Right-hander
Freddy Garcia
starts for the Braves. Closer
Craig Kimbrel
also is scheduled to appear.
Monday's news reports:
• The Mets remained winless in Grapefruit League play
with a 7-1 loss
to the
St. Louis Cardinals
on Sunday.
Daisuke Matsuzaka
allowed one run in two innings. Terry Collins subsequently anointed
John Lannan
and Dice-K as the
fifth-starter frontrunners
. Long Island native
Steven Matz
continued to impress scouts
with a scoreless frame.
Wilmer Flores
made his
first appearance at shortstop
since 2011, when he played in the Florida State League. (View the box score
here
.)
Read more on Dice-K in the
Post
,
Daily News
,
Star-Ledger
and
MLB.com
.
Read more on Matz in
Newsday
and the
Star-Ledger
.
•
Jhonny Peralta
, who signed a four-year, $53 million contract with the St. Louis Cardinals, indicated the
Mets made him a two-year offer
early in the offseason. Read more in the
Post
.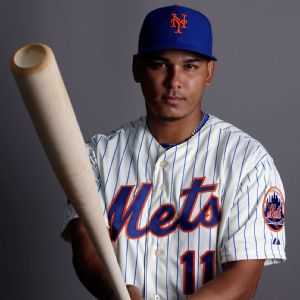 Jeff Roberson/Associated PressRuben Tejada was scratched from Sunday's game with hamstring tightness.
•
Ruben Tejada
experienced left hamstring tightness
and was scratched from Sunday's game. Collins expected Tejada to return to the lineup as soon as Tuesday. Read more on Tejada's injury in the
Post
,
Daily News
,
Times
,
Star-Ledger
and
Newsday
.
Columnist Joel Sherman
in the Post
reviews shortstop alternatives to Tejada:
Stephen Drew
(free agent),
Nick Franklin
(trade) and Flores (internal).
Writes Sherman:
Executives I have spoken with say the Mets have indicated they will not add significantly to their 2014 payroll. Thus, while Drew's asking price has fallen, it will probably never sink to a level these Mets are willing to spend. …
Seattle with Franklin and Brad Miller and the Diamondbacks with Didi Gregorius and Chris Owings have shortstop battles ongoing. Thus, both will have depth to trade, and the Mets talked to both at the Winter Meetings. But there have been no strong talks recently. …
Even most Mets officials are skeptics [of Flores at shortstop]. He did play the final few innings Sunday at short and Collins said, "I am intrigued. We will run him out there and see what we have."
• Columnist Bob Klapisch
in the Record
suggests the Mets are headed in the right direction with their young starting pitching, but they are at best a .500 team this season -- and Sandy Alderson knows it.
• Tim Rohan
in the Times
writes a feature on Syndergaard. Read more on the top prospect in the
Daily News
.
• Citi Field will be one of three MLB ballparks to be fitted for the 2014 season with a system that will collect data about defensive plays. The others will be Target Field in Minnesota and Miller Park in Milwaukee. Select other stadiums will add the technology the following year. Writes Mark Newman
at MLB.com
:
For instance, on a brilliant, game-saving diving catch by an outfielder, this new system will let us understand what created that outcome. Was it the quickness of his first step, his acceleration? Was it his initial positioning? What if the pitcher had thrown a different pitch? Everything will be connected for the first time, providing a tool for answers to questions like this and more.
• Andrew Marchand
at ESPNNewYork.com
asks if
Jose Reyes
' next employer could be the Yankees.
Reyes, by the way, wanted Tejada to work out with him much of the 2012-13 offseason on Long Island. "He only worked with me for a week and a half," Reyes said, via David Lennon
in Newsday
. "That's not going to get it done. But I saw him two days ago [on TV] and he looked better. I think he learned from that mistake last year. He's still young. The talent is still there."
• Jared Diamond
in the Journal
suggests the Mets follow the Cardinals' path and introduce promising arms to the majors in the bullpen. Writes Diamond:
It worked for Lance Lynn, who made 16 relief appearances in 2011, only to emerge as an 18-game winner mostly as a starter in 2012. It worked for Joe Kelly, who pitched 30 times out of the bullpen in 2012 and 2013, mixed with 31 starts, before making four postseason starts during the Cardinals' run to the World Series last year.
It even worked for ace Adam Wainwright -- a brief chapter the Mets remember better than anybody. As the Cardinals' closer in Game 7 of the 2006 NLCS, Wainwright delivered the final curveball that froze Carlos Beltran, silenced Shea Stadium and sent the Mets into an era of ineptitude.
•
Stephen Strasburg
advises
Matt Harvey
to proceed slowly while rehabbing from Tommy John surgery, Kevin Kernan writes
in the Post
. "You'll feel great one day and the next day it's terrible," Strasburg, who has returned from the procedure, tells Kernan. "The best advice I got was, 'Look where you were at the start of the month and then at the end of the month. Don't look at where you were yesterday.'" Strasburg and Harvey both are represented by Scott Boras. And Strasburg has told his agent he is willing to speak with Harvey about the rehab.
• Marty Noble
at MLB.com
writes that No. 3 is fitting for
Curtis Granderson
.
• Ex-Met
Guillermo Mota
has retired
.
• John Rowe
in the Record
discusses Mets pitchers at the plate.
•
From the bloggers …
Faith and Fear in Flushing
presents its annual Oscars-style "montage" of the Mets who stopped being Mets during the past year. … John Delcos at
Mets Report
cites the case for Lannan as fifth starter.
BIRTHDAYS:
Former Mets reliever
Jorge Julio
-- or, as Anna Benson prefers, Julio Jorge -- turns 35.
TWEET OF THE DAY:
@AdamRubinESPN I have a knack for blending in with my surroundings

— Noah Syndergaard (@Noahsyndergaard) March 2, 2014
YOU'RE UP: Do an 0-3 Grapefruit League record and producing four hits in consecutive games matter?
May, 8, 2012
5/08/12
3:00
AM ET
Jordany Valdespin
delivered a pinch-hit three-run homer
in the ninth off
Jonathan Papelbon
and the
Mets beat the Phillies, 5-2
, in Monday's series opener at Citizens Bank Park. The Mets also had received a big contribution from
Tim Byrdak
, who struck out
Erik Kratz
to strand the go-ahead run at third base in the bottom of the eighth.
Roy Halladay
was working on a one-hit shutout entering the sixth, when
David Wright
delivered a two-run double to even the score at 2. Halladay departed after seven innings with his pitch count at 107.
Papelbon, who served up the infamous 2009 pinch-hit homer to
Omir Santos
at Fenway Park, had held opponents hitless in the past 20 at-bats against him before
Mike Nickeas'
two-out double in the ninth advanced
Ike Davis
, who had walked, to third base and set up Valdespin's heroics.
It was Valdespin's first major league hit. Nickeas had replaced
Josh Thole
behind the plate a half-inning earlier, after Thole received a jolt to the head from ex-Met
Ty Wigginton
on a play at the plate.
"He had that feel like he was going to finish this one out," Wright said about Halladay, whose streak of wins in eight straight starts against the Mets was snapped. "We weren't able to do much against him. ... He was really dominant tonight. We were fortunate to get those two and then get him out of the game. And then to get a few off Pap, you're going from one of the best starters in the game to one of the best closers in the game. Any time you can win a game like that, that's special."
Said
Terry Collins
about a jubilant clubhouse that cheered SportsCenter highlights of the game afterward: "They are fired up. These guys, they realize no one expects anything from us. To come back against Roy and tie the game up, and then to finish the game with two guys that weren't even in the game at the beginning with huge hits (Valdespin and Nickeas), it was a great win for us."
Tuesday's news reports:
• Wigginton, who has a reputation dating to his Mets days for taking out catchers on plate collisions, nailed Thole with his left shoulder in the bottom of the eighth. Thole held onto the ball for the second out to preserve a 2-all score, but was
forced to leave the game complaining of dizziness
. The Mets did not firmly announce postgame that Thole had a concussion, but that seemed the likelihood. Thole appears headed for a newly created seven-day DL available for concussed players. The Mets planned to bring
Rob Johnson
or
Lucas May
from Triple-A Buffalo to Philadelphia, according to assistant GM
John Ricco
.
Vinny Rottino
has catching experience, but he exclusively played left field with the Bisons this season before a promotion and is viewed more as an emergency third catcher than a potential starter behind the plate. Read more in the
Star-Ledger
,
Post
and
Newsday
.
• Before Monday's opener, shortstop
Ruben Tejada
landed on the disabled list
with a right quadriceps strain. That paved the way for Valdespin to be activated for Monday's long ball.
Justin Turner
made his first major league start at shortstop Monday, but Valdespin will be assigned there Tuesday. Valdespin, a middle infielder, only appeared at shortstop in one game at Buffalo this season because he was getting a crash course in center field. Overall, though, he has played 146 minor league games at shortstop, trailing only second base (210 games) for most duty. Read more in the
Post
,
Journal
,
Star-Ledger
,
Times
and
Newsday
.
• Valdespin became the first player with a pinch-hit homer for his first major league hit since Cincinnati's
Juan Francisco
in the ninth inning on Sept. 18, 2009 against the Marlins. Writes columnist
Jeff Bradley
in the Star-Ledger
:
All around the Mets clubhouse, his teammates' eyes were on Valdespin. There were smiles everywhere. A comeback against Halladay. A two-out rally against Papelbon. And a game-winning bomb from a kid who'd never hit safely in a big league uniform. "You've got to battle," said Collins. "You've got to scratch. I came into this organization two years ago, and we were being criticized for not having a very good minor league system. When we put out a lineup last week with all homegrown players we didn't do it for publicity. We did it because we think they're good enough to be up here. And Jordany Valdespin is another sign. He's done his time. It's time for him to play in the big leagues." Who knows where it goes from here. But on a night like this, could you blame Collins for believing maybe his team had done something more than just win Game 29 of 162?
•
Jon Niese
allowed two runs and was pulled with his pitch count at 101 after five innings. He walked four Phillies. "It was just one of those things where they worked the count real well and made me throw a lot of pitches," Niese said. "All of my pitches were moving a lot more than really normal. I don't know the reason for it. But I had a tougher time with my control today."
• Read game recaps in the
Record
,
Newsday
,
Times
,
Journal
,
Daily News
,
Post
and
Philadelphia Inquirer
.
• Phillies left-hander
Cole Hamels
was
suspended five games by Major League Baseball
for plunking Nats rookie
Bryce Harper
on Sunday night. The suspension won't affect the Phillies since Halladay can pitch on standard rest Saturday while Hamels waits until the following day. Philadelphia had an eventful 24-hour news cycle, with Nats GM
Mike Rizzo
taking aim and Hamels and the Phillies, calling the southpaw "gutless," "classless," and "fake tough"
in The Washington Post
. Said Rizzo to the newspaper: "I've never seen a more classless, gutless chicken [bleep] act in my 30 years in baseball. Cole Hamels says he's old school? He's the polar opposite of old school. He's fake tough. He thinks he's going to intimidate us after hitting our 19-year-old rookie who's eight games into the big leagues? He doesn't know who he's dealing with."
"Things that happen in the game happen in the game," Phillies GM
Ruben Amaro
told the Philadelphia Daily News
on Monday. "That's part of the game. But as far as how the Phillies want to conduct themselves, we like to try to take the high road on things like this. By no means are we condoning trying to be injurious."
Hamels' admission of intentionally hitting Harper came shortly after
Chipper Jones
took verbal aim at
Jamie Moyer
and his former club, the Phillies, for allegedly stealing signs -- in response to Moyer accusing Jones and the Braves of that activity.
Said Collins on Monday: "No. 1, things aren't very secretive anymore. There's so many different manners of the way news is spread today that it's tough to keep a secret. I was surprised Cole said what he said. I was a little taken aback that Chipper said what he said publicly."
Collins acknowledged, though, that initiating rookies routinely happened back in the day.
"No doubt," Collins said. "For years, the young players, one of the things those veteran pitchers used to do is knock you on your butt to find out how you were going to respond. Veteran umpires used to ring you up on pitches off the plate to see how you were going to respond, what kind of reaction they're going to get out of you. Are you going to be a pro and walk away? Are you going to raise hell? Everybody wants to feel you out a little bit. And if that was Cole's thing, that is what they did years ago. But I haven't seen it in a while. It may have happened. I just haven't noticed it."
The Phillies-Nats rivalry is getting heated on multiple fronts. Nats outfielder/ex-Phil
Jayson Werth
, who broke a wrist in Sunday night's game, said Phillies fans taunted him as he left the field. Werth sent an email
to The Washington Post
that read: "After walking off the field feeling nauseous knowing my wrist was broke and hearing Philly fans yelling 'You deserve it,' and, 'That's what you get,' I am motivated to get back quickly and see to it personally those people never walk down Broad Street in celebration again."
• Right-hander
Jacob deGrom
, a ninth-round pick in 2010 out of Stetson University, retired 20 of 21 batters he faced in his debut with Class A Savannah as the Gnats beat Lakewood, 5-0. Read Monday's full minor league rehab
here
.
•
Guillermo Mota
, who tossed 2 2/3 scoreless innings against the Mets last month in two appearances with the San Francisco Giants at Citi Field, was suspended 100 games by MLB for another positive test for a performance-enhancing substance -- this time Clenbuterol, according to MLB. Mota had a 50-game suspension imposed for a positive test while with the Mets, yet the organization signed him to a two-year, $5 million deal at the time anyway that was backloaded to minimize the amount of dollars Mota had to forfeit while serving the ban. Read more
in the San Francisco Chronicle
.
•
Johan Santana
offers a positive review of his season performance thus far to
Wayne Coffey
in the Daily News
. "On a scale of 1 to 10, I'd give myself a 7," Santana told Coffey. "I still have some way to go, things to work on. That's okay. For me the biggest thing is staying healthy, because I know if I'm healthy, I can compete, because that's what I've done my whole career."
TRIVIA:
Miguel Batista
, 41, starts Tuesday for the Mets. Who is the oldest player to ever throw a regular-season pitch for the organization?
Monday's answer:
Brett Myers
was the first Phillies pitcher to allow a homer to Wright in the third baseman's career. Actually, Myers served up the first two homers Wright hit against Philadelphia -- five days apart in September 2004. Myers is now the closer for the Houston Astros.
April, 23, 2012
4/23/12
7:23
PM ET
WHAT IT MEANS: Miguel Batista could not duplicate the two-hit shutout he tossed in his last start, in Game No. 162 of last season against the Cincinnati Reds. Making a spot start after Sunday's rainout prompted a doubleheader, Batista served up homers to Buster Posey and Nate Schierholtz while surrendering six runs (three earned) in 3 2/3 innings. The Mets lost Game 1 to Tim Lincecum and the San Francisco Giants, 6-1, Monday afternoon.

Schierholtz's three-run shot in the third inning came after a two-out error by Ike Davis prolonged the inning. Batista then walked Posey to put two Giants on base for Schierholtz.

Davis also twice left the bases loaded.

DEBUTANT: After Manny Acosta bailed Batista out of further trouble by recording the final out of the fourth with runners on the corners, 26-year-old Jeremy Hefner entered for his major league debut with the Mets trailing 6-1.

Hefner eventually tossed three scoreless innings, allowing three hits and a walk.

FREAK OCCURRENCE: Lincecum had struggled in his first three starts of the season, going 0-2 with a 10.54 ERA. He hardly was efficient, requiring 108 pitches to get through five innings. And he needed a highlight-reel play to avoid a far different line -- but he got it from second baseman Emmanuel Burris.

With the bases loaded and one out in the fifth, Davis hit a grounder up the middle that seemed destined for center field. Burriss instead ranged to his right to snag the grounder. He flipped the baseball with his glove to Brandon Crawford covering second base. Crawford barehanded it and then threw onto first base for a picturesque double play.

As a result, Lincecum's final line: 5 IP, 4 H, 1 R, 1 ER, 5 BB, 8 K.

UNLIKE IKE: Davis stranded eight runners while going 0-for-4 with two strikeouts. His average dipped to .138 (8-for-58) with a team-high 19 Ks.

After the fifth-inning hard-luck double play, Davis again stranded the bases loaded in the seventh with a routine groundout to second base while facing left-hander Jeremy Affeldt. That inning, the Mets had two runners in scoring position with none out, but ex-Met Guillermo Mota retired Daniel Murphy on a shallow flyout and David Wright on a strikeout as the runners held. Affeldt then entered and loaded the bases with a walk to bring up Davis.

NEW DIMENSIONS: Schierholtz's homer was the fifth, and latest, long ball that would not have left the yard under the former dimensions at Citi Field. The Mets have a 3-2 advantage in the new-dimension homers:

April 7, Lucas Duda, fourth inning off Jair Jurrjens
April 9, Kirk Nieuwenhuis, fourth inning off Edwin Jackson
April 20, Angel Pagan, third inning off Jon Niese
April 20, Nieuwenhuis, fifth inning off Barry Zito
April 23, Schierholtz, third inning off Batista

WHAT'S NEXT: The regularly scheduled game, in about a half-hour. Dillon Gee opposes left-hander Madison Bumgarner.
NBA
NHL
COLLEGE BASKETBALL
MLB
MLS
NBA
NHL
COLLEGE BASKETBALL
MLB