New York Mets:

Gus Schlosser
April, 8, 2014
Apr 8
10:33
PM ET
ATLANTA --
Bartolo Colon
had little wiggle room for most of his outing given a lack of support from his team's batters. So Colon did what he had to do, blanking the
Atlanta Braves
for seven innings.
On a night the Braves honored Hank Aaron to mark the 40th anniversary of the home run that passed Babe Ruth, the Mets ultimately spoiled the party with a 4-0 win against the Braves on Tuesday before a sellout crowd of 47,144 at Turner Field.
Colon's final line: 7 IP, 6 H, 0 R, 0 ER, 0 BB, 5 K. He threw 101 pitches (70 strikes).
Daniel Shirey/USA TODAY SportsRuben Tejada slides into home on a wild pitch for the first run of Tuesday's game.
Colon completed his outing by retiring
Jason Heyward
on a groundout to second base to strand two baserunners. The inning had been prolonged by
Ruben Tejada
's fielding error.
Tejada nonetheless finished 2-for-3 with two RBIs, a walk and two runs scored.
Ex-Met
Aaron Harang
had limited the Amazin's to two hits and four walks in six innings while striking out nine. The lone run against him came when Tejada walked to lead off the third and eventually scored on a wild pitch.
The Mets tacked on two runs in the seventh, when they produced four hits in that frame alone against Braves relievers.
Tejada had an RBI single against reliever
Gus Schlosser
. After Colon's sac bunt,
Luis Avilan
entered and surrendered an RBI single to
Eric Young Jr.
(Young was thrown out attempting to stretch the hit into a double.)
Avilan subsequently departed after injuring himself diving out of the way of a shard on
Daniel Murphy
's broken-bat single. The Braves announced Avilan had a left hamstring cramp.
Tejada also had an RBI single in the eighth against ex-Met
Pedro Beato
.
Snapped:
Travis d'Arnaud
snapped an 0-for-16 skid to begin the season with a fourth-inning single. The longest drought by a position player to begin a season as a Met remains Phil Linz, who went 0-for-25 to open the 1968 season, according to the Elias Sports Bureau.
D'Arnaud finished 2-for-4. He doubled in the seventh on a ball that hung up a while in the air, but which dropped in left-center, between
Justin Upon
and
B.J. Upton
. He then scored on Tejada's ensuing single as the Mets took a 2-0 lead.
Duda day:
Lucas Duda
, his audition having resumed after
Ike Davis
started Sunday, went 1-for-4. Davis grounded out as a pinch hitter in the eighth.
Slumping:
David Wright
, batting illness, went 0-for-5 and is hitless in his past 12 at-bats.
Unbeaten:
The Mets are now 2-for-2 in challenges this season.
Juan Lagares
, initially ruled out at first base on a groundball in the eighth, had the call overturned after Terry Collins requested a video review. The review process took three minutes.
Penultimate:
Kyle Farnsworth
tossed a perfect eighth.
Jose Valverde
completed the shutout despite allowing the first two batters to reach in the ninth and committing an error that loaded the bases with one out.
What's next:
Native Georgian
Zack Wheeler
, who spent the past two nights in his own home, opposes right-hander
Ervin Santana
at 7:10 p.m. Wednesday. Santana, who signed on March 12 for $14.1 million after Atlanta lost
Brandon Beachy
and
Kris Medlen
to elbow injuries, will make his Braves debut.
April, 7, 2014
Apr 7
9:30
AM ET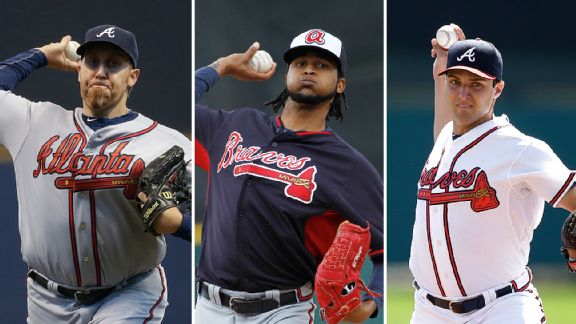 Associated Press/USA TODAY SportsThe Mets will face Aaron Harang, Ervin Santana and David Hale this week at Turner Field.
METS (2-4, fifth place/NL East) at ATLANTA BRAVES (4-2, second place/NL East)
Tuesday:
RHP
Bartolo Colon
(0-1, 4.50) vs. RHP
Aaron Harang
(1-0, 0.00), 7:10 p.m. ET
Wednesday:
RHP
Zack Wheeler
(0-1, 4.50) vs. RHP
Ervin Santana
(0-0, -.--), 7:10 p.m. ET
Thursday:
RHP
Jenrry Mejia
(1-0, 1.50) vs. RHP
David Hale
(0-0, 0.00), 7:10 p.m. ET
Braves short hops
Courtesy of Atlanta BravesThe Braves are wearing this patch to commemorate the 40th anniversary of Hank Aaron becoming MLB's home run king.
• During a pregame ceremony before Tuesday's Braves home opener, Atlanta will recognize the 40th anniversary of Hank Aaron's 715th home run. The shot came on April 8, 1974 and broke Babe Ruth's record. The Braves are wearing patches this season to commemorate the anniversary. Aaron, 80, will be on hand. He underwent partial left hip replacement surgery Feb. 14 after falling on ice.
• The Braves unexpectedly dumped
Freddy Garcia
on March 24 and signed 35-year-old
Aaron Harang
for a rotation spot. Harang took a no-hit bid into the seventh inning in Milwaukee in his Braves debut. Opposing pitcher
Matt Garza
also took a no-hit bid into that frame.
Logan Schafer
's single to lead off the bottom of the seventh ended Harang's bid. Harang, who finished last season with the Mets, had been released by the
Cleveland Indians
late in spring training.
•
Ervin Santana
signed for one-year, $14.1 million on March 12 after
Kris Medlen
and
Brandon Beachy
both suffered spring-training elbow injuries and ultimately required Tommy John surgery. Santana, who had a 3.24 ERA in 32 starts for the
Kansas City Royals
last season, will make his Braves debut Wednesday against the Mets. He allowed six runs (five earned) in 5 1/3 innings on Friday for Triple-A Gwinnett against Durham in his final tune-up.
• Atlanta also is missing a third starting pitcher -- left-hander
Mike Minor
. Minor, hindered by shoulder tendinitis during spring training, logged two innings for Double-A Mississippi on Thursday in a rehab start.
• Right-hander
David Hale
tossed five scoreless innings in his season debut at the
Washington Nationals
on Friday. It was his third career major-league start. Last September, Hale limited the
San Diego Padres
and
Philadelphia Phillies
to a combined one run in 13 innings. He is a third-round pick in 2009 out of Princeton. To earn the rotation role, Hale beat out fellow rookie
Gus Schlosser
, who instead found a spot in the bullpen as a longer reliever.
• The Braves claimed ex-Met
Pedro Beato
off waivers from the
Cincinnati Reds
on Wednesday.
• Brothers
B.J. Upton
and
Justin Upton
were a combined 2-for-31 with 16 strikeouts through Friday before each produced a two-hit game Saturday at Nationals Park.
• The Braves lead the majors with a 1.56 ERA.
• Closer
Craig Kimbrel
notched his 142nd career save Friday, passing Gene Garber for second on the franchise's all-time list.
John Smoltz
owns the franchise record with 154 saves. Smoltz also won 210 games as a Brave.
• The Braves went on a late-winter signing binge, locking up several core players long term. The signings:
Feb. 5: First baseman
Freddie Freeman
, eight years, $135 million
Feb. 14: Right-hander
Julio Teheran
, six years, $32.4 million
Feb. 16: Kimbrel, four years, $42 million
Feb. 20: Shortstop
Andrelton Simmons
, seven years, $58 million
Right fielder
Jason Heyward
also signed for two years, $13.3 million on Feb. 4 to avoid arbitration.
• Simmons earned his first Gold Glove last season.
• The Braves, who have played at Turner Field since it opened for baseball the year after the 1996 Olympics, will move to a new ballpark in Cobb County for the 2017 season. The 42,000-seat stadium, which will be located 10 miles north of downtown Atlanta, is projected to cost $672 million. The Braves have disputed the publicly financed contribution to that price tag, which has been reported as $450 million.
• The probable Braves batting order:
Heyward, rf
B.J. Upton, cf
Freeman, 1b
Chris Johnson
, 3b
Justin Upton, lf
Dan Uggla
, 2b
Evan Gattis
/
Gerald Laird
/
Ryan Doumit
, c
Simmons, ss
• Over the weekend, Heyward dealt with muscle spasms in the back of his neck that have resulted in headaches. He still wears a protective flap attached to his helmet to protect his jaw, which he fractured on a 90 mph fastball from
Jonathon Niese
last August.