July, 3, 2014
Jul 3
7:03
PM ET
NEW YORK -- First base coach
Tom Goodwin
plans to rejoin the Mets for Friday's series opener against the
Texas Rangers
.
Goodwin had been away from the team since June 24 because of a serious family issue.
Guy Conti filled in on the staff during Goodwin's time away.
June, 8, 2014
Jun 8
2:04
PM ET
Scott Cunningham/Getty ImagesDan Warthen is away from the Mets on Sunday.
SAN FRANCISCO -- If a mound visit is required Sunday to speak with a pitcher,
Ricky Bones
is expected to handle the assignment.
Pitching coach Dan Warthen is away from the team. His daughter is graduating from high school in Portland, Ore.
Guy Conti, who has been an extra coach on the trip, will oversee the bullpen.
May, 29, 2014
May 29
5:10
PM ET
PHILADELPHIA --
Travis d'Arnaud
is back in the lineup for the first time in 16 days on Thursday night, and Terry Collins noted it's not just him who needs to pick up his production.
"We've got to start getting some offense out of our catching position, for sure," Collins said.
Overall, Mets catchers rank 27th in the majors in average (.217), 24th in on-base percentage (.282) and 26th in slugging percentage (.339). They have driven in 16 runs, better than only the Phillies (14), Royals (13) and Dodgers (11).
D'Arnaud was hitting .196 with three homers and eight RBIs in 102 at-bats before landing on the concussion DL two weeks ago.
D'Arnaud indicated the most difficult thing during his week of concussion symptoms was dealing with noise. He was on the bench with the Mets on Wednesday ahead of Thursday's official activation. D'Arnaud went 1-for-8 with a two-run homer and caught seven innings during his rehab assignment with Double-A Binghamton. His final game for the B-Mets was cut short by rain. The game was suspended in the second inning.
D'Arnaud will switch to a conventional catcher's mask (with separate skull cap) now that he's back. While the mask sits slightly farther away from his face than the hockey-goaltender mask he formerly wore, slightly reducing his peripheral vision, d'Arnaud feels the conventional style is less restrictive. He received his last two concussions while wearing the hockey mask and wants to switch things up anyway.
D'Arnaud's return incidentally gives the Mets a statistical quirk. He joins
Jacob deGrom
and
Matt den Dekker
on the active roster, making the Mets the first team in MLB history with three active players with surnames beginning with a lower-case "D."
According to research by ESPN's Doug Kern, the
Kansas City Royals
had two -- first baseman Luis de los Santos and pitcher Jose de Jesus -- for two Septembers (1988 and '89).
Taking the fifth:
Keith Hernandez steered clear of discussing with reporters on Thursday afternoon fired hitting coach Dave Hudgens' critical comments about the SNY analysts. It was Mex's first time assigned to a game since Hudgens did the media circuit.
Bobby O:
Collins plans to start
Bobby Abreu
on Friday against right-hander
A.J. Burnett
. The manager might have used Abreu in the outfield on Thursday, too -- with
Chris Young
on the bench -- had Phillies starter
David Buchanan
's numbers made it sensible. Although Buchanan is a right-hander, righty batters hit .305 against him in nine Triple-A starts this season (versus .297 for lefty batters).
Collins noted it certainly is easier to play right field at Citizens Bank Park than at Citi Field, which makes prioritizing offense easier. The manager added that he just needs to be careful about overdoing it with Abreu.
"You've just got to be careful about wearing him down," Collins said.
Con'grad'ulations:
Guy Conti, who served as the Mets' bullpen coach during the
Pedro Martinez
era, is back with the big-league club for the three-city road trip. Conti, 72, officially will step in when bench coach Bob Geren takes a brief leave for his son's graduation from Princeton and again when Dan Warthen takes a brief leave for his daughter's high school graduation in Oregon.
Record-setting:
Barring a postponement, this series in Philly will mark the first time in franchise history the Mets play five straight days in one road city.
That prompted Collins to recall his days managing in the Triple-A Pacific Coast League and Hawaii had a team, which spanned from 1961-87. Because of the extensive travel involved, visiting teams would go there for 10 games. Collins laughed that the visiting team would typically win the first two games and then lose the next eight because of the island's distractions.
The same danger presumably does not exist in Philly, although perhaps the Mets will have to avoid overdosing on cheesesteaks.
More seriously, Collins noted that hostilities can start to rage toward the end of a five-game series, especially if one side -- or batter -- is dominating the other side. So stay tuned to see if emotions stay in check come Monday's finale.
The Mets play 25 of their next 33 games on the road.
August, 7, 2013
8/07/13
3:27
PM ET
NEW YORK -- Here are the lineups for Wednesday's 7:10 p.m. game against the
Colorado Rockies
.
Mets
Eric Young Jr.
, lf
Juan Lagares
, cf
Daniel Murphy
, 2b
Marlon Byrd
, rf
Ike Davis
, 1b
Wilmer Flores
, 3b
John Buck
, c
Omar Quintanilla
, ss
Matt Harvey
, rhp
Rockies
Dexter Fowler
, cf
Charlie Blackmon
, lf
Troy Tulowitzki
, ss
Michael Cuddyer
, rf
Todd Helton
, 1b
Wilin Rosario
, c
Nolan Arenado
, 3b
DJ LeMahieu
, 2b
Jhoulys Chacin
, rhp
Mets bullpen coach Ricky Bones will miss the next two games after the passing of his mother. Guy Conti will fill in.
May, 11, 2013
5/11/13
11:34
AM ET
Terry Collins could see the Pirates retaliating against
Jordany Valdespin
for his admiration of his ninth-inning homer Friday, but the manager doesn't think Pittsburgh would go after
David Wright
.
"I think every situation is different. I don't think you retaliate on David Wright," Collins said. "You don't take it out on David Wright. Now will they throw at [Valdespin]? I have no idea. Fifteen years ago the answer would have been yes. I can't say that's going to happen in today's game. They won the game. I'm sure it's over with. But, you know, a lot of teams have long memories."
Asked if Valdespin should have been encouraged in the minors to keep antics that antagonize the other team in check, Collins said: "Believe me, we've talked to Jordany about a lot of things. Players who have -- I call it flair, players who play with flair, once in a while they're going to do something that annoys you. And if it bothers you enough and you're on the opposing team, you might do something. But, you know what? We addressed it. We addressed it again.
"And I tell some players once in a while, or coaches: 'You don't like it? Don't watch it. Watch somebody else.'"
WRIGHT STUFF:
On Wright being in the lineup a day after fouling a ball off the inside of his left knee and departing on a double-switch for the final inning Friday, Collins said: "I'm sure he's stiff today. You don't foul it off like that off the inside of your knee without being stiff today. When I took him out last night, I told him, 'Just get some ice on it.' But he said, 'Look, I can finish.' So I'm sure he'll be stiff, but he plays through a lot. So he'll be OK."
ONE-HIT WONDERS:
Matt Harvey
recently tossed nine scoreless innings, allowing only an infield single against the
Chicago White Sox
. And on Friday night, St. Louis'
Shelby Miller
and Boston's
Jon Lester
each tossed walk-free one-hit shutouts.
"I just know you don't have a lot of the guys who really walk up with a definite two-strike approach anymore," Collins said about the pitchers' dominance. "... The power is so dominant now that everybody has got longer swings. So you can see, when you're locating, that's when the strikeouts are going to come. But I'm not surprised at what I'm seeing. The arms today are so much better. There's so many more guys that throw hard and have 'plus' stuff today than there was 15 years ago. I think that's why you're seeing such a dominance in some strikeouts and pitching."
Miller opposes
Shaun Marcum
on Wednesday at Busch Stadium.
DOUBLE TROUBLE?
While the tarp is on the field 90 minutes before Saturday's first pitch at Citi Field, it is not currently raining. If the game were rained out, Collins said a doubleheader would be scheduled for Sunday.
VIEWING PARTY:
Among the extra eyes watching Zack Wheeler's start tonight in Las Vegas: roving Mets instructor Guy Conti, who will provide feedback on the performance to the major league staff.
February, 11, 2013
2/11/13
10:16
AM ET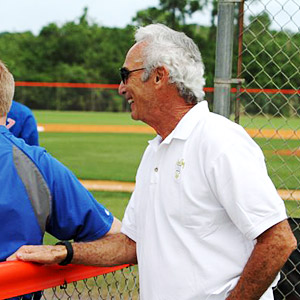 Courtesy Bruce Adler/New York Mets
Sandy Koufax annually had visited Mets camp

PORT ST. LUCIE, Fla. -- Sandy Koufax, a former high school teammate of Fred Wilpon, won't be making his annual spring-training visits to Mets camp.
Koufax has been hired as a special assistant by the
Los Angeles Dodgers
. He is headed to Arizona on Saturday.
Terry Collins, Guy Conti and their spouses dined with Koufax on Friday.