New York Mets:

Hall of Fame
July, 28, 2014
Jul 28
5:24
AM ET
Associated PressBartolo Colon makes his final start before the non-waiver trade deadline on Monday.
NEW YORK
FIRST PITCH:
Bartolo Colon
makes his final start before Thursday's 4 p.m. non-waiver trade deadline when the Mets return home to face the
Philadelphia Phillies
on Monday.
Colon (9-8, 4.03 ERA) enters the start off an outing in Seattle in which he retired the game's first 20 batters.
Robinson Cano
broke up the perfect-game bid in the seventh with a line single.
Colon opposes right-hander
A.J. Burnett
(6-9, 3.86) in the 7:10 p.m. series opener.
The Mets took four of five games in Philly when the teams last met, May 29-June 2.
Of course, the Mets won eight of 10 games on their last homestand and now have a 25-23 record at Citi Field this season. The Mets have not finished a season with a winning home record since 2010.
Colon, incidentally, likely will be eligible to be traded in August, too -- either by clearing waivers or via the Mets dealing with a team that puts in a claim. That is because he is owed $11 million in 2015, during a season in which he will turn 42 years old.
Monday's news reports:
• After giving an interview to Willie Weinbaum
at ESPN.com
in which he advocated
Roger Clemens
,
Barry Bonds
and
Mark McGwire
getting voted into the Hall of Fame with asterisks, Tony La Russa went further during an interview published
in the Daily News
.
Mike Groll/Associated PressTony La Russa said he brought concerns about steroid use to Sandy Alderson during their days with the A's, but was rebuffed.
La Russa said he voiced concern to
Oakland Athletics
GM Sandy Alderson and the team's ownership during that era about potential player steroid use, but nothing was done.
"I knew our programs in Oakland were 100 percent clean," La Russa told the Daily News. "But we had our suspicions -- guys hitting stronger but not working out. I went to Sandy and ownership about this. And they told me flat off, 'Right of privacy. It's a collective bargaining issue.'"
Alderson told the newspaper: "I'm not going to comment on that until at least Monday" -- presumably so any comments would not detract from induction weekend.
•
Jacob deGrom
tossed 6 1/3 scoreless innings in his latest dominating performance and
Lucas Duda
slugged his fourth homer in six games as the Mets beat the Brewers, 2-0, Sunday at Miller Park to earn a split of the four-game series.
The Mets went 5-5 on their second-half-opening trip to San Diego, Seattle and Milwaukee. With 57 games remaining, the Mets trail the first-place
Washington Nationals
by 8½ games and are seven games out in the wild card.
Mike McGinnis/Getty ImagesJacob deGrom has a 0.66 ERA over his past four starts.
DeGrom has now limited opponents to two runs in 27 1/3 innings over his past four starts -- all wins -- to even his record at 5-5. He has not allowed a homer in his last 59 innings. That is four outs shy of matching the franchise's rookie record, set by Mark Bomback in 1980.
Duda had four of the Mets' five homers on the entire 10-game trip, with
Curtis Granderson
producing the other. Duda entered Sunday with an NL-leading 24.3 percent of his at-bats this season ending with a ball deemed "hard hit," according to ESPN Stats & Information.
Jenrry Mejia
wriggled free despite allowing two baserunners in the ninth. He has now recorded a save in each of his last seven appearances. That's the longest string of appearances with a save by a Mets reliever since
Billy Wagner
had a save in nine straight appearances in 2007.
The Mets posted a 5-5 trip despite failing to exceed three runs in any of the final nine games. If the Mets fail to reach four runs on Monday against the Phillies, it will become the longest streak of games producing three or fewer runs since 1981 (11 straight).
In the second half, the Mets are hitting .186 (60-for-322) and averaging 2.2 runs per game. Only the
Cincinnati Reds
are worse in those categories in the National League.
Read game recaps in the
Post
,
Daily News
,
Newsday
,
Star-Ledger
,
Record
,
Journal
,
Times
and at
MLB.com
.
• Read more on Duda in the
Post
and
Newsday
.
•
Tom Glavine
made multiple references to the Mets during his 17-minute induction speech in Cooperstown on Sunday.
Gregory J. Fisher/USA TODAY SportsTom Glavine generously mentioned the Mets during Sunday's Hall of Fame induction speech.
"To all the folks associated with the Mets organization, thank you for treating me and my family the way you did," Glavine said. "Thank you Fred and Jeff Wilpon for the opportunity to play in New York and for providing the resources so I could experience a postseason there. To the fans of New York, thank you so much for your support and for ultimately treating me and my family with so much respect."
Glavine singled out former Mets pitching coach Rick Peterson and trainer Mike Herbst for gratitude.
"Rick, you helped me to reinvent myself, make the changes I needed to make for the latter part of my career -- which, trust me, when you were doing something for 16, 17 years, it's not an easy thing to change," Glavine said. "But you talked me into it, you convinced me of it, and you gave me confidence to do it."
Joe Torre also paid homage to the Mets early in his induction speech.
Torre lauded Hall of Famer Tom Seaver, who was in attendance in Cooperstown, then said during in speech: "I was with the Mets a couple of years before I became manager. And then once I became manager on May 31, 1977, my first bit of duty was to trade Tom Seaver two weeks later, which wasn't a whole lot of fun. And the last time he pitched for me -- I don't know if you remember, Tommy -- he pitched in Houston. And when I went out to take him out of the game, he patted me on the rear end.
"I did have one accomplishment with the Mets as a player. And, again, you can't go through life alone. Certainly in baseball, you need all the help you can get. Well, on July 21, I hit into four double plays in one game. And I just want to make sure I share the credit, because I could not have done it unless Felix Millan had hit four singles right in front of me.
"In 1977 I became manager. I want to thank the
New York Mets
, at the age of 36, for trusting me with their ballclub -- M. Donald Grant, chairman of the board. It was a great opportunity for me. You talk about learning. As I said, we had to make some trades a couple of weeks after I took the job. And there was a lot of learning -- young players -- but [it was] a great experience. A great experience."
Read more on Mets references in Glavine's speech in
Newsday
.
• Matt Reynolds launched a go-ahead three-run homer in the seventh as Las Vegas beat Salt Lake, 6-5. Noah Syndergaard allowed two runs (one earned) in five innings.
Jeremy Hefner
allowed three runs in three innings in his fourth minor-league start since returning from Tommy John surgery as Daytona beat St. Lucie, 4-3, in Game 1 en route to a doubleheader sweep. St. Lucie has lost eight straight. Michael Bernal went 4-for-4 with four RBIs off the bench as Brooklyn beat Lowell, 9-3. Read the full minor-league recap
here
.
•
Troy Tulowitzki
may love New York, but it looks like the Bronx would be his strong preference. Tulowitzki, on the DL with the
Colorado Rockies
and in the Northeast to visit a doctor in Philly, swung by Yankee Stadium on Sunday to watch
Derek Jeter
play.
"It's a short drive from Philly," Tulowitzki
told The Denver Post
. "I'm with my family. I wanted to see Jeter play one more time."
• Terry Collins dismissed any apparent friction with
Jonathon Niese
, who was displeased with getting pulled after five innings Saturday.
"I love Jon and support everything he says," Collins said. "I know he doesn't want to come out. … Sandy Koufax told me many years ago, 'Pitchers and managers never get along.'"
• Why did
Juan Lagares
slide headfirst into first base Sunday, against what his manager would prefer? "I was just trying to do something to get a hit because I don't remember the last time I did," Lagares told Mike Vorkunov
in the Star-Ledger
.
•
From the bloggers ...
Faith and Fear
isn't so nervous during ninth innings these days.
BIRTHDAYS:
No one to appear in a game for the Mets was born on this date, but Soulja Boy and Manu Ginobili celebrate birthdays on July 28.
TWEET OF THE DAY:
#Mets are 50-55 with 57 games remaining. They must go 31-26 to finish .500. Not easy, but doable. That is my goal for them to build on in 15

— Russ O'Brien (@russelltob) July 28, 2014
YOU'RE UP: Did Tony La Russa throw Sandy Alderson under the bus?
July, 27, 2014
Jul 27
5:40
AM ET
FIRST PITCH:
The Mets' second-half-opening road trip concludes Sunday in Milwaukee, and the Amazin's are a win away from a .500 record during the three-city excursion.
Jacob deGrom
(4-5, 3.01 ERA) looks to continue his stellar rookie campaign. DeGrom has produced a 1.59 ERA over his past six starts. He has allowed only two runs in 21 innings over his past three starts.
DeGrom opposes right-hander
Jimmy Nelson
(1-1, 5.06) in the 2:10 p.m. ET finale.
The Mets are 4-5 on their trip to San Diego, Seattle and Milwaukee.
Sunday's news reports:
• Milwaukee overcame a two-run deficit with three runs in the fifth against
Jonathon Niese
and ultimately beat the Mets, 5-2, on Saturday at Miller Park. A displeased Niese was lifted for a pinch hitter in the sixth.
Chris Young
started over slumping
Juan Lagares
and had two doubles. However, Young also had
Mark Reynolds
' leadoff single drop in front of him in the fifth. If caught, Niese may have escaped that inning unscathed.
The Mets have scored three runs or fewer in eight straight games. If they fail to exceed three runs on Sunday, it will match the franchise's longest streak since going nine straight games in August 2012.
Read game recaps in the
Post
,
Daily News
,
Times
,
Star-Ledger
,
Record
,
Newsday
and at
MLB.com
.
•
Daisuke Matsuzaka
landed on the disabled list Saturday with inflammation in his pitching elbow. Doctors will need for the inflammation to subside before making a proper diagnosis. Terry Collins expects more than a 15-day absence for Matsuzaka.
Buddy Carlyle
rejoined the Mets. Read more in the
Star-Ledger
,
Daily News
,
Newsday
and at
MLB.com
.
• How inefficient have the Mets been in spending money? Well, since 2000, only the
Kansas City Royals
,
Chicago Cubs
and
Baltimore Orioles
were less efficient, according to an analysis
at fivethirtyeight.com
. During the 15-year period, the Mets overpaid by $564.3 million for their win total, the study found. The
Oakland Athletics
set the standard, getting $1.376 billion in extra value compared to what the average MLB dollar buys in terms of wins.
• After being promoted to Triple-A to replace Darin Gorski (broken foot), Matt Bowman dominated Salt Lake on Saturday. Bowman took a scoreless effort into the eighth inning, although he ultimately was charged with three runs (two earned) after a pair of runners he turned over to the bullpen scored. Dilson Herrera had a three-run homer and drove in four runs as Binghamton beat Trenton, 10-7. Will Fulmer's two-run single helped lift Brooklyn past Vermont, 3-2. After undergoing surgery on a thumb ligament,
Wilfredo Tovar
has returned to action in the Gulf Coast League. Read the full minor-league recap
here
.
• Mike Gavin
in Newsday
unearths the origins of Mets and Yankees players' walk-up music. Writes Gavin:
Zack Wheeler recently felt that it was time to change his warm-up music. So he tracked down a scoreboard employee and requested "Purple Haze" by Hendrix.
"I like something that pumps me up," he said. "Some guys, they like it to settle them down, but I like it to get me going."
•
Anthony Recker
gives restaurant tips for NL cities to Jared Diamond
in the Journal
.
• Ex-Met (and ex-Brave)
Tom Glavine
will be inducted into the Hall of Fame on Sunday. Glavine went 61-56 with a 3.97 ERA in 164 starts over five seasons with the Mets. Also being inducted:
Greg Maddux
,
Frank Thomas
and managers Bobby Cox, Tony La Russa and Joe Torre. Torre produced a 286-420 record while managing the Mets from 1977 through 1981.
Anthony McCarron
in the Daily News
chats with Torre about how he became Mets manager.
• Mary Kay Linge
in the Post
has a first-person account of participating in the Citi Field sleepover.
•
John Lannan
is due make his season debut with Las Vegas on Monday. Lannan had a 6.75 ERA in six starts with St. Lucie after rejoining the organization following a seven-week absence for a "personal reason."
•
Troy Tulowitzki
is headed to Philadelphia … for a visit with a doctor, writes Nick Groke
in the Denver Post
.
•
From the bloggers …
Faith and Fear
delves into Mets fans' intuition.
BIRTHDAYS:
First base coach
Tom Goodwin
turns 46.
TWEET OF THE DAY:
Oh sure, now Chris Young wants to hit a double. #Mets

— Irish Brute (@MrMickToYou) July 27, 2014
YOU'RE UP: Should Chris Young start the series finale after producing two doubles on Saturday?
January, 8, 2014
Jan 8
2:13
PM ET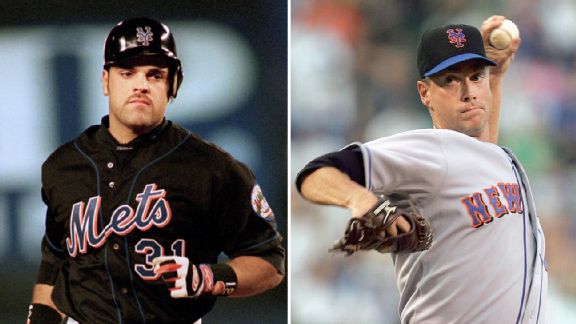 Getty ImagesMike Piazza fell short, while Tom Glavine is a new Hall of Famer.
Mike Piazza
improved his percentage in his second year on the ballot, but fell short of election to Cooperstown. Piazza appeared on 62.2 percent of ballots cast by eligible Baseball Writers' Association of America voters, an increase from 57.8 percent in his inaugural season of eligibility.
A player needs to appear on 75 percent of ballots cast in order to be elected.
Greg Maddux
(97.2 percent),
Tom Glavine
(91.9) and
Frank Thomas
(83.7) all were elected.
Maddux failed to unseat Tom Seaver (98.8 percent in 1992) for the highest percentage received in gaining election.
"On behalf of everyone at the Mets, we congratulate Tom Glavine on his election to the Baseball Hall of Fame," Jeff Wilpon said. "We are proud that Tom won his 300th game as a Met and were fortunate to have him on our club. His excellence as a player is equaled by his excellence as a person."
Added Wilpon, on Piazza: "On behalf of the organization and our fans, Mike is a true Hall of Famer. We proudly display his plaque in the Mets Hall of Fame, and we're hopeful that he'll soon have one hanging in Cooperstown."
The remainder of the voting:
Craig Biggio
(74.8 percent -- two votes shy among 571 votes cast)
Piazza 62.2
Jack Morris 61.5
Jeff Bagwell
54.3
Tim Raines 46.1
Roger Clemens
35.4
Barry Bonds
34.7
Lee Smith 29.9
Curt Schilling
29.2
Edgar Martinez
25.2
Alan Trammell 20.8
Mike Mussina
20.3
Jeff Kent
15.2
Fred McGriff
11.7
Mark McGwire
11.0
Larry Walker
10.2
Don Mattingly 8.2
Sammy Sosa
7.2
Rafael Palmeiro
4.4
Moises Alou
1.1
Hideo Nomo
1.1
Luis Gonzalez
0.9
Eric Gagne
0.4
J.T. Snow
0.4
Armando Benitez
0.2
Jacque Jones
0.2
Kenny Rogers
0.2
Sean Casey
Ray Durham
Todd Jones
Paul Lo Duca
Richie Sexson
Mike Timlin
Those appearing on fewer than 5 percent of ballots cast fall are not longer eligible through the annual BBWAA voting process. Morris, too, falls off the ballot after appearing for 15 years. He will be eligible for selection by a veterans committee every three years, beginning for the 2016 class.
January, 6, 2014
Jan 6
11:16
AM ET
Kathy Willens/Associated PressMike Piazza will learn Wednesday whether he is part of the 2014 Hall of Fame class.
Tom Seaver was inducted into the Hall of Fame in 1992. Could the Mets have another Cooperstown inductee this summer?
Well, whether
Mike Piazza
ultimately is enshrined as a Met or Los Angeles Dodger is another matter. But whether Piazza receives the required 75 percent of votes cast in order to be inducted this summer will be announced Wednesday at 2 p.m.
Baseball Think Factory projects Piazza will fall short. The site has been
collecting ballots made public by voters
, presumably
including mine
. They have reviewed 133 ballots so far, which represents 23.4 percent of the amount of votes cast last year.
If those one-quarter of ballots are precisely reflective of the voters overall,
Greg Maddux
(100 percent),
Tom Glavine
(97.7 percent),
Frank Thomas
(91.7 percent) and
Craig Biggio
(81.2 percent) would make the cut, whereas Piazza (72.2 percent),
Jeff Bagwell
(64.7 percent) and Jack Morris (60.9 percent) would be the closest to fall short.
However, the public ballots may overstate the percentage the candidates may ultimately garner, since the hard-liners on the steroid era probably skew older and are less likely to make their ballots public via social media or otherwise.
This is Piazza's second year on the ballot. He appeared on 57.8 percent of ballots a year ago -- fourth-best among players falling short. Biggio received 68.2 percent, Morris 67.7 percent and Bagwell 59.6 percent. (See the full 2013 voting results
here
.)
This year's ballot included for the first time players including Maddux, Thomas,
Mike Mussina
and ex-Mets Glavine and
Jeff Kent
.
"I truly feel I got a lot of support," Piazza
said in September
at Citi Field regarding the 2013 voting tally, when he was inducted into the Mets Hall of Fame. "It's a process. I'm very proud of my career. Obviously I put my body of work up against anybody, I've said before. But, you know what? I truly feel that the process is a beautiful thing as well. It is what it is. I mean, looking back, Yogi [Berra] had three ballots. And Joe DiMaggio three ballots.
"When you retire, you get retrospective. You think of things in the bigger picture. And so if I'm so blessed and honored to get to that point someday, I will enjoy it and be proud and wear the honor that is so important. Up until that point, I can only do like an artist -- here's my work, my canvas -- and it's out of my hands. The process, it's cool and amazing and very interesting and historic. I know throughout history there is always going to be debate. That's the best thing about baseball. That's the best thing about sports."
What are Piazza's credentials? Here's an exhaustive statistical review from ESPN Stats & Information:
• .308/.377/.545, 427 HR, 1,335 RBIs, 2,127 hits in 16 MLB seasons
• Among players who played at least 50 percent of games at catcher, ranks first in HR, fourth in RBIs, sixth in hits and fifth in WAR
• 12-time All-Star
• 1993 NL Rookie of the Year
• 10-time Silver Slugger winner
Piazza holds the record for most home runs hit
as a catcher
, as well as the most home runs by a player whose primary position was catcher.
Most Career Home Runs -- Primary Position Catcher -- in MLB History
Mike Piazza 427
Johnny Bench 389
Carlton Fisk 376
Yogi Berra 358
Lance Parrish 324
Gary Carter 324
(Minimum 50 percent of career games at catcher)
Most Wins Above Replacement -- Primary Position Catcher -- in MLB History
Johnny Bench 75.1
Gary Carter 69.7
Carlton Fisk 68.4
Ivan Rodriguez
68.3
Yogi Berra 59.3
Mike Piazza 59.2
(Minimum 50 percent of career games at catcher)
Most Seasons of 30+ HR, 100+ RBIs -- Primary Position Catcher -- in MLB History

Mike Piazza 6
Johnny Bench 4
Roy Campanella 3
(Minimum 50 percent of career games at catcher)
Every player who has finished his career with a .300+ BA and at least 400 homers is in the Hall of Fame –- except Piazza and Thomas. (Thomas is eligible for the first time this ballot.)
.300 BA and 400 HR -- Hall of Fame-Eligible Players -- in MLB History
Frank Thomas .301 521
Mike Piazza .308 427
Hank Aaron .305 755
Willie Mays .302 660
Stan Musial .331 475
Ted Williams .344 521
Mel Ott .304 511
Jimmie Foxx .325 534
Lou Gehrig .340 493
Babe Ruth .342 714
December, 2, 2013
12/02/13
12:00
PM ET
The Hall of Fame will announce the 2014 class of inductees on Jan. 8.
Eligible voters who have been members of the Baseball Writers' Association of America for 10 years may select from zero to 10 candidates.
Those candidates appearing on 75 percent of the submitted ballots are elected. Candidates may remain on the ballot for as many as 15 years, provided they continue to appear on 5 percent of the ballots cast.
Here is my Hall of Fame ballot.
Second-year candidates
Mike Piazza
,
Barry Bonds
and
Roger Clemens
appear on my ballot for the first time. I also voted for
Greg Maddux
,
Tom Glavine
and
Frank Thomas
in their first year of eligibility. Because 10 candidates is the maximum for which to vote, I could not fit Tim Raines or Lee Smith this time after voting for them a year ago.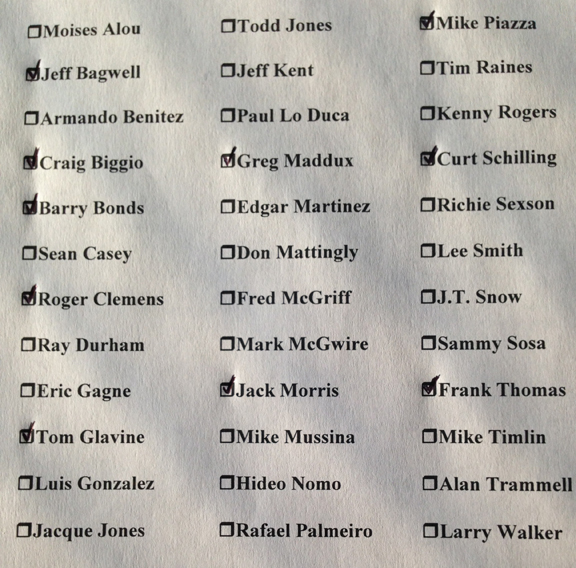 November, 26, 2013
11/26/13
2:14
PM ET
Here is the new Hall of Fame ballot (with number of years on ballot and last year's percentage of votes achieved). Voters may select from zero to as many as 10.
Being named on 75 percent of ballots results in election. Appearing on a minimum of 5 percent of ballots cast is required to remain on the ballot the following year. Candidates may appear on as many as 15 ballots before dropping off if they fail to achieve 75 percent.
Moises Alou
, 1st year on ballot
Jeff Bagwell
, 4th, 59.6%
Armando Benitez
, 1st
Craig Biggio
, 2nd, 68.2%
Barry Bonds
, 2nd, 36.2%
Sean Casey
, 1st
Roger Clemens
, 2nd, 37.6%
Ray Durham
, 1st
Eric Gagne
, 1st
Tom Glavine
, 1st
Luis Gonzalez
, 1st
Jacque Jones
, 1st
Todd Jones
, 1st
Jeff Kent
, 1st
Paul Lo Duca
, 1st
Greg Maddux
, 1st
Edgar Martinez
, 5th, 35.9%
Don Mattingly, 14th, 13.2%
Fred McGriff
, 5th, 20.7%
Mark McGwire
, 8th, 16.9%
Jack Morris, 15th, 67.7%
Mike Mussina
, 1st
Hideo Nomo
, 1st
Rafael Palmeiro
, 4th, 8.8%
Mike Piazza
, 2nd, 57.8%
Tim Raines, 7th, 52.2%
Kenny Rogers
, 1st
Curt Schilling
, 2nd, 38.8%
Richie Sexson
, 1st
Lee Smith, 12th, 47.8%
J.T. Snow
, 1st
Sammy Sosa
, 2nd, 12.5%
Frank Thomas
, 1st
Mike Timlin
, 1st
Alan Trammell, 13th, 33.6%
Larry Walker
, 4th, 21.6%
Which 0-10 players would you put on your Hall of Fame ballot?
January, 8, 2013
1/08/13
5:58
PM ET
By
Mark Simon
| ESPNNewYork.com
Mike Piazza may not be inducted into Cooperstown on Wednesday, but one group of baseball media decided he was Hall-worthy.
A group known as the
Internet Baseball Writers of America
(IBWAA -- of which this writer is a member) conducted its own vote among its membership and Piazza was the only player to receive at least 75 percent of the vote.
Piazza got 79.1 percent of the vote from a 67-voter panel whose members include ESPN.com's Jim Caple and David Schoenfield, as well as national baseball writers Barry Bloom (MLB.com), Tim Brown (Yahoo!) and prominent authors Peter Golenbock and Paul Dickson.
Craig Biggio got the next-highest percentage of the vote (64.2 percent).
The IBWAA ballot also allowed voters to pick among "special consideration" candidates and via that, former Mets manager Gil Hodges received 40 percent of the vote.
In four years of balloting, the IBWAA has granted 75 percent of the vote to Bert Blyleven, Roberto Alomar, and Piazza.
The results for the National Baseball Hall of Fame voting will be announced Wednesday at 2 ET.
A
website that has tracked Hall of Fame writers' votes
throughout the process has had Piazza receiving between 55 and 60 percent among the votes it has collected.
January, 3, 2013
1/03/13
8:14
PM ET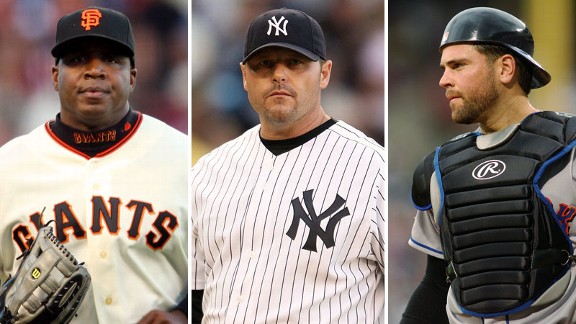 USA TODAY Sports, Getty Images
Barry Bonds, Roger Clemens and Mike Piazza all have been scrutinized by Hall of Fame voters.
Here are the players appearing on my ballot for the Hall of Fame:
1.
Jeff Bagwell
2.
Craig Biggio
3. Jack Morris
4. Dale Murphy
5. Tim Raines
6.
Curt Schilling
7. Lee Smith
The overall voting results will be announced Wednesday at 2 p.m., with a player needing to appear on 75 percent of submitted ballots to be enshrined in Cooperstown and on 5 percent to remain on the ballot for the following year.
I plan to wait a year on
Roger Clemens
,
Barry Bonds
and
Mike Piazza
before placing them on my ballot.
November, 28, 2012
11/28/12
8:16
AM ET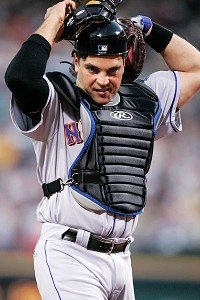 Paul Abell/US Presswire
Mike Piazza, now retired for five seasons, appears on the Hall of Fame ballot for the first time.

Mike Piazza
is due to make his first appearance on the Hall of Fame ballot when it is released at noon ET Wednesday.
Other retired players to appear for the first time are sure to include:
Craig Biggio
,
Barry Bonds
,
Roger Clemens
,
Curt Schilling
and
Sammy Sosa
.
It will be clear who else made the cut to appear on the ballot at noon, but other eligible players include
Kenny Lofton
,
David Wells
,
Julio Franco
,
Shawn Green
,
Steve Finley
,
Roberto Hernandez
,
Jeff Cirillo
,
Jose Valentin
,
Reggie Sanders
,
Jeff Conine
,
Jose Mesa
,
Royce Clayton
,
Bob Wickman
,
Ryan Klesko
,
Aaron Sele
,
Woody Williams
,
Rondell White
,
Mike Lieberthal
,
Tony Batista
,
Mike Stanton
,
Sandy Alomar Jr.
,
Damian Miller
and
Todd Walker
, according to the Hall of Fame.
A candidate must appear on 75 percent of submitted ballots in order to gain election.
For the full set of rules, click
here
.
December, 5, 2011
12/05/11
11:16
AM ET
The Veterans Committee formally announced the selection of Ron Santo to the Hall of Fame. He appeared on 15 of 16 ballots, with 12 needed for selection.

Gil Hodges did not reach the threshold. Jim Kaat received 10 votes, Minny Minoso and Hodges nine apiece, and Tony Oliva eight.
January, 5, 2011
1/05/11
2:01
PM ET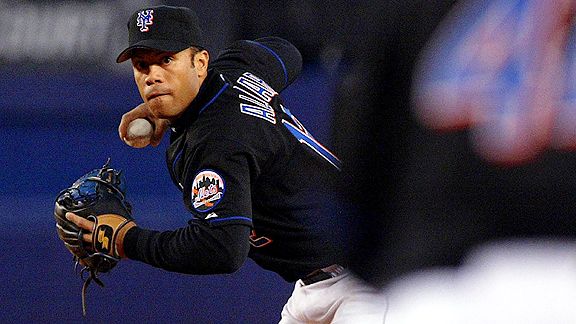 Jeff Zelevansky/Icon SMI
Newest Hall of Famer Roberto Alomar played for the Mets in 2002 and '03.
Cooperstown is welcoming
Roberto Alomar
, but
Tom Seaver
remains safe for now as the only inductee recognized with a Mets cap on his plaque.
Alomar becomes the 14th player, manager or executive with ties to the Mets to be elected to the Hall of Fame. He joins
Richie Ashburn
,
Yogi Berra
,
Gary Carter
,
Rickey Henderson
,
Whitey Herzog
,
Willie Mays
,
Eddie Murray
,
Nolan Ryan
,
Tom Seaver
,
Duke Snider
,
Warren Spahn
,
Casey Stengel
and
George Weiss
.
"All of us at the Mets congratulate Roberto Alomar on baseball's most prestigious honor, his well-deserved election into the Hall of Fame," chief operating officer
Jeff Wilpon
said in a statement released by the team.
Said
Carlos Beltran
, also in a statement: "I'm thrilled for Robbie. He's a personal friend. No one played his position better. Just look at his numbers and accomplishments. As a native of Puerto Rico, I'm also honored for my country that such a distinguished player will be in the Hall of Fame."
Alomar, a selection in his second year eligible for the honor, had perhaps his least-impressive season and a half as a Met.
Acquired by then-GM
Steve Phillips
on Dec. 11, 2001 from the Cleveland Indians with
Mike Bacsik
for highly regarded prospect
Alex Escobar
as well as
Matt Lawton
,
Jerrod Riggan
,
Earl Snyder
and
Billy Traber
, the trade came during a wild offseason for the Mets that lifted the payroll to a new high of $119 million.
Also obtained that offseason:
Mo Vaughn
,
Jeromy Burnitz
,
Pedro Astacio
and
Roger Cedeno
.
Alomar, who turned 34 before arriving in spring training in 2002, hit .266 with 11 homers, 53 RBIs and 16 steals that season as the Mets finished 75-86 in
Bobby Valentine's
final year as manager.
Alomar's strongest performances came in Denver, where his father
Sandy Alomar Sr.
was a Rockies coach, and in his native San Juan, where the Mets faced the Expos. That led to questions about his overall effort. Alomar expressed disappointment at the time with the Mets' lack of ethnic diversity, and the comfort level for Hispanic ballplayers.
Phillips was fired in June 2003, and
Jim Duquette
was charged with dismantling the underwhelming Mets. The interim GM sent Alomar to the Chicago White Sox on July 1, 2003 for
Royce Ring
,
Edwin Almonte
and
Andrew Salvo
.
Alomar's full statistics for his Mets career: .265, 13 HR, 75 RBIs in 863 at-bats.
Here's a small part of what I wrote for the Daily News after the 2003 trade:
He disputed the suggestion he felt uneasy in New York, but offered: "Sometimes it helps when you're playing with a team that has a chance to win. You get motivated when you go to the ballpark. Going to the
White Sox, I'm real positive and I'm going to go out there and start playing the way I'm capable of playing."
As for whether he tarnished his Hall of Fame credentials, Alomar said: "If you guys are going to judge a player like that, you guys are wrong. Two years of your career are not going to make you go into the Hall of Fame or not."
Art Howe and Duquette tried to put their finger on why he wasn't himself in New York.
"He was from the left side. Right-handed he couldn't find his stroke," said Howe, noting Alomar batted .304 against right-handers and .171 against southpaws.
Said Duquette: "I don't know the answer to that. I do think him going to the American League and being around his brother he'll have a new, fresh start there. I wouldn't be surprised."
Alomar's confidante, Ray Negron, suggested Alomar wasn't a good fit for the Mets.
"He didn't feel comfortable here," Negron said. "It's a whole different life. The New York player has to go through so much more than players around the league. Robbie's the type of guy that puts so much on his shoulders."
Also with Mets ties,
John Franco
(4.6 percent),
Al Leiter
(0.7 percent) and
John Olerud
(0.7 percent) received less than 5 percent of the vote and will drop off the ballot.
Mike Piazza
retired after the 2007 season, so he has two years to go before being out five years and being eligible.