New York Mets:

Hank Aaron
April, 9, 2014
Apr 9
5:35
AM ET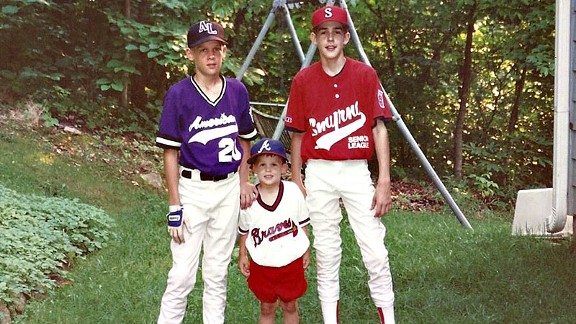 Courtesy of Wheeler FamilyThat's a young Zack Wheeler in the middle, dressed in Braves apparel and flanked by older brothers Adam (left) and Jacob (right).
ATLANTA
FIRST PITCH:
Native Georgian
Zack Wheeler
, who tossed six scoreless innings in his big-league debut against the
Atlanta Braves
last June 18, pitches at Turner Field for the second time in his career Wednesday.
Wheeler (0-1, 4.50 ERA) opposes
Ervin Santana
in the former Angel/Royal's debut with the Braves.
Santana signed with Atlanta on March 12 after the Braves lost
Brandon Beachy
and
Kris Medlen
to elbow injuries.
Wednesday's news reports:
•
Bartolo Colon
tossed seven scoreless innings
despite
a family issue on his mind Tuesday
. Colon's mother Adriana Morales, 63, was diagnosed with breast cancer last week, he told ESPNdeportes.com's Enrique Rojas.
• With
Bobby Parnell
having undergone Tommy John surgery Tuesday,
Jose Valverde
is entrenched as the closer. Valverde
made things exciting Tuesday
, loading the bases in the ninth before completing the shutout as the
Mets beat the Braves, 4-0
.
Travis d'Arnaud
snapped an 0-for-16 drought to start the season, although the Mets overall
remain in an offensive funk
.
Read game recaps in the
Post
,
Daily News
,
Times
,
Star-Ledger
,
Record
,
Newsday
and at
MLB.com
.
David Goldman/Associated PressHank Aaron addresses the crowd Tuesday night at Turner Field.
• Before Tuesday's game, the Braves offered a tribute to Hank Aaron on the 40th anniversary of homer No. 715, which moved him past Babe Ruth as MLB's all-time home run leader. Two different speakers during the pregame ceremony identified Aaron (not
Barry Bonds
) as baseball's "true" long-ball champ. Asked about that choice of words, commissioner Bud Selig said: "I'm always in a sensitive spot there, but I've said that myself, and I'll leave it at that." Read more in the
Atlanta Journal-Constitution
,
Star-Ledger
,
Daily News
,
Journal
,
Record
and
Newsday
.
• Terry Collins said Parnell
made the right decision
undergoing Tommy John surgery. Read more on Valverde and Parnell in the
Star-Ledger
,
Daily News
,
Newsday
and at
MLB.com
.
• Frank Viola was
released from New York-Presbyterian Hospital
on Tuesday, six days after undergoing open-heart surgery.
• Rafael Montero allowed three runs in five innings and Eric Campbell had a tiebreaking two-run homer in the seventh as Las Vegas beat Sacramento, 7-6. Matt Clark had a tiebreaking homer and Darrell Ceciliani had three RBIs as Binghamton beat Erie, 7-2. Savannah swept Augusta in a doubleheader, winning Game 1 on L.J. Mazzilli's walk-off walk with the bases loaded. Read the full minor-league recap
here
.
• Jon Heyman
at CBSSports.com
implores the Mets to trade
Ike Davis
. Writes Heyman:
Keeping Davis gives the Mets a big bat off the bench and a little security should current starter [Lucas] Duda have an injury, but in the end the current alignment is a drawback for both players. Davis is good enough to start for someone, or at least have the opportunity to start for someone. And Duda doesn't deserve to be looking over his shoulder.
• Read more on d'Arnaud in the
Journal
.
BIRTHDAYS:
Mets bullpen catcher Eric Langill turns 35. ... Former reliever
Graeme Lloyd
is 47.
TWEET OF THE DAY:
Proud of Bartolo Colon for pitching an awesome game after being told his mom was diagnosed with breast cancer last Thursday. Prayers. #Mets

— Gabriel De León (@gabe_deleon) April 9, 2014
YOU'RE UP: Should the Mets trade Ike Davis ASAP?
April, 8, 2014
Apr 8
10:33
PM ET
ATLANTA --
Bartolo Colon
had little wiggle room for most of his outing given a lack of support from his team's batters. So Colon did what he had to do, blanking the
Atlanta Braves
for seven innings.
On a night the Braves honored Hank Aaron to mark the 40th anniversary of the home run that passed Babe Ruth, the Mets ultimately spoiled the party with a 4-0 win against the Braves on Tuesday before a sellout crowd of 47,144 at Turner Field.
Colon's final line: 7 IP, 6 H, 0 R, 0 ER, 0 BB, 5 K. He threw 101 pitches (70 strikes).
Daniel Shirey/USA TODAY SportsRuben Tejada slides into home on a wild pitch for the first run of Tuesday's game.
Colon completed his outing by retiring
Jason Heyward
on a groundout to second base to strand two baserunners. The inning had been prolonged by
Ruben Tejada
's fielding error.
Tejada nonetheless finished 2-for-3 with two RBIs, a walk and two runs scored.
Ex-Met
Aaron Harang
had limited the Amazin's to two hits and four walks in six innings while striking out nine. The lone run against him came when Tejada walked to lead off the third and eventually scored on a wild pitch.
The Mets tacked on two runs in the seventh, when they produced four hits in that frame alone against Braves relievers.
Tejada had an RBI single against reliever
Gus Schlosser
. After Colon's sac bunt,
Luis Avilan
entered and surrendered an RBI single to
Eric Young Jr.
(Young was thrown out attempting to stretch the hit into a double.)
Avilan subsequently departed after injuring himself diving out of the way of a shard on
Daniel Murphy
's broken-bat single. The Braves announced Avilan had a left hamstring cramp.
Tejada also had an RBI single in the eighth against ex-Met
Pedro Beato
.
Snapped:
Travis d'Arnaud
snapped an 0-for-16 skid to begin the season with a fourth-inning single. The longest drought by a position player to begin a season as a Met remains Phil Linz, who went 0-for-25 to open the 1968 season, according to the Elias Sports Bureau.
D'Arnaud finished 2-for-4. He doubled in the seventh on a ball that hung up a while in the air, but which dropped in left-center, between
Justin Upon
and
B.J. Upton
. He then scored on Tejada's ensuing single as the Mets took a 2-0 lead.
Duda day:
Lucas Duda
, his audition having resumed after
Ike Davis
started Sunday, went 1-for-4. Davis grounded out as a pinch hitter in the eighth.
Slumping:
David Wright
, batting illness, went 0-for-5 and is hitless in his past 12 at-bats.
Unbeaten:
The Mets are now 2-for-2 in challenges this season.
Juan Lagares
, initially ruled out at first base on a groundball in the eighth, had the call overturned after Terry Collins requested a video review. The review process took three minutes.
Penultimate:
Kyle Farnsworth
tossed a perfect eighth.
Jose Valverde
completed the shutout despite allowing the first two batters to reach in the ninth and committing an error that loaded the bases with one out.
What's next:
Native Georgian
Zack Wheeler
, who spent the past two nights in his own home, opposes right-hander
Ervin Santana
at 7:10 p.m. Wednesday. Santana, who signed on March 12 for $14.1 million after Atlanta lost
Brandon Beachy
and
Kris Medlen
to elbow injuries, will make his Braves debut.
April, 8, 2014
Apr 8
5:45
AM ET
ESPN IllustrationThe Braves will honor Hank Aaron on Tuesday night at Turner Field.
NEW YORK
FIRST PITCH:
After spending a day off in Atlanta, the Mets open their first road trip of the season. The nine-game journey also includes stops in Anaheim and Phoenix.
Bartolo Colon
is due to face ex-Met
Aaron Harang
in Tuesday's 7:10 p.m. series opener at Turner Field. A pregame ceremony will honor 80-year-old Hank Aaron on the 40th anniversary of homer No. 715, which moved him past Babe Ruth as MLB's all-time home-run leader.
Lucas Duda
is due to start at first base, after
Ike Davis
belted a pinch-hit grand slam Saturday, then started Sunday at the position.
Read the Mets-Braves series preview
here
.
Also Tuesday,
Bobby Parnell
is due to undergo Tommy John surgery at the Hospital for Special Surgery in Manhattan. Team doctor David Altchek will perform the procedure.
The timing gives Parnell the best chance to return for the start of next season. There is typically a 10- to 14-month recovery time.
Tuesday's news reports:
Adam RubinVic Black is on the Triple-A disabled list.
•
Vic Black
landed on the disabled list
at Triple-A Las Vegas with a pinched nerve in his neck, although that apparently had nothing to do with his spring-training control woes (24 baserunners in 9 1/3 innings).
• The Mets are 105-144 at Citi Field and 122-121 on the road since the start of the 2011 season. Is that just luck? Or more media and appearance responsibilities at home hindering performance? Or the dimensions of Citi Field? The exact answer is not clear. But even the meal schedule is under scrutiny by team officials, Jared Diamond reports
in the Journal
. Writes Diamond:
In the past, the team would provide a light meal and snacks when the players arrived to work, consisting of salad and sandwiches. Then a larger meal, more akin to dinner, was served after batting practice, which ends about two hours before a 7:10 p.m. game.
After consulting the team nutritionist, they reversed the menu this year, with the heavier food coming out before batting practice. Teams eat this way on the road because they hit second, leaving them with little time between batting practice and the game. The Mets also changed the times of certain meetings to better resemble the road routine.
• Colon allowed three runs on nine hits, including two homers, in six innings in his Mets debut Wednesday against the
Washington Nationals
. Read more on Colon in the
Post
.
• The Mets have struck out 61 times so far, a franchise record through six games of a season. "We're going to strike out," Terry Collins told John Jeansonne
in Newsday
. "The middle of our lineup, because of the kinds of hitters they are, they're going to strike out."
• The Mets are not believed to be active in trying to land a free-agent reliever, even after losing Parnell for the season. Writes Anthony DiComo
at MLB.com
:
General manager Sandy Alderson continues to monitor the closers on the open market, according to one team executive, but he is not ready to pounce on one just yet -- or, perhaps, ever.
Two factors explain Alderson's hesitancy. First, the Mets are genuinely curious to see what three-time All-Star Jose Valverde can give them in the ninth inning. Considering Valverde's successful 12-year history of closing games and his early success out of the bullpen this season, there is reason to believe he can be just as effective as Joel Hanrahan, Ryan Madson or any other free agent working his way back from injury.
• Tyler Kepner
in the Times
scrutinizes
Travis d'Arnaud
, who has opened the season hitless in 15 at-bats. "He'll be fine,"
David Wright
told Kepner. "He can hit. He's hit at every level. So he's off to a slow start. He's caught very well, thrown some runners out, called some good games. We've gotten quality starts, and that's because of Travis. Defensively, he's done everything we've asked him to do, and offensively, he'll come around, because his track record says he's going to hit." Read more on d'Arnaud in the
Post
,
Daily News
and
Record
.
•
Daisuke Matsuzaka
allowed three runs in five innings and
Matt den Dekker
had a walk-off infield single that plated
Cesar Puello
as Las Vegas beat Sacramento, 7-6, Monday. Read the full minor-league recap
here
.
• The Yankees traded
Eduardo Nunez
to the
Minnesota Twins
for left-hander Miguel Sulbaran. Mets reportedly were not involved in trade discussions about Nunez.
• From the bloggers … Mark Berman at
Blogging Mets
thinks the Mets have too many uniforms.
BIRTHDAYS:
Timo Perez
turns 39. ... The late Gary Carter was born on this date in 1954. ... 2013 12th-round draft pick Jeff McNeil, currently playing with low-A Savannah, is 22.
TWEET OF THE DAY:
I've been taking some old unused paternity leave time. RT @JonHeymanCBS: please come back @FakeFredWilpon. best phony twitter account going.

— Fake Fred Wilpon (@FakeFredWilpon) April 7, 2014
YOU'RE UP: Should the Mets sign a free-agent reliever such as Joel Hanrahan or Ryan Madson?
April, 7, 2014
Apr 7
9:30
AM ET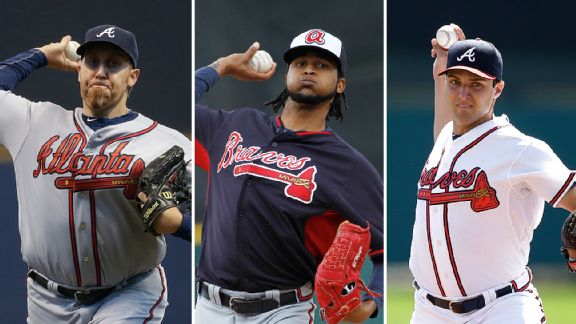 Associated Press/USA TODAY SportsThe Mets will face Aaron Harang, Ervin Santana and David Hale this week at Turner Field.
METS (2-4, fifth place/NL East) at ATLANTA BRAVES (4-2, second place/NL East)
Tuesday:
RHP
Bartolo Colon
(0-1, 4.50) vs. RHP
Aaron Harang
(1-0, 0.00), 7:10 p.m. ET
Wednesday:
RHP
Zack Wheeler
(0-1, 4.50) vs. RHP
Ervin Santana
(0-0, -.--), 7:10 p.m. ET
Thursday:
RHP
Jenrry Mejia
(1-0, 1.50) vs. RHP
David Hale
(0-0, 0.00), 7:10 p.m. ET
Braves short hops
Courtesy of Atlanta BravesThe Braves are wearing this patch to commemorate the 40th anniversary of Hank Aaron becoming MLB's home run king.
• During a pregame ceremony before Tuesday's Braves home opener, Atlanta will recognize the 40th anniversary of Hank Aaron's 715th home run. The shot came on April 8, 1974 and broke Babe Ruth's record. The Braves are wearing patches this season to commemorate the anniversary. Aaron, 80, will be on hand. He underwent partial left hip replacement surgery Feb. 14 after falling on ice.
• The Braves unexpectedly dumped
Freddy Garcia
on March 24 and signed 35-year-old
Aaron Harang
for a rotation spot. Harang took a no-hit bid into the seventh inning in Milwaukee in his Braves debut. Opposing pitcher
Matt Garza
also took a no-hit bid into that frame.
Logan Schafer
's single to lead off the bottom of the seventh ended Harang's bid. Harang, who finished last season with the Mets, had been released by the
Cleveland Indians
late in spring training.
•
Ervin Santana
signed for one-year, $14.1 million on March 12 after
Kris Medlen
and
Brandon Beachy
both suffered spring-training elbow injuries and ultimately required Tommy John surgery. Santana, who had a 3.24 ERA in 32 starts for the
Kansas City Royals
last season, will make his Braves debut Wednesday against the Mets. He allowed six runs (five earned) in 5 1/3 innings on Friday for Triple-A Gwinnett against Durham in his final tune-up.
• Atlanta also is missing a third starting pitcher -- left-hander
Mike Minor
. Minor, hindered by shoulder tendinitis during spring training, logged two innings for Double-A Mississippi on Thursday in a rehab start.
• Right-hander
David Hale
tossed five scoreless innings in his season debut at the
Washington Nationals
on Friday. It was his third career major-league start. Last September, Hale limited the
San Diego Padres
and
Philadelphia Phillies
to a combined one run in 13 innings. He is a third-round pick in 2009 out of Princeton. To earn the rotation role, Hale beat out fellow rookie
Gus Schlosser
, who instead found a spot in the bullpen as a longer reliever.
• The Braves claimed ex-Met
Pedro Beato
off waivers from the
Cincinnati Reds
on Wednesday.
• Brothers
B.J. Upton
and
Justin Upton
were a combined 2-for-31 with 16 strikeouts through Friday before each produced a two-hit game Saturday at Nationals Park.
• The Braves lead the majors with a 1.56 ERA.
• Closer
Craig Kimbrel
notched his 142nd career save Friday, passing Gene Garber for second on the franchise's all-time list.
John Smoltz
owns the franchise record with 154 saves. Smoltz also won 210 games as a Brave.
• The Braves went on a late-winter signing binge, locking up several core players long term. The signings:
Feb. 5: First baseman
Freddie Freeman
, eight years, $135 million
Feb. 14: Right-hander
Julio Teheran
, six years, $32.4 million
Feb. 16: Kimbrel, four years, $42 million
Feb. 20: Shortstop
Andrelton Simmons
, seven years, $58 million
Right fielder
Jason Heyward
also signed for two years, $13.3 million on Feb. 4 to avoid arbitration.
• Simmons earned his first Gold Glove last season.
• The Braves, who have played at Turner Field since it opened for baseball the year after the 1996 Olympics, will move to a new ballpark in Cobb County for the 2017 season. The 42,000-seat stadium, which will be located 10 miles north of downtown Atlanta, is projected to cost $672 million. The Braves have disputed the publicly financed contribution to that price tag, which has been reported as $450 million.
• The probable Braves batting order:
Heyward, rf
B.J. Upton, cf
Freeman, 1b
Chris Johnson
, 3b
Justin Upton, lf
Dan Uggla
, 2b
Evan Gattis
/
Gerald Laird
/
Ryan Doumit
, c
Simmons, ss
• Over the weekend, Heyward dealt with muscle spasms in the back of his neck that have resulted in headaches. He still wears a protective flap attached to his helmet to protect his jaw, which he fractured on a 90 mph fastball from
Jonathon Niese
last August.
September, 29, 2012
9/29/12
8:57
AM ET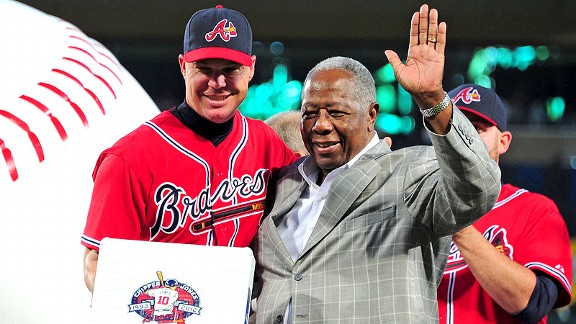 Scott Cunningham/Getty Images
Chipper Jones is embraced by Hank Aaron during Friday night's pregame ceremony.
ATLANTA -- On a night honoring
Chipper Jones
at sold-out Turner Field,
Lucas Duda
,
Jon Niese
and
Bobby Parnell
contributed to spoiling the party. Duda
produced a three-run homer
in the seventh against
Tim Hudson
and Niese limited the
Atlanta Braves
to one run in seven innings in his final 2012 start as the
Mets won, 3-1, Friday night
before an announced crowd of 51,910.
With
Frank Francisco
essentially done for the season with what is being labeled elbow tendinitis, Parnell picked up a save for a second straight day. He first secured
R.A. Dickey
's 20th win in Queens, then capped being the spoilers on what the governor declared was "Chipper Jones Day" in Georgia. Friday's gathering included Hall of Famer
Hank Aaron
, whom Braves president
John Schuerholz
labeled during the pregame ceremony "the true Major League Baseball true home run champion."
The Mets' win also ensured the
Miami Marlins
would finish in last place in the division, even before a season-ending three-game series between the teams begins Monday at Marlins Park.
"The last two days have been pretty exciting, with the energy yesterday and then the big crowd today,"
Terry Collins
said after Friday's win. "It was certainly a great tribute of Chipper and he's very deserving. But Jon pitched an outstanding game. He should be very proud of the season he's had."
On Saturday night,
Chris Young
(4-8, 4.21 ERA) now completes his season, opposing left-hander
Mike Minor
(10-10, 4.27).
Saturday's news reports: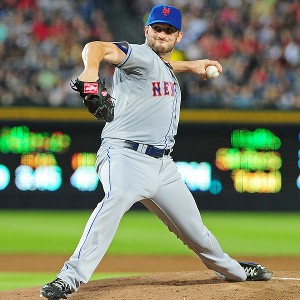 Scott Cunningham/Getty Images
Jon Niese notched his 13th win in his final 2012 appearance Friday night.

• Niese, who experienced a rapid heartbeat during a June 3 start, confirmed to ESPNNewYork.com that he
plans to have a relatively minor heart procedure
known as "ablation" after the season to guard against recurrence.
• Did Friday's ceremony honoring Chipper get
David Wright
further thinking about the
value of spending his entire career with one team
? Not particularly, according to the third basemen. "It's different decisions for different people," Wright told ESPNNewYork.com, while adding: "I respect guys like Chipper and
Derek Jeter
and, growing up,
Cal Ripken
Jr. A lot of it has to do with that reason -- because they're symbolic of their franchises."
Robert Weintraub
in the Times
wonders if the Braves may end up being players for Wright in the not-too-distant future. Writes Weintraub:
With Jones's $13 million coming off the books, and with a strong group of prospects in the minors, the Braves could be in a position to make a large offer to David Wright. ... The Braves are owned by the publicly traded Liberty Media, controlled from Colorado by the billionaire cable magnate John Malone. With a coterie of young and inexpensive stars. including Jason Heyward, Freddie Freeman, Craig Kimbrel, and Kris Medlen -- and with Jones's and pitcher Derek Lowe's salaries gone -- the Braves could be offseason players. But the team is eager to re-sign the center fielder and leadoff hitter Michael Bourn and have the versatile Martin Prado play at third base. Although a recent profit statement indicated that revenue is up, the team's local TV contract lags well behind teams in the league, and Malone is no Ted Turner, eager to pay any price for a winner. The Braves are a small part of the Liberty Media empire.
• Dickey, despite logging 128 pitches in Thursday's win, said he fully intends to start Tuesday in Miami in the second-to-last game, which is his normal turn, rather than wait until the final day. The knuckleballer said he remained
glowing a day after winning his 20th game
.
Jeurys Familia
and
Jeremy Hefner
will get the other starts in the series, according to Collins.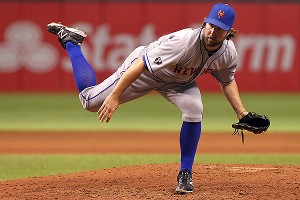 Kim Klement/US PresswireThe Mets have performed surprisingly well supporting R.A. Dickey this season.
Carl Bialik
in the Journal
notes that despite the Mets' subpar record, they have performed extraordinarily well in games started by Dickey -- so the knuckleballer has not been at a disadvantage being on an inferior team. Writes Bialik:
The Mets bullpen also has summoned its best work for Dickey games. While relievers made Dickey's last two wins extra-exciting by yielding ninth-inning home runs, he still won both games. In his 15 wins that weren't complete games, Mets relievers gave up just 2.6 runs per nine innings, half their season rate. Eight times in Dickey wins they yielded no runs and just once, in win No. 20 on Thursday, did they give up more than a run. ...
Five times, by contrast, Dickey has left the game in line for a loss but was saved because of good hitting and strong relief work. (Overall, Mets relievers have yielded 3.77 runs per 27 outs in Dickey starts and 5.39 runs per 27 outs in all other games.) So Dickey's one lost win is more than offset by five saved losses. On average in the majors, there have been about 1.4 saved losses for every blown win. Dickey, then, got better than usual help from his teammates after he threw his last pitch. Compare that to, say, Kyle Lohse, the St. Louis Cardinal who is competing with Dickey for the NL Cy Young Award. Lohse's 16-3 record is impressive, but he also had seven would-be wins blown by his teammates, who saved three losses. His record with those would be 23-6, compared to Dickey's would-be record of 21-11.
Read more on Dickey in the
Record
and
Star-Ledger
.
• Read game recaps in the
Star-Ledger
,
Newsday
,
Post
,
Record
and
Daily News
.
•
Dillon Gee
headed home to Fort Worth after the Mets completed their final homestand, having
thrown off a mound this week
for the first time since July 13 surgery to repair a damaged artery in his pitching shoulder.
TRIVIA:
Which rookies have earned wins for the Mets this season as starting pitchers?
Friday's answer: The Phillies presented Chipper with a painting of one of his at-bats against the team.
August, 3, 2010
8/03/10
12:32
PM ET
By
Mark Simon
| ESPNNewYork.com
While trying to shake off the aftereffects of Monday's loss (imagine hearing "Chipper, Chipper, Chipper" to the Brady Bunch-style tune of "Marcia, Marcia, Marcia"), a couple of thoughts popped into my head.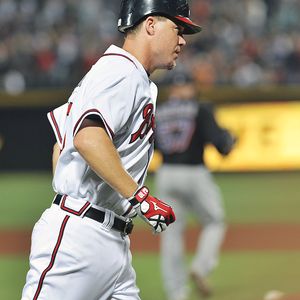 Gregory Smith/AP
No Braves hitter has tortured the Mets more than Chipper Jones, who homered against Johan Santana Monday.

Are there any other Braves hitters who have tormented Mets fans besides the third baseman, Larry-Something?
And are there any Mets who have tormented Braves fans to mimick what Larry-Something has done to Mets fans?
Turns out, with a little research, that there are. Let's start with the Braves half of the list, since a few names popped out that are familiar to us in other ways. We'll rank them from 2-10 (Larry being No. 1, of course).
We can continue the discussion within our live-blogging of tonight's game (I'll be handling, a little before 7 ET), and on Twitter (
@msimonespn
)
1a- Hank Aaron
-- With all due respect, he has to go at the top of the list. Aaron still reigns as the Braves all-time home run king against the Mets with 45, though not for long -- Chipper Jones is just two behind.
Jones has never hit a home run quite like Aaron did against the Mets on June 18, 1962 -- a 470 foot shot to center field, purported to be the longest hit at the Mets first-ever home, the Polo Grounds.
If the Braves pitching had shut the Mets bats down in 1969, Aaron would have been known as the hitting star of the postseason. In a losing effort against the Mets in the NLCS, he homered three times and drove in seven runs in three games.
3- Rico Carty
-- This may not be a familiar name young'uns in the audience, but let me assure you that he was a pretty good player, one who went 11-for-19 in one stretch against future Hall of Famer Tom Seaver.
Carty hit a whopping .380 against the Mets over 89 games spanning 1964 to 1972, 81 points better than his career batting average. The Mets had one regular season in which they shut Carty down, and it figures that year was 1969, the year they won the World Series. Of course, he went 3-for-10 against him in the NLCS, and was back to hitting .400+ against them the next two years.
4- Joe Torre
-- Torre makes the list for a couple of different reasons. For one: From 1962 to 1968, he joined Carty in the bash-the-Mets parade, hitting .324 with 21 home runs. He also gets bonus points for managing the Braves to the NL West title in 1982, a year after being fired as Mets manager (we won't count that which he did in the Bronx for these purposes).
Torre's most notable hit against the Mets -- on May 17, 1967 he handed a Mets rookie named
Tom Seaver
his second career defeat with a walk-off home run leading off the bottom of the ninth inning.
5- Terry Pendleton
-- Another name that makes Mets fans groan, largely due to the pivotal home run he hit for the Cardinals late in the race for the 1987 NL East title.
Pendleton was instrumental in the Braves success in the early part of this current dynastic run. In 1991, he hit .308 with three home runs and nine RBI in 10 games against the Mets en route to NL MVP honors. He followed that up with five more home runs and a .317 batting average over the next two seasons.
And of course, Pendleton gets Torre-style bonus points for his efforts as Braves hitting coach, teaching others to torment the Mets, since 2002.
The rest of the top 10 ...
6- Eddie Perez
-- .253 career hitter, but hit .307 against the Mets, and won NLCS MVP honors when the Braves knocked the Mets out in 1999.
7- Dale Murphy
-- Murphy once homered off
Dwight Gooden
as a pinch-hitter, a day after breaking his hand. It was one of 29 home runs against the Mets as a Brave, most by any Brave not named Hank or Chipper.
8- Claudell Washington
-- Met for a moment in 1980 (long enough to have had a three-homer game), he hit .330 with 12 home runs against the Mets from 1981 to 1986.
9- Brian Jordan
-- Inflicted major damage against the Mets late in the 2001 season, with a pair of game-winning late-inning home runs to squash the Mets hopes of defending their NL title. He only hit .270 as a Brave against the Mets, but his hits were big, and his arm in right field served as a major deterrent.
10- Mack Jones
-- We could have ranked him higher, but we wanted our list to start and end with a Jones. This Jones was an early incarnation of Chipper. He hit .332 with 11 home runs against the Mets from 1962 to 1967.
Honorable Mentions
: Mark DeRosa, Terry Harper, Ryan Klesko, Javy Lopez, Andruw Jones, and Eddie Mathews.
Wednesday, we'll touch on the Mets hitters who dominated the Braves.
Mark Simon is a researcher for Baseball Tonight. Follow him on Twitter at
@msimonespn