New York Mets:

Harold Kaufman
May, 30, 2014
May 30
5:30
AM ET
Bill Streicher/USA TODAY SportsZack Wheeler retired 14 straight batters at one point en route to a win against the Phillies on Thursday.
PHILADELPHIA
FIRST PITCH:
Don't look now but the Mets are on a three-game winning streak, coinciding with the ascension of Lamar Johnson to hitting coach.
Rafael Montero
(0-2, 4.96 ERA) opposes
Philadelphia Phillies
right-hander
A.J. Burnett
(3-4, 3.51) on Friday at 7:05 p.m. at Citizens Bank Park.
Terry Collins indicated
Bobby Abreu
is expected to start in the outfield.
Friday's news reports:
•
Zack Wheeler
struck out nine and took a
scoreless effort into the seventh
as the Mets
won the opener of a five-game series
against the Phillies, 4-1, Thursday.
Jenrry Mejia
struck out the side in the ninth for his fifth save.
Vic Black
recorded four outs, three via strikeout, as the setup man as Collins finally seems to have some late-inning arms at his disposal. Wheeler had retired 14 straight until Marlon Byrd's solo homer in the seventh on pitch No. 108 chased him.
Chris Young
had a two-run homer and finished 2-for-4 to lift his average to .205.
Young, who thought his limited playing time in Oakland last season after getting off to a slow start further hindered his production, was out of the starting lineup for three straight games earlier this week. He essentially said he deserved it, though.
"I've been dealing with it," Young said. "It gets to a point where, as a player, you have to hold yourself accountable. You have to understand what's going on around you. And you have to understand we've got to win ballgames. I trust that when I start feeling better, I start driving the ball more, it will be more consistent [playing time]. At some point you have to take the responsibility upon yourself and go out there and have quality at-bats."
Read game recaps in the
Post
,
Daily News
,
Newsday
,
Times
,
Journal
,
Star-Ledger
and at
MLB.com
.
• Frank Viola, who underwent open-heart surgery on April 2, plans to assume his originally intended role
as Triple-A Las Vegas pitching coach
next Friday. Read more in
Newsday
.
• The Mets
continue to add vice presidents
to newly created positions to bulk up their marketing and sales efforts. The club announced Thursday the hiring of Wes Engram from the
Kansas City Royals
as vice president of corporate partnerships sales and service. Since Dave Howard left to run MSG in March 2013, the team also has hired Lou DePaoli as chief revenue officer, Will Carafello as director of social media and Harold Kaufman as executive director of communications.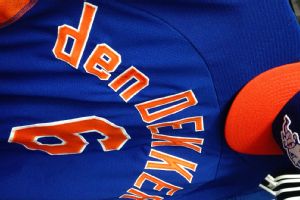 Adam RubinMatt den Dekker is one of three Mets with a lower-case "d" beginning his surname.
• With the Mets having set a major-league record for surnames beginning with a lower-case "d" -- with
Travis d'Arnaud
,
Jacob deGrom
and
Matt den Dekker
-- Paul Lukas
at ESPN.com
examines lettering on uniforms. Writes Lukas:
Three primary schools of thought have emerged from these discussions: one that believes player names on jerseys should always be all caps, period; one that loves the lowercase letters; and a compromise position that advocates for the use of small caps instead of lowercase letters.
• The Mets began a stretch on Thursday in which they play 25 of 33 games on the road. Jared Diamond
in the Journal
notes that no team has played more road games in a 33-game span since 1995 than the Mets will during this stretch. MLB senior VP Katy Feeney suggested the Yankees are partly responsible. Yankee Stadium needed to avoid baseball games for part of May because of NYU graduation ceremonies taking place there. That meant the Mets were home more than usual during that period, while the Yankees were away.
• D'Arnaud went 0-for-4 and grounded into a double play with the bases loaded in his first game since returning from a concussion. Collins said Mets catchers collectively need to
pick up their production at the plate
. Read more in the
Post
,
Star-Ledger
and at
MLB.com
.
• Hansel Robles allowed one run in 6 2/3 innings and Brian Burgamy had a two-run homer as Binghamton beat New Hampshire, 7-2. L.J. Mazzilli's RBI single in the 12th plated Patrick Biondi in Savannah's 3-2, walk-off win against Rome. Read the full minor-league recap
here
.
• Columnist Phil Mushnick
in the Post
is not a fan of 50 Cent performing at Citi Field.
• Justin Terranova
in the Post
asks former GM Steve Phillips about the Wilpons as owners.
"Fred and Jeff desperately want to win and that part was never a question for me," Phillips said. "There's always this perceived notion when George Steinbrenner was alive that he always wanted to win more, but the Mets run their team as a business and they want to win. They are kind of caught in between right now of still giving young guys opportunities, while adding those veteran pieces that are necessary, too. They don't blindly go after that without having a prudent business plan."
BIRTHDAYS:
Wheeler has another reason to celebrate besides his performance in the series opener. He turns 24.
TWEETS OF THE DAY:
The #Mets won 3 in a row and are 3 games back! #ThereIsHope

— Allan Proskin (@Aproskin) May 30, 2014
YOU'RE UP: Will Zack Wheeler end up being an ace after all?
May, 25, 2014
May 25
5:45
AM ET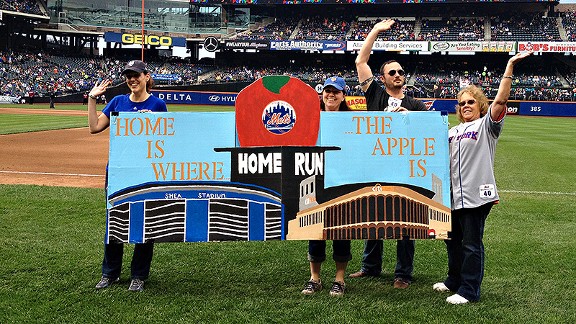 Courtesy of New York MetsKelly, Tim and Denise Betts of Farmingdale, Long Island, with Rebecca Waddington of Rockville, Md., won last year's Banner Day competition.
NEW YORK
FIRST PITCH:
It is going to be a long day at Citi Field thanks to Friday's rainout.
Rafael Montero
(0-2, 6.97 ERA) makes his third major-league start when he opposes
Arizona Diamondbacks
right-hander
Bronson Arroyo
(4-3, 4.45) at 1:10 p.m. Sunday. The single-admission doubleheader then continues with
Daisuke Matsuzaka
(1-0, 2.14) opposing right-hander
Zeke Spruill
(2-1, 4.72 at Triple-A Reno) in Game 2.
Pregame,
Dillon Gee
plans to throw off a mound for the first time since landing on the disabled list on May 11 with a right lat-muscle strain.
Sunday also is Banner Day at Citi Field.
Sunday's news reports:
•
Lucas Duda
went 0-for-4 and
stranded seven baserunners
and the
Diamondbacks beat the Mets, 3-2
, Saturday.
Zack Wheeler
settled down after a rough beginning and limited Arizona to three runs (two earned) in 6 2/3 innings.
David Wright
homered and went 3-for-4. He has 33 hits in May, trailing only
Yasiel Puig
(35) in the National League.
Julie Jacobson/Associated PressZack Wheeler allowed two earned runs in 6 2/3 innings Saturday but was tagged with the loss.
Read game recaps in the
Post
,
Daily News
,
Times
,
Star-Ledger
,
Record
,
Newsday
and at
MLB.com
.
•
Travis d'Arnaud
, who suffered a concussion on May 13 at Yankee Stadium, will
begin a rehab assignment
Sunday with Binghamton. Read more at
MLB.com
.
•
Vic Black
joins the Mets on Sunday
as a 26th man for the doubleheader. Black has a closer's arsenal but still
walks too many batters
, Terry Collins said. Read more in the
Post
and
Star-Ledger
.
• In honor of Banner Day, columnist George Willis
in the Post
comes up with banner messages that will not be permitted to be displayed. Among his ideas:
"The Best Mets hitter and pitcher are broadcasters."
"Who's on first? I don't know."
"Can Mr. Met play shortstop?"
"Sell the Mets to Donald Sterling."
• Columnist Anthony Rieber
in Newsday
explores whether the Mets are unwatchable.
• Tim Rohan
in the Times
profiles
Eric Campbell
. Writes Rohan:
Campbell's coach at Boston College, Mik Aoki, said he was a good teammate and a humble person, the type of player who could fit into any clubhouse. It was there that his teammates started calling him Soup. Aoki also liked his dry sense of humor, calling Campbell "a good, sarcastic Northeasterner."
Read more on Campbell in the
Record
.
• Mets staffers tell Marc Carig
in Newsday
that Citi Field has become a mental issue for the players. Writes Carig:
For some team officials, the ugly truth is that Citi Field again has gotten in the heads of their hitters. They are trying too hard -- swinging harder, pressing -- to conquer the park's dimensions.
"It gets to be more of a mental thing than it actually is physical," hitting coach Dave Hudgens said. "Because the swings get longer, you try to do a little bit more. It's more about us than it is anything else."
Manager Terry Collins said the cumulative effect sends a destructive message.
"Hey, I've got to swing harder to do damage here," Collins said. "The harder you swing, the less control of the barrel of the bat that you have, therefore the swing-and-misses are up."
•
Carlos Torres
is
not a fan
of how L.A.'s Puig conducts himself on a baseball field.
• Jimmy Smith
in the New Orleans Times-Picayune
reviews newly hired director of communications Harold Kaufman's résumé. Kaufman starts his new job with the Mets on June 23. Writes Smith:
During a quarter-century working in the NBA, Kaufman created a legacy of tutoring young assistants or interns who went onto become public relations chiefs for the Washington Wizards, Los Angeles Clippers and New York Knicks, while six others were in similar positions with other teams in the league including the Lakers, Atlanta Hawks, Charlotte Bobcats (now Hornets), Dallas Mavericks, Denver Nuggets and Pelicans.
Kaufman's first professional position came with the Texas Rangers while he also worked in the sports information department at his alma mater, SMU. He joined the Mavericks before joining the expansion Hornets in Charlotte in 1988.
During his career, Kaufman also helped manage the basketball venue at the 1996 Centennial Olympic Games in Atlanta, while working several NBA All-Star Games. He was a member of the Super Bowl XLVII public relations host committee.
• Kevin Plawecki homered for the third straight game and reached base all five plate appearances as Binghamton beat New Britain, 8-6. Cam Maron went 4-for-5 with four RBIs as St. Lucie beat Palm Beach, 5-2. John Gant tossed seven scoreless innings and Akeel Morris' scoreless streak to open the season ended at 24 1/3 innings as Savannah beat Lexington, 5-1. Read the full minor-league recap
here
.
• Jim Baumbach
in Newsday
explores
Bartolo Colon
's gopher-ball problem. (Spoiler: Location, location, location.) Colon has surrendered nine homers in nine starts. It would have been at least 10 homers in 10 starts had Friday's game -- and its stats -- not been washed away.
•
From the bloggers ...
Faith and Fear
glosses over Wheeler's 118 pitches and concentrates on the one Don Draper will unleash tonight on "Mad Men."
BIRTHDAYS:
Eric Young Jr.
turns 29. ...
Scott Hairston
is 34. ...
Chris Young
-- the pitcher, not the current Mets outfielder -- is 35.
TWEETS OF THE DAY:
Adam Rubin has been declining like Wright and Reyes this year...

— Dave (@troonooyawker) May 24, 2014
YOU'RE UP: Should Vic Black remain with the club after the doubleheader or return to Triple-A?
May, 24, 2014
May 24
5:50
AM ET
Christian Petersen/Getty ImagesDaisuke Matsuzaka will get a spot start in Game 2 of Sunday's doubleheader.
NEW YORK
FIRST PITCH:
Friday officially never happened.
After playing 3˝ innings at Citi Field, then sitting through a 132-minute rain delay, the Mets' series opener against the
Arizona Diamondbacks
was
washed away at Citi Field
. The statistics, including
Bartolo Colon
serving up a two-run homer to
Aaron Hill
that had given the D-backs a 2-0 lead, will not count.
Zack Wheeler
(1-4, 4.53 ERA) opposes right-hander
Josh Collmenter
(2-2, 4.02) on Saturday at 4:10 p.m. as previously scheduled.
The teams will now play a single-admission doubleheader at 1:10 p.m. Sunday, starting from scratch in the rainout makeup.
Rafael Montero
starts Game 1 for the Mets, with
Daisuke Matsuzaka
getting a spot start in Game 2. Pitching coach Dan Warthen said he believes Matsuzaka is
capable of logging 100 pitches
despite solely working in relief during the regular season.
Bronson Arroyo
and a minor-league call-up -- potentially
Zeke Spruill
-- will start Sunday's games for the D-backs, with the order undeclared so far.
Both teams will be permitted to add a 26th player for the doubleheader. Assuming the Mets choose to add a reliever already on the 40-man roster for the day -- which is sensible --
Vic Black
would seem the obvious choice. He has a 1.45 ERA in 17 relief appearances, but also has allowed 12 hits and 17 walks (one intentional) and hit a batter in 18 2/3 innings.
Saturday's news reports:
Jon Soohoo/Getty ImagesJerry Seinfeld would rather enjoy eating a hot dog at the ballgame than own the club.
• Mets fan Jerry Seinfeld tells Scott Raab
in Esquire
he would have no interest in owning the ballclub. "Never even for a second. It would be an endless series of headaches morning till night," Seinfeld said. "The peak of being a fan is a hotdog and a beer and a seat at the game. There's nothing above that. Nothing above it." Read more in the
Star-Ledger
.
•
Matt Harvey
joined Linda Cohn on the "Listen Closely" podcast to talk Tommy John surgery, the New York Rangers and his social life. Listen
here
.
• The Mets have hired Harold Kaufman -- a former executive with the NBA's Charlotte/New Orleans Hornets/Pelicans --
as executive director of communications
. Kaufman will try to promote the Mets to non-sports audiences, such as via the entertainment and lifestyle media.
Writes Anthony McCarron
in the Daily News
on that topic:
Let's hope that Harold Kaufman, the Mets' new PR whiz, can play shortstop and smack a few balls over Citi Field's deep fences because what the Mets need more than any media makeover is better players.
Their poor public image -- talked to a Met fan lately? -- is not a media problem. It's a baseball problem. A good product equals good PR, not the other way around. That's how this business works.
Read more in the
Times
.
• New Jersey Gov. Chris Christie would
love to be the next Mets GM
. Read more in the
Daily News
.
•
Travid d'Arnaud
is
moving closer to a rehab assignment
as his concussion symptoms have subsided.
•
Dillon Gee
now looks like he will miss four turns in the rotation while on the disabled list with a lat-muscle strain. Gee said he plans to get on a mound for the first time since landing on the DL on Sunday. That means he may not return until June 5 at Wrigley Field, assuming he bumps
Jacob deGrom
from the rotation. Read more in the
Star-Ledger
.
• Read about the rainout and revised schedule in the
Arizona Republic
,
Post
,
Star-Ledger
,
Record
and at
MLB.com
.
•
Curtis Granderson
is hitting .310 with five homers and 14 RBIs in May, Brian Lewis writes
in the Post
. Read more in the
Times
.
•
Jenrry Mejia
got over a mental hurdle Thursday by pitching for a second straight day, Mike Vorkunov writes in the
Star-Ledger
. Read more in
Newsday
.
• Kevin Plawecki delivered a tiebreaking solo homer in the eighth for his 19th RBI in May and Binghamton beat New Britain, 3-2. Right-hander Matt Koch improved to 6-0 as St. Lucie beat Clearwater, 6-2. Read the full minor-league recap
here
.
BIRTHDAYS:
Colon turns 41. ... Angels GM/ex-Met Jerry Dipoto is 46. ... Jae Weong Seo turns 37. ...
Justin Hampson
is 34.
TWEETS OF THE DAY:
Woohoo #Mets didn't lose tonight! Thank you Mother Nature ;)

— Ken Mapes (@khmapes1) May 24, 2014
YOU'RE UP: Is Daisuke Matsuzaka the correct choice to make Sunday's spot start against the D-backs? (Noah Syndergaard logged 82 pitches Wednesday in Triple-A and would have been required to pitch on short rest Sunday -- not exactly a consideration.)
May, 23, 2014
May 23
11:10
AM ET
NEW YORK -- Trying to bulk up their public-relations skills, the Mets have hired Harold Kaufman to the newly created position of executive director, communications.
The team writes in a press release:
Kaufman will be responsible for the strategic development and implementation of publicity strategies and tactics to elevate the profile of the organization. He will be the club's primary contact for off-field (business, entertainment, community, and lifestyle) media coverage.
Kaufman brings more than 25 years of publicity and media relations experience to the organization. He will join the Mets June 23 from The Ehrhardt Group, a full service public relations and marketing firm in New Orleans, where he was Senior Counselor since 2013.
For more than two decades he was Vice President of Communications for the National Basketball Association's Hornets, first in Charlotte and later as part of the club's management team following its 2002 relocation to New Orleans. He continued with the franchise as it transitioned through a change in ownership in 2012.
Kaufman was a member of the Super Bowl XLVII PR Host Committee and was chosen by the NBA to have leadership roles in the press operations of the 1996 Summer Olympics and multiple NBA All-Star Weekends. He began his professional career in 1986 with the Dallas Mavericks before joining the Hornets.
He will work closely with the Mets media relations group -- headed by Vice President Jay Horwitz -- and the Mets Marketing & Communications department. Kaufman will report directly to David Newman, Senior Vice President, Marketing & Communications.
A native of Dallas and graduate of SMU, Kaufman will relocate to the New York tri-state area from New Orleans with his wife Lisa. They have two sons -- Alex, who will begin his junior year at the University of Texas in the fall, and Stanley, who graduated last week from LSU.
Steven Tyler at our game vs. Lakers last week. I'm sure he enjoyed his photo with our dance team much more. pic.twitter.com/MlMXHaW

— Harold Kaufman (@haroldk12) December 10, 2012