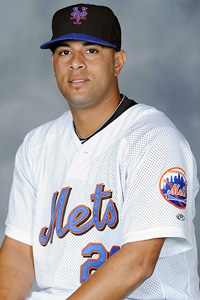 Courtesy of New York Mets
Rhiner Cruz
The Mets lost hard-throwing right-handed reliever Rhiner Cruz in the Rule 5 draft on Thursday morning as the winter meetings draw to a close. The Houston Astros took Cruz with the first overall pick in the draft. Cruz went 4-2 with a 4.14 ERA in 36 relief appearances after a promotion to Double-A Binghamton. He struck out 51 and walked 39 in 58 2/3 innings.
The Mets did not make any selections in the major league phase of the draft. Last year the Mets selected Pedro Beato and second baseman Brad Emaus. The Mets also passed in the minor league phases.
Cruz will need to stick on the Astros' major league roster for the full season in order to become Houston property.
"It was expected," Sandy Alderson said of the loss of Cruz. "I was in the Dominican Republic late in November. There was a certain amount of buzz about Cruz and we did expect that he probably would be taken. He's got a very good arm, hasn't had great command during his minor league career, probably similar to the selection Washington made last year with Elvin Ramirez. We got Ramirez back. We'll see whether Cruz can stick with Houston, but it wasn't unexpected.
"As a little bit of background, we had more first-time Rule 5 eligible players in our organization than any organization in baseball. Given our roster situation, we just couldn't protect everybody. And in some ways it's an indication of at least the depth of the talent that we have. From that standpoint it's unfortunate but anticipated."
The Mets lost right-hander Luis Rojas, who pitched at low-A Savannah, to the San Francisco Giants and catcher Hector Alvarez from the Gulf Coast League team to the Toronto Blue Jays in the minor league phase.
The Mets planned to invite Cruz, who hits 98 mph, to spring training had he not been selected.
The Mets appear done for the winter meetings with no trades forthcoming. Alderson plans to depart the Hilton Anatole at 11:15 a.m. ET.