New York Mets:

Huey Lewis
July, 9, 2014
Jul 9
11:42
AM ET
NEW YORK -- Huey Lewis has a perfectly good explanation for not growing up a Mets fan.
"When I was born there were no Mets," notes the 64-year-old musician, who will perform Saturday at Citi Field, after the Amazin's face the
Miami Marlins
. "The Mets weren't even a glint in anybody's eye."
Still, Lewis -- who was born in Manhattan but moved to Marin County, Calif., at age 4 -- suggests he does have a kinship with Mets fans. He roots for the
San Francisco Giants
, who are not exactly slouches this season, but certainly not having the same level of success as their Bay Area neighbors, the
Oakland Athletics
.
Monica McKlinski/FilmMagic/Getty ImagesHuey Lewis & The News performs Saturday at Citi Field.
"We have a parallel, I think, in San Francisco with the Giants and the A's," Lewis says. "I was born in New York City, but moved to California at a very early age. I grew up in the San Francisco area. So I was always a Giants fan. We have two teams in the same area, similarly to the Yankees and the Mets. So I totally understand the Mets in that way -- the way I understand the A's.
"The A's do maybe the best job in baseball."
Back in 1989, Lewis finished on the wrong rooting end of the "Battle of the Bay" World Series in which Oakland swept the Giants in four games. He will remember the World Series for another reason, too. The band was scheduled to perform the national anthem as the venue shifted to San Francisco, but a 7.1 magnitude earthquake struck the area. The World Series did not resume for 10 days.
"We were doing the anthem for the next game, and my guys were in the box during the earthquake game. I was in a recording studio," Lewis recalls. "So that was memorable. We've done NLCS championship games there. We've done World Series games.
"We do anthems. Doing anthems is a frightening two minutes and 17 seconds, because we do an a cappella version. And it's tough. It's hard to hear. It a frightening two minutes and 17 seconds. But, wow, what great seats."
Lewis, incidentally, did see 50 Cent's ceremonial first pitch gone awry earlier this season at Citi Field.
Lewis is not scheduled to throw a first pitch at Citi Field. Still, Lewis notes he played high school baseball while attending a boarding school in Lawrenceville, N.J., and still has a good arm. He adds that he has thrown a ceremonial first pitch before and was able to get plenty of guffaws from the crowd.
"I've thrown out a few pitches," Lewis says. "Memorably, Niekro got thrown out for scuffing the ball in Milwaukee the day before I threw out the pitch first in Milwaukee. They bounced him for doctoring the ball with sandpaper. And I came out to throw out the first pitch, stood on the mound, toed the rubber a little bit, reached into my back pocket and pulled out a huge piece of sandpaper. And I ground the ball on the sandpaper and then threw it to wild applause. I thought that was pretty cool."
Huey Lewis & The News has produced such classics as "Heart of Rock and Roll" and "The Power of Love."
The group's third album, "Sports," originally was released in 1983. It was re-released last year and branded as the "30th Anniversary Edition."
Why the title "Sports?"
"We titled it that because we felt we had a lot in common with sports guys. We played a lot of college gyms and we took a lot of showers together," Lewis says with a laugh.
June, 11, 2011
6/11/11
10:35
PM ET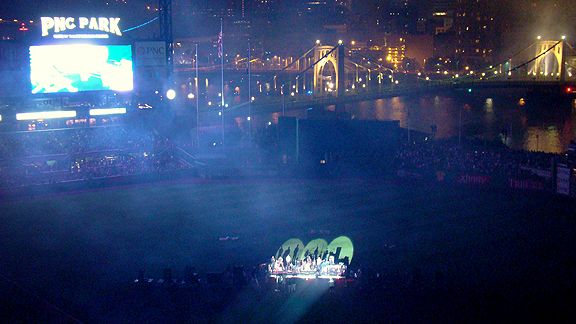 Adam Rubin
Huey Lewis entertains at PNC Park after the Pirates beat the Mets, 3-2, on Saturday night.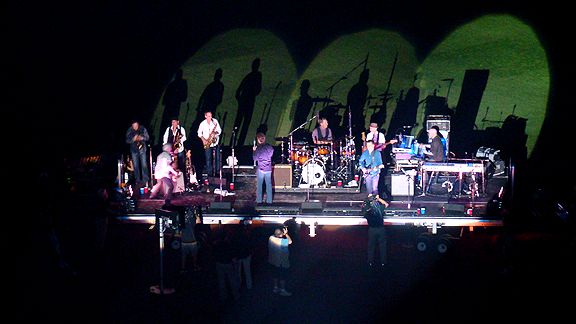 Adam Rubin
June, 11, 2011
6/11/11
9:25
PM ET
NOW HERE'S YOU: With the undercard over as the Pirates beat the Mets, 3-2, on Saturday night, Huey Lewis & The News are due to take the field for a postgame concert before 39,273 spectators -- the third-largest crowd in PNC Park history.

Jose Veras struck out Ronny Paulino looking to strand two runners in scoring position in the eighth and preserve the one-run lead after Angel Pagan was held at third base during the preceding double by Lucas Duda. Ruben Tejada reached base three times. The Mets, bidding to reach .500 for the first time since May 20, slipped to 31-33.

I AIN'T PERFECT: Daniel Murphy, making only his second major league start at third base, could not handle Andrew McCutchen's hard grounder to his backhand with two out in the third. The ball kicked off Murphy's leg and into foul territory as two runs scored to break a 1-all tie. Murphy was playing third base, his primary position in the minors, so that Duda could remain in the lineup at first base with Jason Bay's return and Justin Turner could get a game off.

The Mets did load the bases the following half-inning with one out, but R.A. Dickey grounded into a 6-4-3 double play.

STUCK WITH YOU: After a two-day absence, Bay returned to the lineup and snapped an 0-for-24 rut with a bloop single to center field in the fourth inning, in his second at-bat. But an inning later, Bay left two runners in scoring position when he struck out. Bay's drought was the longest by a Met since Tejada went 0-for-28 last summer. Bay went 1-for-4 Saturday.

I NEVER WALK ALONE: Dickey limited the Pirates to three runs on eight hits, two walks and one hit batter in a 103-pitch outing over eight innings. He lost for the second time in three starts despite pitching at least 7 2/3 innings in each of those outings.

DON'T MAKE ME DO IT: Francisco Rodriguez did not appear and remained at 25 games finished. He is on pace for 63 games finished, eight over the threshold for his contract to kick in at $17.5 million for 2012.

BUT IT'S ALRIGHT: Chris Capuano (4-6, 4.86 ERA) opposes Pirates right-hander Kevin Correia (8-4, 3.64) at 1:35 p.m. Sunday in Game 3 of the four-game series.