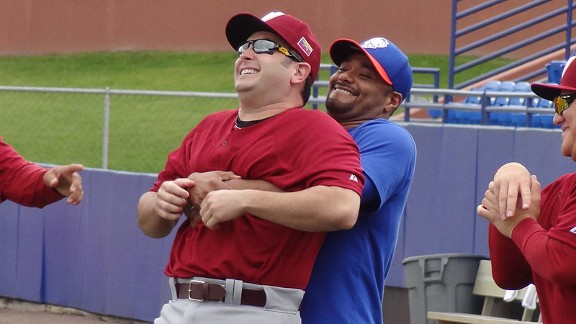 Adam Rubin
Johan Santana fools around with former Twins teammate Juan Rincon and other members of Team Venezuela before Wednesday's exhibition.
PORT ST. LUCIE, Fla. -- Venezuelan manager Luis Sojo spotted Terry Collins at Tradition Field on Wednesday morning and playfully shouted to the Mets skipper regarding Johan Santana, "Hey, he's supposed to pitch today for me. What happened? Huh?"
Replied Collins: "He's going manage today. He knows your team. He knows your signs."
Santana was nixed by the Mets from participating in the World Baseball Classic. But, as it turns out, he would not have been ready anyway. Santana stepped on a mound Wednesday for only the second time since resuming such activity.
Sojo said Santana genuinely wanted to represent Venezuela.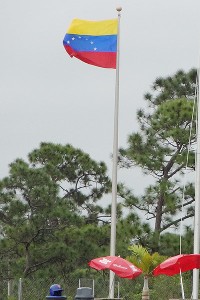 Adam Rubin
A Venezuelan flag stayed at full mast for Wednesday's game at Tradition Field.
"We talked a lot over the winter," Sojo said. "He and Felix Hernandez, they both wanted to be on the team. We understand the situation. It's unfortunate that they're not here, but you've got to move on and try to do our best. I think right now he's very sad. He has a very good relationship with the players and they're always talking about it. ... In his case it was the last minute that [the Mets'] made the decision for him not to participate."
Venezuela's roster is stacked anyway. The first five players in Venezuela's lineup Wednesday against the Mets are Elvis Andrus, Asdrubal Cabrera, Miguel Cabrera, Pablo Sandoval and Carlos Gonzalez.
And the people of Venezuela are excited.
"It's crazy," Sojo said. "People talk about that day in and day out. I managed last winter there and they didn't talk about my team. We won the championship, but they don't care. They're just talking about the WBC. Who wants to play? Who's going to play short? Who's going to pitch? It's amazing how people love this game."
As for the political news Tuesday involving the death of president Hugo Chavez, the Mets avoided any controversy. Sandy Alderson checked with the Venezuelan contingent before the game and was informed there was no expectation of a moment of silence or the Venezuelan flag flying at half staff.
"It was depressing," Sojo said about the president's death. "There's a lot of things going on right now in Venezuela. People are worried about it. A lot of people clapping. A lot of people very sad. He was the president. We showed some respect yesterday. In the meantime, we come here to play baseball. When it comes to the president, you've got to feel sad."
Sojo said he spoke with the team Tuesday regarding family members back home.
"I don't want people to think about that," Sojo said. "I know for a fact a lot of guys started calling their family members. So far everything is good."
Sojo did recall Chavez's baseball passion.
"He used to be a baseball guy," Sojo said. "A lot of times I got the phone call at 7 in the morning. I like to sleep. 'Hey, that was the president, and he wants to talk to you.' And after the games, the WBC, he used to call me. I mean, he loved baseball and he knows everybody -- all the guys that I used to have on the teams. That was my relationship with him, over the phone.
"One time ... I know we got the lead, like three runs in the third inning or fourth inning, and somebody scored five runs. He called me and said, 'How come you don't bring [in] Francisco Rodriguez?' He said, 'Hey, he's the closer, I can pitch him in the fourth, so you should know that.'"