New York Mets:

Hugo Chavez
March, 6, 2013
3/06/13
12:26
PM ET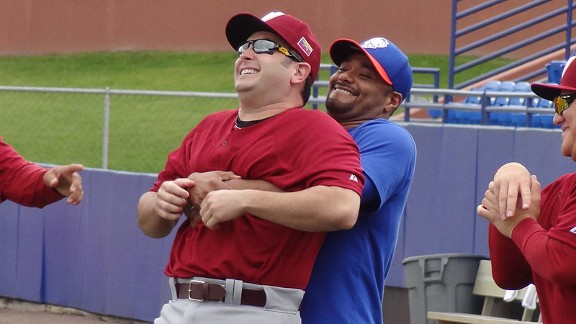 Adam Rubin
Johan Santana fools around with former Twins teammate Juan Rincon and other members of Team Venezuela before Wednesday's exhibition.
PORT ST. LUCIE, Fla. -- Venezuelan manager
Luis Sojo
spotted Terry Collins at Tradition Field on Wednesday morning and playfully shouted to the Mets skipper regarding
Johan Santana
, "Hey, he's supposed to pitch today for me. What happened? Huh?"
Replied Collins: "He's going manage today. He knows your team. He knows your signs."
Santana was nixed by the Mets from participating in the World Baseball Classic. But, as it turns out, he would not have been ready anyway. Santana stepped on a mound Wednesday for only the second time since resuming such activity.
Sojo said Santana genuinely wanted to represent Venezuela.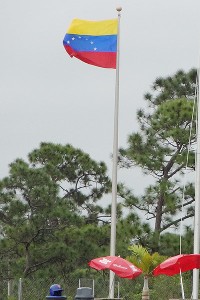 Adam Rubin
A Venezuelan flag stayed at full mast for Wednesday's game at Tradition Field.

"We talked a lot over the winter," Sojo said. "He and
Felix Hernandez
, they both wanted to be on the team. We understand the situation. It's unfortunate that they're not here, but you've got to move on and try to do our best. I think right now he's very sad. He has a very good relationship with the players and they're always talking about it. ... In his case it was the last minute that [the Mets'] made the decision for him not to participate."
Venezuela's roster is stacked anyway. The first five players in Venezuela's lineup Wednesday against the Mets are
Elvis Andrus
,
Asdrubal Cabrera
,
Miguel Cabrera
,
Pablo Sandoval
and
Carlos Gonzalez
.
And the people of Venezuela are excited.
"It's crazy," Sojo said. "People talk about that day in and day out. I managed last winter there and they didn't talk about my team. We won the championship, but they don't care. They're just talking about the WBC. Who wants to play? Who's going to play short? Who's going to pitch? It's amazing how people love this game."
As for the political news Tuesday involving the death of president Hugo Chavez, the Mets avoided any controversy. Sandy Alderson checked with the Venezuelan contingent before the game and was informed there was no expectation of a moment of silence or the Venezuelan flag flying at half staff.
"It was depressing," Sojo said about the president's death. "There's a lot of things going on right now in Venezuela. People are worried about it. A lot of people clapping. A lot of people very sad. He was the president. We showed some respect yesterday. In the meantime, we come here to play baseball. When it comes to the president, you've got to feel sad."
Sojo said he spoke with the team Tuesday regarding family members back home.
"I don't want people to think about that," Sojo said. "I know for a fact a lot of guys started calling their family members. So far everything is good."
Sojo did recall Chavez's baseball passion.
"He used to be a baseball guy," Sojo said. "A lot of times I got the phone call at 7 in the morning. I like to sleep. 'Hey, that was the president, and he wants to talk to you.' And after the games, the WBC, he used to call me. I mean, he loved baseball and he knows everybody -- all the guys that I used to have on the teams. That was my relationship with him, over the phone.
"One time ... I know we got the lead, like three runs in the third inning or fourth inning, and somebody scored five runs. He called me and said, 'How come you don't bring [in]
Francisco Rodriguez
?' He said, 'Hey, he's the closer, I can pitch him in the fourth, so you should know that.'"
March, 6, 2013
3/06/13
6:43
AM ET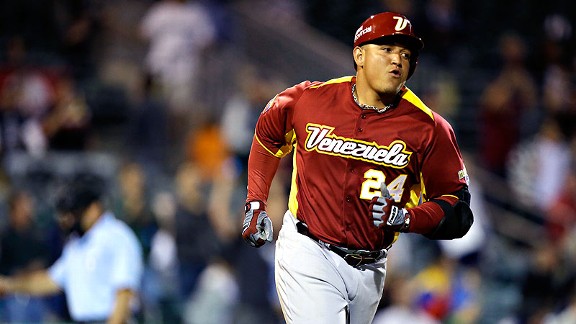 Julio Cortez/Associated Press
Miguel Cabrera and Team Venezuela visit Tradition Field this afternoon.
PORT ST. LUCIE, Fla.
FIRST PITCH:
A day after the death of Venezuela president Hugo Chavez, the Mets face that country's World Baseball Classic team in a 12:35 p.m. exhibition today at Tradition Field.
Jonathon Niese
,
Scott Atchison
and
Hansel Robles
are due to pitch for the Mets.
Former
Cincinnati Reds
right-hander
Ramon Ramirez
(not the ex-Met) is due to start for Venezuela. He pitched in Mexico last season.
At last night's
Miami Marlins
exhibition win against Team Venezuela at Roger Dean Stadium, there was no moment of silence to recognize the controversial Chavez's death and the Venezuelan flag was lowered to half-staff only briefly -- a joint decision between the Marlins and MLB.
"He was a man of baseball," Venezuela manager
Luis Sojo
said,
according to the Sun-Sentinel
. "He was always aware of the team and who was on it. He was the first call I got in the morning during the tournaments in 2006 and 2009. He lived for baseball.
"It's always sad when someone dies. He was a human being, a president, a man who battled a lot for his life. He asked his family for peace. We're in a tough situation in our country right now. God has [Chavez] now."
Wednesday's news reports: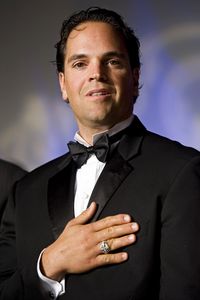 AP Photo/Cliff Owen
Mike Piazza's relationship with the Mets has been chilly.

• David Lennon
in Newsday
checked in with
Mike Piazza
, a coach for Italy's World Baseball Classic team, about whether he is estranged from the Mets. Writes Lennon:
Piazza does admit his relationship with the Mets has felt more distant lately, and he couldn't really put his finger on why. Returning for the 10th anniversary of 9/11 at Citi Field sticks in his mind as a powerful event, but he stressed that it's more difficult for him to be around the team because of his family life in Miami. …

"I wouldn't say we're growing apart -- that's too strong," he said of the Mets. "It's not terrible. It's not bad. It's just kind of in a little bit of a lull, I guess. I think when you move on, and just start a new life, a new somewhere, it's tough to stay connected, and they've gone through some changes as well. I would say that I've turned a page in my life personally. I think if there is a future for me there, I truly believe things will work out. I'm always optimistic."
•
Wearing a heart monitor
,
Pedro Feliciano
allowed a leadoff homer and plunked the lone lefty batter he faced while making his first appearance as a Met since 2010. Read more in the
Post
.
•
Shaun Marcum
and
LaTroy Hawkins
pitched two innings apiece
and the Mets were two-hit in a 4-0 loss to the Miami Marlins in a "B" game. Most players in major league camp had Tuesday off. Read more in the
Star-Ledger
,
Record
,
Daily News
and
Newsday
.
•
Jenrry Mejia
has been
dispatched to New York for follow-up testing
on his initial physical, a team spokesman said. Read more in the
Star-Ledger
,
Daily News
and
Record
.
• With
Mark Teixeira
withdrawing from the World Baseball Classic because of a strained wrist,
Ike Davis
is
among multiple candidates to replace him
, an official told ESPNNewYork.com.
• Mets officials privately believe
Johan Santana
almost assuredly cannot avoid the DL to open the season, writes Andy Martino in the
Daily News
. Sandy Alderson publicly has described it as "less and less likely" that Santana can be ready for Opening Day.
• Via a video game, UniWatch gets an apparent sneak peek at this year's All-Star Game uniforms. View
here
.
• Tickets for the July 14 Futures Game at Citi Field as well as FanFest at Jacob Javits Center go on sale Saturday at 10 a.m. Details
here
.
• Richard Sandomir
in the Times
reports Mets' revenue continues to tumble. Writes Sandomir:
The ballpark's latest financial statements show some of the effects of faltering attendance. Last season, the Mets averaged 28,035 a game, down nearly 7 percent from the 2011 season.
Ticket receipts from Citi Field's most expensive 10,635 seats -- the biggest source of revenue -- fell nearly 13 percent, to $43.9 million from $50.5 million in 2011. Advertising revenue also fell, to $44.2 million from $46.1 million. Luxury suite revenue took a small hit, dropping from $7.7 million to $7.5 million. But revenue from concessions, parking and "other" increased.
Revenue fell over all, to $121.5 million from $126.9 million. In 2010, it was $143.9 million.
•
David Wright
had an RBI triple and walk
in three plate appearances and logged five innings at third base as Team USA played to a 4-4 draw with the
Chicago White Sox
in a World Baseball Classic tune-up Tuesday in Glendale, Ariz.
• Columnist Joel Sherman
in the Post
asserts that even the Mets' strength -- starting pitching -- cannot be viewed as a strength when compared with the division. Writes Sherman:
So the Mets like their rotation. But will it be better than Washington's with Stephen Strasburg, Jordan Zimmermann, Gio Gonzalez and plenty of back-end depth? Nope. Is it better than the Phillies' with Cole Hamels, Cliff Lee and Roy Halladay (and if you say Halladay is a health concern, I would say not nearly as much as Johan Santana)?
Are the Mets' starters better than the Braves'? Even if you think Santana, Jon Niese and Matt Harvey are comparable to Tim Hudson, Kris Medlen and Mike Minor, well, tie goes to the group supported by superior relief. And Atlanta's Craig Kimbrel-led bullpen might be the converse of the Mets' outfield -- the best unit in the majors.
So within the NL East, the Mets' rotation -- which, again, is their strength -- projects as better than just the sell-off Marlins'.
• Jared Diamond
in the Journal
reports
Collin Cowgill
is one of only 56 position players since 1876 in the majors who throw lefty and bat righty. The only other active players in that category:
Ryan Ludwick
and
Cody Ross
. "It happened the way it was supposed to," Cowgill told Diamond.
• Ken Belson
in the Times
looks at the growing isolation the Mets have in Port St. Lucie with fewer and fewer teams to play. The
Washington Nationals
(Viera, Fla.) and
Houston Astros
(Kissimmee, Fla.) may be the next teams on the move. And the recent buzz among baseball personnel is that the
St. Louis Cardinals
may even look to depart nearby Jupiter, which they reportedly would be allowed to do if one more team departs Florida's Atlantic Coast.
•
Michael Bourn
, who signed with the
Cleveland Indians
after the Mets never got the draft-pick issue resolved, told Anthony McCarron
in the Daily News
: "Mets fans shouldn't have anything to be mad at. They're trying to move in the right direction. I can say that. I know that. … I couldn't wait too much longer, man. It was close to spring training before it happened. I was ready to roll and so was Cleveland. I'm pretty sure the Mets were, too. It just didn't happen."
• Dan Martin
in the Post
writes the Mets regret putting some of their pitchers on the mound so early in spring training.
•
From the bloggers
…
The Eddie Kranepool Society
reviews Piazza's autobiography. … Shannon from
Mets Police
looks back at his first day as a Shea Stadium vendor, Opening Day 1987.
BIRTHDAYS:
No one to ever play in a game for the Mets was born on this date, but Shaquille O'Neal and Tom Arnold celebrate birthdays.
TWEET OF THE DAY:
If you're keeping score,Mike Piazza has strained relationships with LAD, OAK and NYM. newsday.com/sports/basebal… Hey, there's always the Marlins

— Buster Olney (@Buster_ESPN) March 6, 2013
YOU'RE UP: Which former Mets players' numbers should the team retire?
February, 24, 2012
2/24/12
6:53
AM ET
After another pitchers and catchers workout day, a large Mets contingent will travel down I-95 to Palm Beach Gardens, Fla., for the 7 p.m. memorial service for
Gary Carter
. ESPN.com/ESPNNewYork.com should have details later today about how to watch the service on our site. It will be streamed online. The Mets also plan to watch free-agent left-hander
Scott Kazmir
throw today.
Friday's news reports:
• A helicopter landed on a field at the Mets' spring-training complex late Thursday afternoon and chief operating officer
Jeff Wilpon
, GM
Sandy Alderson
, manager
Terry Collins
and other front-office staff
boarded for a chartered trip to Miami
to watch
Jeremy Lin
and the Knicks lose to the Heat. A Miami aviation expert estimated the cost of the charter to be $3,000 per hour. Read more in
Newsday
and the
Post
.
• At a hearing inside U.S. District Judge
Jed S. Rakoff's
courtroom in Manhattan on Thursday, the judge decided to
ban three expert witnesses
-- two for the trustee suing
Fred Wilpon
and family, and one for the defense (coincidentally named
John Maine
). Rakoff also pledged to rule by March 5 whether to toss the case, whether to award $83 million pre-trial to trustee
Irving Picard
, or whether to allow the March 19 jury trial to proceed without any pretrial motions for summary judgment being granted.
Wrote
Anthony M. Destefano
in Newsday
:
In a three-hour hearing, Judge Jed Rakoff asked attorneys about the deposition given last year by financial expert Noreen Harrington, who at one time worked as a financial executive for Sterling Stamos, the investment arm of Fred Wilpon and Saul Katz's Sterling Equities business. ... In a deposition, Harrington stated that Katz became angered when she said in a 2004 meeting that Madoff's investment returns seemed too good to be true and might represent fictional numbers or the illegal stock market practice of "front running," an illegal trading strategy. ... While Rakoff didn't tip his hand on how he would rule on the summary judgment issues, he raised the possibility through questioning of the attorneys, particularly trustee counsel David Sheehan, that Harrington's testimony might signal to a jury willful blindness by the Sterling defendants to Madoff's fraud. Rakoff particularly asked about Harrington's claim that Katz became very angry with her when she raised questions about illegalities in Madoff's business.

Richard Sandomir
in the Times
picked up on the same exchange in court. Writes Sandomir:
Rakoff, who read aloud portions of Harrington's testimony, was curious about Katz's reaction when she cast doubt on Sterling Stamos investing in a fund that fed its clients' money to Madoff to invest. "Why get angry at that?" he asked Karen Wagner, the Mets' lead lawyer. He said Katz's reaction would have made more sense if he had asked her to come up with evidence to back her claims and she did not. "A reasonable juror could say that he got angry before he even asks for an explanation," Rakoff added. Katz said in his deposition that he did not remember the meeting. Harrington testified that when she asked to meet with Madoff, Katz said no. She did not follow up on her request and left Sterling Stamos soon after. "It's hard to see that the failure to give her that meeting can be taken as evidence of willful blindness," Rakoff said.
Read more in the
Journal
.
•
Jose Reyes
arrived at Marlins camp Thursday
. As for bench coach
Bob Geren
getting his No. 7 with the Mets, Reyes initially was unsure who Geren was. The shortstop then told
Ken Davidoff
in Newsday
: "I'm not there. They can do whatever they want to with number 7." Read more in the
Daily News
and
Post
.
• Upon returning to Mets camp,
Ike Davis
revealed that doctors had sent him to New York for more testing because they
discovered an infection in his lungs
. Davis was cleared to resume working out and does not need to take medication. He never noticed any symptoms from the medical issue.
•
Jason Bay
reported to Mets camp Thursday, two days ahead of the official position-player report date. Bay
pledged to stop tinkering with his swing
every time he does not have success, and said New Yorkers have not yet seen the real Bay. (Watch Bay video
here
.) Bay's contract vests at $17 million for 2014 if he has 600 plate appearances in 2013, or 500 apiece each of the next two seasons, perhaps setting up an awkward situation, as was the case with
Francisco Rodriguez's
55-games-finished vesting option. On Bay trying to rediscover the swing from his Pirates day,
Andy McCullough
writes
in the Star-Ledger
:
The 2011 season was, by most statistical measurements, the worst of Bay's nine-year career. He finished with career-lows in batting average (.245) and on-base plus slugging percentage (.703). In 212 games with the Mets, Bay's slugging percentage is .386. In 200 games with Boston, he slugged .534. ... Last August, hitting coach Dave Hudgens played dueling sets of video for Bay, a split-screen view of the 45 homers he hit with Boston and the 15 he had hit to that point with the Mets. Hudgens then ... forced the outfielder to relearn his old approach. So Bay did. He geared his entire approach to pull baseballs to left field. He straightened his back. He opened his stance. His hands rotated as a timing gesture before each pitch. The results were eye-opening. From April to August, Bay floundered along with a .660 OPS. After reverting to his old form, he scorched through the final month with a .954 OPS.
Read more in the
Journal
,
Post
,
Record
and
Newsday
.
• At Cardinals camp in Jupiter, Fla.,
Carlos Beltran
told the St. Louis Post-Dispatch he would follow through and
pay the roughly $10,000
for
Jon Niese's
nose job, as Beltran had pledged to do in July before being traded from the Mets to the San Francisco Giants. Read more in
Newsday
.
•
Johan Santana
threw his third bullpen session of spring training
-- 32 pitches. Afterward, Collins and the southpaw indicated he should be ready to throw batting practice toward the middle of next week, setting the southpaw up to pitch in the Mets' March 5 Grapefruit League opener against the Washington Nationals. Read more in the
Star-Ledger
.
•
Andy Martino
in the Daily News
talks to Santana about ailing Venezuelan President
Hugo Chavez
, who requires cancer treatments. "I hope he gets better," Santana told Martino. "He is a human being just like any one of us. I hope the best for him."
• After signing a minor league deal with the Los Angeles Angels, two-time ex-Met
Jason Isringhausen
reported to camp
much lighter than a year ago
, when he ended a season with the Amazin's inactive because of a herniated disc.
•
Andrew Keh
in the Times
profiles
Mike Nickeas
, who will be the backup catcher because of his defensive prowess if he proves he can hit at a minimally competent level. Writes Keh:
Nickeas spent the winter working out at Georgia Tech and e-mailing video of his swing to Dave Hudgens, the Mets' hitting coach. The two also had a continuing dialogue over the phone, with the aim of revamping Nickeas's swing and plate approach in time for spring training. "I'm removing all the inefficiencies from my swing, so I have more time to recognize pitches and see the ball," Nickeas said. "My goal is to be an extremely tough out. I don't want to be the guy they get to, put a couple of pitches in, and be done."
• Left-handed reliever
Tim Byrdak
, who began his Thursday by arriving at work with a platinum-blond-dyed goatee, worked with a drop-down delivery during a subsequent bullpen session. Byrdak told
Anthony DiComo
at MLB.com
that his arm slot typically rises as he gets closer to the season. He's starting lower this season than in the past before drifting upward, because he does not want his arm to be too high once Opening Day arrives. Byrdak last pitched sidearm in 1999. "I know it's going to go up," Byrdak told DiComo. "So if I go a little bit lower and I come up, I'm right where I want to be."
• Mets statistical analyst
Ben Baumer
reached the finals before losing to Angels assistant equipment manager
Shane Demmitt
in MLB Network's "Baseball IQ" baseball history/trivia show.
•
Jenrry Mejia
threw off a mound
for the first time since Tommy John surgery in May. Without revealing Mejia's future role,
Paul DePodesta
noted to ESPNNewYork.com the success the Texas Rangers have experienced by beginning pitchers' careers in the bullpen before moving them to the rotation -- at least suggesting the possibility Mejia works in relief for the Mets during the second half of the 2012 season, then potentially revisits starting in future seasons.
TRIVIA:
Reyes last season won the Mets' only National League batting title, but who had the best average for a season in franchise history among qualifiers?
(Thursday's answer:
Benny Agbayani
has appeared in the most games as a Met among Hawaiian-born players at 322.
Ron Darling
ranks second with 272 games as a Met, followed by
Sid Fernandez
at 255,
Carlos Diaz
at 58 and
Tyler Yates
at 21.)