New York Mets:

Hyun-Jin Ryu
August, 21, 2014
Aug 21
2:37
PM ET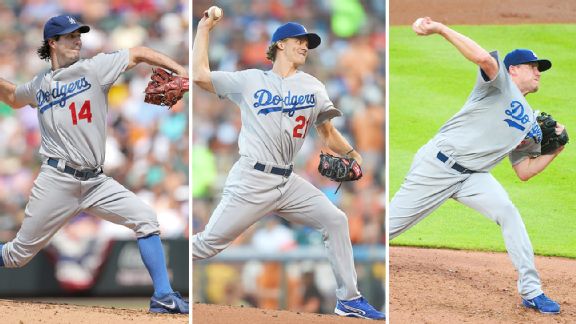 Getty ImagesThe Mets face Dan Haren, Zack Greinke and Kevin Correia this weekend at Dodger Stadium.
METS (60-68, fourth place/NL East) vs. LOS ANGELES DODGERS (71-57*, first place/NL West)
Friday:
LHP
Jonathon Niese
(7-8, 3.50) vs. RHP
Dan Haren
(10-10, 4.59), 10:10 p.m. ET
Saturday:
RHP
Jacob deGrom
(6-5, 2.87) vs. RHP
Zack Greinke
(12-8, 2.75), 9:10 p.m. ET
Sunday:
RHP
Bartolo Colon
(11-10, 3.85) vs. RHP
Kevin Correia
(2-0, 4.09), 4:10 p.m. ET
* L.A. plays Thursday vs. Padres
Dodgers short hops
•
Zack Greinke
, originally scheduled to start Thursday against the
San Diego Padres
, instead faces the Mets on Saturday with two extra days of rest. Greinke's elbow has been cranky. He does not expect to be 100 percent for the remainder of the season. If Greinke gets through the season without the issue worsening and
Hyun-Jin Ryu
(right hip strain) returns from the DL without ill effects, L.A. is well-positioned for the postseason with a rotation that also includes
Clayton Kershaw
. Kershaw originally was due to face the Mets on Friday, but moved up a day in place of Greinke.
• Left fielder
Carl Crawford
is hitting .485 (16-for-33) with one homer and six RBIs in 10 games (eight starts) since Aug. 10. Crawford's surge has buried
Andre Ethier
on the bench. Ethier has started four games since July 22.
Richard MacksonYasiel Puig moved to center field in late July.
•
Yasiel Puig
shifted from right field to center field in late July.
Matt Kemp
began the season in center field, but the Dodgers were underwhelmed by his defense. Ethier and
Scott Van Slyke
subsequently lacked range there.
• Ex-Met
Justin Turner
(.309, 3 HR, 27 RBIs) has started four straight games at third base with
Juan Uribe
sidelined after reinjuring his right hamstring. Turner is hitting .341 (15-for-44) with four RBIs in 16 games (11 starts) in August. For the season, Turner has a 2.7 WAR. Only Puig's 4.1 WAR is better among Dodgers position players.
• Free-agent-to-be
Hanley Ramirez
landed on the disabled list Aug. 9 with a right oblique strain.
Miguel Rojas
originally filled in for Ramirez at shortstop, but is 2-for-his-last-17. Cuban-born rookie
Erisbel Arruebarrena
, who is projected to succeed Ramirez next season, has started the past two games at shortstop.
Arruebarrena recently served a five-game suspension while with Triple-A Albuquerque for inciting a massive bench-clearing brawl against Reno, the top affiliate of the
Arizona Diamondbacks
. He had a slow trot around the bases after a homer, then jawed with Reno's catcher the following day.
Arruebarrena signed with the Dodgers in February for five years, $25 million.
• Leadoff hitter/second baseman
Dee Gordon
is hitless in his last 12 at-bats. He nonetheless has an NL-leading 57 steals, 11 ahead of runner-up
Billy Hamilton
of the
Cincinnati Reds
. The steal total ranks seventh for a single season in Dodgers history, trailing Maury Wills (104 in 1962 and 94 in 1965), Davey Lopes (77 in 1975, 63 in 1976 and 59 in 1974) and
Juan Pierre
(64 in 2007).
• First baseman
Adrian Gonzalez
's 83 RBIs rank second in the NL, trailing only Miami's
Giancarlo Stanton
(89).
• The Dodgers lead the
San Francisco Giants
(66-58) by three games for the NL West lead.
May, 22, 2014
May 22
5:20
AM ET
Lenny Ignelzi/Associated PressZack Greinke can pitch the Dodgers to a sweep of the Mets on Thursday.
NEW YORK
FIRST PITCH:
The Mets face a tall order Thursday in trying to avoid getting swept by the
Los Angeles Dodgers
at Citi Field.
Zack Greinke
(7-1, 2.03 ERA) pitches for the Dodgers in the 7:10 series finale. He opposes
Jonathon Niese
(2-3, 2.54).
Greinke is tied with
Adam Wainwright
for the National League lead in wins and ranks second in ERA, trailing only the Cubs'
Jeff Samardzija
(1.46).
Greinke has allowed two earned runs or fewer in 21 straight starts. That matches Roger Clemens (1990-91) for the longest streak in the majors since earned runs became an official stat in 1913, according to the Elias Sports Bureau.
Thursday's news reports:
•
Jacob deGrom
surrendered solo homers to
Adrian Gonzalez
,
Yasiel Puig
and
Hanley Ramirez
and the Mets
failed to turn a routine double play
in the eighth as a costly run scored as the
Dodgers won, 4-3, Wednesday night
at Citi Field.
Eric Campbell
produced his first major-league homer, a two-run shot in the sixth against
Hyun-Jin Ryu
that had pulled the Mets within 3-2.
Curtis Granderson
struck out with the bases loaded to end the third and
Chris Young
stranded two in scoring position in the seventh as the Mets lost despite outhitting the Dodgers, 13-5. The Mets (20-25) are now a season-worst five games under .500.
As for the botched eighth-inning double play, both
Wilmer Flores
and
Daniel Murphy
converged at second base, causing
Jeurys Familia
to hesitate before releasing the baseball. That ultimately allowed Ramirez to beat the throw to first as L.A.'s fourth run scored.
DeGrom, incidentally, now has both hits by Mets pitchers this season. In franchise history, deGrom joins
Dillon Gee
(2010) and Walt Terrell (1982) as the pitchers who produced hits in their first two games with the club.
Juan Lagares
, who missed Tuesday's game while in the Dominican Republic mourning the death of the aunt who raised him, went 3-for-5
in his return
. In addition to the defensive miscue in the eighth, Flores went 3-for-4.
Read game recaps in the
Post
,
Daily News
,
Newsday
,
Times
,
Star-Ledger
,
Record
,
Journal
and at
MLB.com
.
Jim McIsaac/Getty ImagesEric Campbell, who produced his first major-league homer Wednesday, could find himself contributing in the outfield.
• Campbell, who has seen action in the minors in the corner outfield spots, may find himself playing there with the Mets soon as Terry Collins looks for ways to get more offense. Read more in the
Star-Ledger
and
Newsday
.
•
Travis d'Arnaud
passed some initial concussion tests Wednesday and is due to see a doctor Thursday, aiming for clearance to be activated from the concussion DL. Read more in the
Star-Ledger
,
Newsday
and at
MLB.com
.
• Tim Rohan
in the Times
writes an in-depth feature on deGrom, which covers the length of his hair, how he transitioned to pitching from shortstop in college at Stetson and
Johan Santana
's influence in teaching him a changeup while they both rehabbed in Port St. Lucie in 2011 (deGrom from Tommy John surgery). Writes Rohan:
Santana proceeded to teach deGrom his famous changeup, how to grip the ball, how it should look the same as a fastball coming out of his hand. Santana told him to practice throwing at 180 feet. If he threw it correctly, the ball would fall well short.
When his arm was healthy enough, deGrom practiced until he felt he had the pitch down. Armed with a new weapon, he posted a 2.43 earned run average in 2012 in 19 starts in Class A Savannah and St. Lucie. He learned the nuances of pitching -- and he began growing his hair long again.
Also read a feature on deGrom
in the Star-Ledger
.
• Noah Syndergaard allowed three runs -- and two homers -- in five innings for Las Vegas at Fresno. Binghamton was swept at Portland in a doubleheader. Luis Cessa was tagged with the loss in Game 1, in his Double-A debut. Dilson Herrera finished 3-for-4 with a homer as St. Lucie beat Clearwater, 5-2. Read the full minor-league recap
here
.
• Marc Carig
in Newsday
suggests Citi Field's dimensions may be in the Mets players' heads. Writes Carig:
For some team officials, the ugly truth is that Citi Field has once again gotten in the heads of their hitters. They are trying too hard -- swinging harder, pressing, you name it -- to conquer the park's dimensions. Whether or not they're willing to admit it, they are competitors who have given way to human nature, even though compromising the process has made it even harder to get results.
"It gets to be more of a mental thing than it actually is physical," hitting coach Dave Hudgens said. "Because the swings get longer, you try to do a little bit more. It's more about us than it is anything else."
• The Daily Show's Jon Stewart, a devout Mets fan, had a little fun with
Philadelphia Phillies
manager Ryne Sandberg's
claim of food poisoning
.
•
Matt Harvey
is
back on Twitter
after a month-long timeout. Read more in the
Star-Ledger
and
Newsday
.
• Columnist Anthony Rieber
in Newsday
likes Puig's flair. Puig, apparently, plans to visit the Statue of Liberty before Thursday's game.
•
From the bloggers …
Blogging Mets
says Citi Field's walls are not going anywhere.
BIRTHDAYS:
Ex-Mets outfielder
Collin Cowgill
will need more candles. He turns 28. ... 2013 third-round pick Casey Meisner, a high school selection out of Texas, is 19.
TWEETS OF THE DAY:
Mets brass huddling right now to figure out how to take at-bats away from Lagares, Campbell and Flores. #justkidding #ithink

— Anthony Rieber (@therealarieber) May 22, 2014
YOU'RE UP: Should the Mets use Eric Campbell in the outfield? At the expense of whose playing time?
May, 21, 2014
May 21
10:25
PM ET
By
Mike Mazzeo
| ESPNNewYork.com
NEW YORK -- The
Los Angeles Dodgers
sluggers got the best of
Jacob deGrom
.
Adrian Gonzalez
,
Yasiel Puig
and
Hanley Ramirez
all hit solo home runs off deGrom, and the
New York Mets
lost to the Dodgers, 4-3, Wednesday night at Citi Field.


The Mets (20-25) have lost three straight and six of their past seven, as they fell to a season-worst five games below .500.
DeGood:
DeGrom (0-2), making just his second major league start, allowed three runs on four hits in six innings. He walked three and struck out four. In his first two starts, he has pitched to a more than respectable 2.77 ERA. DeGrom, who singled in the fifth, has both hits by Mets pitchers this season.
Manager Terry Collins said deGrom will make at least one more start for the Mets before a decision is made on his future in the rotation. Once
Dillon Gee
comes off the disabled list, he'll take the spot of either deGrom or
Rafael Montero
.
Starring roles:
Left-hander
Hyun-Jin Ryu
worked in and out of trouble all night long. He scattered nine hits over six innings, while striking out nine.
Gonzalez launched a homer into the second deck in right leading off the second inning, while Puig and Ramirez produced back-to-back homers with one out in the sixth, staking the Dodgers to a 3-0 lead. Puig's shot went to deep left-center, prompting him to flip his bat and watch it fly.
A first to remember:
Eric Campbell
, 27, blasted his first major league homer to left, a two-run shot with two outs in the sixth to bring New York within a run of Los Angeles. It snapped Ryu's road scoreless streak at 33 innings.
LOLMets:
The Dodgers got a much-needed insurance run in the eighth, however, because the Mets botched what should've been an easy inning-ending double play. With runners on the corners and one out, Ramirez hit a comebacker to
Jeurys Familia
. Familia should've fired to second immediately, but both
Wilmer Flores
and
Daniel Murphy
were near the base. Familia hesitated due to the confusion of his middle infielders, allowing Ramirez to beat the throw at first. It proved to be the difference.
Murphy's RBI groundout in the ninth brought the Mets within 4-3.
Hitting stars:
David Wright
,
Juan Lagares
and Flores each had three hits. Wright recorded a double, his first extra-base hit since May 13. Lagares' and Flores' three hits each tied career highs. Lagares had missed Tuesday night's game due to the death of his aunt.
LOB:
Curtis Granderson
left the bases loaded when he struck out to end the third.
Chris Young
grounded out to third with runners on second and third to end the seventh.
The return of JT:
Ex-Met
Justin Turner
started at third base and heard applause from the crowd when he went onto the field prior to the start of the game. Turner went hitless in four at-bats.
What's next:
The Mets and Dodgers wrap up their three-game series on Thursday night.
Jonathon Niese
(2-3, 2.54 ERA) opposes
Zack Greinke
(7-1, 2.03). First pitch at 7:10 p.m.
May, 18, 2014
May 18
8:04
PM ET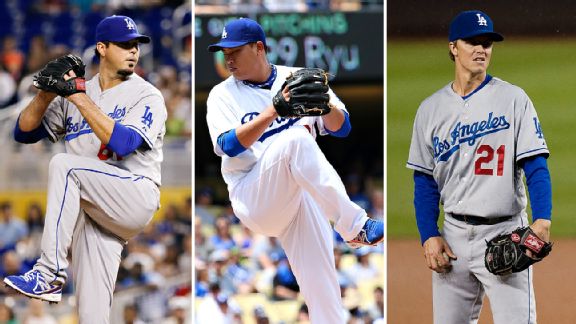 Getty ImagesThe Mets face Josh Beckett, Hyun-Jin Ryu and Zack Greinke at Citi Field.
METS (20-23, fourth place/NL East) vs. LOS ANGELES DODGERS (23-22, third place/NL West)
Tuesday:
RHP
Rafael Montero
(0-1, 4.50) vs. RHP
Josh Beckett
(1-1, 2.38), 7:10 p.m. ET
Wednesday:
RHP
Jacob deGrom
(0-1, 1.29) vs. LHP
Hyun-Jin Ryu
(3-2, 3.00), 7:10 p.m. ET
Thursday:
LHP
Jonathon Niese
(2-3, 2.54) vs. RHP
Zack Greinke
(7-1, 2.03), 7:10 p.m. ET
Dodgers short hops
•
Josh Beckett
on Tuesday earned his first win since Sept. 30, 2012. He had been 0-6 in 14 starts. Beckett did not pitch after mid-May last season and ultimately underwent surgery to remove a rib. That procedure attempted to alleviate thoracic outlet syndrome -- a pinched nerve affecting his right arm. For the season, the 34-year-old Beckett leads the L.A. rotation in WHIP (1.056) and hits per nine innings (6.3). Beckett is throwing his fastball a career-low 35.5 percent of the time. He now throws a curveball a career-high 30.1 percent.
•
Hyun-Jin Ryu
pitched a four-inning simulated game Friday and will reenter the rotation Wednesday, officially pushing originally listed starter
Paul Maholm
to the bullpen. That also could push reliever
Chris Withrow
to the minors despite a 2.77 ERA, because Withrow is not out of options. Ryu landed on the DL with left-shoulder inflammation.
Maholm (1-4, 5.40 ERA) enters the series off a start against the
Miami Marlins
in which he allowed 10 runs (five earned) on 11 hits and three walks in 3 2/3 innings.
Reed Johnson
homered against him on a 62 mph curveball, the slowest pitch resulting in a long ball in the majors since
Jose Bautista
sent a 61.7 mph offering also from Maholm over the outfield wall on May 28, 2013, according to ESPN Stats & Information. Maholm made three relief appearances in March/April, including during the club's season-opening trip to Australia.
Darron Cummings/Associated PressEx-Met Justin Turner will be at Citi Field with the Dodgers on Tuesday.
•
Justin Turner
, a surprise non-tender by the Mets on Dec. 2, returns to Citi Field as a visitor. Turner (.230, 0 HR, 5 RBIs in 74 at-bats) started five times at third base in a six-game stretch through Wednesday with
Juan Uribe
dealing with a mild hamstring strain.
• Dodgers outfielders
Carl Crawford
,
Andre Ethier
,
Matt Kemp
and
Yasiel Puig
have combined to hit .354 (79-for-223) with 15 doubles, 10 homers and 40 RBIs in May.
Puig lost a pair of lengthy streaks Sunday by going 0-for-3 and getting hit by a pitch on the back of the leg in his final plate appearance. He had produced an RBI in eight straight games, matching the franchise record previously accomplished four times, most recently by
Adrian Beltre
in 2004. He also lost a career-high 16-game hitting streak. Showing more strike-zone discipline than a year ago, Puig ranks seventh in the NL in batting average (.322) and tied for second in RBIs (35). The story about Puig's defection from Cuba, which includes black-market smugglers, was chronicled in April
in ESPN The Magazine
.
Ethier largely has been the odd man out. With Kemp resting Sunday, Ethier started for only the third time in L.A.'s past 10 games.
•
Zack Greinke
has allowed two earned runs or fewer in 21 straight starts. That matches
Roger Clemens
(1990-91) for the longest streak in the majors since earned runs became an official stat in 1913, according to the Elias Sports Bureau. Greinke ranks first in the NL in wins (seven) and third in ERA (2.03), trailing only Cincinnati's
Johnny Cueto
(1.25) and Chicago's
Jeff Samardzija
(1.62). Greinke has thrown six different types of pitches this season.
• Second baseman
Dee Gordon
leads the majors with 25 steals. That's 10 ahead of runner-up
Eric Young Jr
.
• Backup catcher
Drew Butera
, the son of former major-league catcher Sal Butera, originally was a Mets farmhand. Two years after he was drafted in the fifth round, Butera was sent to the
Minnesota Twins
with Dustin Martin on July 30, 2007 for
Luis Castillo
.
No. 1 catcher
A.J. Ellis
returned from the disabled list Wednesday after missing 34 games with a left-knee injury that resulted in April 8 arthroscopic surgery.
Miguel Olivo
was dispatched to Triple-A Albuquerque with Ellis' activation.
Butera, incidentally, has pitched twice for the Dodgers since Wednesday in lopsided losses. He tossed a 1-2-3 inning, topped out at 94 mph and capped the initial appearance with a strikeout of Miami's
Marcell Ozuna
. Three days later at Arizona, Butera surrendered a double and then two-run homer to
Paul Goldschmidt
in the eighth inning of an 18-7 loss. Butera subsequently recorded two outs, including an inning-ending strikeout of
Martin Prado
.
•
Adrian Gonzalez
's 10 homers are tied for third the NL, trailing only
Troy Tulowitzki
(13) and
Giancarlo Stanton
(12).
•
Kenley Jansen
has 12 saves in 14 chances and has struck out 31 batters in 18 2/3 innings.
•
Brian Wilson
, who looked so dominant in the season opener in Australia, has mightily struggled. Wilson, 32, has a 9.45 ERA and has allowed 18 hits and 13 walks (one intentional) in 13 1/3 innings. He already has allowed three homers -- a total he has not exceeded since serving up seven long balls in 62 1/3 innings in 2008 as
San Francisco Giants
closer.
•
Clayton Kershaw
has made two starts since returning from the DL, a trip required because of a strained muscle in his upper back. He'd like to forget the latter outing. Kershaw surrendered seven runs in 1 2/3 innings against the Diamondbacks on Saturday. He allowed four extra-base hits in the second inning alone -- matching the combined total from his three previous starts this season. Kershaw came into the outing with a 25-to-1 strikeout-to-walk ratio, but issued two free passes in a seven-run second inning.
August, 14, 2013
8/14/13
12:50
AM ET
LOS ANGELES --
Matt Harvey
looked mortal against baseball's hottest team.
Harvey surrendered four runs on eight hits and two walks in six innings and the Mets lost to the
Los Angeles Dodgers
, 4-2, Tuesday night at Dodger Stadium.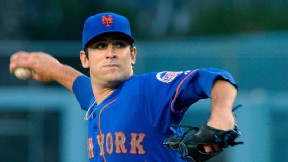 Mark J. Terrill/Associated PressMatt Harvey allowed four runs in six innings.
L.A., which has won the first two games of the series, is now unbeaten in 16 straight series (12-0-4). The Dodgers are 39-8 since June 22.
Harvey wriggled free of danger for a while, benefiting from double plays in the second, third and fourth innings. He coaxed
Yasiel Puig
into an inning-ending twin-killing in the final of those frames, on a 3-0 count with two Dodgers on base.
Harvey's good fortune ran out. He surrendered a two-run double to
Nick Punto
in the fifth and a two-run single to
A.J. Ellis
an inning later as the Dodgers took a 4-1 lead.
Harvey's final line: 6 IP, 8 H, 4 R, 4 ER, 2 BB, 3 K. He threw 95 pitches (61 strikes). His ERA climbed to 2.23.
The four runs allowed by Harvey (9-4) were one shy of matching his season high. He was charged with five runs against the
Arizona Diamondbacks
on July 3. That also marked the last time Harvey had a multi-walk game. The three strikeouts matched Harvey's career low.
The Mets' lone run against
Hyun-Jin Ryu
came in the first inning, on a one-out homer by
Juan Lagares
into the left-field corner.
John Buck
had a ninth-inning RBI single.
What's next:
Dillon Gee
(8-8, 3.82 ERA) opposes ex-Met
Chris Capuano
(4-6, 4.50) in the 10:10 p.m. ET series finale Wednesday.
Ike Davis
is due to start against a southpaw for the first time since returning from Triple-A Las Vegas.
April, 25, 2013
4/25/13
6:51
AM ET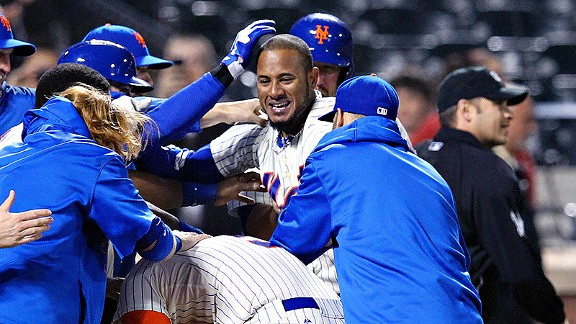 Brad Penner/USA TODAY Sports
Jordany Valdespin celebrates with teammates after the first walk-off grand slam by a Met in 22 years.
FIRST PITCH:
David Wright
had a game-tying two-out single in the ninth that plated
Mike Baxter
and
Jordany Valdespin
belted a grand slam an inning later as the
Mets beat the Dodgers, 7-3
, Wednesday night at Citi Field.
It was the first walk-off grand slam by a Met since Kevin McReynolds against Montreal's Scott Ruskin on June, 25 1991 and the sixth in franchise history. It also marked the second walk-off hit by a Met this season, joining
Marlon Byrd
against the
Miami Marlins
on April 7.
(Robin Ventura had a grand-slam single to end Game 5 of the 1999 NLCS against the
Atlanta Braves
. He was not credited with the homer because teammate
Todd Pratt
interrupted his trip around the bases to celebrate.)
Collin Cowgill
and
John Buck
also have slams this season.
The late comeback got
Matt Harvey
off the hook for his first 2013 loss. It prevented the Mets from dipping below .500 for the first time this season.
Baxter had hustled for a double to lead off the ninth with the Mets trailing 3-2 after
Carl Crawford
could not hold onto his leadoff sinking liner.
The Mets (10-9) now send
Jeremy Hefner
to the mound for today's rubber-game matinee.
Hefner, who has
allowed an NL-high seven homers
, opposes South Korean left-hander
Hyun-Jin Ryu
in the 1:10 p.m. series finale. (Interesting side note: Ryu learned his changeup from ex-Met Mr. Koo.)
Also, please join me for a noon Mets chat
here
.
Thursday's news reports: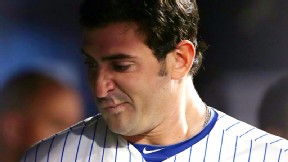 Elsa/Getty Images
Matt Harvey was displeased with his performance despite a quality start.

• Harvey surrendered a replay-awarded two-run homer to
Matt Kemp
in the sixth that gave Los Angeles a 3-1 lead. It marked the first time this season an opponent had scored more than a run against Harvey and the first time he failed to complete seven innings. Harvey (6 IP, 4 H, 3 ER, 1 BB, 7 K) watched his ERA rise to 1.54.
Fernando Valenzuela in 1981 remains the last major leaguer to toss seven-plus innings and allow one or fewer runs in each of his first five starts of a season. Still, Wright's two-out hit in the ninth will allow Harvey on Monday in Miami to try to join
Pedro Martinez
(2006) and Dwight Gooden (1988) as the only Mets to produce 5-0 April records. Harvey's 109 strikeouts through 15 career starts trail only Gooden (113) and Nolan Ryan (112) in franchise history.
Read game recaps in the
Post
,
Daily News
,
Star-Ledger
,
Record
,
Times
,
Newsday
,
Los Angeles Times
and
MLB.com
.
• Columnist John Harper
in the Daily News
notes the attendance is not seeing a Gooden-like bump from Harvey starts. Not yet anyway.
You'd think Mets fans would be filling up Citi Field to see him, the way they once did for Dwight Gooden, but only 26,000 or show showed up for the much-hyped Harvey-Strasburg duel on Friday, and then on Wednesday, even with the ballclub offering discounted tickets and Matt Harvey T-shirts to promote his start, the place looked two-thirds empty. Certainly the attendance seemed smaller than the announced crowd of 24,130.

What it tells you is just how disillusioned Mets fans are with everything that has transpired in recent years, and all too aware that everything GM Sandy Alderson has done is with 2014 and beyond in mind.
Read more on Harvey in the
Post
,
Times
and
Journal
.
• The Mets, Mayor Bloomberg and MLB held a
midday press conference at City Hall
on Wednesday to launch All-Star voting.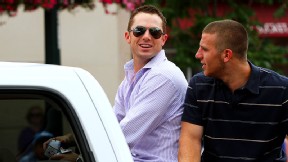 Dilip Vishwanat/Getty Images
David Wright and brother Daniel ride during last year's All-Star parade in Kansas City. This year, 42nd St. in New York City will be the parade route.

Light on substance, the event did reveal the pregame parade featuring All-Stars riding in cars will travel down 42
nd
St. on July 16 from Bryant Park, past Grand Central Station, to between Second and Third avenues.
Also revealed: The Mets selected Baxter,
Lucas Duda
and
Kirk Nieuwenhuis
to appear on the All-Star ballot as the team's outfielders -- omitting Byrd, Cowgill and Valdespin.
In a lighter moment, a questioner asked Wright why he sticks his tongue out while playing. Wright suggested it is a focus thing, which he has been doing since childhood. "I used to get yelled at by my teachers when I was taking tests in elementary school, because when I concentrate, my tongue just comes out," the six-time All-Star said. "And that's about all I've got."
In discussing New York City as a sports mecca, Bloomberg noted the Mets soon should have a soccer-playing neighbor at adjacent Flushing Meadows Corona Park. Hizzoner said he "hopefully" expected a stadium announcement soon.
There were a few painful moments of forced humor. Bloomberg, who is the subject of a parody Twitter account about his Spanish (
@ElBloombito
), lightheartedly told Mets ambassador
Edgardo Alfonzo
: "Tu español es bueno." Bloomberg, at the outset of the press conference, had said: "Welcome to our home field, City Hall." After no reaction from those assembled at City Hall, the mayor added: "That's funny. You're supposed to laugh."
MLB and the Mets also announced plans to donate more than $4 million to causes including FirstStepNYC (PS/IS 41 in Brownsville, Brooklyn), youth-field renovations at Hinton Park in Flushing and O'Donohue Park in Far Rockaway, St. Albans Community Living Center in Jamaica, Boys & Girls Club Construction Project (South Queens Boys & Girls Club in Richmond Hill), City Harvest and Wheelchair Sports Federation.
Read more in the
Post
,
Daily News
,
Star-Ledger
,
Newsday
and
MLB.com
.
•
Jonathon Niese
, who was struck with a comebacker in the lower right leg off and forced from Tuesday's game,
had some swelling and tightness
a day after receiving the jolt. He may delay his bullpen session by a day to Friday and throw more lightly than customarily between starts. But Niese intends to proceed with his next scheduled start, against the
Philadelphia Phillies
opposite
Cole Hamels
on Sunday at Citi Field. Read more in the
Record
and
Times
.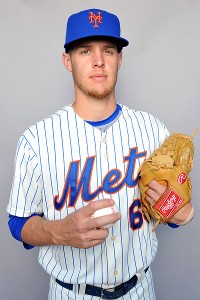 Steve Mitchell/USA TODAY Sports
Zack Wheeler looks to rebound from a six-walk outing when he opens the 51s' homestand tonight.

• Zack Wheeler is listed as the scheduled starter for Triple-A Las Vegas tonight -- leapfrogging others in the rotation. The 51s have not played since Sunday because of frigid weather and a pre-scheduled off-day. Wheeler, who will face Tacoma (
Seattle Mariners
) at 10:05 ET, is coming off an outing last Friday in which he was charged with four earned runs on three hits and six walks while tossing 108 pitches in 4 1/3 innings. Three of the runs charged to Wheeler scored after he departed with the bases loaded. You can listen to the radio call of 51s games for free
here
.
•
Shaun Marcum
joined his teammates at Citi Field
in advance of Saturday's start against the Phillies. He indicated the nerve inflammation that caused pain in his neck and shoulder had calmed with injections. Terry Collins plans to cap Marcum at 90 pitches in his Mets debut. Read more in the
Post
,
Times
,
Newsday
and
Star-Ledger
.
• Mets security guard Paolo Neto said Kemp's replay-reviewed ball to the right-field corner definitely was a homer. "It was over the fence," Neto told Howie Kussoy
in the Post
. "I was just sitting there when I saw the ball. I didn't even think it was going to reach me, but it came right at me. I was just trying to protect myself and it hit me in the hands." Read more in the
Daily News
.
• Jayce Boyd went 2-for-2 with two RBIs, two runs scored and three walks and Jeff Glenn went 3-for-5 with a homer and three RBIs as Savannah beat Delmarva, 9-3. Read the full minor league recap
here
.
• Read more on Baxter's hustling leadoff double in the bottom of the ninth in the
Post
.
•
From the bloggers …
Shannon from
MetsPolice.com
will forgo sleep to watch Harvey, but not to watch the bullpen.


BIRTHDAYS:
Blaine Beatty, who was acquired from the
Baltimore Orioles
for Doug Sisk on Dec. 8, 1987, turns 49.
TWEET OF THE DAY:
Just saw replay of @johnbuck44 #pie & I think I'm gonna have to keep that duty 4 myself so no 1 gets hurt #RightCross #goldengloves #TKO

— Justin Turner (@redturn2) April 25, 2013
YOU'RE UP: Which Mets will be selected to the All-Star Game?
April, 22, 2013
4/22/13
9:15
AM ET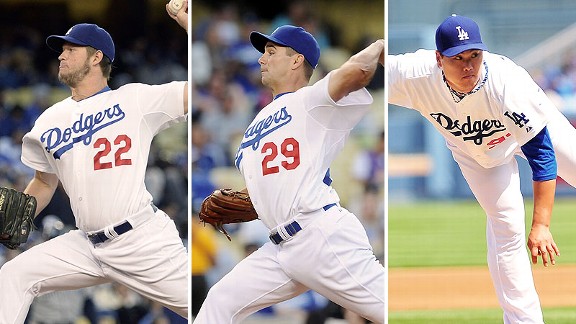 USA TODAY Sports
The Mets face (l to r) southpaws Clayton Kershaw, Ted Lilly and Hyun-Jin Ryu this week at Citi Field.
METS (9-8, third place/NL East) vs. LOS ANEGELES DODGERS (8-10, fourth place/NL West)
Tuesday:
LHP
Jonathon Niese
(2-1, 3.80) vs. LHP
Clayton Kershaw
(2-2, 1.88), 7:10 p.m. ET
Wednesday:
RHP
Matt Harvey
(4-0, 0.93) vs. LHP
Ted Lilly
(0-0, -.--), 7:10 p.m. ET
Thursday:
RHP
Jeremy Hefner
(0-2, 7.07) vs. LHP
Hyun-Jin Ryu
(2-1, 4.01), 1:10 p.m. ET
Dodgers short hops
• Los Angeles had eight starting pitchers in spring training, but the surplus is depleted.
Aaron Harang
was traded to the
Colorado Rockies
, then flipped to the
Seattle Mariners
, when L.A. seemed like it had a ton of depth.
Zack Greinke
suffered a broken left collarbone in the altercation with San Diego's
Carlos Quentin
(which devolved into Padres president Tom Garfinkel having to
apologize for an insensitive comment
.) Fill-in
Chris Capuano
suffered a strained left calf. And now
Chad Billingsley
landed on the DL Sunday with elbow pain.
Ted Lilly
makes his season debut Wednesday, after three minor league starts during which he allowed 24 hits and 15 runs (13 earned) in 17 innings. Lilly is returning from labrum surgery on his left shoulder. He missed the final 118 games of last season. Lilly was ready out of spring training and was upset when he did not make the Opening Day roster.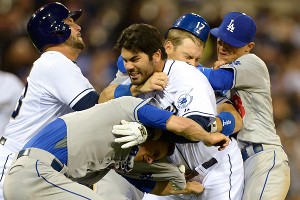 Jake Roth/USA TODAY Sports
Zack Greinke suffered a broken left collarbone courtesy of Carlos Quentin.

Stephen Fife
made his season debut Sunday in Baltimore, plugging another rotation spot.
•
Clayton Kershaw
publicly said he did not want to negotiate a contract extension in-season, but the sides are believed to have continued talking hush-hush beyond Opening Day.
Kershaw became the second-youngest Dodger to reach 1,000 career strikeouts on Wednesday, at 25 years, 29 days. Fernando Valenzuela accomplished that feat at age 24 years, 303 days.
Kershaw enters the Citi Field outing off a loss to San Diego in which he matched a career high by surrendering three homers. Still, Kershaw has been exceptional this season. He is not getting run support. L.A. has scored a combined seven runs in his four starts.
Kershaw is 5-0 with a 1.37 ERA in six career starts against the Mets.
• The Dodgers acquired catcher
Ramon Hernandez
from the Rockies on April 6 for Harang. The trade brought in a backup for
A.J. Ellis
that will allow 25-year-old catcher
Tim Federowicz
to get regular playing time in Triple-A. All three were on the active roster this weekend in Baltimore, but that is expected to change.
•
Hyun-Jin Ryu
was named to seven straight South Korean All-Star teams before joining the majors this season. He is viewed as a No. 3 of 4 starter. The Dodgers paid a $25.7 million posting fee to Ryu's South Korean club, plus owe him $36 million in salary over six years.
•
Hanley Ramirez
, who is on the disabled list after undergoing right thumb surgery, may return quickly -- by the end of the month -- after initial projections of mid-May. Ramirez suffered the injury in the final game of the Dominican Republic's World Baseball Classic championship run, while diving awkwardly for a groundball.
L.A. has not announced whether Ramirez will play shortstop or third base when he returns, although the educated guess is shortstop. Both spots having gaping voids. Shortstop
Justin Sellers
is hitting .174. Third baseman
Luis Cruz
is hitting .087.
• The Dodgers took on $250 million in payroll in the Aug. 25, 2012 mega-trade with the
Boston Red Sox
that brought in
Carl Crawford
,
Adrian Gonzalez
,
Josh Beckett
and
Nick Punto
.
• Cuban defector Yasiel Puig -- who signed for $42 million -- is hitting .333 with three homers and nine RBIs through 48 at-bats with Double-A Chattanooga. The 22-year-old right fielder may eventually make
Andre Ethier
expendable -- or, perhaps,
Matt Kemp
… if Kemp continues to struggle. Puig is briefly sidetracked in the Southern League because of a sprained left thumb.
• The struggling Kemp -- who finished second in MVP balloting just two years ago, behind
Ryan Braun
-- injured his shoulder last August in Colorado and had left surgery for a partially torn labrum in October. He had only one Cactus League homer and has not gone deep this season. Kemp is signed through 2019.
• The Dodgers' most common batting order:
Crawford, lf
Mark Ellis
, 2b
Kemp, cf
Gonzalez, 1b
Ethier, rf
Ellis, c
Cruz, 3b
Sellers, ss
• The Dodgers snapped a six-game losing streak with a 7-4 win Sunday at Baltimore. Kemp, who started the season slowly, went 3-for-5 to lift his average to .235. He produced his sixth RBI.
• Manager Don Mattingly appears on the hot seat. His 2014 option has not been picked up.