New York Mets:

Ian Stewart
April, 13, 2014
Apr 13
6:42
PM ET
ANAHEIM, Calif. --
Bartolo Colon
surrendered four homers and nine earned runs in five innings and the New York Mets lost Sunday's rubber game to the
Los Angeles Angels
, 14-2.
Three of the long balls came consecutively in the first inning, by
Mike Trout
,
Albert Pujols
and
Raul Ibanez
.
The last time a Mets pitcher allowed three straight homers? That was
Johan Santana
in the start after his no-hitter, when the Yankees'
Robinson Cano
,
Nick Swisher
and
Andruw Jones
consecutively went deep in the Bronx on June 8, 2012.
Hank Conger
capped Sunday's long-ball barrage with a two-run homer in the fifth. It marked the eighth extra-base hit against Colon, a career high.
Colon had tossed seven scoreless innings against the
Atlanta Braves
at Turner Field on Tuesday to begin the trip.
Colon's nine runs allowed were only one shy of matching his career high -- 10 runs (five earned) on April 26, 2005 as a member of the Angels. That day, the Yankees'
Alex Rodriguez
homered three times against Colon en route to a 10-RBI game.
The Angels added two runs in the sixth against
Scott Rice
, who issued a bases-loaded walk and run-scoring wild pitch.
John Lannan
uncorked a run-scoring wild pitch and surrendered a two-run homer to
Ian Stewart
in the eighth.
With the five-homer game by the Angels, Mets pitchers have now surrendered an MLB-high 21 homers, in 12 games.
Yer out:
David Wright
and
Daniel Murphy
were ejected in the seventh inning by plate umpire Toby Basner for arguing balls and strikes from the dugout. A scout at the game was highly critical of Basner's strike zone low. It was Wright's fourth career ejection.
What's next:
The Mets head to Phoenix for the final stop on their three-city trip -- a three-game series against the
Arizona Diamondbacks
.
Zack Wheeler
(0-2, 5.73 ERA) opposes right-hander
Josh Collmenter
(0-0, 2.25) in Monday's 9:40 p.m. ET opener.
June, 13, 2013
6/13/13
9:53
PM ET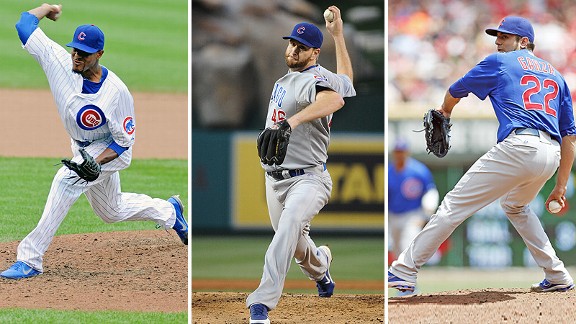 Getty Images/USA TODAY SportsThe Mets face (l to r) Edwin Jackson, Scott Feldman and Matt Garza this weekend at Citi Field.
METS (24-37, fourth place/NL East) vs. CHICAGO CUBS (26-38, fifth place/NL Central)
Friday:
RHP
Shaun Marcum
(0-7, 4.96) vs. RHP
Edwin Jackson
(2-8, 5.76), 7:10 p.m. ET
Saturday:
LHP
Jonathon Niese
(3-5, 4.24) vs. RHP
Scott Feldman
(5-5, 3.22), 1:10 p.m. ET
Sunday:
RHP
Jeremy Hefner
(1-6, 4.11) vs. RHP
Matt Garza
(1-1, 6.26), 1:10 p.m. ET
Cubs short hops
•
Matt Garza
is the most logical Cub to be traded before the July 31 trade deadline, ESPNChicago.com's Bruce Levine reports. Garza drew interest last July from the
Texas Rangers
and
Toronto Blue Jays
, but any trade discussions were scuttled by an elbow injury. Since being acquired from the
Tampa Bay Rays
before the 2011 season, Garza is 17-18 with a 3.60 ERA. Other potential trade chips include
Scott Feldman
and relievers
Kevin Gregg
and
Carlos Villanueva
, according to Levine.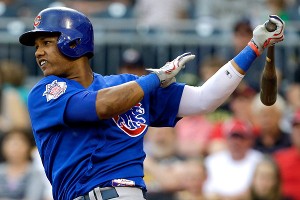 Gene J. Puskar/Associated PressStarlin Castro is hitting .122 in June.
Garza, who made his season debut May 21 after returning from a lat injury, is coming off an outing in which he surrendered nine runs in five-plus innings against Cincinnati.
Villanueva moved to the bullpen when Garza was activated from the DL.
• Shortstop
Starlin Castro
was hitting .059 (2-for-34) in June before a 3-for-7 performance Thursday against the
Cincinnati Reds
.
• Second baseman
Darwin Barney
has not committed an error this season. He has a 53-game errorless streak dating to last Sept. 30. However, Barney is hitting .208 with a .283 on-base percentage this season.
• Before breaking out with 15 hits in a 6-5, 14-inning win against the Reds on Thursday afternoon, Chicago had scored 11 runs in its previous six games and had not produced more than six hits in a game since June 5. The Cubs are 3-10 against Cincinnati this season. They had lost a record 12 straight to the Reds at Wrigley Field before the series-ending victory. The Cubs' longest losing streak against one opponent at Wrigley Field previously was 10, done three times, most recently against the Montreal Expos in 1982 and '83.
• The Cubs acquired right-handed reliever
Henry Rodriguez
from the
Washington Nationals
on Tuesday for prospect Ian Dickson. Rodriguez had been 0-1 with a 4.00 ERA in 17 relief appearances with the Nats before being designated for assignment on June 4.
• Reliever
Kyuji Fujikawa
underwent Tommy John surgery on Tuesday.
• The Cubs suspended
Ian Stewart
, who had been playing with Triple-A Iowa, because of his
series of critical tweets about the organization
that included imploring the club to release him. Although Stewart is in the minors, he has a $2 million salary this season.
• Left fielder
Alfonso Soriano
has 379 career homers, tied with Orlando Cepeda and Tony Perez for 64th all time. Next up: Albert Belle with 371.
•
Scott Hairston
(.155, 5 HR in 83 ABs) is off to a slow start in limited playing time as a Cub. Hairston signed a two-year, $5 million deal with Chicago after waiting for a Mets offer that did not come.
• First baseman
Anthony Rizzo
, 23, signed a seven-year, $41 million in May that includes team options for 2020 and 2021. The guaranteed portion covers one year Rizzo otherwise would have been eligible for free agency.
May, 16, 2013
5/16/13
7:26
PM ET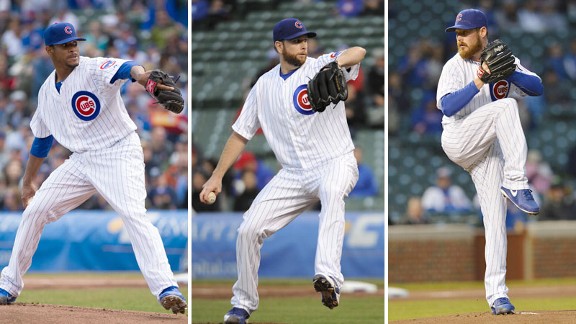 Getty Images
The Mets face (l to r) Edwin Jackson, Scott Feldman and Travis Wood this weekend at Wrigley Field.
METS (15-23, fourth place/NL East) vs. CHICAGO CUBS (17-23, fourth place/NL Central)
Friday:
RHP
Matt Harvey
(4-0, 1.44) vs. RHP
Edwin Jackson
(1-5, 6.02), 2:20 p.m. ET
Saturday:
RHP
Jeremy Hefner
(0-4, 4.61) vs. RHP
Scott Feldman
(3-3, 2.53), 1:05 p.m. ET
Sunday:
RHP
Dillon Gee
(2-5, 6.13) vs. LHP
Travis Wood
(4-2, 2.03), 2:20 p.m. ET
Cubs short hops
•
Scott Hairston
(.125, 3 HR in 48 ABs), whom the Mets failed to sign because they suggested he was interested in guaranteed playing time, is off to a slow start as a Cub. Hairston signed a two-year, $5 million deal with Chicago.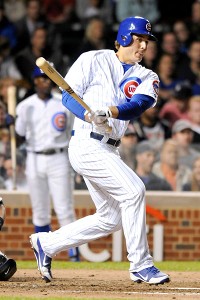 Reid Comptom/USA TODAY Sports
First baseman Anthony Rizzo signed a seven-year, $41 million contract this week.

• First baseman
Anthony Rizzo
, 23, signed a seven-year, $41 million deal this week that includes team options for 2020 and 2021. The guaranteed portion covers one year Rizzo otherwise would have been eligible for free agency.
•
Darwin Barney
(.191, 2 HR in 89 at-bats) has started off miserably at the plate, but GM Jed Hoyer recently said publicly that the second baseman is not in danger of a demotion. Barney, who won the 2012 NL Gold Glove, did have a three-hit game Tuesday. He opened the season on the DL after cutting a kneecap in the Cubs' final spring-training game.
•
Starlin Castro
was installed as the leadoff hitter against lefties a week ago. Center fielder
Dave Sappelt
(.178) had handled that responsibility until a demotion.
David DeJesus
leads off against righties. Castro signed a seven-year, $60 million deal last August.
• Dale Sveum indicated he might entertain a six-man rotation when
Matt Garza
is activated from the DL, likely next week. More likely,
Carlos Villanueva
or
Scott Feldman
-- probably Villanueva -- will lose his rotation spot. Garza has been out since Feb. 17 with a lat strain and was expected to make his final rehab start Thursday, with Triple-A Iowa. Villanueva, who originally was signed as a longer reliever, allowed seven runs in five innings Tuesday against the
Colorado Rockies
.
• Third baseman
Luis Valbuena
returned to the lineup Wednesday after missing three games with a sprained right pinkie, which he injured sliding into third base. Valbuena was not the intended third baseman this season, but
Ian Stewart
has been injury-prone after re-signing for one year at $1.5 million.
• Left-hander
Travis Wood
is coming off an outing in which he tossed seven scoreless innings against the Rockies, which shaved his ERA to 2.03. Wood has an MLB-leading eight quality starts to open the season, matching a Cubs record set in 1919 by Hippo Vaughn in the process.
•
Carlos Marmol
, whose three-year, $20 millon contract expires after the season, has been deposed as closer for a second straight year.
Kevin Gregg
, who was signed last month after being released by the
Los Angeles Dodgers
, began handling the role full time last Wednesday.
Marmol recently denied an internet report that he was overheard talking about wanting to get traded. "That is just not true," he said, according to ESPNChicago.com. "I am very happy here. I always talk about how I love Chicago and I love being here. I love my teammates and everyone here. I feel bad because those words never came out of my mouth."
Chicago reportedly could have traded Marmol to the
Los Angeles Angels
in November for
Dan Haren
, but declined the swap after getting spooked by Haren's medical report.
Marmol actually is now third on the late-game depth chart, also behind
Kyuji Fujikawa
. Fujikawa, who spent the previous eight seasons as a reliever with Hanshin in Japan, was activated from the DL last week after missing nearly a month with a forearm strain.
•
Alfonso Soriano
had a dreadful April with only two RBIs, but has been much better this month (12 RBIs in 12 games). Soriano's $136 million contract runs through 2014. He is a trade candidate this summer. "I would like to be a part of this group, but I am a little old," the 37-year-old Soriano told ESPNChicago.com. "I will try to have a good time playing with them now. I hope after I retire that they continue to work hard and get better."
• The Cubs have won six of their past nine games to move out of last place. They are coming off of their first home series win since Aug. 24-26, 2012.
• Owner Tom Ricketts earlier this month threatened to move the Cubs from Wrigley Field if city does not approve changes, including outfield signs at the landmark. Rooftop clubs that look into the historic ballpark object to the potential obstruction to their views from advertising and a planned video board. A $500 million renovation of the stadium and surrounding area is planned.
August, 20, 2012
8/20/12
10:20
AM ET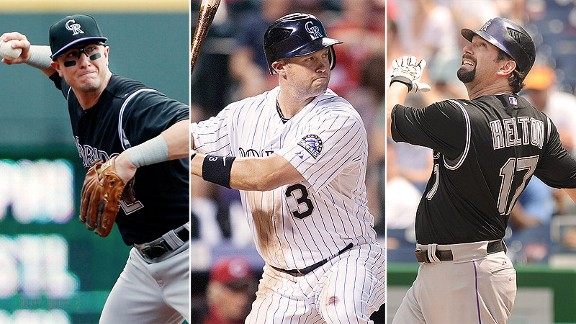 US Presswire/Getty Images
Rockies players (l to r) Troy Tulowitzki, Michael Cuddyer and Todd Helton are all on the disabled list, leaving Colorado a skeleton crew.
METS (57-64, third place/NL East) vs. COLORADO ROCKIES (46-73, fifth place/NL West)
Monday:
RHP
R.A. Dickey
(15-4, 2.89) vs. RHP
Alex White
(2-6, 5.74), 7:10 p.m. ET
Tuesday:
RHP
Chris Young
(3-6, 4.50) vs. RHP
Jhoulys Chacin
(0-3, 7.30), 7:10 p.m. ET
Wednesday:
RHP
Matt Harvey
(2-3, 3.00) vs. LHP
Jeff Francis
(4-4, 6.07), 7:10 p.m. ET
Thursday:
LHP
Johan Santana
(6-9, 4.85) vs. RHP
Tyler Chatwood
(3-3, 5.46), 1:10 p.m. ET
Rockies short hops
• Right fielder
Michael Cuddyer
landed back on the disabled list with a right oblique strain and could be lost for the season. He had missed two weeks, then returned for three games. Cuddyer (.260, 16 HR, 58 RBIs) signed a three-year, $31.5 million deal in December.
Also sidelined:
Shortstop
Troy Tulowitzki
underwent surgery to repair a strained left groin on June 21. Tulowitzki originally suffered the injury running out of the batter's box on May 30. He is due to be with the Rockies in New York, but inactive. He ran the bases Saturday, but is not due to begin a rehab assignment until next week.
First baseman
Todd Helton
underwent season-ending surgery on Aug. 10 to repair a torn labrum in his right hip.
Jason Giambi
has been out since July 20 with a viral infection. He has started taking batting practice and fielding grounders, but is not expected back until the end of the month.
Tyler Colvin
and
Jordan Pacheco
have shared first base with Helton out, while Pacheco otherwise teams with
Chris Nelson
to man third base.
Josh Rutledge
, who made his major league debut July 13, is the shortstop minus Tulowitzki. But Rutledge suffered his own injury Sunday, leaving the game in the fourth inning after tweaking a previously strained left quadriceps. Presuming he's healthy, Rutledge should move to second base once Tulowitzki returns.
Eric Young
, who is hitting .426 in 13 games since Aug. 6 and showing uncharacteristic power in addition to his customary speed, and Colvin have subbed for Cuddyer in right field. But Young, too, was forced from Sunday's game after straining a rib-cage muscle. Young predicted his absence would be limited to a "game or two."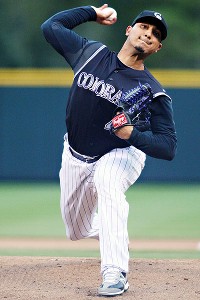 Chris Humphreys/US Presswire
Jhoulys Chacin returns from a pec muscle injury that sidelined him since May.

Nelson returned Aug. 6 from a DL trip for an irregular heartbeat. Pacheco ranks among the leaders in NL rookie offensive categories, including average at .312, although his 339 plate appearances are narrowly shy of qualifying.
• Right-hander
Jhoulys Chacin
will make his first major league appearance since straining a pectoral muscle. He landed on the DL after a May 1 start. He will be on roughly a 75-pitch limit. He tossed 91 pitches over seven innings Thursday with Triple-A Colorado Springs.
The Rockies have employed a four-man rotation with pitch counts in the 70s under manager
Jim Tracy
, so Chacin could alternate starts with
Drew Pomeranz
going forward to keep the rookie Pomeranz's innings in check. The four-man rotation began out of necessity in Philly in mid-June due to a lack of quality arms after
Jeremy Guthrie's
struggles got him bounced from the rotation to the bullpen. Three bullpen arms piggyback the starters to handle middle innings.
• Left fielder
Carlos Gonzalez
was placed on bereavement leave and traveled to Venezuela on Saturday to mourn the death of his grandfather. He likely will return Tuesday, but is eligible to miss as much as a full week.
•
Tyler Chatwood
, acquired from the Angels on Nov. 30 for
Chris Iannetta
, has a 3.93 ERA in four starts since returning from a one-month stint in the minors. Standing a modest 5-foot-11, the 22-year-old Chatwood doesn't throw downhill. So his 95 mph fastball needs location; otherwise it can be flat and hittable.
• The Rockies traded
Marco Scutaro
to San Francisco for infielder
Charlie Culberson
on July 27.
D.J. LeMahieu
, acquired from the Cubs last offseason with Colvin for
Ian Stewart
, has taken over at second base.
• The Mets seriously discussed acquiring catcher
Ramon Hernandez
from the Rockies before the July 31 trade deadline, but ultimately obtained
Kelly Shoppach
this month. Rookie catcher
Wilin Rosario
now handles the bulk of the duty for Colorado. Rosario is six homers shy of matching the Rockies' rookie record, established by Helton with 25 in 1998. His defensive skills do not match his plate prowess.
•
Alex White
will make his fifth start since being recalled from the minors on Aug. 2. His return coincided with
Jonathan Sanchez
suffering from left biceps tendinitis.
• Left-hander
Jeff Francis'
Aug. 13 win gave him 59 victories as a Rockie, passing
Jason Jennings
for second on the franchise's all-time list. The leader:
Aaron Cook
, with 72 wins.
• Reliever
Adam Ottavino
is a local product. He graduated from Berkeley Carroll High School in Park Slope, Brooklyn, and has trained during the winter at the same Garden City, L.I., facility as several local Mets players the past few years, including now-departed
Jose Reyes
and
Pedro Beato
.
Last series results
Mets won, 2-1, at Coors Field, April 27-29 (AP game recaps)
Rockies 18, Mets 9:
Carlos Gonzalez was at the center of an 11-run fifth inning, hitting a homer and a single for five of his six RBIs, and the Rockies overcame Scott Hairston's cycle. Ramon Hernandez hit his sixth career grand slam -- the first for the Rockies this season -- and Troy Tulowitzki and Dexter Fowler also homered for Colorado, which set a season high for runs. Hairston became the 10th player in team history and first in the majors this season to hit for the cycle. He drove in four runs, but it wasn't enough on a night when pitching was an afterthought.
More
Mets 7, Rockies 5:
Dillon Gee shook off the rough patch in an otherwise strong outing and Lucas Duda backed him with a homer and single to drive in four runs. Gee allowed four runs in seven innings. He struck out seven and walked two, and seemed to be at his best late in his outing, retiring nine of the last 10 batters he faced.
More
Mets 6, Rockies 5 (11 innings):
Ike Davis singled in the go-ahead run off reliever Matt Belisle in the 11th inning and the Mets overcame two tying homers allowed by their bullpen. Johan Santana, looking for his first win since September 2010, left with a 4-0 lead after six innings but Tim Byrdak gave up pinch-hitter Todd Helton's grand slam in the eighth. Kirk Nieuwenhuis put the Mets ahead again with an RBI double in the 10th before Frank Francisco served up Carlos Gonzalez's solo homer in the bottom half. David Wright started the 11th with a single off Belisle (1-2) and went to third on Lucas Duda's single. After Scott Hairston hit into a fielder's choice, Davis' sharp grounder finally rescued the Mets.
More
June, 25, 2012
6/25/12
9:20
AM ET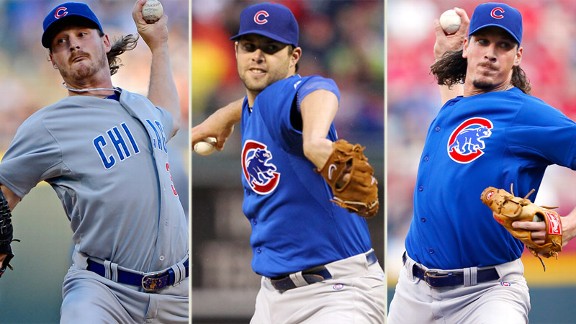 Getty Images
The Mets face (l to r) Travis Wood, Randy Wells and Jeff Samardzija at Wrigley Field.
METS (39-34, second place/NL East) vs. CHICAGO CUBS (24-48, sixth place/NL East)
Monday:
LHP
Johan Santana
(5-3, 3.00) vs. LHP
Travis Wood
(1-3, 4.14), 8:05 p.m. ET
Tuesday:
RHP
Dillon Gee
(5-5, 4.27) vs. RHP
Randy Wells
(1-2, 4.91), 8:05 p.m. ET
Wednesday:
LHP
Jon Niese
(5-3, 3.75) vs. RHP
Jeff Samardzija
(5-6, 4.34), 2:20 p.m. ET
Cubs short hops
• Right-hander
Matt Garza
(3-6, 4.06 ERA in 14 starts) is among the most likely Cubs to be traded. Garza, 28, is earning $9.5 million this season and is under control via arbitration through 2013 before being eligible for free agency. The Boston Globe's
Nick Cafardo
lists the Braves, Tigers, Cardinals, Red Sox, Blue Jays and Royals as potential landing spots.
• Left fielder
Alfonso Soriano
(.269, 14 HR, 44 RBIs) had 12 long balls in a 26-day stretch beginning May 15, but still has been the subject of fan booing. Soriano was caught standing at the plate when Boston Red Sox third baseman
Will Middlebrooks
dropped his screaming line drive in a June 16 game. "I think our fans know, because they've watched Sori play all year, that he's been hustling from Opening Day on and given a great effort," first-year president of baseball operations
Theo Epstein
told ESPNChicago.com in defense of Soriano. "It was an unfortunate natural reaction."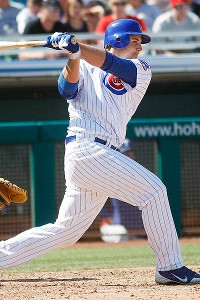 Rick Scuteri/US Presswire
First base prospect Anthony Rizzo should make his Cubs debut during the series.

•
Randy Wells
will make his second start for injured
Ryan Dempster
, whose 22-inning scoreless streak is frozen but intact because he landed on the disabled list last Monday with a tight right lat muscle. Dempster should return in plenty of time for the Cubs to trade him before the July 31 deadline. Wells allowed three runs on five hits and four walks and was pulled with his pitch count at 69 after 3 2/3 innings Wednesday against the White Sox.
•
Travis Wood
has now drawn
Justin Verlander
,
Jake Peavy
and Santana in his past three starts. Opposite the White Sox's Peavy in his most recent outing, Wood allowed one run on four hits in six innings to post his first victory since last Aug. 19, as a member of the Cincinnati Reds. Wood, 25, was acquired in a Dec. 23 trade for
Sean Marshall
. He has a 2.92 ERA over his past four starts. He opened the season by making seven starts with Triple-A Iowa.
• Hyped first-base prospect
Anthony Rizzo
is expected to be promoted this series. Rizzo was acquired from San Diego on Jan. 6 with
Zach Cates
for
Andrew Cashner
and
Kyung-Min Na
. Because he logged 68 days in the majors last season with the Padres, the 22-year-old Rizzo had to remain in the minors at least through Friday in order to delay his free agency for an extra year, until after the 2018 season. Rizzo had a rough time in the majors with San Diego last season, hitting .141 with one homer and nine RBIs in 128 at-bats.
• Rizzo's imminent promotion should push lefty-hitting
Bryan LaHair
back into relatively unfamiliar right field, from first base. LaHair (.286, 13 HR, 28 RBIs) was a nine-year minor leaguer who was prepared to play in Japan this season before opting for one final stab at a major league career.
•
Jeff Samardzija
moved into the rotation this year. Only five of his 128 major league appearances before this season had come in a starting role.
• In addition to Epstein, the Cubs' new braintrust includes former Padres GM
Jed Hoyer
now serving in that role in Chicago. First-year manager
Dale Sveum
spent 12 seasons as a major league infielder. Sveum also managed the final 12 games of the 2008 season with the Brewers after
Ned Yost
was jettisoned. He rode
CC Sabathia
to a wild-card berth as the Mets missed out on the playoffs on the final day for a second straight season.
• With few opportunities, closer
Carlos Marmol
has only four saves this season. His next save will be the 100
th
of his career. The only other Cubs to have reached that plateau:
Lee Smith
(180),
Bruce Sutter
(133) and
Randy Myers
(112).
• Catcher
Geovany Soto
(.174, 5 HR, 8 RBIs) returned June 18 from arthroscopic surgery on his left knee after missing a month.
• Shorstop
Starlin Castro
(.304, 6 HR, 38 RBIs), the Cubs' lone representative at last year's All-Star game, again has heated up. Castro drew Sveum's attention earlier this month for repeated in-game mental lapses. He nonetheless has started all 72 games. Atlanta's
Dan Uggla
is the only other major leaguer to start every game for his team this season.
• Third baseman
Ian Stewart
received another cortisone shot for a left wrist impingement, hoping to at least delay surgery until the offseason. He is not eligible to return from the disabled list until Thursday, after the series. Former Indian
Luis Valbuena
has manned third base in Stewart's absence.
• Center fielder
Tony Campana
leads the majors with 24 steals, one ahead of the Dodgers'
Dee Gordon
.
• The Cubs are 3-16 in games started by left-handed opposing pitcher.
Last series results
Chicago won, 2-1, at Citi Field, Sept. 9-11, 2011 (AP game recaps)
Mets 5, Cubs 4:
Justin Turner doubled in the decisive run with two outs in the ninth inning. Manny Acosta had surrendered a tying single to Darwin Barney with two outs in the top half. Turner (three hits) also had a tiebreaking double in the fifth. Jason Bay doubled twice and threw out a runner at the plate. David Wright and Bay each had an RBI to help the Mets overcome an early 3-0 deficit.
More
Cubs 5, Mets 4:
Aramis Ramirez hit a two-run single in the top of the ninth, a half-inning after the Cubs blew a three-run lead. Jason Bay had given the Mets a 4-3 lead with a two-out, two-run single. More sloppy play by New York in the ninth on an overall rough day in the field, and another meltdown by Bobby Parnell (3-6), aided Chicago. The Cubs built an early 2-0 lead with help from two errors by Jose Reyes. David Wright made his second error and New York's fourth of the game when he couldn't handle Geovany Soto's grounder leading off the ninth. Pinch hitter Bryan LaHair doubled to put runners at second and third. Parnell then got two outs to bring up Ramirez. Terry Collins considered walking him, but opted not to put pressure on Parnell to pitch with the bases loaded.
More
Cubs 10, Mets 6 (11 innings):
Carlos Pena hit a go-ahead single in Chicago's six-run 11th, and the Cubs won a game that ended nearly five hours after the Mets held a touching ceremony to mark the 10th anniversary of the terrorist attacks of Sept. 11. Josh Stinson (0-1) walked Marlon Byrd to start the 11th and gave up a single to Bryan LaHair. Pena singled for the lead. Pinch hitter Alfonso Soriano and Darwin Barney each hit two-run doubles off Ryota Igarashi before the first out, and Geovany Soto added a sacrifice fly. New York trailed 4-1 after five innings but scored twice in the sixth off Matt Garza. The Mets tied it with an unearned run when reliever Jeff Samardzija made a bad throw. The Mets loaded the bases in the first, ninth and 10th innings but came up empty.
More
April, 27, 2012
4/27/12
6:21
AM ET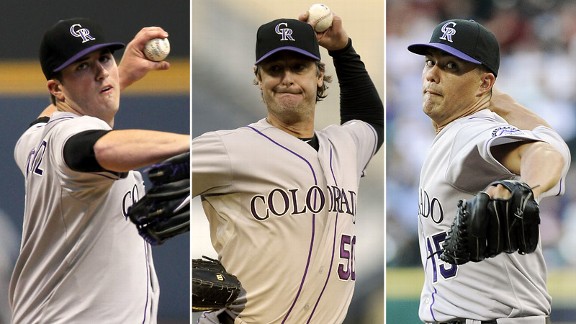 Getty Images/Associated Press
The Mets face (l to r) Drew Pomeranz, ageless Jamie Moyer and Jeremy Guthrie this weekend at Coors Field.
METS (11-8, third place/NL East) vs. COLORADO ROCKIES (9-9, third place/NL West)
Friday:
RHP Chris Schwinden (2-2, 2.05 at Triple-A Buffalo) vs. LHP Drew Pomeranz (0-1, 6.75), 8:40 p.m. ET
Saturday:
RHP Dillon Gee (1-2, 5.21) vs. RHP Jeremy Guthrie (2-1, 5.92), 8:10 p.m. ET
Sunday:
LHP Johan Santana (0-2, 3.00) vs. LHP Jamie Moyer (1-2, 2.28), 3:10 p.m. ET
Rockies short hops
• With an April 17 victory against the San Diego Padres,
Jamie Moyer
became the oldest pitcher to win a major league game, at 49 years, 151 days. The victory, the 268
th
of his career, tied
Jim Palmer
for 34
th
all time. Next up:
Mike Mussina
and
Burleigh Grimes
at 270. Moyer actually has been Colorado's best starting pitcher so far this season, despite the 1-2 record. He is the only Rockie to complete at least five innings in each of his starts. He received a no-decision in his last start despite limiting the Pittsburgh Pirates to one run in six innings at PNC Park. Moyer missed last season after undergoing Tommy John surgery, which he only intended to have in order to throw batting practice to his children. But he felt so good while rehabbing, he opted to make a comeback. Moyer needs two strikeouts to match
Luis Tiant
for 36
th
all time, with 2,416.
• Left fielder
Carlos Gonzalez
produced his first two homers of the season Tuesday at Pittsburgh, off
Kevin Correia
and
Tony Watson
. Gonzalez had been weakened by a battle with strep throat that caused him to miss three games. He is just starting to regain his strength.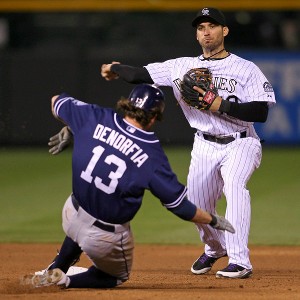 Chris Humphreys/US Presswire
Marco Scutaro has needed to readjust to second base after primarily playing shortstop with the Red Sox in recent seasons.

• The Dec. 16 signing of former Minnesota Twin
Michael Cuddyer
to a three-year, $31.5 million contract marked the first time the organization had opened the purse strings for a major free-agent acquisition since 2000. That year, Colorado signed
Mike Hampton
and
Denny Neagle
. (The Hampton signing gave the Mets the compensatory draft pick they used to select
David Wright
38
th
overall in June '01). Cuddyer, who grew up with Wright in Norfolk, Va., has been the Rockies' most productive hitter so far with a .303 average, two homers and 11 RBIs in 66 at-bats. A first-time All-Star last season in the American League, Cuddyer has taken over the right-field role held by
Seth Smith
and
Ryan Spilborghs
in 2011.
• The Rockies acquired
Marco Scutaro
from the Boston Red Sox on Jan. 21 for right-hander
Clayton Mortensen
. Scutaro started 102 games at shortstop and two games at second base last season, but is being asked to play the latter position with the Rockies. He initially looked shaky, but has progressed since the start of the season.
• Two-time reigning Gold Glove winner
Troy Tulowitzki
already has matched last season's error total with six. On a wet day, he airmailed two throws for errors. Three days later, Tulowitzki then had a second two-error day. Teammate
Jason Giambi
played fielding highlights for Tulowitzki to try to settle the Rockies' shaken shortstop. The six errors are one shy of
Starlin Castro's
NL-leading total with the Chicago Cubs. Tulowitzki has this to fall back on: He is a lifetime .328 hitter with seven homers and 15 RBIs in 116 at-bats against the Mets.
• The Rockies are targeting 110 starts for 38-year-old
Todd Helton
at first base this season. Helton does not play day games after starting night games. Giambi is the primary alternative. Helton's 1,318 RBIs are the most in Rockies franchise history. He and Wright are the only two active players who lead their organizations in most runs driven in. Helton and
R.A. Dickey
were baseball teammates at the University of Tennessee.
• Closer
Rafael Betancourt
is 6-for-6 in save conversions.
Matt Belisle
(1.23 ERA) is now the primary setup man.
Rex Brothers
(4.05 ERA) began the season in that role, but is now more likely to handle the seventh.
• Left-hander
Drew Pomeranz
was the centerpiece prospect returned in last July's trade of
Ubaldo Jimenez
to the Cleveland Indians. The 23-year-old southpaw was the fifth overall pick in the 2010 draft, out of the University of Mississippi. The Mets then selected
Matt Harvey
seventh overall. With the Rockies not needing a fifth starter the first time through the rotation, Pomeranz began the season with a start with Double-A Tulsa to keep his innings count in check. Friday's outing will mark his seventh career major league start.
•
Jeremy Guthrie
was acquired at the start of spring training from the Baltimore Orioles for
Jason Hammel
and
Matt Lindstrom
.
• With center fielder
Dexter Fowler
struggling (.222), lefty-hitting
Tyler Colvin
has chipped away at some of his playing time. Colvin was acquired from the Cubs with infielder
D.J. LeMahieu
on Dec. 8 for
Ian Stewart
and
Casey Weathers
.
• Right-hander
Juan Nicasio
, whom the Mets will not face, is an inspirational story. He is coming back from a broken neck, which he suffered on a line drive off the bat of Washington's
Ian Desmond
last Aug. 5.
• Defensive-oriented third baseman
Chris Nelson
is hitting .224.
•
Jorge De La Rosa
, returning from Tommy John surgery, is due to pitch in an extended spring training game Friday.
Matchups
Schwinden vs. Rockies (career: never faced)
Gee vs. Rockies (career: never faced)
Santana vs. Rockies (career: 2-0, 0.00 ERA)

Troy Tulowitzki .429, 2 K, 7 PA
Todd Helton .333, 3 PA
Marco Scutaro .250, 1 RBI, 3 K, 12 PA
Carlos Gonzalez .250, 1 K, 4 PA
Jason Giambi .227, 1 HR, 4 RBI, 1 BB, 7 K, 23 PA
Dexter Fowler .200, 2 BB, 3 K, 7 PA
Ramon Hernandez .190, 1 RBI, 1 BB, 4 K, 22 PA
Michael Cuddyer .000, 1 BB, 1 K, 3 PA
Pomeranz vs. Mets (career: never faced)
Guthrie vs. Mets (career: 0-2, 4.73 ERA)
David Wright .500, 2 RBI, 1 K, 6 PA
Scott Hairston .333, 3 PA
Ike Davis .333, 2 K, 3 PA
Daniel Murphy .000, 1 RBI, 3 PA
Ruben Tejada .000, 1 K, 3 PA
Moyer vs. Mets (career: 10-6, 3.94 ERA)
Daniel Murphy .500, 1 HR, 2 RBI, 1 BB, 6 PA
David Wright .415, 4 HR, 14 RBI, 1 BB, 3 K, 56 PA
Scott Hairston .000, 2 BB, 11 PA
Ike Davis .000, 1 BB, 3 PA
Last series results
Mets won, 2-1, at Coors Field, May 9-12, 2011 (AP game recaps)
Rockies 2, Mets 1:
Chris Capuano was stellar on the mound and shoddy at the plate. Capuano (2-4) made one key mistake in 6 2/3 strong innings, hanging an 81 mph slider to Chris Iannetta, who broke a tie in the seventh inning with a low liner that just cleared the left-field fence. The pitcher's performance at the plate, though, left something to be desired. He struck out three times, including once with the bases loaded in the sixth. That's simply the way the night went for the Mets, who left 10 runners on base and dropped to 0-5 against Colorado this season including a four-game sweep at Citi Field last month. Once again, they struggled to come up with the timely hit. New York is 1-for-16 with runners in scoring position over the last two games.
Mets 4, Rockies 3:
Mike Pelfrey hit a tiebreaking, two-run double and limited the Rockies to three solo homers. Ike Davis left in the fifth inning after he strained his left calf when he appeared to trip over third baseman David Wright's foot as the two closed in on a pop up by the Rockies' Troy Tulowitzki. Wright hung on to the ball near the mound for the second out of the fourth inning as Davis tumbled to the ground. Davis bounced up quickly but was limping noticeably. He remained in the game for the final out of the inning, then was replaced. The Mets had lost all five of their games to the Rockies this season but finally put together a couple of rallies against their new nemesis to counter home runs by Troy Tulowitzki, Seth Smith and Carlos Gonzalez. Despite the trio of long balls he served up, Pelfrey (3-3) allowed six hits over 6 2/3 innings and improved to 6-2 lifetime against the Rockies, who have lost seven of nine but remain atop the NL West. Pelfrey's outing was cut short by a nearly hour-long rain delay in the seventh inning.
Mets 9, Rockies 5:
Carlos Beltran hit a career-high three homers and drove in six runs to help the Mets beat Ubaldo Jimenez in a game delayed more than two hours by rain. Beltran homered from both sides of the plate and reached all parts of the ballpark with his three two-run homers: straightaway center in the first, deep left in the seventh and into the right-field seats in the ninth. The switch-hitting outfielder became the eighth Mets player to hit three in a game, and first since Jose Reyes on Aug. 15, 2006, at Philadelphia. Reyes hit a two-run single in the fourth that chased Jimenez (0-3) and kept the Rockies' ace searching for his elusive first win of the season. He lasted just 3 2/3 innings in his shortest stint of the season, surrendering five runs and three hits while walking six. Relying on his curveball, Jon Niese (2-4) was solid for 6 1/3 innings while allowing solo homers to Jonathan Herrera and Todd Helton.