New York Mets:

Jacoby Ellsbury
May, 12, 2014
May 12
5:47
AM ET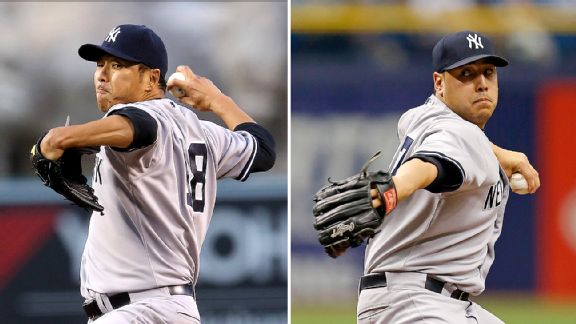 Getty ImagesThe Mets are due to face Hiroki Kuroda and Vidal Nuno in the Bronx.
NEW YORK
FIRST PITCH:
Bring on the Yankees! (And the outrage over what gift the Mets will give retiring
Derek Jeter
!)
After halting their five-game losing streak with a dramatic win Sunday against the
Philadelphia Phillies
, the "True New Yorker"-cheered Mets face their Bronx rivals for the next four games.
First up are two games at Yankee Stadium. Then the site shifts to Citi Field.
Monday in the Bronx, ex-Yankee
Bartolo Colon
(2-5, 5.36 ERA) opposes right-hander
Hiroki Kuroda
(2-3, 4.43).
The Mets swept the four games from the Yankees in 2013, but are 40-53 against the Bombers lifetime in the regular season.
Monday's news reports:
• Down three runs in the bottom of the ninth, the Mets ultimately
rallied for a 5-4 win
against the Phillies on Sunday at Citi Field.
Ruben Tejada
delivered a walk-off RBI single in the 11th with the bases loaded.
Wilmer Flores
had been unavailable Sunday because he and
Gonzalez Germen
were
suffering from an illness
that is making its way through the clubhouse.
Eric Campbell
notched his first major-league hit
, in the fourth inning against
Cole Hamels
.
"The energy level is unbelievable," Terry Collins said postgame Sunday about the clubhouse atmosphere. "It hasn't been that high in a long time, even when we were playing good. They knew things hadn't been going good. We got big hits from some guys who have been struggling. That's all going to add up in the end. This win may really be the win that gets us going."
Said
Jonathon Niese
, who received a no-decision: "Obviously that was much-needed. … I was saying it during the game: This is going to be the game that turns this thing around. Hopefully that's the case and we can just build off of this one."
Still, Collins acknowledged the hitters need to perform better. Tejada snapped an 0-for-17 skid and
Chris Young
snapped an 0-for-18 skid during the game.
"We've got to get it going throughout the lineup," Collins said. "I said in spring training we can't survive with two or three guys hitting. We've got to spread it through the lineup for us to be really, really good. We've got to get it going. You look at the last six days and there's an area where we struggled really bad. Some of those guys have got to start producing. I'm not saying hit homers, but get some hits."
Columnist David Lennon
in Newsday
suggests Sunday's win will help the Mets regain some self-esteem. Columnist Bill Madden
in the Daily News
revisits the Sunday comeback.
Read game recaps in the
Philadelphia Daily News
,
Post
,
Daily News
,
Newsday
,
Times
,
Star-Ledger
,
Record
and at
MLB.com
.
• Collins said
Jeurys Familia
is "real close" to
taking over the closer's role
. Read more in the
Daily News
.
• Sandy Alderson
refused to speak to the media
Sunday about
Jenrry Mejia
's status for Wednesday's start or any other topic. Read more in the
Star-Ledger
and
Newsday
.
• Jeter, entering his final Subway Series, is nostalgic, writes George King
in the Post
. Read more in the
Daily News
.
• Collins suggested suddenly buried
Eric Young Jr.
merits more playing time
after going 3-for-6 with two runs scored Sunday.
• Anthony McCarron
in the Daily News
notes E.Y. Jr. and now-Yankee
Jacoby Ellsbury
led their leagues in steals last season.
•
CC Sabathia
, who had been due to face the Mets on Thursday, instead
landed on the disabled list
.
Alfredo Aceves
is expected to make the start in Sabathia's place.
• Kevin Plawecki threw out three would-be base stealers and Tyler Pill won for the first time in more than a year as Binghamton beat Harrisburg, 2-1. Read the full minor-league recap
here
.
• Mets pitchers are 0-for-63 at the plate this season. Jay Schreiber
in the Times
suggests they channel their inner
Dae-Sung Koo
during the Subway Series. Koo doubled against
Randy Johnson
and scored -- with a weighted ball in his jacket pocket -- at Shea Stadium on May 21, 2005.
• Tim Teufel's son Shawn, a former Mets farmhand, will
pitch for the independent Rockland Boulders
.
• Daniel Barbarisi
in the Journal
previews the Subway Series.
•
From the bloggers …
Blogging Mets
thinks the fact that Mets pitchers have not yet gotten a hit is a non-story. …
NY Mets Life
examines if Terry Collins is the right man for the job.
BIRTHDAYS:
Hall of Famer Yogi Berra, who finished his playing career with the club and also managed them from 1972 through '75, turns 89. ... Mark Clark is 46. ...
Jack Egbert
is 31.
TWEETS OF THE DAY:
Good for Ruben Tejada. He was crestfallen Wednesday in Miami when he was told he'd be benched. Everyone deserves a moment. #Mets

— Mike Vaccaro (@MikeVacc) May 11, 2014
YOU'RE UP: Who will win the Subway Series?
June, 2, 2013
6/02/13
7:47
AM ET
MIAMI
FIRST PITCH:
It's finally
Matt Harvey
Day again as the Mets look to avoid getting swept against the
Miami Marlins
.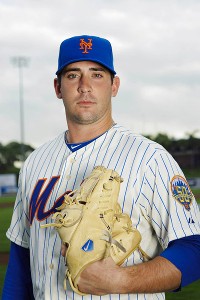 Steve Mitchell/USA TODAY Sports
Matt Harvey Day has arrived.

Harvey (5-0, 1.85 ERA) leads the majors in opponent batting average (.172) and the National League in 10-strikeout games (three). He opposes right-hander
Kevin Slowey
(1-5, 3,59) at 1:10 p.m. at Marlins Park.
Sunday's news reports:
• Columnist Bill Madden in the Daily News suggests it may NOT be wise for the Mets to spend heavily in free agency next offseason. Writes Madden:
Disillusioned fans are demanding they live up to that promise and spend, spend, spend. But on what?
For one thing, the free-agent market, which more and more is proving to be the wrong way to go, is very problematic next year. Yes, Shin-Soo Choo, who, with his fifth-best OPS (.973) entering Friday, would seem like the perfect fit to solve a big part of the Mets' outfield problems. And, yes, even Hunter Pence, who's off to a typical season in which he projects to hit .285-.290 with 25 homers, 85 RBI and an OPS of a little over .800, would be a nice fit as well. But neither one of these guys is a franchise-type player, although they will expect to be paid as such as free agents.

Choo, who will be 31 next year, is represented by the Scott (Avenging Agent) Boras, and, as such, is going to be seeking a six- or seven-year deal at $20 million or more per. Same thing for Pence, who is 30 next year. Jacoby Ellsbury, another Boras client, is also going to be out there and is having only a so-so season. He will be 30 next year and hasn't been the same since dislocating his shoulder last season, but that won't stop Boras from seeking a similar seven-year, $140 million-$150 million deal.
It is a proven fact that most free-agent contracts of five years or more to players 30 or over are bad investments.
•
Collin McHugh
allowed four runs in four-plus innings and the
Mets' bats had a quiet day
against
Jose Fernandez
as the
Marlins beat the Mets, 8-1
, Saturday.
"This is what we have to work with, so we are going to have to figure it out,"
David Wright
told reporters postgame, according to the
Daily News
. "There is no magic potion, there's no offensive savior that is going to come and get us out of this thing. It's up to us to work our way out of it.
"It's up to me. I got to go up there and start being better and maybe taking some walks. I am swinging at some pitches I normally wouldn't swing at and getting myself out a little bit. I keep preaching that the offense is kind of run on getting on base and taking your walks and I am not doing that right now."
Read game recaps in the
Post
,
Daily News
,
Newsday
,
Star-Ledger
,
Record
,
Times
and
MLB.com
.
•
Jonathon Niese
should
retake his rotation spot
next Friday. Read more
in the Star-Ledger
.
• Zack Wheeler limited Fresno to one run on three hits and a walk in six innings and
Kirk Nieuwenhuis
homered as Las Vegas won, 2-1. Binghamton's Rafael Montero tossed seven scoreless innings and Savannah's Luis Cessa tossed 7 2/3 scoreless innings in shutout victories. Read the full minor league recap
here
.
Read more on Wheeler in the
Post
.
• Steve Serby
in the Post
has a Q&A with
Daniel Murphy
. Among the exchanges:
Q: What would it mean to you to play in the All-Star Game at Citi Field this summer?
A: That would be unbelievable. That would be so much fun. It would be such a humbling experience. But I do understand that is a long way away.
• Harvey tells Maric Carig
in Newsday
the opponent -- whether the Yankees in a buzz-filled stadium or Marlins in an empty ballpark -- is immaterial. "I play a game within the game," Harvey said. "Each hitter is a game. I don't want to get beat by any hitter. That's how I take it.''
Ken Davidoff
in the Post
offers some statistics to underscore Harvey's torrid start.
Writes columnist Kevin Kernan
in the Post
:
Harvey was a freshman and his dad was his coach at Fitch High School in Groton, Conn., when they were playing senior-laden powerhouse Norwich Free Academy. Harvey had the freshest arm on the team so he was named to pitch that day. Before the game, his dad asked: "You OK with this?''
The freshman looked his father in the eye and said, "Don't ever ask that question again.''
Harvey pitched a complete-game victory that day and hasn't stopped shutting down opponents since.
•
Tim Byrdak
pitched in an extended spring training game
for the first time since undergoing shoulder surgery in August, while Matt den Dekker still is
working back from a broken wrist
suffered in spring training.
• Cody Derespina
in Newsday
offers his top-10 Mets prospects.
•
From the bloggers …
Faith and Fear in Flushing
visits Tomorrowland, where Matt Harvey is only a day away.
BIRTHDAYS:
Former reliever Mike Stanton turns 46. … Infielder Kelvin Chapman is 57. … Kurt Abbott is 44.
TWEET OF THE DAY:
At least Matt Harvey is pitching tomorrow? #Mets

— Jessica DeMattia (@jessicabrooke5) June 2, 2013
YOU'RE UP: Do the Mets have any choice but to overpay for free agents next offseason?
March, 12, 2013
3/12/13
5:01
AM ET
PORT ST. LUCIE, Fla.
FIRST PITCH:
The Mets enjoy their second straight Tuesday off-day today.
Meanwhile, in Miami,
David Wright
and Team USA open second-round play in the World Baseball Classic. The American squad faces Puerto Rico at 8 p.m. at Marlins Park.
When the Mets regroup Wednesday,
Matt Harvey
will start against the
Washington Nationals
in Viera, Fla.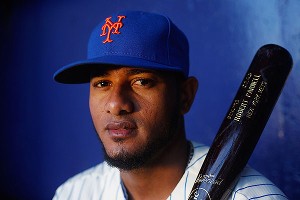 Chris Trotman/Getty Images
Jordany Valdespin is never dull.

Tuesday's news reports:
•
Jordany Valdespin
tweeted that nobody can stop him
. Then,
Justin Verlander
did, in a manner of speaking. After Valdespin opened Monday's game against the
Detroit Tigers
with a homer, he was plunked in the groin with a 94 mph fastball in the fifth inning. He was not wearing an athletic supporter.
Valdespin
indicated afterward he was fine
. His performance appears to be making him a shoo-in for the Opening Day roster, seemingly over
Kirk Nieuwenhuis
.
As for Valdespin getting hit by a pitch, Valdespin will be susceptible for more reason than his brashness.
"Valdespin will continue to get hit because he dives into the plate and he jumps at the pitcher, which prevents him from getting out of the way of inside pitches," a scout said. "It had become a regular occurrence, and won't change until Valdespin tones down his hitting approach."
Writes columnist John Harper
in the Daily News
regarding Valdespin:
Jordany Valdespin makes the Mets nervous, mainly because they don't trust him with a glove on his hand or a tweet-dispensing iPhone within reach. Of course, he also makes their eyes light up at times with his ability to turn on a fastball -- or, as was the case Monday, the Justin Verlander changeup that Valdespin launched over the right-field fence leading off the game against the Tigers.
For a team that is expected to struggle to score runs, in fact, the Mets can hardly ignore Valdespin's offensive potential. They're going to have to find a way to get his bat in the lineup, at least against right-handed pitching.
Read more in the
Post
,
Daily News
,
Record
,
Star-Ledger
,
Newsday
and
MLB.com
.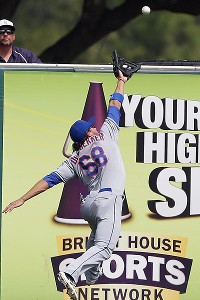 Carlos Osorio/Associated Press
Matt den Dekker had a near-miss on this shot to the track in right-center Monday, but later came up with another stellar grab.

•
Jonathon Niese
, in line to
become the 22nd Opening Day starter in franchise history
, limited the Tigers to one hit and four walks in 4 2/3 scoreless innings Monday.
Jenrry Mejia
rediscovered his cutter
and tossed a scoreless frame. Matt den Dekker had
another highlight-reel catch
and drew a comparison to
Jacoby Ellsbury
for his fielding, but den Dekker also struck out twice against Verlander. The
Mets ultimately beat Detroit 11-0
behind homers from
Brandon Hicks
,
Brian Bixler
and Valdespin. Read more in
Newsday
, the
Post
,
Record
and
MLB.com
.
• Read more on den Dekker's growing catch collection in the
Daily News
,
Star-Ledger
and
Journal
.
• Nieuwenhuis, whom the Mets hoped would be ready to return to Grapefruit League action Wednesday,
will take a little longer
before entering a game. Terry Collins indicated Nieuwenhuis instead should get onto the field and perform baseball activities tomorrow for the first time since suffering a bone bruise on his left knee sliding nine days ago.
Daniel Murphy
(side muscle) remains on target to enter Grapefruit League action late this week, Collins said. Read more on Murphy in the
Post
and Nieuwenhuis in the
Times
.
• Collins confirmed
Jeremy Hefner
is the rotation alternative
to
Johan Santana
, who appears destined to open the season on the disabled list.
•
Pedro Feliciano
appears the wild card as the Mets try to assemble a bullpen. With
Frank Francisco
likely to open the season on the disabled list,
Bobby Parnell
,
Josh Edgin
,
Brandon Lyon
,
LaTroy Hawkins
and
Scott Atchison
appear safe bets. That seemingly leaves one or two spots, depending on Feliciano's fate.
Jeurys Familia
has pitched so well, repeatedly getting groundballs with his sinker, it is hard to fathom he is left off. So submariner Greg Burke's fate may be tied to whether Feliciano can prove he is worthy of a roster spot.
Of course, Burke over Feliciano would give the Mets only one lefty reliever, so
Robert Carson
cannot be entirely written off, even if the organization believes he needs more Triple-A seasoning.
Andrew Keh
in the Times
notes the Mets are deferring to veterans with track records in the bullpen.
• Mark Herrmann
in Newsday
asks catchers how they settled on that position. "Honestly, I just got thrown back there when I was 13 or 14," Travis d'Arnaud told Herrmann. "I pitched and played shortstop. But one of my teammates threw hard and somebody said, 'Trav, can you handle this?' I said sure."
• Will the Mets lose more than
R.A. Dickey
's production with his trade to the
Toronto Blue Jays
? Michael Salfino
in the Journal
notes Mets starters who pitched against the same team as Dickey the following day had a 2.38 ERA in 2012. Writes Salfino:
If this phenomena is to be believed (the Dickey hangover didn't exist in 2010 and 2011), then there's reason to believe the rest of the Mets staff will see some drop-off this season. Though Jonathon Niese had the most starts after Dickey (seven, with a 2.34 ERA), the effect was staff-wide. Even Jeremy Hefner (2.16 in five post-Dickey starts) and Chris Young (2.08 in two) benefited. And Mets fans are left to imagine if fireballing Matt Harvey can replicate last year's results (1.37 ERA with 25 Ks in 19.2 innings) following Dickey's floaters.
Coincidence or not, the Mets bullpen is bound to suffer without their bearded comrade. Since Dickey joined the Mets in 2010, Mets relievers had a 3.44 ERA after taking the ball from Dickey versus a 4.26 in all other games.
• Right-handed prospect Michael Fulmer will undergo surgery today to repair torn meniscus cartilage. Fulmer, the 44
th
overall pick in the 2011 draft, went 7-6 with a 2.74 ERA in 21 starts with low-A Savannah last season. "Only a very minor setback in a long career. Looking forward to getting back to 100%,"
Fulmer tweeted
.
•
From the bloggers
…
Mets Police
celebrates the overturn of New York City's ban on large sugary beverages with a photo gallery of large Mets cups. …
Rising Apple
offers competing viewpoints on issues facing the Mets. ... T
he Eddie Kranepool Society
hopes the Mets salute the '73 edition.
BIRTHDAYS:
Darryl Strawberry turns 51. … Former Mets reliever
Carlos Muniz
turns 32.
TWEET OF THE DAY:
@adamrubinespn Spin's statement, "Nobody can't stop me" is actually equivalent to "Everybody can stop me."If only he had self-esteem.

— Dominic Prianti III (@dprianti3) March 12, 2013
YOU'RE UP: Should Jordany Valdespin be an everyday player, at least against right-handed pitching?
March, 11, 2013
3/11/13
5:43
PM ET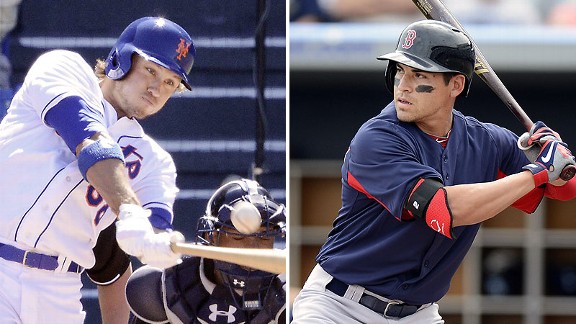 USA TODAY Sports/Associated Press
Outfield coach Tom Goodwin favorably compares Matt den Dekker's glove to Jacoby Ellsbury's defensive prowess.
LAKELAND, Fla. -- Matt den Dekker made another Amazin' catch Monday. This time he earned a comparison to
Jacoby Ellsbury
from outfield coach
Tom Goodwin
.
Den Dekker, already featured four times on SportsCenter's top-10 plays even though he has yet to reach the majors, raced onto the track in left-center in the fifth inning to take away an extra-base hit from
Austin Jackson
.
The 25-year-old prospect stayed on his feet this time. Earlier this spring training, he reached over the wall to take away a homer from Washington's
Anthony Rendon
. Then, two days ago, he slid on the track in left-center to rob Houston's
Trevor Crowe
.
"From the first day I saw him, he's reminded me of Ellsbury -- their body types and the way they can go get the ball," Goodwin said. "I think he has stronger arm than Jacoby has, but both of them can run. He's a difference-maker out there in center field."
Said
Jonathon Niese
, the beneficiary of Monday's grab: "Oh, it was amazing. He plays a great outfield. It's great to have that defense behind you. It's really important. Obviously he saves a lot of pitchers a lot of runs with those kinds of catches. Not too many people in the game can make those kinds of catches. It's real important to have guys like that."
So why isn't den Dekker a serious consideration for the Opening Day roster?
That would be his bat.
The lefty-hitting, lefty-throwing den Dekker did produce a two-run single through the right side of the infield in the seventh against left-hander
Phil Coke
, but he struck out twice earlier in the game against
Justin Verlander
, including once after getting ahead in the count, 3-0, with a runner at third base. Den Dekker has K'd 10 times in 27 Grapefruit League at-bats.
Last season, he hit .220 with 90 strikeouts in 295 at-bats at Triple-A Buffalo after tearing up Binghamton during the first half of 2012.
"He's working on some things," Terry Collins said. "He's really trying to be a little more selective at the plate.
"The one situation today where he had the guy at third and less than two outs and he got 3-0 on the best pitcher in the game, you've got to be ready to attack. You can't let him get back in the count like he did. But he's trying to get something he can handle.
"Later in the game that was a good swing he put on the lefty, so he's making huge progress.
"Defensively, I'm not sure we've got anybody better."
If you scrutinize Collins' words, you can see confirmation that den Dekker is all but assured of opening the season patrolling center for Triple-A Las Vegas.
"Everybody talks about platooning," Collins said. "If you're going to be a platoon player, you've got to be able to do something off the bench in the National League -- and that's not just play defense."