November, 19, 2013
11/19/13
3:28
PM ET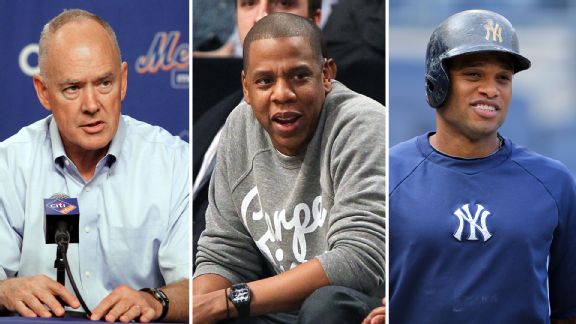 USA TODAY SportsSandy Alderson met with Jay Z about Robinson Cano, but the free agent isn't landing with the Mets.
NEW YORK -- General manager Sandy Alderson acknowledged meeting with Jay Z and his associates about free agent
Robinson Cano
on Monday night, but portrayed the likelihood of the
New York Mets
signing the free agent as virtually nil.
Read the full news story
here
.
November, 19, 2013
11/19/13
9:29
AM ET
1.
The #Mets met with Jay-Z and Cano yesterday? Reminds me of the time I went into a Tiffany & Co just to see what being rich felt like

— Nate Lopez (@Nate_T_Lopez) November 19, 2013
2.
#Mets have no money. #Cano wants $310 million over 10 years. See the slight disconnect ?

— Siddique Farooqi (@SidFar710) November 19, 2013
3.
You just know that the David Letterman writers got on their knees to give thanks for this #Mets/Jay-Z meeting.

— Michael Griffin (@literateartist) November 19, 2013
4.
@AdamRubinESPN you don't think he'd take less money for the chance to play for a non-contender?

— Simmy Kustanowitz (@simmykay) November 19, 2013
5.
#Mets have "secret meeting" with Peralta, "secret meeting" about Cano. Funny how these secrets are well known.

— John Ericson (@jericson1963) November 19, 2013
6.
Source:Cano reportedly laughs at #Mets 1yr 6mill offer. Officials frustrated they couldn't land him. plan now is to announce more concerts.

— Big Paulie (@BIGpaulie913) November 19, 2013
7.
"C to the izz-A, N to the izz-O is likely not in the cards for the #Mets." #RejectedCanoLedes

— Cody Derespina (@CDerespina) November 19, 2013
8.
The Mets: Supposedly "interested" in Robinson Cano; blown away by a $2.5 million offer for LaTroy Hawkins. Sounds about right.

— Jared Diamond (@jareddiamond) November 19, 2013
9.
This reeks of an agency doing a dress rehearsal for a future pitch, kinda like getting some reps in against the scout team. #Mets #Cano

— Marc Carig (@MarcCarig) November 19, 2013
10.
Even the #Mets beat-writers are clowning the team. This is great.

— Devanand Ramjit (@_KingDev_) November 19, 2013
November, 19, 2013
11/19/13
9:14
AM ET
NEW YORK -- When Jay-Z requests your company at dinner, you apparently do not pass it up.
The entertainer and fledgling agent met with
New York Mets
chief operating officer Jeff Wilpon, general manager Sandy Alderson and assistant GM John Ricco for dinner Monday night to discuss free agent client
Robinson Cano
, the
New York Post
reported.
Read the full news story
here
.