New York Mets:

Jed Lowrie
May, 2, 2012
5/02/12
4:41
PM ET
WHAT IT MEANS: Mike Pelfrey's vacated rotation spot is a problem for the Mets.

For the second straight start since inheriting that role, Chris Schwinden lasted only four innings while surrendering a pair of homers. This time, Chris Johnson took Schwinden deep in consecutive innings to account for five runs.

In the Mets' final visit to Houston before it moves to the American League, the Astros swept the three-game series, taking the finale 8-1. The Mets finished their road trip 2-4 and slipped to 13-12 on the season.

Johnson finished with a career-high six RBIs, joining Colorado's Carlos Gonzalez in reaching that total in a single game against the Mets on the trip. Both of Johnson's homers drove in former Red Sox infielder Jed Lowrie, who reached base nine of the next 10 times he stepped to the plate after being retired in his first two at-bats of the series.

The big question: Will Schwinden get another start?

The intention was for Schwinden to at least hold the spot until Chris Young is ready in about a month, but that may no longer be tenable as Young works back from May 16, 2011 surgery to repair a torn anterior capsule in his right shoulder. Young threw a 75-pitch simulated game Monday.

The question is: In the interim, who exactly could step?

Mets officials rightly have committed to keeping Matt Harvey and Jeurys Familia at Triple-A for most of the season, which leaves Jeremy Hefner -- as a 40-man roster member -- as the more likely alternative to Garrett Olson among Triple-A Buffalo rotation members. Miguel Batista was intended to be the long reliever/spot starter, and he is around. And D.J. Carrasco did log three innings in one of his minor league rehab appearances, last Thursday.

Of course, any upcoming turnover might not be limited to the rotation. Manny Acosta allowed three runs on six hits in two innings in relief of Schwinden. He is out of options and would need to go on waivers before any attempt to outright him to the minors. But Sandy Alderson was swift a season ago in making changes when players underperformed. Acosta has been charged with 11 earned runs in 3 2/3 innings over his past three starts.

PANAMA! Before giving way to Jordany Valdespin at shortstop for the bottom of the seventh with the Mets trailing by seven runs, Ruben Tejada went 3-for-4. It was his fourth three-plus-hit game on the six-game trip. He hit .464 (13-for-28) during the jaunt to Denver and Houston.

WHAT'S NEXT: The Mets are off Thursday, then begin a three-game homestand Friday against the Arizona Diamondbacks. Dillon Gee (2-2, 4.85 ERA) opposes left-hander Wade Miley (3-0, 1.29) in the series opener.
May, 2, 2012
5/02/12
2:49
AM ET
Jon Niese
surrendered a two-run homer to
Jed Lowrie
and three-run homer to
Chris Snyder
over the first two innings and the
Mets lost to Houston, 6-3
, Tuesday night. Heading into this afternoon's
Chris Schwinden
versus
Wandy Rodriguez
matchup, Houston already has secured its first series win since a season-opening series against the Colorado Rockies. The Astros since had lost six straight series.
Kirk Nieuwenhuis
could become the
second National League Rookie of the Month winner
in franchise history, joining
Justin Turner
, when the April award is announced today.
Wednesday's news reports:
•
Terry Collins
had no regrets about lifting Niese
for pinch hitter
Lucas Duda
in the top of the fourth with the Mets having clawed within three runs and a pair of Mets on base. Duda struck out, ending the threat, and Collins was forced to turn to
Miguel Batista
. Read game recaps in the
Times
,
Post
,
Record
,
Star-Ledger
,
Daily News
and
Newsday
.
•
David Wright's
.389 average in April matched the fifth-best in franchise history for that month, trailing only
John Milner
(.488 in 1976),
Ed Kranepool
(.418, 1965),
Cleon Jones
(.410, 1969) and
Derek Bell
(.400, 2000). Wright finished the month trailing only
Matt Kemp's
.417 average with the Los Angeles Dodgers in the National League this season. Wright achieved the gaudy production despite suffering a broken right pinkie on a headfirst slide back into first base on April 9.
Brian Costa
in the Journal
examines Wright's surge. Wright tells him about the finger fracture, which only cost the third baseman only three games: "When it first happened, I thought there would be no chance that I'd be able to play as quickly as I did." Wright said.
Wright's success coincides with him reducing his pronounced leg kick and lowering his hands. He also appears closer to the plate than at any time since he was beaned by San Francisco's
Matt Cain
on Aug. 15, 2009. Writes Costa:
In April, Wright hit more than 30 percent of his batted balls for line drives, which would represent a career high and a 12 percent jump from 2011. If the season ended Tuesday, Wright would finish with both the lowest strikeout rate of his career (15.7 percent) and the highest walk rate (18 percent). The fact that nearly 45 percent of his batted balls have fallen in for hits -- the fourth-highest rate in the majors -- suggests some regression is likely. But the overall picture that emerges is of a hitter driving the ball with more authority and being more selective. The two are not unrelated. "One of the biggest things, I think, is just the mindset of, I don't have to go up there and expand the strike zone," Wright said.
Andy McCullough
in the Star-Ledger
cites similar stats in discussing Wright and suggesting this level of production is likely not fully sustainable. Yet McCullough also writes on the positive side:
Wright is striking out less and walking more, a sign of what he believes is proper timing at the plate. From 2009-11, he struck out 22.9 percent of the time, walked 11.2 percent and made contact with a strike 62.9 percent of the time. In April? He struck out a career-low 15.7 percent and walked a career-high 18 percent. Wright credited his uptick in walks to his position in the lineup. The trio of hitters behind him -- Jason Bay, Lucas Duda and Ike Davis -- began the season slowly. Wright believes he's often been pitched around. "When Ike gets going," he said, "ultimately, that will cut down on my walks."
• With
Mike Nickeas
suffering from the flu
and remaining back at the team hotel on Tuesday night, the Mets were considering bringing
Vinny Rottino
or
Lucas May
to Houston. Duda also was out of the starting lineup for a second straight day. Ultimately, though, the Mets opted to
stand pat with the current active roster
rather than summon help from Buffalo, team officials said postgame. Collins said it is possible Duda will return to the lineup for Wednesday's matinee. Read more in the
Post
,
Record
and
Star-Ledger
.
• Wright, a Virginia Tech football fan whose brother
Daniel
is a junior at the school, applauded the Giants' selection of Hokies running back
David Wilson
with their first pick in the NFL draft, according to
Roger Rubin
in the Daily News
. "We exchanged a few texts," Wright told Rubin. "I was talking with one of the Virginia Tech coaches on the phone and asked for his number. I wanted to say congratulations. He sounded pretty excited about the situation."
Writes Rubin:
Wright's brother Daniel is a junior at Tech and "he started telling me all about the guy, so I've been paying attention," Wright said. "He told me about this football player who wore a jacket and tie to every class, did backflips when people asked him and was known on campus for other feats of strength. He was a legend for that stuff before he even became one for football."
• Schwinden was charged with six runs (five earned) in four innings in his first major league start this season, Friday at Colorado. Now he's charged with helping the Mets avoid getting swept in Houston. "Everybody keeps telling me it's the ballpark," Schwinden told
Mike Kerwick
in the Record
about his Coors Field struggles last weekend. "It's tough. It's one bad game and you can't base it off of one game, so I'm going [Wednesday] and [will] go after hitters and be aggressive and make the right pitches and execute them."
•
Cory Vaughn
and
Richard Lucas
had four RBIs apiece as St. Lucie improved to 21-4 on the season with a 15-6 win against Jupiter on Tuesday.
D.J. Carrasco
, working the second of back-to-back days on a rehab assignment, pitched a scoreless inning. Read the full minor league recap
here
.
TRIVIA:
Art Howe
, a part-time broadcaster for the Astros, visited the Mets clubhouse at Minute Maid Park on Tuesday. In Howe's first year as Mets manager, who were his hitting and pitching coaches?
Tuesday's answer:
Charlie Manuel
placed best in 2011 Manager of the Year balloting. Manuel finished fourth in the National League. Atlanta's
Fredi Gonzalez
finished one slot behind Manuel.
May, 2, 2012
5/02/12
12:07
AM ET
Terry Collins
said there was no question in his mind:
Jon Niese
may have been only at 60 pitches after three innings. But with the Mets already having trimmed a five-run deficit to three runs, and with two Mets on base in the top of the fourth, Collins decided to lift Niese for pinch hitter
Lucas Duda
.
Duda struck out against
J.A. Happ
and the Mets ultimately lost, 6-3, Tuesday night. But Collins was confident afterward in the appropriateness of his decision.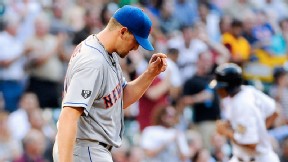 Pat Sullivan/Associated PressJon Niese was pulled after three innings, having allowed a pair of homers and five runs.
It ended up being Niese's shortest start since going only 2 2/3 innings against the Milwaukee Brewers on Sept 29, 2010.
Asked if it was particularly tough to lift Niese after three innings knowing unproven rookie
Chris Schwinden
goes Wednesday afternoon, Collins replied: "Chris has only gone one time, so it's tough to judge how far he's going to go. But when you're in a game where you're down five and you have a chance to tie it, I think you've got to take the opportunity.
"As you saw, we didn't have another chance the rest of the game to tie the game. So I took my chance then."
Asked if he was shocked by the decision, Niese said: "Yeah, kinda. Obviously the competitiveness in me, I wanted to stay in the game there. I put up a zero and I felt my stuff was good enough to keep the team in the game. But it's not the way it worked out. It's over now, and I've just got to move on."
All the damage against Niese came on homers -- a two-run shot in the first inning by
Jed Lowrie
, then a three-run shot an inning later by
Chris Snyder
.
"That Lowrie pitch, looking back I kind of regret throwing him a fastball there," Niese siad. "I wanted to throw him a curveball. I threw one up and in on him and he got it. And then the Snyder one, he just ambushed me first pitch. He got that one too. Other than that, I felt great. It's just one of those games where it gets away from you early."
Said catcher
Josh Thole
: "Snyder was just a sinker that just stayed up. I think sometimes when that happens it just takes the wind out of you a little."
The Mets walked eight batters as a staff, with the final run coming when
Ramon Ramirez
walked in a run that was charged to
Miguel Batista
. Batista walked four in 2 2/3 innings. Three of the outs he recorded came on a sacrifice bunt and two caught stealings.
"You just can't put people on and expect to win Major League Baseball games -- especially walking in runs," Collins said. "I mean, it's going to come back to burn you."
May, 1, 2012
5/01/12
10:50
PM ET
Recap
|
Box score
|
Photos
WHAT IT MEANS:
Jon Niese
was pulled by
Terry Collins
after three innings as the southpaw matched the fourth-shortest outing of his career, and the Mets ultimately lost to the Houston Astros, 6-3, Tuesday night at Minute Maid Park.
Niese surrendered a two-run homer to
Jed Lowrie
and three-run homer to
Chris Snyder
before being pulled with his pitch count at 60 in the top of the fourth. Pinch hitter
Lucas Duda
then struck out against southpaw
J.A. Happ
to strand two runners. With
Mike Nickeas
back at the team hotel with the flu, and with
Scott Hairston
and
Justin Turner
in the starting lineup, Collins only had lefty pinch hitters available on his bench.
Houston had lost six straight series before the Mets' arrival, but the Astros have now won the first two games of this three-game series.
After falling behind early, 5-0, the Mets did rally against Happ. Before Duda's strikeout,
Andres Torres
and
Josh Thole
had delivered consecutive RBI singles with two out in the fourth. An inning later, Hairston's two-out RBI single pulled the Mets within 5-3.
Miguel Batista
and
Ramon Ramirez
combined to walk six in four relief innings, the final of which -- by Ramirez -- forced in a run charged to Batista in the sixth inning that gave Houston a three-run lead.
WHAT'S NEXT: Chris Schwinden
looks to bounce back after being charged with six runs (five earned) in four innings in his first start in
Mike Pelfrey's
vacated rotation spot. Schwinden opposes Astros left-hander
Wandy Rodriguez
(2-2, 1.72 ERA) as the Mets look to avoid the sweep. Houston last swept a three-game series from the Mets in 2008 at Minute Maid Park.
May, 1, 2012
5/01/12
9:26
AM ET
R.A. Dickey
took a no-hit bid into the sixth inning, when it unraveled. The
Mets ultimately lost, 4-3, to the Astros
on Monday on
Jed Lowrie's
tiebreaking RBI single in the eighth inning against
Manny Acosta
. The Mets nonetheless produced a 13-10 record in April.
Tuesday's news reports:
• Dickey suggested he
only threw one bad pitch
in Monday's loss -- the knuckleball that stayed up that
Matt Downs
belted for a two-run homer. Read game recaps in the
Times
,
Record
,
Newsday
,
Star-Ledger
,
Daily News
,
Post
and
Journal
.
• Under a new scheduling plan with the Astros going to the American League, the Mets and Yankees
are no longer likely to play six games a season
-- except every third year when the NL East and AL East face off in interleague play. Instead, the Mets and Yankees will play one three-game series a season at one ballpark, or home-and-home two-game series, sources told ESPNNewYork.com. Read more in the
Daily News
.
•
Mike Pelfrey
will
undergo Tommy John surgery on Tuesday
in Gulf Breeze, Fla. Dr.
James Andrews
will perform the procedure. Because Pelfrey likely will require a 12-month recovery period, the Mets are likely to cut loose Pelfrey at the Dec. 2 non-tender deadline, making him a free agent.
Chris Schwinden
continues in the rotation spot Wednesday.
Chris Young
could be in a Florida State League game as soon as Saturday. Read more in the
Star-Ledger
,
Record
,
Journal
and
Newsday
.
•
Andres Torres
returned from the disabled list Monday and went 1-for-4.
Kirk Nieuwenhuis
moved to left field to accommodate Torres' return
, but the rookie remained in the leadoff spot. Read more in the
Times
.
•
Lucas Duda
pinch hit and walked in the Mets' three-run seventh, but he did not start because of illness.
Terry Collins
does not believe Duda will be capable of starting Tuesday, either. Closer
Frank Francisco
also was unavailable, because of
an upper-hamstring issue
, but Collins portrayed that as likely a one-day absence caused by dehydration suffered during the weekend in Denver. Read more in the
Post
.
•
Johan Santana
aced April, despite being winless, writes
Anthony Rieber
in Newsday
. "I think, obviously, because he's Johan Santana, there were expectations," Collins said. "But due to the seriousness of the injury that he had and the operation, everybody, including myself, we were hoping we were going to get quality innings out of him. And he's gone above and beyond it all."
•
Mike Puma
in the Post
labels
David Wright
the MVP and
Jason Bay
the LVP for April.
•
Travis Taijeron
homered twice and had five RBIs. An 18th round pick last June out of Cal Poly Pomona, Taijeron also scored the decisive run in the 12th on a wild pitch as Savannah beat Lexington, 10-9. Read Monday's full minor league recap
here
.
TRIVIA:
Which current NL East manager had the best finish in last year's manager of the year voting, regardless of league?
Monday's answer:
Danny Heep
came to the Mets in the Dec. 10, 1982 trade that sent
Mike Scott
to Houston.
April, 30, 2012
4/30/12
11:01
PM ET
WHAT IT MEANS: Make it 7,991 games in franchise history without a no-hitter.

Knuckleballer R.A. Dickey departed Denver, bound for Houston, wearing a sheriff's outfit complete with badge, gun and holster -- part of the Mets western-themed dress-up day. And Dickey was well-armed early against Astros batters on Monday, keeping them hitless into the sixth inning.

But when it unraveled, it unraveled quickly.

The Mets eventually rallied to tie the score in the seventh, but ultimately lost to Houston, 4-3, at Minute Maid Park.

Former Boston Red Sox infielder Jed Lowrie delivered a tiebreaking single in the eighth against Manny Acosta that scored Jordan Schafer with the decisive run. Acosta was working his second inning of relief in his first appearance since participating in that 11-run-inning debacle Friday in Denver.

Despite the defeat, the Mets finished a generally successful April with a 13-10 record, although their bid to move five games over .500 for first time since July 19, 2010 fell short.

As for Dickey's effort, Schafer led off the bottom of the sixth by serving an opposite-field single over third baseman David Wright for Houston's first hit. Schafer then scored on a broken-bat, fielder's choice groundout by Travis Buck. Matt Downs followed by launching a two-run homer as a potentially historic evening turned into a 3-0 deficit for Dickey and the Mets.

Of course, Philip Humber became the seventh pitcher to leave the Mets and then toss a no-hitter elsewhere earlier this season, while the Mets remain without a no-no in franchise history. If the rotation remains in order, Johan Santana is lined up to pitch the 8,000th straight Mets game without a no-hitter on May 11 in Miami.

CAPTAIN KIRK: The Mets, who scored 22 runs in the three-game weekend series at Colorado, were held scoreless into the seventh inning by Astros right-hander Bud Norris.

That's when newly installed left fielder Kirk Nieuwenhuis -- who remained in the leadoff slot with Andres Torres' return -- delivered a bases-loaded, two-run single with two out that evened the score at 3 and chased Norris.

Lucas Duda, held out of the starting lineup because of illness, had preceded Niewenhuis' at-bat by pinch-hitting for Dickey and walking to load the bases.

Torres, meanwhile, went 1-for-4 and drove in the Mets' opening run in the three-run seventh with a run-scoring infield single. It was Torres' first game back since straining his left calf on Opening Day.

Torres struck out in his first at-bat, then was robbed of a potential extra-base hit in the gap in his second at-bat on a stellar catch by the left fielder Buck. He grounded out to second base to open the ninth inning.

Dickey's final line: 6 IP, 3 H, 3 R, 3 ER, 2 BB, 6 K, 77 pitches (55 strikes).

WHAT'S NEXT: The Astros, who have lost six straight series, will look to win two straight against the Mets when they send left-hander J.A. Happ (1-1, 4.70 ERA) to the mound against Jon Niese (2-0, 2.81) Tuesday at 8:05 p.m. ET. Daniel Murphy is scheduled for his first game off this season.
April, 30, 2012
4/30/12
2:44
AM ET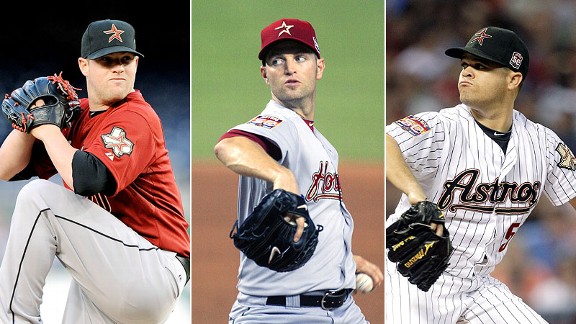 Getty Images
The Mets face (l to r) Bud Norris, J.A. Happ and Wandy Rodriguez during the final trip to Houston with the Astros an NL member.
METS (13-9, third place/NL East) vs. HOUSTON ASTROS (8-14, fifth place/NL Central)
Monday:
RHP R.A. Dickey (3-1, 4.44) vs. RHP Bud Norris (1-1, 5.84), 8:05 p.m. ET
Tuesday:
LHP Jon Niese (2-0, 2.81) vs. LHP J.A. Happ (1-1, 4.70), 8:05 p.m. ET
Wednesday:
RHP Chris Schwinden (0-0, 11.25) vs. LHP Wandy Rodriguez (2-2, 1.72), 2:05 p.m. ET
Astros short hops
• The Astros, who debuted as a member of the National League alongside the Mets in 1962, originally as the Colt .45s, move to the American League West next season as part of the conditions of
Jim Crane's
purchase of the team from
Drayton McLane
. Crane received a $65 million purchase credit to balance the leagues at 15 teams apiece.
As for Astros fans' negative reaction to the AL move, Crane told The Houston Chronicle: "I think it's calmed down considerably once people understand that was our destiny. That's the way baseball had decided -- whoever owned the Astros was going to be in the American League. You can argue anything I guess, but what they did does make some sense for baseball. When you look at the two Texas teams, it evens out that, keeps the Rangers from traveling more. Our TV partner Comcast feels it's a stronger deal for us with the East Coast teams like Detroit and Cleveland and some of the old traditional teams -- the Yankees and Boston. And we're going to do better on the network because of that.
"The downside that we'll see is the DH and a little more travel. And we'll try to get games scheduled so that when we get getaway games they'll be in the afternoon, so you're not going to see that many late-night games."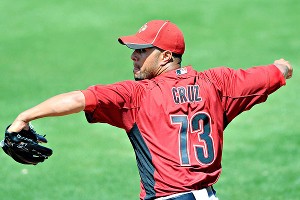 Brad Barr/US Presswire
Rhiner Cruz, a Rule 5 pick from the Mets, is off to a solid start in Houston's bullpen.

• The Astros have lost six straight series, the latest secured with a 6-5 loss at Cincinnati in Sunday's rubber game.
• Diminutive second baseman
Jose Altuve
is among the league's hottest hitters. The 5-foot-5 Altuve went 3-for-5 Sunday to lift his average to .373. That trails only
Matt Kemp
(.425) and
David Wright
(.397) in the National League. Altuve, who turns 22 next Sunday, is the shortest player in the majors this season. He has runner-up
Alexi Amarista
of the Los Angeles Angels beat by two inches. Altuve had been the second-youngest too, behind Toronto Blue Jays right-hander
Drew Hutchison
. But 19-year-old
Bryce Harper
and 20-year-old
Mike Trout
just made their major league debut/return. Altuve began last season at Class A Lancaster, but made his major league debut July 20 after jumping from Double-A.
• The Astros acquired shortstop
Jed Lowrie
and right-hander
Kyle Weiland
from the Boston Red Sox on Dec. 14 for right-handed reliever
Mark Melancon
, Houston's 2011 saves leader with 20. Lowrie opened the season the disabled list with a sprained right thumb. He made his Astros debut April 13. Weiland (0-3, 6.62 ERA) landed on the DL with shoulder bursitis, and
Jordan Lyles
was promoted for a spot start Sunday. Lyles was returned to the minors postgame.
• Catcher
Jason Castro
, the 10
th
overall pick in the 2008 draft, out of Stanford, missed last season while recovering from right knee surgery to repair a torn ACL. He also missed two games last week with a neck issue after a plate collision with Milwaukee's
Mat Gamel
. Castro returned Friday. Opponents have been successful in all 13 steal attempts against Castro this season.
•
Carlos Lee
left Friday's game in the first inning with a left ankle sprain, which he suffered pursuing a low throw from third baseman
Chris Johnson
that eluded him at first base. X-rays were negative, but Lee (.273, 2 HR, 13 RBIs) likely will remain sidelined at least early in the Mets series. Lee exclusively has played first base this season, after splitting time evenly between that position and left field a season ago.
Matt Downs
has filled in at first base in Lee's absence.
J.D. Martinez
is now the full-time left fielder.
• Backup infielder
Marwin Gonzalez
spent the weekend on paternity leave, but was activated for Monday's series opener in the roster spot Lyles held for a day.
•
Wandy Rodriguez
has a 1.72 ERA in five starts.
•
Bud Norris
allowed seven runs in his last start, including two-run homers to Milwaukee's
Travis Ishikawa
and
Corey Hart
.
• Closer
Brett Myers
is 4-for-4 in save chances.
• Right-hander
Rhiner Cruz
(1-0, 2.08 ERA) is Rule 5 pick from Metsm who is drawing rave reviews from scouts because of his 98 mph fastball from a "weird," low arm slot. Cruz, who was not protected on the Mets' 40-man roster, opened eyes with Cibao in the Dominican Winter League, before the December draft. He posted a 1.47 ERA in 18 1/3 innings over 21 relief appearances in winter ball. Cruz has not appeared since last Monday because of a twisted an ankle. Cruz, 25, had control issues last season between Class A St. Lucie and Double-A Binghamton in the Mets organization. He walked 45 and hit seven batters in 71 2/3 innings.
•
Fernando Martinez
, who was claimed off waivers by the Astros from the Mets during the offseason, is hitting .318 with four homers and 21 RBIs in 22 games for Triple-A Oklahoma City. He primarily has played left field, while being assigned to DH the past two games.
• Ex-Brave
Jordan Schafer
was ejected Sunday after disputing a caught-stealing call by ump
Marvin Hudson
in the second inning. Before that, the 25-year-old center fielder extended his streak of reaching base at least once to 22 games, the longest to open a season by an Astro since
Ricky Gutierrez
had a 23-game streak in 1998.
Denis Menke
owns the franchise record -- 25 games in 1969.
• Ex-Mets/Astros outfielder
Richard Hidalgo
is scheduled to throw out the ceremonial first pitch before Monday's series opener.
Matchups
Dickey vs. Astros (career: 1-2, 3.82 ERA)

Travis Buck .667, 1 HR, 1 RBI, 3 PA
Jason Castro .667, 3 PA
Jed Lowrie .500, 1 RBI, 3 PA
Matt Downs .500, 1 HR, 1 RBI, 2 PA
Jordan Schafer .429, 1 K, 7 PA
Carlos Lee .381, 1 HR, 5 RBI, 2 K, 21 PA
Chris Johnson .286, 1 RBI, 14 PA
Brian Bixler .200, 1 K, 5 PA
Chris Snyder .000, 1 BB, 1 K, 6 PA
Niese vs. Astros (career: 1-1, 1.80 ERA)

Brian Bixler .333, 2 K, 6 PA
Chris Johnson .333, 1 RBI, 6 PA
Carlos Lee .250, 1 RBI,1 BB, 9 PA
Jordan Schafer .000, 2 K, 8 PA
Jason Castro .000, 3 PA
Chris Snyder .000, 1 K, 2 PA
Schwinden vs. Astros (career: never faced)
Norris vs. Mets (career: 1-1, 4.85 ERA)
Daniel Murphy .333, 1 HR, 2 RBI, 2 K, 6 PA
Justin Turner .333, 1 K, 3 PA
Josh Thole .250, 1 HR, 1 RBI, 2 BB, 2 K, 10 PA
Ike Davis .250, 1 BB, 2 K, 9 PA
Scott Hairston .200, 1 HR, 1 RBI, 1 BB, 1 K, 6 PA
David Wright .000, 3 BB, 4 K, 12 PA
Andres Torres .000, 1 K, 3 PA
Happ vs. Mets (career: 2-2, 4.82 ERA)
Mike Nickeas .500, 1 HR, 1 RBI, 2 PA
David Wright .462, 3 HR, 6 RBI, 2 BB, 2 K, 15 PA
Andres Torres .333, 1 RBI, 1 K, 3 PA
Scott Hairston .333, 1 K, 3 PA
Daniel Murphy .286, 1 HR, 1 RBI, 1 K, 7 PA
Justin Turner .200, 1 RBI, 5 PA
Ike Davis .000, 1 RBI, 2 PA
Rodriguez vs. Mets (career: 3-2, 2.91 ERA)
Scott Hairston .462, 2 HR, 3 RBI, 2 BB, 4 K, 15 PA
Justin Turner .333, 3 PA
David Wright .316, 3 RBI, 1 BB, 5 K, 21 PA
Andres Torres .000, 1 BB, 1 K, 3 PA
Ike Davis .000, 1 BB, 1 K, 3 PA
Josh Thole .000, 1 BB, 3 PA
Last series results
Mets won, 2-1, at Minute Maid Park, May 13-15, 2011 (AP game recaps)
Mets 6, Astros 4:
David Wright hit a go-ahead homer to cap a four-run eighth inning that rallied the Mets. Wright's two-run shot was the last of three late homers by the Mets that helped them overcome a 4-0 deficit for their sixth win in eight games. Jason Bay got New York going with a solo shot in the seventh and pinch-hitter Fernando Martinez cut it to 4-3 with a long, two-run drive in the eighth. Jose Reyes walked and, with two outs, Wright homered off reliever Jeff Fulchino (0-1) into the Crawford Boxes in left field to put New York on top. It was the sixth home run of the season for the slumping Wright, who had been given the previous day off in Colorado to rest a sore neck and back.
Astros 7, Mets 3:
Carlos Lee delivered his 2,000th hit with an RBI single during a four-run first inning. Lee also hit one of three Astros homers. J.A. Happ (3-4) pitched six innings for the win, scattering five hits and three walks. Michael Bourn tripled to open the game against knuckleball pitcher R.A. Dickey (1-5) and scored on a groundout by Clint Barmes. Hunter Pence and Lee followed with singles, and three more runs scored on a double by Brett Wallace and singles by Chris Johnson and Bill Hall. Dickey allowed six hits in the first inning, then held the Astros in check until the sixth, when Hall and pinch hitter Matt Downs hit solo homers. Dickey pitched 5 1/3 innings, allowed 11 hits, didn't walk a batter and struck out two. Lee became the 17th active player to reach 2,000 hits, and he is the ninth active player to have at least that many hits while also belting 300 or more home runs. The Mets got one run in the third when Jose Reyes doubled and scored on a single to right field by Justin Turner, then added another in the fourth, when Daniel Murphy led off the inning with his third homer of the season. Reyes had an RBI single off reliever Mark Melancon in the ninth. Carlos Beltran sat out the game with swelling in his right eye.
Mets 7, Astros 4:
Justin Turner homered and drove in a career-high five runs and Jason Pridie hit a go-ahead single and stole home for the Mets. Chris Capuano (3-4) allowed six hits and two runs in five innings. He struck out six. Aneury Rodriguez (0-2) didn't allow a hit until the fifth, but finished with five earned runs and four walks in his third major league start. Francisco Rodriguez pitched a perfect ninth for his 12th straight save. He has not allowed a run in 14 appearances since April 14.
March, 18, 2012
3/18/12
4:43
PM ET
Carlos Lee had a two-run double and three-run homer and Jed Lowrie added a two-run double versus Mike Pelfrey, all in the first two innings, and Houston beat the Mets, 9-5, Sunday afternoon at Osceola County Stadium.

The Mets head into an organization-wide off-day Monday winless in their past nine Grapefruit League games.

Pelfrey, making his third spring-training start, allowed eight earned runs on eight hits and four walks in 2 2/3 innings while tossing 80 pitches (47 strikes). He struck out four batters, after having not fanned any in his first two Grapefruit League outings, which spanned seven innings.

The eight runs allowed by Pelfrey were one shy of his regular-season career high, done twice in 2009, against the Atlanta Braves and Pittsburgh Pirates.

"It's bad execution," Pelfrey said. "Obviously I've been up a lot. And the ball doesn't sink when it's up. The other part is, like Carlos Lee there, it was right down the middle."

The Mets tendered the arbitration-eligible Pelfrey a contract last offseason. The right-hander then settled with the organization for $5.7 million. Pelfrey is under the Mets' control through the 2013 season, but will be a logical non-tender candidate next December if he does not improve on last season's performance, which included a 4.74 ERA and career-high 21 homers allowed.

After registering only 87 mph in his previous outing, Pelfrey said he overthrew the ball Sunday, trying to up his velocity. The staff had asked him to throw harder to get his arm strong for the season.

Pelfrey said he ended up "yanking" his sinker as a result -- meaning he did not get on top of the baseball to drive it downward. Instead, Pelfrey explained, he created more of a Frisbee action by getting on the side of the baseball and not finishing the pitch. It stayed flat and in the middle of the strike zone.

That's what happened when Pelfrey grooved to Lee a down-the-middle two-seam fastball that was intended to be an inside pitch, resulting in the three-run homer. Pelfrey said he missed the intended target by six inches.

Still, Pelfrey said, he was unalarmed. He typically has horrendous spring trainings. Two years ago, he allowed three homers in a game to the Washington Nationals in Viera. That year, he ended up dominating the Tampa Bay Rays at the Trop in his final spring-training start and then opened the season 9-1.


NBA
NHL
COLLEGE BASKETBALL
COLLEGE FOOTBALL
NBA
NHL
COLLEGE BASKETBALL
NFL