New York Mets:

Jeffrey Loria
April, 28, 2013
4/28/13
9:50
PM ET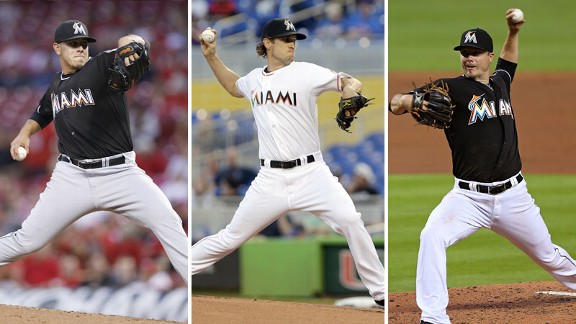 Associated Press/Getty Images
The Mets face (l to r) Jose Fernandez, Kevin Slowey and Wade LeBlanc during their series in Miami this week.
METS (10-13, fourth place/NL East) vs. MIAMI MARLINS (6-19, fifth place/NL East)
Monday:
RHP
Matt Harvey
(4-0, 1.54) vs. RHP
Jose Fernandez
(0-2, 4.50), 7:10 p.m. ET
Tuesday:
RHP
Jeremy Hefner
(0-2, 5.12) vs. RHP
Kevin Slowey
(0-2, 2.43), 7:10 p.m. ET
Wednesday:
RHP
Dillon Gee
(1-4, 5.96) vs. LHP
Wade LeBlanc
(0-4, 6.20), 12:40 p.m. ET
Marlins short hops
• Right fielder
Giancarlo Stanton
finally homered Saturday, in his 75
th
plate appearance of the season. Stanton, who led the National League in slugging percentage in 2012, added two more homers Sunday. He went RBI-less in his first 12 games of the season, but has produced nine RBIs in his past seven games.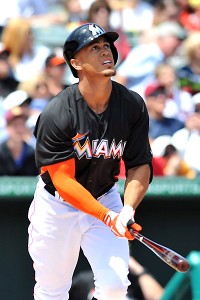 Steve Mitchell/USA TODAY Sports
Giancarlo Stanton has belted three homers in his past two games.

• Shortstop
Adeiny Hechavarria
(bruised right elbow) is due to begin a rehab assignment Monday with Class A Jupiter and is not expected to be activated until after the Mets series.
Chris Valaika
started four straight games at the position before
Nick Green
got the nod Sunday. Green homered for the first time since 2009.
• Rookie
Jose Fernandez
has allowed nine runs in nine innings over his past two starts. He has been kept on a tight pitch count. He has thrown 80, 85, 79 and 79 pitches in his four major league starts. Fernandez, who allowed only two homers in 138 1/3 minor league innings (all in Class A), surrendered his first big league long ball Tuesday against the
Minnesota Twins
.
Oswaldo Arcia
took the 20-year-old Fernandez deep.
Fernandez, a Cuban defector, was taken with the 14
th
overall pick in the 2011 draft out of high school in Tampa. The Mets selected outfielder Brandon Nimmo one pick earlier. Besides Fernandez, three of the other first 100 picks in that '11 draft have reached the majors: right-hander
Trevor Bauer
, third overall, UCLA,
Arizona Diamondbacks
; right-hander
Dylan Bundy
, fourth overall, Owasso (Okla.) H.S.,
Baltimore Orioles
; and outfielder Jackie Bradley, 40
th
overall, University of South Carolina,
Boston Red Sox
.
• Owner Jeffrey Loria created another stir when he was accused in a report of dictating which game of a day-night doubleheader Fernandez pitched in Minnesota. Loria denied a role.
• Ex-Minnesota Twins right-hander
Kevin Slowey
is winless through five starts despite a 2.43 ERA. The Marlins have scored a total of six runs in Slowey's five outings. Slowey did not appear in the majors last season. He made eight Triple-A starts with the
Cleveland Indians
in 2012 before being diagnosed with a stress fracture in his rib cage.
Mike Redmond
, the first-year Marlins manager, caught Slowey's major league debut on June 1, 2007. Slowey limited Bob Geren's
Oakland Athletics
to one run in six innings in an eventual 3-2, 10-inning win.
• Stony Brook University product
Tom Koehler
joined the Marlins' bullpen on April 19, replacing
John Maine
, who was designated for assignment. Maine, in his first major league duty since 2010 with the Mets, allowed 15 hits and 10 earned runs in 7 1/3 innings spanning four appearances.
• Closer
Steve Cishek
has three losses and a blown save and has allowed runs in six of 11 appearances this season. He earned his third save Sunday despite surrendering a homer to the Cubs'
Dioner Navarro
.
• Rookie
Joe Mahoney
is day to day with right hamstring tightness. Mahoney had taken over for plug
Greg Dobbs
at first base in
Casey Kotchman
and
Logan Morrison
's absences before this hamstring issue arose. Mahoney is a waiver claim from the Baltimore Orioles. He played at Triple-A Norfolk in 2012. The 26-year-old Mahoney was activated from the DL on April 17 after recovering from an oblique injury.
April, 27, 2013
4/27/13
7:01
AM ET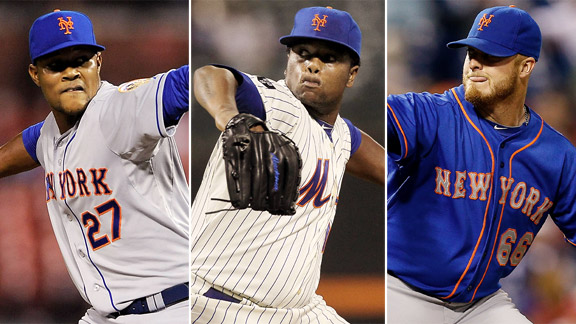 Getty Images
The Mets will need to clear a roster spot for Shaun Marcum. The candidates (l to r): Jeurys Familia, Robert Carson and Josh Edgin.
FIRST PITCH:
Shaun Marcum
, who signed a $4 million deal on Jan. 30 that included the
opportunity to double that amount
by achieving incentives, is due to make his Mets debut today as the Mets oppose the
Philadelphia Phillies
at 1:05 p.m. at Citi Field.
Marcum received injections on April 4 to calm an inflamed nerve that was causing pain in his neck and shoulder. He never appeared in an official minor league rehab game, instead pitching in extended spring training against low-level competition. Marcum threw 52 pitches in five scoreless innings Monday in Florida, then continued to toss on the side to try to up his pitch count. He likely will be capped at roughly 90 pitches today, Terry Collins indicated.
The Mets will need to make a pregame roster move, subtracting a member from the bullpen, in order to clear room for Marcum.
Josh Edgin
has struggled badly, although he had a 1-2-3 ninth Friday. The alternatives:
Jeurys Familia
or, seemingly less likely,
Robert Carson
. Familia tossed two scoreless innings in the series opener against Philadelphia. That workload led to speculation he may be out.
Marcum faces right-hander
Jonathan Pettibone
in the rookie's second major league start.
Saturday's news reports:
• The Mets dropped below .500 for the first time this season with
a 4-0 loss to the Phillies
in Friday's series opener.
Dillon Gee
matched zeroes with
Kyle Kendrick
until the sixth, when Gee surrendered a run-scoring single to
Michael Young
and three-run homer to
Ryan Howard
. Kendrick produced a three-hit shutout. It marked the fourth time in five games the Mets mustered five hits or fewer. Perhaps recognizing the Mets like to take pitches, Kendrick threw a season-high 71 percent first-pitch strikes, according to ESPN Stats & Information.
Howard, the active home run leader against the Mets with 36, now has four homers in 12 career at-bats against Gee. That is the most homers Gee has surrendered to any player. Read game recaps in the
Post
,
Daily News
,
Star-Ledger
,
Record
,
Newsday
,
Times
,
Philadelphia Inquirer
and
MLB.com
.
• Collins preached patience and insisted any consideration about demoting
Ike Davis
is a long way away. The manager tried to compare Davis' struggles to the woes of
Matt Kemp
, who arrived in Queens with the Dodgers this week homerless. Yet Kemp still was respected by the Mets as a dangerous bat, according to Collins.
"I looked at Matt Kemp's numbers the other day," Collins said. "They weren't very good for Matt Kemp. I'm still scared to death of him. And you can be sure that the Philadelphia Phillies, when Ike Davis gets in the batter's box, they're worried, because they know he's going to get out of it."
Davis was dropped to No. 7 in Friday's lineup and went 0-for-2 with a walk. His average dipped to .169. Read more in the
Record
,
Post
and
Star-Ledger
.
• Collins' Friday lineup juggling also included
Daniel Murphy
moving into the No. 3 slot and
David Wright
to cleanup, both for the first time this season. Read more in the
Times
.
• Read more on Marcum's Mets debut and the impending roster move in the
Journal
,
Post
and
Star-Ledger
.
• Columnist Ken Davidoff
in the Post
analyzes the state of the struggling Phillies and
Washington Nationals
, and wonders if the Mets will make a trade if those teams stumble and the Mets end up more in contention than they thought. Writes Davidoff:
The Mets say they have the funds to add payroll during the season, and their prospect/trade chip base has grown with the development of pitchers like Rafael Montero, Luis Mateo and Cory Mazzoni. Will they have cause to make a move, courtesy of the Phillies and Nationals? I'd like to see it, just to learn whether the Mets would live up to their word. After a night like this, though, you wonder whether the possibility of the 2013 Mets being relevant is the true mirage.
• In a batter of young NL East phenoms,
Matt Harvey
is scheduled to oppose Marlins right-hander
Jose Fernandez
on Monday in Miami. Fernandez, who limited the Mets to one run in five innings in his major league debut on April 7, had allowed nine runs in nine innings over his past two starts -- at Cincinnati and at Minnesota.
In Miami, lightning-rod owner Jeffrey Loria denied influencing which game of a doubleheader Fernandez pitched at Minnesota this week, according to Manny Navarro
in the Miami Herald
.
• Catcher
Carlos Ruiz
is due to join the Phillies on Sunday after completing a 25-game suspension for amphetamines. "It's been a little hard for me," Ruiz told John Smallwood
in the Philadelphia Daily News
while rehabbing with Double-A Reading. "Definitely, I would like to be with the team. I want to help the ballclub win games. But now it's just about over. I'm real close, and I can't wait to see [Sunday]. It was tough, but at the same time, you had to prepare yourself to be ready for when you came back. I'm not happy with what happened, but there was nothing I could do except work every day."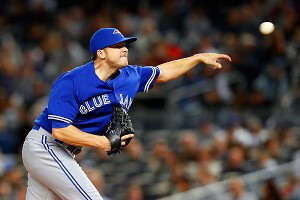 Jim McIsaac/Getty Images
Aaron Laffey was ineffective Friday night in the Bronx after being claimed by the Jays.

•
Aaron Laffey
, claimed off waivers by the
Toronto Blue Jays
a day after being designated for assignment by the Mets, started in the Bronx on Friday night in place of
Josh Johnson
, who had triceps tightness. Laffey lasted only 2 2/3 innings and walked five. He was charged with two runs.
Brad Lincoln
inherited the bases loaded from Laffey and stranded three by striking out
Ichiro Suzuki
.
Richard Griffin
in the Toronto Star
notes Jays GM Alex Anthopoulos has made a massive number of waiver claims. Writes Griffin:
The Jays have made 21 such claims since Oct. 17, 2012. That is crazy high. Here is the list: OF Scott Cousins; RH Cory Wade; RH Tyson Brummett; C Bobby Wilson; RH David Herndon; RH Chad Beck (twice); LH Scott Maine; C Eli Whiteside; RH Mickey Storey; IF Russ Canzler; RH Tommy Hottovy; 1B Lars Anderson; RH Guillermo Moscoso; RH Todd Redmond; 1B Clint Robinson; RH Alex Burnett; RH Edgar Gonzalez; 1B Mauro Gomez; OF Casper Wells and Laffey. Only eight of the 20 different claims (Beck twice) are still in the organization. Only Laffey is on the Jays' 25-man roster. Only Laffey, Robinson, Gomez and Redmond remain on the 40-man roster.
• Howard Johnson, back in baseball as the first-year hitting coach for Triple-A Tacoma (
Seattle Mariners
), is in Las Vegas this weekend facing Mets-affiliate Las Vegas. Regarding 51s manager Wally Backman getting a major league managerial gig, HoJo
told the Las Vegas Sun
: "One of these days, Wally is going to get a shot. I would love to be one of his coaches. It's important to have people that you know and trust. We go back a long way and share a lot of the same experiences."
• Zack Wheeler is 0-1 with a 5.79 ERA in five starts with Las Vegas. He has allowed 26 hits and 15 walks while striking out 28 in 23 1/3 innings. Opposing Pacific Coast League batters are hitting .283 against him.
"His velocity is good and his mechanics are good," Sandy Alderson told columnist John Harper
in the Daily News
. "That's what's most important. And he threw well for four innings [Thursday]. We're looking for his development as opposed to his line scores. But there's no question it's a big adjustment pitching in that league."
Read more in the
Star-Ledger
.
• Rafael Montero suffered his first 2013 loss as Binghamton was blanked by Akron, 4-0. Montero (3-1, 1.95 ERA) allowed two runs on four hits and two walks in five innings. He struck out eight. Dustin Lawley homered twice as St. Lucie beat Bradenton, 5-2. Read the full minor league recap
here
.
• Jonathan Lehman
in the Post
profiles Binghamton left-handed reliever Jack Leathersich. Although he allowed two hits and a walk last night, Leathersich also struck out three in a scoreless ninth to keep his ERA at 0.00 for the season. The 2011 fifth-round pick from UMass-Lowell has 157 Ks in 95 2/3 professional innings.
• ESPN West Palm launched a weekly video segment featuring the St. Lucie Mets. Watch the first installment
here
.
•
From the bloggers …
Faith and Fear in Flushing
realizes some losses are less miserable than inevitable. … Shannon from
Mets Police
has some thoughts about the Mets' efforts on social media.
BIRTHDAYS:
Smithtown, Long Island's
Frank Catalanotto
is 39. …
Orber Moreno
turns 36. … Eric Hillman is 47. … Brian Giles turns 53.
TWEET OF THE DAY:
My secret life before the Mets has come out. Posed for January,1979 issue of GQ. twitter.com/Jay_HorwitzPR/…

— Jay Horwitz (@Jay_HorwitzPR) April 26, 2013
YOU'RE UP: Who should the Mets demote/release from the bullpen to clear a roster spot for Shaun Marcum?
April, 7, 2013
4/07/13
6:40
AM ET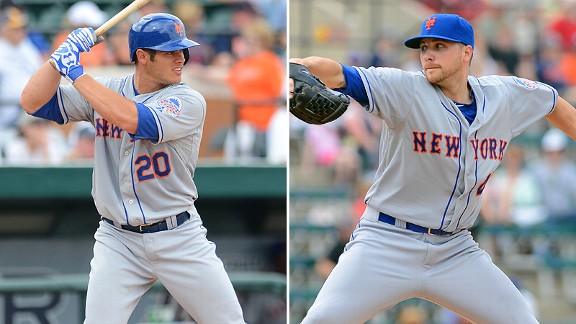 Mark Cunningham/MLB/Getty Images
Anthony Recker and Aaron Laffey are expected to make their Mets debuts as Sunday's battery.
FIRST PITCH:
Left-hander
Aaron Laffey
makes his Mets debut in Sunday's 1:10 p.m. rubber game as the Mets attempt to plug the rotation spot intended for
Shaun Marcum
.
Laffey, who turns 28 in eight days, went 4-6 with a 4.56 ERA in 22 appearances (16 starts) for the
Toronto Blue Jays
last season.
Terry Collins indicated
Anthony Recker
will serve as Laffey's batterymate, after
John Buck
caught the season's first five games and produced nine RBIs.
Marcum received injections in his neck for nerve inflammation on Thursday in New York. He has not pitched in a game since March 16, when he logged four Grapefruit League innings. So Laffey, or someone, will need to plug several turns in the rotation at least.
The Mets will be aiming to win consecutive series to open the season for only the second time in 11 years.
After the series finale, the Mets head to Philadelphia to open a three-city, 10-game trip that also takes them to Target Field in Minnesota for the first time, then to Coors Field in Denver.
Matt Harvey
faces
Roy Halladay
in Monday's series opener at Citizens Bank Park, followed by
Dillon Gee
and
Cliff Lee
on Tuesday, and
Jeremy Hefner
and
Kyle Kendrick
on Wednesday.
Sunday's news reports:
• Buck contributed four RBIs and
Daniel Murphy
produced a tiebreaking triple in the seventh that plated
Mike Baxter
as the Mets beat the Marlins, 7-3, Saturday.
Jonathon Niese
limited Miami to two runs (one earned) in six innings. The performance extended the southpaw's streak of consecutive starts logging six-plus innings to 22, the longest active mark in the majors.
David Wright
finished 3-for-4 with an RBI and upped his career average against Marlins starter
Ricky Nolasco
to .409 in the victory.
Ruben Tejada
committed his fourth error in five games.
Even though he is viewed as a placeholder -- heck, Travis d'Arnaud, not Buck was featured in the Mets' Citi Field calendar giveaway -- Buck nonetheless has an NL-leading nine RBIs. That's one ahead of Cincinnati's
Todd Frazier
, although not quite Chris Davis' gaudy total of 17 with the
Baltimore Orioles
. Mets catchers combined for 48 RBIs all of last season.
Read game recaps in the
Post
,
Times
,
Newsday
,
Record
,
Daily News
,
Star-Ledger
,
Miami Herald
and
Sun-Sentinel
.
•
Jeurys Familia
was demoted to Triple-A Las Vegas after Saturday's game to clear a roster spot for Laffey. Familia is expected to serve as a reliever. The Mets shifted
Johan Santana
to the 60-day DL to open a 40-man spot. Read more in
Newsday
and
MLB.com
.
• Cuban defector
Jose Fernandez
-- at 20 years old the youngest pitcher ever to debut for the Marlins -- makes his major league debut opposite Laffey. Clark Spencer
in the Miami Herald
reports only three pitchers since 1970 have made the jump from Class A to the majors and logged 100 innings as rookies: Dwight Gooden,
Jeremy Bonderman
and
Rick Porcello
. Fernandez should be unflappable notes Juan Rodriguez
in the Sun-Sentinel
. Writes Rodriguez: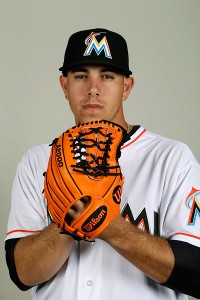 Julio Cortez/Associated Press
Cuban defector Jose Fernandez makes his major league debut today at Citi Field.

Fernandez knows what it's like to be scared. Getting caught trying to escape Cuba with his mother and sister as a 14-year-old was scary. Jumping into open water to rescue his mother when she felt out of the boat shuttling them to freedom was scary.
Making his major league debut for Fernandez is the fulfillment of a dream, considerably earlier than most expected.
"When she sees me throw the first pitch she's going to start crying like crazy," said Fernandez, whose parents and personal pitching coach were among those flying up from Tampa Saturday for the Sunday matinee. "[My mom] has been more emotional than me about this. She can't believe it. Every day it's the same text. 'I can't believe this is happening. You're ready. You're so young and you already have your dream. You had it in your mind. I'm proud of you.'"
As for making Fernandez eligible for free agency a year early by having him start the season with the team, which the Mets are unwilling to do with Zack Wheeler, Marlins owner Jeffrey Loria told Spencer: "So what? We'll deal with it. He's unique."
• Baseball America has a Q&A with Mets scouting director Tommy Tanous. Read
here
.
• Umpire Jim Joyce briefly halted Saturday's game in the eighth inning and conferred with security after fans were shouting the location Marlins catcher
Miguel Olivo
was setting up for pitches, Buck told Marc Carig in
Newsday
.
• Terry Collins said the outfield won't be as consistent as predicted only a week earlier. Baxter, who reached base three times and scored twice while batting in the leadoff spot, should start again Monday against Halladay in Philly, according to the manager.
Columnist Ken Davidoff
in the Post
wants more Baxter in the leadoff spot against right-handed pitching. Writes Davidoff:
We know the Mets' outfield is a collection of modestly compensated has-beens and could-bes. However, what stands out about Baxter is just how good he has been in his limited major-league chances. He now has a career on-base percentage of .363 in 270 plate appearances. It constitutes barely half a season, but doesn't that match favorably against Cowgill, Marlon Byrd, Jordany Valdespin and Kirk Nieuwenhuis, three of whom own virtually no big-league success and the fourth of whom (Byrd) hasn't been good for many years?
"He takes a base on balls," Collins said. "If he was a genuine base-stealer, he'd be dangerous. You look up, and he's got a .375 on-base. It seems like he's on first base all of the time."
Read more on the outfield in
Newsday
and the
Star-Ledger
.
•
Ike Davis
is hitting .158, but is unalarmed. "At least I know that I'll be all right," Davis said, according to
Newsday
. "Last year, I didn't."
• Niese is looking like an ace, writes columnist Tim Smith
in the Daily News
.
• Read more on Buck in the
Post
.
• Tejada's four errors are tied with Washington's
Ian Desmond
for the most in the majors among shortstops. Read more on Tejada's fielding woes in the
Daily News
and
Post
.
• Left-hander Steven Matz, who finished last season idle with a shoulder issue, took a scoreless effort into the fifth inning in Savannah's 6-3 loss to Rome on Saturday. Blake Forsythe had three hits and three RBIs in his Double-A debut with Binghamton.
Collin McHugh
pitched Las Vegas to a 3-0 record. The Mets' four full-season affiliates are a combined 10-2 -- with both losses suffered by low-A Savannah. Read the full minor league recap
here
.
•
From the bloggers
… Shannon from
MetsPolice.com
went to Saturday's game and wasn't happy with a Citi Field supervisor, nor the scoreboard operator. …
Faith and Fear in Flushing
basks in the glow of Buck's golden hour.
BIRTHDAYS:
Vinny Rottino
, whom the Mets lost off waivers last June while clearing a roster spot for left-handed reliever
Justin Hampson
, turns 33. After finishing last season with the
Cleveland Indians
, Rottino signed with the Orix Buffaloes in Japan in December. ... Mets bullpen coach Ricky Bones turns 44.
TWEET OF THE DAY:
Fantasy baseball: where you are mad that your team scored a run in the 8th because it means no save opportunity for Parnell. #Mets

— Whit Blanton (@Whitbone) April 6, 2013
YOU'RE UP: Do the Mets have enough of a safety net in starting pitching minus Johan Santana and Shaun Marcum as they await Zack Wheeler?
April, 4, 2013
4/04/13
9:49
PM ET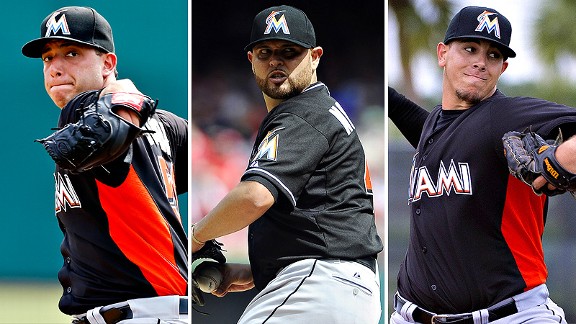 USA TODAY Sports
The Mets face (l to r) right-handers Alex Sanabia, Ricky Nolasco and Jose Fernandez this weekend.
METS (2-1, second place/NL East) vs. MIAMI MARLINS (0-3, fifth place/NL East)
Friday:
RHP
Jeremy Hefner
(0-0, -.--) vs. RHP
Alex Sanabia
(0-0, -.--), 7:10 p.m. ET
Saturday:
LHP
Jonathon Niese
(3-5, 2.70) vs. RHP
Ricky Nolasco
(0-1, 3.00), 1:10 p.m. ET
Sunday:
LHP
Aaron Laffey
(0-0, -.--) vs. RHP
Jose Fernandez
(0-0, -.--), 1:10 p.m. ET
Marlins short hops
•
Jose Fernandez
, the 14
th
overall pick in the 2011 draft out of high school in Tampa, will make his major league debut Sunday. The 20-year-old right-hander went a combined 14-1 with a 1.75 ERA in 25 Class A starts last season between Greensboro and Jupiter.
The Marlins opted to use the rookie with Nathan Eovaldi and
Henderson Alvarez
on the disabled list, both with shoulder inflammation.
Fernandez arrived in the U.S. from Cuba by boat as a refugee in 2008. In preparation for Sunday's start, Fernandez threw a simulated game Tuesday in D.C., with first-year manager
Mike Redmond
and hitting coach
Tino Martinez
acting as batters. Both are not that far removed from major league careers.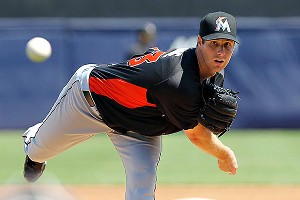 Kim Klement/USA TODAY Sports
John Maine made the Marlins' Opening Day roster. He last pitched in the majors in 2010 with the Mets.

• Ex-Met
John Maine
made Miami's Opening Day roster as a reliever. He did not appear during the season-opening series at D.C., so his first major league action since his Mets days may come this weekend at Citi Field. Maine last threw a big league pitch on May 20, 2010 in Washington. It was after that abbreviated outing that pitching coach Dan Warthen called Maine a "habitual liar" with respect his truthfulness about injuries. Maine went 2-0 with a 2.63 ERA in six games during spring training. He struck out nine and walked nine in 13 2/3 innings.
• Fellow ex-Met
Jon Rauch
signed a one-year, $1 million free-agent contract with the Marlins on Feb. 5.
• Miami, which completed its latest fire sale during the offseason, mustered only one run while getting swept in a season-opening three-game series at Nationals Park. The Marlins became the first team to total no more than one run in the team's first three games since the 1988 Orioles (also one run), according to ESPN Stats & Information. The '88 Orioles opened that season 0-21.
• Third baseman
Placido Polanco
batted cleanup the first two games of the season. He had never started a game in that slot previously in his 16-year career.
• First baseman
Casey Kotchman
will land on the disabled list Friday, two days after straining his left hamstring. He becomes the third first baseman the Marlins have lost this season.
Logan Morrison
(knee surgery) is on the 60-day DL, while
Joe Mahoney
is on the 15-day DL with an intercostal strain. Among the flurry of moves last season, the Marlins traded first baseman
Gaby Sanchez
to the
Pittsburgh Pirates
last July 31.
Greg Dobbs
should handle the bulk of the first-base duty for now, while
Austin Kearns
and rookie
Chris Valaika
may see action at the position, too.
•
Giancarlo Stanton
, the lone remaining threat in Miami's lineup, led the NL in slugging percentage (.608) and finished second to
Ryan Braun
in homers last season, with 37. Stanton now has 93 career homers, matching Frank Robinson for fifth-most in MLB history before turning 23. The only players with more: Mel Ott (115), Eddie Mathews (112), Tony Conigliaro (104) and
Alex Rodriguez
(95).
• Catcher
Miguel Olivo
signed with Miami on March 29 after playing in 21 games for the
Cincinnati Reds
during spring training.
Jeff Mathis
suffered a broken right clavicle early in spring training.
• In the Nov. 19 trade that sent
Jose Reyes
,
John Buck
,
Emilio Bonifacio
,
Mark Buehrle
and
Josh Johnson
to Toronto, the Marlins received minor leaguers Anthony DeScalfani, Jake Marisnick and Justin Nicolino as well as Alvarez,
Yunel Escobar
,
Adeiny Hechavarria
and Mathis. Reyes bristled during spring training at Marlins owner Jeffrey Loria, after Loria denied advising Reyes days before the trade to buy a house in Miami.
•
Alex Sanabia
, 24, will make his first major league appearance since Sept. 24, 2011 in the series opener. He went 6-7 with a 4.06 ERA in 17 starts last season at Triple-A New Orleans, where he also had three DL stints.
March, 1, 2013
3/01/13
7:07
AM ET
PORT ST. LUCIE, Fla.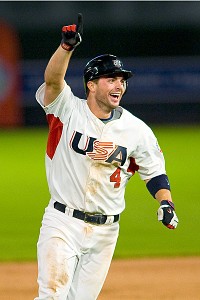 Scott Rovak/US Presswire
David Wright had a game-winning hit in the 2009 WBC, against Puerto Rico.

FIRST PITCH:
David Wright
gets a sendoff before departing for the World Baseball Classic as the Mets face
Justin Verlander
and the
Detroit Tigers
at 1:10 p.m. Friday at Tradition Field. Wright will play third base after requesting one last game in the field rather than DH work.
He departs Saturday for Phoenix to join Team USA.
The American squad will open first-round play against Mexico next Friday at Chase Field. Team USA them plays Italy and Canada the following two days. (See schedule
here
.)
Wright will have appeared in four Grapefruit League games to tune up. He is 3-for-9 with one strikeout so far.
"It's a pretty cool feeling walking into the clubhouse the first time and seeing your last name on one of those USA jerseys,'' Wright told columnist Kevin Kernan
in the Post
, while adding that he is excited to play for Joe Torre, who will manage the U.S. squad.
Jonathon Niese
starts opposite Verlander in today's SNY-televised game. Also due to pitch:
Bobby Parnell
,
Jeurys Familia
and
Scott Atchison
.
Single-game tickets for the regular season go on sale at 10 a.m. at Mets.com or by calling 718-507-TIXX.
Friday's news reports:
•
Zack Wheeler
, who suffered a mild strain of his right oblique on Wednesday in a batting cage, was
not injured too badly
, Terry Collins said. The hope is to have Wheeler on a mound in about four days and in a game again in about a week. Read more in the
Post
,
Star-Ledger
and
Daily News
.
• Could
Jordany Valdespin
unseat
Kirk Nieuwenhuis
as one of the Mets' three lefty-hitting outfielders and instead join
Lucas Duda
and
Mike Baxter
on the Opening Day roster? Well, with
Daniel Murphy
poised to return in about a week from an intercostal strain on his right side, Collins
told ESPNNewYork.com
he is prepared to start using Valdespin in the outfield rather than continue to use him at second base.
Valdespin is off to a .455 start through four games, while Nieuwenhuis is 1-for-13 (.077) with six Ks. Stay tuned.
• Rafael Montero, who was named the organization's pitcher of the year last season,
made his Grapefruit League debut
Thursday night against a formidable
Washington Nationals
lineup. Montero allowed one run on three doubles in in two innings while showing poise.
The game was called after 10 innings with the score tied at 4. The Mets are winless in their past five Grapefruit League games (0-3-2).
Montero, who is from the Dominican Republic, did not sign with the Mets until he was 20, in 2011, the first season of the Mets' new regime.
"Many guys sign at 16, but plenty of others sign at 17 and 18," Paul DePodesta said. "Twenty is a bit more out of the ordinary. I think Valdespin was 19 or 20 also. In any event, it's certainly unusual to be signed out of the Dominican Republic and be in major league camp just 25 months later. Rafael has been through six levels already in two seasons."
Read more on Montero in the
Star-Ledger
and at
MLB.com
.
•
Pedro Feliciano
's agent announced the left-hander has been
diagnosed with a genetic heart disorder
known as left ventricular noncompaction. A public-relations agency affiliated with agent Melvin Roman added that athletes can pitch through the issue without risk, so Feliciano will resume his career while wearing a heart monitor for a couple of weeks to satisfy the team. Read more in the
Star-Ledger
,
Newsday
and
Daily News
.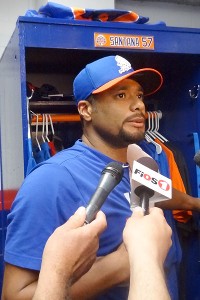 Adam Rubin
Terry Collins still eyes Opening Day for Johan Santana.

•
Johan Santana
may throw off a mound today for the first time since being backed off because of shoulder fatigue that sapped his arm speed. Collins reiterated Thursday that he expects Santana to be in a Grapefruit League game March 10 or 11, which would get him four spring-training starts to prepare for Opening Day.
•
Tim Byrdak
is
scheduled to join camp today
after mostly throwing on flat ground back at home the past few weeks. Byrdak, who underwent surgery to repair a torn anterior capsule in his pitching shoulder in August, likely would not be able to contribute until the season's second half.
• Foreigner (June 14), Nas (July 19), O.A.R. (Aug. 2) and Third Eye Blind (Aug. 23) will
perform postgame concerts at Citi Field
during the 2013 season. A game ticket includes admission to the abbreviated postgame concert. Nas, who hails from Queens, is a devout Mets fan.
•
Marlon Byrd
, the leading candidate to play right field, is in camp on a minor league contract. He tells Mike Puma
in the Post
that this likely is his "last chance" at reviving his career. "If I don't make this team, I don't see many other chances in baseball," Byrd said.
•
Jose Reyes
remains displeased with Marlins owner Jeffrey Loria. Read more from Ken Davidoff in the
Post
, where Reyes is quoted as saying: "He traded me. That's fine with me. Just be real with me. Be honest. Don't tell me to buy a house and get a nice place for my family and stuff when you [know] you're going to trade me. Why [did] you do that?"
• Marc Carig
in Newsday
notes Collins wants the Mets to be better baserunners. Writes Carig:
Consider one of the most famous moments in postseason history. Collins was a coach with the Pirates in 1992 when the plodding Sid Bream hustled home from second on a single, barely beating Pittsburgh leftfielder Barry Bonds ' throw and scoring the winning run in NLCS Game 7 to send the Braves to the World Series.
But more often, baserunning represents a less-dramatic advantage. According to statistics compiled by the site FanGraphs, through their decision-making on the bases, the Angels ran their way to an additional 18.3 runs last season. It was the best total in baseball. By contrast, the Nationals cost themselves 17.6 runs on the bases, the worst in the game. Statistically speaking, in the course of the season, the difference translated to about two games in the win-loss column.
The Mets ranked 19th, costing themselves 3.1 runs on the bases, a relatively insignificant number.
• Jared Diamond
in the Journal
delves into the Mets' decision to instruct Travis d'Arnaud not to block the plate.
• Mike Kerwick
in the Record
catches up with reliever
Brandon Lyon
.
• Columnist David Lennon
in Newsday
asserts it is unfair to have Collins managing in the final year of a contract and advocates for an extension.
• Columnist Bob Klapisch
in the Record
writes the "Mets still have money problems, so don't expect a revival anytime soon."
• Read more on Wright's impending departure to Team USA in the
Times
.
• Anthony DiComo
at MLB.com
notes the Mets' are prioritizing on-base percentage over steals in their leadoff hitter.
•
From the bloggers
…
The Eddie Kranepool Society
reviews Sandy Alderson's conference call with bloggers. … At
Mets Police
, Shannon suggests the Mets stage a ceremony in which Yogi Berra helps retire Gary Carter's No. 8. …
Rising Apple
asks: to block or not block the plate?
BIRTHDAYS:
Former Mets catcher
Ramon Castro
turns 37. Castro is in camp with the Dodgers.
TWEET OF THE DAY:
BREAKING NEWS: Pope Benedict to join Bobby Valentine at Sacred Heart College as Asst. Athletic Director.

— Mike Barnicle (@mikebarnicle) February 28, 2013
YOU'RE UP: Do you support the World Baseball Classic … or wish it did not exist?
Please use the comments section to weigh in
February, 27, 2013
2/27/13
6:42
AM ET
PORT ST. LUCIE, Fla.
FIRST PITCH:
Zack Wheeler
, who tossed two scoreless innings against the
Washington Nationals
in his Grapefruit League debut, gets the start against the
St. Louis Cardinals
at 1:10 p.m. today at Tradition Field.
The Mets thought enough of Wheeler's showing against the Nats that they favorably
compared his pitching data
during the weekend performance to Stephen Strasburg's metrics in the same game.
Today, Wheeler will oppose right-hander
Lance Lynn
. Also scheduled to pitch for the Mets:
Darin Gorski
,
Bobby Parnell
,
Greg Burke
and
Carlos Torres
.
"The guy is pretty quiet,"
Jonathon Niese
says about Wheeler. "He's kind of got that quiet confidence about him, which is really good. Obviously his stuff is really good.
"There's a lot of talent. Obviously, [Matt] Harvey and Wheeler, they're two guys in the upper 90s. As a starter, that's pretty impressive."
On Thursday night in Viera, the Mets will see Strasburg for a second this spring training, opposite Rafael Montero.
Justin Verlander
and the
Detroit Tigers
visit Port St. Lucie on Friday. Niese gets that start for the Mets.
Harvey pitches Saturday.
Wednesday's news reports: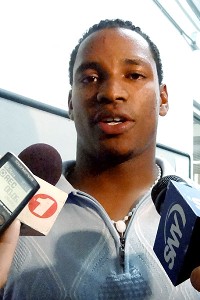 Adam Rubin
Jenrry Mejia surrendered a grand slam in a five-run first inning Tuesday.

•
Jenrry Mejia
allowed a grand slam to
Casey Kotchman
in a five-run first and
Hansel Robles
allowed a pair of solo homers as the
Marlins beat the Mets, 7-5
, Tuesday afternoon. Mejia primarily would be competing with
Jeremy Hefner
-- with
Collin McHugh
and Wheeler also in the consideration set -- if
Johan Santana
were not ready for Opening Day. Still, the most likely scenario has Mejia opening the season in Triple-A Las Vegas' rotation. Read more in
Newsday
, the
Star-Ledger
,
Post
,
Daily News
,
Record
and
MLB.com
.
• Terry Collins said
Ruben Tejada
, who was scratched from Monday's game, has
seen improvement with his injured right quadriceps
and will start today's game. Read more in the
Post
.
•
David Wright
is due to start at third base Wednesday, in his second-to-last game before
departing for the World Baseball Classic
. Collins has
started to poll veterans
about making Wright the captain before Opening Day.
•
LaTroy Hawkins
has
yet to appear in a spring-training game
, but pitching coach Dan Warthen says the 40-year-old reliever is just taking his time with this year's spring training especially long because of the World Baseball Classic.
• Right-handed pitching prospect Erik Goeddel was
struck in the face with a baseball
and may be facing surgery.
• Marc Carig
in Newsday
profiles
Wilmer Flores
, who may have 20-homer potential in the majors, but still must find a position. Flores, originally a shortstop, now has settled into playing second and third base. The Mets say they will not dabble with Flores -- who is slow-footed, at least with his first step -- in the outfield. Read more in the
Times
.
• Kevin Kernan
in the Post
profiles Burke, including discussing the influence of Rick Peterson on the right-hander's recently adopted submarine-style delivery.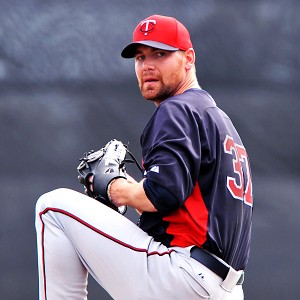 Al Messerschmidt/Getty Images
Mike Pelfrey made his Grapefruit League debut with the Twins on Tuesday.

•
Mike Pelfrey
had a
rough Grapefruit League debut
with the
Minnesota Twins
. Pelfrey, in his first game since Tommy John surgery, allowed three runs and five hits in 1 2/3 innings against the
Toronto Blue Jays
. Wrote Phil Miller
in the Minneapolis Star-Tribune
about Pelfrey's mound exit:
When manager Ron Gardenhire walked to the mound to remove him after 10 hitters -- five of whom got hits -- the 6-foot-7 pitcher hesitated. "When I was with the Mets, we always waited for the reliever, and handed him the ball," Pelfrey said and laughed. "I said, 'Do you want the ball?' He said, 'You're bigger than me, you let me know.' "
• Cory Mazzoni, a former second-round pick from NC State, has now tossed five scoreless Grapefruit League innings. Read more at
MLB.com
.
• Niese aims to represent the Mets at this year's All-Star Game at Citi Field, writes Marty Noble at
MLB.com
.
• Marlins owner Jeffrey Loria's PR campaign to
spin the team's offseason fire sale
is not being met with rave reviews. Read more in the
Star-Ledger
.
• Columnist John Harper
in the Daily News
chats with Travis d'Arnaud. Collins tells Harper the Mets will not let d'Arnaud block the plate for now to avoid injury risk, although that could change once he reaches the majors. "He's the future," Collins said. "So we're going to be smart about this. When he gets to the big leagues, things may change, but right now let's let him get to the big leagues. The thing is, catchers with his offensive potential, they're hard to find."
• The Mets are trying to get former Pennsylvania high school wrestler
Josh Edgin
to pitch to contact rather than try to strike everyone out, writes Kristie Ackert
in the Daily News
.
•
From the bloggers
… At
Mets Police
, Shannon is pleased with the way the Mets are dressing this spring. …
Rising Apple
considers whether the Mets can compete with a $90 million payroll in 2014. …
Faith and Fear in Flushing
realizes the Mets have been training in Port St. Lucie as many springs and they did in St. Petersburg, and notices how the pace has changed.
BIRTHDAYS:
Longtime
Atlanta Braves
right-hander Pete Smith, who started 21 games for the Mets in 1994 after being acquired for Dave Gallagher, turns 47.
TWEET OF THE DAY:
@you_found_nimmo with some textbook form #gutterball twitter.com/kplawecki26/st…

— Kevin Plawecki (@kplawecki26) February 27, 2013
YOU'RE UP: Is Zack Wheeler getting too much hype?


Please use the comments section to weigh in
February, 26, 2013
2/26/13
10:28
AM ET
JUPITER, Fla. -- In an invite-only interview with
Miami Marlins
media, owner Jeffrey Loria attempted to defuse criticism of the team's offseason dismantling.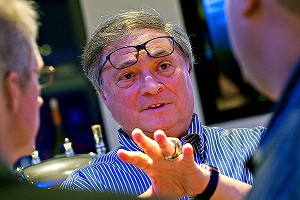 Patrick Farrell/Getty Images
Marlins owner Jeffrey Loria defending the team's fire sale.

"We didn't break up the 1927 Yankees," Loria said, as reported by
the Miami Herald
. "We broke up a losing ballclub that was going nowhere for two straight years. I'm about winning. I like to win. I love winning. I love Miami. I love this ballclub, and I love what we've done now. Little painful for a lot of people. But no pain no gain. ...
"I have a sense of [the public anger]. I'm sorry we built this amazing ballpark and fans are feeling the way they do. But we did this for a reason. We weren't going anywhere. ... We had to do something swiftly, quickly and bold."
April, 24, 2012
4/24/12
12:24
AM ET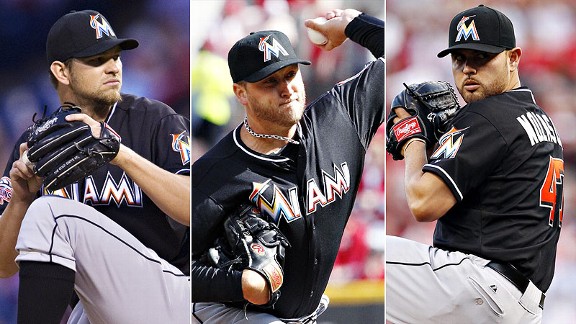 US Presswire
The Mets face (l to r) Josh Johnson, Mark Buehrle and Ricky Nolasco during a midweek series that marks Jose Reyes' return to Flushing with the Marlins.
METS (8-8, third place/NL East) vs. MIAMI MARLINS (7-8, fourth place/NL East)
Tuesday:
LHP Johan Santana (0-2, 3.97) vs. RHP Josh Johnson (0-2, 5.94), 7:10 p.m. ET
Wednesday:
RHP R.A. Dickey (2-1, 5.71) vs. LHP Mark Buehrle (1-2, 2.66), 7:10 p.m. ET
Thursday:
LHP Jon Niese (2-0, 2.89) vs. RHP Ricky Nolasco (2-0, 3.93), 1:10 p.m. ET
Marlins short hops
•
Jose Reyes
is off to a slow start in his first season with the Marlins, with a .230 average, .294 on-base percentage and five errors through 15 games, albeit with a handful of highlight-reel defensive plays as well. After the Mets failed to make an offer, or even send a box of chocolates, Reyes signed a six-year, $106 million deal with Miami.
• Manager
Ozzie Guillen
served a five-game suspension after making comments praising
Fidel Castro
, which angered those in the Cuban-American community, particularly among the Marlins' fan base. Other than at the off-day press conference held by Guillen in Miami to apologize, which drew about 50 protestors, there have been no visible demonstrations outside Marlins Park.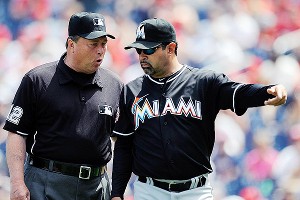 Patrick McDermott/Getty Images
Ozzie Guillen served a five-game suspension for praising Fidel Castro.

•
Heath Bell
, who did not blow consecutive saves at any point during his San Diego Padres career, opened his era with the Marlins by failing to convert his first two opportunities. The ex-Met Bell, who was traded to San Diego with
Royce Ring
for
Jon Adkins
and
Ben Johnson
on Nov. 15, 2006, nonetheless has the fourth-highest save percentage in the majors over the last three-plus seasons, at 89.3 percent. He trails only
John Axford
,
Jose Valverde
and
Mariano Rivera
. Bell signed a three-year, $27 million free-agent deal and was introduced as a Marlin during the winter meetings. After the two blown saves, both of which deprived
Carlos Zambrano
of wins, Bell saved his next two chances.
• Miami's new stadium, known as Marlins Park, is a pitcher-friendly ballpark with a seating capacity of 37,442. The dimensions (from left to right): 344, 386, 418, 392, 335. Despite the imposing dimensions, the Marlins have out-homered opponents 5-1 at the stadium so far, with
Hanley Ramirez
producing three of the long balls. Owner
Jeffrey Loria
also rebranded the Marlins, dropping "Florida" for "Miami" and changing the team logo to more of a South Beach feel.
• Ramirez (.263, 4 HR, 12 RBIs) has moved to third base to accommodate Reyes after logging his first 829 career major league games in the field at shortstop. He has committed only one error and generally looked solid. Slowed by a left shoulder injury last season, Ramirez hit only .243 with 10 homers in 92 games. Ramirez currently is tied with
Miguel Cabrera
for third on the Marlins' all-time home run list with 138. He trails
Dan Uggla
(154) and
Mike Lowell
(143).
•
Josh Johnson's
2011 season ended after a five-inning start on May 16 against the Mets at Citi Field because of right shoulder inflammation. He actually was removed from that outing after getting hit in the right forearm with a comebacker off the bat of
Carlos Beltran
. Johnson threw live batting practice at the end of September, but ran out of time to return during that season. He did not undergo surgery. This season, Johnson rebounded from allowing six runs on 11 hits in 3 2/3 innings against the Phillies on April 11 by limiting the Cubs to two runs on seven hits in seven innings in his most recent start.
• Second baseman
Omar Infante
(left groin tightness) expects to return to the lineup for Tuesday's series opener at Citi Field. Infante has not played since last Tuesday, except for a pinch-hit appearance Saturday in D.C.
Donnie Murphy
(three games) and
Emilio Bonifacio
(one game) started at second base in Infante's absence. Bonifacio otherwise has exclusively served as the Marlins' starting center fielder. He had not taken grounders at second base this season, but Guillen wanted a lefty-dominated lineup Saturday against Washington phenom
Stephen Strasburg
. Infante was on fire before being sidelined. He is hitting .325 with four homers in 40 at-bats. The pinch-hit out against the Nats snapped Infante's eight-game hitting streak.
• The Reyes-Bonifacio combo gives Miami two switch-hitters atop the order as well as a pair of speedsters. The Marlins' 18 steals (in 21 attempts) leads the majors. Bonifacio already has nine steals, the most in the first 15 games of a season by a Marlin in franchise history.
Quilvio Veras
formerly held the record with eight.
• Marlins newcomer
Mark Buehrle
texted former White Sox teammate
Philip Humber
congratulations on becoming one of the 21 major league pitchers to throw a perfect game in the sport's history. Buehrle tossed his perfecto against the Tampa Bay Rays on July 23, 2009. Despite a 13-year major league career, Buehrle has never faced the Mets. That is largely because the Mets and Buehrle's former club, the Chicago White Sox, have not met in interleague play since 2002 -- the longest stretch the Mets have gone in not seeing an American League opponent. Buehrle signed a four-year, $58 million deal with the Marlins on Dec. 8. He is the only major league pitcher to log 200 innings each of the past 11 seasons. His 10-plus wins per year for the past 11 seasons is tied with
CC Sabathia
for the longest active streak in the majors.
•
Logan Morrison
played only five spring-training games because of right-knee soreness.
Giancarlo
(formerly Mike)
Stanton
appeared in only eight spring-training games because of left-knee inflammation. Neither is 100 percent, so they are spotted days off in the outfield. Stanton's full name is Giancarlo Cruz-Michael Stanton. Teachers in middle school in Los Angeles butchered his first name so frequently, he requested to be called Mike. But he has now decided to revert to his actual name. Morrison is one of the most active (and tawdry) players on Twitter at
@LoMoMarlins
.
• The Marlins are featured in the second-annual Showtime series "The Franchise." The first episode debuted Saturday night. The first episode included Guillen being informed of his suspension. The San Francisco Giants were featured last season.
•
Ricky Nolasco
is two wins shy of matching
Dontrelle Willis'
franchise record for wins as a Marlin at 68.
Matchups
Santana vs. Marlins (career: 6-1, 1.47 ERA)

Gaby Sanchez .800, 5 PA
Chris Coghlan .333, 1 RBI, 6 PA
Jose Reyes .250, 4 PA
John Buck .235, 4 RBI, 1 BB, 5 K, 18 PA
Omar Infante .205, 3 RBI, 1 BB, 9 K, 42 PA
Hanley Ramirez .143, 2 BB, 7 K, 23 PA
Austin Kearns .133, 3 K, 15 PA
Emilio Bonifacio .083, 4 K, 12 PA
Donnie Murphy .000, 2 K, 3 PA
Dickey vs. Marlins (career: 5-2, 3.91 ERA)

Omar Infante .500, 1 HR, 3 RBI, 1 BB, 2 K, 24 PA
Hanley Ramirez .400, 3 RBI, 1 BB, 1 K, 16 PA
Gaby Sanchez .333, 1 HR, 6 RBI, 2 BB, 3 K, 19 PA
Austin Kearns .333, 1 K, 3 PA
John Buck .300, 1 RBI, 1 BB, 1 K, 11 PA
Chris Coghlan .286, 2 BB, 3 K, 9 PA
Emilio Bonifacio .200, 1 BB, 3 K, 11 PA
Greg Dobbs .200, 3 K, 10 PA
Logan Morrison .182, 2 BB, 4 K, 13 PA
Brett Hayes .167, 1 K, 6 PA
Donnie Murphy .143, 3 K, 7 PA
Giancarlo Stanton .125, 3 K, 8 PA
Jose Reyes .000, 2 K, 6 PA
Niese vs. Marlins (career: 1-4, 5.67 ERA)

Emilio Bonifacio .500, 3 PA
Logan Morrison .429, 2 RBI, 2 BB, 10 PA
Brett Hayes .333, 1 RBI, 3 PA
Hanley Ramirez .273, 1 HR, 2 RBI, 2 BB, 2 K, 13 PA
Gaby Sanchez .214, 1 RBI, 3 BB, 1 K, 17 PA
Chris Coghlan .200, 1 K, 11 PA
Omar Infante .167, 2 RBI, 1 BB, 2 K, 19 PA
Giancarlo Stanton .000, 1 RBI, 2 BB, 2 K, 6 PA
Donnie Murphy .000, 3 PA
Austin Kearns .000, 3 PA
John Buck .000, 1 K, 3 PA
Johnson vs. Mets (career: 8-1, 2.68 ERA)
Justin Turner .500, 1 RBI, 2 PA
Jason Bay .417, 1 HR, 2 RBI, 4 K, 12 PA
Daniel Murphy .294, 2 BB, 2 K, 19 PA
David Wright .207, 1 HR, 3 RBI, 1 BB, 8 K, 30 PA
Josh Thole .200, 2 K, 5 PA
Ike Davis .143, 1 RBI, 2 BB, 2 K, 9 PA
Scott Hairston .000, 1 BB, 2 K, 6 PA
Ruben Tejada .000, 1 BB, 3 PA
Ronny Cedeno .000, 1 K, 2 PA
Lucas Duda .000, 1 PA
Buehrle vs. Mets (career: never faced)
Ronny Cedeno .444, 1 RBI, 1 K, 9 PA
Jason Bay .235, 2 RBI, 2 BB, 7 K, 19 PA
Nolasco vs. Mets (career: 5-7, 5.27 ERA)
David Wright .389, 4 HR, 13 RBI, 3 BB, 15 K, 57 PA
Daniel Murphy .353, 1 RBI, 3 K, 18 PA
Ruben Tejada .333, 1 K, 6 PA
Scott Hairston .333, 1 HR, 1 RBI, 6 PA
Jason Bay .273, 2 HR, 3 RBI, 2 BB, 2 K, 24 PA
Josh Thole .250, 1 K, 8 PA
Ike Davis .182, 1 RBI, 1 BB, 4 K, 12 PA
Lucas Duda .000, 1 K, 6 PA
Ronny Cedeno .000, 1 K, 6 PA
Mike Nickeas .000, 1 K, 3 PA
Last series results
Mets won, 2-1, at Dolphin Stadium, Sept. 5-7, 2011 (AP game recaps)
Marlins 9, Mets 3:
Chris Capuano failed to reach the fifth inning for the first time in 27 starts this season, lasting only four innings and taking the loss. Capuano (10-12) allowed six runs and eight hits, walked one and struck out three. Florida took a 2-0 lead in the first. Emilio Bonifacio opened with a double, took third on Omar Infante's sacrifice and scored on Capuano's wild pitch. Gaby Sanchez doubled with two outs and scored on Logan Morrison's single to center. Jose Lopez homered with two outs in the third to make it 3-0. Angel Pagan's RBI groundout in the fourth cut Florida's lead to 3-1. The Marlins responded with Bryan Petersen's RBI single and Bonifacio's two-run single in the bottom of the inning. Mike Cameron had an RBI double in the fifth and Sanchez had a two-run single in the sixth to stretch the lead to 9-1. Javier Vazquez pitched seven solid innings for the win. Jason Bay hit his 11th homer, a two-run shot off reliever Chris Hatcher, in the ninth.
Mets 7, Marlins 4 (12 innings):
Nick Evans drove in three runs, including a go-ahead single in the 12th inning, to lead New York over Florida. Jose Reyes, Justin Turner, Angel Pagan and Evans each had three hits for New York, which lost a two-run lead in the bottom of the ninth inning. Marlins reliever Jose Ceda (0-1) gave up three straight hits to begin the 12th, including Evans' soft liner to center that scored Pagan. Later in the inning, Reyes hit an RBI single and Lucas Duda drew a bases-loaded walk to give the Mets a 7-4 lead. Ryota Igarashi (4-1) got the win in a game that lasted 4 hours, 29 minutes, including a 1:14 rain delay.
Mets 1, Marlins 0:
R.A. Dickey made an early run stand up, blanking Florida for seven innings. Dickey is 3-0 against the Marlins this season. The knuckleballer allowed only one run -- it was unearned -- in 20 innings over that span. Jose Reyes led off the game with a single and scored on a one-out double down the left-field line by Lucas Duda for the only run. Dickey (8-11) and relievers Josh Stinson and Manny Acosta combined on a five-hitter. The Mets played their final game at the Marlins' stadium before Florida moves into a new home next season. The Mets finished 75-74 at the park the Marlins had shared with the Dolphins since 1993. Dickey gave up four hits and three walks. He struck out three. Brad Hand (1-6) allowed one run, three hits and four walks in six innings. In the eighth, the Marlins put Emilio Bonifacio on third base, but Stinson struck out Gaby Sanchez swinging to end the inning. Acosta pitched the ninth and recorded his first save since Aug. 11, 2010, at Houston.