New York Mets:

Jerome Williams
August, 31, 2014
8/31/14
5:28
AM ET
NEW YORK
FIRST PITCH
:
David Wright
was pragmatic in the postgame clubhouse after Saturday's loss officially ensured the Mets would not reach 90 wins.
"This season hasn't gone the way we would've liked it to," Wright said. "We all put forth expectations for ourselves, and whether it's individual or the team, when you don't meet those expectations, of course it's disappointing."
On Sunday, the Mets (63-73) play their final game in the season series against the Phillies (62-73). Fourth place is at stake as
Dillon Gee
(5-6, 3.77 ERA) opposes fellow right-hander
A.J. Burnett
(7-14, 4.30 ERA) at 1:10 p.m.
Philadelphia has occupied last place since June 28.
Not only would a Mets win keep the Phillies in the basement, it would give the Mets 13 wins against Philadelphia in 2014 -- matching their most ever in a season series between the clubs.
Meanwhile, Sunday also marks the deadline for players to be traded and be eligible for the acquiring team's postseason roster.
Sunday's news reports:
•
Bartolo Colon
allowed six runs in 5 1/3 innings and
Curtis Granderson
left the bases loaded in the seventh with a strikeout against
Antonio Bastardo
as the Phillies beat the Mets, 7-2, on Saturday.
Dilson Herrera
produced his first major league hit with a seventh-inning single against Phillies starter
Jerome Williams
.
Read game recaps in the
Post
,
Daily News
,
Newsday
,
Record
,
Times
and at
MLB.com
.
•
R.A. Dickey
, who never saw a microphone he didn't love, told David Lennon
in Newsday
that the Mets should not be trying to muzzle
Matt Harvey
.
"I enjoyed telling the truth in conversations," Dickey told Lennon. "I didn't feel like I ever threw anybody under the bus, but I also didn't want to give the 'SportsCenter' answers because that's not what I was really believing. And Harvey's a lot like that. We may be similar in that. I remember how he was upset that nobody retaliated for David [Wright], and that's valid. I feel like he shouldn't be chastised for speaking his mind unless he's throwing people under the bus. That's a different thing."
• Tim Rohan
in the Times
writes about the bond between Triple-A pitching coach Frank Viola and prospect Noah Syndergaard.
• Wally Backman expressed appreciation for being named Pacific Coast League Manager of the Year.
"It's an honor to get chosen by your colleagues. I'm thankful I got picked by my peers," Backman
told the Las Vegas Review-Journal
. "There's no question Triple-A is the toughest level to manage at because of the player movement. That's what makes it tough. There are so many different guys going back and forth.
"To win as many games as we have each year with as much movement as we've had, I've got to give the organization credit for giving us players to replace the ones who've gone to the majors."
Columnist John Harper
in the Daily News
advocates Backman serving as Terry Collins' bench coach next season. Writes Harper:
In that position he shouldn't be regarded as a threat to Collins, especially given [Sandy] Alderson's apparent lack of regard for Backman as a managerial candidate. And after all, if Collins is indeed the manager next season, he will be on a very short leash.
That is, if he doesn't win he'll be out, and perhaps quickly, regardless of who is perceived as a manager-in-waiting by the media or fans.
Read more on Backman
in Newsday
.
• Alderson told Anthony Rieber
in Newsday
that there is no hard-and-fast "330 rule," even though Collins recently cited it. Collins had said the organization does not want a pitcher throwing more than 330 pitches in a three-start stretch.
"I think there's a rule of thumb," Alderson told Rieber. "I think if you go back and look at the numbers for some of our starters, it's not followed uniformly. So I'd say no, there's not a rule."
•
Ruben Tejada
tells columnist George Willis
in the Post
he does not know what the future holds. "I know this is a business," Tejada said. "Right now, I'm working for this team. But you never know whether you're going to stay here or go to another team."
• Columnist Bill Madden
in the Daily News
writes about Wright:
The Mets can only hope their 31-year-old captain's power outage is the product of a bum shoulder since he is owed $107 million through 2020. Still, .264 with eight home runs is a horrific decline and intolerable for a No. 3 hitter. For all their pitching depth, the coming-into-their-own of Lucas Duda, Juan Lagares and Travis d'Arnaud, and the great promise of Dilson Herrera and Kevin Plawecki, the Mets cannot expect to be any less offensively challenged and inconsistent next year than they've been this year if Wright is not the 20-homer, 100-RBI No. 3 hitter [of] most of his first nine years with them.
• Rieber
in Newsday
cites the bullpen as a positive for the 2014 Mets.
• Jay Schreiber
in the Times
offers his take on the Mets' 90-win mantra.
•
From the bloggers ...
Faith and Fear
seeks Citi Field solace in overpriced beer.
BIRTHDAYS:
Ramon Ramirez
turns 33. ... Claudell Washington was born on this date in 1954. ... Kingsport infielder Pedro Perez turns 20.
TWEET OF THE DAY:
Walk for Herrera - Alderson must be happy. #mets

— Tom Watson (@tomwatson) August 31, 2014
YOU'RE UP: Will the Mets hold off the Phillies for fourth place in the division?
August, 30, 2014
8/30/14
10:08
PM ET
NEW YORK -- The 90-win dream is dead.
Bartolo Colon
surrendered six runs in 5 1/3 innings, and the Mets suffered a 7-2 loss to the
Philadelphia Phillies
on Saturday at Citi Field in the 1,500th major league game managed by Terry Collins.
The Mets dropped to 63-73, which makes it mathematically impossible to reach the win total Sandy Alderson ambitiously articulated to team personnel during an internal spring training meeting.
The last-place Phillies (62-73) returned to within a half-game of the Mets, which sets up a battle for fourth place in Sunday's final 2014 meeting between the clubs.
Colon had limited the Phillies to one hit until ex-Met
Marlon Byrd
, on his 37th birthday, opened the fifth with a homer that broke a scoreless tie. Byrd notched his career-high 25th homer and surpassed last year's previous high, which he produced while with the Mets (21) and
Pittsburgh Pirates
(three).
An inning later, Philadelphia took a 6-0 lead. Colon surrendered singles to six of the first seven batters -- including a two-run single to
Ryan Howard
-- and departed.
Buddy Carlyle
entered and immediately surrendered an RBI single to
Cody Asche
for the sixth and final run charged to Colon.
The Mets, who had been limited to one hit through six innings, finally mounted a threat in the seventh.
Wilmer Flores
delivered an RBI single, and
Juan Lagares
walked with the bases loaded to force in a run. However, left-hander
Antonio Bastardo
entered and struck out
Curtis Granderson
to leave the bases loaded and preserve a 6-2 lead.
It's a hit!
Dilson Herrera
notched his first major league hit with a seventh-inning single that loaded the bases with one out and chased Phillies starter
Jerome Williams
. Herrera finished 1-for-3 with a walk in his second major league game.
What's next:
Dillon Gee
(5-6, 3.77 ERA) opposes
A.J. Burnett
(7-14, 4.30) on Sunday at 1:10 p.m. in the final meeting between the clubs this season. The Mets, who are 12-6 against Philadelphia in 2014, can match their most wins ever against the Phillies in a single season. The Amazin's went 13-5 against Philadelphia in 1970, '71, '72 and '87.
August, 28, 2014
8/28/14
11:45
PM ET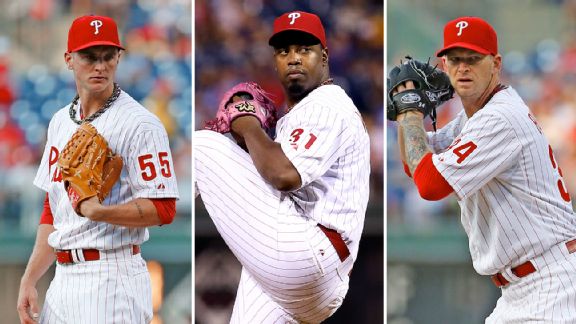 Associated PressThe Mets face David Buchanan, Jerome Williams and A.J. Burnett at Citi Field this weekend.
METS (62-72, fourth place/NL East) vs. PHILADELPHIA PHILLIES (61-72, fifth place/NL East)
Friday:
RHP
Jacob deGrom
(6-6, 3.13) vs. RHP
David Buchanan
(6-7, 4.21), 7:10 p.m. ET
Saturday:
RHP
Bartolo Colon
(12-10, 3.82) vs. RHP
Jerome Williams
(2-5, 6.71), 7:10 p.m. ET
Sunday:
RHP
Dillon Gee
(5-6, 3.77) vs. RHP
A.J. Burnett
(7-14, 4.30), 1:10 p.m. ET
Phillies short hops
• Manager Ryne Sandberg reportedly has been having difficulty with veteran players treating him disrespectfully. The latest incident occurred Monday, when
Cole Hamels
began walking off and did a "handoff" of the baseball to Sandberg before the manager reached the mound to remove the southpaw, according to CSNPhilly.com's Jim Salisbury.
Kyle Kendrick
reportedly pulled the same antics a couple of weeks earlier and subsequently apologized.
• The Phillies arrive at Citi Field coming off a three-game sweep of the
Washington Nationals
that capped a 7-2 homestand.
• Right-hander
Jerome Williams
was claimed off waivers by the Phillies from the
Texas Rangers
on Aug. 10. Williams, 32, is 2-0 with a 1.77 ERA in three starts since the change of scenery. He began the season with the
Houston Astros
and was released on July 8.
•
A.J. Burnett
was 0-6 with a 7.41 ERA in his first seven starts after the All-Star break. He then limited the Nats to one run on three hits while striking out 12 in seven innings Monday.
•
Ben Revere
's .310 batting average ranks second in the National League. With his next steal, Revere will become the 12th different player in Phillies history with a 40-steal season. The last was
Jimmy Rollins
in 2008.
• Ex-Met
Marlon Byrd
's 24 homers rank fifth in the league.
•
Ryan Howard
's 81 RBIs rank fourth.
• Closer
Jonathan Papelbon
has 33 saves in 36 chances. Papelbon notched his 100th save as a Phillie on Tuesday. He had 219 with the
Boston Red Sox
. According to the Elias Sports Bureau, he is the first closer in major league history to produce 200 saves with one team and 100 saves with a team in the other league.
• Phillies president David Montgomery, 68, has taken a leave of absence from the ballclub as he attempts to recover from jaw cancer surgery. Former GM Pat Gillick will fill in during Montgomery's absence.
• The Phillies and Dodgers completed the trade on Thursday that sent
Roberto Hernandez
to L.A. Philadelphia obtained right-hander Victor Arano, who was pitching for Class A Great Lakes.
• Infielder
Freddy Galvis
was recalled Saturday from Triple-A, where he had been optioned on May 9. He is hitting .085 (4-for-47) at the major league level this season … and that's with a two-hit game Tuesday.