New York Mets:

Jerry Seinfeld
September, 19, 2013
9/19/13
7:08
AM ET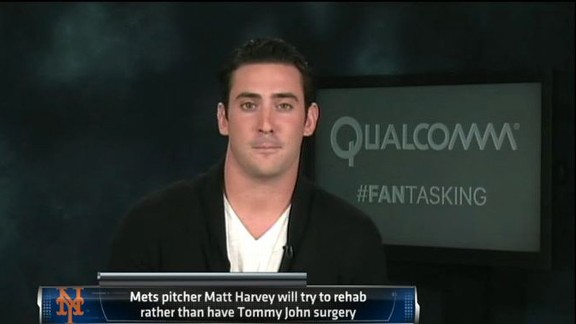 ESPNMatt Harvey appeared on ESPN as a pitchman for Qualcomm. An appearance earlier in the day did not go very well.
NEW YORK
FIRST PITCH:
Ruben Tejada
, quite literally, suffered a bad break.
Given a limited opportunity to prove he merits being the 2014 shortstop, Tejada's audition of sorts is now over. He
suffered a broken fibula in his right leg
colliding with left fielder
Andrew Brown
while catching a pop fly in the top of the ninth during Wednesday's 5-4 come-from-behind win against the
San Francisco Giants
.
Tejada, who turns 24 next month, hit .143 (3-for-21) in seven September starts after returning from a banishment to Triple-A Las Vegas. He finished the season hitting .203 overall in 208 at-bats. Sandy Alderson said it was "like pulling teeth" to get Tejada to do extra work.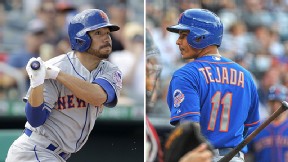 Associated PressWith Ruben Tejada done for the season, Omar Quintanilla is back to being the regular shortstop.
The Mets delayed Tejada's call-up until Sept. 10, which will leave him one day shy of three full years of major league service at season's end. Tejada still will be first-time arbitration-eligible as a Super 2, but his salary -- if the Mets choose to retain him -- should not be that far north of the $500,000 major league minimum in 2014.
By delaying Tejada's free agency until after the 2017 season, the Mets do make Tejada marginally more marketable in a trade.
It would be no great surprise if the Mets' Opening Day shortstop is not currently with the organization, since
Omar Quintanilla
is widely considered in baseball as a backup. All-Star
Jhonny Peralta
, currently serving a 50-game suspension related to Biogenesis, headlines the list of free agents at the position. (
Nelson Cruz
, another All-Star serving a 50-game suspension, also is a pending free agent, if the Mets are not averse to the Biogenesis route for adding outfield bats.)
Meanwhile,
Jonathon Niese
(7-7, 3.88 ERA) opposes fellow southpaw
Madison Bumgarner
(12-9, 2.83) in today's 1:10 p.m. rubber game at Citi Field.
Thursday's news reports:
•
Josh Satin
's two-run single against All-Star
Sergio Romo
capped a four-run ninth as the Mets rallied to beat the Giants. In his major league debut, catcher
Juan Centeno
had two hits, including a run-scoring infield single earlier in the ninth-inning rally. The Mets, who entered the frame trailing 4-1, overcame their largest ninth-inning deficit since June 16. That day, they also had a four-run ninth, and beat the
Chicago Cubs
, 4-3, on
Kirk Nieuwenhuis
' three-run homer.
Read game recaps in the
Post
,
Star-Ledger
and
MLB.com
.
•
Matt Harvey
publicly apologized to The Dan Patrick Show and Qualcomm on Wednesday afternoon, after his appearance that morning irked the host. Companies often pay for athletes to appear on shows, with the understanding the athlete will be given a brief opportunity to promote a product while otherwise answering topical sports questions.
When Harvey appeared with Patrick, he only wanted to talk about the wireless technology company, not his decision to forgo -- at least for now -- Tommy John surgery.
Asked about the scariness of the Tommy John surgery decision, Harvey said: "Every pitcher can relate to what's going on. I did all of those answers yesterday. Maybe at the appropriate time we can talk about that. But obviously today's about Qualcomm."
Asked by an incredulous Patrick if he really did not want to talk about his elbow, Harvey added: "We can set up another call, if you'd like to, about that subject, but today we're honoring and supporting Qualcomm." (Watch on YouTube
here
.)
Presumably after getting some P.R. advice, Harvey did discuss with ESPN his decision to rehab rather than immediately undergo Tommy John surgery. Watch
here
.
Harvey eventually tweeted: "I've had a few rough outings on the mound, that was a rough outing on the radio this morning... Been an exhausting couple of days. Apologies to @DanPatrick and @Qualcomm"
The Daily News reported Harvey fired a publicist earlier this year after an ill-fated Men's Journal article, and that this was his first time doing interviews as a paid spokesman for a company.
Read more in the
Daily News
,
Post
,
Record
and
Newsday
.
•
Billy Wagner
, who had Tommy John surgery while with the Mets, tells Mike Puma
in the Post
that Harvey is delaying the inevitable. "You can get it done now and be done with it, and the rehab is not a hard rehab," Wagner told Puma. "… When I was rehabbing at 80 or 85 percent, I couldn't tell anything was wrong. But as soon as I let it go a little bit, there's a big difference."
• Richard Sandomir
in the Times
writes that Tommy John surgery first is paid by workers' compensation, with the difference covered by the team.
• Terry Collins, appearing on WFAN, cited Harvey's determination as a reason why he may very well avoid Tommy John surgery. Said Collins: "I told one of the coaches today: I would not be afraid to have someone bet me that Matt Harvey will be the Opening Day pitcher, because I think he will be."
Collins expects
David Wright
(hamstring strain) to return from the disabled list this weekend in Philly. The manager also predicted
Wilmer Flores
would open next season in the minors if there is no defined position for him, whereas Brown and Satin could be righty-hitting major league bench pieces in 2014.
As for
Daniel Murphy
, Collins said he again would expect to see him at second base next season -- "not at this moment" at first base next year. The manager did allow, though, for a scenario not currently foreseeable in which
Eric Young Jr.
mans second base and Murphy slides over to first base. "I don't know what the winter is going to hold," Collins said. Of course, that latter scenario would logically involve the departures of
Ike Davis
and
Lucas Duda
.
Collins noted the Mets will need to bring a veteran starting pitching hedge to camp, even if Harvey is OK in a rotation alongside
Zack Wheeler
, Niese and
Dillon Gee
. That veteran would compete with Jacob deGrom and Rafael Montero among others and also serve as a safety net in case of an injury. Asked if it could be a re-signed
Aaron Harang
, Collins said: "We've got to have one of those [veteran-type] guys coming into camp. Who that is I don't know yet."
(Alderson, who not too long ago said he would look to sign a major starting pitcher, did a 180-degree turn Tuesday on that topic.)
Listen to Collins' full interview
here
.
• Read more on Tejada's fractured fibula in the
Star-Ledger
,
Daily News
and
Newsday
.
• Missed Jerry Seinfeld appearing on Tuesday's Mets telecast? You can watch the highlights
here
.
At one point, Seinfeld -- a Mets fan -- mocks the publicity Dr. James Andrews is getting for examining Harvey on Monday in Gulf Breeze, Fla.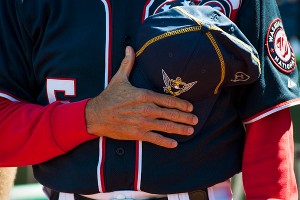 by Katherine Frey/The Washington PostDavey Johnson, as well as his Nats, wore Navy hats pregame only.
"I want to know why these doctors are getting billing now. Who the hell is this guy? He's a big star now --
Dr. Andrews?
" Seinfeld said. "Why do I got to hear about him for? … I mean, do we get free treatment out of this guy for all of these plugs? 'I'm Dr. Andrews. I talked to Matt Harvey. I didn't do a damn thing. Did you hear me on the broadcast? They said my name four times. I'm Dr. Andrews.'"
• Keith Olbermann scolded Major League Baseball and, to a lesser extent, the
Washington Nationals
over wearing "Navy" hats during batting practice, but not in-game after the shooting at the Navy Yard, blocks from the team's ballpark.
The issue is nearly identical to the Mets -- during games on the anniversary of 9/11 -- no longer wearing the caps of New York City first-responder agencies.
MLB has licensing agreements and does not grant in-game waivers for unauthorized caps it cannot market. The Nats did not even bother to ask about wearing the Navy caps in-game this time, Olbermann suggested, because MLB's policy is clearly established and inflexible.
Nats manager Davey Johnson responded about Olbermann (via
@JamesWagnerWP
): "He's not high on my list."
• Wheeler is at 168 2/3 innings between the majors and minors this season, and the Mets likely want to cap the rookie at no more than 180 innings. So Collins said Wednesday it is unresolved whether Wheeler's final start will be Monday in Cincinnati, or he also will appear in the regular-season finale the following Sunday at Citi Field against the
Milwaukee Brewers
as part of a continued six-man rotation.
Mike Piazza
will be inducted into the Mets Hall of Fame that day. Read more in the
Star-Ledger
.
•
Travis d'Arnaud
could return to the lineup today after missing a game. D'Arnaud was struck by a foul ball in the right shoulder off the bat of
Hunter Pence
on Tuesday. D'Arnaud has repeatedly gotten hit in the head of late as well, primarily from backswings.
"It's more than I've ever seen, and it's a little bit concerning," Mets bench coach Bob Geren told Jorge Castillo
in the Star-Ledger
about the beating d'Arnaud is taking.
Geren told Marc Carig
in Newsday
there is a "conundrum" because typically you move closer to the plate when getting hit by too many foul balls and farther away from the plate if you're getting by backswings. And d'Arnaud is a victim of both.
Read more in the
Record
.
•
Justin Turner
(hamstring) is not ready to do baseball activities.
Frank Francisco
(hand) also is not ready to return.
• Howard Megdal
at Capital New York
finds Alderson's unwillingness to speak about the team's 2014 payroll troubling.
•
From the bloggers …
Faith and Fear in Flushing
would like Howie Rose to reunite with Gary Cohen on the season's final day.
BIRTHDAYS:
Left-hander Randall K. Myers turns 51.
TWEET OF THE DAY:
I like when money makes a difference but don't make you different

— Dominic Smith (@TheRealSmith22) September 19, 2013
YOU'RE UP: Does Ruben Tejada deserve to be a part of the 2014 Mets?
September, 17, 2013
9/17/13
8:06
PM ET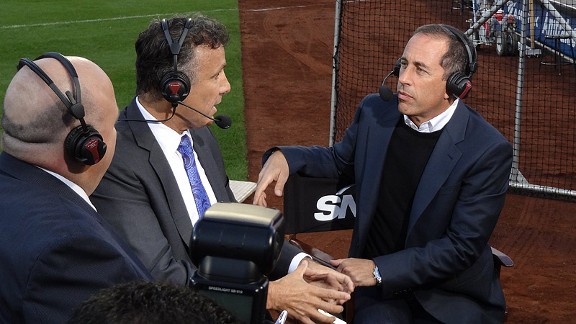 Adam RubinJerry Seinfeld joined the SNY crew for Tuesday's pregame show and color commentary in-game.
September, 17, 2013
9/17/13
5:59
AM ET
FIRST PITCH:
Matt Harvey
has returned from seeing Dr. James Andrews in Pensacola, Fla., with the Mets promising more news today. So stay tuned.
If Harvey does proceed with Tommy John surgery, he is likely to miss most if not all of the 2014 season.
Meanwhile, Terry Collins has said
David Wright
, team medical staff and front-office personnel will confer today to determine if Wright is ready to reenter the lineup. Wright last played in a major league game on Aug. 2, when he suffered a Grade 2 right hamstring strain running to first base in extra innings.
The
San Francisco Giants
arrive at Citi Field with a 69-81 record, narrowly ahead of the last-place
Colorado Rockies
in the NL West.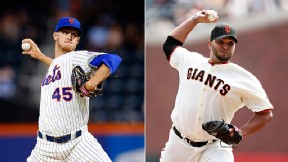 Getty ImagesZack Wheeler opposes former Mets farmhand Yusmeiro Petit in tonight's series opener.
Right fielder
Hunter Pence
, a pending free agent, is coming off a four-game series against the
Los Angeles Dodgers
in which he produced five homers and 12 RBIs in 17 at-bats.
Former Mets farmhand
Yusmeiro Petit
and
Zack Wheeler
match up in tonight's series opener.
Petit was traded with
Mike Jacobs
to the Marlins during Thanksgiving week in 2005, in the deal that brought
Carlos Delgado
to New York. Petit and Wheeler actually matched up once before this season -- in the Pacific Coast League, when Fresno beat Las Vegas, 4-1, on April 9.
Aaron Harang
opposes
Matt Cain
on Wednesday at 7:10 p.m.
Jonathon Niese
faces
Madison Bumgarner
on Thursday at 1:10 p.m.
Tuesday's news reports:
• Comedian Jerry Seinfeld will join the SNY crew to call tonight's game. Seinfeld, a Mets fan who has a luxury box at Citi Field, also appeared on a June 23, 2010 game telecast.
Writes Neil Best
in Newsday
:
[Keith] Hernandez, who starred in a memorable, two-part 1992 episode of "Seinfeld'' called "The Boyfriend," said he has not spoken to Seinfeld since their 4½ innings together in 2010 but that he "can't wait'' for the return engagement.
"I think it's something we should do every August or September, if we're in it or out of it,'' he told Newsday. "It's good stuff. He's up on baseball, up on the Mets and he's funny. He's Jerry Seinfeld . . . But he's no different from any other Met fan. He suffers the same things they suffer and feels the same things they do. I'm looking forward to it.''
Hernandez said Seinfeld would be a welcome change of pace for a telecast that covers a team far out of contention.
• In light of Harvey's injury, Barry Berak
in the Times
talks to Dr. Glenn Flesig, who says pitchers cannot throw any harder than they currently do in MLB. Fleisig runs the lab where Rick Peterson used to send Mets pitchers for biomechanical analysis. "Oh, there may be an outlier, one exception here or there," Fleisig said. "But for major league baseball pitchers as a group of elites, the top isn't going to go up anymore. With better conditioning and nutrition and mechanics, more pitchers will be toward that top, throwing at 95 or 100. But the top has topped out." Read more on Harvey in the
Post
,
Daily News
,
Star-Ledger
and
Newsday
.
• Marc Carig
in Newsday
speaks with the Wheelers, including Zack's brother Adam, who had a serious heart surgery.
• Mike Vorkunov
in the Star-Ledger
speaks with
Lucas Duda
about returning to first base. "It was a lot of pressure," Duda said about left field. "If I didn't play well in the outfield then I kind of put more pressure on myself to hit."
• Mike Kerwick
in the Record
speaks with Collins about his job performance. Team insiders have told ESPNNewYork.com that Collins is due to return next season, barring something unexpected -- like a clubhouse incident -- occurring during the remainder of the season.
• The Mets have nominated Wright for the Roberto Clemente Award, which goes to the major league player "who best represents the game of baseball through positive contributions on and off the field, including sportsmanship and community involvement." The last Met to win the award was Delgado in 2006.
• Rob Castellano of
Amazin' Avenue
took a look at
Travis d'Arnaud
's pitch-framing skills and found examples of d'Arnaud stealing strikes for Mets pitchers.
Mark Simon of ESPN Stats & Info
dug in to ESPN's data and made a similar finding -- that d'Arnaud has (so far) excelled at making sure that pitches in the lower-third of the strike zone are being called strikes.
Simon produced this visual below to provide a further explanation: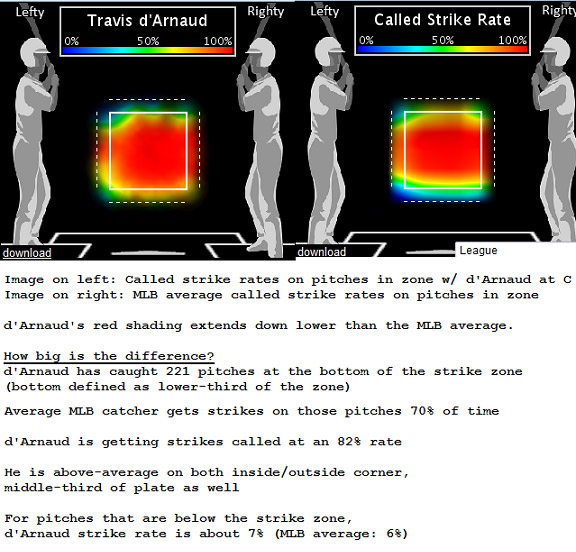 •
From the bloggers …
Mark Berman from
Blogging Mets
says it looks like Sandy Alderson finally got it right and will not have to rebuild the bullpen again this offseason.
BIRTHDAYS:
John Franco
turns 53.
TWEET OF THE DAY:
Mets Ambassador Edgardo Alfonzo has agreed to play 2B for the Mets Front Office vs. the Media tomorrow at Citi. A 2000 NL All Star.

— Jay Horwitz (@Jay_HorwitzPR) September 16, 2013
YOU'RE UP: Are you looking forward to Jerry Seinfeld calling the Mets game on SNY?
July, 12, 2012
7/12/12
8:38
AM ET
Baseball is nearly back. The Mets will hold a workout today at Turner Field in Atlanta at 4:15 p.m. to get back into the swing for Friday's second-half opener, which now pits
Chris Young
against
Tim Hudson
.
Johan Santana
is expected to throw a bullpen session to test whether his twisted right ankle is ready to perform Sunday, potentially against ex-Brewer
Ben Sheets
. Otherwise,
Jon Niese
would pitch the finale against the Braves and Santana would wait until Tuesday in D.C.
In Tampa,
Jason Bay
(concussion) and
Frank Francisco
(oblique) are expected to make a second attempt at beginning a rehab assignment for Class A St. Lucie. Wednesday's Florida State League game was rained out.
Thursday's news reports:
•
Dillon Gee
plans to undergo surgery Friday
at Barnes-Jewish Hospital in St. Louis to repair damage to an artery in his shoulder. Gee was discharged on Wednesday after being hospitalized in New York for two days with a blood clot in his shoulder, which doctors believe they successfully dissolved using a catheter. The surgery in St. Louis should prevent the recurrence of clots and give Gee a healthy long-term prognosis, as well as allow him to pitch without issue from the get-go in 2013. As for this season, Gee most likely is done. Still, he may begin throwing in as soon as six to eight weeks, so a return in late September (or if the Mets are in the postseason in October) is not entirely out of the question. Read more in the
Journal
,
Post
,
Star-Ledger
,
Daily News
,
Record
,
Times
and
Newsday
.
• Before the resolution by Gee to undergo Friday's procedure,
Terry Collins
indicated
Miguel Batista
would assume Gee's rotation spot, at least for the short term. That turn can wait until as late as next Saturday before being required, because the Mets have an off-day after the series in Atlanta.
Collins has not weighed in since the latest Gee development, regarding Friday's surgery. But there is zero reason to believe that changes the resolution to use Batista the first time that spot comes up. Down the road, now, the Mets will have to more strongly consider
Matt Harvey
, or identify another candidate.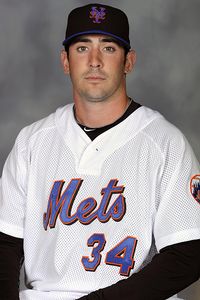 Courtesy of New York Mets
Matt Harvey

Harvey continues to maintain, as he has since spring training, that he is ready for major league duty. Scouts say Harvey needs more refinement, though, noting his fastball up in the strike zone will not have the same success against major league hitters. They also express concern that his reluctance to use a changeup at times will make it easier for advanced hitters to sit on the fastball. Writes
Andy McCullough
in the Star-Ledger
:
Before this week, the Mets were content to give Harvey more time to mature. In an ideal world, explained Paul DePodesta, the club's vice president for scouting and player development, "we want our young players to force their way on the team." Harvey has not reached that point, even after he pitched two hitless innings in the Triple-A All-Star Game last night. Club officials cited a need to improve his efficiency and consistency. In an ideal world, he'd spend the majority of this season with Buffalo. "We're pretty committed to trying to do this right," DePodesta said last week. "Trying to do the right thing for the long term." Except this world is not ideal. Tomorrow morning, Gee will undergo a second procedure to repair the damage done by a blood clot in his right shoulder.
Buffalo manager
Wally Backman
told McCullough: "For me, he's still not quite there. But he's close."
Said Harvey: "If in your mind you don't believe you're ready, and don't believe you belong, then you probably don't. For me, every time I pick up a baseball, I feel like I'm ready."
Writes columnist
John Harper
in the Daily News
:
The time and circumstances, then, appear to be right to give Harvey a shot. For the moment, however, the Mets aren't ready to make that move, club sources said on Tuesday. They like the way Harvey is progressing, but GM Sandy Alderson is determined not to rush any of his young pitching prospects. That's a reasoned and prudent approach, particularly for an organization that may still be paying for foolishly rushing Jenrry Mejia two years ago.
But Harvey, by all accounts, is a mature 23-year-old who has spent significant time in Class A, Double-A, and now Triple-A since the Mets made him their first-round draft choice out of the University of North Carolina in 2010. At Buffalo he is 7-3 with a 3.39 ERA and a mid-90s fastball, and Backman thinks Harvey has progressed enough to hold his own in the big leagues. "He'll take a lump or two if they call him up," Backman said by phone on Tuesday. "But his fastball command is much improved. He can help them."
• Rookie
Josh Edgin
will take Gee's roster spot in Atlanta
, joining workhorse
Tim Byrdak
as a second southpaw option in the bullpen. Edgin's promotion should better gauge for
Sandy Alderson
how aggressively the GM needs to acquire bullpen help before the July 31 deadline -- assuming the Mets capably navigate this next stretch of games: at Atlanta, at Washington, vs. the Dodgers, vs. the Nats.
Edgin's fastball ranges from 92 to 95 mph. He also throws an 82-85 mph slider. He grew up in rural Three Springs, Pa., and found his way to Ohio State University, where he served as a reliever. In December of his junior year, Edgin then transferred to Division II Francis Marion, where he had the opportunity to start.
"The Ohio State coach wanted to keep me in the bullpen," Edgin told ESPNNewYork.com last season. "I thought that I needed to start to get drafted. When I was playing summer ball in the Coastal Plains League, I met a guy named
David Walters
, who is with the Orioles now. He was on my team. We talked. He said, 'Hey, we're one good pitcher away from a D-II World Series team.' Basically I got hooked up with them through him. And it just so happened that one of my catchers from Legion ball when I was in high school actually went to Francis Marion as well. That kind of drew me, and playing baseball in the South."
Edgin was drafted after his junior year in the 50
th
round by Atlanta but did not sign. The Mets then took him in 2010 in the 30
th
round on the recommendation of amateur scout
Marlin McPhail
, who has repeatedly unearthed middle-round gems for the Mets from the Carolinas over the years.
Edgin, 25, was borrowed repeatedly from minor league camp this spring with Byrdak having undergone left knee surgery to repair torn meniscus cartilage. Edgin ended up officially being added to major league camp and ultimately finished with 10 1/3 scoreless Grapefruit League innings. He made 35 relief appearances for Triple-A Buffalo, during which lefties hit .220 against him (vs. .256 for righties). The Mets opened a 40-man roster spot for Edgin when
Chris Schwinden
cleared waivers earlier in the week.
•
Tom Seaver
, on hand for the Triple-A All-Star Game, added to the criticism of
Reggie Jackson
for speaking ill of the credentials of several Hall of Famers, including the late
Gary Carter
. "Reggie is Reggie. And I like Reggie, but Reggie sometimes turns the logical part of his brain off," Seaver said, according to
Mike Harrington
in the Buffalo News
. "And Reggie loves to talk. It just didn't make very much sense to me."
As for the reception Jackson might get when the Hall of Famers gather for the upcoming induction ceremonies, Seaver added via Harrington: "It will be interesting to see, won't it? Reggie will apologize. He's very diplomatic. The other part of it is he believes very strongly about the institution. He wouldn't be saying that if it was just about himself, I hope. And he's too bright not to be that way."
Read more in the
Daily News
.
•
R.A. Dickey
appeared on the "Late Show" on CBS last night. Dickey taught
David Letterman
the knuckleball grip. Letterman then attempted to catch some knuckleballs, although Dickey gave him a tame version of the pitch. Watch the video
here
.
The Dickey-featured documentary "Knuckleball!" will be available for order on digital cable beginning Sept. 18, according to
Cody Derespina
in Newsday
. Meanwhile, the All-Star Game ratings peaked about the time Dickey entered Tuesday's game for the sixth, writes
Bob Raissman
in the
Daily News
. Read more on the Letterman appearance in the
Daily News
.
•
Jerry Seinfield
recently explained to
Richard Sandomir
in the Times
why he has no interest in buying a share of the Mets. "There is no higher level to being a fan," Seinfeld said. "It's not a better experience if you own the team. ... It's like the Empire State Building. If you like it, go there. You don't need to own it. ... I have enough people yelling at me about things in the street -- 'Nice play at third base, Jerry; nice pickup' -- that I didn't need to add ownership to it."
• Harvey tossed two scoreless innings and
Valentino Pascucci
reached base four times in the Triple-A All-Star Game before a sellout crowd in Buffalo of 18,025. Meanwhile, Binghamton's
Eric Campbell
delivered a walk-off RBI single in the Eastern League All-Star Game. Read Wednesday's full minor league recap
here
.
Campbell earned MVP honors. Read more in the
Binghamton Press & Sun-Bulletin
.
•
Michael Salfino
in the Journal
chronicles the Mets' two-out success during the first half. With 48 percent of their runs scored with two outs, the Mets have plated the highest percentage of runners with two outs in the majors in any season since 1974, when Stats LLC started keeping the statistic. Next best: the 1994 San Francisco Giants, at 46.6 percent of their runs scored with two outs. Writes Salfino:
If the Mets this year performed with two outs at a league-average rate of 38%, they would have about 39 fewer runs -- or an estimated four fewer wins. New York went into the break at 46-40 and battling for playoff contention. If not for their two-out magic, though, the Mets would have a losing record. The Mets hit .254 with no outs and .247 with one out, both 21st in baseball. But their .274 average with two outs is third in the majors and would be the highest two-out average in their history. Last year, they were also good when the chips were down, posting a .269 two-out average that's second best in franchise history. This year's two-out charge has been led by David Wright (.386 with 25 RBI), Josh Thole (.357/7), Daniel Murphy (.337/24), Lucas Duda (.320/23) and Ruben Tejada (.320/5).
• Triple-A right-hander
Collin McHugh
continues to blog about his minor league life
here
.
• Sheets appears likely to pitch for Atlanta on Sunday against the Mets. It would mark his first major league action since July 19, 2010 with Oakland. Read more in the
Atlanta Journal-Constitution
.
TRIVIA:
What remembrance from the first game back at Shea Stadium after Sept. 11 did
Chipper Jones
keep after finding it on the field?
Wednesday's answer: In his second start as a Met,
Pedro Martinez
opposed
John Smoltz
in Atlanta on April 10, 2005. Smoltz carried a 1-0 lead into the late innings. But
Carlos Beltran
delivered a two-run homer in the eighth and Martinez went the distance as the Mets prevailed, 2-1, to snap a season-opening five-game losing streak.
July, 10, 2012
7/10/12
8:15
AM ET
Three days until the Mets resume game action Friday in Atlanta ...
Tuesday's news reports:
• San Francisco's
Matt Cain
was announced as the NL's starting pitcher for tonight's All-Star Game by skipper
Tony La Russa
, not
R.A. Dickey
. Instead, Dickey's entrance should coincide with backup catcher
Carlos Ruiz
of the Phillies entering the All-Star Game, according to
Terry Collins
. La Russa
pledged he would use Dickey
, and that it would be during the first half of the game. La Russa selected
Carlos Gonzalez
as the NL's designated hitter, so
David Wright
and
Chipper Jones
will be the reserve third basemen behind San Francisco's
Pablo Sandoval
.
"Well, I'm not going to break down in tears over it," Dickey dryly told New York reporters. "But, at the same time, I'm a competitor. I want to pitch. I want to start. I feel like I had a good-enough first half to be considered. But I'm not the boss. I don't have to necessarily agree with it, but I certainly have to respect it. That's the way it is. I think that might be one of my bigger disappointments because I really felt like it would have been a neat thing for the New York Mets organization and the fan base. Having shared so much of this story with them, I felt like that would have been a neat culmination or apex to the story."
Columnist
John Harper
in the Daily News
faults the silly this-game-counts mantra for the decision to snub Dickey, which was a lost opportunity for MLB to tell -- and market -- the knuckleballer's story. Writes Harper:
But I blame Bud Selig for screwing this up, as well. His insistence on making the All-Star Game count for home-field advantage in the World Series, a ridiculous idea from the start, is surely what sent La Russa into Bill Belichik mode, preparing for his one-game return to baseball as if designing a game plan for a Super Bowl. If the game were still merely a showcase for baseball's best players, with nothing at stake but league pride, I'm convinced La Russa would have given Dickey the start Tuesday night, rather than Matt Cain. It's not as if he doesn't understand the national appeal of Dickey's story, or wouldn't enjoy rewarding the perseverance of a 37-year-old pitcher who endured years as a journeyman before turning himself into a knuckleball star.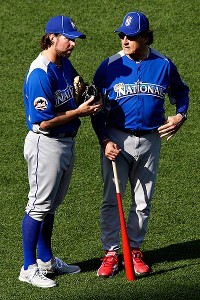 Charlie Riedel/Associated Press
Snubbed R.A. Dickey finally gets to chat with NL skipper Tony La Russa during the team's Monday afternoon workout in Kansas City.

Writes
Kevin Kernan
in the Post
:
Plain and simple, the Mets got hosed. Manager-for-a-day Tony La Russa chose to be a knucklehead by choosing Giants ace Matt Cain over the Mets' R.A. Dickey to start tonight for the National League in the 2012 All-Star Game at Kauffman Stadium. The former Cardinals manager never discussed the situation with Dickey before making the decision. Dickey is tied for the league lead in wins in his storybook season, but La Russa made it an all-Giants battery with Cain throwing to Buster Posey, saying he wanted to "reward Matt Cain for a career of excellence.''
Derek Jeter
told Kernan: "I looked kind of foolish when I faced him at Citi Field. I'm happy he's not starting.''
Brian Costa
in the Journal
looks at the history of catchers handling the knuckleball in the All-Star Game, which is one reason why
Tim Wakefield
went unused when he was selected in 2009 and
Phil Niekro
similarly did not get into the game his final two selections. Writes Costa:
Consider the fate of the last man to catch the pitch in the All-Star Game. In 1986, Red Sox catcher Rich Gedman came off the bench in the eighth inning with Texas Rangers knuckleballer Charlie Hough on the mound. In one humiliating sequence, Gedman allowed a runner to advance to third base on a wild pitch; dropped a third-strike knuckleball to allow the runner to score and the batter to reach first; and then dropped another third strike before tagging the batter out. Another run scored before American League manager Dick Howser mercifully pulled Hough from the game, which the AL barely held on to win, 3-2.
For years after, Gedman refused to even play catch with a teammate who wanted to toy around with a knuckleball. And even today, his nightmarish All-Star appearance remains a sore subject. "I'm sensitive about it, because it's a reminder of the time I failed -- and failed miserably," said Gedman, now the hitting coach for the Class A Salem (Va.) Red Sox. "I did the best I could. It just wasn't very good."
Columnist
David Lennon
in Newsday
polled American League players and asked if they would prefer facing Cain or Dickey. Wrote Lennon:
It was no question. Every one preferred to hit against Cain.
Read more in from
Ken Davidoff
in the Post
as well as in the
Daily News
,
Newsday
,
Times
and
Journal
.
•
Andy McCullough
in the Star-Ledger
looks at Wright's resurgent season, which got off on the wrong foot with a rib-cage injury in spring training, then a broken pinkie that threatened to land him on the disabled list in April. "I don't think I'm as bad as I was last year," Wright told McCullough. "It's tough to say I'm as good as I am this year. It's probably somewhere in between. I have to keep that in perspective. I didn't all of a sudden find some magic potion, and think I can do this for the rest of my career. You've got to take advantage of when you've hit a hot streak. And we've been fortunate enough that in this lineup, this year, I've been able to do that."
Writes
Mike Kerwick
in the Record
in a profile of Wright:
There are plenty of moments that still bring him joy. On June 18, before a 5-0 win over the Orioles, Wright was playing catch on the field with members of Hofstra's softball team. One of the college's pitchers was throwing fastballs. Wright politely requested changeups. And last week, after a night game, the Mets were putting on a postgame fireworks show. Wright grabbed some food and headed for the door. He walked out of the clubhouse to watch the fireworks.
•
Valentino Pascucci
won the Triple-A Home Run Derby on Monday night before a crowd of 17,244 in Buffalo, beating Charlotte's
Dan Johnson
of the Chicago White Sox organization in the finals. Buffalo hosts the Triple-A All-Star Game on Wednesday, with
Matt Harvey
, Pascucci and closer
Fernando Cabrera
due to represent the Bisons/Mets. "He's a big dude and he was bombing them 400 plus over the net," the Patriots'
Rob Gronkowski
, who won the celebrity derby, told
Mike Harrington
in the Buffalo News
about Pascucci. "That was cool to see."
• Brooklyn players
Brandon Nimmo
,
Kevin Plawecki
,
Phillip Evans
and
Paul Sewald
recorded a segment at the Coney Island ballpark showing MTV's
Lenay Dunn
how to play baseball. View a photo
here
.
• Former phenom
Scott Kazmir
is trying to make a comeback with the Sugar Land Skeeters in the independent Atlantic League, in the southpaw's native Texas. Kazmir auditioned for the Mets during spring training but went unsigned. Writes
Joshua Siegel
in the Houston Chronicle
:
The past two years have not been easy on Kazmir as he suffered a drop in his velocity and confidence. In 2010, he saw his ERA balloon to 5.94 and, after one horrific outing in 2011, he found himself pitching in extended spring training and the minors. After going 0-5 for the Angels' Class AAA affiliate and allowing 30 runs in 151D3 innings, the Angels let him go despite owing him $14.5 million. Kazmir said that during his time in the minors it was a coin flip whether he would be able to get the ball over the plate. "I mean when you go out there and you struggle like I did, it's tough to have confidence. It really is," he said. "Today being able to do what I did, it's definitely a step in the right direction."
On Sunday, Kazmir's fastball was in the low 90s and topped out at 95 mph.
• Left-hander
Steven Matz
, the organization's top draft pick in 2009, tossed six scoreless innings, but the bullpen squandered a 6-0 lead in Kingsport's loss. Read the full minor league recap
here
.
• Kerwick
in the Record
reviews the Mets at the midway point.
•
Mike Puma
in the Post
offers grades. Wright gets an A.
Jason Bay
gets a D.
•
Richard Sandomir
in the Times
reviews
devout Mets fan
Jerry Seinfeld
talking about his admiration for
Bud Abbott
and
Lou Costello
and the "Who's on First?" routine. Writes Sandomir:
Seinfeld's fascination with Abbott and Costello began in the 1960s when he started to watch reruns of the comedy team's syndicated TV series. He plucked some of what he admired for his own series: a short routine to open each episode; playing the Abbott-like straight man to the other characters, and emphasizing the physical differences between Kramer's lean physique and Newman's porcine one. And George Costanza's middle name, Louis, paid homage to Costello. Seinfeld said he experienced a "Who's on First?" moment in an episode, "The Package," in which Kramer says the Postal Service will take a write-off if Jerry files a fraudulent claim that his stereo was damaged during delivery.
TRIVIA:
Citi Field will host the 2013 All-Star Game. Where is the 2014 game due to be played?
Monday's answer:
Darryl Strawberry
was the youngest Met ever to have a plate appearance in an All-Star Game. He was 22 years, 120 days old on July 10, 1984 when he went 1-for-2 as the starting right fielder for the NL at Candlestick Park in San Francisco.
June, 25, 2012
6/25/12
7:48
AM ET
R.A. Dickey's
streak without allowing an earned run ended at 44 2/3 innings when
Mark Teixeira
had a sacrifice fly in the third inning and
Nick Swisher
belted a three-run homer later in the frame. The Mets did rally in the sixth to even the score at 5 and take Dickey off the hook, but
Miguel Batista
surrendered a tiebreaking eighth-inning solo homer to
Robinson Cano
as the
Yankees beat the Mets, 6-5
, in Sunday's Subway Series rubber game before a Citi Field-record crowd of 42,364.
"Not bad for a bunch of chickens," Swisher
crowed afterward
.
Dickey's streak was the second longest in franchise history without allowing an earned run, narrowly shy of
Dwight Gooden's
franchise-record 49 innings in 1985. The knuckleballer's streak without allowing an earned run was the longest in the majors since
Orel Hershiser
posted his MLB-record 59-inning streak without allowing
any
runs in '88. (Hershiser was Dickey's pitching coach with the Rangers when Dickey went from conventional pitcher to committing full time to the knuckleball.)
According to Elias, Dickey had held opposing batters without an extra-base hit in 105 consecutive at-bats before Swisher's long ball, the longest streak in the majors this season. Dickey also was charged with his first wild pitch this season.
The Mets completed a stretch of eight straight series against teams with winning records -- versus the Phillies, Cardinals, Nationals, Yankees, Rays, Reds, Orioles and Yankees again -- with a 12-13 record (including 1-5 against their Bronx rivals).
The Amazin's now open a three-game series at Wrigley Field at 8:05 p.m. Monday, with
Johan Santana
(5-3, 3.00 ERA) opposing left-hander
Travis Wood
(1-3, 4.14). The Cubs are an MLB-worst 24-48.
Monday's news reports:
• Read game recaps in the
Post
,
Star-Ledger
,
Record
,
Times
,
Newsday
,
Daily News
and
Journal
.
•
Frank Francisco
landed on the disabled list
before Sunday's series finale with a left oblique strain. The Mets also demoted
Jordany Valdespin
, freeing roster spots for the returns of shortstop
Ruben Tejada
and reliever
Ramon Ramirez
from the disabled list.
Terry Collins
had indicated
Bobby Parnell
would get the first crack at closing in Francisco's absence Sunday, but the opportunity did not materialize. Valdespin's playing time would have been minimal with the number of middle infielders active -- Tejada,
Ronny Cedeño
,
Daniel Murphy
,
Justin Turner
and
Omar Quintanilla
. Quintanilla is out of options, and team officials had been concerned they would lose him off waivers if they tried to get him through in order to attempt to send him to Triple-A Buffalo. Read more in
Newsday
, the
Post
,
Record
and
Star-Ledger
.
• Tejada went 2-for-4 with two RBIs and committed a throwing error in his return. Read more in the
Post
,
Record
and
Star-Ledger
.
• In
obvious need of a second-lefty
in the bullpen to pair with
Tim Byrdak
, which was made even clearer after Cano took Batista deep, the Mets designated for assignment
Vinny Rottino
postgame and called up ex-Padre
Justin Hampson
. Writes columnist
Mike Vaccaro
in the Post
about
Terry Collins'
own regret in hindsight for not using Byrdak to face Cano:
These are the torturous tests you endure sometimes as a manager. We already know how many headaches and how much heartburn the Mets' bullpen has given Terry Collins -- and anyone else with a remote interest in the team's fortunes. We already knew they have only one left-handed arm, Tim Byrdak's, in that bullpen. And we already knew they were playing a man down, since Frank Francisco was placed on the disabled list early last night. We all know that. And Terry Collins knows that. We can get irrational about managers sometimes, so it's best to think about them the way you think about commercial airline pilots if you happen to have a fear of flying: The man in the cockpit doesn't want to crash, either.
Read more from columnist
John Harper
in the
Daily News
.
As for external assistance,
Buster Olney
tweeted: "Mets need bullpen help, but there aren't many sellers now, so they'll probably wait until the All-Star break before they dig into the market."
•
Little Jerry Seinfeld
will lead a long life, at least by poultry standards. The chicken -- purchased by a clubhouse attendant in Chinatown for $8 at Byrdak's request for a gag, after Francisco called the Yankees "chickens" -- was
presented to Farm Sanctuary of Watkins Glen, N.Y.
, in a pregame ceremony Sunday outside the clubhouse. Even
Jerry Seinfeld
seemed to embrace the ridiculousness. As the Mets rallied Sunday night, the devout-Mets-fan Seinfeld
tweeted
: "Yes! @mets #rallychicken comes through!!"
Francisco, by the way, maintained he own a chicken farm in his native Dominican Republic.
David Waldstein
of the Times reported
via Twitter
that Francisco raises fighting chickens. Read more in the
Post
,
Daily News
,
Journal
and
Newsday
.
• Dickey, whose ERA rose to 2.31 although he remained 11-1,
said about his knuckleball
Sunday: "It was coming out kind of wobbly a little bit and I kept searching for it through the innings."
Writes columnist
Steve Politi
in the Star-Ledger
:
They don't sing country songs about knuckleball pitchers, but R.A. Dickey sure sounded like he writing a couple stanzas as he reflected on pitching like an actual human being again. "I was going to live and die with my girl," he said. "She'd been nice so far. That's just the way of it, you know?" Well, that she left him last night, of all nights, was downright cruel. This was a nationally televised game. This was the largest crowd in Citi Field history. This was against the hated Yankees. But even if Dickey had controlled her over his previous five starts like no pitcher in baseball history, there is no pitch in the sport as fickle as a knuckleball, relying on whims and winds to sneak past batters.
Writes columnist
Bob Klapisch
in the Record
about the hyped Dickey-
CC Sabathia
matchup:
How did his best pitch suddenly become so vulnerable? The answer speak to the volatility of the pitch itself, especially at the speeds Dickey throws it. He's got an 80-mph freak of nature on his hands, and make no mistake the butterfly effect of Dickey's knuckleball has turned him an All-Star this year. But try to squeeze even an extra mile or two out of the pitch, overthrow it by just a little, and the ball loses its mystery. And that seemed to be what sabotaged Dickey over the next four innings -- a clear case of too much adrenaline, too much arm-speed, which kept him to doing all the little things that's previously made his knuckleball a nightmare for hitters. "You have to remember that throwing the knuckleball properly is like a symphony of micro-movements -- the back, the legs, the arm," Jim Bouton was saying over the weekend. "All of it has to be perfect. That's the thing about a knuckleball. You can be a little off with your fastball; it comes in at 89 instead of 92. But a knuckleball that's a little off turns into a home run."
Read more about Dickey's outing in the
Times
,
Newsday
,
Daily News
and
Post
.
• The three-game series drew a combined attendance of 124,677. The Mets had been averaging 28,279 per game entering the series. (It's fair to note that the season average includes midweek/bad-weather games earlier in the year, whereas the Yankees series fell during a time attendance would naturally be higher anyway -- although not as high, obviously, had the Bombers not been visiting Queens.)
ESPN's
Jayson Stark
notes the Subway Series, and other natural rivalries, now are slated to be reduced to four games a season -- two apiece in each ballpark -- rather than the six games a season that has been the norm.
•
Ike Davis
was out of the starting lineup for a second straight day with a suspected case of food poisoning, which he believes is related to bad oysters. Davis pinch hit for Turner with two out in the ninth and
Lucas Duda
on first base. Yankees closer
Rafael Soriano
retired Davis on flyout to right field.
• The two-week program to prepare
Jenrry Mejia
at Triple-A Buffalo for major league bullpen readiness is now complete, Bisons manager
Wally Backman
said, via broacaster
Ben Wagner's
tweet. However, that does not mean Mejia will be an imminent call-up. Mejia has struggled in the role, allowing seven runs (six earned) on nine hits, three walks and a hit batter in four innings spanning five appearances since the June 15 conversion. "When you have that natural cutter like he's got, you've got to be able to command it," Collins told reporters Sunday. "And Wally said right now everything's in the middle."
•
Matt Harvey
allowed two runs in five innings in a no-decision with Buffalo, while
Robert Carson
recorded a five-out save for Binghamton and
Cam Maron's
South Atlantic League hitting streak ended at 16 games. Read the full minor league
here
.
• Dickey's knuckleball likely will pave the way for
others to follow in his footsteps
. There are only two minor leaguers throwing the pitch right now -- Double-A Akron's
Steven Wright
(Cleveland Indians) and Class A Boise's
Joe Zeller
(Chicago Cubs).
•
Brittany Viola
, the daughter of
Frank Viola
, qualified for the Olympics in diving by winning the 10-meter platform competition at the U.S. trials. The ex-Met currently serves as the pitching coach for the organization's Class A Savannah affiliate. Read more in the
Miami Herald
and
Newsday
.
• With
David Wright
and Dickey likely representatives already and Santana at only 5-3, it seems unlikely the southpaw would make the All-Star squad. Regardless, GM
Sandy Alderson
told
Mark Hale
in the Post
that the team would not stand in the way of Santana participating if selected, even though Santana missed last season with shoulder surgery. (New MLB guidelines make it tougher for players to wriggle free if selected anyway. They must be injured or excused, per the new CBA.)
TRIVIA:
Who hit the homers for the Mets in a Sept. 25, 2004 game against the Cubs at Shea Stadium that dealt a critical blow to Chicago's postseason aspirations?
Sunday's answer:
Jon Rauch
was tied with Houston's
Fernando Rodriguez
for the MLB lead in losses by a reliever, with seven.
March, 28, 2012
3/28/12
6:52
PM ET
Jon Niese
turned in another solid performance, limiting Washington to two runs on five hits and a walk in six innings to lower his Grapefruit League ERA to 3.98, but the Mets lost to the Nats, 3-2, Wednesday as Mets fan
Jerry Seinfeld
watched at Digital Domain Park.
Scott Hairston
went 0-for-3 and manned center field in his first Grapefruit League action, while
Jason Bay
returned after a two-day absence for a right forearm bruise and went 0-for-3 to drop his average to .212.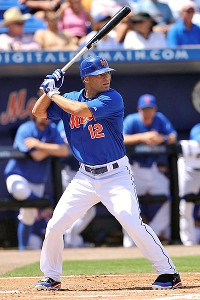 Brad Barr/US Presswire
Scott Hairston made his first Grapefruit League appearance Wednesday, after returning from a left oblique strain.

"A very positive day," said Hairston, who returned from a strained left oblique. "It felt really good to be out there again. Everything went well, as planned. … I always envisioned starting the year with the team. I wanted to do that. I wanted to think that way. I didn't want to think negatively. I feel great now, and Opening Day seems like a really good possibility."
Andres Torres
(strained left calf), who has started swinging a bat, and Hairston both may be on the Opening Day roster after all.
"I think we'll have, if not both of them, one of them, for sure, out there,"
Terry Collins
said. "… One thing I want to do is get Scott Hairston ready offensively. And that's going to mean there are going to be some days he's not going to play defense, because he's going to go to the minor league camp and get at-bats. We'll just have to wait and see what happens in the next five days."
• Niese has one more start -- on an extra day of rest Tuesday against the Yankees in Port St. Lucie, with a reduced pitch count, likely 50 to 60. That will line him up for the third game of the regular season, April 8 against the Atlanta Braves at Citi Field.
Niese used first-pitch changeups to keep the Nats off-balance Wednesday. He surrendered a solo homer in the fourth inning to
Jayson Werth
.
Ian Desmond
went 4-for-4 -- with three of the hits against Niese -- and scored in the third inning against the southpaw. Niese struck out six. After six innings, Niese continued his work on a bullpen mound, concentrating on curveballs during the extra session while getting his pitch count up.
"It's one of those things where I'm never satisfied with it," Niese said about the curveball. "I think the more my arm gets in shape, the better off it is. I think I'm at the point now in spring training where my arm is in really good shape."
Said Collins: "He's had a great spring. I expect a huge year out of him."
November, 22, 2011
11/22/11
12:11
PM ET

Working as a guest host on "Live! with Kelly," devout Mets fan Jerry Seinfeld pleads for Jose Reyes' return and discusses his new dog Jose.
November, 17, 2011
11/17/11
2:14
AM ET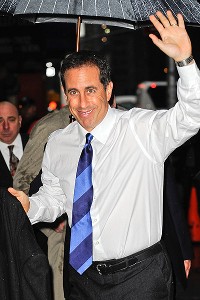 Ray Tamarra/FilmMagic
Jerry Seinfeld discussed his new dog "Jose" during an appearance with David Letterman on Wednesday.

Comedian
Jerry Seinfeld
, a devout Mets fan who has a box at Citi Field and annually attends spring training, named his family's new Dachshund, "Jose."
Yes, after
Jose Reyes
.
Seinfeld told
David Letterman
: "You want to know why the dog is named Jose? ... The dog is named Jose because I feel like we may lose Jose Reyes, and we're trying to keep a Jose. Because I'm a Met fan. It's actually my wife's idea, which is why I love my wife -- she comes up with ideas like this. That's a marriage right there, a wife that says, 'Let's name a dog after the Mets' outgoing shortstop.' That keeps the love alive."