New York Mets:

Joe McEwing
October, 3, 2014
10/03/14
6:07
PM ET
October, 1, 2014
10/01/14
3:32
PM ET
Nam Y. Huh/Associated PressEx-Met Joe McEwing, now a coach with the White Sox, will interview with the Diamondbacks.
NEW YORK -- Ex-Met Super
Joe McEwing
is among the people who will interview for the vacant
Arizona Diamondbacks
managerial position.
McEwing has ties to Tony La Russa, who is now running the D-backs.
McEwing is currently the third-base coach for the
Chicago White Sox
.
Other candidates who will get interviews include
Sandy Alomar Jr., Jay Bell, Andy Green, Phil Nevin, Jim Tracy and Turner Ward.
May, 7, 2013
5/07/13
6:14
PM ET
Joe McEwing
is no stranger to ballgames in Queens, even though the super sub has not played a game as a Met since 2004.
He quietly sat in the stands behind home plate for a game late in the 2008 season, just so he could pay his respects to Shea Stadium in its final days.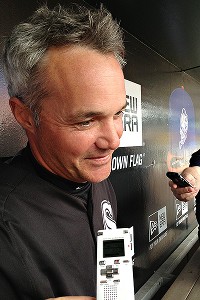 Adam Rubin
Joe McEwing speaks in the visitors' dugout after returning to Citi Field with the White Sox on Tuesday.

"I needed to," McEwing, now third base coach for the White Sox, said about seeing Shea one last time. "It's such a historic place -- in my heart anyway. I needed to see it before they knocked it down. I brought my son back to let him know that's where daddy played and it's not going to be here any longer."
He then came back to Flushing the following September, after managing Class A Winston-Salem in the
Chicago White Sox
organization, in order to check out Citi Field. He also attended the 10th anniversary ceremony remembering the Sept. 11 terrorist attacks, which also brought Robin Ventura to Citi Field.
"I snuck in the first year in September, and it was really disappointing, because they were on the verge of losing 100 games and I heard no booing," McEwing recalled about his 2009 visit. "I wasn't used to that. ... We'll see how the atmosphere is during the game [tonight]. I kind of miss that Shea feeling. The booing is what motivates you and makes you strive to be the best player you can be every single day. As a player, you should want that."
What does McEwing most fondly remember about his Mets career, which spanned 2000 through 2004?
"You hate to pinpoint one," McEwing said. "Obviously fulfilling your childhood dreams, and that's competing in the World Series, being able to play against the Yankees. You figure the whole world is focused on one city. For that to happen, it's pretty special. And the biggest thing for me is being part of the relief efforts after 9/11. That holds the biggest impact, because it had nothing to do with this game. It was us as a ballclub contributing to the city of New York and the country. That really sticks out and means a lot to me as an individual. To be able to take the pressures and everything off a lot of individuals for a couple of hours a night, to give peace and happiness and something positive to cheer for."
McEwing was
David Wright
's first mentor in major league camp. In fact, Wright's first spring training he ate dinner at McEwing's apartment every night during camp.
Wright surprised McEwing and attended a ceremony today in Manhattan in which McEwing was inducted into the Irish American Baseball Hall of Fame.
"David was easy," McEwing said. "David is a special kid and special person and a good friend. Every rookie that comes up, you just try to guide them the right way to go about things. It wasn't hard to guide David the right way. He has outstanding core values."
May, 7, 2013
5/07/13
8:39
AM ET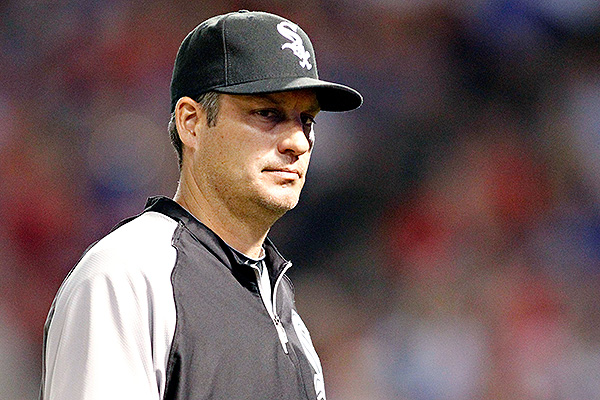 Tim Heitman/USA TODAY Sports
Robin Ventura visits Flushing today as manager of the Chicago White Sox.
FIRST PITCH:
Matt Harvey
, pitching with three days of extra rest, aims to go to 5-0 when he faces Robin Ventura and Joe McEwing's
Chicago White Sox
at Citi Field tonight at 7:10.
From ESPN Stats & Information:
Harvey has allowed more than one run in only one of his past eight starts, dating to last season. His only prior interleague start was eight innings of two-hit ball against the Minnesota Twins on April 13.
Ventura played only three seasons for the Mets (1999-2001), but made quite an impact. David Wright, Dave Kingman and Ventura share the club record for the most six-RBI games in Mets history with three. Ventura also hit five grand slams with the Mets, one shy of Mike Piazza's club record.
Of course, that does not include Ventura's "grand-slam single" in the 15th inning of Game 5 of the 1999 National League Championship Series against the Braves to cap an epic comeback win.
The White Sox are actually playing the Mets in New York for the first time.
Harvey opposes Newark's
Hector Santiago
tonight. Harvey originally was supposed to line up to face fellow 2010 first-round pick
Chris Sale
, but Sale's start moved up a day to Monday in K.C. after
Jake Peavy
needed to be delayed due to back spasms.
Tuesday's news reports:
• Harvey last pitched last Monday in Miami. He is unconcerned about the extra rest as well as logging a career-high 121 pitches against the Marlins. His last offering in Miami registered 96 mph. "I feel like I can go out there 120, 130 pitches each time and my body can handle it," Harvey said. (Terry Collins said that pitch count will not be the norm.) Writes Jared Diamond
in the Journal
:
Detroit Tigers ace Justin Verlander led baseball with six complete games last season and still averaged only 114.2 pitches per start. No other pitcher even averaged 110. Harvey is averaging 104.5 so far this year.
Last season, the Mets curtailed Harvey's season after 169 1/3 innings between the majors and minors. They say they won't limit him this season, but their actions suggest they remain at least somewhat concerned about their phenom's workload.
After Harvey's 121-pitch outing last week, the Mets planned to give him an extra day of rest so he could recover. Harvey said he didn't need it and wanted to start on his regular rotation.
Read more in the
Star-Ledger
and
Newsday
.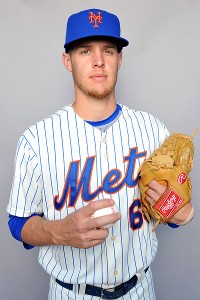 Courtesy of New York Mets
Zack Wheeler has shaved his ERA to 4.00 with Las Vegas.

• In his past two starts with Triple-A Las Vegas, Zack Wheeler has limited opponents to one run, eight hits and two walks while striking out 12 in 12 innings.
"Outstanding -- the best he's pitched all year," 51s manager Wally Backman told Mike Puma
in the Post
. "He's turning the corner. That is what we have seen the last two starts. If we see that a couple of more starts, he's going to be pushing the door open himself, forcing the issue for sure. … He's showed excellent command the last couple of starts. Before he was missing up and out of the strike zone, arm side, all the time and [Sunday] he never missed one time up and out of the zone arm side."
• Sandy Alderson tells Kristie Ackert
in the Daily News
about
Ike Davis
: "I don't think he's happy with what has happened to date. We would have hoped for a better performance to this point, but the evidence is he can do it. And he could do that again this season. We'll see what transpires. But Ike is a big part of the team. We expect him to come around soon."
Read more on Davis' slow start
in the Post
.
• 2011 first-round pick Brandon Nimmo was batting .414 for low-A Savannah through April 23. He now is in an 0-for-20 rut with the Gnats and actually has not played since April 29 because of a hand injury.
"We want him to go through this," Savannah manager Luis Rojas told Clint Robus
in Newsday
. "This is part of his development, and this is the part where he's going to ... figure out a lot more things."
Said Nimmo about the slump: "I knew this was going to happen. So I'm not too surprised."
• Columnist Joel Sherman
in the Post
notes there is one player from the
Johan Santana
swap with the Twins that is contributing big time. That is
Milwaukee Brewers
center fielder
Carlos Gomez
, who leads the NL with a .368 average. Gomez along with
Philip Humber
,
Kevin Mulvey
and Deolis Guerra went to Minnesota on Feb. 2, 2008 for Santana.
• Wright had six steals in April -- on pace for a 30-steal season. He had one 30-30 season in his career -- in 2007. "When the situation presents itself, I feel like I have the ability to take a base here and there," he told Mike Kerwick
in the Record
. "But I'm not going to steal bases for the sake of trying to get a certain [number of] bases or for the sake of doing it. I'm going to do it for a reason."
• St. Lucie right-hander Hansel Robles returned from an upper-back injury to limit Daytona to one run in five innings in a 6-2 win Monday.
Frank Francisco
pitched for the second straight day for the Florida State League club, allowing one hit in a scoreless inning. Read the full minor league recap
here
.
• It's a safe bet
Bobby Parnell
will not lose his closer's job once Francisco is activated from the disabled list. Read a profile of Parnell's adaption to that role from Anthony DiComo
at MLB.com
.
• The Mets' Saturday postponement in Atlanta will be made up on June 18 as part of a split doubleheader at Turner Field. It now becomes a five-game series against the Braves.
•
Edgardo Alfonzo
, Kevin Burkhardt and 92.3 Now's Ty Bentli will judge Saturday's Banner Day at Citi Field.
•
From the bloggers …
Blogging Mets
checks in to see how several ex-Mets are doing with their new teams so far this season.
BIRTHDAYS:
Brook Fordyce
, who was drafted by the Mets in the third round out of high school in Connecticut in 1989 and made his major league debut with the club six years later, is 43.
TWEET OF THE DAY:
What an awesome night! #NYRBelieve

— Matt Harvey (@MattHarvey33) May 7, 2013
YOU'RE UP: Where does Robin Ventura factor in among your favorite Mets of all time?
May, 6, 2013
5/06/13
6:27
AM ET
FIRST PITCH:
The Mets take another day off today before beginning a six-game homestand against the
Chicago White Sox
and
Pittsburgh Pirates
.
The Sox are managed by Robin Ventura. Super
Joe McEwing
is a member of that staff.
Monday's news reports:
• Zack Wheeler turned in his second straight strong outing with Triple-A Las Vegas, limiting Sacramento to three hits and a walk in six scoreless innings Sunday. Sandy Alderson has suggested Wheeler needs to turn in a string of positive starts before promotion consideration is made.
Bear this in mind: The Mets will need an extra starter during a June 17-20 series at Turner Field, which will
now be a five-game series
because of Saturday's postponement. That likely would come after the Super 2 deadline, meaning Wheeler would miss an extra year of arbitration eligibility. It probably would be a sweet moment for him, too, since he grew up in Dallas, Ga., outside Atlanta. Of course, this is all speculation.
Read about Wheeler and Sunday's full minor league recap
here
.
• Alderson told Kristie Ackert
in the Daily News
about
Jordany Valdespin
: "It's no secret Jordany has had a slightly different approach to some things. There is a certain level of tolerance that we have. I hope he doesn't exceed that level. ... I am not sure anything ultimately will hold him back. He has a great deal of talent. In most cases, talent is only realized if it is nurtured and developed, and that can be done by an organization, but it ultimately has to be done on an individual basis as well. I am hoping Jordany will continue to mature. He has, I think, made progress. Hope he continues to do so on that front."
•
Jonathon Niese
walked a career-high six
and the Mets had a disastrous five-run third inning in a
9-4 loss to the Braves
on Sunday. Niese is winless in four starts since April 12. Read game recaps in the
Post
,
Daily News
,
Star-Ledger
,
Newsday
,
Record
,
Times
,
Journal
and
MLB.com
.
•
Matt Harvey
will
wait until Tuesday to start
. He will face the Chicago White Sox. Harvey plans to spend today's off-day cheering on the NHL's Rangers at Madison Square Garden. Read more on Harvey and the impact of weather delays in the
Post
,
Daily News
,
Star-Ledger
,
Times
and
Record
.
• Columnist Kevin Kernan
in the Post
offers no defense of the Mets' defense. Writes Kernan:
The Braves are simply much more athletic than the Mets, and you can start in left field where the Mets play lumbering Lucas Duda while the Braves went out and acquired the marvelous Justin Upton. This was a game that Jon Niese was clubbed around by the Braves' hitters, but the Mets' shaky and stagnant defense did not help the lefty in any way as the Braves rolled to a 9-4 victory.
•
BIRTHDAYS:
Hall of Famer Willie Mays, who played his final two major league seasons with the Mets, is 82.
TWEET OF THE DAY:
Not sure why the Mets wouldn't promote Wheeler after today's start. espn.go.com/blog/new-york/… Might as well start to build his ML experience.

— Buster Olney (@Buster_ESPN) May 6, 2013
YOU'RE UP: Should whether Zack Wheeler gets an extra year of arbitration be a consideration in when he is promoted?
March, 23, 2013
3/23/13
6:55
AM ET
PORT ST. LUCIE, Fla.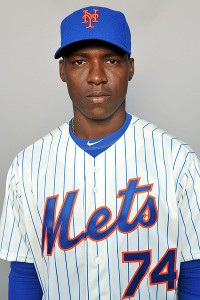 Steve Mitchell/USA TODAY Sports
Rafael Montero returns to Grapefruit League action for a cameo today.

FIRST PITCH:
With the Mets short starting pitchers because of
Shaun Marcum
missing a turn and split-squad games Sunday, right-hander Rafael Montero will be borrowed from minor-league camp for today's 1:10 p.m. game at Tradition Field against the
Washington Nationals
.
Left-hander
Gio Gonzalez
starts for the Nats.
Montero, 22, went a combined 11-5 with a 2.36 ERA in 20 starts between Savannah and St. Lucie in Class A in 2012. He had allowed two runs in four innings in Grapefruit League play this spring training before being among the first reassignments to the minor-league side.
Saturday's news reports:
• Shaun Marcum (shoulder) will
reenter the rotation Thursday
and is lined up for the second game of the regular season, after
Jonathon Niese
gets Opening Day, a team insider told ESPNNewYork.com.
Matt Harvey
should get Game 3, followed by
Dillon Gee
and then
Jeremy Hefner
. The Mets have not resolved whether to use Niese twice before turning to Hefner, or whether to just go straight through the rotation in order.
• Terry Collins confirmed the obvious:
Johan Santana
will
not break camp with the Mets
. Read more in the
Record
,
Newsday
,
Times
,
Daily News
and
MLB.com
.
• Sandy Alderson says the Mets will
go with what they've got
in the outfield and not seek outside help. The projected outfield is
Lucas Duda
,
Marlon Byrd
,
Collin Cowgill
,
Jordany Valdespin
and
Mike Baxter
.
"I think we've got a sense of who the five or six are who might be on the team," Alderson told Marc Carig
in Newsday
. "How exactly they're used is something that we'll talk about over the next week or so. What we have is what we're going to have, and we're not entirely displeased with that."
•
Daniel Murphy
(side) will not play in a minor league game today as
hope continues to fade
about him being ready for Opening Day.
David Wright
(side) did field grounders, run and toss a baseball Friday.
Justin Turner
(ankle) and
Kirk Nieuwenhuis
(knee) played in the field for the first time in a minor league game. Read more in
Newsday
.
• Almost-forgotten
Frank Francisco
told the Post
he will throw live batting practice Sunday and should be in a minor league game midweek. He is due to open the season on the DL.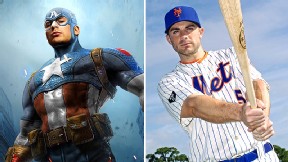 Marvel/Associated Press
Neither Captain America nor David Wright has a "C" displayed.

•
John Franco
praised the decision to anoint Wright captain.
"You just saw the way David gravitated toward
Joe McEwing
, who had a great work ethic, and Joe kind of took him under his wing," Franco told Mike Puma
in the Post
about Wright's first spring training in major league camp. "And you would just see the way David would handle himself around the clubhouse, and he knew exactly where he belonged. He knew what to do and what not to do and he just always had a smile on his face, and to this day he still does have a smile on his face.
"The three previous captains, we came from other organizations," Franco continued. "David has grown with this organization, so he's been here a long time and is deserving."
Teammates also praised the captainship decision, writes Kristie Ackert
in the Daily News
.
• Andrew Keh
in the Times
examines the Mets' use of the TrackMan radar tracking system, which can chart a pitchers' release point, angle of his pitches and spin rate. The data system has been used in golf for years. "We don't really know exactly what the teams do with it," TrackMan baseball GM John Olshan told Keh about the data. "We give the rubber. They make the tires."
• Since opening Grapefruit League play with a homer against
Stephen Strasburg
,
Ruben Tejada
is 3-for-39. Collins said that Tejada had been trying to pull too many pitches early in spring training.
"Right now I'm thinking more than anything on feeling good instead of the results," Tejada told Jorge Castillo
in the Star-Ledger
. "I'm trying to take a lot of pitches and make good contact because the results right now don't matter. It's more about feeling comfortable at home plate."
•
Josh Rodriguez
had a tiebreaking two-run single in the eighth and Niese logged five innings as the
Mets beat the Marlins, 4-2
, Friday night. Read more in
Newsday
and
MLB.com
.
• Jay Horwitz's Twitter account gets more attention
in the Times
, this time for accidentally slighting
R.A. Dickey
.
• Jared Diamond
in the Journal
delves into a baseball clubhouse tradition: crossword puzzles. Hefner, Scott Rice and
Scott Atchison
are most active.
•
From the bloggers
…
The Eddie Kranepool Society
discusses who has to come up big for this season not to be a disaster. …
Faith and Fear in Flushing
offers praise for Wright ... and Hefner.
BIRTHDAYS:
Reliever
Mike Remlinger
, who pitched for the Mets in the mid-'90s during a 14-year major league career, turns 47.
TWEET OF THE DAY:
Managemen DM 'lifestyle modification' dilakukan saat pertama kali terdiagnosa tnpa komplikasi, tnpa emergensi, tanpa fktr resiko lain #Mets

— Noorcahya Amalia (@ucha_amalia) March 23, 2013
YOU'RE UP: Should the Mets stand pat and make no acquisitions before Opening Day?
March, 22, 2013
3/22/13
7:15
AM ET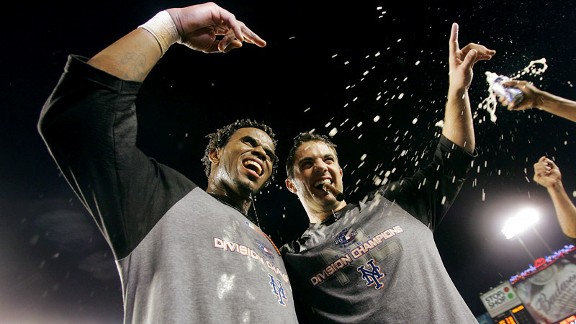 Nick Laham/Getty Images
David Wright has experienced one celebration for clinching a division title, with Jose Reyes at Shea Stadium after a win against the Marlins on Sept. 18, 2006.
PORT ST. LUCIE, Fla.
FIRST PITCH:
David Wright
is the
fourth captain in Mets history
. And deservedly so.
Wright, officially given the honor Thursday, has a lifelong attachment to the ballclub and has always represented it well.
"I've been here for long enough to experience a little bit of good, some bad and some ugly," Wright said. "But I am 100 percent confident and excited and just crazy excited about the direction we're going with some of the young players that we have. And sooner rather than later."
As a youngster growing up in Norfolk, Va., Wright would attend International League games involving the Norfolk Tides, then the Mets' Triple-A affiliate. He would always leave games with an autograph, even if it had to be RipTide, the Tides' mascot.
Wright was drafted by the Mets in 2001 with a supplemental first-round selection obtained for losing
Mike Hampton
as a free agent to the
Colorado Rockies
.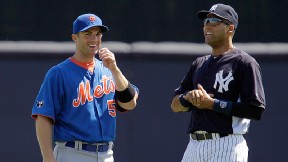 Kathy Willens/Associated Press
Wright joins Derek Jeter as captains of New York's baseball clubs. The only other captain in MLB: Paul Konerko of the Chicago White Sox.

Among my favorite remembrances covering Wright since virtually the beginning of his pro career:
• Wright was such a diligent worker, he hit 100 points higher while playing on the road with the Class A St. Lucie Mets as compared with at home. Why? The belief is that Wright would get to the ballpark so early for home games and put in so much extra work in the batting cages, he was exhausted by the game's first pitch.
• When Wright landed at LaGuardia before his major league debut, there was a voicemail waiting for him from Howard Johnson telling the fellow third baseman to break his Mets records. Wright used to refer to HoJo as his "baseball father."
Before Wright's 2004 promotion, third base was a revolving door for the Mets. In the 10 seasons before Wright's arrival, 32 different players appeared at third base for the Mets. The most frequent from 1994-2003:
Edgardo Alfonzo
(515 games), Robin Ventura (436),
Ty Wigginton
(169),
Bobby Bonilla
(153),
Matt Franco
(94),
Jeff Kent
(89),
Tim Bogar
(72),
Joe McEwing
(56), Butch Huskey (48),
Lenny Harris
(37) and Alvaro Espinoza (37).
• In his first major league camp, Wright had dinner cooked by McEwing's wife virtually every night of spring training.
• Wright usually is ultra-politically correct, but he did express his frustration publicly at least a couple of times. When
Lastings Milledge
arrived only an hour before a day game in Philadelphia in 2006, Wright called it unacceptable. A year earlier, when the Braves were en route to their 14
th
straight division title and the Mets played a sloppy game at Turner Field, Wright said slowly and with outward frustrating, enunciating each syllable: "There's a reason they do it E-VER-Y SIN-GLE YEAR."
• The Great Gazoo helmet he wore in Colorado.
• An over-the-shoulder, barehanded catch in San Diego while retreating into left field, and ramming into the stands in Seattle
Derek Jeter
-style.
• His commitment to doing things right. Wright, despite now having an eight-year deal, annually continues to arrive at spring training early. He reported last month the day after the Super Bowl.
• After the Mets faded from wild-card contention late in 2005, Wright and Willie Randolph walked together back to the team hotel. Randolph told Wright to remember the feeling, and use it as a motivation. The next season the Mets came within a game of the World Series.
• The image of David Wright and
Jose Reyes
celebrating on the field after they clinched the NL East at Shea Stadium on Sept. 18, 2006.
• Finishing second at the Home Run Derby in the All-Star Game in Pittsburgh in 2006, in his first year selected to the Mid-Summer Classic.
• Playing for more than a month in 2011 through discomfort, which turned out to be a broken back.
Meanwhile, the Mets face the
Miami Marlins
at 7:05 tonight at Roger Dean Stadium in Jupiter. Newly named Opening Day starter
Jonathon Niese
opposes right-hander
Henderson Alvarez
.
Friday's news reports:
• Read more on Wright's captaincy in the
Post
,
Daily News
,
Star-Ledger
,
Journal
,
Times
,
Newsday
,
Record
and
MLB.com
.
•
Shaun Marcum
, who received a cortisone shot his pitching shoulder Tuesday in New York, said he has now
received that injection during spring training
three years in a row. He insisted he will only miss the one Grapefruit League rotation turn. Read more in the
Post
,
Star-Ledger
,
Newsday
,
Daily News
and
MLB.com
.
• Niese
officially has been named Opening Day starter
.
Johan Santana
is not officially on the DL, but that's coming. "By no means do I want to say that I'm the leader of this staff," Niese said. "Obviously Johan and Marcum. They do a very good job like that." Read more in the
Post
,
Record
,
Star-Ledger
,
Times
,
Newsday
,
Daily News
and
MLB.com
.
• Matt den Dekker had a two-run triple and
Jeremy Hefner
pitched very well while surrendering two runs in five innings, but the
Mets lost to the Cardinals, 3-2
, Thursday at Tradition Field.
•
Justin Turner
(ankle) pinch-hit in Thursday's game and also saw action on the minor league side.
Kirk Nieuwenhuis
(knee) batted in a minor league game.
Daniel Murphy
(side) is not yet ready for such game activity, and his availability for Opening Day is in jeopardy.
•
From the bloggers
…
Mets Police
wonders if the timing of the Wright announcement was part of an attempt to distract from the problems with the roster. …
Faith and Fear in Flushing
pens an ode from the captain. … John Delcos at
Mets Report
reports on Wright's captaincy.
BIRTHDAYS:
Ike Davis
turns 26. … Sidearm reliever
Joe Smith
, who was traded to the
Cleveland Indians
on Dec. 11, 2008, turns 29.
TWEET OF THE DAY:
Great move by the @mets naming David Wright the Captain of the team... He's a class act & leader both on & off the field... Congrats David!!

— Dwight Gooden (@DocGooden16) March 22, 2013
YOU'RE UP: What is your favorite memory involving David Wright?
November, 23, 2011
11/23/11
5:18
PM ET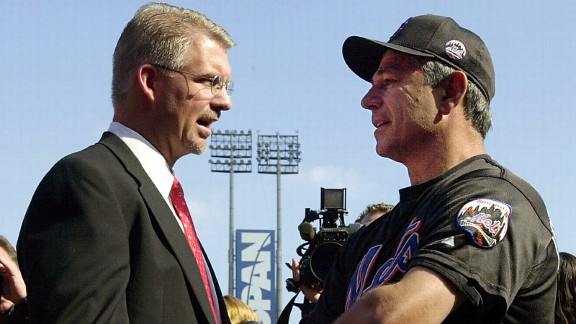 Henny Ray Abrams/Getty Images
Steve Phillips and Bobby Valentine, circa their tumultuous Mets days in 2000.
A gracious
Steve Phillips
took partial responsibility for his sometimes-stormy relationship with
Bobby Valentine
during their shared Mets days. Phillips added that Valentine would be a stellar choice as Boston Red Sox manager.
"He and I, people always want to point to our relationship," Phillips, now a morning host on Sirius/XM's Mad Dog Radio, told ESPNNewYork.com. "There were times when it was really good. We had a lot of success together. At times our relationship wasn't always the greatest, but I will say: Forever I kind of always blamed Bobby for that. And I recognize now that a big part of that relationship, I damaged with my stuff that got in the way of it. Forever I thought it was Bobby's stuff. He brought whatever he did to the relationship, but part of the reason it wasn't a good one all the time was my fault and I want to acknowledge that. I wasn't the best manager for him sometimes."
Read more of Phillips' comments, as well as comments on Valentine's candidacy from old friends
Jim Duquette
,
Joe McEwing
and
Steve Trachsel
, in the full story
here
.
October, 10, 2011
10/10/11
1:44
PM ET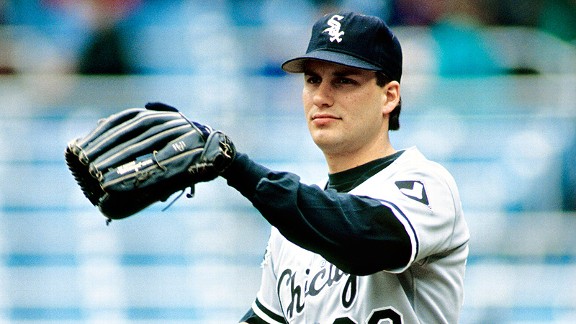 US Presswire
Mets fans know Robin Ventura as a Met, but the new White Sox manager played in the Windy City from 1989-98.
Joe McEwing
, who most recently managed the Triple-A affiliate for the Chicago White Sox, will join the major league staff as newly named manager
Robin Ventura's
third base coach,
Doug Padilla
reports
at ESPNChicago.com
.
Writes Padilla:
(McEwing) has spent the last four seasons with the White Sox, managing Triple-A Charlotte this past season. Known as a people person, McEwing also can be stern when he needs to be while still maintaining the respect of those around him. McEwing, though, is mostly known for his infectious energy which earned him the nickname "Super Joe." He played nine seasons in the major leagues, his last a short stint with the Houston Astros in 2006. He also played for the Cardinals, Mets and Royals.