New York Mets:

Joe McIlvaine
March, 19, 2014
3/19/14
5:30
AM ET
PORT ST. LUCIE, Fla.
FIRST PITCH:
The Mets have their lone off-day of spring training Wednesday -- major and minor leaguers -- then gear up for a relatively intense final stretch before breaking camp.
Terry Collins said priority No. 1 is getting his first basemen on the field, with the manager pledging either
Ike Davis
or
Lucas Duda
would
start Thursday's Grapefruit League game
against the
Atlanta Braves
.
With camp now down to 38 players, including rehabbing
Matt Harvey
and
Jeremy Hefner
, Collins said starters will get more time and relievers will begin to get action with in-season roles in mind.
The Mets break camp in eight days. They then head to Montreal for a pair of exhibition games against the
Toronto Blue Jays
before Opening Day on March 31 against the
Washington Nationals
at Citi Field.
"You bet it's the critical part of the spring," Collins said. "We're going to tighten some things up around here. … It's time to play like we're getting ready for the season."
Wednesday's news reports:
Mark Cunningham/MLB Photos/Getty ImagesNoah Syndergaard was dispatched to minor-league camp Tuesday.
• Noah Syndergaard
headlined the list of players
sent to minor-league camp Tuesday. The others: right-handers Rafael Montero, Cory Mazzoni, Ryan Reid, Joel Carreño and
Miguel Socolovich
, catcher Juan Centeno and first basemen Brandon Allen and Matt Clark. Allen is in a walking boot because of a calf injury.
"We don't want to keep preaching patience, but there's some real light at the end of the tunnel here," Collins said Tuesday. "[Syndergaard] wasn't the only guy sent down today who is going to pitch in the big leagues, and pitch for a long time in the big leagues. Montero is going to do it. Mazzoni is going to do it."
The Mets likely will be tight with Syndergaard's early season pitch counts so he has innings left in the majors during the second half. Syndergaard logged only 124 2/3 innings last season including the Eastern League playoffs and Futures Game, so 155 innings is a rough approximation for 2014. The Mets likely will consider a promotion for Syndergaard sometime in mid-June or beyond, after delaying his arbitration eligibility.
"He ain't coming out after the fifth up here," Collins said about pitch limits.
Syndergaard, meanwhile,
surrendered one hit but walked four
in four innings in a minor-league intrasquad game hours after receiving his demotion news.
Read more in the
Post
,
Daily News
,
Star-Ledger
,
Record
,
Newsday
,
Journal
and
MLB.com
.
• Harvey remains determined to
return to the Mets in August
, only 10 months after Tommy John surgery. He said he is undeterred by Atlanta's
Kris Medlen
and Oakland's
Jarrod Parker
recently learning they required that procedure for a second time. Harvey also remains adamant he wants to rehab primarily in New York and be around the team, which is his right under the collective bargaining agreement, even if the team disagrees. He dislikes the
team's attempts to muzzle him
from speaking with the media and tweeting, too. Read more in the
Daily News
,
Star-Ledger
,
Newsday
and
MLB.com
.
• Three
Arizona Diamondbacks
scouts, including special assistant
Todd Greene
,
quietly watched Mets minor leaguers
in an intrasquad game Tuesday, furthering speculation that the Mets ultimately could acquire one of their shortstops:
Didi Gregorius
or
Chris Owings
.
Seattle Mariners
scout Joe McIlvaine also was in attendance for an intrasquad game that included Logan Verrett pitching and Kevin Plawecki catching. The Mariners are likely to trade
Nick Franklin
.
On Franklin,
FanGraphs
tackles the topic about whether he can be a passable shortstop.
Scott Cunningham/Getty ImagesSandy Alderson has resumed speaking with teams about Ike Davis, a source told ESPNNewYork.com.
• Sandy Alderson
has started reengaging teams
who expressed interest in Davis during the offseason, a source told ESPNNewYork.com.
•
Jenrry Mejia
still
appears ticketed for Las Vegas
to open the season. So does
Wilmer Flores
, who should see some serious action
at shortstop with the 51s
in April.
•
Jonathon Niese
returned to camp Tuesday
and expressed relief that his second spring-training scare turned out to be only inflammation of the left elbow, with no structural damage. Niese said he does not have an ego about starting Opening Day.
Having him open the season on the DL and making his season debut April 6 against the
Cincinnati Reds
continues to seem the most viable option. The Mets insist they have not yet reset their rotation now that Niese is likely to miss Opening Day, beyond knowing that
Bartolo Colon
and
Dillon Gee
will start during the season-opening three-game series against the Nats.
Read more on Niese in the
Post
,
Daily News
,
Star-Ledger
and
Newsday
.
• The Mets have
arranged their starting pitchers for the next week
of spring training, beginning with
Zack Wheeler
facing the Braves on Thursday at Tradition Field.
•
Daisuke Matsuzaka
allowed two homers, including a shot by
Miguel Cabrera
, but
the Mets rallied for a 5-4 win
against the
Detroit Tigers
on
Andrew Brown
's walk-off RBI single. Read more at
MLB.com
.
BIRTHDAYS:
Former Mets minor-league catcher
Landon Powell
, now a volunteer assistant coach at Furman University, turns 32. ... Prospect Yeixon Ruiz, who hit .304 at Kingsport last season, is 23.
TWEET OF THE DAY:
What a tremendous opportunity but there's still work to be done.

— Noah Syndergaard (@Noahsyndergaard) March 18, 2014
YOU'RE UP: Would you prefer Didi Gregorius, Chris Owings, Nick Frankin, Stephen Drew, Ruben Tejada or Wilmer Flores as the Opening Day shortstop?
March, 18, 2014
3/18/14
1:03
PM ET
Getty ImagesThe D-backs have a pair of shortstops: Chris Owings and Didi Gregorius.
PORT ST. LUCIE, Fla. -- The most interesting sight on the back fields for Mets minor-league intrasquad games Tuesday was not newly demoted Noah Syndergaard pitching. It was the army of
Arizona Diamondbacks
scouts, as well as one from the
Seattle Mariners
, that were on hand watching Mets prospects.
Arizona dispatched special assistant
Todd Greene
and two other scouts. They saw Syndergaard facing right-hander Logan Verrett on a back field, as well as Kevin Plawecki behind the plate. Former Mets GM Joe McIlvaine was on hand representing the Mariners.
The Mariners and Diamondbacks are the two most likely trade partners for the Mets if they upgrade from
Ruben Tejada
, which remains a possibility. Arizona has shortstops
Didi Gregorius
and
Chris Owings
, while the Mariners are looking to trade
Nick Franklin
.
March, 13, 2014
3/13/14
3:29
PM ET
VIERA, Fla. --
Ruben Tejada
's performance Thursday only exacerbated the Mets' shortstop "situation," although Terry Collins nonetheless gave Tejada a vote of confidence.
Tejada committed his third error in six Grapefruit League games, falling to handle a routine grounder from
Zach Walters
that would have ended the fourth inning.
Tejada also went 0-for-3 at the plate, including grounding into a 5-4-3 double play to end the top of the third against
Ross Detwiler
with two on base. Tejada is now 1-for-15 in Grapefruit League play. He had been sidelined for a week early in camp with a hamstring issue, too.
Said Collins: "I talked to him today about trying to relax a little bit, quit worrying about things. I said, 'Listen, you're the shortstop here. Your name and your number are going to be in the lineup. So you've just got to go be the player we know you can be and quit worrying about trying to impress everybody. We've seen you in the past. Two years ago you were the talk of the town. You had a bad year. Big deal. Forget it. It's over.'"
Despite Sandy Alderson's play-it-cool statement that Tejada is not under a microscope and insistence there is no "situation," the pressure has to be mounting for the Mets to find an alternative at shortstop.
The
Seattle Mariners
have
Nick Franklin
available, and former Mets GM Joe McIlvaine continues to scout the Mets for that organization. McIlvaine attended the Mets-Nats game Thursday.
Tejada insisted he is not overthinking things with the spotlight focused on him.
"Errors happen. Everybody makes them," Tejada said. "I have a couple this week. I'll keep working and keep staying mentally positive and keep playing hard."
As for the error, Tejada said: "I tried to catch it with two hands. To the glove side, it's better to play it with one hand, especially with two outs and a man on first. The next one I'll try to catch it with one hand and make sure of the out at second."
Tejada said he actually felt "much better" at the plate Thursday.
"I took a couple of pitches and stayed in my zone and didn't try to do too much," Tejada said.
February, 24, 2013
2/24/13
6:49
AM ET
PORT ST. LUCIE, Fla.
FIRST PITCH:
The Mets put their undefeated record on the line on Day 2 of the Grapefruit League season with a pair of games Sunday.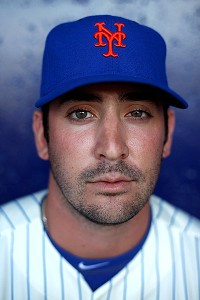 Chris Trotman/Getty Images
A day after Zack Wheeler's appearance, it's Matt Harvey's turn today.

Terry Collins takes
Matt Harvey
and a split squad to Kissimmee to face the now-AL West-member
Houston Astros
. (See full travel roster
here
.)
Meanwhile, back at Tradition Field, devout Ohio State fan
Jonathon Niese
as well as
Dillon Gee
pitch against Fred Wilpon's alma mater, the University of Michigan. The Wolverines
won two of three games
from Fordham this weekend at the Mets' complex.
Gee will pitch in his first game since undergoing emergency surgery during last year's All-Star break to repair a damaged artery in his pitching shoulder. He already was throwing off the mound in September at Citi Field before shutting things down for the offseason, so Gee said he has zero concerns about this start.
"I feel great," Gee said. "I feel normal. I'm not worried about it at all."
Sunday's news reports:
•
Pedro Feliciano
returned to camp Saturday after an examination at the Hospital for Special Surgery in Manhattan. Feliciano said he has an
irregular heartbeat and small "hole" in the exterior of the heart
. Feliciano will wear a heart monitor and is not yet cleared to resume baseball activities. Collins said the issue potentially is serious. Sandy Alderson plans to address the issue further with media this morning. Read more in the
Star-Ledger
,
Newsday
,
Daily News
,
Post
,
Record
and
MLB.com
.
• Outfielder
Jamie Hoffmann
also returned to camp
after his initial physical required a follow-up exam in New York. Hoffmann said he was diagnosed with a non-alarming heart condition 10 years ago that routinely gets flagged when he switches teams.
•
Zack Wheeler
wowed in his Grapefruit League debut
, limiting the
Washington Nationals
to one hit and one walk while striking out two in two scoreless innings. Collins nonetheless reiterated that Wheeler is ticketed for the minors to open the season, regardless of
Johan Santana
's situation.
"He's very similar to Doc," Wally Backman told columnist Kevin Kernan
in the Post
, referring to Dwight Gooden. "I think Doc's breaking ball was a little bit bigger, but this kid has got, to me, real high expectations."
Said Joe McIlvaine, a scout for the Mariners who once drafted Dwight Gooden: "Easy gas. Wheeler is very similar to [Stephen] Strasburg. He threw about as hard. He's the same type of breaking ball. The same type of elongated body. Strasburg is a little bit stronger, but he's a little bit older. The only differential I would say at this point is that [Wheeler's] control is not as good as Strasburg's. That's the biggest difference, and that's why he is still in the minor leagues."
Steve Serby
in the Post
has a Q&A with man-of-few-words Wheeler. The exchange includes:
Q: Tell me about the day you were traded to the Mets.
A: I rolled out of bed, saw it on Twitter. I went downstairs, it was on ESPN.
Read more on Wheeler's Grapefruit League debut in the
Star-Ledger
,
Times
,
Post
,
Newsday
,
Daily News
and
MLB.com
.
• Also in the
5-2 win against the Nats
,
Ruben Tejada
belted a two-run homer against Strasburg,
Shaun Marcum
surrendered three runs
in two innings and
Collin Cowgill
delivered a game-deciding RBI double. Read more in
Newsday
.
•
David Wright
will
get three more Grapefruit League starts
before departing Saturday for the World Baseball Classic, Collins said. Read more in
Newsday
.
• The Mets signed 29-year-old first baseman
Rhyne Hughes
to a minor league deal
.
Justin Turner
played with Hughes in the
Baltimore Orioles
organization and said the lefty hitter has power to all fields when on his game. Hughes' career got sidetracked when the Orioles tried to expose him to right field and made him a part-time player, according to Turner.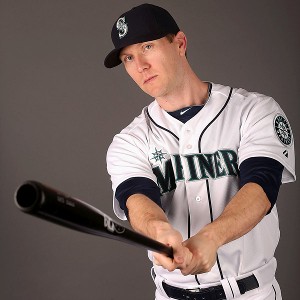 Christian Petersen/Getty Images
Jason Bay homered in his first plate appearance as a Mariner.

•
Jason Bay
belted a two-run homer in his first at-bat as member of the
Seattle Mariners
. Bay is competing with
Casper Wells
for the final outfield slot. Read more in
The Seattle Times
and
Newsday
.
• Andrew Keh
in the Times
looks at the tradition of baseball players having offseason jobs.
Collin McHugh
works during the winter with a company that does fundraising for schools.
• Columnist John Harper
in the Daily News
contrasts
John Buck
with predecessor
Josh Thole
. "Josh just didn't have a feel for calling a game," a Mets person told Harper. "We needed somebody that was going to help make our young pitchers better."
Jorge Castillo
in the Star-Ledger
has a Q&A with Buck about his Glove Guardian company.
• Should the Mets instruct Travis d'Arnaud to do swipe tags instead of blocking the plate in order to protect the young catcher? Mark Hale asks Paul DePodesta
in the Post
. "I'd say it's to be determined," DePodesta said.
• Columnist Bill Madden
in the Daily News
is critical of Wright's agents over other clients being tied to a South Florida clinic.
• Minor league field coordinator Dicky Scott notes
in the Star-Ledger
that the plan is to keep prospect
Wilmer Flores
in the infield. "A lot of guys go to the outfield because they can really run – they're great defenders -- and with other guys it's because they don't like fielding groundballs," Scott told the newspaper. "We have a guy who has good hands, who can play multiple positions. I think we're going to stick with that."
• Mike Kerwick
in the Record
profiles pitching coach Dan Warthen, including his influence on a young Erik Hanson.
•
From the bloggers
... With 1986 nearly three decades in the past, Shannon from
Mets Police
wonders when the Mets become one of those teams that never wins. …
Mets Merized
looks at center-field prospect Matt den Dekker.
BIRTHDAYS:
Hall of Famer Eddie Murray turns 57.
TWEET OF THE DAY:
Mets fans winning that one. RT @anthonydicomo: Wondering if @gregjohnsmlb received more Tweets from Mariners or Mets fans today. #Bay"

— Greg Johns (@GregJohnsMLB) February 24, 2013
YOU'RE UP: What record and ERA will Matt Harvey produce in 2013?


Please use the comments section to weigh in