February, 21, 2014
Feb 21
6:28
AM ET
Mets prospect Steven Matz (above) displays a non-pitching talent.
PORT ST. LUCIE, Fla.
FIRST PITCH:
One more day of exclusively pitchers-and-catchers workouts. Then the full squad has its first official workout Saturday.
Friday's news reports:
• Four months after undergoing Tommy John surgery,
Matt Harvey
has been
cleared to begin tossing a baseball
. The Mets, trying to prevent Harvey form being a spring-training storyline, would not allow the rehabbing ace to speak with other media after he gave an interview to ESPNNewYork.com about being cleared, writes Kristie Ackert
in the Daily News
. Read more in the
Post
,
Star-Ledger
,
Newsday
and
MLB.com
.
• The Mets
may be able to upgrade at shortstop
before Opening Day by trading for Seattle's
Nick Franklin
, industry insiders tell ESPNNewYork.com. Franklin became expendable with
Robinson Cano
having signed with the Mariners to play second base and with fellow 2013 rookie
Brad Miller
a capable shortstop.
Meanwhile,
the Mets are not pursuing
Cuban shortstop Aledmys Diaz, a source told ESPNNewYork.com.
• If
Ruben Tejada
remains the starter, perhaps New Jersey native and switch-hitter Anthony Seratelli could sneak onto the roster as a backup infielder. He also has corner-outfield experience. Writes Ken Davidoff
in the Post
:
The Old Bridge High School baseball team cut Anthony Seratelli as a freshman. Seton Hall welcomed him aboard only after he walked on to the program. No Major League Baseball team drafted him. Seratelli will turn 31 on Feb. 27, and he has yet to play in a big-league game.
"I've been beaten down," the utility man said, laughing, Thursday at Tradition Field. "I just keep trying to get there."
• Citi Field is
expected to host a soccer match
between AC Milan and Olympiakos on July 24, while the Mets are on the road.
•
Bobby Parnell
is proceeding slowly while
returning from herniated-disk surgery
. Originally listed to throw a bullpen session Thursday, he decided to wait an extra day.
• Thursday was the
report date for Mets position players
.
Omar Quintanilla
arrived at the complex in the mid-afternoon, after the position players' voluntary workout had ended. The only other player yet to be seen at camp is
Wilfredo Tovar
, who was due to land in Florida sometime Thursday, according to a team official.
• Marc Carig
in Newsday
asks if
Juan Lagares
will hit enough to find his way into the lineup. The bottom line: If Terry Collins proceeds with his preference of
Eric Young Jr.
as the leadoff hitter, it would seem Lagares is the odd-man out, unless a trade or injury opens a spot. Writes Carig:
According to Wins Above Replacement, the statistic that measures a player's total contributions, the Mets saved more runs last season with Lagares' elite glove (plus-24.4 above average) than they lost with his faulty bat (minus-12.0). In 2014, he's again projected to be worth the tradeoff. Except the Mets have balked at penciling in Lagares, whose defensive contributions may be difficult to quantify.
Jared Diamond in the Journal is not fond of getting Young playing time at Lagares' expense. Writes Diamond:
Young led the National League with 46 stolen bases in 2013, an achievement that makes him a useful cog on any roster. In the past, that statistic alone would have made him an acceptable fit for the leadoff spot, where he could use his legs to create early runs.
Nowadays, however, teams look for skills other than raw speed in a leadoff hitter, understanding that in order for a fast runner to steal second, he needs to be on first. Despite Collins' old-fashioned idea of the prototypical leadoff man, the Mets' front office seems to grasp this, basing its offensive philosophy on pitch selection. When asked to identify the key skill for a leadoff hitter, Young responded, "Ultimately, getting on base."
But Young doesn't do that nearly enough.
• Collins says
Jeurys Familia
has closer-quality pitches
. Read more in the
Post
,
Daily News
and
Star-Ledger
.
• Collins and other Mets staffers planned to attend a session led by MLB's Joe Torre and Tony La Russa on Thursday afternoon explaining the implementation of a home-plate collision ban and the expanded use of instant replay.
• Tim Rohan
in the Times
and Mike Vorkunov
in the Star-Ledger
profile Cory Vaughn, the diabetic outfield prospect and son of former major leaguer
Greg Vaughn
. The 24-year-old Vaughn hit .267 with 10 homers and 50 RBIs in 262 at-bats with Double-A Binghamton last season while missing substantial time with a right elbow strain that did not require surgery. He played college baseball alongside
Stephen Strasburg
at San Diego State, for coach Tony Gwynn.
• Anthony DiComo
at MLB.com
profiles
Jeff Walters
, who had a Binghamton-record 38 saves last season.
•
From the bloggers …
Faith and Fear
ponders promises made, promises kept and how much promise lies within newly acquired Mets. … At
Mets Police
, Mike V makes the case against lower case d's on Mets uniforms. … John Delcos at
Mets Report
writes that strikeouts are an issue for the club.
BIRTHDAYS:
The late Joe Foy, who played for the Mets 44 years ago, and who attended Evander Childs High School in the Bronx, was born on this date in 1943.
TWEET OF THE DAY:
Spring training and growing can be tiring!! pic.twitter.com/bhNDmD0Ezr

— Dillon Gee (@DillonGee35) February 21, 2014
YOU'RE UP: Should the Mets acquire a Mariners shortstop or go with Ruben Tejada?
February, 20, 2014
Feb 20
2:17
PM ET
PORT ST. LUCIE, Fla. -- Terry Collins' Thursday press conference included praise for reliever
Jeurys Familia
.
Familia, 24, had a 4.22 ERA in 10 2/3 innings with the Mets last season. He underwent June 5 surgery to remove bone spurs and loose bodies from his right elbow. One of his nine major-league appearances last season came in September, after recovering from the surgery.
The Mets also had Familia pitch in the Arizona Fall League to make up for the missed work. Familia then made six appearances with Gigantes del Cibao in the Dominican Winter League.
"He showed some bright, bright spots last summer," Collins said. "When he's in the strike zone, his stuff is at times unhittable. He had a great Fall League. He had a great winter ball. He's got his elbow cleaned out now. That certainly shouldn't be an issue. We're hoping that he comes into camp with a fresh attitude. I think the addition of Bartolo [Colon] and Jose [Valverde] will help him -- certainly Jose, with his background in that role.
"As Dan [Warthen] and I have talked many times, we all keep trying to find back-end-of-the-bullpen guys. This guy has got the stuff to do any of those jobs. He could close. He's got that kind of a sinker that's a swing-and-miss sinker. He's got a swing-and-miss slider. We've just got to get him to get it around the plate. And if he does that, he's going to be dangerous. You can't find guys that throw 96 to 98 [mph] with that kind of movement. And you can't give up on those guys."
Also from the press conference:
Collins was headed Thursday afternoon with other Mets staffers to Jupiter, Fla., to get more clarity about the new rules preventing home-plate collisions as well as regarding instant replay. MLB's Joe Torre and Tony La Russa are due to lead the session.
"I don't really have the final wording of the play at home plate," Collins said. "I know they've already tweaked the challenge stuff a little bit. I don't even know if it'll be final. Actually, at the winter meetings they said when they see it work in spring training there may be some other tweaks that go on before the season starts. We'll just wait to see what they say today."
March, 7, 2013
3/07/13
6:32
AM ET
PORT ST. LUCIE, Fla.
FIRST PITCH:
Matt Harvey
gets the Grapefruit League start today as the Mets face the
Miami Marlins
at 1:10 p.m. at Tradition Field.
Greg Burke
and
Brandon Lyon
also are scheduled to pitch.
The Marlins are scheduled to start right-hander
Ricky Nolasco
.
Thursday's news reports: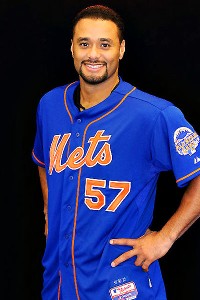 Courtesy of New York Mets
Johan Santana is aiming to enter Grapefruit League play next Thursday.

•
Johan Santana
is
due to appear in a Grapefruit League game
next Thursday against the
Detroit Tigers
in Port St. Lucie. Santana threw off a mound, while
Zack Wheeler
(oblique)
long-tossed Wednesday
. Venezuela manager
Luis Sojo
said
Santana is "very sad"
about being unable to represent his country in the World Baseball Classic. Read more in the
Star-Ledger
,
Newsday
,
Journal
,
Post
,
Record
,
Daily News
and
MLB.com
.
• Columnist Joel Sherman
in the Post
writes about the Mets about to bridge two eras, with Santana fading and Wheeler about to ascend. "What's not to be excited about?" special assistant J.P. Ricciardi told Sherman about Wheeler. "He's got great stuff. He has a great arm. He is a nice kid. And he has a good work ethic. If you aren't going to get excited about him, who are you going to get excited about?"
•
Jenrry Mejia
, who was
flagged for a thyroid issue
in his initial physical, is scheduled to travel back from New York to Port St. Lucie this morning.
•
Miguel Cabrera
led a juggernaut offense with two homers and
Jonathon Niese
tossed 2 1/3 innings as
Venezuela beat the Mets, 14-10
, in an exhibition game Wednesday at Tradition Field. Read more at
MLB.com
.
• Columnist John Harper
in the Daily News
discusses the importance of Niese to the franchise.
•
Kansas City Royals
first baseman
Eric Hosmer
, not
Ike Davis
, was tabbed to replace injured
Mark Teixeira
on Team USA's WBC roster
. Joe Torre acknowledged considering Davis but suggested Hosmer already being in Arizona, where Team USA opens play against Mexico on Friday, was a major factor.
"There were a couple of issues," Torre told David Lennon
in Newsday
. "We were looking for a left-hander, and Ike is certainly someone we talked about. We talked about
Ryan Howard
. But where we were, if we could stay in Arizona -- only because of how close we were to the end and he wouldn't be able to get here for [Wednesday's exhibition] game and stuff -- it just worked out perfect. He's here."
Read more in the
Record
.
• Although it is unlikely to materialize,
Francisco Rodriguez
said he would
like to rejoin the Mets
. K-Rod, who is pitching for Venezuela in the WBC, remains a free agent. Read more in the
Star-Ledger
,
Post
,
Times
,
Newsday
,
Daily News
and
MLB.com
.
•
David Wright
went 2-for-4 with an RBI
and played five innings at third base in Team USA's WBC tune-up against the
Colorado Rockies
.
•
Marlon Byrd
and
Jordany Valdespin
both
got looks in center field
during Wednesday's game against Venezuela.
• Kevin Kernan
in the Post
checks in with
Scott Kazmir
at
Cleveland Indians
camp.
•
From the bloggers
…
Faith and Fear in Flushing
celebrates the prospective return of
Pedro Feliciano
, suggesting the wrong Mets icon's image is gracing the spring-training caps this year. …
Mets Police
reports the Amazin's have a .684 winning percentage in games in which Dan Twohig has attended and kept score, dating to 1980.
BIRTHDAYS:
Jeff Kent
turns 45. … Right-hander Mauro Gozzo turns 47.
TWEET OF THE DAY:
As a former valet attendant, I would gladly accept Dark Chocolate Raisinets in lieu of a tip.

— Collin McHugh (@Collin_McHugh) March 7, 2013
YOU'RE UP: Whom should Joe Torre have chosen to replace Mark Teixeira on Team USA's roster: Ike Davis, Paul Konerko, Ryan Howard or Eric Hosmer?
March, 1, 2013
3/01/13
7:07
AM ET
PORT ST. LUCIE, Fla.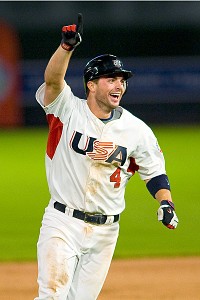 Scott Rovak/US Presswire
David Wright had a game-winning hit in the 2009 WBC, against Puerto Rico.

FIRST PITCH:
David Wright
gets a sendoff before departing for the World Baseball Classic as the Mets face
Justin Verlander
and the
Detroit Tigers
at 1:10 p.m. Friday at Tradition Field. Wright will play third base after requesting one last game in the field rather than DH work.
He departs Saturday for Phoenix to join Team USA.
The American squad will open first-round play against Mexico next Friday at Chase Field. Team USA them plays Italy and Canada the following two days. (See schedule
here
.)
Wright will have appeared in four Grapefruit League games to tune up. He is 3-for-9 with one strikeout so far.
"It's a pretty cool feeling walking into the clubhouse the first time and seeing your last name on one of those USA jerseys,'' Wright told columnist Kevin Kernan
in the Post
, while adding that he is excited to play for Joe Torre, who will manage the U.S. squad.
Jonathon Niese
starts opposite Verlander in today's SNY-televised game. Also due to pitch:
Bobby Parnell
,
Jeurys Familia
and
Scott Atchison
.
Single-game tickets for the regular season go on sale at 10 a.m. at Mets.com or by calling 718-507-TIXX.
Friday's news reports:
•
Zack Wheeler
, who suffered a mild strain of his right oblique on Wednesday in a batting cage, was
not injured too badly
, Terry Collins said. The hope is to have Wheeler on a mound in about four days and in a game again in about a week. Read more in the
Post
,
Star-Ledger
and
Daily News
.
• Could
Jordany Valdespin
unseat
Kirk Nieuwenhuis
as one of the Mets' three lefty-hitting outfielders and instead join
Lucas Duda
and
Mike Baxter
on the Opening Day roster? Well, with
Daniel Murphy
poised to return in about a week from an intercostal strain on his right side, Collins
told ESPNNewYork.com
he is prepared to start using Valdespin in the outfield rather than continue to use him at second base.
Valdespin is off to a .455 start through four games, while Nieuwenhuis is 1-for-13 (.077) with six Ks. Stay tuned.
• Rafael Montero, who was named the organization's pitcher of the year last season,
made his Grapefruit League debut
Thursday night against a formidable
Washington Nationals
lineup. Montero allowed one run on three doubles in in two innings while showing poise.
The game was called after 10 innings with the score tied at 4. The Mets are winless in their past five Grapefruit League games (0-3-2).
Montero, who is from the Dominican Republic, did not sign with the Mets until he was 20, in 2011, the first season of the Mets' new regime.
"Many guys sign at 16, but plenty of others sign at 17 and 18," Paul DePodesta said. "Twenty is a bit more out of the ordinary. I think Valdespin was 19 or 20 also. In any event, it's certainly unusual to be signed out of the Dominican Republic and be in major league camp just 25 months later. Rafael has been through six levels already in two seasons."
Read more on Montero in the
Star-Ledger
and at
MLB.com
.
•
Pedro Feliciano
's agent announced the left-hander has been
diagnosed with a genetic heart disorder
known as left ventricular noncompaction. A public-relations agency affiliated with agent Melvin Roman added that athletes can pitch through the issue without risk, so Feliciano will resume his career while wearing a heart monitor for a couple of weeks to satisfy the team. Read more in the
Star-Ledger
,
Newsday
and
Daily News
.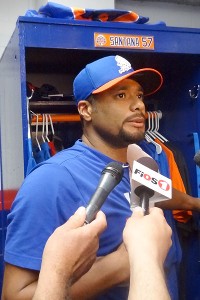 Adam Rubin
Terry Collins still eyes Opening Day for Johan Santana.

•
Johan Santana
may throw off a mound today for the first time since being backed off because of shoulder fatigue that sapped his arm speed. Collins reiterated Thursday that he expects Santana to be in a Grapefruit League game March 10 or 11, which would get him four spring-training starts to prepare for Opening Day.
•
Tim Byrdak
is
scheduled to join camp today
after mostly throwing on flat ground back at home the past few weeks. Byrdak, who underwent surgery to repair a torn anterior capsule in his pitching shoulder in August, likely would not be able to contribute until the season's second half.
• Foreigner (June 14), Nas (July 19), O.A.R. (Aug. 2) and Third Eye Blind (Aug. 23) will
perform postgame concerts at Citi Field
during the 2013 season. A game ticket includes admission to the abbreviated postgame concert. Nas, who hails from Queens, is a devout Mets fan.
•
Marlon Byrd
, the leading candidate to play right field, is in camp on a minor league contract. He tells Mike Puma
in the Post
that this likely is his "last chance" at reviving his career. "If I don't make this team, I don't see many other chances in baseball," Byrd said.
•
Jose Reyes
remains displeased with Marlins owner Jeffrey Loria. Read more from Ken Davidoff in the
Post
, where Reyes is quoted as saying: "He traded me. That's fine with me. Just be real with me. Be honest. Don't tell me to buy a house and get a nice place for my family and stuff when you [know] you're going to trade me. Why [did] you do that?"
• Marc Carig
in Newsday
notes Collins wants the Mets to be better baserunners. Writes Carig:
Consider one of the most famous moments in postseason history. Collins was a coach with the Pirates in 1992 when the plodding Sid Bream hustled home from second on a single, barely beating Pittsburgh leftfielder Barry Bonds ' throw and scoring the winning run in NLCS Game 7 to send the Braves to the World Series.
But more often, baserunning represents a less-dramatic advantage. According to statistics compiled by the site FanGraphs, through their decision-making on the bases, the Angels ran their way to an additional 18.3 runs last season. It was the best total in baseball. By contrast, the Nationals cost themselves 17.6 runs on the bases, the worst in the game. Statistically speaking, in the course of the season, the difference translated to about two games in the win-loss column.
The Mets ranked 19th, costing themselves 3.1 runs on the bases, a relatively insignificant number.
• Jared Diamond
in the Journal
delves into the Mets' decision to instruct Travis d'Arnaud not to block the plate.
• Mike Kerwick
in the Record
catches up with reliever
Brandon Lyon
.
• Columnist David Lennon
in Newsday
asserts it is unfair to have Collins managing in the final year of a contract and advocates for an extension.
• Columnist Bob Klapisch
in the Record
writes the "Mets still have money problems, so don't expect a revival anytime soon."
• Read more on Wright's impending departure to Team USA in the
Times
.
• Anthony DiComo
at MLB.com
notes the Mets' are prioritizing on-base percentage over steals in their leadoff hitter.
•
From the bloggers
…
The Eddie Kranepool Society
reviews Sandy Alderson's conference call with bloggers. … At
Mets Police
, Shannon suggests the Mets stage a ceremony in which Yogi Berra helps retire Gary Carter's No. 8. …
Rising Apple
asks: to block or not block the plate?
BIRTHDAYS:
Former Mets catcher
Ramon Castro
turns 37. Castro is in camp with the Dodgers.
TWEET OF THE DAY:
BREAKING NEWS: Pope Benedict to join Bobby Valentine at Sacred Heart College as Asst. Athletic Director.

— Mike Barnicle (@mikebarnicle) February 28, 2013
YOU'RE UP: Do you support the World Baseball Classic … or wish it did not exist?
Please use the comments section to weigh in
June, 16, 2012
6/16/12
8:35
AM ET
Dillon Gee
surrendered a pair of homers -- one of the inside-the-park variety -- and the Mets lost
Jason Bay
to a suspected concussion in a
7-3 defeat against the Cincinnati Reds
on Friday night at Citi Field.
Saturday's news reports:
• Bay
suffered the head injury
making contact with the wall on a second-inning diving attempt during what became an inside-the-park homer for
Jay Bruce
.
Terry Collins
said Bay was woozy and was taken home by security personnel. The left fielder almost assuredly will land on the seven-day concussion disabled list.
Justin Turner's
rehab assignment with Triple-A Buffalo will be cut short after two games and eight at-bats, and the infielder should be activated to take Bay's roster spot.
Bay had been 2-for-25 since returning from a DL trip prompted by a fractured rib, which also was suffered attempting a diving outfield catch. This is not Bay's first concussion, which adds to the concern. He suffered a whiplash-induced concussion at Dodger Stadium on July 23, 2010. Bay then played two more games and did not return for the remainder of that season.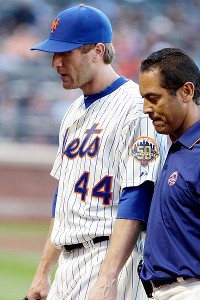 Frank Franklin II/Associated Press
Trainer Ray Ramirez escorts Jason Bay off the field in the second inning Friday night.

With Bay's loss, Collins said there still is enough outfield depth to get by with
Lucas Duda
,
Kirk Nieuwenhuis
,
Scott Hairston
and
Andres Torres
as well as
Vinny Rottino
and
Jordany Valdespin
-- hence Turner's early return and not the promotion of an outfielder.
The Mets face another four straight right-handers:
Homer Bailey
on Saturday (versus
Jon Niese
),
Johnny Cueto
on Sunday, then Baltimore's
Jake Arrieta
and
Tommy Hunter
the first two games of an interleague series at Citi Field. The next southpaw starter due to face the Mets is the Orioles'
Brian Matusz
on Wednesday.
As a result, it's logical for at least the next four games for Nieuwenhuis to continue to start in center and Duda in right field. As for left field, Collins was noncommittal postgame. Even though Torres is a switch-hitter, he -- like Hairston -- is much more effective against left-handed pitching. Although Valdespin could get a start, Hairston may see the most action. Collins chose to insert Hairston once Bay came out of Friday's game. And Hairston started consecutive games last week against right-handed pitching, including when Bay was scratched in D.C. with suspected ill effects of an antibiotic.
Turner, playing second base, and
Ronny Cedeño
at shortstop each went 1-for-4 in a rehab game Friday night with Triple-A Buffalo. It was only Turner's second rehab game. The plan originally was to have him stay with the Bisons through the weekend and see more pitching.
• Columnist
Kevin Kernan
in the Post
suggests it's time to terminate Bay's career with the Mets, for the good of the team and the player. Writes Kernan:
No Met has struggled like Bay, but once again he put his body in jeopardy. The wall always wins. Just ask Mike Baxter, who made a catch for the ages on June 1 ago to save Johan Santana's no-hitter. That is the only way Bay knows how to play, but the sad truth is Bay's Mets career at this point is a total lost cause and he figures to be out a substantial amount of time again. He had just returned from a fractured rib which was caused by a dive for another fly ball. In late July of 2010, he suffered a terrible concussion slamming into the left-field wall at Dodger Stadium that finished his season. Bay has suffered three knockout punches and each time he was injured, the air was sucked out of the Mets. Bay's four-year, $66 million contract that runs through next season may be the worst deal in Mets history. For his own good, and their own, the Mets have to find a new home for Bay, they have to eat what's left of the deal and send him somewhere he can get a fresh start.
Columnist
Tim Smith
in the Daily News
also writes about Bay's career and the expectations that came with a four-year, $66 million deal:
Bay's injury history, lack of production and salary ($16 million this season) have worn on the patience of Mets fans, who consider him the biggest free agent bust since Ollie Perez and Luis Castillo left town. Bay is bringing up those old bad vibes, even in a feel-good season for the Mets. If his latest injury knocks Bay out for an extended period, he will go to the head of the class with Mo Vaughn and Bobby Bonilla as far as Mets free-agent busts go. Here is what the Mets have gotten on their $66 million investment so far: 22 home runs, 110 RBI, two concussions, a fractured rib and the reality of non-existent slugging prowess.
• Read game recaps/Bay injury coverage in the
Star-Ledger
,
Journal
,
Newsday
,
Record
,
Daily News
,
Times
and
Post
.
• The Mets' appeal in an attempt to credit
R.A. Dickey
with a no-hitter Wednesday at Tampa Bay
has been denied
by
Joe Torre
and Major League Baseball. Dickey described himself as "fairly relieved" at the resolution, since there would always have been an asterisk by the feat had
B.J. Upton's
first-inning infield single been changed to an error on third baseman
David Wright
, who was unable to cleanly barehand the ball.
Jerry Koosman
, whose franchise-record scoreless innings streak was topped with the knuckleballer's performance against the Rays, happened to be at Citi Field on Friday as part of a Mets alumni event. Dickey's streak ended at 32 2/3 innings with an unearned run in the ninth Wednesday. Koosman's former record, set in 1973, had been 31 2/3 innings. Read more in
Newsday
, the
Post
,
Star-Ledger
,
Daily News
and
Record
.
Dickey, by the way, will appear at the
Yogi Berra
Museum at Montclair State University on Thursday from 6 to 7:30 p.m. to sell signed copies of his memoir.
•
David Wright
was grazed by his stomach with an eighth-inning pitch from
Sean Marshall
, which the third baseman
believed was payback
for Gee hitting
Joey Votto
in the back with a pitch five innings earlier. Still, Wright had no problem with the grazing. You may recall Wright being pulled against his will from a lopsided May 15 game against Milwaukee because Collins feared
D.J. Carrasco's
plunking of
Ryan Braun
would elicit retribution. Read more in the
Post
and
Daily News
.
•
Jenrry Mejia
tossed a scoreless inning as his two-week preparation in Buffalo for major league bullpen duty began, and
Matt den Dekker
delivered his first Triple-A homer, but the Bisons lost to Pawtucket, 8-3. Mejia coaxed three groundouts and a surrendered a single in a 19-pitch frame. According to the Buffalo News'
Mike Harrington
, the final pitch -- at 95 mph -- shattered a bat. Read Friday's full minor league recap
here
. Read more on the Bisons' recent slide
in the Buffalo News
.
•
Anthony M. Destefano
in Newsday
has details of the revitalization plans for the land adjacent to Citi Field, which currently mostly houses auto-repair businesses. Writes Destefano:
The plans announced Thursday call for the environmental remediation of 23 acres of contaminated land east of Citi Field. The project was approved by the city in 2008, but faced unsuccessful legal challenges from property owners. [Mayor Mike] Bloomberg said about 95 percent of the land in the eastern zone has been acquired by the city through purchases. The latest proposal, which requires zoning changes, environmental review and approval by the City Council, adds some new elements, notably a Willets West project for an area immediately west of Citi Field. Willets West will convert current stadium parking into a 1-million-square-foot retail and entertainment center, with more than 200 retail stores of all sizes, movie theaters, restaurants, entertainment venues, a parking structure and surface parking for 2,500 cars, the city said.
The first redevelopment phase, an area east of Citi Field, calls for construction of retail, hotel and commercial space. Some 2,500 housing units are also provided for later, with 875 units labeled "affordable."
• The Brooklyn Cyclones, who open their New York-Penn League season Monday against the Staten Island Yankees at Coney Island, officially announced their roster. It includes 2011 first-round pick
Brandon Nimmo
, a high school outfielder from Wyoming, who had been participating in extended spring training. It also includes Purdue catcher
Kevin Plawecki
, the 35th overall pick in the draft, who signed for a reported $1.47 million. The local angles include left-hander
John Mincone
, who is a product of Half Hollow Hills East and Suffolk Community College West on Long Island, as well as 12th-round pick
Rob Whalen
, whose entire family hails from Queens. Whalen as an 8-year-old won the "
Tom Seaver
Most Outstanding Pitcher Award" at a Mets-sponsored camp at Long Neck, N.Y.
The full Cyclones roster:
Pitchers:
Matt Bowman
,
Luis Cessa
,
Darwin Frias
,
Jeremy Gould
,
Julian Hilario
,
Matt Koch
,
Rainy Lara
,
Luis Mateo
, Mincone,
Hansel Robles
,
Richard Ruff
,
Paul Sewald
,
Juan Urbina
,
Tyler Vandenheinden
,
Brandon Welch
, Whalen,
Beck Wheeler
,
David Wynn
,
Ernesto Yanez
,
Gabriel Ynoa
.
Catchers:
Xorge Carrillo
,
Jeff Glenn
, Plawecki,
Nelfi Zapata
.
Infielders:
Cole Frenzel
,
Alex Sanchez
,
Richie Rodriguez
,
Jorge Rivero
,
Jeff Reynolds
,
Dimas Ponce
,
Juan Gamboa
,
Phillip Evans
,
Yucarybert De La Cruz
.
Outfielders:
Jonathan Clark
,
Julio Concepcion
, Nimmo,
Eudy Pina
,
Stefan Sabol
.
Read more in the Cyclones
in the Post
.
• 2012 first-round pick
Gavin Cecchini
and Plawecki
took batting practice at Citi Field
before Friday's game and met with the New York media. Cecchini, a high school shortstop from Louisiana and the 12th overall pick, is ticketed for Class A Kingsport. He chose to wear No. 2 out of respect for favorite player
Derek Jeter
. Read more in
Newsday
.
• Fourth-round pick
Branden Kaupe
, a speedy switch-hitting infielder from Hawaii, has agreed to sign for $225,000 -- below the commissioner's recommendation of $323,900 for that slot, according to Baseball America's
Jim Callis
.
•
Cody Derespina
in Newsday
talks to players who transitioned from infield to outfield.
TRIVIA:
Who has the Mets' last inside-the-park homer?
Friday's answer:
Benny Agbayani
went on the radio with
Howard Stern
before the 2000 Subway Series and lightheartedly predicted the Mets would win the World Series.
June, 14, 2012
6/14/12
3:35
PM ET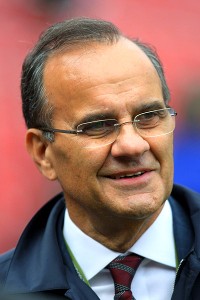 Dennis Wierzbicki/US PresswireR.A. Dickey's no-hit aspirations are in Joe Torre's hands.
ST. PETERSBURG, Fla. --
Joe Torre
, who is charged with reviewing official scorer decisions unilaterally or referring it to a committee, said he will seek other opinions -- including from
Tony La Russa
-- before ruling whether
R.A. Dickey
has a one-hitter or no-hitter.
"Even though I make these decisions on scoring on a daily basis, obviously what's at stake here, I just want to make sure we give the decision every opportunity to get more than my opinion," Torre said on a conference call naming him as manager of Team USA in the 2013 World Baseball Classic. "I have an opinion from what I've seen."
Torre said he would like to see more replay angles. He added that reaching a decision before the weekend is "reasonable."
"My guess is we should be able to get a varied number of people to look at this and come up with a decision," Torre said.
January, 4, 2012
1/04/12
11:46
AM ET
Does anyone else suspect that Joe Torre's "sudden'' decision to quit a rather cushy job as an exec VP for Major League Baseball to join a group trying to buy the embattled Los Angeles Dodgers came with a pretty strong push from Torre's boss, Bud Selig?

In 2010, Selig dispatched another of his lieutenants, Sandy Alderson, to Flushing to clean up the mess the Wilpons made of the Mets. So why wouldn't it follow that he has done the same with Torre to rid himself once and for all of the mess Frank McCourt has made in L.A.?

Which has got to leave long-suffering Mets fans with one nagging question: why couldn't The Commish have done things the other way around?
February, 20, 2011
2/20/11
6:46
AM ET
It's going to be a long day Sunday for Mets position players. That group has early morning physicals scheduled, and unity-building bowling after work. At some point,
Terry Collins
will find time to meet with
Luis Castillo
, too. The first official full-squad workout isn't until Monday. Only five days later,
Jenrry Mejia
is scheduled to be the starting pitcher on Saturday as the Mets open Grapefruit League play against the
Bobby Cox
-less Atlanta Braves at Digital Domain Park in Port St. Lucie.
On to the Sunday clips ...
•
R.A. Dickey
is putting his English degree from the University of Tennessee to good use and is
writing a memoir
, he tells The New York Times'
David Waldstein
. Dickey informed
Sandy Alderson
, and assured the GM this won't embarrass anyone but perhaps Dickey himself. "I've always been pretty good at journaling, and blessed with a pretty good memory," Dickey tells Waldstein. "I figured, once I started the knuckleball journey, it was a good place to put some form to it, dating way back to childhood and leading all the way up to this year." Among the tales to be included: how Dickey, then the father of two, nearly drowned in the Missouri River as the result of a bet.
• With
Sandy Koufax
first estranged from the Dodgers, and now L.A. gone from its longtime spring-training home in nearby Vero Beach, the Hall of Famer annually makes multiple visits to the Mets' spring-training complex. That included Saturday. He spoke with
Chris Capuano
,
Jon Niese
and
Chris Young
. He also spoke with media and said he feels badly for high school chum
Fred Wilpon
, who recommended Koufax invest with
Bernard Madoff
. "I just hate to see him being beat up this way," Koufax said. "I don't know a kinder, more generous, compassionate human being than Fred." Read the account of Koufax's visit in the
Daily News
,
Star-Ledger
, the
Times
and
Newsday
.
• I get the strong sense
Carlos Beltran
will wind up in right field in the not-too-distant future. Here are the news stories in
Newsday
, the
Star-Ledger
,
Daily News
, the
Record
and
Post
.
• Beltran is entering the final season of a seven year, $119 million deal, and only
David Wright
and
Jose Reyes
have more seniority as Mets. I still remember Beltran's initial press conference upon arriving at his first Mets camp on Feb. 21, 2005 -- when Beltran was talking about his reverance for
Bernie Williams
, a hero on his native island of Puerto Rico. Reminded that Williams had four championship rings with the Yankees, Beltran had playfully replied: "We hope in the seven years I'm here that we can get five. I look up to Bernie a lot. He has done a lot in New York for the Yankees. I've just got to say that I will do my part." ... Post columnist
Mike Vaccaro
writes today about
Beltran's Mets legacy
, which perhaps will be defined by that called third strike on the curveball from
Adam Wainwright
in Game 7 of the 2006 NLCS. Writes Vaccaro: "Six years into that seven-year deal, Beltran has seen every angle of baseball in New York, every side and flip side that playing here can invite. He has been a bust and an MVP candidate. He has been the most popular jersey and the most popular target. He has played breathtaking baseball when healthy, and seen whole stretches of his prime wasted to injury."
• Meanwhile, Daily News columnist
John Harper
speculates Beltran's agent,
Scott Boras
, may have advised his client that right field will make him
more marketable when he's a free agent
next offseason. Writes Harper: "Switch-hitting center fielders with speed and power may be the rarest of commodities, but if Beltran's knee is going to be an issue, Boras may feel Beltran will be more marketable as a corner outfielder, saving some wear and tear on his legs that might help him put up bigger offensive numbers. Not that you should dismiss Beltran's claim that he wants to do right thing for the ballclub -- that 'this is not about Carlos, it's about the team,' as he put it Saturday."
• Newsday columnist
Ken Davidoff
asked Alderson is he would
document the legitimacy
of closer
Francisco Rodriguez's
usage throughout the year to have a defense ready in case K-Rod falls shy of 55 games finished and files a grievance over irregular usage. K-Rod's contract vests for 2012 at $17.5 million if he finishes 55 games. Otherwise, the Mets are responsible for a $3.5 million buyout in addition to his $11.5 million salary this year. "I've been in situations with vesting options before. I haven't done anything in the way of documentation," Alderson told Davidoff. "It's not in my experience, but it's only one man's experience." Davidoff cites one example of a grievance over a team allegedly altering usage to avoid an option kicking in.
Dennis Lamp
lost his claim that the Toronto Blue Jays "excessively rested him to avoid paying a $600,000 vesting option for 1987," according to Davidoff. ... You may recall the Mets cutting
Alex Cora
before his $2 million vesting option kicked in for 2011. Cora never did file a grievance, even if the Mets were motivated by avoiding the option kicking in, because the organization could justify the release on the grounds of subpar play.
•
Andy McCullough
in the Star-Ledger discusses
what it's like to face
the 6-foot-10 Young, and how the Princeton University product uses his height to make an 87 mph fastball look like 93 mph because he is releasing the ball closer to the plate. "He doesn't throw the ball that hard," Reyes tells McCullough, "but the ball gets to you quickly." McCullough tracks down Dr.
Glenn Fleisig
at the Birmingham, Ala., lab where
Rick Peterson
used to send Mets pitchers for biomechanical analysis. Fleisig notes elite pitchers' strides to the plate are 82 percent of their height -- or 67.24 inches if Young hits that percentage. He also talks to Princeton coach and former major leaguer
Scott Bradley
,who couldn't believe how fluid Young's motion was for a big man while recruiting him. Young does have what McCullough calls "an extreme propensity for fly balls." In his last two healthy, full seasons, in 2006 and '07, Young led the majors in baseballs in the air.
• McCullough also interviews left-hander
Taylor Tankersley
about
pitching, music and naming his soon-to-be-born son
Huck
. Tankersley says of the name: "
Brad Paisley
has that song, 'If He's Anything Like Me,' which is about his son. So I asked 'What's his son's name?' And they said, 'Huck.' And I was like 'Oh, wow. That's pretty cool.'"
• As for Castillo's failure to arrive early, I say
lay off him
, while
Steve Popper
in the Bergen Record asserts Castillo
isn't helping his cause
.
•
Anthony Rieber
in Newsday
tried to interview 80-year-old former Mets chairman of the board
Lorinda de Roulet
, who adamantly maintained in October 1979 the Mets were not for sale, then put up the team for sale a month later. Rieber was rebuffed, but rallied by reaching
Joe Torre
while exploring the parallels to the present. "You pretty much knew the hand you were dealt," Torre, who managed the Mets at the time, told Rieber about the constraints. "You knew you weren't going to spend any money because there were restrictions . . . We were miles behind where the Yankees were, basically."
• On the out-of-town newsstand,
Tom Haudricourt
of the Milwaukee Journal Sentinel
reviews
speedy ex-Met
Carlos Gomez
, who used to beat Reyes in races while training in the offseason in the Dominican Republic. Gomez has new life in Milwaukee with starting center fielder
Lorenzo Cain
sent to Kansas City in the
Zack Greinke
deal. Writes Haudricourt: "Gomez has frustrated a few hitting coaches, including the Brewers'
Dale Sveum
, with his undisciplined approach at the plate. Last season, in 319 plate appearances, he walked only 17 times while striking out 72 times."
• Columnist
Phil Mushnick
in the Post
gives the prosecution argument
against the Wilpons in the Madoff affair.
•
Anthony McCarron
in the Daily News catches up with
Frank Viola
, who
rejoins the organization
as Brooklyn's pitching coach. The East Meadow, L.I., native recalls going to Eisenhower Park and listening to
Jerry Koosman
advise young pitchers not yet to attempt a curveball. Viola's post-pitching resume includes coaching high school baseball in Orlando. "I think the difference between a kid staying in A-ball and getting farther is the mental part of the game," Viola tells Martino. "That's the strength of what I bring to the table. The stuff I went through going up to the big leagues, kids just don't think of any that. If you can get insight from someone who's been through it, it helps." Says
Paul DePodesta
: "There's a real passion there. The idea of working in Brooklyn, and having that age player -- from 18 to 22 or 23 -- he really felt was in his wheelhouse. That's not something you always hear from prospective coaches, that they want to work with that level. Despite everything he accomplished as a player, he's a humble guy."
•
Mike Lupica
in the Daily News
opines about Collins
. "I make it a point to try to talk to everybody in the room at least once a day," Collins tells Lupica. "I've been paying attention to things that different guys have said through the winter. And just about all of them have been saying the right things. But now is the time to put actions to those words. My message? We own this, for all the talking that people want to do about our real owners. We own this season. Everybody knows the Mets have been down. It's time to get back up."
BIRTHDAYS:
Nationals Opening Day starter and ex-Met
Livan Hernandez
officially turns 36, although he can't keep a straight face while claiming it. ...
Shane Spencer
, from the halcyon old days when a big Mets controversy was urinating in front of Big Apple Pizza in Port St. Lucie and tangling with a deliveryman, turns 39.
September, 21, 2010
9/21/10
11:45
PM ET
September, 21, 2010
9/21/10
8:15
PM ET
Joe Torre apologized publicly to Jerry Manuel, although the Dodgers skipper did not call his New York counterpart to relay his sorrow at speaking about a managerial job that is occupied.

ESPNLA's Tony Jackson relays the quotes from Torre:

"I apologize. He is right that I shouldn't have said that, and I don't think I did. Somebody asked me if I would take a call from [Mets owner] Fred Wilpon. I have known Fred Wilpon forever. I won't be managing the Mets, and I thought I made that clear yesterday. It was about taking a call as opposed to looking for a job. I went to New York to pay tribute to George [Steinbrenner]. If I was looking for a job, I probably wouldn't have gone to New York.''

Question: You said the other day that you never close the door on anything. Just to clarify, are you officially closing the door on ever managing the Mets?

"I guess you can call me a liar in that regard," Torre replied. "I am closing the door on managing the Mets and probably everybody else. The only thing I'm trying to do is that I don't want to mislead anybody. My intention is that when I finish here as a manager a week from Sunday, I am anticipating that will be my last game as a manager. I don't want to say I'm definitely not going to do this again, but that's only other [teams] aside from the Mets. ... I spent 12 years forging a relationship with those fans in New York. I don't want to all of a sudden go across the river and have them get mad at me.

"I apologize to Jerry Manuel and all the other managers. I don't blame them. I know they don't want to get stepped on I know in answering questions [Monday] and having a press conference, I know what my intention was. Unfortunately, I can't get on the other side of it and see how it's received. I would doubt very seriously if there would be anything that would entice me to manage again. This is pretty good duty out here, this franchise and this ballpark. I don't anticipate anything that would make sense for me to manage again.''
September, 21, 2010
9/21/10
6:08
PM ET
Joe Torre
was out of bounds if he expressed interest in the Mets job while it's still being occupied, according to
Jerry Manuel
. Manuel even suggested it lacks integrity.
"Joe gave me a great opportunity to go to the All-Star Game in '99," Manuel said on Tuesday, referring to the then-Yankee manager naming him to the American League coaching staff while Manuel managed the White Sox. "I don't know him on a personal basis. But when things like that come out or are said, you question integrity. That's what comes to my mind. Like I said, I don't know him on a personal level to say whether he's that or that. And I did not see, or I have not read, exactly what has been said. All I know is what I hear. And I don't go to look for it."
Read the full story
here
.
NBA
NHL
COLLEGE BASKETBALL
MLB
MLS
NBA
NHL
COLLEGE BASKETBALL
MLB