New York Mets:

Joey Votto
May, 22, 2013
May 22
4:20
PM ET
WHAT IT MEANS:
Matt Harvey
, who once every five days gives Mets fans a reason to cheer, is not invincible. He remains unbeaten, though.
Ike Davis
, meanwhile, continues to draw the ire of Mets fans.
Rick Ankiel
's third extra-base hit of the game -- a run-scoring triple in the seventh -- knocked out
Mat Latos
, pulled the Mets even at 4 and got Harvey off the hook for his first loss since last Sept. 12.
The
Cincinnati Reds
nonetheless ultimately completed their second straight three-game sweep at Citi Field with a 7-4 win on Wednesday afternoon.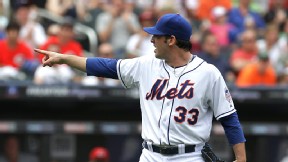 Seth Wenig/Associated Press
Matt Harvey ended up with a no-decision, not his first 2013 loss.

Bobby Parnell
, who had not allowed a run in May while posting three wins and four saves, surrendered three ninth-inning runs.
With runners on the corners and one out,
Brandon Phillips
sent a go-ahead RBI double down the first-base. Davis let the ball go by, thinking it was foul, but first-base ump Phil Cuzzi disagreed as Cincinnati took a 5-4 lead. (Davis should have just fielded the ball and let Cuzzi make the call. He would not have had a play at the plate, but would have gotten an out at first.)
Todd Frazier
followed with a two-run single.
It was Davis' second questionable play at first base in the series. He also had a crushing obstruction call against him in the series opener when he watched a ball behind him.
The Mets (17-27) fell 10 games under .500 this early in a season for the first time since they were 16-26 on May 19, 2001.
Harvey was charged with four runs and nine hits -- both season highs -- in 6 1/3 innings. His ERA rose to 1.93, although he remained 5-0. Harvey threw 116 pitches, the second-highest total of his career.
He next pitches with an extra day of rest Tuesday at Citi Field against the Yankees, likely against
Hiroki Kuroda
.
Harvey surrendered a two-run homer to reigning NL Player of the Week
Joey Votto
in the third inning as Cincinnati took a 2-1 lead. The Mets managed to even the score in the fifth on Daniel Murphy's sacrifice fly, which plated
Ruben Tejada
, who had doubled.
With his pitch count rising in a tie game in the seventh, Harvey showed rare mortality. He allowed consecutive one-out singles to
Zack Cozart
, Votto and Phillips and departed with runners on the corners and the Mets trailing, 3-2.
Scott Rice
entered for his MLB-high 27th appearance and coaxed a tapper to first base from lefty-hitting
Jay Bruce
. Votto comfortably scored for the fourth run charged to Harvey and a 4-2 deficit.
Cozart went 4-for-4 against Harvey. No player had more than two hits in a game against Harvey in his previous 19 career major league starts.
Votto's homer was only the fourth long ball surrendered by Harvey in 10 starts this season. He joined
Justin Morneau
,
Matt Kemp
and
Clint Barmes
.
Murphy's single in the seventh against Latos scored Tejada and pulled the Mets within 4-3, setting up Ankiel's game-tying triple. It was Ankiel's fourth career three extra-base-hit game. The others came with the
St. Louis Cardinals
in 2007 and '09.
IKE WATCH:
Davis went 0-for-2 with two walks and a strikeout and is now 1-for-his-last-38 (.026).
With
Lucas Duda
on second base, the score tied at 2 and two outs in the sixth, Davis flied out to the track in center field. He is now hitless in his last 25 at-bats with runners in scoring position.
In the eighth, Davis walked with one out to push the potential go-ahead run to second base.
WHAT'S NEXT:
The Mets take a day off, then welcome the NL East-leading
Atlanta Braves
to Citi Field.
Jeremy Hefner
(0-5, 5.00 ERA) opposes right-hander
Kris Medlen
(1-5, 3.02) in Friday's 7:10 p.m. series opener.
May, 19, 2013
May 19
10:56
PM ET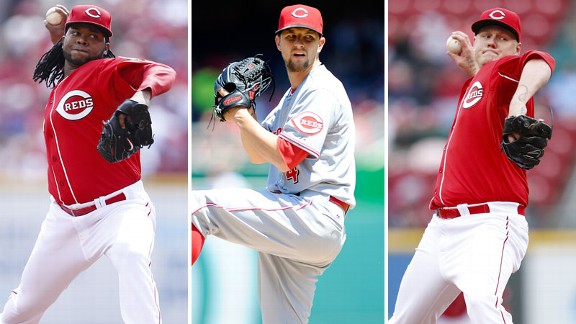 Getty Images
The Mets face (l to r) Johnny Cueto, Mike Leake and Mat Latos during a three-game series at Citi Field.
METS (17-24, fourth place/NL East) vs. CINCINNATI REDS (26-18, second place/NL Central)
Monday:
RHP
Shaun Marcum
(0-4, 6.75) vs. RHP
Johnny Cueto
(1-0, 2.60), 7:10 p.m. ET
Tuesday:
LHP
Jonathon Niese
(3-4, 5.40) vs. RHP
Mike Leake
(3-2, 3.72), 7:10 p.m. ET
Wednesday:
RHP
Matt Harvey
(5-0, 1.55) vs. RHP
Mat Latos
(4-0, 2.91), 1:10 p.m. ET
Reds short hops
• Right-hander
Johnny Cueto
will make his first start since April 13, after which he landed on the disabled list with a strained right lat muscle. He also experienced an oblique issued while on the DL. Cueto tossed 58 pitches over five scoreless innings for Double-A Dayton on Tuesday, then threw an additional 23 pitches in the bullpen. Rookie
Tony Cingrani
(2-0, 3.27 ERA in six starts) was dispatched to Triple-A Louisville.
• Catcher
Ryan Hanigan
was hitting .079 with no extra-base hits through 12 starts in April before landing on the disabled list with a sore right thumb and strained left oblique that diminished his production. Since returning May 10, Hanigan has hit .300 (6-for-20) with a homer, three RBIs and three walks in seven games (six starts). His homer Saturday was his first long ball since July 6, 2012.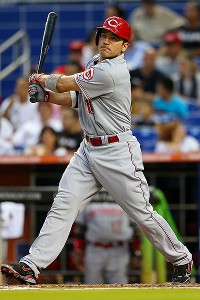 Mike Ehrmann/Getty Images
Former NL MVP Joey Votto's home run stroke has returned.

• First baseman
Joey Votto
reached base in eight straight plate appearances before the streak ended Sunday. He has an eight-game hitting streak during which he is hitting .515. Votto has 12 multi-hit games in his past 19.
Votto, who went homerless in 30 games between the regular season and postseason last year after returning Sept. 5 from knee surgery, has rediscovered his power after a slow April. He has six homers, including long balls Friday and Saturday at Philly. He reached base a career-high six times Saturday.
Votto (.473) and teammate
Shin-Soo Choo
(.456) rank first and second in the majors in on-base percentage.
• Choo, a 30-year-old South Korea native represented by Scott Boras, plays center field and bats leadoff with the Reds after previously playing right field with the
Cleveland Indians
. He is a free agent after the season and likely will draw interest from the Mets. Choo was acquired by Cincinnati on Dec. 11 in a three-team deal. The Reds are only responsible for $3.5 million of his $7.375 million salary this season.
• Three-time Gold Glove winner
Brandon Phillips
ranks second in the NL with 36 RBIs, one behind leader
Troy Tulowitzki
. The cleanup hitter benefits from Choo and Votto hitting ahead of him. Phillips has 220 doubles with Cincinnati, tied with Joe Morgan for the franchise record by a second baseman.
• Third baseman
Todd Frazier
, a Rutgers prospect from Toms River, N.J., snapped a career-high 0-for-19 skid Saturday. He then went 2-for-4 Sunday at Philly. Frazier has pronounced home-road splits: He is hitting .293 with six homers and 19 RBIs in Cincy and .164 with no homers and eight RBIs on the road.
• The Reds on Sunday suffered only their second loss in 18 starts by left fielder
Xavier Paul
.
• Outfielder
Donald Lutz
is regarded as the first German player in MLB. While children of American servicemen have been born in Germany and reached MLB, Lutz actually was born in the U.S. but moved with his German mother back to her native country at eight months old after his parents divorced.
• Flame-throwing closer
Aroldis Chapman
has suffered consecutive blown saves after converting his first eight opportunities of the season. The second setback came Sunday, when
Freddy Galvis
and
Erik Kratz
homered against Chapman for a 3-2 walk-off win by the Phillies at Citizens Bank Park.
• Right fielder
Jay Bruce
has a 10-game hitting streak, during which he has produced a .390 average (16-for-41) with four homers and 12 RBIs. Bruce had 40 strikeouts and one homer in 115 April at-bats. During the height of his struggles, Bruce had a Twitter rant during which he wrote to critical fans (via
blogredmachine.com
):
I appreciate all the tweets, good and bad, actually. You guys are what drive the game. I'm obviously not hitting as well as I'd like to, yet….I actually feel sorry for the people on here who feel that it's necessary to try and put me down on twitter. It really just explains…Further who you are, and there are obviously things in your life that you're unhappy about and you take it out on me via twitter…I suggest you look into talking with a life coach or something to help you get over whatever you have going on in your life. There is obviously a….lack of something going on, and I hope you guys get it straightened out, because you all sound like idiots Everyone have a good night. Haha.
• Shortstop
Zack Cozart
was scratched Sunday after becoming sick.
• Left fielder
Chris Heisey
has been on the DL since April 29 with a strained right hamstring. He tweaked the muscle in a rehab game last Monday.
•
Mat Latos
nearly was 5-0 heading into a Wednesday matchup with 5-0
Matt Harvey
. In Latos' last start, he gave up a ninth-inning triple at Miami and departed with a 2-1 lead. Then Chapman gave up a game-tying triple. Cincinnati won in extra innings.
September, 25, 2012
9/25/12
8:18
AM ET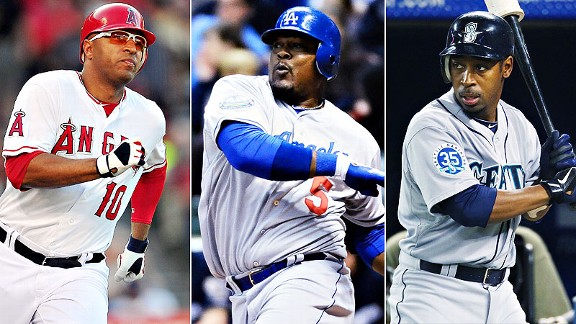 US Presswire
Vernon Wells, Juan Uribe and Chone Figgins (l to r) are among the bloated contracts around Major League Baseball.
The Mets' first task this offseason regarding
Jason Bay
, and for that matter
Johan Santana
, likely should be to see if any team has trade interest. A swap appears unlikely, though, even discounting the no-trade clause each possesses.
After all, Bay is hitting .155 with eight homers in 187 at-bats. And he is owed $19 million next season including a 2014 buyout, making it a toxic contract.
Similarly, Santana -- despite the June 1 no-hitter -- finishes the season on the DL after allowing six-plus runs in each of his final five starts. Santana is owed $31 million next season including a '14 buyout.
Still, if the Mets were to find another team with toxic contracts to swap, who is logical? With the help of reporters around baseball, here's a look …
THEY'VE GOT POTENTIAL
Angels: "
Oh, you've come to the right place," our friend who covers the Angels says. "The Angels have the deadest of dead weight --
Vernon Wells
. The Angels are paying Wells $21 million this year to be their fourth outfielder. They owe him $21 million more in 2013 and again in 2014."
Blue Jays:
Left fielder/first baseman
Adam Lind
(.240, 10 HR, 40 RBIs) is owed $5 million in 2013. With buyouts of option years, the minimum owed is $7 million. "He cleared waivers at one point this season and the Blue Jays would love to get rid of his contract -- even though it's unlikely that can happen," a team observer said.
Braves:
Second baseman
Dan Uggla
(.215, 19 HR, 73 RBIs) is owed $39 million over the next three seasons.
Cubs:
Alfonso Soriano
($18 million apiece in 2013 and '14) and
Carlos Marmol
($9.8 million next season) are the remaining sizable contracts.
Dodgers:
The Dodgers inherited
Carl Crawford
($102.5 million through 2017) and
Josh Beckett
($31.5 million through 2014) while acquiring
Adrian Gonzalez
, but both should contribute. The least-productive contract:
Juan Uribe
, who finally pinch hit Sunday after going unused for nearly a month. Uribe, with one year remaining, is still owed $8 million.
Mariners:
Left fielder
Chone Figgins
(.183, 2 HR, 11 RBIs) is owed $8 million next season. Center fielder
Franklin Gutierrez
(.258, 4 HR, 14 RBIs) is owed $7.5 million in 2013 with a buyout of the following season. Says one observer: "Gutierrez has been hurt or sick for most of his deal and might produce if ever healthy. Figgins is literally dead weight." Bay does live in the offseason in Seattle. And the combined $15.5 million owed to those two are close to Bay's $19 million.
Marlins:
Heath Bell
has two years, $18 million guaranteed remaining. He also has a $9 million option for 2015 based on games finished -- 55 the previous season or 100 combined in 2013 and '14. (The Mets have been down that route before.)
Pirates:
Clint Barmes
is signed for 2013 at $5.5 million. He's hitting .228/.266/.325 with eight homers.
Red Sox:
John Lackey
(12-12, 6.41 ERA) has two years left for a combined $30.5 million, with a 2015 club option at the major league minimum because of a preexisting elbow injury.
Twins:
Nick Blackburn
(4-9, 7.39 ERA) and middle infielder
Tsuyoshi Nishioka
-- both relegated to the minors -- are under contract for 2013 and "practically sunken cost." Blackburn is owed $5.5 million. Nishioka is owed $3.25 million including a 2014 buyout. The Twins likely would never trade
Joe Mauer
, despite him being owed $23 million annually through 2018.
Yankees:
Alex Rodriguez
to Flushing? Don't hold your breath. Still, A-Rod is owed $114 million over the next five seasons.
Mark Teixeira
and
CC Sabathia
could emerge as bad contracts, with $90 million over four seasons and $119 million over five seasons owed, respectively.
August, 14, 2012
8/14/12
10:05
AM ET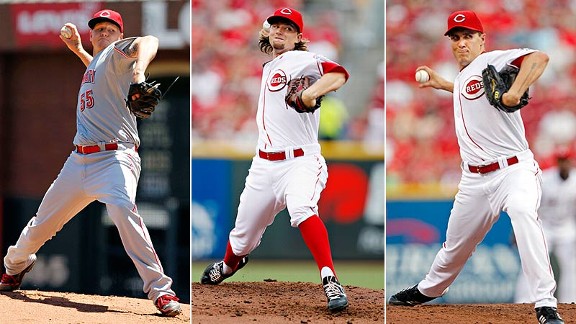 US Presswire
The Mets face (l to r) Mat Latos, Mike Leake and Homer Bailey during a midweek series at Great American Ball Park.
METS (55-60, third place/NL East) vs. CINCINNATI REDS (69-46, first place/NL Central)
Tuesday:
RHP
Chris Young
(3-6, 4.87) vs. RHP
Mat Latos
(10-3, 3.81), 7:10 p.m. ET
Wednesday:
RHP
R.A. Dickey
(15-3, 2.72) vs. RHP
Mike Leake
(4-7, 4.51), 7:10 p.m. ET
Thursday:
RHP
Matt Harvey
(1-3, 3.63) vs. RHP
Homer Bailey
(10-7, 4.08), 7:10 p.m. ET
Reds short hops
•
Joey Votto
(.342, 14 HR, 49 RBIs) underwent arthroscopic left knee surgery July 17 to repair torn meniscus cartilage. He originally suffered the injury June 29, sliding into third base against San Francisco. Votto further injured the knee sliding last Wednesday while working toward a return and had a second, brief procedure two days later to remove floating cartilage. Votto is expected to return before the end of the month. Cincinnati is 19-8 since Votto became sidelined.
• Rutgers product
Todd Frazier
has manned either first or third base the past 13 games. Third baseman
Scott Rolen
(back) missed a fourth straight game Sunday because of back spasms. Minus Votto and Rolen, either ex-Met
Miguel Cairo
mans first and Frazier third, or Frazier mans first and fellow ex-Met
Wilson Valdez
handles the hot corner.
• Slumping right fielder
Jay Bruce
was hitless in 13 at-bats before producing a two-run homer Sunday. He had sat the previous two games because of a lack of production. Despite 22 homers this season, Sunday's long ball was Bruce's lone long ball in August. He is hitting .223 (21-for-94) since the All-Star break. Bruce, an All-Star, nonetheless has joined
Frank Robinson
as the only players in Reds history to reach the 20-homer plateau in each of their first five seasons in the majors.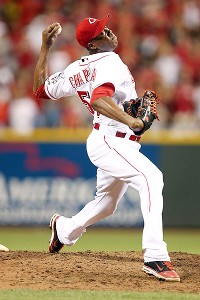 Andy Lyons/Getty Images
Aroldis Chapman has surrendered only one earned run against National League foes this season.

• Left-hander
Aroldis Chapman
, named to his first All-Star team this season, is a Cy Young candidate along with fellow closer
Craig Kimbrel
of the Braves. Chapman registered 103 mph with his fastball multiple times during the weekend and has a historic strikeout rate.
Chapman was named MLB's Delivery Man of the Month for July after going 13-for-13 in converting save chances while striking out 31, allowing six hits and walking two in 14 1/3 scoreless innings. The 13 saves fell one shy of the franchise record for any month, set by
Jeff Shaw
in September 1997.
Chapman has converted 20 straight save chances, the longest streak by a Red since
Rob Dibble
in 1991 tied
John Franco's
single-season franchise record by converting 23 straight. Ex-Red
Francisco Cordero
converted 29 straight spanning the 2008 and '09 seasons. Chapman has a 0.17 ERA against NL teams this season. The Mets tallied an unearned run against him May 17, while Pittsburgh is the lone NL team to produce an earned run. The flame-throwing southpaw allowed seven earned runs in interleague play.
• The Reds acquired
Jonathan Broxton
from the Royals at the trading deadline for right-hander
Juan Carlos Sulbaran
and left-hander
Donnie Joseph
. Broxton had a 2.27 ERA and 23 saves in 27 chances with Kansas City, but has surrendered four runs in four innings spanning five appearances since the deal.
• Catcher
Devon Mesoraco
returned from a seven-day concussion DL stint Thursday. He has appealed a three-game suspension for bumping ump
Chad Fairchild
on July 30, the day he suffered the concussion.
Dioner Navarro
was demoted.
• Second baseman
Brandon Phillips
missed five games last week with a strained left calf, but is hitting .347 (34-for-98) since the All-Star break.
• Cincinnati has used only five starting pitchers this season --
Bronson Arroyo
,
Homer Bailey
,
Johnny Cueto
,
Mat Latos
and
Mike Leake
. That's a modern franchise record. The last major league team that used five starting pitchers wire-to-wire was the 2003 Seattle Mariners, also with
Bryan Price
as pitching coach. Cincinnati's streak is expected to end Aug. 18 with a day-night doubleheader.
• The Reds are an MLB-best 22-8 since the All-Star break.
Last series results
Cincinnati won, 3-0, at Citi Field, June 15-17 (AP game recaps)
Reds 7, Mets 3:
Jay Bruce hit an inside-the-park homer that left Jason Bay with another concussion and Bronson Arroyo notched his first victory in 5½ weeks. Brandon Phillips added a two-run shot. Reds slugger Joey Votto and Mets star David Wright were both hit by pitches, but neither led to any trouble. Arroyo (3-4) was pulled in the seventh, having allowed Kirk Nieuwenhuis' third homer in two games and a two-run drive by Scott Hairston.
More
Reds 4, Mets 1:
Homer Bailey pitched out of trouble for eight innings and Jay Bruce hit a three-run homer. David Wright hit two of four Mets drives that were caught within steps of the wall. One night after Joey Votto and Wright were both hit by pitches, this time it was Bruce and Lucas Duda. But again, no trouble ensued. Bailey was hit hard by the Mets twice last year in his only previous outings against them. This time he allowed six hits and one walk while striking out three to improve to 4-1 in his last six starts. Aroldis Chapman tossed a hitless ninth for his eighth save. Jon Niese (4-3) made one big mistake to Bruce during seven otherwise effective innings. He struck out seven and walked one.
More
Reds 3, Mets 1:
Second baseman Brandon Phillips made a between-the-legs flip to start a flashy double play and also hit a tiebreaking single, leading Johnny Cueto and the Reds to a sweep and their sixth straight win. Cueto (8-3) overcame an early bout of dizziness and struck out a season-high eight in seven innings. He also doubled for the first extra-base hit of his career. The only run against Cueto came when he issued a bases-loaded walk to Chris Young. Sean Marshall got four outs for his ninth save in 10 chances. It was 3-1 in the sixth when Lucas Duda led off with a single and Ike Davis followed with a hard grounder up the middle that Phillips backhanded. While in full stride, the All-Star tossed the ball with his bare hand between his legs to shortstop Zack Cozart, who made the relay. Phillips' single capped a three-run rally in the fifth, helped by Duda's wild throw from right.
More
June, 16, 2012
6/16/12
9:55
PM ET
WHAT IT MEANS: Jon Niese surrendered a three-run homer to Jay Bruce in the first inning and the Mets stranded runners in scoring position three straight frames en route to a 4-1 loss to Cincinnati on Saturday night at Citi Field.

Niese's line: 7 IP, 6 H, 4 R, 4 ER, 1 BB, 7 K, 1 HR, 1 HBP.

STRANDED: The Mets actually left runners in scoring position in four of the first six innings, including a first-and-third, no-out opportunity in the second. After Scott Hairston doubled and Josh Thole moved him to third with a single, Omar Quintanilla popped out to second baseman Brandon Phillips in shallow right field, Niese's bunt attempt resulted in a fielder's choice that retired Thole at second base, and Kirk Nieuwenhuis flied out to end the threat.

The Mets' lone run came on consecutive first-inning doubles by Daniel Murphy and David Wright.

HIT PARADE: A day after Wright was grazed in the stomach by Sean Marshall, likely in response to Dillon Gee plunking Joey Votto, the teams traded hit-by-pitches again. Niese plunked Bruce in the fourth inning, in the slugger's next plate appearance after his homer. In the sixth, Homer Bailey drilled Lucas Duda in the back.

WHAT'S NEXT: Chris Young (1-0, 3.38 ERA) will try to prevent the Mets from getting swept for the second time in three series when he opposes Reds right-hander Johnny Cueto (7-3, 2.46) in Sunday's 1:10 p.m. series finale. The Reds have not swept a three-game series in Queens since 2001, when Steve Trachsel, Al Leiter and Kevin Appier were charged with the losses and future Met Danny Graves saved all three games.

Two series ago, the Mets were swept in the Bronx. They then went to St. Petersburg, Fla., and swept the Rays.
June, 16, 2012
6/16/12
8:35
AM ET
Dillon Gee
surrendered a pair of homers -- one of the inside-the-park variety -- and the Mets lost
Jason Bay
to a suspected concussion in a
7-3 defeat against the Cincinnati Reds
on Friday night at Citi Field.
Saturday's news reports:
• Bay
suffered the head injury
making contact with the wall on a second-inning diving attempt during what became an inside-the-park homer for
Jay Bruce
.
Terry Collins
said Bay was woozy and was taken home by security personnel. The left fielder almost assuredly will land on the seven-day concussion disabled list.
Justin Turner's
rehab assignment with Triple-A Buffalo will be cut short after two games and eight at-bats, and the infielder should be activated to take Bay's roster spot.
Bay had been 2-for-25 since returning from a DL trip prompted by a fractured rib, which also was suffered attempting a diving outfield catch. This is not Bay's first concussion, which adds to the concern. He suffered a whiplash-induced concussion at Dodger Stadium on July 23, 2010. Bay then played two more games and did not return for the remainder of that season.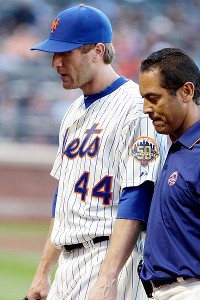 Frank Franklin II/Associated Press
Trainer Ray Ramirez escorts Jason Bay off the field in the second inning Friday night.

With Bay's loss, Collins said there still is enough outfield depth to get by with
Lucas Duda
,
Kirk Nieuwenhuis
,
Scott Hairston
and
Andres Torres
as well as
Vinny Rottino
and
Jordany Valdespin
-- hence Turner's early return and not the promotion of an outfielder.
The Mets face another four straight right-handers:
Homer Bailey
on Saturday (versus
Jon Niese
),
Johnny Cueto
on Sunday, then Baltimore's
Jake Arrieta
and
Tommy Hunter
the first two games of an interleague series at Citi Field. The next southpaw starter due to face the Mets is the Orioles'
Brian Matusz
on Wednesday.
As a result, it's logical for at least the next four games for Nieuwenhuis to continue to start in center and Duda in right field. As for left field, Collins was noncommittal postgame. Even though Torres is a switch-hitter, he -- like Hairston -- is much more effective against left-handed pitching. Although Valdespin could get a start, Hairston may see the most action. Collins chose to insert Hairston once Bay came out of Friday's game. And Hairston started consecutive games last week against right-handed pitching, including when Bay was scratched in D.C. with suspected ill effects of an antibiotic.
Turner, playing second base, and
Ronny Cedeño
at shortstop each went 1-for-4 in a rehab game Friday night with Triple-A Buffalo. It was only Turner's second rehab game. The plan originally was to have him stay with the Bisons through the weekend and see more pitching.
• Columnist
Kevin Kernan
in the Post
suggests it's time to terminate Bay's career with the Mets, for the good of the team and the player. Writes Kernan:
No Met has struggled like Bay, but once again he put his body in jeopardy. The wall always wins. Just ask Mike Baxter, who made a catch for the ages on June 1 ago to save Johan Santana's no-hitter. That is the only way Bay knows how to play, but the sad truth is Bay's Mets career at this point is a total lost cause and he figures to be out a substantial amount of time again. He had just returned from a fractured rib which was caused by a dive for another fly ball. In late July of 2010, he suffered a terrible concussion slamming into the left-field wall at Dodger Stadium that finished his season. Bay has suffered three knockout punches and each time he was injured, the air was sucked out of the Mets. Bay's four-year, $66 million contract that runs through next season may be the worst deal in Mets history. For his own good, and their own, the Mets have to find a new home for Bay, they have to eat what's left of the deal and send him somewhere he can get a fresh start.
Columnist
Tim Smith
in the Daily News
also writes about Bay's career and the expectations that came with a four-year, $66 million deal:
Bay's injury history, lack of production and salary ($16 million this season) have worn on the patience of Mets fans, who consider him the biggest free agent bust since Ollie Perez and Luis Castillo left town. Bay is bringing up those old bad vibes, even in a feel-good season for the Mets. If his latest injury knocks Bay out for an extended period, he will go to the head of the class with Mo Vaughn and Bobby Bonilla as far as Mets free-agent busts go. Here is what the Mets have gotten on their $66 million investment so far: 22 home runs, 110 RBI, two concussions, a fractured rib and the reality of non-existent slugging prowess.
• Read game recaps/Bay injury coverage in the
Star-Ledger
,
Journal
,
Newsday
,
Record
,
Daily News
,
Times
and
Post
.
• The Mets' appeal in an attempt to credit
R.A. Dickey
with a no-hitter Wednesday at Tampa Bay
has been denied
by
Joe Torre
and Major League Baseball. Dickey described himself as "fairly relieved" at the resolution, since there would always have been an asterisk by the feat had
B.J. Upton's
first-inning infield single been changed to an error on third baseman
David Wright
, who was unable to cleanly barehand the ball.
Jerry Koosman
, whose franchise-record scoreless innings streak was topped with the knuckleballer's performance against the Rays, happened to be at Citi Field on Friday as part of a Mets alumni event. Dickey's streak ended at 32 2/3 innings with an unearned run in the ninth Wednesday. Koosman's former record, set in 1973, had been 31 2/3 innings. Read more in
Newsday
, the
Post
,
Star-Ledger
,
Daily News
and
Record
.
Dickey, by the way, will appear at the
Yogi Berra
Museum at Montclair State University on Thursday from 6 to 7:30 p.m. to sell signed copies of his memoir.
•
David Wright
was grazed by his stomach with an eighth-inning pitch from
Sean Marshall
, which the third baseman
believed was payback
for Gee hitting
Joey Votto
in the back with a pitch five innings earlier. Still, Wright had no problem with the grazing. You may recall Wright being pulled against his will from a lopsided May 15 game against Milwaukee because Collins feared
D.J. Carrasco's
plunking of
Ryan Braun
would elicit retribution. Read more in the
Post
and
Daily News
.
•
Jenrry Mejia
tossed a scoreless inning as his two-week preparation in Buffalo for major league bullpen duty began, and
Matt den Dekker
delivered his first Triple-A homer, but the Bisons lost to Pawtucket, 8-3. Mejia coaxed three groundouts and a surrendered a single in a 19-pitch frame. According to the Buffalo News'
Mike Harrington
, the final pitch -- at 95 mph -- shattered a bat. Read Friday's full minor league recap
here
. Read more on the Bisons' recent slide
in the Buffalo News
.
•
Anthony M. Destefano
in Newsday
has details of the revitalization plans for the land adjacent to Citi Field, which currently mostly houses auto-repair businesses. Writes Destefano:
The plans announced Thursday call for the environmental remediation of 23 acres of contaminated land east of Citi Field. The project was approved by the city in 2008, but faced unsuccessful legal challenges from property owners. [Mayor Mike] Bloomberg said about 95 percent of the land in the eastern zone has been acquired by the city through purchases. The latest proposal, which requires zoning changes, environmental review and approval by the City Council, adds some new elements, notably a Willets West project for an area immediately west of Citi Field. Willets West will convert current stadium parking into a 1-million-square-foot retail and entertainment center, with more than 200 retail stores of all sizes, movie theaters, restaurants, entertainment venues, a parking structure and surface parking for 2,500 cars, the city said.
The first redevelopment phase, an area east of Citi Field, calls for construction of retail, hotel and commercial space. Some 2,500 housing units are also provided for later, with 875 units labeled "affordable."
• The Brooklyn Cyclones, who open their New York-Penn League season Monday against the Staten Island Yankees at Coney Island, officially announced their roster. It includes 2011 first-round pick
Brandon Nimmo
, a high school outfielder from Wyoming, who had been participating in extended spring training. It also includes Purdue catcher
Kevin Plawecki
, the 35th overall pick in the draft, who signed for a reported $1.47 million. The local angles include left-hander
John Mincone
, who is a product of Half Hollow Hills East and Suffolk Community College West on Long Island, as well as 12th-round pick
Rob Whalen
, whose entire family hails from Queens. Whalen as an 8-year-old won the "
Tom Seaver
Most Outstanding Pitcher Award" at a Mets-sponsored camp at Long Neck, N.Y.
The full Cyclones roster:
Pitchers:
Matt Bowman
,
Luis Cessa
,
Darwin Frias
,
Jeremy Gould
,
Julian Hilario
,
Matt Koch
,
Rainy Lara
,
Luis Mateo
, Mincone,
Hansel Robles
,
Richard Ruff
,
Paul Sewald
,
Juan Urbina
,
Tyler Vandenheinden
,
Brandon Welch
, Whalen,
Beck Wheeler
,
David Wynn
,
Ernesto Yanez
,
Gabriel Ynoa
.
Catchers:
Xorge Carrillo
,
Jeff Glenn
, Plawecki,
Nelfi Zapata
.
Infielders:
Cole Frenzel
,
Alex Sanchez
,
Richie Rodriguez
,
Jorge Rivero
,
Jeff Reynolds
,
Dimas Ponce
,
Juan Gamboa
,
Phillip Evans
,
Yucarybert De La Cruz
.
Outfielders:
Jonathan Clark
,
Julio Concepcion
, Nimmo,
Eudy Pina
,
Stefan Sabol
.
Read more in the Cyclones
in the Post
.
• 2012 first-round pick
Gavin Cecchini
and Plawecki
took batting practice at Citi Field
before Friday's game and met with the New York media. Cecchini, a high school shortstop from Louisiana and the 12th overall pick, is ticketed for Class A Kingsport. He chose to wear No. 2 out of respect for favorite player
Derek Jeter
. Read more in
Newsday
.
• Fourth-round pick
Branden Kaupe
, a speedy switch-hitting infielder from Hawaii, has agreed to sign for $225,000 -- below the commissioner's recommendation of $323,900 for that slot, according to Baseball America's
Jim Callis
.
•
Cody Derespina
in Newsday
talks to players who transitioned from infield to outfield.
TRIVIA:
Who has the Mets' last inside-the-park homer?
Friday's answer:
Benny Agbayani
went on the radio with
Howard Stern
before the 2000 Subway Series and lightheartedly predicted the Mets would win the World Series.
June, 15, 2012
6/15/12
10:00
AM ET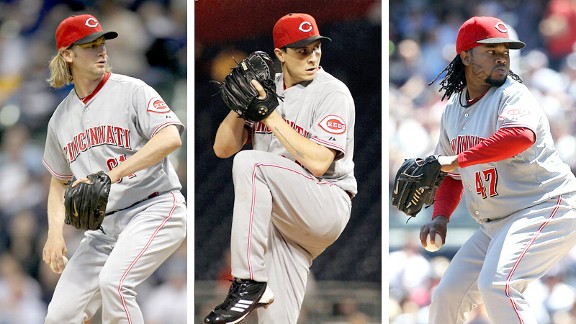 Getty ImagesThe Mets face (l to r) right-handers Bronson Arroyo, Homer Bailey and Johnny Cueto this weekend at Citi Field.
METS (35-29, second place/NL East) vs. CINCINNATI REDS (35-27, first place/NL Central)
Friday:
RHP
Dillon Gee
(4-4, 4.42) vs. RHP
Bronson Arroyo
(2-4, 3.79), 7:10 p.m. ET
Saturday:
LHP
Jon Niese
(4-2, 3.69) vs. RHP
Homer Bailey
(4-4, 4.35), 7:15 p.m. ET
Sunday:
RHP
Chris Young
(1-0, 3.38) vs. RHP
Johnny Cueto
(7-3, 2.46), 1:10 p.m. ET
Reds short hops
•
Scott Rolen
is scheduled for a weekend rehab assignment with Triple-A Louisville before being activated Monday. He has been on the DL since May 12 with a left shoulder strain. Rutgers product
Todd Frazier
has started 26 of 31 games at third base in Rolen's absence, with sporadic appearances otherwise by ex-Met
Miguel Cairo
. Frazier's seven homers already are the fourth-most by a Reds rookie third baseman, trailing only
Grady Hatton
(14, 1946),
Chris Sabo
(11, 1988) and
Edwin Encarnacion
(eight, 2005).
• Closer
Aroldis Chapman
(seven saves) allowed his first earned run since last Sept. 10 when he surrendered consecutive doubles to Pittsburgh's
Clint Barmes
and
Michael McKenry
last Thursday. The outing also snapped a club-record eight straight appearances of one-plus innings without allowing a hit, topping
Danny Graves'
previous franchise record (seven in 2001). The 24 appearances without an earned run allowed to open the season topped
John Hudek's
franchise record (18 games in 1998).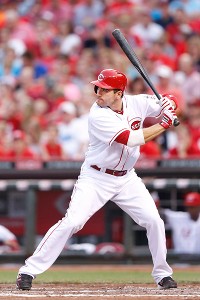 Joe Robbins/Getty ImagesJoey Votto is one point off the lead for the top batting average in the National League.
• Manager
Dusty Baker
turns 63 Friday.
•
Joey Votto's
.362 average ranks second in the National League, one point behind San Francisco's
Melky Cabrera
and one point ahead of Philadelphia's
Carlos Ruiz
.
David Wright
is fourth at .358. Votto signed a 10-year extension on April 4 that locks him up through 2023.
•
Chris Heisey
left Thursday afternoon's game in the fifth inning with a groin strain. Heisey had taken over in center field for
Drew Stubbs
. Stubbs has been sidelined since straining an oblique swinging on June 5, although he has remained on the active roster.
• Rookie catcher
Devin Mesoraco
, who shares duties with
Ryan Hanigan
, also was pulled from the series finale against the Indians with discomfort on his side, potentially related to dehydration.
• Second baseman
Brandon Phillips
signed a six-year, $72.5 million contract on April 10. He went 3-for-5 with a homer and four RBIs Thursday. Phillips has four straight multi-hit games and 20 RBIs in his past 17 appearances.
• Shortstop
Zack Cozart
returned to the lineup Thursday after missing two games with flu-like symptoms.
• The Reds are one of only three teams to use only five starting pitchers this season. The others: the Mariners and Marlins. It marks the longest streak for the Reds without using a sixth starter since 1992, when
Keith Brown
broke the streak in Game No. 80, after Cincinnati exclusively used
Jose Rijo
,
Tom Browning
,
Tim Belcher
,
Greg Swindell
and
Chris Hammond
before that.
• Ex-Red
Barry Larkin
will be inducted into the Hall of Fame on July 22.
•
Bronson Arroyo
leads all NL pitchers in starts (213) and innings (1,362 1/3) since he joined the Reds in 2006. He has three complete games and five other eight-inning appearances in 12 starts against the Mets.
Last series results
Mets split 1-1 at Citi Field, May 16-17, 2012 (AP game recaps)
Reds 6, Mets 3:
Todd Frazier had a big audience -- and a big night in front of it. The former Rutgers player homered twice in front of about three dozen friends and family members and Brandon Phillips hit a tying single off Jon Rauch in the eighth. Pinch hitter Jay Bruce drove in the go-ahead run on a sacrifice fly one out after the Reds put together three straight hits off Rauch (3-2), ending with Phillips' single. Rauch retired Chris Heisey on a popup before left-hander Tim Byrdak came on to face the lefty-hitting Bruce. After that, D.J. Carrasco entered and gave up Frazier's second homer on his first pitch. Carrasco was designated for assignment after the game.
More
Mets 9, Reds 4:
David Wright lined his second double of the game, a tiebreaking drive in the eighth inning that raised his major league-leading average to .411, and the Mets scored nine unanswered runs to top the Reds. Ronny Cedeño's three-run homer capped a five-run eighth against Logan Ondrusek (3-1), a burst that began with a neatly placed bunt single by backup catcher Rob Johnson with one out. Wright was up next and, after his shot down the left-field line was inches foul, sent a one-hopper off the wall in center for a 5-4 lead. Playing despite a cold that had him sniffling, he went 2-for-2, drew three walks, scored three runs and stole a base.
More
May, 16, 2012
5/16/12
10:41
PM ET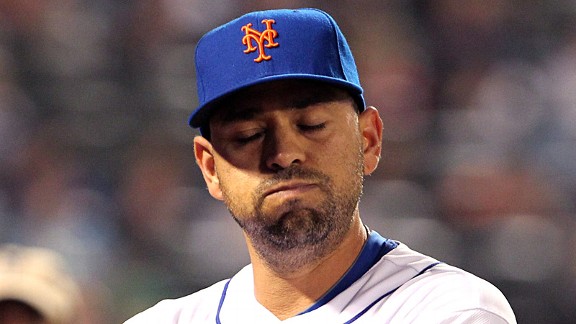 Anthony Gruppuso/US Presswire
D.J. Carrasco leaves the mound after a rough eighth inning Wednesday. He was designated for assignment after the game.
D.J. Carrasco
got tossed by umpire
Gary Darling
for hitting
Ryan Braun
on Tuesday. A night later, after he served up a two-run homer to
Todd Frazier
in a 6-3 loss to the Cincinnati Reds, the Mets tossed aside
Carrasco
, too.
Carrasco was designated for assignment by the organization after the game. He expects to ultimately be granted free agency.
The Mets will promote left-handed reliever
Robert Carson
. The 23-year-old Carson (0-1, 1.84 ERA at Double-A Binghamton) had a three-day stint with the Mets last month but did not appear.
"It was pretty self-explanatory," said the struggling Carrasco, who allowed a homer Tuesday to
Rickie Weeks
as well before plunking Braun. "I would have done the same thing if I was the GM."
Carrasco, along with
Ronny Paulino,
were
Sandy Alderson's
first two signings as GM, at the December 2010 winter meetings. Carrasco received a two-year, $2.4 million deal. He said he believed the decision to dump him was based on lack of results, not anything regarding putting the team in a bad position by hitting Braun. He has denied intent.
The decision to hold Carrasco over the winter tied up a 40-man roster spot and forced the Mets to remove outfielder
Fernando Martinez
, who was lost off waivers to the Houston Astros.
"I've struggled here," said Carrasco, who had a 6.11 ERA in 46 appearances (one start) with the Mets over two seasons. "Last year was a pretty big struggle for me. I got off to a slow start now."
The bullpen overall allowed four runs in 2 1/3 innings and failed to protect a 3-2 lead Wednesday. It was the latest no-decision for
Johan Santana
in a game he deserved better.
"Shoot, I think I've screwed him over twice at least this year," said
Jon Rauch
, who started Cincinnati's four-run eighth and was charged with the loss. "I've blown two of his games. It's really tough. I can't even look the guy in the eye right now."
Said Santana: "I just try to do my job. It is tough. Once I do my job and I'm out of the game, I just hope that the guys can finish it. But, again, it's out of my control. There's not much I can do. I just watch and hope that we get it done. That wasn't the case tonight. We've just got to wait for the next one and see if the results are different."
Regarding strategy,
Terry Collins
had been boxed into a corner with only one capable lefty in the bullpen.
May, 16, 2012
5/16/12
10:02
PM ET
WHAT IT MEANS: Poor Johan Santana. And this time, it didn't get to Frank Francisco for the bullpen letdown to occur.

Cincinnati scored four runs in the eighth inning to deprive Santana of another win and leave Terry Collins' maneuvering open to second-guessing as the Mets lost to the Reds, 6-3, Wednesday at Citi Field.

Despite Bobby Parnell requiring only five pitches to strike out Zack Cozart and strand a runner in scoring position inherited from Santana to end the seventh, Collins went with Jon Rauch to start the eighth.

Rauch proceeded to allow a leadoff single to Drew Stubbs, then double to lefty-hitting Joey Votto that put the tying and go-ahead runs in scoring position. Collins alternatively could have used Parnell to face Stubbs, then gone with southpaw Tim Byrdak to try to neutralize Votto, the lone lefty hitter in Cincinnati's starting lineup.

(With only one southpaw in the bullpen, Collins may have been holding Byrdak back for an inevitable pinch-hit opportunity by Jay Bruce. Byrdak had struck out Bruce twice in Cincinnati last year, after serving up the walk-off homer to Bruce that clinched the NL Central title for the Reds the previous year while with the Houston Astros.)

Anyway, Rauch then surrendered a game-tying RBI single to Brandon Phillips. Byrdak eventually was brought in when Bruce entered as a pinch hitter, and Bruce delivered a go-ahead sacrifice fly to right field.

Collins, left with few remaining bullpen options given Ramon Ramirez tossed 2 2/3 innings the previous night once D.J. Carrasco was tossed for hitting Ryan Braun, went with Carrasco. He served up a first-pitch two-run homer to Toms River, N.J., native Todd Frazier.

Frazier, starting with Scott Rolen on the DL, also had homered the previous inning against Santana to pull Cincinnati within 3-2.

YO! Santana limited Cincinnati to two runs and six hits while walking two and striking out five in 6 2/3 innings.

ALMOST FAMOUS: Ike Davis snapped an 0-for-16 skid with a tiebreaking RBI double in the sixth inning and Mike Nickeas followed by becoming the second Met with a successful squeeze bunt on the brief homestand as the Mets took a 3-1 lead in the sixth.

Votto, the reigning NL Gold Glove winner at first base, committed a costly error that opened the door.

With the score tied at 1, Lucas Duda opened the half-inning with a single. Daniel Murphy then sent a hard smash to Votto, who fielded the ball while on the ground. Votto wildly threw to second, allowing Duda to advance to third and Murphy to reach safely. Davis then followed with the RBI double. And Nickeas gave the Mets the 3-1 lead by joining Ronny Cedeno as this week's successful squeeze bunters.

WHAT'S NEXT: The Mets complete a four-game homestand as R.A. Dickey (5-1, 3.65 ERA) opposes right-hander Mat Latos (2-2, 4.54). They then don hockey apparel in a team-building exercise, grab their passports and head to Toronto for the first time since 2006.
May, 16, 2012
5/16/12
10:47
AM ET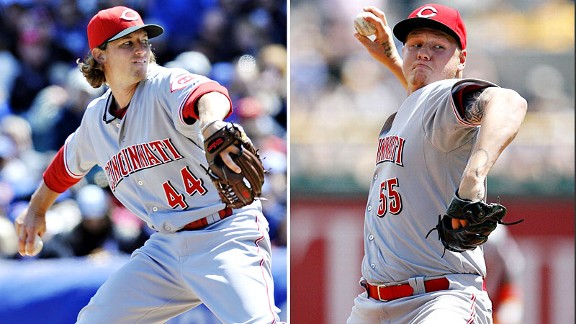 US Presswire
The Mets face Mike Leake (left) and Mat Latos (right) during a two-game midweek series against Cincinnati.
METS (20-16, third place/NL East) vs. CINCINNATI REDS (18-17, second place/NL Central)
Wednesday:
LHP Johan Santana (1-2, 2.92) vs. RHP Mike Leake (0-5, 7.11), 7:10 p.m. ET
Thursday:
RHP R.A. Dickey (5-1, 3.65) vs. RHP Mat Latos (2-2, 4.54), 1:10 p.m. ET
Reds short hops
• The right side of Cincinnati's infield should remain stable for a long time. First baseman
Joey Votto
signed a 10-year, $225 million extension with the Reds on April 4 that locks him up as least through 2023. Six days later, second baseman
Brandon Phillips
signed a six-year, $72.5 million contract, through 2017. Votto won the 2010 NL MVP, is a two-time All-Star and earned last year's Gold Glove at first base. Phillips has been an All-Star the past two seasons and has three Gold Glove awards.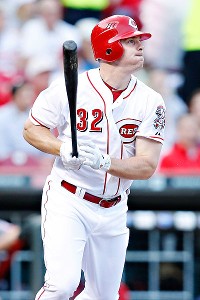 Joe Robbins/Getty Images
Jay Bruce is hitting .365 with seven homers in his past 17 games.

Votto on Sunday became the first player in major league history with three homers in a game including a walk-off grand slam. The final blow came against Washington's
Henry Rodriguez
. Votto joined
Johnny Bench
,
Gus Bell
,
Eric Davis
and
Aaron Boone
as the only players to have multiple three-homer games in their Reds careers. His bat will be turned over to the Hall of Fame, although Votto is not done using it yet. Votto's first two homers came off Nats starter
Edwin Jackson
.
• Former Phillie
Ryan Madson
, who signed a one-year, $8.5 million deal with the Reds last offseason that includes a 2013 mutual option, will not throw a pitch for the organization this season. Madson underwent Tommy John surgery last month.
Sean Marshall
, who was acquired from the Chicago Cubs in December for left-hander
Travis Wood
, outfielder
Dave Sappelt
and minor league infielder
Ronald Torreyes
, has six saves in the closer's role.
• The Reds will become the first team since interleague play began to face both New York teams consecutively in the Big Apple. After the two-game series against the Mets, Cincinnati shifts to Yankee Stadium for a weekend interleague series. According to STATS LLC, it will mark the seventh time since interleague play began that a team consecutively has faced opponents in the same market. The Texas Rangers will become No. 8 next month, when they have a combined seven straight games at Oakland and San Francisco.
•
Aroldis Chapman
has tossed 18 1/3 scoreless innings, the most innings logged without allowing a run in the majors among relievers this season.
•
Mike Leake
(0-5, 7.11 ERA) produced his shortest career start Friday at Washington, lasting only three innings while allowing six earned runs. He played at Arizona State with
Ike Davis
.
• Third baseman
Scott Rolen
landed on the disabled list Saturday because of left shoulder soreness. Rutgers product
Todd Frazier
has manned the position in Rolen's absence, with infielder
Mike Costanzo
called up to take Rolen's roster spot.
•
Zack Cozart
became the first rookie shortstop to start on Opening Day for the Reds since
Dave
Concepcion
and
Frank Duffy
did it consecutively in 1970 and '71.
• Right fielder
Jay Bruce
is hitting .365 with seven homers and 17 RBIs in his past 17 games.
•
Mat Latos
was acquired from the San Diego Padres on Dec. 17 for
Edinson Volquez
,
Yonder Alonso
,
Yasmani Grandal
and
Brad Boxberger
.
• Ex-Met
Miguel Cairo
returned May 7 from the disabled list, where he had landed with a left hamstring strain. The Reds also employ a second former Met as a utility infielder:
Wilson Valdez
. Cairo could see limited action at third base if Frazier underperforms.
Matchups
Santana vs. Reds (career: 4-0, 3.23 ERA)

Miguel Cairo .294, 2 BB, 6 K, 20 PA
Brandon Phillips .263, 2 RBI, 2 BB, 3 K, 22 PA
Joey Votto .250, 3 BB, 3 K, 15 PA
Wilson Valdez .200, 2 K, 5 PA
Jay Bruce .182, 1 RBI, 3 K, 11 PA
Ryan Ludwick .160, 2 HR, 3 RBI, 9 K, 27 PA
Drew Stubbs .000, 4 PA
Dickey vs. Reds (career: 1-0, 2.70 ERA)

Ryan Ludwick .333, 1 HR, 2 RBI, 6 PA
Todd Frazier .333, 1 K, 3 PA
Jay Bruce .333, 1 K, 3 PA
Miguel Cairo .333, 3 PA
Wilson Valdez .250, 1 BB, 3 K, 9 PA
Drew Stubbs .250, 1 RBI, 2 K, 4 PA
Brandon Phillips .200, 1 RBI, 1 K, 5 PA
Ryan Hanigan .000, 1 PA
Leake vs. Mets (career: 0-1, 2.19 ERA)
Justin Turner .667, 1 BB, 4 PA
Ronny Cedeno .364, 1 RBI, 12 PA
Daniel Murphy .333, 3 PA
Andres Torres .286, 1 BB, 4 K, 8 PA
David Wright .167, 2 K, 6 PA
Ike Davis .000, 2 PA
Latos vs. Mets (career: 2-1, 3.00 ERA)
Ronny Cedeno .500, 1BB, 5 PA
Lucas Duda .333, 1 K, 3 PA
Andres Torres .308, 1 RBI, 5 K, 13 PA
David Wright .143, 1 HR, 3 RBI, 1 BB, 3 K, 8 PA
Ike Davis .000, 1 K, 2 PA
Rob Johnson .000, 2 PA
Last series results
Cincinnati won, 2-1, at Citi Field, Sept. 26-28, 2011 (AP game recaps)
Reds 6, Mets 5:
Chris Heisey hit a go-ahead, three-run homer just moments after making a diving catch and Cincinnati held off New York. Jose Reyes had three hits for the Mets to take over the NL batting lead, but his baserunning blunder in the eighth inning cost them a chance to tie the game. Reyes lined an RBI double into the right-field corner to cut it to 6-5. Perhaps expecting a throw to the plate that would allow him to take third, Reyes took a wide turn around second -- much too far. The Reds threw behind him and he was easily tagged out. Joey Votto and Jay Bruce singled off Tim Byrdak (2-1) in the seventh before Heisey hit the first pitch from Josh Stinson over the 16-foot fence in left field. Logan Ondrusek (5-5) got one out for the win and Francisco Cordero escaped a jam in the ninth to earn his 36th save.
Reds 5, Mets 4 (13 innings):
Jose Reyes hit two solo homers, putting pop into his bid for the NL batting title, but the Reds won on Drew Stubbs' squeeze bunt in the 13th inning. Juan Francisco, who entered after Reds star Brandon Phillips exited early with a strained left quadriceps, hit a tying double with two outs in the ninth. He then hustled for a triple in the 13th and scored on Stubbs' bunt. Justin Turner lined into a double play with the bases loaded to end the game, leaving Reyes on deck. The Reds left the bases loaded in the 10th when pinch-hitter Dontrelle Willis struck out, and left them loaded again in the 11th when Chris Heisey grounded out. Sam LeCure (2-1) got the win and Francisco Cordero held on for his 37th save in 43 chances. Dale Thayer (0-3) took the loss. Both of Reyes' home runs came against Bronson Arroyo. Jay Bruce hit his 32nd home run and Joey Votto hit his 29th for the Reds.
Mets 3, Reds 0:
After a bunt single in the first inning, Jose Reyes was finished. The strategy paid off: Reyes won the National League batting title that night when Milwaukee's Ryan Braun went 0-for-4. The hit elevated Reyes' average to .337057 and gave him a 2½-point lead over Braun. The Brewers star needed to go 3-for-4 to overtake Reyes. He finished at .332. And that gave the Mets their first batting champion. Fans chanted "Please stay, Jose!" throughout the ninth inning, and he gave a salute to the crowd as he walked off the field. Chants of "Jo-se Re-yes!" continued after he threw his hat into the stands as he disappeared into the home dugout. Meanwhile, Miguel Batista (5-2) pitched a two-hitter for his 11th complete game -- and his first since July 19, 2006, for Arizona. He allowed a one-out single to Edgar Renteria in the first and leadoff double to Chris Heisey in the second. Queens product Mike Baxter hit his first big league homer, a two-run drive off Edinson Volquez (5-7) in the sixth. Nick Evans singled in a run in the fourth. The Mets, beset with financial issues, traded Carlos Beltran and Francisco Rodriguez during the season, lost David Wright for several months with a back injury and finished their third straight losing season at 77-85. The Mets announced a crowd of 28,816, giving them a final attendance of 2,352,596, a drop of about 7 percent from 2010 and their lowest total since '04.
November, 22, 2010
11/22/10
2:04
PM ET
Joey Votto
was the runaway winner of the 2010 NL MVP award, having been placed first on 31 of 32 ballots.
Here is how I voted for the award:
1.
Joey Votto
, Cincinnati
2.
Carlos Gonzalez
, Colorado
3.
Albert Pujols
, St. Louis
4.
Adrian Gonzalez
, San Diego
5.
Roy Halladay
, Philadelphia
6.
Troy Tulowitzki
, Colorado
7.
Martin Prado
, Atlanta
8.
Matt Holliday
, St. Louis
9.
Buster Posey
, San Francisco
10.
Ryan Zimmerman
, Washington
David Wright
was the lone Met to appear. He got one eighth-place vote.
The official final results, with points total:
Joey Votto, 443
Albert Pujols, 279
Carlos Gonzalez, 240
Adrian Gonzalez, 197
Troy Tulowitzki, 132
Roy Halladay, 130
Aubrey Huff, 70
Jayson Werth, 52
Martin Prado, 51
Ryan Howard, 50
Buster Posey, 40
Matt Holliday, 32
Brian Wilson, 28
Scott Rolen, 26
Ryan Braun, 19
Ryan Zimmerman, 18
Carlos Ruiz, 12
Dan Uggla, 12
Adam Wainwright, 12
Jason Heyward, 11
Brian McCann, 9
Adam Dunn, 9
Ubaldo Jimenez, 7
David Wright, 3
Corey Hart, 2
Josh Johnson, 2
Heath Bell, 2
You can view more specific voting tallies
here
.
UPDATE:
The voting system is 14 points for first place, nine for second, eight for third and on down to one for 10th.
July, 6, 2010
7/06/10
1:07
AM ET
By
Ian Begley
| ESPNNewYork.com
If the Reds start a left-hander on Tuesday, look for Jose Reyes to return to the lineup. The shortstop has missed the last six games with an injured right oblique.

Reyes said he felt no pain swinging right-handed before Monday night's Mets-Reds game. He was set to face lefty Travis Wood on Tuesday before Wood was forced to pitch Monday night due to an Aaron Harang back injury. According to Cincinnati reporters, the Reds are hoping that the right-handed Harang can start on Tuesday.

Jerry Manuel said whom the Reds start Tuesday would "probably" affect his decision on playing Reyes. It was unclear if Manuel would play Reyes against a right-hander.

"I'm able to go tomorrow," Reyes said before Monday's game. "I've been hitting from the right side with no problem. I haven't tried the left side but, at least the right side is good."

Reyes said he hadn't started swinging from the left side since he injured his right oblique during batting practice prior to the Mets-Marlins game last Wednesday. Reyes is hitting .310 in 87 at-bats as a right-handed batter and .265 in 223 left-handed at-bats.

COMEBACK FALLS SHORT: The Mets battled back from a 7-1 deficit with a five-run fifth but couldn't rally in the late innings against the Reds bullpen. Reds closer Francisco Cordero, who came into the game with a 5.79 career ERA against the Mets, got through Ike Davis (pop out to left) and Jason Bay (fly out to center) to end the game with David Wright stranded on first.

Wright finished 2-for-4, his 20th muli-hit game since May 30th. He is hitting .475 with five RBI over the last nine games. Wright also said he will not be participating in the home-run derby at the All-Star Game in Anaheim.

Alex Cora went 2-for-3 with a two-run double to right field in the Mets' five-run fifth. He has hit safely in six straight games.

FRANCOEUR'S A FIREBALLER: Jeff Francoeur recorded his seventh outfield assist of the season when he threw out Joey Votto trying to advance from third on a Scott Rolen flyout in the ninth inning. Francoeur is tied for second in the majors in assists, one behind Houston's Michael Bourn, who has eight. His 77 outfield assists since 2005 are the most in the majors over that five-plus year span.

VOTTO HITS 21: You think Votto wanted to show people they made a mistake in not selecting him for the All-Star Game? The Reds first baseman went 3-for-4 with two home runs and three runs scored in his first full game since learning that he was snubbed on Sunday (he was ejected in the first inning of Sunday's game against the Cubs). His homer in the sixth inning (his 21st of the season) off of Fernando Nieve gave the Reds a comfortable 8-6 cushion. Votto's .368 batting average against the Mets ranks third among active players with at least 72 at-bats, according to ESPN Stats & Research. He can still be voted onto the All-Star team if he wins the fan vote.

OLIVER ON THE HILL: Oliver Perez will make his second rehab start on Tuesday in Port St. Lucie. The lefty will pitch against the Charlotte Stone Crabs. Perez allowed four earned runs on five hits while striking out seven and walking won in six innings against Jupiter on June 30. Perez has been on the disabled list since June 5 with tendinitis in his right knee.

NO TIMETABLE FOR MAINE: Omar Minaya said that there is no timetable for John Maine (shoulder) to begin a minor-league rehab stint. Minaya also said there is no timetable for Luis Castillo (bruised right heel) to start playing in minor-league games.

JOZY IN THE HOUSE: United States striker Jozy Altidore attended the Mets-Reds game on Monday night. He joked before the game with David Wright, telling the Mets third baseman that the last game he attended was last August, when Wright took a Matt Cain fastball to the head. Wright jokingly told Altidore to "get out of here" before praising Altidore's efforts in South Africa.

"It was good following you guys," Wright said. "You guys did a heckuva job. We were living and dying by every game."

To read Altidore's take on the United States' strikers scoring troubles, check out ESPNNewYork.com's soccer blog.