New York Mets:

John Stearns
November, 25, 2013
11/25/13
2:38
PM ET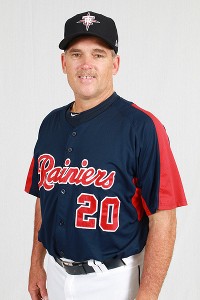 Courtesy of Tacoma RainiersHoward Johnson served as Seattle's Triple-A hitting coach last season. Now he gets a shot with the major league club.
The staff of new
Seattle Mariners
manager Lloyd McClendon has a definite Mets feel.
Howard Johnson returns to the big leagues as hitting coach for the first time since serving in that capacity with the Mets. Ex-Mets John Stearns (third base) and
Chris Woodward
(infield) also are coaches. And Rick Waits, who recently served as Mets minor league pitching coordinator, is the new pitching coach for the Mariners.
Meanwhile, ex-Mets catcher
Jason Phillips
remains the bullpen catcher in Seattle.
HoJo was promoted from Seattle's Triple-A Tacoma affiliate, where he also served as hitting coach.
June, 12, 2013
6/12/13
7:25
AM ET
Dustin Lawley
leads the St. Lucie Mets with 12 homers. His latest long ball came in the 10th inning Tuesday, on a two-run shot that lifted the Florida State League club to a 4-2 victory against Clearwater.
"I'm pleased with it," said Lawley, a 19th-round pick in 2011 out of the University of West Florida, about the power numbers.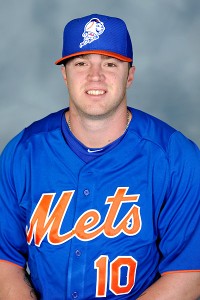 Courtesy of New York MetsDustin Lawley
Lawley, who will join St. Lucie teammates
Noah Syndergaard
and
T.J. Rivera
in the FSL All-Star Game at Dunedin, Fla., on Saturday, exclusively has played left field or served as designated hitter this season.
A natural infielder, Lawley moved from third base to center field his senior year in college to take advantage of his speed after the program had an incoming recruit take over the hot corner.
After the position switch, Lawley played alongside right fielder and now-fellow Mets farmhand
Greg Pron
in West Florida's outfield. Lawley actually has the scar to prove it, from getting severely spiked by Pron.
"It was a fly ball in the right-center gap," Lawley recalled about the game his senior year. "It was kind of funny. Our record was 52-9. That was one of the games we lost. That was a critical situation. There was a ball hit in the gap and I took off and he took off at it. At the last second -- nobody called it -- we hit each other. We collided. And I caught it. Well, the umpire said I dropped and the guy scored on a regular fly ball."
Since joining the Mets organization, the 24-year-old Lawley had split time between third base and the outfield … until this season.
"I guess as of right now the outfield is where they want me," Lawley said.
He continued: "I love the outfield. I'm very comfortable out there. I guess you can always learn, but I'm very comfortable in left field -- any position in the outfield, really."
Lawley won a Division II national title his final college season -- the first championship in school history. He owns the second-best batting average in the program's history.
Before moving to West Florida, Lawley played at Wallace-Hanceville, a junior college in his native Alabama.
Craig Kimbrel
, a year ahead, was the No. 1 starter for the team his freshman year.
Organization leaders
Average:
Jayce Boyd, Savannah, .336; Cesar Puello, Binghamton, .330; Kevin Plawecki, Savannah, .323; Josh Rodriguez, Binghamton, .321; Wilmer Flores, Vegas, .313; Allan Dykstra, Binghamton, .311; Travis Taijeron, Binghamton, .307; Josh Satin, Vegas, .305; Cory Vaughn, Binghamton, .288.
Homers:
Cesar Puello, Binghamton, 13; Dustin Lawley, St. Lucie, 12; Travis Taijeron, Binghamton, 11; Kirk Nieuwenhuis, Vegas, 10; Aderlin Rodriguez, St. Lucie, 9; Josh Satin, Vegas, 9.
RBI:
Wilmer Flores, Vegas, 47; Cesar Puello, Binghamton, 46; Dustin Lawley, St. Lucie, 44; Kevin Plawecki, Savannah, 41; Aderlin Rodriguez, St. Lucie, 41..
Steals:
Cesar Puello, Binghamton, 17; Darrell Ceciliani, Binghamton, 14; Alonzo Harris, Binghamton, 13; Cory Vaughn, Binghamton, 8; Danny Muno, Binghamton, 8.
ERA:
Rainy Lara, St. Lucie, 1.41; Rafael Montero, Binghamton, 2.45; Matt Bowman, St. Lucie, 2.62; Collin McHugh, Vegas, 2.87; Gabriel Ynoa, Savannah, 2.97; Noah Syndergaard, St. Lucie, 3.11; Luis Cessa, Savannah, 3.32; Robert Gsellman, Savannah, 3.55; Logan Verrett, Binghamton, 3.79; Carlos Torres, Vegas, 3.89.
Wins:
Matt Bowman, St. Lucie, 7; Gabriel Ynoa, Savannah, 7; Rafael Montero, Binghamton, 7; Logan Verrett, Binghamton, 7.
Saves:
Jeff Walters, Binghamton, 16; Bret Mitchell, Savannah, 10; Beck Wheeler, Savannah, 5; T.J. Chism, St. Lucie, 5; Hamilton Bennett, St. Lucie, 4.
Strikeouts:
Rafael Montero, Binghamton, 77; Carlos Torres, Vegas, 67; Zack Wheeler, Vegas, 66; Matt Bowman, St. Lucie, 65; Noah Syndergaard, St. Lucie, 64.
Short hops
• The Brooklyn Cyclones begin play Monday at Staten Island.
Rich Donnelly
manages the club for a third straight season. While college players drafted last week primarily will comprise the roster, 2012 first-round pick
Gavin Cecchini
-- a high school pick out of Louisiana -- is expected to man shortstop. Right-hander
Robert Gsellman
(13th round, 2011) is expected to claim a rotation spot.
•
Cory Vaughn
underwent an MRI on his ailing right elbow. Doctors will evaluate whether the B-Mets outfielder will require surgery. Vaughn, 24, was hitting .288 with six homers and 31 RBIs in 170 Eastern League at-bats when he landed on the disabled list.
• Right-hander
Michael Fulmer
, who is making a deliberate return from spring-training surgery to repair a torn meniscus, is due to throw five innings this week in an intrasquad game in extended spring training.
• Once officially on board, 17-year-old first-round pick
Dominic Smith
is expected to play first base for the Mets' revived Gulf Coast League team in Port St. Lucie, Fla. Among those already on board from this year's draft is slick-fielding high school shortstop
Luis Guillorme
(10th round), who signed for a reported $200,000.
•
Zack Wheeler
makes his final Triple-A start on Thursday at 10 p.m. ET against Tacoma, which is managed by
John Stearns
and coached by
Howard Johnson
.
• Mets officials are debating whether to leave
Rafael Montero
in Binghamton rather than expose him to the challenging Pacific Coast League conditions with Las Vegas.
• Reigning Eastern League Player of the Week
Cesar Puello
suffered a jammed left finger and was forced to leave Tuesday's game at Trenton. Puello hit .500 with five homers in 24 at-bats during the week. You can view the injury
here
, courtesy of Trenton Thunder beat reporter
Josh Norris
.
• Ex-Rockie
Carlos Torres
has tossed consecutive complete games with Las Vegas, allowing only one run in the 18 innings.
• Despite an 0-for-5 performance Tuesday at Trenton,
Travis Taijeron
is hitting .357 with two homers and six RBIs in three games since a promotion from St. Lucie to the B-Mets.
April, 19, 2012
4/19/12
11:00
AM ET
By
Mark Simon, ESPN Stats & Information
Eric Hartline/US PresswireDavid Wright has performed in a manner worthy of smiling about in 2012.
Welcome to the second edition of "The Week in 'Met'rics," where we celebrate all that is amazin' and some of what is not about Mets statistical and historical accomplishments.
Our biggest resource in this search is the
Baseball-Reference.com Play Index
, a source of much entertainment and amusement.
Stat of the Week
It was a great week of accomplishments for
David Wright
, who matched
Darryl Strawberry's
career RBI mark on Wednesday. The two each have 733 RBI.
Wright became the first player in franchise history to reach base twice (via hit or walk) in each of his first nine games of a season. The last player to do so for any team is former Met
Mike Cameron
, who had such a streak for the 2002 Mariners.
The Mets record for consecutive games reaching base at least twice at any point during the season is 12, set by
John Stearns
in 1977.
Ron Hunt
(1964),
Derek Bell
(2000) and Wright (2009) each had 11-game streaks.
First Things First
The Mets hit a first-inning home run in each of the three games in their series against the Phillies.
Wright had one of those on Saturday, in his first game back from his finger injury, and in hitting one tied an obscure Mets record in the process.
Wright now has 36 career
first-inning home runs
, tied with Strawberry for the most in Mets history.
Wright's five first-inning home runs are the most by any Met at Citizens Bank Park. The only other Met with more than one is
Jose Reyes
, with two.
Also in that game, the Mets recorded their first stolen base of the season (
Mike Baxter
). The Elias Sports Bureau notes that the Mets' first steal coming in their eighth game was the third-longest drought to start a season in franchise history. It took 17 games to nab a steal in 1963 and 12 games in 1962.
Oh, So Niese … Again
Jonathon Niese
pitched scoreless ball over 6 2/3 innings. The Elias Sports Bureau noted that Niese became only the second Mets pitcher in the last 30 seasons to start and win his first two appearances in a season, shutting out the opposition through six innings in each. The other was
Frank Viola
in 1990.
Manny Unhappy Returns
The bizarre pitching line of the week belonged to
Manny Acosta
, who allowed four runs and one hit in relief in the Mets loss to the Phillies on Sunday.
The Mets have had
19 instances of a pitcher allowing four or more runs on one hit or no hits
. This was the third such occurrence in the last 12 months.
Dillon Gee
and
Jason Isringhausen
each had such a line last season, but prior to that, no Mets pitcher had such a line for nearly 10 years!
The last to do so was
Armando Benitez
against the Braves in June, 2001.
Bay (Doesn't Just) Watch
Jason Bay
hit a home run in his first game after missing time due to a finger injury. Bay also robbed Braves shortstop Jack Wilson of a home run, with a leaping catch. It was the second straight year he robbed a Braves shortstop of a home run. He snatched one from
Alex Gonzalez
last season.
Also of note was that for the first time in his Mets career, reliever
Jon Rauch
allowed a hit. Rauch's streak of hitless appearances to start his Mets career ended at five. That matched
Jaime Cerda
(2002) and
Roberto Hernandez
(2005) for the best such Mets career-starting streaks.
Monday's win raised the Mets record to 7-3. We noted that the Mets have started 7-3 on seven previous occasions, and on each of those, they've finished the season at least 10 games over .500.
Some other 10-game milestones:
• The Mets 2.33 ERA through 10 games was sixth-best in team history, the best since the team had a 2.12 ERA through 10 games in 2002. The franchise best was in 1968, the Year of the Pitcher, when the Mets staff posted a 1.67 ERA through 10 games.
• The 83 strikeouts by Mets pitchers tied the 2005 Mets for second-most strikeouts in the first 10 games of the season. The club mark is 88, set in the first 10 games in 1990.
• On the downside, the 85 whiffs by Mets hitters is the most the Mets have ever had in their first 10 games.
Johan gets Chopped
Johan Santana
allowed six runs in 1 1/3 innings in a 9-3 loss to the Braves on Tuesday. It was the shortest start of Santana's career.
Santana is the fourth starting pitcher in Mets history
to give up at least six runs while recording four or fewer outs against the Braves
. The other three are
Mike Scott
(1982),
Bobby Jones
(1997) and
Pat Misch
(2009).
Unhappy ending
The Mets gave up 14 runs to the Braves in their series-finale loss on Wednesday. It's the fourth time in Mets history that they allowed that many runs in a game in Atlanta, the first since 2004, when they yielded 18.
Vintage Metric of the Week
The Mets beat the Braves four times in a row this season, prior to losing to them in the final two games of their series.
When was the first time the Mets beat a team four times in a row?
That would be the inaugural season of 1962. The Mets won the first four games the franchise ever played against the Cubs, with three of those games being decided by one run. They would finish 9-9 against the Cubs that season, 31-111 vs everyone else.