New York Mets:

Johnny Hellweg
September, 28, 2013
Sep 28
8:07
PM ET
NEW YORK -- The good news: The Mets clinched a top-10 pick, ensuring they will not have to forfeit their first selection in next June's draft no matter which free agent they sign this offseason.
The bad news: The Mets dropped to 32-48 at Citi Field, ensuring their worst home record since they went 28-53 in 1993.
Scott Atchison
surrendered two runs, including a tiebreaking RBI single to ex-Met
Carlos Gomez
, and the
Milwaukee Brewers
beat the Mets, 4-2, in 10 innings Saturday.
The Mets now have played 57 extra innings this season -- three shy of matching the franchise record set in 1979 and duplicated in '85.
The Mets had pulled even at 2 in the bottom of the ninth on
Eric Young Jr.
's RBI single against
Donovan Hand
, but
David Wright
grounded into a double play with runners on the corners with a chance for a walk-off win.
The Mets also wasted a bases-loaded, no-out situation in the seventh.
Record-setter:
Juan Lagares
produced his 14th outfield assist, extending his franchise rookie record. Lagares threw out
Jonathan Lucroy
trying to score from second base on
Scooter Gennett
's sixth-inning single. The assist preserved a 1-all tie.
Thirteen of Lagares' outfield assists have come as a center fielder, tying the franchise single-season record also accomplished by Del Unser (1975) and
Carlos Beltran
(2006), according to ESPN Stats & Information.
The overall franchise record for outfield assists is 19 by Rusty Staub in 1974, according to the Elias Sports Bureau.
Lagares' 14 are the most by a Met since
Cliff Floyd
had 15 in 2005.
Duck!
Wright, in his return to the lineup after getting beaned by
Johnny Hellweg
on Thursday, had a pitch thrown behind his head by rookie
Jimmy Nelson
in the fourth inning.
Nelson, making his first major league start, walked three batters that inning alone and did not appear to know where the ball was going.
Wright had skipped Friday's game with a swollen right thumb, which he suffered landing awkwardly after the beaning in the series opener.
Man of steal:
Daniel Murphy
swiped his 22nd base of the season, this time catching the Brewers napping. Murphy stole second base in the second inning with Nelson holding the baseball and the middle infielders inattentive.
Murphy has now successfully stolen 21 straight bases, matching Kevin McReynolds for the second-longest streak in franchise history without being caught. McReynolds went 21-for-21 in 1988.
Howard Johnson owns the franchise record with 26 straight successful steals in 1989.
Murphy also extended his hitting streak to 10 games. His fourth-inning sacrifice fly evened the score at 1.
It's a draw:
Neither
Jean Segura
nor Young, who are tied for the NL lead in steals, swiped a base Saturday. So they remain tied at 44 entering the final day of the season.
Nothing to harangue:
Free-agent-to-be
Aaron Harang
limited Milwaukee to one run on five hits and two walks in six innings. He finished with a 3.52 ERA in four starts with the club after a cameo with Triple-A Las Vegas.
What's next:
Game No. 162.
Jonathon Niese
(8-8, 3.74 ERA) opposes right-hander
Marco Estrada
(7-4, 4.02) in the season finale.
Mike Piazza
will become the 27th inductee into the Mets Hall of Fame during a pregame ceremony. The Mets are asking fans to be in their seats by 12:45 p.m. The game will start later than the officially listed 1:10 p.m.
September, 27, 2013
Sep 27
8:15
AM ET
NEW YORK
FIRST PITCH:
Such a big deal has been made about the Mets' draft position, and specifically whether the organization's pick will be "protected."
Well, it turns out, it is unlikely to matter.
Paul Sancya/Associated PressBidding for Shin-Soo Choo may go beyond the Mets' comfort level in terms of years.
That is because the Mets are not expected to vigorously pursue the free agents with draft-pick compensation attached -- whether the pick is protected or not, according to a team insider.
The lone exception is
Cincinnati Reds
outfielder
Shin-Soo Choo
.
And the Mets (73-86) are not believed to be willing to give more than a
Michael Bourn
-type contract -- four years.
So if agent Scott Boras can get a longer deal for the 31-year-old Choo out of the
San Francisco Giants
,
Chicago Cubs
, Cincinnati or another suitor -- and he likely can -- Choo figures to wind up somewhere other than Queens in 2014.
For the record: The Mets' loss Thursday now has them in the 12th slot in the draft. The top 10 picks are protected. Four teams have a 72-87 record, so the final order can substantially change by the end of the season.
Carlos Torres
(4-5, 3.36 ERA) opposes
Milwaukee Brewers
right-hander
Yovani Gallardo
(11-10, 4.23) at 7:10 tonight at Citi Field.
Friday's news reports:
•
David Wright
was drilled in the helmet by an 86 mph changeup from
Johnny Hellweg
and departed Thursday's game in the third inning, but the captain
subsequently passed a concussion test
. Read more in the
Post
,
Times
,
Newsday
,
Star-Ledger
,
Record
and
MLB.com
.
• Before the game, Wright had said he is
"all in for this organization"
in terms of believing their plan for success. Read more in the
Daily News
and
Star-Ledger
.
•
Dillon Gee
fell one inning shy of 200
for the season as the
Mets lost to the Brewers, 4-2
. Read more in the
Post
.
•
Eric Young Jr.
pulled even with Milwaukee's
Jean Segura
for the NL stolen-base lead
.
• After uncertainty about whether
Daisuke Matsuzaka
might instead start the season finale,
Jonathon Niese
said he will
take the ball on the final day
.
• Seven of nine scouts surveyed told ESPNNewYork.com that if they were the Mets, they would want
Lucas Duda
over
Ike Davis
as their 2014 first baseman
.
•
Matt Harvey
's jersey was the No. 2 seller in MLB during the second half of the season, trailing only
Mariano Rivera
's No. 42. Wright checked in at 13th in MLB, one slot behind
Derek Jeter
. See the full top 20
here
.
• Tim Rohan
in the Times
writes about the Mets' fantasy football league, which has 23 participants and 12 teams.
• Seventeen-year-old Amed Rosario, who signed with the Mets for $1.75 million last year, was
named the Appalachian League's top prospect
by Baseball America. 2013 first-round Dominic Smith was named the fourth-best prospect in the Gulf Coast League. Smith will be among the prospects at Citi Field today as the Mets present their annual Sterling Awards to the top performers at each level of the minor-league system.
•
Cesar Puello
completed a 50-game suspension
related to Biogenesis and PEDs and was returned to the 40-man roster. The Mets shifted Harvey to the 60-day DL to open the roster spot.
•
Juan Lagares
became a father on Thursday with the birth of Juan Lagares Jr. in New York.
• GQ ranked the Mets as the
12th-worst franchise of all time
.
• Commissioner Bud Selig, 79,
announced his intention to retire
on Jan. 24, 2015.
• Ex-Mets
Carlos Gomez
served a one-game suspension Thursday,
writes the Milwaukee Journal-Sentinel
.
•
From the bloggers …
Faith and Fear in Flushing
believes this is the time of year when you throw out "The Book" and cut individual players' quests some slack. … John Delcos at
Mets Report
applauds Sandy Alderson prioritizing finishing strong over draft-pick position.
BIRTHDAYS:
Jon Rauch
turns 35. …
Jason Phillips
, who became a bullpen catcher for the
Seattle Mariners
after his playing career, is 37.
TWEET OF THE DAY:
I'm walking to help the fight against breast cancer. No one thinks I'll make the 5 miles. Help support the cause: http://t.co/JumR8AIsjo

— Jay Horwitz (@Jay_HorwitzPR) September 26, 2013
YOU'RE UP: Do you believe the Mets should go beyond four years for Shin-Soo Choo?
September, 26, 2013
Sep 26
10:48
PM ET
NEW YORK --
David Wright
appears to have escaped serious injury when he was beaned by
Johnny Hellweg
with an 86 mph changeup in the third inning Thursday.
"I feel pretty good. I passed all the concussion tests," Wright said. "I went through that protocol. It seems like it's good. ... I got to a knee and just wanted to collect my thoughts and make sure I was all right before I got up. By that time the decision was already made to take me out."
Wright acknowledged the ball whizzing toward his head was frightening, especially considering the 2009 beaning he suffered on a 94 mph fastball from
Matt Cain
.
"It's scary," Wright said. "I've been through that before. This seems different from that. The last one I definitely have something to base it off of. I was a lot more clear and it was a lot less painful this time. So I think they want to see how I feel tomorrow."
Wright landed on his right hand awkwardly after getting plunked.
"I guess when I went down I jammed my thumb," he said. "I think that will be fine also. Just one of those bad-luck things, you know?"
He concluded about Thursday's incident: "My ears weren't ringing. I felt like I got hit in the head with a ball. Other than that, I knew the score and the situation and didn't have any memory loss or didn't lose consciousness. That's a good thing."
Said Hellweg: "That's the last guy on the team I want to hit. All I hear is good things about him. He's a good guy. You don't ever want to hit somebody in the head. It was a changeup and definitely mislocated. I feel awful he had to come out of the game. It got to me a little bit because it's David Wright. That's their guy. And it was in the head, and he had to come out."
September, 26, 2013
Sep 26
10:14
PM ET
NEW YORK --
David Wright
did not dodge a pitch from right-hander
Johnny Hellweg
, but he appears to have dodged a bullet. Beaned in the head with an 86 mph changeup, Wright departed in the third inning but subsequently passed concussion tests, a source told ESPNNewYork.com.
The Mets went on to lose to the
Milwaukee Brewers
, 4-2, on Thursday night at Citi Field.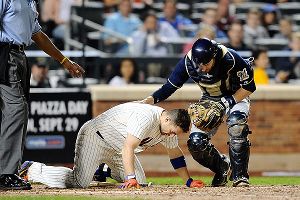 Maddie Meyer/Getty ImagesDavid Wright was plunked by a third-inning pitch from Johnny Hellweg.
One personal feat Thursday:
Eric Young Jr.
recorded his 43rd and 44th steals, moving him into a tie for the National League lead with
Jean Segura
of the Brewers, who is sidelined with a hamstring strain.
In his final 2013 start,
Dillon Gee
departed for a pinch hitter in the bottom of the sixth with the Mets trailing, 4-1. Unless Terry Collins sneaks Gee into a relief appearance Sunday, Gee will finish one inning shy of 200 for the season. He is 12-11 with a 3.62 ERA.
The Mets dropped to 32-46 at Citi Field this season. They finished with a 41-40 road record.
As for potential payback for Wright's beaning,
David Aardsma
plunked
Jonathan Lucroy
to open the eighth.
The Mets went 0-for-14 with runners in scoring position.
What's next:
Carlos Torres
(4-5, 3.36 ERA) opposes right-hander
Yovani Gallardo
(11-10, 4.23) at 7:10 p.m. Friday. The Mets will present their Sterling Awards to top prospects from each level before the game. Among those in town: 2013 first-round pick Dominic Smith.
September, 26, 2013
Sep 26
8:18
PM ET
Milwaukee Brewers
right-hander
Johnny Hellweg
beaned
David Wright
in the helmet with a third-inning pitch, forcing the captain from Thursday's game at Citi Field.
Wright walked to the dugout with an escort from trainer Ray Ramirez and manager Terry Collins after being struck with the 86 mph changeup.
He subsequently passed a concussion test.
It marked the second time in Wright's career he was beaned. Wright suffered a concussion and landed on the disabled list on Aug. 15, 2009 when San Francisco's
Matt Cain
drilled him with a 94 mph fastball.
Hellweg also plunked the next batter,
Lucas Duda
. He threw only 37 of 80 pitches for strikes while also walking four batters and uncorking a wild pitch in four innings.
Wright had just returned last Friday after missing seven weeks with a strained right hamstring.
NEW YORK --
July, 5, 2013
Jul 5
11:42
PM ET
MILWAUKEE -- It was
ugggggly
, but at least the Mets won.
Kirk Nieuwenhuis
reached base six times and produced a career-high five RBIs,
Zack Wheeler
completed five innings for his second major league win and
Ike Davis
had three hits, a walk and two RBIs in his return from exile as the Mets beat the NL Central-doormat
Milwaukee Brewers
12-5
Friday night at Miller Park.
Six unearned runs were scored between the teams. And Milwaukee's three errors only began to tell the story.
The Brewers' unsightly missteps included:
• Starter
Johnny Hellweg
walking Nieuwenhuis to force in a run.
• A high throw by shortstop
Jean Segura
to first base while trying to complete a double play later in the first inning, which allowed
Juan Lagares
to safely reach and a run to score.
•
Norichika Aoki
getting thrown out at the plate on an ill-fated double-steal attempt.
• Third baseman
Aramis Ramirez
's error in the fourth on
John Buck
's two-out grounder allowing the Mets' seventh run to score.
•
Carlos Gomez
, after producing an RBI double in the seventh that pulled Milwaukee within 8-4, getting thrown out attempting to make it a triple.
On the positive side, Gomez did reach over the wall to rob pinch hitter
Marlon Byrd
of a would-be homer.
Welcome back:
Davis' rejiggered stance turned out to be more hype than radical adjustment, but the first baseman did go 3-for-5 with a walk, two RBIs and strikeout in his first major league game since June 9.
Davis walked on four pitches in the first inning, then contributed a fluky RBI single an inning later that staked the Mets to a 3-2 lead. He sent a soft, two-out tapper to shortstop with the bases loaded for a run-scoring infield single.
He had a hard-hit single to right field in the fourth before striking out looking in the sixth. After an intentional walk to
David Wright
in the seventh, Davis lined out to right field. He had an RBI single in the ninth.
Growing pains:
Wheeler labored, but managed to complete five innings to earn his second major league victory.
Wheeler (2-1) surrendered a pair of runs in the first, although those ended up unearned because of second baseman
Daniel Murphy
's fielding error. Wheeler also surrendered a mammoth solo homer to
Juan Francisco
in the fourth.
But Wheeler escaped a bases-loaded, one-out jam in the fifth to preserve a 7-3 lead and complete his outing. Wheeler retired
Jonathan Lucroy
on a shallow fly ball to center that prevented a tag up, then struck out Francisco looking.
Wheeler's line: 5 IP, 7 H, 3 R, 1 ER, 3 BB, 3 K, 1 HR. He threw 98 pitches (56 strikes).
Career fare:
Nieuwenhuis (4-for-4, two walks) became the first Met to reach base six times in a nine-inning game without an error contributing since Mike Piazza on May 27, 2000.
He staked the Mets to a 1-0 lead in the first when Hellweg walked him with the bases loaded. An inning later, the Mets grabbed a 5-2 lead on Nieuwenhuis' two-run single through the right side of the infield. Nieuwenhuis also had an RBI single in the fourth. He added an RBI triple in the ninth.
What's next:
Ex-Brewer
Shaun Marcum
, who dealt with tingling in the fingers on his pitching hand during his last start, faces his former employer Saturday at 7:15 p.m. ET. Marcum (1-9, 5.03 ERA) opposes right-hander
Yovani Gallardo
(6-8, 4.78).
July, 4, 2013
Jul 4
11:53
PM ET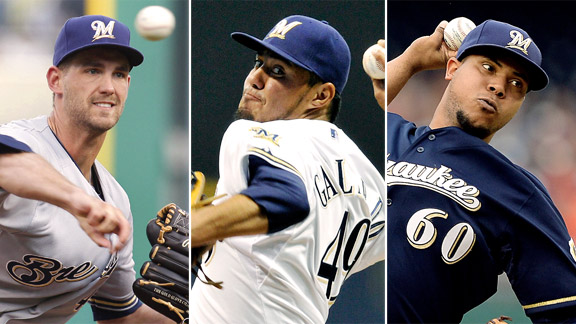 USA TODAY Spors/Associated Press/Getty ImagesThe Mets face (l to r) Johnny Hellweg, Yovani Gallardo and tentatively Wily Peralta this weekend.
METS (35-47, fourth place/NL East) vs. MILWAUKEE BREWERS (34-50, fifth place/NL Central)
Friday:
RHP
Zack Wheeler
(1-1, 5.06) vs. RHP
Johnny Hellweg
(0-1, 20.25), 8:10 p.m. ET
Saturday:
RHP
Shaun Marcum
(1-9, 5.03) vs. RHP
Yovani Gallardo
(6-8, 4.78), 7:15 p.m. ET
Sunday:
RHP
Jeremy Hefner
(3-6, 3.54) vs. RHP
Wily Peralta
(5-9, 5.27), 2:10 p.m. ET
Brewers short hops
•
Wily Peralta
was forced to leave Tuesday's start against the
Washington Nationals
in the sixth inning with a left hamstring strain. He is questionable to make Sunday's start. Fellow starting pitcher
Marco Estrada
already has been on the DL for nearly a month with a left hamstring strain. If Peralta is not able to make the start, right-hander
Tyler Thornburg
, the Brewers' top prospect, who currently is working out of the bullpen, is a candidate to fill in.
• Ex-Met
Francisco Rodriguez
has taken over the closer role from
Jim Henderson
. Manager Ron Roenicke told Milwaukee reporters the decision was performance-based and not intended to showcase K-Rod before the July 31 trade deadline, although Rodriguez clearly is a trade candidate. Rodriguez has a 0.92 ERA and has recorded seven saves. That included the 300th save of his career, which made him the 25th pitcher in major league history to reach that plateau. K-Rod joined the Brewers on May 16, four weeks after signing with the organization. His contract calls for a prorated portion of a $2 million base salary.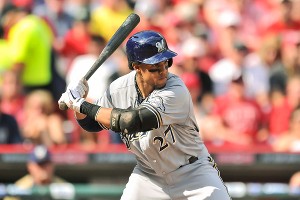 Jamie Sabau/Getty ImagesEx-Met Carlos Gomez leads the NL in WAR.
• Center fielder
Carlos Gomez
signed a three-year, $24 million extension in March. After earning $4.3 million this year, he will receive $7 million in 2014, $8 million in 2015 and $9 million in 2016. Gomez was traded by the Mets to the
Minnesota Twins
in the
Johan Santana
deal. He recently missed a week with a sprained left shoulder, which he suffered crashing into the outfield wall. Gomez's 4.8 WAR leads the NL.
David Wright
ranks second at 4.7.
• Left fielder
Ryan Braun
, who is on the disabled list with an inflamed nerve between the thumb and index finger in his right hand, has started swinging a bat. He potentially could return before the All-Star break.
•
Jean Segura
, acquired from the
Los Angeles Angels
along with
Johnny Hellweg
for
Zack Greinke
before last year's trade deadline, leads the National League in hits. He ranks third in NL All-Star balloting at shortstop. The only major leaguers with 10-plus homers and 20-plus steals this season are Segura and
Mike Trout
.
•
Juan Francisco
was acquired from the
Atlanta Braves
on June 3 for Double-A left-hander Thomas Keeling. A natural third baseman, the Brewers nearly exclusively have used Francisco at first base, although he did play third base Thursday and commit two errors. His only previous pro experience at first base was three games in 2010 in Triple-A with the
Cincinnati Reds
.
• Hellweg, a 6-foot-9 rookie, allowed seven runs (five earned) in 1 2/3 innings in his major league debut last Friday. He then appeared once in relief.
Kyle Lohse
jumped ahead in the rotation because Lohse's June 30 start lasted only 1 2/3 innings before a rain delay ended his outing. Hellweg touched 102 mph in a Triple-A game earlier this season.
•
Yovani Gallardo
was charged with a season-high eight runs against Nats in his last start. That is as many earned runs as Gallardo surrendered in five June outings. The three-inning outing was his shortest since April 27, 2012. Gallardo, although signed for next season, is a trade candidate.
•
Jonathan Lucroy
's 40 RBIs as a catcher rank second in the NL at that position, trailing only St. Louis'
Yadier Molina
.
•
Corey Hart
, who has not appeared this season, needs left knee surgery that will sideline him the entire year. He had undergone surgery in January on his right knee. Hart is eligible for free agency after the season. He is one of three Brewers first basemen who have season-ending injuries. The others:
Mat Gamel
(torn ACL suffered during spring training) and
Taylor Green
(hip surgery).
• Third baseman
Aramis Ramirez
has required sporadic days off for a left knee issue. He twice has sprained the knee this season.
• The Brewers have drawn the fewest walks in the majors.
• Second baseman
Rickie Weeks
hit .355 with five homers in June.
• Former closer
John Axford
has not surrendered a run in his last 23 appearances. Axford reportedly is drawing trade interest.