August, 30, 2013
8/30/13
6:23
PM ET
Jeurys Familia
, who underwent surgery on June 5 to clean out his right elbow, is close to game action.
Familia threw a 30-pitch bullpen in Port St. Lucie, Fla., and Mets officials are eyeing Monday for game-type action. The Gulf Coast League has ended, and Class A St. Lucie's season is over Sunday, but the Mets plan to cobble together a game at their complex with available players.
The Mets believe he will see major league action in September.
One complication right now: Rehab coordinator Jon Debus has a serious artery blockage and is requiring medical attention, a team official said.
WASHINGTON --
September, 2, 2012
9/02/12
11:27
PM ET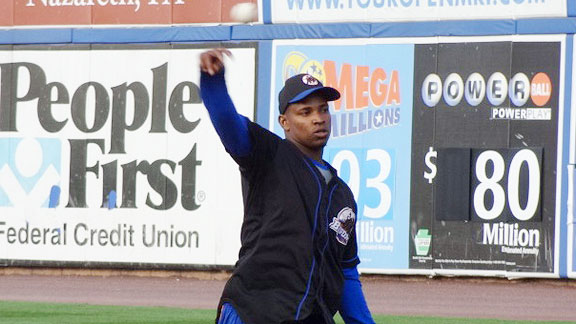 Adam RubinJenrry Mejia is expected to be promoted to the majors with Buffalo's season ending Monday.
ALLENTOWN, Pa. -- Jenrry Mejia's season officially began May 9 with Class A St. Lucie, seven days shy of the one-year anniversary of Tommy John surgery.
Mejia then jumped to Double-A Binghamton for a pair of mid-May starts before entering Buffalo's rotation May 30.
Mets officials, though, viewed Mejia as a potential contributor in the majors as a reliever, so they eventually ended what was considered a rehab phase as a starting pitcher and inserted him in Buffalo's bullpen beginning June 15. The result: a 5.48 ERA in 16 relief appearances.
Because of the struggles, Mets brass eventually reverted Mejia back to starting duty with the Bisons, which largely was successful. Mejia did allow 11 runs in 12 innings over his final two Triple-A starts this season, including six runs in six innings Sunday at Lehigh Valley. But his ERA as a starter in the International League nonetheless finished at 2.75 – nearly three full runs a game better than as a reliever.
Mejia is now expected to be a September call-up for the Mets. Terry Collins said he plans to have Mejia make starts down the stretch, especially with
Matt Harvey
due for a shutdown. Still, Mejia may wind up in the Mets' bullpen in 2013.
Zach Lutz
and
Mike Nickeas
already have joined the Mets from Buffalo.
Collin McHugh
is due to start in St. Louis on Monday. The remainder of the call-ups should include right-handers Jeurys Familia,
Elvin Ramirez
and Mejia as well as
Jordany Valdespin
, outfielder
Fred Lewis
and possibly third baseman/outfielder
Matt Tuiasosopo
.
Mejia last pitched in the big leagues on Sept. 15, 2010, when he allowed an unearned run in a 45-pitch effort over 2 1/3 innings as a starter against Pittsburgh. Mejia made the Mets that season as a reliever out of spring training with the front office and manager Jerry Manuel prioritizing their own preservation over Mejia's development.
"I waited for a long time for that," Mejia said this weekend about a potential return to the majors. "I want to be there."
Despite the disparity in numbers for Mejia in starting versus relief work, Buffalo manager Wally Backman does not rule out Mejia adapting to bullpen duty for the Mets at some point. Backman noted that Mejia contributed 5 1/3 scoreless innings over his final three relief appearances with Buffalo before the Mets pulled the plug and put him back in the rotation.
Backman figures Mejia ultimately may wind up back as a reliever if for no other reason than one area of depth with the Mets is starting pitching.
"You know what? He had never really relieved before, until he got to the big leagues for the short time," Backman said. "They sent him back to Triple-A and he started. And then he got hurt. So this year he started as a starter. And we put him in the bullpen. And, believe it or not, I think it was his last three outings in the bullpen, he was pretty good. Then we all of a sudden started him again. To me, he was figuring it out.
"He's got the stuff to start, too. But you can't have 10 starters. Pitching is definitely the bright spot for the Mets, without question."
June, 12, 2012
6/12/12
5:41
AM ET
After an off-day to regroup following getting swept in the Subway Series, the Mets resume play with a stern test -- the AL East-leading Tampa Bay Rays at the Trop.
Chris Young
(0-0, 3.60 ERA) makes his second major league start since returning from surgery to repair a torn anterior capsule. He opposes Rays right-hander
Alex Cobb
(2-2, 4.12).
Tuesday's news reports:
• The Mets could look to upgrade the bullpen if they continue in at least the wild-card race, but whether they will be a contender is still playing out. Regardless, don't look for
Sandy Alderson
-- who received prized prospect
Zack Wheeler
for
Carlos Beltran
last July -- to turn around and trade a significant minor leaguer.
Columnist
Ken Davidoff
in the Post
identifies Minnesota's
Matt Capps
, Oakland's
Grant Balfour
and Houston's
Brett Myers
as relievers who potentially will be available at the trade deadline. "And that's the hard part," Alderson said about trade versus preserving the farm system. "Of course we want to win. We all want to win. It would be important for the fan base. It would be important for ownership. But, at the same time, we have to sort of take everything into account." Regarding the bullpen, Alderson said: "This is an area to begin to look at externally."
The GM added: "One of the interesting things that exists currently is now people have expectations. When you lose six out of seven, people are unhappy. … From two months ago when nobody cared, in that sense, we've made progress. You want to be able to satisfy those expectations at some point."
•
Warner Fusselle
, the radio voice of the Brooklyn Cyclones since the team's inception in 2001 and a former host of "This Week in Baseball,"
died Sunday night
. He was 68. Read more in the
Daily News
.
•
Brian Costa
in the Journal
notes that while
Andres Torres'
attention deficit hyperactivity disorder (ADHD) is not causing his subpar production, his difficulty concentrating can make it more challenging to break the funk. Torres takes medication for the issue and was the subject of a documentary that recently was screened for the first time.
A switch-hitter, Torres is hitting .205 overall as a Met, and .163 against right-handed pitching. Once the Mets lose the DH on Friday back at Citi Field, and with
Kirk Nieuwenhuis
playing strongly, something will have to give with the outfielders' playing time. Assuming
Jason Bay
-- no given -- and
Lucas Duda
play regularly in the outfield along with Nieuwenhuis, Torres' playing time will decrease. If Duda shifts to first base for
Ike Davis
, another distinct possibility, that relieves some outfield crowding. But none of that accounts for getting
Scott Hairston
playing time, particularly against southpaws.
Writes Costa:
There is only so much information Torres can absorb before his mind strays. "He has kind of a difficult time staying on task," [hitting coach Dave] Hudgens said. "He's a great worker, great guy, really loves the game, but it's difficult for him to stay on one thing that he's trying to work on a lot of times." That is evident simply in talking to Torres by his locker. At times, he'll be only midway through one sentence when he jumps ahead to the next. He had been talking about hitting for less than a minute Sunday when he became distracted by the name on a reporter's credential. "Is that a Latin name?" he asked. It is just as difficult for Torres to keep his body at rest, which is why he works out constantly. After a game in Pittsburgh last month, Torres did push-ups off the seat of his chair while his teammates hit the showers.
• Bay, who is 0-for-11 since returning from the DL, tells
Mike Puma
in the Post
he still can play. "Production-wise, it hasn't been on par, I understand that, but I still feel like I can do those things -- that is the frustrating part," Bay told Puma. "If I didn't feel like I can do it, I think it wouldn't be that tough. You wouldn't be so hard on yourself, but I feel like I can do it and it's just been a couple of years of searching for it." Bay only has 68 plate appearances this season as a result of time lost due to a rib fracture, so he is unlikely to reach 500 plate appearances this season. Reaching that threshold, then again getting 500 PAs in 2013, would trigger a 2014 vesting option at $17 million. Bay (.197, 3 HR, 5 RBIs) still can trigger with it 600 plate appearances next season.
• Young is returning from the same surgery that was performed on
Johan Santana
. Only Young has done so more quickly than Santana. Young's procedure was performed on May 16, 2011. Santana underwent the shoulder surgery the previous September. "It represented more than just a no-hitter to my wife and I," Young said about Santana's no-hitter to
Anthony McCarron
in the Daily News
. "It represented hope that I'm going to be as good as ever, too. I know what it meant to the Mets, to the organization, and to the fans, the history there. But to me, I feel like it took on an even bigger meaning, symbolically."
Writes McCarron:
At one point in May, Young told Santana he was hurting. His arm lapsed into what Young described as "the same kind of dead arm period you can get in spring training." "He said he was feeling like he was hit by a truck," Santana said. "I'm like, 'I know exactly how you feel. Me, it was a train.'" On Santana's advice, the Mets scheduled some extra rest for Young and he rebounded quickly. "I was achy and sore and since then, my arm has responded great and I anticipate it will continue to," Young said.
The morning after his first major league start in 13 months start, Young's wife went into labor and he went on paternity leave. Doctors had been planning to induce labor that day, but she went into labor naturally, Young told
Mike Kerwick
in the Record
.
Grant Christopher
is the newest addition to the family.
• Columnist
Bob Klapisch
in the Record
reports
Jim Duquette
and 10-year-old
Lindsey
are doing well a week after the former Mets GM donated a kidney to his daughter. Writes Klapisch:
Both were crying, although for different reasons. Lindsey wept "out of pure fear," said Jim, as the anesthesiologists converged on the little girl who was afraid of the bottomless black sleep where there are no sweet dreams. It broke Jim's heart to see his child weeping, although he was coming apart, too. "But I was crying because I knew this was the start of something better for Lindsey," he said. "For all of us." It's been one week since the transplant, and Lindsey's doctors believe her nightmare, which began in 2004, finally may be over. Her new kidney, Jim's gift, is functioning at 100 percent efficiency. Even though she will be on an immune-suppressing medication for the rest of her days, Lindsey soon could return to the life she'd nearly forgotten.
Read more
in the Daily News
.
• After
David Wright
and
Omar Quintanilla's
errors opened the door for a Yankees comeback from a three-run deficit Sunday,
Anthony Rieber
in Newsday
concludes the Mets are a bad defensive club. Writes Rieber:
The Mets, who begin a three-game interleague series against the Rays Tuesday night in St. Petersburg, Fla., were the fourth-worst defensive team in the majors going into Monday's action. But here's the rub: The three teams with fielding percentages below the Mets' .978 -- Tampa Bay, Baltimore and San Francisco -- are all playoff contenders. As are the Mets, though their stock is dropping after they lost six of seven, including all three to the Yankees in the first go-round of the Subway Series. "We've talked about this time and again," manager Terry Collins said Sunday after a 5-4 loss in the Bronx. "We aren't the kind of club that can make a lot of mistakes. When you give teams as good as the New York Yankees or anybody else in the big leagues multiple-out innings, they're gonna get ya. We saw it several times in the last two weeks where we haven't made plays and the next thing you know, it becomes a big inning."
Read more on the Mets' lackluster fielding
in the Times
.
• Former Mets VP
Tony Bernazard
, who oversaw the farm system under
Omar Minaya
, is now working as a liaison to players for agent
Scott Boras
,
Danny Knobler
writes
at CBSSports.com
. Bernazard was at Yankee Stadium on Sunday for the Subway Series finale.
• The Mets' top two picks are now signed. The team confirmed the signing of first-round pick
Gavin Cecchini
, a prep shortstop from Louisiana, last Friday for a reported $2.3 million. Now,
Jim Callis
reports
in Baseball America
, the Mets' supplemental first-round pick (35th overall), also is on board. Purdue University catcher
Kevin Plawecki
signed for $1.4 million, according to the magazine. The commissioner's recommended amount for that slot was $1,467,400.
• Center field prospect
Matt den Dekker
was named Eastern League Player of the Week and was promoted to Triple-A Buffalo on Monday. Den Dekker hit .340 with eight homers, 29 RBIs and 10 steals in 238 at-bats with Double-A Binghamton.
• After tossing four scoreless innings for Buffalo,
Jeurys Familia
ran into trouble in the fifth, allowing five runs, including a two-run homer by
Lew Ford
. The game was called due to rain after that inning, and Norfolk beat the Bisons, 5-4. Read Monday's full minor league recap
here
.
•
Jose Leger
was named the manager of the Class A Kingsport Mets. The Appalachian League team begins play next Tuesday. Former Mets bullpen coach
Jon Debus
originally was due to serve as Kingsport manager, but instead became minor league rehab coordinator based in Port St. Lucie, Fla., when
Randy Niemann
left the organization to join
Bobby Valentine
with the Red Sox. Leger managed a Dominican Summer League Mets team the past two seasons and is a former minor league infielder with the Minnesota Twins.
•
Anthony McCarron
in the Daily News
notes
Jon Rauch
retweeted expletive-filled tweets directed at him from fans after the reliever served up Sunday's game-ending homer to
Russell Martin
.
TRIVIA:
The Mets won only one game in the last series between the Mets and Rays in St. Petersburg, in 2001. Who were the starting pitchers in that game?
Monday's answer: In the ill-fated
Scott Kazmir
-for-
Victor Zambrano
swap, the teams also exchanged relievers. The Mets received
Bartolome Fortunano
.
Jose Diaz
was sent to the Rays.
May, 11, 2012
5/11/12
4:38
PM ET
Pitching coach Dan Warthen said Chris Young had a positive outing Thursday night for Class A St. Lucie, when he tossed five scoreless innings against Brevard County, while allowing five hits and two walks and striking out four.

Warthen said Young requested that Mets major league personnel, who had an off-day in Florida, not travel north to watch his first official game since May 16, 2011 surgery to repair a torn anterior capsule in his right shoulder. Still, Mets minor league instructor Jon Debus offered a positive review to Warthen.

Warthen said Young pitched at 85 mph. The pitching coach added that in a major league stadium with extra adrenaline, the velocity should jump 1-2 mph. Regardless, Warthen noted, Young averaged only 84.7 mph with his fastball in four successful early season starts with the Mets last year.

Warthen said the plan is for Young to make one more start with St. Lucie, then continue with his comeback at Triple-A Buffalo. Young is now on an every-five-days pitching schedule.

The expectation is Young eventually will replace Miguel Batista in the rotation slot formerly held by Mike Pelfrey.
March, 5, 2012
3/05/12
11:53
PM ET
Here are the Mets' expected minor league coaching assignments for 2012. The Mets now have eight teams after the elimination of the Gulf Coast League squad based in Port St. Lucie.

Buffalo (AAA)
Manager: Wally Backman
Pitching coach: Mark Brewer
Hitting coach: George Greer

Binghamton (AA)
Manager: Pedro Lopez
Pitching coach: Glenn Abbott
Hitting coach: Luis Natera

St. Lucie
Manager: Ryan Ellis
Pitching coach: Phil Regan
Hitting coach: Benny Distefano
Coach: Jose Carreno

Savannah
Manager: Luis Rojas
Pitching coach: Frank Viola
Hitting coach: Joel Fuentes

Brooklyn
Manager: Rich Donnelly
Pitching coach: Marc Valdes
Hitting coach: Bobby Malek

Kingsport
Manager: Jon Debus
Pitching coach: Jonathan Hurst
Hitting coach: Yunir Garcia

Dominican Mets 1
Manager: Jose Leger
Pitching coach: Francis Martinez
Hitting coach: Ender Chavez (brother of ex-Met Endy Chavez)
Coach: Manny Martinez

Dominican Mets 2
Manager: Alberto Castillo
Pitching coach: Benjamin Marte
Hitting coach: Leo Hernandez
Coach: David Davalillo

February, 22, 2012
2/22/12
5:08
PM ET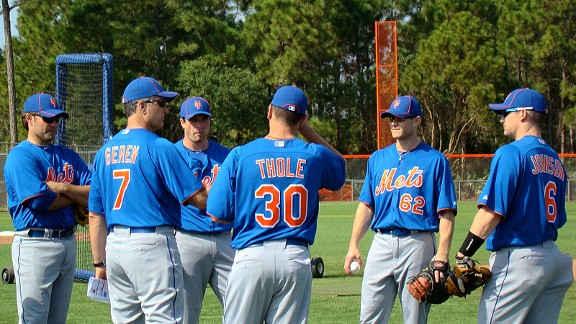 Adam Rubin
The Mets' catching corps assembles with bench coach Bob Geren before Wednesday's workout.
Mike Nickeas
may be the frontrunner for the righty-hitting complement to
Josh Thole
behind the plate, but the Mets are not handing Nickeas an Opening Day roster spot yet. The defensively capable Nickeas will need to demonstrate he can produce at the plate at a competent-enough level that
Terry Collins
will not need to pinch-hit for him in the middle innings. Nickeas does have the advantage of already being on the 40-man roster.
If Nickeas is unseated, former Seattle Mariners/San Diego Padres catcher
Rob Johnson
, who has started 193 major league games, appears the primary alternative. Former Kansas City Royal
Lucas May
as well as the versatile
Vinny Rottino
also are in camp.
ROB JOHNSON
When the Mets signed the 28-year-old Johnson in December, they touted his 3.22 catchers ERA in 2009, which ranked tops in the majors among catchers with 75-plus starts. Of course, the defensively solid Johnson was charged with catching Mariners ace
Felix Hernandez
, which helped that figure. Hernandez had 19 wins that season, and Johnson caught 25 of Hernandez's 34 games.
Johnson obviously played beat up. After that season, he had surgery to repair a torn labrum in both hips as well as left wrist surgery.
"Felix is a really tough guy to catch," Johnson said. "His ball moves everywhere, and he was throwing 92 mph changeups. Most people don't do that. He's throwing that 92, 91 mph slider. But, man, at the same time it's a lot of fun, because he gets out there and he competes. And he's got incredible stuff and can shut down a team -- all nine guys -- at any point."
Like Nickeas, Johnson has yet to establish himself as a capable major league hitter. He's a .197 career hitter with eight homers in 649 at-bats over five seasons. Johnson went from Seattle to San Diego in a Dec. 21, 2010 trade, when Seattle needed roster room for
Jack Cust
and was about to sign
Miguel Olivo
. Johnson became a free agent this offseason.
"I don't think that numbers always show quality at-bats of guys, either," Johnson said. "You keep on grinding. I feel like I can compete up here offensively as well."
Said Collins: "Well, he's got the most experience obviously. He and Mike, I think it's going to be fun to watch the two of them in spring training compete."
Johnson, incidentally, grew up in Montana, making his storyline similar to 2011 Mets first-round pick
Brandon Nimmo
, who hails from Wyoming. Neither state has high school baseball because of the climate. Johnson actually already ranks fifth in major league games played among people born in Montana at 228, behind
John Lowenstein
(1,368),
Ed Bouchee
(670),
Dave McNally
(425) and
Herb Plews
(346).
"We play about a month, a month and a half, out of the year," Johnson said about his youth in Montana. "There's just not a lot of baseball out there. But it's starting to grow a little bit more. Our [American Legion] team happened to make the state playoffs, which was in Lethbridge, Canada. There was one scout there, and he said he liked what he saw. And he said, 'Would you go to a camp?'
"So I went to this random camp in Arizona and met a guy there. I asked if I could work with him. So we worked over the phone -- he was from California -- for about nine months. And then he's like, 'Hey, man, why don't you take a trip down here and see this junior college?' I saw the junior college, walked on and made the team. Drafted, drafted, drafted and then I signed."
LUCAS MAY
May had 62 errors in 126 games at shortstop during his first three professional seasons in Class A with the Los Angeles Dodgers, while Collins was overseeing the farm system. So before the 2007 season, Dodgers officials approached May about converting to catcher. May accepted, and began to work with
Jon Debus
, who happened to serve as Mets bullpen coach last season, and who remains with the organization. The 27-year-old May ultimately reached the majors in September 2010, after a trade to the Kansas City Royals.
"The front office posed the idea to me, and I thought it would be a good opportunity, so I said yeah," May said about the conversion to catching. "It was pretty new. I had done it a little bit in Little League, but that doesn't really count. I was always playing shortstop."
Said Collins: "Everybody saw the offensive potential. Even though we made the conversion with
Russell Martin
and
Carlos Santana
and a few others, I actually thought if this guy continues to be the offensive threat he's going to be, he'd end up at second base, because he was pretty athletic at shortstop. But you knew he was going to get bigger and wasn't really necessarily going to be the prototypical shortstop at the major league level. But we all thought he was going to hit, and hit with some power. But I wasn't surprised when they made the move to catcher."
May somewhat fits the profile of Thole, who primarily played first base early in his pro career. (Thole did catch in high school, unlike May.) Also like Thole, May said he feels on par with catchers who have spent their entire pro careers behind the plate.
"I feel like it," May said. "I played in the big leagues, and I felt confident about my game when I was there. It's just a matter of getting the routine going this spring."
May hit .189 with six RBIs in 37 at-bats over 12 games with the Royals after the Sept. 1, 2010 call-up. He benefited in terms of playing time because
Jason Kendall
required rotator-cuff surgery and missed the final month of the season. May hit a combined .238 with 10 homers and 44 RBIs in 248 at-bats with Triple-A Omaha (Royals) and Reno (Arizona Diamondbacks) last season.
"That's kind of why I went up there when I did," May said, referring to Kendall. "But he was extremely helpful to me, and he became a friend of mine. I talked to him every day about things."
May had gone from the Dodgers, his original organization, to Kansas City in a July 28, 2010 trade for
Scott Podsednik
. Coincidentally, he had just moved to the city eight months earlier.
"It was just pure coincidence," May said. "My wife [
Mariah
] is from there. So I moved over there from St. Louis so she could be with her family. It was great. I was 15 minutes from the park. It was fun for a little while."
The Dodgers connection to
Paul DePodesta
, Collins and Debus isn't May's only Mets tie. May played with
Ike Davis
on the September 2009 World Cup team in Italy. May hit a three-run homer and had four RBIs in the gold-medal win against Cuba.
"That's one of the best times I've had," May said.
VINNY ROTTINO
Vinny Rottino
had produced a near 4.0 GPA while playing shortstop in college at Division III Wisconsin-Lacrosse. "Pretty close," Rottino said. "I think I got a C in sociology or something."
But Rottino went undrafted, and started life without baseball as a graduate-level pharmacy student at the University of Wisconsin in Madison. Then the Racine, Wisc., native quit, and attended a tryout in Arizona for the team he watched growing up at County Stadium in the
Paul Molitor
and
Robin Yount
era, the Milwaukee Brewers.
The 31-year-old Rottino now has 26 games on his major league résumé, including eight games with the Marlins last season.
"I was getting good grades in pharmacy school, but I was hating it. All I could think about was playing baseball," Rottino said. "It was a tryout camp where it was all other professional, independent-league guys. I never played professionally obviously before. I had a really good tryout and told the scout I deserve a chance better than all of these guys here."
Unlike the other catchers in camp, Rottino primarily is a position player, so any chance to make the team likely hinges on him being viewed as a versatile player who can also serve as a third catcher.
At Triple-A New Orleans last season, Rottino hit .304 with 10 homers and 59 RBIs in 467 at-bats. He played 66 games in left field, 39 games at catcher, 11 games at first base and two games in right field.
"I'm going to obviously be working with the catchers while it's just pitchers and catchers," Rottino said. "Terry told me that I'm going to be working more with the position players, mixing in during the team fundamentals and stuff, but then getting my catching in extra -- either before or after, maybe catch pens."
As for his versatility, Rottino said: "That's what I've been working on ever since I got signed with the Brewers. They immediately turned me into a catcher, and I was able to play all the corners and all the outfield positions. I love catching, but I really feel comfortable everywhere. I played a lot of outfield the last few years."
October, 5, 2011
10/05/11
3:15
PM ET
The Mets have made major changes to their coaching staff.
Chip Hale
has been named bench coach of the Oakland A's on a two-year deal.
Read the news story
here
.
Here's the team's press release:
The New York Mets today announced that Bench Coach Ken Oberkfell, Third Base Coach Chip Hale, First Base Coach Mookie Wilson and Bullpen Coach Jon Debus will not return to the major league club for the 2012 season.
Tim Teufel will take over as Third Base Coach and Ricky Bones will become Bullpen Coach. Hitting Coach Dave Hudgens and Pitching Coach Dan Warthen will return to Manager Terry Collins' staff in the same positions next year.
Hale declined an offer to remain on Collins' staff to pursue another Major League coaching opportunity. Wilson and Debus will be offered other positions within the organization.
Teufel was the Manager of the Buffalo Bisons (AAA) of the International League for the 2011 season and Bones was Pitching Coach.
The Mets will announce further additions to the Major League coaching staff in the coming weeks.
February, 10, 2011
2/10/11
12:20
PM ET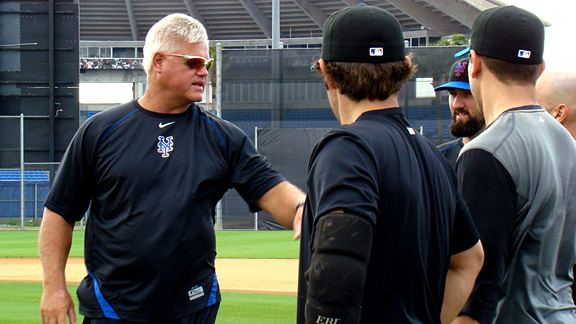 Adam Rubin
New bullpen coach Jon Debus interacts with early arrivals at Mets camp.
Before New York Mets players voluntarily working out at the team's spring-training complex took batting practice Thursday, manager
Terry Collins
and new bullpen coach
Jon Debus
regaled them with tales of the differences between baseball in Japan and the United States.
Collins and Debus offered one story of espionage, too.
Debus worked as a coach with the Orix Buffaloes during Collins' season-and-a-half managing that club, in 2007 and '08. And the duo was entertaining Mets players with how secretive the opposing starting pitcher would be kept until lineup cards were formally exchanged in Japan.
Clubs even planted team employees in the stands, trying to gauge which opposing pitcher looked most like he was preparing to pitch that day, so their own team's lineup could be constructed with the proper lefty-righty balance.
"Certainly some of the things they do over there are great, and some of the things you don't understand," Debus said. "And I don't think you'll ever understand them. But I had a great time. And I'm sure it helped both of us baseball-wise."
The 52-year-old Debus' relationship with Collins goes back far longer than the Asian experience. Nearly three full decades, in fact.
Debus, a 10-year minor leaguer in the Los Angeles Dodgers organization, even played for Collins at Triple-A Albuquerque in 1984 and '86.
"We've been friends for a long time," Debus said. "I have an unbelievable amount of respect for him. It's a great combination. We work well together. We're really good friends."
Collins has earned the reputation as a high-strung manager. Debus described the 1980s Collins not too differently.
"He's a high-energy guy, and he demands you play the game properly," Debus said. "He's intense. Anything he asks you to do is baseball-related and, basically, to play the game the way that it's supposed to be played -- have respect for the game. And I don't have any problem with that at all. I think everybody should follow that credo."
Debus replaces
Randy Niemann
as Mets bullpen coach. Niemann is returning to his previous role overseeing rehabbing players in Port St. Lucie.
Six of Debus' 10 professional seasons as a player were spent in Triple-A. For his career, he played 221 games at third base, 84 games at catcher, 83 games in the outfield and 30 games at first base.
He will serve as catching instructor for the Mets in addition to overseeing the bullpen, which means working closely with
Josh Thole
.
"Some guys can be very firm," Thole said about my-way-or-the-highway coaching. "He's more like, 'Try it.'"
"That's my forte -- catching," Debus said. "I spent a lot of time as catching coordinator, teaching catching [with Los Angeles]. I've truly been blessed to have been taught by some of the greatest catchers in baseball. I was with the Dodgers organization for over 25 years. You're talking about the [
Roy
]
Campanellas
and the [
John
]
Roseboros
and
Del Crandalls
and
Mike Scioscias
and
Kevin Kennedys
. I had those guys teach me. They were all different. I hope that I bring something to the table from each one of them, and I use them every day. I'm a lucky guy to have gone to that university."
Listen to Debus here:


December, 13, 2010
12/13/10
12:32
PM ET
The Mets officially announced
Terry Collins'
staff Monday. And there are no surprises since ESPNNewYork.com reported the likely composition Friday.
Hitting coach:
Dave Hudgens
Pitching coach:
Dan Warthen
First base coach:
Mookie Wilson
Third base coach:
Chip Hale
Bench coach:
Ken Oberkfell
Bullpen coach:
Jon Debus
Read the full news story
here
.
December, 7, 2010
12/07/10
3:42
PM ET
The Mets will hire Jon Debus as bullpen coach, succeeding Randy Niemann in that role, according to an organization source.

Debus served as Terry Collins' coach with Orix in Japan. The men had a longstanding previous relationship with the Dodgers.

Debus served as the Dodgers' bullpen coach for one season, in 2005 under Jim Tracy.