New York Mets:

Jonathon Pettibone
June, 21, 2013
6/21/13
12:50
AM ET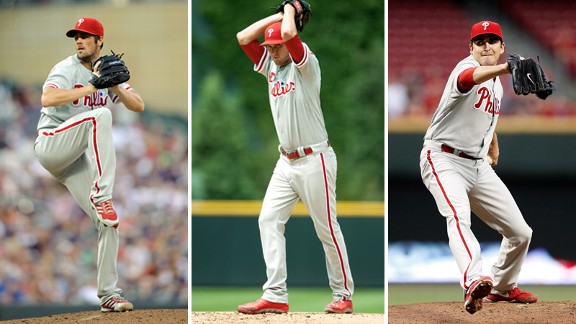 Getty ImagesThe Mets face (l to r) Cole Hamels, Jonathan Pettibone and John Lannan this weekend.
METS (28-41, fourth place/NL East) vs. PHILADELPHIA PHILLIES (35-38, third place/NL East)
Friday:
RHP
Jeremy Hefner
(1-6, 3.96) vs. LHP
Cole Hamels
(2-10, 4.40), 7:05 p.m. ET
Saturday:
RHP
Dillon Gee
(5-7, 4.56) vs. RHP
Jonathan Pettibone
">Jonathan Pettibone (3-3, 4.40), 4:05 p.m. ET
Sunday:
RHP
Matt Harvey
(6-1, 2.16) vs. LHP
John Lannan
(0-1, 5.49), 1:35 p.m. ET
Phillies short hops
•
Cole Hamels
' 10 losses are tied with the Angels'
Joe Blanton
for the major league lead. Hamels is the first Phillie with 10 losses before the All-Star break since Kyle Abbott in 1992.
• Left-hander
John Lannan
faced his former club, the
Washington Nationals
, on Monday in his first major league start in two months. Lannan allowed two runs in five innings. He had been on the DL since an April 17 appearance at Cincinnati with a strained tendon in his right knee. The Long Beach, L.I., native signed a one-year, $2.5 million contract with Philadelphia on Dec. 18.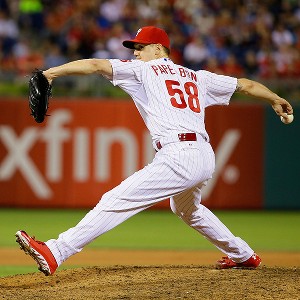 Matt Slocum/Associated PressJonathan Papelbon blew his first two saves this season against Washington this week.
•
Chase Utley
, who has missed a month with a right oblique strain, began a rehab assignment Wednesday with Double-A Reading. He is expected to return at some point this weekend.
Kevin Frandsen
has started the past four games at second base. He is hitting .350 with two RBIs and a .435 on-base percentage over his last eight games (five starts).
•
Carlos Ruiz
was activated from the DL on Tuesday after missing four weeks with a strained right hamstring.
•
Jonathan Papelbon
blew his first two saves of the season in a three-day span against the Nationals this week.
• Rookie
Jonathan Pettibone
's rotation spot may be in jeopardy.
Carlos Zambrano
tossed seven scoreless innings for Triple-A Lehigh Valley on Tuesday. He will make another minor league start Sunday, but can opt out if he is not promoted by July 1. Zambrano is 3-0 with a 0.95 ERA in five minor league starts over three different levels. He signed with Philadelphia on May 15. Pettibone is coming off an outing at Colorado in which he surrendered seven runs (six earned) on 10 hits and a walk in three innings.
• Left fielder
Domonic Brown
is hitting .135 with no extra-base hits in 37 at-bats over his past 10 starts.
• Third baseman
Michael Young
notched his 1,000th RBI on Wednesday, on a two-run homer against Washington's
Gio Gonzalez
. He is the 18th active player to reach that threshold.
•
Ben Revere
has a 10-game hitting streak during which he is hitting .391. Revere has spent the past seven games in the leadoff spot.
•
Cliff Lee
, who potentially could be traded, has a 1.97 ERA in his last nine starts and has won seven straight decisions. He is owed $25 million a season in 2014 and '15, and has a $27.5 million club option for 2016 with a $12.5 million buyout.
April, 25, 2013
4/25/13
7:13
PM ET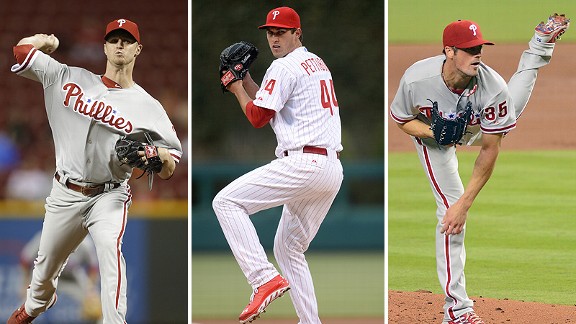 Associated Press/USA TODAY Sports
The Mets face (l to r) Kyle Kendrick, Jonathon Pettibone and Cole Hamels this weekend at Citi Field.
METS (10-10, second place/NL East) vs. PHILADELPHIA PHILLIES (9-14, fourth place/NL East)
Friday:
RHP
Dillon Gee
(1-3, 5.95) vs. RHP
Kyle Kendrick
(1-1, 3.28), 7:10 p.m. ET
Saturday:
RHP
Shaun Marcum
(0-0, -.--) vs. RHP
Jonathan Pettibone
(0-0, 3.38), 1:05 p.m. ET
Sunday:
LHP
Jonathon Niese
(2-1, 3.81) vs. LHP
Cole Hamels
(0-3, 5.40), 1:10 p.m. ET
Phillies short hops
•
Jonathan Pettibone
is making his second major league start Saturday. He is the son of right-hander Jay Pettibone, who started four games -- all losses -- for the
Minnesota Twins
in 1983, on a team that included Tim Teufel and Frank Viola. The younger Pettibone debuted Monday against the
Pittsburgh Pirates
and accomplished something his father failed to do: participate in a win. Pettibone, 22, limited the Pirates to a pair of solo homers and four other hits in 5 1/3 innings while striking out six and walking none. The Phillies won, 3-2.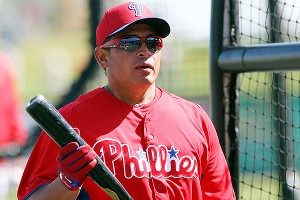 Kim Klement/USA TODAY Sports
Carlos Ruiz is due to be activated Sunday after serving a season-opening 25-game suspension.

•
Carlos Ruiz
is eligible to be activated Sunday after completing a 25-game suspension for testing positive for a banned amphetamine. Ruiz's tune-up for activation was slowed because he was hit on his left wrist with a pitch in an extended spring training game last Friday. X-rays were negative.
Erik Kratz
and
Humberto Quintero
have handled the catching in Ruiz's absence.
•
Delmon Young
, who signed for a guaranteed $750,000 and incentives on Jan. 22, has started a rehab assignment and is due to join the Phillies within weeks -- although not for this Mets series. He underwent right ankle surgery during the offseason. Young is the projected right fielder, although he must get acclimated. He had not played in a game there since 2007 until rehab games this week.
John Mayberry Jr
. has produced with Young out.
• The Phillies, who are struggling on offense, went four full games without a walk until
Chase Utley
got a free pass on April 19. How rare is that? In the NL, the last teams to have gone four straight games without a walk were the 2009
Arizona Diamondbacks
, 1976 Montreal Expos, 1952 New York Giants and 1935
Chicago Cubs
.
• Utley already has four errors.
•
Ryan Howard
homered for only the second time this season on Wednesday, against
Wandy Rodriguez
. In that game, Charlie Manuel split up Utley and Howard in the lineup so opposing managers could not insert one lefty specialist to face both without seeing a righty batter in between.
• This is the deepest Cole Hamels has gone into a season without a win since 2009, when it took the southpaw until his fifth start on May 8 for a victory.
• Manuel is in the final year of a contract. He told ESPN's Jayson Stark: "I plan to keep managing -- unless I decide all of a sudden I don't want to do it."
Said GM Ruben Amaro about the subject: "Honestly, I don't think about his situation at all. I don't think the players give two craps about it. I don't think it's even a factor, not with our guys … I don't know if a contract for the manager should be a motivating factor for any player. They should be motivated by winning. That's it."
• Center fielder
Ben Revere
is battling a nagging quadriceps injury. After Revere started every previous game this season, ex-Mets farmhand
Ezequiel Carrera
instead was inserted in the lineup Thursday afternoon.
• The Phillies have lost three in a row (with Hamels,
Roy Halladay
and
Cliff Lee
pitching) and eight of 11.
• Since surrendering seven runs in four innings against the Mets on April 8, Halladay is 2-0 with a 1.71 ERA in three starts. He has allowed eight hits in 21 innings over that span.
• At 9-14, the Phillies are in the midst of their worst start since 2006.