New York Mets:

Jorge De La Rosa
May, 2, 2014
May 2
11:43
PM ET
DENVER -- The
New York Mets
arrived in Colorado as the only team in the majors to have its starting pitcher log at least five innings in every outing. Two days later, they've now had back-to-back games with their starting pitcher failing to reach that threshold.
Zack Wheeler
surrendered a career-high seven runs in four innings and the Mets lost to the
Colorado Rockies
10-3 Friday night at Coors Field. It was the shortest outing of Wheeler's career.
Wheeler's line: 4 IP, 7 H, 7 R, 6 ER, 2 BB, 1 K. His ERA swelled to 5.13.
The first five Rockies reached base in a four-run first inning -- with a walk and a swinging bunt by
Wilin Rosario
for a base hit contributing to the damage, along with
Justin Morneau
's RBI double.
Bartolo Colon
had allowed seven runs in 4 2/3 innings in the series opener.
After posting a 15-11 record in April, the Mets are now 0-2 in May.
Deep thoughts:
Curtis Granderson
produced a two-run homer against
Jorge De La Rosa
in the sixth inning that pulled the Mets within 7-3. It was Granderson's second home run, and eighth and ninth RBIs of the season. His other long ball came April 5 against Cincinnati's
Johnny Cueto
.
Granderson went 75 at-bats between home runs -- the eighth-longest drought of his career, according to the Elias Sports Bureau. He last had a longer streak in 2010 -- 87 at-bats, in his first season with the Yankees.
Granderson also had an eighth-inning single to lift his batting average to .156. He has only one other two-hit game as a Met -- on April 3 against Washington.
Juan-derful:
Juan Lagares
had his second straight two-hit game since returning from the disabled list. Lagares followed up two doubles Thursday with a 2-for-5 performance that included one more double.
The end:
Daniel Murphy
's streak of successful steal attempts ended at 28. In an ill-advised first-inning attempt that took the Mets out of a potential big inning, Murphy was caught by De La Rosa trying to take third base with none out and
David Wright
batting.
Murphy's streak was the second longest in franchise history. Kevin McReynolds had 33 straight successful steal attempts from 1987 through '89.
What's next:
Jenrry Mejia
(3-0, 3.49 ERA) opposes left-hander
Franklin Morales
(3-1, 4.40) at 8:10 p.m. ET Saturday.
September, 25, 2012
9/25/12
8:18
AM ET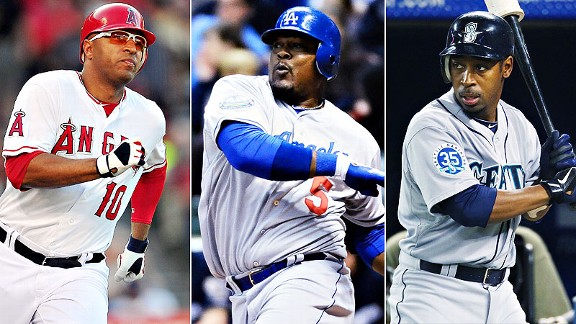 US Presswire
Vernon Wells, Juan Uribe and Chone Figgins (l to r) are among the bloated contracts around Major League Baseball.
The Mets' first task this offseason regarding
Jason Bay
, and for that matter
Johan Santana
, likely should be to see if any team has trade interest. A swap appears unlikely, though, even discounting the no-trade clause each possesses.
After all, Bay is hitting .155 with eight homers in 187 at-bats. And he is owed $19 million next season including a 2014 buyout, making it a toxic contract.
Similarly, Santana -- despite the June 1 no-hitter -- finishes the season on the DL after allowing six-plus runs in each of his final five starts. Santana is owed $31 million next season including a '14 buyout.
Still, if the Mets were to find another team with toxic contracts to swap, who is logical? With the help of reporters around baseball, here's a look …
THEY'VE GOT POTENTIAL
Angels: "
Oh, you've come to the right place," our friend who covers the Angels says. "The Angels have the deadest of dead weight --
Vernon Wells
. The Angels are paying Wells $21 million this year to be their fourth outfielder. They owe him $21 million more in 2013 and again in 2014."
Blue Jays:
Left fielder/first baseman
Adam Lind
(.240, 10 HR, 40 RBIs) is owed $5 million in 2013. With buyouts of option years, the minimum owed is $7 million. "He cleared waivers at one point this season and the Blue Jays would love to get rid of his contract -- even though it's unlikely that can happen," a team observer said.
Braves:
Second baseman
Dan Uggla
(.215, 19 HR, 73 RBIs) is owed $39 million over the next three seasons.
Cubs:
Alfonso Soriano
($18 million apiece in 2013 and '14) and
Carlos Marmol
($9.8 million next season) are the remaining sizable contracts.
Dodgers:
The Dodgers inherited
Carl Crawford
($102.5 million through 2017) and
Josh Beckett
($31.5 million through 2014) while acquiring
Adrian Gonzalez
, but both should contribute. The least-productive contract:
Juan Uribe
, who finally pinch hit Sunday after going unused for nearly a month. Uribe, with one year remaining, is still owed $8 million.
Mariners:
Left fielder
Chone Figgins
(.183, 2 HR, 11 RBIs) is owed $8 million next season. Center fielder
Franklin Gutierrez
(.258, 4 HR, 14 RBIs) is owed $7.5 million in 2013 with a buyout of the following season. Says one observer: "Gutierrez has been hurt or sick for most of his deal and might produce if ever healthy. Figgins is literally dead weight." Bay does live in the offseason in Seattle. And the combined $15.5 million owed to those two are close to Bay's $19 million.
Marlins:
Heath Bell
has two years, $18 million guaranteed remaining. He also has a $9 million option for 2015 based on games finished -- 55 the previous season or 100 combined in 2013 and '14. (The Mets have been down that route before.)
Pirates:
Clint Barmes
is signed for 2013 at $5.5 million. He's hitting .228/.266/.325 with eight homers.
Red Sox:
John Lackey
(12-12, 6.41 ERA) has two years left for a combined $30.5 million, with a 2015 club option at the major league minimum because of a preexisting elbow injury.
Twins:
Nick Blackburn
(4-9, 7.39 ERA) and middle infielder
Tsuyoshi Nishioka
-- both relegated to the minors -- are under contract for 2013 and "practically sunken cost." Blackburn is owed $5.5 million. Nishioka is owed $3.25 million including a 2014 buyout. The Twins likely would never trade
Joe Mauer
, despite him being owed $23 million annually through 2018.
Yankees:
Alex Rodriguez
to Flushing? Don't hold your breath. Still, A-Rod is owed $114 million over the next five seasons.
Mark Teixeira
and
CC Sabathia
could emerge as bad contracts, with $90 million over four seasons and $119 million over five seasons owed, respectively.