New York Mets:

Josh Byrnes
May, 24, 2012
5/24/12
11:53
AM ET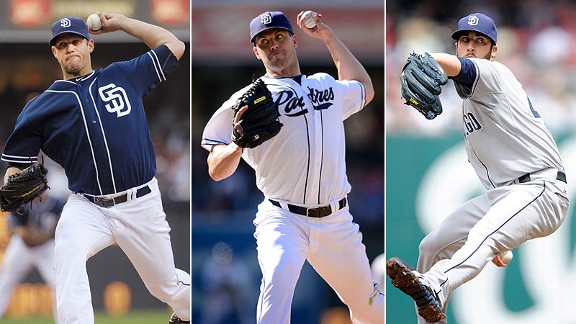 Getty Images
The Mets will face Eric Stults (l), Anthony Bass (r) and Clayton Richard (c) in the opening three games of the weekend series.
METS (24-20, third place/NL East) vs. SAN DIEGO PADRES (16-29, fifth place/NL West)
Thursday:
RHP
Jeremy Hefner
(0-1, 2.25) vs. LHP
Eric Stults
(0-0, 2.70), 7:10 p.m. ET
Friday:
RHP
Dillon Gee
(3-3, 5.44) vs. RHP
Anthony Bass
(2-4, 2.89), 7:10 p.m. ET
Saturday:
LHP
Johan Santana
(1-2, 3.24) vs. LHP
Clayton Richard
(2-5, 4.63), 1:10 p.m. ET
Sunday:
RHP
R.A. Dickey
(6-1, 3.45) vs. RHP
Edinson Volquez
(2-4, 3.49), 1:10 p.m. ET
Padres short hops
• Closer
Huston Street
, who was acquired from Colorado in December for the final year of a guaranteed three-year, $22.5 million deal, landed on the disabled list May 5 with a strained right lat.
Right-hander
Dale Thayer
, who made 11 relief appearances with the Mets last season, signed with the Padres as a minor league free agent and now has stepped into the closer's role and excelled. Thayer retired the first 10 batters he faced this season, has retired 28 of 36 overall and has worked a scoreless inning in each of his 10 appearances. He is 5-for-5 in save chances since recording his first as a Padre on May 7. Thayer had only one previous save -- on May 22, 2009, by pitching the final three innings of a 15-2 win with the Tampa Bay Rays in his major league debut.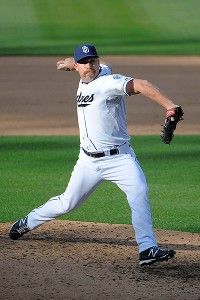 Denis Poroy/Getty Images
Dale Thayer has emerged as the unexpected closer of the Padres in Huston Street's absence.

• Left-hander
Eric Stults
was claimed off waivers from the Chicago White Sox on May 17. Stults, 32, is making his second Padres start. He allowed two runs in 6 2/3 innings against the Los Angeles Angels on Saturday. Stults had made two appearances (one start) for the Sox this season. He was 1-1 with a 2.20 ERA in five starts at Triple-A Charlotte. Starters
Cory Luebke
and
Joe Wieland
landed on the DL eight days apart earlier this month. Luebke required Tommy John surgery.
• Rampant injuries have forced the Padres to use 39 players this season, tied with the Boston Red Sox for most in the majors. The Padres have 13 players currently on the DL. The absentees also include shortstop
Jason Bartlett
and outfielder
Carlos Quentin
, who was acquired from the White Sox after slugging a combined 107 homers in four years with Chicago.
• Former Mets GM
Omar Minaya
is an assistant to San Diego GM
Josh Byrnes
. Byrnes was a finalist for the Mets job that went to
Sandy Alderson
.
• The Padres released
Orlando Hudson
, who was hitting .211 through 123 at-bats.
Alexi Amarista
was acquired in a trade with the Angels on May 3 and is manning second base.
• Third baseman
Chase Headley
denied an ESPN.com report
that he and ex-teammate
Ryan Ludwick
, now with Cincinnati, had a clubhouse altercation with
Mike Adams
last season, before Adams was dealt to Texas. The report stated that Adams had told the players to stop griping about Petco Park's spacious dimensions.
• First baseman
Yonder Alonso
has hit safely in 22 of his past 25 games. He is hitting .362 (34-for-94) during that span, upping his average to .300. He leads NL rookies in average, hits, on-base percentage and doubles. Alonso arrived from Cincinnati in a steep package with
Edinson Volquez
,
Yasmani Grandal
and
Brad Boxberger
in December for
Mat Latos
.
• Catcher
Nick Hundley
has thrown out a major league-high 14 would-be base stealers.
• Center fielder
Cameron Maybin
, a former Marlin, is hitting only .212.
• San Diego has scored 139 runs and has a team .220 batting average. Both rank 15
th
in the NL, ahead of only the Pirates (126 runs/.217). The Mets rank second-to-last in homers with 25. San Diego is last at 17.
Last series results
Mets won, 2-1, at Petco Park, Aug. 15-17, 2011 (AP game recaps)
Mets 5, Padres 4 (10 innings):
Everybody with the Mets wanted to make a big deal about Jason Isringhausen's 300th career save except the pitcher himself. Isringhausen notched his milestone save with runners on second and third. The save came after Scott Hairston drove in the go-ahead run with a fielder's choice in the top of the inning. The Mets had a small champagne party in the clubhouse afterward.
More
Padres 6, Mets 1:
Nick Hundley had three hits, including two triples, to lead a 15-hit attack as the San Diego Padres defeated the slumping Mets. Orlando Hudson drove in two runs and Cameron Maybin hit his eighth homer, a leadoff drive in the seventh, for San Diego, which reached double figures in hits for the second straight game. Hundley's second triple led off the eighth inning and came off Mike Pelfrey.
More
Mets 7, Padres 3:
After hitting a big home run, David Wright faked out Cameron Maybin. Wright hit a three-run homer and Angel Pagan added three RBIs to lift the Mets to their first series win in San Diego in more than nine years. Maybin was on second base when Logan Forysthe hit a hard grounder down the third-base line with two outs. Wright dived and stopped the ball some 15 feet behind the bag and then popped to his feet and faked the throw to first when he saw Maybin wasn't watching him.
More
October, 26, 2010
10/26/10
6:56
PM ET
The Mets did not commit to a press conference Friday, but it is expected the new general manager may be introduced that day, since it's an off-day between Games 2 and 3 of the World Series.

Sandy Alderson completed the interview process Tuesday at Citi Field when he met with principal owner Fred Wilpon, president Saul Katz and chief operating officer Jeff Wilpon. Alderson is widely expected throughout baseball to be the hire. The other finalist, former Arizona Diamondbacks GM Josh Byrnes, had his final-round interview Monday.

"We will have no further comment on the process until we are ready to announce our new general manager," Jeff Wilpon said in a statement.
October, 24, 2010
10/24/10
11:57
AM ET
Josh Byrnes still has five years remaining on his contract with the Arizona Diamondbacks. And that means he likely would cost the Mets significantly less than the other GM finalist, Sandy Alderson.

The Mets could not pay Byrnes $1 annually for five years, but they would only be responsible for a "reasonable" payment. That's because every dollar Byrnes gets from the Mets is deducted from the amount Byrnes would receive from his Diamondbacks contract -- so Byrnes gets the same amount either way.

Needless to say, the Diamondbacks are rooting for Byrnes to get the job, too. That's because whatever the Mets pay him is less out of their pockets.

There is no indication that financial consideration is a dominant factor. But if two qualified candidates end up being neck-and-neck, perhaps potentiially saving $1 million or more a year on GM and using that for player procurement could come into play.

ON THE CLOCK: Bidding on other teams' free agents doesn't start until five days after the World Series under the revised guidelines (down from 15 days afterward), but the Mets face a hard deadline looming with left-hander Hisanori Takahashi.

When the Mets signed Takahashi to a minor-league deal in February, they guaranteed to make him a free agent after Oct. 31 if he was not signed to a longer-term deal by then. And if the Mets do cut Takahashi loose next Sunday per that obligation, they would not be able to re-sign him to a major-league contract and use him in the big leagues until May 15, as The New York Times noted this morning.

So, essentially, if Takahashi is not re-signed by the Mets by next Sunday, he's going elsewhere.

Even if Takahashi had more success as a reliever, he could be particularly valuable to the 2011 Mets because of his versatility given the uncertainty over when Johan Santana might be fully recovered from shoulder surgery. Also, the Mets' other primary left-hander in the bullpen, workhorse Pedro Feliciano, is a pending free agent.

UNDER CONTROL: Right-hander Brad Holt, the 33rd overall pick in the 2008 draft out of UNC Wilmington, finally appears to be putting things together in the Arizona Fall League. Holt, who turned 24 on Oct. 13, struggled with control during the regular season, prompting a demotion from Double-A Binghamton to Class A St. Lucie. His combined numbers between the levels: 3-14 with an 8.34 ERA, 111 hits and 79 walks in 95 innings.

In three AFL starts, Holt has yet to allow an earned run over nine innings. His line: 2-0, one run (unearned), four hits, four walks, nine strikeouts.

Also in the AFL, center fielder Kirk Nieuwenhuis returned Saturday. He struck out in both at-bats after entering in the fourth inning. Nieuwenhuis had been out four days because of a wrist injury suffered during a slide.

SECOND COMING: Daniel Murphy, who had worked at second base in Fort Myers, Fla., during the instructional league, has moved on to winter ball with Aguilas in the Dominican Republic. Murphy has started Aguilas' first two games at second base. He is hitless so far in eight at-bats.

While it's difficult to forecast Murphy's 2011 role before a GM and manager are named and without viewing the spring-training competition, some combination of Murphy and Ruben Tejada could be viable at second base. That would serve as a lefty-righty/offensive-defensive complement.

At the least, by getting proficient at second base, Murphy would be a more valuable lefty pinch-hit bat for the bench, since he conceivably could fill in at three infield positions and left field.

Murphy missed the entire 2010 season at the major league level because of a pair of MCL injuries to his right knee.

BLANC SLATE: Henry Blanco has started three of the past four games for Margarita in Venezuela. Blanco will be a free agent, although it's conceivable he returns to the Mets. If Josh Thole is going to be the No. 1 catcher, the Mets can use a righty-hitting backup, so Blanco fits the bill. And Blanco was popular with the pitching staff. One reason for caution: Blanco does turn 40 next season.
October, 22, 2010
10/22/10
7:44
PM ET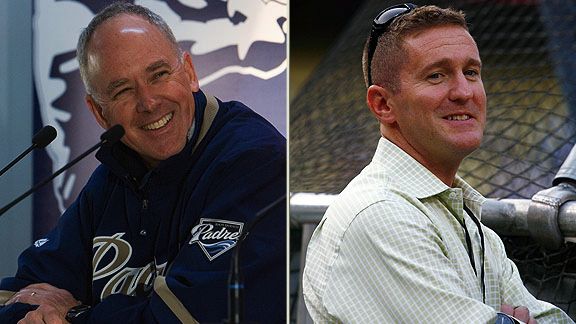 Getty Images
Sandy Alderson (left) and Josh Byrnes (right) are the finalists for the Mets' GM job.
Former Diamondbacks GM
Josh Byrnes
interviews Monday with the Mets ownership group.
Sandy Alderson
goes Tuesday. Details
here.
October, 11, 2010
10/11/10
4:47
PM ET
Boston Red Sox scouting director Allard Baird opened the Mets' GM interview process Monday, meeting with chief operating officer Jeff Wilpon, acting GM John Ricco and other Mets executives.

Chicago White Sox assistant GM Rick Hahn is due to interview Tuesday, followed by former Arizona Diamondbacks GM Josh Byrnes on Wednesday.

Sandy Alderson, the former Oakland GM and San Diego president who is currently working for Major League Baseball, is due to interview at the end of the week.

The Mets do plan for a second round of interviews with finalists.
October, 7, 2010
10/07/10
8:26
PM ET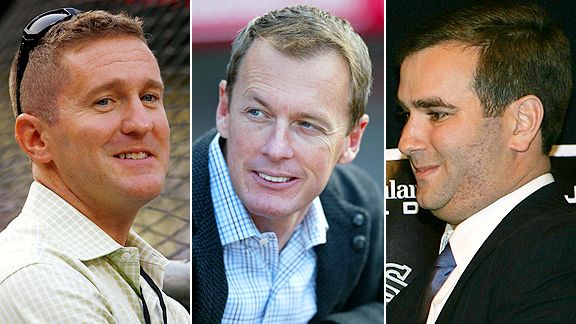 Getty Images, Icon SMI
Former Diamondbacks GM Josh Byrnes, former Royals GM Allard Baird (center) and White Sox assistant GM Rick Hahn (right) will interview for the Mets' GM job next week.
The Mets have arranged interviews with
Josh Byrnes
,
Allard Baird
and
Rick Hahn
for next week to fill the GM position. The organization expects to interview five to seven candidates in all. Read the full story
here
.
NBA
NHL
COLLEGE BASKETBALL
MLB
NBA
NHL
COLLEGE BASKETBALL
MLB