New York Mets:

Josh Hamilton
January, 22, 2013
Jan 22
5:10
PM ET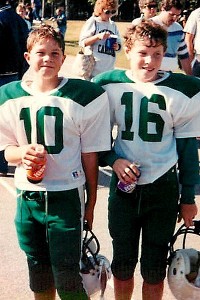 Courtesy of Ron Powell
Landon Powell (left) and Josh Hamilton (right) were multi-sport teammates growing up, including in Pop Warner football.

After two surgeries to repair the ACL in his left knee and another to clean out cartilage, a scary ordeal during which he experienced the early stages of liver failure and may ultimately require a transplant, and career highlights such as catching
Dallas Braden
's perfect game, 30-year-old
Landon Powell
is the
New York Mets
' newest catcher.
He signed a minor league deal last week, reuniting with bench coach Bob Geren, his manager for three seasons with the
Oakland Athletics
.
Read the full feature story
here
.
May, 10, 2012
5/10/12
10:00
AM ET
By
Mark Simon, ESPN Stats & Information
AP Photo/Matt SlocumJordany Valdespin was an unlikely hero in a week of unlikely wins.
The Mets went an improbable 5-1 in the past week and won series from two teams that made the 2011 postseason. Let's review their accomplishments, with help from Baseball-Reference.com here.
Stat of the Week
Elias reports that the Mets' sweep of the Phillies was the third time in team history that the Mets won a road series of at least three games despite trailing in each of those games. The others were in July 1986 in Cincinnati and in August-September 1987 in San Diego.
Snake Charmers
The Mets won two of three games from the Diamondbacks last weekend, bouncing back from a series-opening loss to take the last two games.
By doing so, the Mets won their third homestand of the season, albeit this one a three-gamer. They won only three homestands over the entire 2011 season.
With his win Saturday,
Johan Santana
improved to 3-0 for his career against the Diamondbacks. He's halfway to the most consecutive wins to start a career against the Diamondbacks.
Roy Oswalt
and
Tim Hudson
each started 6-0 in their careers against Arizona.
Santana yielded only two ground balls in the game, matching the fewest he'd allowed in any start as a Met. The only other Mets start in which he allowed only two grounders was Opening Day in 2009, when he gave up only two in a 2-1 win over the Reds.
In addition to getting the win Sunday,
R.A. Dickey
survived another game without striking out as a hitter. Dickey has not struck out in his first six starts in 2012.
Dickey and
Dwight Gooden
are the only pitchers in Mets history to have their first six appearances of the season, all as a starting pitcher, all be strikeout-free. Gooden did so in both the 1984 and 1987 seasons.
In the series finale, the Mets won in a tidy 2:16. It was the second-shortest game in the history of the Mets-Diamondbacks rivalry, surpassed only by a 5-0 Mets win June 10, 2006 (2:14).
The Mets ended this series not having homered in six straight games, far from the club record of 17 straight games without a homer.
Let's go for a 'Spin
Elias reports that
Jordany Valdespin
is the first player whose first career hit was a go-ahead home run in the ninth inning or later since
Miguel Cabrera
of the Marlins on June 20, 2003 (versus Tampa Bay).
That earned our Mets Moment of the Week status and gave us a chance to look back at other Mets pinch-hit homer notes.
It marked the 27th time the Mets got a go-ahead pinch-hit homer in the ninth inning or later. The Mets didn't have any from 2006 to 2010, but now have them in consecutive seasons.
Scott Hairston
hit one last July 8
against Giants closer
Brian Wilson
.
It was the first go-ahead pinch-hit home run to drive in at least three runs in the ninth inning or later since
Benny Agbayani's
pinch-hit grand slam
in the second game of the 2000 season in Japan, the first to drive in exactly three since a
walk-off home run
by
Jim Tatum
against the Astros in 1998.
Valdespin hit the home run against a split-fingered fastball. Only two other Mets in the past four seasons have golfed a splitter located knee-high or below for a home run. The other two were
Gary Sheffield
in 2009 and
Daniel Murphy
last season.
Lastly, Phillies closer
Jonathan Papelbon
has now given up five go-ahead home runs in the ninth inning or later against New York teams. Two have been to Mets (
Omir Santos
in 2009 and Valdespin). Three were against the other New York team (whose players we won't mention here).
Ful'Phil'ing Victories
The Mets rallied from a 4-0 deficit to beat the Phillies 7-4 on Tuesday. The 10th comeback win of the season marked the first time in team history that the Mets won 10 of their first 30 games in come-from-behind fashion.
The last time the Mets trailed AND were being shut out by four or more runs in Philadelphia and came back to win was May 15, 1999, when
they rallied from a 6-0 deficit
to win in Philadelphia 9-7. The Mets won that day despite Mike Piazza hitting into a triple play.
The Mets completed the sweep with a 10-6 win in Philadelphia in the series finale Wednesday. It gave them their first sweep of a series of three or more games in Philadelphia since 2006.
The Mets won all three games by at least three runs, the first time they've won three straight games in the same series in Philadelphia, all by three runs or more.
Be like Ike
Ike Davis
shook out of a slump with a three-run home run against
Jose Contreras
. The homer came against a pitch that was middle of the plate, knee-high.
That's the one spot he's done well this season. Davis is 7-for-15 this season in at-bats that ended with a pitch located knee-high in the middle of the plate. He has a combined nine hits in all other areas of the strike zone.
The chart on the right shows Davis' performance by strike-zone location this season.
Joshing Around
On Tuesday, Rangers outfielder
Josh Hamilton
became the 16th player to hit four home runs in a game. There was a Mets connection to this one. The last home run came against former Mets reliever
Darren O'Day
.
Prior to Hamilton, the last three players with a four-homer game all went on to play for the Mets --
Mike Cameron
,
Shawn Green
and
Carlos Delgado
. Two other "eventual Mets" also had a four-homer game --
Gil Hodges
and
Willie Mays
.
There is a Mets pitching connection to each of the past four four-homer games.
Jon Rauch
, then with the White Sox, allowed Cameron's first home run while pitching for the 2002 White Sox. Green's first of four home runs came against
Glendon Rusch
, who was a member of the 2002 Brewers. Future Met
Jorge Sosa
allowed the first two of Delgado's home runs while pitching for the 2003 Rays.
The Mets have never had a four-homer game. They've had eight three-homer games. Six Mets --
Jim Hickman
,
Dave Kingman
,
Claudell Washington
,
Darryl Strawberry
,
Gary Carter
and
Edgardo Alfonzo
-- hit three homers in a game and had at least one other plate appearance with a chance at a fourth, but failed to hit it.
Vintage Metsiemetric of the Week
The Mets won the last two games of the Diamondbacks series without recording an extra-base hit. They hadn't won back-to-back games without recording an extra-base hit since May 1995.
The Mets have registered back-to-back wins without recording an extra-base hit eight times.
Our weekly time-machine trip takes us to the first instance -- June 10 and 11, 1968, when they beat the Dodgers,
1-0
and
3-0
in Los Angeles. The Mets combined for 16 singles in those two games, winning on the strength of shutouts from
Tom Seaver
and
Dick Selma
.
June, 25, 2011
6/25/11
10:07
AM ET
Mike Pelfrey
and
Manny Acosta
combined to surrender three two-run homers and the Mets lost the opener to a six-game road trip, 8-1 to the Rangers on Friday night.
Saturday's news reports:
•
Barbara Barker
in Newsday tells the story of how
Dillon Gee
, who faces his hometown team Sunday, came
to be drafted by the Mets
. Gee had been invited to a tryout camp at a junior college, but it was called off because of rain. Writes Barker:
Gee's father, Kevin, had taken a day off from his job with the Fort Worth fire department to attend the tryout. As they prepared to return home, Kevin noticed that the team had pulled a few of the players aside and told them not to leave. "They were going to bus those kids two hours to the Astrodome in Houston for a tryout," (mother) Kelly said. "Dillon was not one of those kids." Kevin approached a friendly-looking scout and told him he really ought to see his son pitch. The scout told him if he wanted to make the drive on his own with Dillon, they would take a look at him. The Mets liked what they saw, or liked it enough to end up making Gee the 633rd overall pick. He signed with them for only $20,000.
•
Francisco Rodriguez
was not thrilled with any
implication he did not want to remain a Met
. As for the Yankees, the Post reports they're
not interested in him in the Bronx
anyway. And a second article in the newspaper quoted an anonymous Mets official saying it's
too dangerous to do business with the Yankees
, so the only scenario in which the teams would engage in a swap is if the Mets are overwhelmed. Read more in
Newsday
.
• Read game stories in the
Record
,
Star-Ledger
,
Newsday
,
Post
,
Daily News
and
Times
.
• Pitching coach
Dan Warthen
said
Chris Capuano
, who had adominal cramping last outing, will be
fine to pitch on turn Wednesday
in Detroit. Read more in the
Star-Ledger
.
•
Davey Johnson
is
poised to become manager
of the Washington Nationals.
Mookie Wilson
approves
.
•
Jeff Pearlman
looks at the Mets getting fleeced of
Tom Seaver
in
an all-time horrific trade
. The Journal article notes that
Jose Reyes
, should he be traded, would not rival the Seaver deal in terms of trading an icon. Writes Pearlman:
Like Seaver, Reyes is often the only reason to watch the Mets play. Like Seaver... well, never mind. "The comparison isn't a good one," says Marty Appel, a baseball historian who spent much of the 1970s as the New York Yankees media relations director. "Tom Seaver was an icon. Tom Seaver was the franchise. Trading him was like the Braves trading Hank Aaron or if the Pirates traded Roberto Clemente. Jose Reyes is a great player. But is he what Tom Seaver was to the city? Not even close."
• After Texas'
Josh Hamilton
broached the topic of blue eyes being a detriment to daytime hitting,
Jason Bay
agreed
. "I do know that if you have blue eyes you are more susceptible to brightness or whatever," Bay told The Times'
David Waldstein
. "I know that, and I do have very blue eyes."
BIRTHDAY:
Alejandro Pena
turns 52. Pena went 9-4 in two seasons with the Mets, before being traded in mid-1991. Pena eventually would inherit the closer role for the NL champion Braves and was the losing pitcher in Game 7 of the World Series against the Twins. ...
Carlos Delgado
turns 39. Delgado hit 104 home runs for the Mets and his .506 slugging percentage for the team ranks fourth in franchise history.
-Mark Simon