New York Mets:

Joshua Ake
June, 7, 2011
6/07/11
12:53
PM ET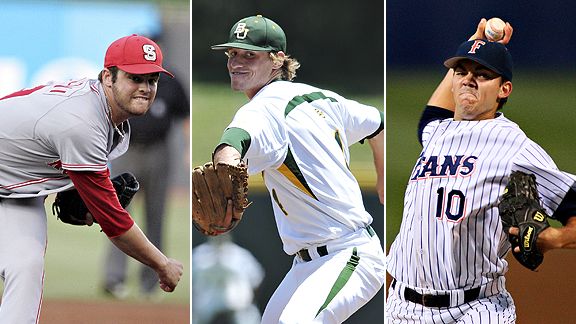 US Presswire/Icon
Mets draft picks (l to r) Cory Mazzoni of N.C. State, Logan Verrett of Baylor and Tyler Pill of Cal State Fullerton.
After taking high school outfielder
Brandon Nimmo
13th overall and right-hander
Michael Fulmer
with the 44th pick on the opening night of the draft, the Mets continued their selections Tuesday. Here are the results so far ...
Rd. 2 (71st overall),
Cory Mazzoni
, RHP, N.C. State,
College Bio
Rd. 3 (101),
Logan Verrett
, RHP, Baylor,
College Bio
Rd. 4 (132),
Tyler Pill
, RHP, Cal State Fullerton,
College Bio
Rd. 5 (162),
Jack Leathersich
, LHP, UMass Lowell,
College Bio
Rd. 6 (192),
Joe Tuschak
, CF, Northern (Dillsburg, Pa.) HS
Rd. 7 (222),
Cole Frenzel
, 1B, Arizona,
College Bio
Rd. 8 (252),
Danny Muno
, SS, Fresno State,
College Bio
Rd. 9 (282),
Alex Panteliodis
, LHP, Florida,
College Bio
Rd. 10 (312),
Matthew Budgell
, RHP, Woodbridge (Calif.) HS
Rd. 11 (342),
Chris Montgomery
, RHP, Lawrence Central (Ind.) HS
Rd. 12 (372),
Kenny Mathews
, LHP, Diamond Bar (Calif.) HS
Rd. 13 (402),
Robert Gsellman
, RHP, Westchester (Calif.) HS
Rd. 14 (432),
Xorge Carrillo
, C, Arizona State,
College Bio
Rd. 15 (462),
Phillip Evans
, SS, La Costa Canyon (Calif.) HS
Rd. 16 (492),
Brandon Marquez
, CF, Odessa (Texas) HS
Rd. 17 (522),
Jonathan Clark
, CF, Lee University,
College Bio
Rd. 18 (552),
Travis Taijeron
, CF, Cal Poly Pomona,
College Bio
Rd. 19 (582),
Dustin Lawley
, CF, Univ. of West Florida,
College Bio
Rd. 20 (612),
Mason Robbins
, CF, George County (Miss.) HS
Rd. 21 (642),
Jonathan Gant
, RHP, Wiregrass Ranch (Fla.) HS
Rd. 22 (672),
Casey Turgeon
, SS, Dunedin (Fla.) HS
Rd. 23 (702),
Jeffrey Diehl
, C, Cranton (R.I.) HS West
Rd. 24 (732),
Tant Shepherd
, 1B, Texas,
College Bio
Rd. 25 (762),
Andrew Reed
, LHP, Terre Haute (Ind.) South Vigo HS
Rd. 26 (792),
Casey Hauptman
, RHP, Nebraska,
College Bio
Rd. 27 (822),
Randy Fontanez
, RHP, South Florida,
College Bio
Rd. 28 (852),
Jharel Cotton
, RHP, Miami Dade CC South,
College Bio
Rd. 29 (882),
Joshua Ake
, SS, Hunterdon Central (NJ) Regional HS
Rd. 30 (912),
Jacob Hansen
, LHP, F.P. Walshe HS (Fort Macleod, Alberta)