New York Mets:

Julio Teheran
April, 7, 2014
Apr 7
9:30
AM ET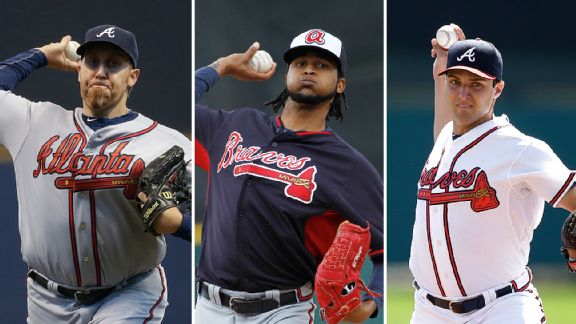 Associated Press/USA TODAY SportsThe Mets will face Aaron Harang, Ervin Santana and David Hale this week at Turner Field.
METS (2-4, fifth place/NL East) at ATLANTA BRAVES (4-2, second place/NL East)
Tuesday:
RHP
Bartolo Colon
(0-1, 4.50) vs. RHP
Aaron Harang
(1-0, 0.00), 7:10 p.m. ET
Wednesday:
RHP
Zack Wheeler
(0-1, 4.50) vs. RHP
Ervin Santana
(0-0, -.--), 7:10 p.m. ET
Thursday:
RHP
Jenrry Mejia
(1-0, 1.50) vs. RHP
David Hale
(0-0, 0.00), 7:10 p.m. ET
Braves short hops
Courtesy of Atlanta BravesThe Braves are wearing this patch to commemorate the 40th anniversary of Hank Aaron becoming MLB's home run king.
• During a pregame ceremony before Tuesday's Braves home opener, Atlanta will recognize the 40th anniversary of Hank Aaron's 715th home run. The shot came on April 8, 1974 and broke Babe Ruth's record. The Braves are wearing patches this season to commemorate the anniversary. Aaron, 80, will be on hand. He underwent partial left hip replacement surgery Feb. 14 after falling on ice.
• The Braves unexpectedly dumped
Freddy Garcia
on March 24 and signed 35-year-old
Aaron Harang
for a rotation spot. Harang took a no-hit bid into the seventh inning in Milwaukee in his Braves debut. Opposing pitcher
Matt Garza
also took a no-hit bid into that frame.
Logan Schafer
's single to lead off the bottom of the seventh ended Harang's bid. Harang, who finished last season with the Mets, had been released by the
Cleveland Indians
late in spring training.
•
Ervin Santana
signed for one-year, $14.1 million on March 12 after
Kris Medlen
and
Brandon Beachy
both suffered spring-training elbow injuries and ultimately required Tommy John surgery. Santana, who had a 3.24 ERA in 32 starts for the
Kansas City Royals
last season, will make his Braves debut Wednesday against the Mets. He allowed six runs (five earned) in 5 1/3 innings on Friday for Triple-A Gwinnett against Durham in his final tune-up.
• Atlanta also is missing a third starting pitcher -- left-hander
Mike Minor
. Minor, hindered by shoulder tendinitis during spring training, logged two innings for Double-A Mississippi on Thursday in a rehab start.
• Right-hander
David Hale
tossed five scoreless innings in his season debut at the
Washington Nationals
on Friday. It was his third career major-league start. Last September, Hale limited the
San Diego Padres
and
Philadelphia Phillies
to a combined one run in 13 innings. He is a third-round pick in 2009 out of Princeton. To earn the rotation role, Hale beat out fellow rookie
Gus Schlosser
, who instead found a spot in the bullpen as a longer reliever.
• The Braves claimed ex-Met
Pedro Beato
off waivers from the
Cincinnati Reds
on Wednesday.
• Brothers
B.J. Upton
and
Justin Upton
were a combined 2-for-31 with 16 strikeouts through Friday before each produced a two-hit game Saturday at Nationals Park.
• The Braves lead the majors with a 1.56 ERA.
• Closer
Craig Kimbrel
notched his 142nd career save Friday, passing Gene Garber for second on the franchise's all-time list.
John Smoltz
owns the franchise record with 154 saves. Smoltz also won 210 games as a Brave.
• The Braves went on a late-winter signing binge, locking up several core players long term. The signings:
Feb. 5: First baseman
Freddie Freeman
, eight years, $135 million
Feb. 14: Right-hander
Julio Teheran
, six years, $32.4 million
Feb. 16: Kimbrel, four years, $42 million
Feb. 20: Shortstop
Andrelton Simmons
, seven years, $58 million
Right fielder
Jason Heyward
also signed for two years, $13.3 million on Feb. 4 to avoid arbitration.
• Simmons earned his first Gold Glove last season.
• The Braves, who have played at Turner Field since it opened for baseball the year after the 1996 Olympics, will move to a new ballpark in Cobb County for the 2017 season. The 42,000-seat stadium, which will be located 10 miles north of downtown Atlanta, is projected to cost $672 million. The Braves have disputed the publicly financed contribution to that price tag, which has been reported as $450 million.
• The probable Braves batting order:
Heyward, rf
B.J. Upton, cf
Freeman, 1b
Chris Johnson
, 3b
Justin Upton, lf
Dan Uggla
, 2b
Evan Gattis
/
Gerald Laird
/
Ryan Doumit
, c
Simmons, ss
• Over the weekend, Heyward dealt with muscle spasms in the back of his neck that have resulted in headaches. He still wears a protective flap attached to his helmet to protect his jaw, which he fractured on a 90 mph fastball from
Jonathon Niese
last August.
September, 4, 2013
9/04/13
3:12
PM ET
ATLANTA --
Dillon Gee
continued his surge. The Mets salvaged the series finale.
Gee limited Atlanta to one run and four hits in seven innings to earn his team-leading 11th win and
Andrew Brown
and
Lucas Duda
homered as the Mets beat the
Atlanta Braves
, 5-2, Wednesday afternoon at Turner Field.
The Braves won the season series, 10-9. But the Mets fared well compared with their NL East brethren. Atlanta is 30-13 against the division's other three teams.
With Atlanta in control of the division, the Braves skipped
Julio Teheran
to conserve his innings count and instead gave journeyman
Kameron Loe
his first major league start since 2007 with the
Texas Rangers
.
Loe surrendered a first-inning two-run homer to Brown. Duda then led off what became a three-run third with his first major league homer since June 12, before a disabled-list trip and demotion.
In 4 1/3 innings, Loe ultimately surrendered 11 hits, the most by a pitcher against the Mets this season.
Brown twice stranded the bases loaded after his homer, but Gee did not need the additional support.
After left fielder
Eric Young Jr.
dropped a fly ball, Gee overcame two runners in scoring position with one out in the first inning by consecutively striking out
Evan Gattis
and
Gerald Laird
. Gee then cruised into the fifth, when he surrendered consecutive singles to
Dan Uggla
and
Paul Janish
and eventually a sacrifice fly to
B.J. Upton
that pulled the Braves within 5-1.
Gee's final line: 7 IP, 4 H, 1 R 1 ER, 1 BB, 5 K. He threw 101 pitches (77 strikes).
Gee has completed six innings in a career-high 13 straight starts. He went 3-1 with a 2.14 ERA in six starts in August.
Freddie Freeman
homered against
Vic Black
in the eighth to pull the Braves within three runs. Freeman hit .338 with six homers and 17 RBIs in 74 at-bats against the Mets this season.
What's next:
The Mets spend an off-day in Cleveland on Thursday, then open a three-game weekend series against the Indians.
Zack Wheeler
(7-3, 3.36 ERA) opposes left-hander
Scott Kazmir
(7-7, 4.36) in Friday's opener. It will mark Kazmir's first-ever appearance against his original organization.
September, 2, 2013
9/02/13
9:00
AM ET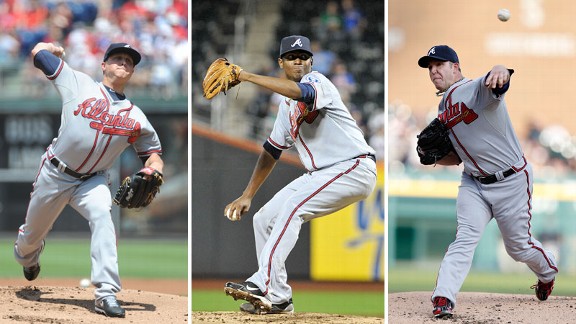 Getty ImagesThe Mets face (l to r) Paul Maholm, Kris Medlen and Julio Teheran in a three-game series at Turner Field.
METS (62-73, third place/NL East) vs. ATLANTA BRAVES (83-53, first place/NL East)
Monday:
RHP
Daisuke Matsuzaka
(0-2, 8.68) vs. LHP
Paul Maholm
(9-10, 4.37), 1:10 p.m. ET
Tuesday:
RHP
Carlos Torres
(3-2, 2.77) vs. RHP
Kris Medlen
(11-12, 3.58), 7:10 p.m. ET
Wednesday:
RHP
Dillon Gee
(10-9, 3.63) vs. RHP
Julio Teheran
(11-7, 3.01), 12:10 p.m. ET
Braves short hops
• The Braves have a two-game lead on the
Los Angeles Dodgers
for home-field advantage throughout the National League playoffs. Atlanta has produced 21 winning seasons in the past 23 years. The Braves have won 27 of their past 36 games.
• Third baseman
Chris Johnson
now leads the NL in batting average at .333. St. Louis'
Yadier Molina
ranks second at .329. Johnson, who has been dealing with leg soreness, had Sunday's game off, but nonetheless delivered a pinch-hit single.
•
Freddy Garcia
, 36, was called up by the Braves as rosters expanded. He was acquired from the
Baltimore Orioles
on Aug. 23 for cash. He will serve as a long reliever/spot starter. Garcia tossed 4 2/3 scoreless innings Sunday after starter
Alex Wood
was knocked out in the third inning.
• Rookie
Evan Gattis
(.238, 15 HR) was demoted for the weekend to Triple-A Gwinnett to get at-bats. He is due to rejoin the Braves on Tuesday, after the International League season ends. Gattis is hitless in his past 17 major league at-bats. He is hitting .188 since June 1. Gattis was replaced on the major league roster by speedster
Jose Constanza
.
•
Julio Teheran
topped Miami's
Jose Fernandez
in his most recent outing. He limited the Marlins to one run in 6 1/3 innings.
•
Jason Heyward
, who suffered a broken jaw when he was struck with a fastball from
Jonathon Niese
at Citi Field, has started to do limited exercising.
•
Kris Medlen
has a 1.96 ERA over his past four starts. He blanked the
Cleveland Indians
for seven innings in his last outing.
• Second baseman
Dan Uggla
returned from the disabled list Wednesday. He underwent LASIK surgery on Aug. 16.
• Closer
Craig Kimbrel
has 43 saves. He has converted a franchise-record 33 straight chances.
Kimbrel is the first pitcher in major league history to have three straight 40-save seasons beginning with his rookie year, according to the Elias Sports Bureau. His 90.4 career conversion percentage ranks second in Braves history. The only better:
John Smoltz
, at 91.1 percent. The only better than those two in major league history (min. 100 chances):
Eric Gagne
, at 91.7 percent.
May, 26, 2013
5/26/13
10:54
PM ET
Cancel the flight to Las Vegas.
Ike Davis
finally has something to feel good about.
Davis delivered a tiebreaking two-run single through the right side of the infield against
Cory Gearrin
with the bases loaded in the eighth, and the Mets snapped a five-game losing streak with a 4-2 win against the
Atlanta Braves
on Sunday night.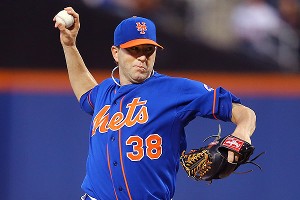 Al Bello/Getty ImagesShaun Marcum suffered a tough-luck no-decision, but it beat a loss.
With the Mets (18-29) trailing by a run,
Justin Turner
singled to begin the eighth.
Lucas Duda
then delivered his third hit, a double to the left-field corner that placed two in scoring position.
John Buck
's RBI single evened the score at 2.
Davis reached base three times in four plate appearances.
He walked in his first plate appearance, then was credited with an infield single the next time he stepped to the plate. On that fourth-inning grounder,
Dan Uggla
made a stellar diving stop to his left at second base. But, with time, Uggla bounced a throw that first baseman
Freddie Freeman
could not handle. The official scorer awarded Davis a hit. Davis grounded out to second base in the seventh.
Davis is 4-for-his-last-47. Or, if you prefer, 3-for-his-last-5. His average now stands at .158.
On the mark:
Uggla pummeled a two-run homer into the second deck in left field in the seventh inning to spoil a gem from
Shaun Marcum
.
Marcum, who set a new career high with 12 strikeouts in a no-decision, had taken a 1-0 lead into the frame.
Justin Upton
led off the inning with an infield single by beating out a grounder to shortstop
Ruben Tejada
. Upton then stole second on Freeman's strikeout. Uggla then blasted the monster two-run homer, on Marcum's 100th pitch.
Marcum's final line: 7 IP, 4 H, 2 R, 2 ER, 0 BB, 12 K, 1 HBP, 1 HR.
Marcum's previous strikeout high was 11, achieved June 16, 2007, with Toronto against Washington.
Of course, the Braves and
Houston Astros
are on pace to become the second and third teams in major league history to strike out 1,400 times in a season. Arizona has the MLB record, with 1,529 K's in 2010. Justin Upton was on that Diamondbacks team, too.
Marcum had retired 13 straight Braves at one point, until a two-out double by
Andrelton Simmons
in the sixth. Simmons was stranded when
Jason Heyward
struck out looking.
Dude!
Duda's solo homer against
Julio Teheran
in the fourth opened the scoring. It was the ninth homer of season for Duda, who has a 10-game hitting streak.
What's next:
The Mets host the Yankees in the opener a four-game, two-borough series Monday at 7:10 p.m.
Jonathon Niese
(3-5, 4.80 ERA) opposes right-hander
Phil Hughes
(2-3, 5.51).
May, 23, 2013
5/23/13
1:07
PM ET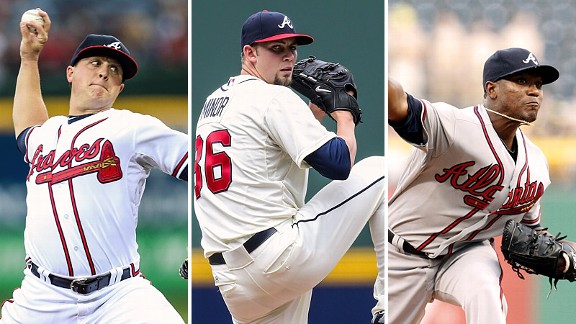 USA TODAY Sports
This weekend at Citi Field, the Mets face (left to right) Kris Medlen, Mike Minor and Julio Teheran.
METS (17-27, fourth place/NL East) vs. ATLANTA BRAVES (28-18, first place/NL East)
Friday:
RHP
Jeremy Hefner
(0-5, 5.00) vs. RHP
Kris Medlen
(1-5, 3.02), 7:10 p.m. ET
Saturday:
RHP
Dillon Gee
(2-5, 6.04) vs. LHP
Mike Minor
(5-2, 2.78), 7:15 p.m. ET
Sunday:
RHP
Shaun Marcum
(0-5, 6.59) vs. RHP
Julio Teheran
(3-1, 3.99), 8:05 p.m. ET, ESPN
Braves short hops
• Left fielder
Justin Upton
, who was acquired from the
Arizona Diamondbacks
on Jan. 24, is tied with Baltimore's
Chris Davis
for the MLB lead in homers with 14. Upton became the first player in major league history to homer five times in his first five games with a team, according to the Elias Sports Bureau.
• Right fielder
Jason Heyward
is hitting .304 with two RBIs in six games since returning from the disabled list Friday. Heyward underwent an appendectomy on April 22. He missed 22 games. He was hitting .121 when he landed on the DL.
• Center fielder
B.J. Upton
(.155, 4 HRs, 7 RBIs) snapped an 0-for-16 skid Saturday. He then homered Wednesday for the first time since April 23. He has yet to record a hit in three straight games, and will be bidding to accomplish that Friday at Citi Field.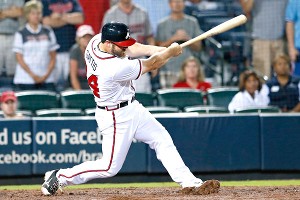 Kevin C. Cox/Getty Images
Evan Gattis has an MLB rookie-leading 10 homers.

• Catcher
Brian McCann
made his season debut May 6 after recovering from Oct. 16, 2012 shoulder surgery.
The Braves are now carrying six relievers and three catchers: McCann, rookie phenom
Evan Gattis
and
Gerald Laird
.
Gattis hit an opposite-field grand slam on a 3-0 pitch from Minnesota's
Vance Worley
on Wednesday, in the catcher's first start in eight days. He has 10 homers, which lead major league rookies, in only 122 at-bats. Manager Fredi Gonzalez has struggled to find playing time for Gattis in the three-catcher alignment. Gattis also can play first base or left field, but those are occupied.
• The Braves lost a pair of top-notch relievers to Tommy John surgery in a six-day span. Lefty
Jonny Venters
, who had not appeared this season, underwent the procedure last Thursday; this was his second Tommy John surgery. Fellow southpaw
Eric O'Flaherty
, who had held lefty batters to a .143 average this season, underwent the elbow procedure Tuesday.
Atlanta pitchers have undergone a spate of Tommy John surgeries -- seven among major leaguers in the past five years, according to the Atlanta Journal-Constitution. The recipients:
Peter Moylan
(May 2008),
Tim Hudson
(August 2008),
Kris Medlen
(August 2010),
Arodys Vizcaino
(March 2012),
Brandon Beachy
(June 2012), Venters and O'Flaherty.
• The Braves have a 2.79 bullpen ERA, narrowly behind the
San Francisco Giants
(2.77) and
Pittsburgh Pirates
(2.78) for the MLB lead.
Craig Kimbrel
notched his 100th career save on May 9, becoming the second-youngest to reach that plateau (24 years, 348 days). Only ex-Met
Francisco Rodriguez
(24 years, 246 days) was younger.
• Since O'Flaherty landed on the DL, Triple-A closer
Cory Rasmus
was promoted. He's the younger brother of
Toronto Blue Jays
center fielder
Colby Rasmus
. Cory made his major league debut Wednesday. The siblings' brother Casey is a 23-year-old catcher who is hitting .300 for the St. Louis Cardinals' Class A Peoria affiliate.
• Beachy is set to begin a rehab assignment, so Atlanta will have to create a rotation spot soon.
• Reliever
Jordan Walden
(shoulder) is not eligible to be activated from the DL until after the Mets series.
• With their bullpen injuries, Atlanta signed lefty reliever
Joe Beimel
, 36, to a minor league contract. He also is returning from Tommy John surgery.
•
Andrelton Simmons
is the only every-day shortstop without an error.
•
Dan Uggla
(.182, 8 HRs, 16 RBIs) is 3-for-35 with 13 strikeouts in his last 10 starts.
Ramiro Pena
has started two games at second base in the past week.
•
Julio Teheran
is coming off an outing in which he allowed one run in 8 1/3 innings against the
Minnesota Twins
.
• Medlen limited the
Los Angeles Dodgers
to one run (unearned) in seven innings in his last start. The Braves are 3-6 in Medlen's starts this season. Entering this year, Atlanta had won 23 straight games started by Medlen -- the most in one pitcher's starts in major league history.
• The Braves arrive in New York off a 6-0 homestand, during which they swept the Dodgers and Twins.
March, 30, 2013
3/30/13
7:28
AM ET
SARASOTA, Fla.
FIRST PITCH:
Only hours remain until the Mets arrive in New York.
Dillon Gee
and
Jeremy Hefner
are due to share the workload today as the Mets wrap up Grapefruit League play with a 12:05 p.m. game against the
Baltimore Orioles
at Ed Smith Stadium in Sarasota.
The team then will fly to New York.
The players will have a noon workout Sunday at Citi Field, in preparation for Monday's matinee opener against the
San Diego Padres
.
Gee seemed to right his spring training Monday, when he tossed six scoreless innings against the
Atlanta Braves
at Disney. Hefner will pitch for the first time since his Tuesday outing was cut short. He was smoked in the pitching elbow by a sharp one-hopper off the bat of
Carlos Beltran
.
Saturday's news reports:
• Before departing Port St. Lucie on Friday afternoon, the Mets
nearly completed their Opening Day roster
.
In: left-hander
Scott Rice
, right-handers
LaTroy Hawkins
,
Scott Atchison
,
Greg Burke
and
Jeurys Familia
, outfielder
Marlon Byrd
and catcher
Anthony Recker
.
Out: left-hander
Robert Carson
, shortstop
Omar Quintanilla
and catcher
Landon Powell
, who all are headed to Triple-A Las Vegas.
To be determined: whether
Justin Turner
will land on the DL, which would mean
Kirk Nieuwenhuis
and
Zach Lutz
head north.
Terry Collins said he is still weighing whom to use in center field.
Collin Cowgill
should start against southpaws. The options against righties include Byrd,
Jordany Valdespin
and Nieuwenhuis.
To clear roster room, second baseman Reese Havens and left-hander Darin Gorski were removed from the 40-man roster. Both cleared waivers.
•
Johan Santana
is
determined to return to pitching
. He is leaning toward undergoing surgery to repair a torn anterior capsule in his pitching shoulder for the second time. Sandy Alderson said there is
no clear connection
between Santana's 134-pitch no-hitter and the shoulder tear recurrence.
David Wright
spoke with Santana, who was
in "a bit of shock"
about the diagnosis. Read more in the
Journal
,
Star-Ledger
,
Newsday
,
Daily News
and
Record
.
•
Matt Harvey
tossed four scoreless innings in his final preparation for Game 2 of the regular season.
Ruben Tejada
had three RBIs and Cowgill produced a two-run homer as the
Mets beat the Cardinals, 7-2
, Friday in their Tradition Field finale. Harvey finished with 33 spring-training strikeouts (in 27 1/3 innings), second only to
Julio Teheran
(35 with the Braves, in 26 innings) in the majors.
• Wright played five innings at third base and went 0-for-3 against the Cards in his
first Grapefruit League game
since early in camp, before having to withdraw from the World Baseball Classic. He plans to face the Orioles today and be in the Opening Day lineup, as does
Daniel Murphy
. Read more in the
Star-Ledger
,
Daily News
and
Newsday
.
• Columnist Ken Davidoff
in the Post
suggests these Mets resemble 1982 or '83, when the seedlings for the '86 championship were beginning to hatch. "We're not completely happy with the team we're putting on the field in 2013," Sandy Alderson told Davidoff. "That doesn't mean we're without expectations, believe me, but we're definitely looking forward. We're going to be in a very advantageous position very soon."
• Columnist Steve Politi
in the Star-Ledger
asserts Santana "failed to live up to his expectations with the Mets."
• Check the Post's season-preview section
here
.
• Mike Kerwick writes a season preview
in the Record
.
• Andy Edelstein
in Newsday
chronicles appearances of Mets and Yankees on "Seinfeld."
• Ken Belson
in the Times
suggests Mets injuries could affect ticket sales.
•
From the bloggers
…
Faith and Fear in Flushing
will be around to welcome the new members to the Mets' 25-man band. … Unlike this year's season previews,
Mets Police
notes, in 2006 the prognosticators were picking the Mets for October. …
The Eddie Kranepool Society
suggests Santana stepped up when required.
BIRTHDAYS:
Terry Bross, a St. John's product and now an agent, turns 47.
TWEET OF THE DAY:
@adamrubinespn @jay_horwitzpr Wow, Mike Bacsik is throwing out the first pitch! NYDN back page... Back to Bacsik!Yay!!

— Gary Lepselter (@garylepselter) March 30, 2013
YOU'RE UP: Who should start in center field for the Mets on Opening Day -- Marlon Byrd, Collin Cowgill, Kirk Nieuwenhuis or Jordany Valdespin?
March, 17, 2013
3/17/13
5:10
PM ET
PORT ST. LUCIE, Fla. –
Jordany Valdespin
homered and reached base in all three of his plate appearances and
Jonathon Niese
allowed only a solo homer to
Chris Johnson
in five innings, but the Mets were three-hit by
Julio Teheran
and three relievers in a 2-1 loss to the
Atlanta Braves
on Sunday at Tradition Field.
Game tidbits:
NIESELY DONE:
Terry Collins is not ready to formally name Niese the Opening Day starter out of respect for
Johan Santana
. But Santana now has not been on a mound in 11 days. And it's clear he is opening the season on the DL, with Niese facing the
San Diego Padres
on April 1.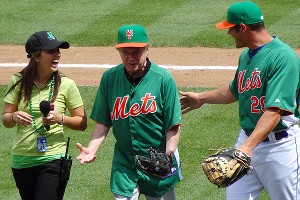 Adam Rubin
Regis Philbin is escorted off the field after throwing out the ceremonial first pitch.

"There's a strong possibility that's going to happen," Collins allowed.
Said Niese: "I guess it's leaning toward I am getting Opening Day. I haven't been told officially yet."
On Sunday, Niese did require 82 pitches (59 strikes) to navigate five innings, but he allowed only three baserunners -- two hits by Johnson and a second-inning walk to
Ramiro Pena
.
"They made me throw a lot of pitches. They fouled a lot off," Niese said. "I've just got to work on put-away pitches. Overall, it felt good."
Johnson is 2-for-6 with a double and RBI lifetime against Niese in the regular season.
"[Catcher] Landon [Powell] and I said we wouldn't have done that during the regular season," Niese said about Johnson's two-out homer in the fourth. "I got two quick outs. I should have been pounding the zone there. I was kind of nibbling with my changeup, trying to work on it. And then I fell behind obviously. He has a history of hitting me well. He's a guy that I can't fall behind or else he'll make me pay for a mistake."
O NO:
Other than Valdespin's homer and single, the Mets mustered only one other hit against Teheran -- on a first-inning double by
Ike Davis
. Relievers
Luis Avilan
,
Dusty Hughes
and
Anthony Varvaro
combined to toss three no-hit innings. Varvaro, who made 12 relief appearances for the Braves last season, hails from Staten Island and is a St. John's product.
CLOSE CALL:
After
Robert Carson
allowed consecutive one-out singles in the ninth, in his second inning of work,
Bobby Parnell
entered. Parnell immediately got Evan Gattis to ground into an inning-ending double play.
LEFT OUT?
The Braves took the decisive 2-1 lead in the sixth against left-hander Scott Rice.
Jordan Schafer
had a leadoff bunt single and stole second. He scored when lefty-hitting
Freddie Freeman
singled to right field.
The Mets will weigh carrying Carson or Rice as a second left-hander alongside
Josh Edgin
if
Pedro Feliciano
does not make the club. But a team insider suggested it may be more likely the Mets just carry Edgin if Feliciano doesn't make it and use righty pitchers to get lefties out. That way,
Jeurys Familia
and submariner
Greg Burke
-- both 40-man roster members -- would fit in the bullpen, too.
Feliciano entered in the seventh inning and surrendered a single to lefty-hitting
Juan Francisco
on an 82 mph fastball before retiring the lefty-hitting Schafer on a groundout on a pitch that registered 84 mph.
REGIS AND TERRY:
Entertainer Regis Philbin, 81, threw out the ceremonial first pitch and sat in the dugout alongside Collins.
"He's funny. I know that," Collins said. "The first inning, when we got all those hits, he says [it was] because Regis is here. I said, 'That's probably it. I'll have a uniform ready on Opening Day.'"
September, 6, 2012
9/06/12
4:44
PM ET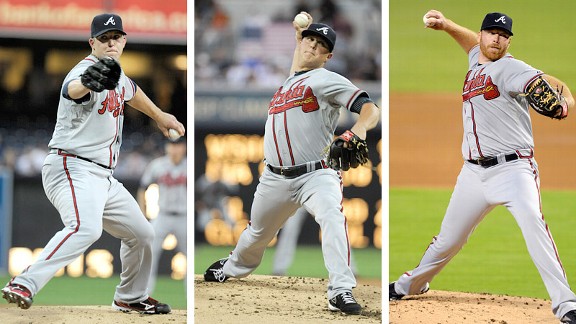 Getty Images
The Mets face (l to r) Paul Maholm, Kris Medlen and Tommy Hanson this weekend.
METS (65-72, fourth place/NL East) vs. ATLANTA BRAVES (78-60, second place/NL East)
Friday:
LHP
Jon Niese
(10-8, 3.55) vs. LHP
Paul Maholm
(11-9, 3.79), 7:10 p.m. ET
Saturday:
RHP
Jeremy Hefner
(2-5, 4.52) vs. RHP
Kris Medlen
(7-1, 1.56), 4:05 p.m. ET
Sunday:
RHP
Chris Young
(4-7, 4.48) vs. RHP
Tommy Hanson
(12-7, 4.45), 1:10 p.m. ET
Braves short hops
•
Chipper Jones
makes his final appearance in Queens as a player this weekend. He famously named his son Shea (now 8 years old) after the Mets' former homer because of his success there.
Jones hit his second walk-off homer of the season Sunday, when he slugged a three-run shot against Philadelphia. He now has nine career game-ending homers, breaking a tie with Hank Aaron for the franchise record. Aaron had two with the Milwaukee Braves and another six after the move to Atlanta. Jones' two walk-off homers in a season match the major league record for a player who has turned 40.
Andres Galarraga
also performed the feat twice, in 2001 with the
San Francisco Giants
.
Jones has 2,714 career hits, one shy of matching Bill Buckner for 60
th
on the all-time list.
•
Kris Medlen
is the reigning NL Pitcher of the Month. He went 4-0 with an 0.50 ERA (2 ER in 35 2/3 innings) while striking out 35 and walking four in August. Medlen is 6-0 with a 0.54 ERA in seven starts since moving from the bullpen to the rotation on July 31.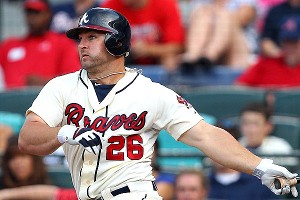 Mike Zarrilli/Getty Images
Dan Uggla's .207 average is the lowest in the National League among qualifiers.

He produced a 34 2/3-inning scoreless streak that began with a start against the Mets on Aug. 11. It marked the longest scoreless streak by a Brave since
Greg Maddux
went 39 1/3 run-free innings in 2000.
Medlen is now 12-2 with a 3.08 ERA in 25 career major league starts. The Braves have won his last 18 starts, a franchise record. The record previously was held by
John Smoltz
(15 in 1996). The last major league team to win that many consecutive starts by a pitcher was the Yankees in 2000 with
Roger Clemens
on the mound (20 straight).
• After three games out of the starting lineup, slumping
Dan Uggla
has now made consecutive starts at second base. Uggla's .207 average is last among National League qualifiers, a full 13 points worse than runner-up
Drew Stubbs
of Cincinnati. Uggla's 150 strikeouts are six shy of matching the franchise record he set last season.
Andruw Jones
previously held the record, with 147 strikeouts in 2004.
Martin Prado
started the three games with Uggla on the bench. Braves manager Fredi Gonzalez indicated he would pick spots for Uggla to start.
• Catcher
Brian McCann
went hitless in four at-bats Thursday and is hitting .155 (13-for-84) with no extra-base hits in 24 games since Aug. 1. McCann received a cortisone shot in his right shoulder after Saturday's game and did not return to the lineup until Wednesday. McCann also received a cortisone shot Aug. 7. He has a frayed labrum and a cyst and may require offseason surgery.
David Ross
handled the catching duty with McCann unavailable.
• Rookie shortstop
Andrelton Simmons
, who has been sidelined since July 8 with a fractured right pinkie, will complete his rehab assignment with Class A Lynchburg and should be activated during the weekend series against the Mets. Ex-Red
Paul Janish
primarily has handled shortstop in Simmons' absence.
Jack Wilson
, who fractured a finger against the Mets in July, was released last week before being activated.
•
Miguel Batista
, who signed a minor league contract with Atlanta on July 27 after declining to go to Triple-A with the Mets, returns to Citi Field in a Braves uniform. He was called up on Aug. 25 and has allowed one run in five innings spanning four relief appearances.
•
Randall Delgado
and
Julio Teheran
received September call-ups. Teheran received the promotion despite a 7-9 record and 5.08 ERA in 26 starts for Triple-A Gwinnett.
Jair Jurrjens
was bypassed for a call-up. He had a 6.89 ERA in 11 appearances (10 starts) earlier in the season in the majors. Backup first baseman
Lyle Overbay
also was among the September call-ups. He had been signed Aug. 20 after being released by the
Arizona Diamondbacks
.
• Center fielder
Michael Bourn
is one homer shy of becoming the fourth player in Atlanta history to reached double digits in homers, triples and steals in the same season. The others: Ralph Garr (1974),
Marquis Grissom
(1996) and
Rafael Furcal
(2003 and 2005).
• Atlanta acquired infielder
Jeff Baker
from the
Detroit Tigers
for a player to be named or cash last Friday, at the non-waiver trade deadline.
• Closer
Craig Kimbrel
notched his 34
th
save Thursday. He has struck out 94 in 51 1/3 innings.
• The Braves enter the weekend off consecutive 1-0 victories against the
Colorado Rockies
. Both Braves runs were unearned. The last time a team won consecutive games by that score using unearned runs came in July 1984, with the
Los Angeles Dodgers
defeating the
Cincinnati Reds
, according to STATS LLC.
Mike Minor
took a no-hit bid into the seventh inning in the Wednesday victory. Atlanta went 3-for-35 with runners in scoring position during the four-game series against Colorado.
• Call-up
Jose Constanza
, who injured
Daniel Murphy
on a slide in 2010, won the International League batting title. Constanza hit .314.
Last series results
Atlanta won, 2-1, at Citi Field, Aug. 10-12 (AP game recaps)
Braves 4, Mets 0:
Paul Maholm pitched a three-hitter in his second start for Atlanta and the Braves got two-run homers from Jason Heyward and Dan Uggla. Heyward connected in the first inning to help spoil Matt Harvey's home debut with the Mets. Uggla went deep in the eighth off reliever Josh Edgin for his first homer in more than a month.
More
Braves 9, Mets 3:
Freddie Freeman had five RBIs in the first two innings and the Braves battered Johan Santana in his return from the disabled list. Michael Bourn had three hits, Chipper Jones chased Santana with an RBI single in a seven-run second inning and Atlanta roughed up the two-time Cy Young Award winner in the worst start of his career. Kris Medlen (3-1) pitched effectively into the seventh inning, striking out seven while improving to 2-0 since joining the rotation.
More
Mets 6, Braves 5:
Jon Niese handed a five-run lead to the bullpen, then watched from the bench as it started to unravel. Frank Francisco walked a pair of batters with the bases loaded and two outs in the ninth inning, then gave up a two-run double to Martin Prado that put the potential tying run on third and the go-ahead run on second. When Jason Heyward then swung and missed at strike three, the slider was in the dirt and rolled under catcher Rob Johnson. Johnson took his time, however, and his throw just beat Heyward for the final out.
More
May, 17, 2012
5/17/12
11:59
PM ET
BUFFALO 4, GWINNETT 2:
Vinny Rottino
extended his Triple-A hitting streak to 20 games with a two-run single in the second to cap the scoring. Braves starter
Julio Teheran's
pitch count reached 86 while lasting only 2 2/3 innings.
Corey Wimberly
led off the home first with a single.
Fred Lewis
followed that with a double to score Wimberly from first. With the Herd trailing 2-1, Teheran then walked
Valentino Pascucci
and
Matt Tuiasosopo
to load the bases. The Braves' top prospect walked a third straight batter,
Brad Emaus
, to force in the tying run. In the second, after singles by Bisons starter
Chris Schwinden
(2-for-2) and Wimberly and a walk to Lewis, Rottino swatted a single to give the Herd the decisive two-run lead. Schwinden pitched six innings, allowing two runs on four hits while striking out four. It marked Schwinden's first win in four starts -- although he had allowed three runs or fewer in each of those outings. In the ninth, the Herd avoided a Gwinnett threat courtesy of defensive plays by Wimberly and Emaus.
Box
BINGHAMTON 12, TRENTON 3:
The B-Mets scored nine second-inning runs and
Zack Wheeler
struck out eight. Trailing by two entering the second, the B-Mets kicked off the frame with four consecutive singles against Trenton starter
Cory Arbiso
, capped by
Kai Gronauer's
RBI. Second baseman
David Adams
made matters worse by booting a potential double-play ball, allowing another run to score. After
Matt den Dekker
supplied a sac fly,
Josh Rodriguez
sent an RBI single up the middle.
Jefry Marte
walked to load the bases, and
Juan Lagares
lined one off Arbiso. The pitcher recovered, but his throw sailed past
Luke Murton
at first and bounced into the stands, allowing two more runs to score.
Travis Ozga
then launched a three-run homer, his third long ball of the season. By the time
Sean Kazmar
grounded out to end the inning, the B-Mets had sent 12 men to the plate. It was the most runs scored in one inning for Binghamton since it also plated nine in the third inning against Reading on Aug. 14, 2010. It was more than enough support for Wheeler (3-2) to collect his third straight win. The right-hander was tagged for a two-run home run by
Cody Johnson
in the first inning, but he did not allow another hit until the sixth. He allowed two total hits and struck out eight over a season-high seven innings. Binghamton tacked onto its lead in the middle innings. Marte ripped a solo homer against reliever
Francisco Rondon
in the fourth, while den Dekker added an RBI double in the fifth. Kazmar supplied a run-scoring single against
Ryan Pope
in the sixth.
Edgar Ramirez
took over on the mound in the eighth and needed nine pitches to toss a perfect frame.
Jeff Kaplan
allowed one run in the ninth.
Box
ST. LUCIE 6, LAKELAND 5:
Catcher
Blake Forsythe
homered twice, including a grand slam, and drove in all six runs. Forsythe's eighth-inning sacrifice fly broke a 5-all tie.
Adrian Rosario
recorded his 11th save by recording the final five outs. Starter
Cory Mazzoni
, the Mets' second-round pick last June out of NC State, allowed four runs on seven hits in five innings.
Box
AUGUSTA 3, SAVANNAH 2:
The GreenJackets scored in the top of the first inning and hung on late. Augusta (18-20) hopped out to a 2-0 lead with a pair of runs in the first against
Domingo Tapia
. Tapia (3-2) lasted four innings, yielding three runs, all earned, on five hits and two walks. He struck out five. The Gnats (24-15) got a run back in the third on
Travis Taijeron's
RBI single. The teams traded single runs in the fourth on RBI triples -- by
Carlos Willoughby
in the top half, then
Gregory Pron
in the bottom to make it 3-2. After Pron's triple, Augusta pitching retired the next 13 Gnats.
Aderlin Rodriguez
snapped that streak with a leadoff single in the ninth. Pinch-runner
Tillman Pugh
stole second, but was stranded.
Box
Compiled from team reports
May, 8, 2012
5/08/12
12:02
AM ET
BUFFALO 4, GWINNETT 3:
Rob Johnson's
two-run single with two outs in the top of the eighth gave the Bisons the victory. The win was Buffalo's 12th comeback triumph already this season, accounting for two-thirds of the club's 18 wins overall. In the latest edition, the Bisons trailed 3-1 thanks to solid work from 2011 International League's Most Valuable Pitcher
Julio Teheran
. Buffalo was 0-for-8 with runners in scoring position and in danger of wasting
Dustin Martin's
one-out single in the eighth inning.
Josh Satin
drew a two-out walk and
Matt Tuiasosopo
battled back from down 0-2 in the count to earn another free pass from Gwinnett reliever
Jaye Chapman
.
Fred Lewis
had an easier time drawing his walk, watching four pitches sail outside the zone to force in a run. Down 3-2, Johnson gave the Bisons their only lead with a single through the left side of the infield. Buffalo's only hit with runners in scoring position gave the Herd a 4-3 advantage.
Fernando Cabrera
nailed down
Elvin Ramirez's
first Triple-A win with his seventh save. Ramirez came on with the bases loaded in the seventh inning and struck out
Josh Wilson
.
Chris Schwinden
started for Buffalo in his first game since a two-start stint with the Mets. He struck out eight batters but left after five innings with a 2-1 deficit. Buffalo scored their first run of the game in the third inning on Martin's sacrifice fly.
Box
NEW BRITAIN at BINGHAMTON (ppd.):
The contest will be made up as part of a doubleheader at NYSEG Stadium on Aug. 7 at 5:35 p.m. The B-Mets (14-15) will start their rain-shortened series against the Rock Cats on Tuesday. Left-hander
Mark Cohoon
takes the mound for Binghamton against left-hander
Andrew Albers
.
ST. LUCIE 5, DUNEDIN 4: Francisco Pena
delivered a go-ahead sacrifice fly as the Mets rallied with a two-run eighth inning. St. Lucie (25-6) trailed 4-3 entering the bottom of the eighth.
Wilmer Flores
then hit a leadoff solo homer.
Richard Lucas
followed with a double down the left-field line and reached third on a sacrifice bunt by
Cesar Puello
. Pena then lined a pitch into left. Lucas tagged up from third and was able to beat the throw at home to give the Mets a 5-4 lead. The Blue Jays put together a comeback bid in the ninth as
Ryan Schimpf
doubled with one out to put runners at second and third against
Adam Kolarek
.
Adrian Rosario
issued an intentional walk to the next batter to load the bases. Rosario was able to induce a shallow flyball out for the second out. Rosario then induced a grounder to retire
Michael Crouse
to close the game as
Danny Muno
flipped to
Robbie Shields
at second for the force. Rosario earned his eighth save.
Taylor Whitenton
(2-1) picked up the victory in relief. He tossed 2 1/3 innings and allowed one hit and had one strikeout.
Yohan Almonte
received a no-decision. He allowed four runs on six hits in 5 2/3 innings with seven strikeouts. Almonte allowed four consecutive hits in the first inning as the Blue Jays jumped to a 3-0 lead. But he was able to settle down and retired 13 straight. The Mets responded with a three-run first to even the score.
Richard Lucas
reached on an error that allowed Shields and Flores to score. Puello delivered an RBI single to plate Lucas with the third run. Flores went 3-for-4 with two runs scored and an RBI.
Erik Goeddel
opens a series at Brevard County on the mound Tuesday.
Box
SAVANNAH 5, LAKEWOOD 0:
Savannah pitching faced one batter over the minimum, retiring 27 of 28 Lakewood batters. The Gnats (19-12) have won five of the first six games on their seven-game homestand.
Jacob deGrom
made his Savannah debut and was perfect into the fifth inning. With two outs in that frame, he gave up a double to
Maikel Franco
, who was the only runner of the night for Lakewood (10-19). DeGrom, the Mets' ninth-round pick in the 2010 draft out of Stetson, retired 20 of 21 before departing with his pitch count approaching 80. The Gnats scored the game's first runs in the seventh. With one out, BlueClaws starter
Ethan Stewart
walked three batters to load the bases. Lakewood then called on reliever
Gabriel Arias
.
Albert Cordero
swung at the first pitch from Arias, sending a sharp groundball inside the first-base bag and down the line for a two-run double.
Luis Nieves
followed with a bloop single, plating two more runs for a 4-0 lead. Nieves finished 3-for-3 with three singles. Reliever
Carlos Vazquez
, who entered for deGrom for the final out in the top of the seventh, retired all seven batters he faced to earn his third win. He struck out two. In the eighth,
Brian Harrison
doubled, driving in
Travis Taijeron
to cap the scoring.
Box
Compiled from team reports
April, 4, 2012
4/04/12
12:25
PM ET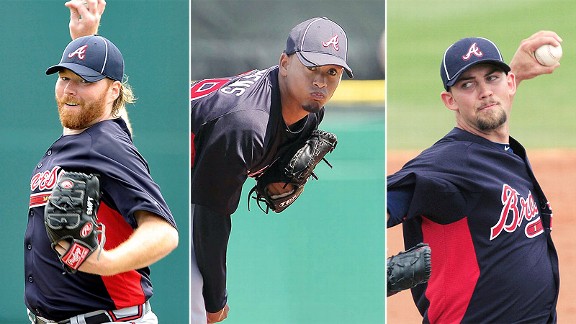 Getty Images
Tommy Hanson, Jair Jurrjens and Mike Minor (l to r) face the Mets in the opening series, at Citi Field.
METS (77-85, fourth place/NL East) vs. ATLANTA BRAVES (89-73, second place/NL East)
Thursday:
LHP Johan Santana (DNP) vs. RHP Tommy Hanson (11-7, 3.60), 1:10 p.m. ET
Saturday:
RHP R.A. Dickey (8-13, 3.28) vs. RHP Jair Jurrjens (13-6, 2.96), 1:10 p.m. ET
Sunday:
LHP Jon Niese (11-11, 4.40) vs. LHP Mike Minor (5-3, 4.14), 1:10 p.m. ET
Braves short hops
•
Chipper Jones
, 40, announced during spring training his intention to retire after the season. He then underwent March 26 surgery to repair a torn meniscus in his left knee, the same procedure
Tim Byrdak
required with the Mets.
The Braves responded to Jones' injury, which may only sideline him for the regular season's first road trip, by acquiring 24-year-old third baseman
Juan Francisco
from the Reds. Francisco made his Grapefruit League debut with his new team Monday, against the Mets. Atlanta sent expendable right-handed reliever
J.J. Hoover
to Cincinnati. The lefty-hitting Francisco was boxed out with the Reds by
Scott Rolen
. Francisco has a .284 average with five homers and 29 RBIs in 169 career major league at-bats. One of the long balls was a monstrous 502-foot shot last Sept. 12 off the Cubs'
Rodrigo Lopez
. It was the second-longest homer in Great American Ball Park history, trailing only a 535-foot homer by
Adam Dunn
in 2004.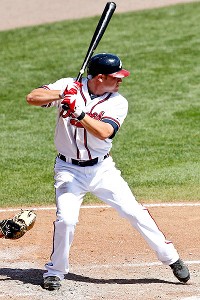 Derick E. Hingle/US Presswire
Tyler Pastornicky will make his major league debut as Braves shortstop Thursday.

Even with the Francisco acquisition,
Martin Prado
still should man third base against lefties, with southpaw-killer
Matt Diaz
(.329 career average versus lefties) positioned in left field. The Mets start two left-handers in the series. Still, Francisco's arrival allows Prado to primarily play left field in Jones' absence.
• After struggling for the first two-plus weeks of spring training, 22-year-old
Tyler Pastornicky
started producing and beat out fellow prospect
Andrelton Simmons
for the shortstop job. The strong-armed Pastornicky hit a combined .314 with seven homers and 45 RBIs in 117 games between Double-A Mississippi and Triple-A Gwinnett last season. He arrived in the shortstop swap that sent
Yunel Escobar
to the Toronto Blue Jays for
Alex Gonzalez
in July 2010. His father,
Cliff Pastornicky
, played 10 games for the Kansas City Royals at third base in 1983. Simmons had not played above Class A.
•
Livan Hernandez
-- released by the Houston Astros late in spring training after a Grapefruit League outing in which he surrendered eight runs (four earned) in 3 2/3 innings against the Mets, which included a grand slam by
David Wright
-- quickly landed with the Braves. He will work as a long reliever and spot starter. That frees
Kris Medlen
to work in more integral spots rather than be held back as a long man.
• At 25 years old,
Tommy Hanson
becomes the youngest Opening Day starter for the Braves since
John Smoltz
at 23 in 1991. Hanson suffered a concussion in a single-car accident when he reportedly blew a tire and went off the road en route to the first spring-training workout. He did not make his first official start until March 16.
• 2011 All-Star
Jair Jurrjens
has missed the past two Septembers with knee injuries. He looked awful in his first four Grapefruit League appearances, allowing 16 runs (15 earned) in 13 1/3 innings. Since then, he has allowed a combined two runs and eight hits in 13 innings spanning two starts. However, both of those outings came against meager Houston Astros split squads, albeit with
Carlos Lee
in the latter game.
• Left-hander
Mike Minor
had the best production of any Braves pitcher during spring training. He had four straight scoreless outings until the Mets ended that streak March 23 at Disney. The Mets wanted Minor in trade talks with Atlanta regarding
Carlos Beltran
last July, but the Braves were uninterested in trading the 24-year-old southpaw.
• Center fielder
Michael Bourn
, who arrived in a trade with the Astros last July 31 for four players, including
Jordan Schafer
, is due to be a free agent after the season. He led the National league with 61 steals last season.
• After his production plummeted as a sophomore, right fielder
Jason Heyward
has worked since January with Jones and new hitting coach
Greg Walker
to rediscover his swing. Heyward developed bad habits last season while dealing with a strained shoulder. His batting average dropped 50 points, to .227, in 2011. His on-base percentage dropped from .393 as a rookie to .319 last year.
• Right-hander
Tim Hudson
is due back as soon as late April after undergoing offseason back surgery to address a herniated disc. In his absence,
Randall Delgado
beat out
Julio Teheran
for a spot in the rotation, although both young prospects struggled during spring training.
• Reliever
Cristhian Martinez
was charged with DUI on Monday morning near Atlanta, Gwinnett County police spokesman Corporal
Jake Smith
told the Journal-Constitution.
• First baseman
Freddie Freeman
appears poised for a monster year after hitting .282 with 21 homers and 76 RBIs in 571 at-bats during his rookie season. The lefty-hitting Freeman showed significant power to the left side of the field during spring training.
• Left-hander
Jonny Venters
, who had a National League-leading 85 appearances, and closer
Craig Kimbrel
, who accumulated 46 saves and made 79 appearances last season, have been lightly used during spring training. In fact, Venters was idle for 10 days with arm soreness before returning March 29. Last year, Kimbrel set the major league rookie saves record, previously held by Texas'
Neftali Feliz
, who had 40 in 2010. Venters and
Eric O'Flaherty
form a dynamic one-two attack against lefty batters out of the bullpen. The duo combined to hold opposing batters to a .163 average last season, with two homers in 166 at-bats.
• The Braves signed right-hander
Chad Durbin
to round out the bullpen on the eve of the season. Durbin, 34, had been released by the Nationals despite posting a 2.35 ERA in 10 Grapefruit League appearances. The addition bumped left-hander
Yohan Flande
to the minors.
• Overshadowed by the Boston Red Sox's late freefall, Atlanta had its own 2011 collapse. The Braves held a 10½-game lead on St. Louis for the wild card in late August.
Matchups
Santana vs. Braves (career: 3-6, 2.28 ERA)

Matt Diaz .500, 1 HR, 4 RBI, 1 BB, 4 K, 33 PA
Michael Bourn .455, 1 K, 12 PA
Jack Wilson .333, 9 PA
Brian McCann .276, 3 HR, 3 RBI, 1 BB, 6 K, 30 PA
Martin Prado .150, 2 K, 21 PA
Jason Heyward .125, 1 BB, 2 K, 9 PA
Dan Uggla .053, 1 HR, 1 RBI, 1 BB, 10 K, 20 PA
David Ross .000, 2 BB, 4 K, 8 PA
Eric Hinske .000, 2 K, 5 PA
Dickey vs. Braves (career: 1-4, 4.01 ERA)

Jose Constanza .500, 1 RBI, 3 PA
Freddie Freeman .333, 2 BB, 1 K, 11 PA
Jason Heyward .250, 1 RBI, 3 BB, 1 K, 15 PA
Michael Bourn .238, 3 RBI, 4 K, 23 PA
Brian McCann .214, 1 HR, 1 RBI, 5 BB, 1 K, 19 PA
Eric Hinske .150, 3 BB, 2 K, 23 PA
Martin Prado .118, 1 BB, 2 K, 18 PA
Dan Uggla .000, 1 RBI, 1 BB, 5 K, 23 PA
Jack Wilson .000, 3 K, 4 PA
David Ross .000, 1 K, 3 PA
Matt Diaz .000, 1 K, 2 PA
Niese vs. Braves (career: 3-2, 3.55 ERA)

Michael Bourn .571, 2 BB, 9 PA
Jason Heyward .500, 1 HR, 5 RBI, 1 BB, 2 K, 9 PA
David Ross .462, 1 HR, 8 RBI, 1 BB, 3 K, 14 PA
Freddie Freeman .429, 1 RBI, 3 K, 7 PA
Jose Constanza .333, 1 RBI, 3 PA
Dan Uggla .318, 3 RBI, 5 K, 22 PA
Martin Prado .263, 1 BB, 1 K, 20 PA
Matt Diaz .125, 1 RBI, 1 BB, 3 K, 10 PA
Brian McCann .000, 3 K, 6 PA
Eric Hinske .000, 2 K, 4 PA
Hanson vs. Mets (career: 3-3, 3.69 ERA)

Justin Turner .667, 2 HR, 3 RBI, 1 K, 3 PA
Daniel Murphy .600, 1 K, 5 PA
Lucas Duda .500, 1 HR, 2 RBI, 1 K, 6 PA
Josh Thole .438, 1 HR, 3 RBI, 1 BB, 2 K, 17 PA
Ronny Cedeno .400, 1 K, 5 PA
Jason Bay .333, 1 HR, 2 RBI, 2 BB, 3 K, 11 PA
Ike Davis .200, 1 RBI, 2 BB, 5 K, 12 PA
Andres Torres .200, 1 K, 5 PA
David Wright .111, 2 RBI, 8 K, 19 PA
Ruben Tejada .000, 6 PA
Jurrjens vs. Mets (career: 8-4, 2.94 ERA)

Andres Torres .500, 1 RBI, 1 BB, 1 K, 5 PA
Ronny Cedeno .333, 3 PA
Justin Turner .333, 1 K, 3 PA
Daniel Murphy .304, 2 RBI, 2 BB, 1 K, 25 PA
Josh Thole .273, 1 RBI, 1 BB, 12 PA
Ruben Tejada .250, 1 BB, 6 PA
David Wright .207, 1 HR, 3 RBI, 2 BB, 7 K, 31 PA
Jason Bay .200, 2 RBI, 2 BB, 4 K, 18 PA
Ike Davis .000, 1 BB, 4 K, 8 PA
Lucas Duda .000, 1 RBI, 3 PA
Scott Hairston .000, 1 K, 3 PA
Mike Nickeas .000, 1 BB, 2 PA
Minor vs. Mets (career: 2-0, 6.75 ERA)
Lucas Duda .667, 3 PA
Jason Bay .500, 1 HR, 5 RBI, 2 BB, 8 PA
Justin Turner .429, 1 RBI, 2 BB, 1 K, 9 PA
Ruben Tejada .286, 1 K, 7 PA
Scott Hairston .200, 1 K, 5 PA
David Wright .125, 1 BB, 3 K, 9 PA
Daniel Murphy .000, 1 RBI, 1 K, 3 PA
Ike Davis .000, 1 BB, 2 K, 3 PA
Ronny Cedeno .000, 1 BB, 2 PA
Last series results
Mets won, 2-1, at Turner Field, Sept. 16-18, 2011 (AP game recaps)
Mets 12, Braves 2:
David Wright drove in five runs with two homers as the Mets pounded the Braves. Atlanta leads St. Louis by only 3½ games in the NL wild-card race with 11 games remaining. The Cardinals gained ground by beating the Phillies. The Mets matched their season high with 20 hits and ended a six-game losing streak. Chris Capuano (11-12) gave up two runs on six hits in five innings. Lowe (9-15) gave up nine hits and six runs in only 2 1/3 innings while losing his third straight start.
Braves 1, Mets 0:
Tim Hudson struck out 10 batters to guide Atlanta over New York, shoring up the Braves' lead in the wild-card race. Hudson (15-10) held the Mets scoreless over his eight innings. Closer Craig Kimbrel struck out all three batters in the ninth to notch his 45th save of the season. Chipper Jones' RBI single in the eighth inning was enough for the Braves, who increased their wild-card lead to 4½ games. R.A. Dickey (8-13) walked a season-worst six batters in 7 2/3 innings for the Mets, who have lost seven of eight.
Mets 7, Braves 5:
Ruben Tejada had four RBIs, Lucas Duda homered off Craig Kimbrel in the ninth inning and New York slowed the Braves' wild-card bid with a walk-filled victory. Atlanta lost two of three to the Mets, who arrived with a six-game losing streak. New York went 6-4 at Atlanta this year, its first winning record at Turner Field since 2008. After pinch-hitter Ronny Paulino's bases-loaded walk in the eighth against Jonny Venters (6-2) tied it at 5, Tejada singled to put the Mets ahead for good. Duda's homer was just the second this year off Kimbrel, the NL saves leader. Tim Byrdak (2-0) won despite allowing a go-ahead single in the seventh to Freddie Freeman, who had been on an 0-for-15 slide.